Travel App Development Revenue Models- The travel and hospitality industries are one of the biggest industries nowadays. According to Statista the global revenue of these international industries is 6.5 trillion US dollars.
Globally, travel and tourism's direct contribution to GDP was approximately 2.9 trillion U.S. dollars in 2019.
Although this wasn't the scenario a few years back when planning a trip was not everyone's cup of tea. That's when Travel Applications become that travel agent who plans the entire trip but with less cost.
With the introduction of Technology, the travel industry has taken an impressive jump. The automated budgeting technology has been able to bring more customers who look for comfort. Although Covid-19 is a barrier in traveling, the Mobile Applications should be automated to provide the best and safe experience. 
If you think carefully a person has to have a sufficient amount of income so that she or she can travel abroad.
Plus, a travel app does not include only transportation services like tickets for the plane, buses, trains, etc. But it also includes hotel or accommodations assistance and baggage management and much more.
While traveling abroad travel tends to spend money in huge amounts. Like if you consider the US, International travelers have already speed 200 billion US dollars while they traveled there. Moreover, it's been predicted that the amount will increase in the upcoming years.
Traveling is a major revenue source for nations as the travel customer's spending is always high. So to acquire these customers, one has to provide a seamless experience. Building a mobile application that can answer every query might as well take care of bookings, payments, and accommodation. This will provide a lifetime experience, leading to customer satisfaction. Hence, You should look forward to hiring Travel app developers to build a Travel Application.

Travel Application Development – Overview
Using on-demand solutions for building a Travel Application is your best bet. As it can not only provide every feature required in a travel app.
It will further let you personalize and optimize applications as per the user's interest. On-Demand Application is a customized solution to every query from Travel, Entertainment to Healthcare applications.
Similarly, around 75% of people use traveling applications, so that they can plan their trips and their activities more efficiently.
Having an annual impact of 6.5 trillion USD you should not think twice before investing in the travel Industry. So as an entrepreneur you can start with first of all getting your Travel software development as per market research. . To develop a feature-packed traveling app, you have to choose a business model and the best Mobile Application Development Company.
Today we use on-demand solutions providing applications for every issue and solving it daily. Similarly, around 75% of people use traveling applications, so that they can plan their trips and their activities more efficiently.
So as an entrepreneur you can start your business in this industry. Plus, you have to develop a feature-packed traveling app and you have to choose the best business model which will be more effective for executing your idea.
To gain more knowledge about the traveling applications, how they work, cost of developing them by hiring dedicated developers, features, and revenue models, please continue the blog.
What are travel applications?
The application which helps the users to book, manage and plan all the activities like transport and hotels which are required for traveling outside are called travel applications.
These apps are also capable of modifying the booking dates, managing luggage, providing information on present weather, and much more.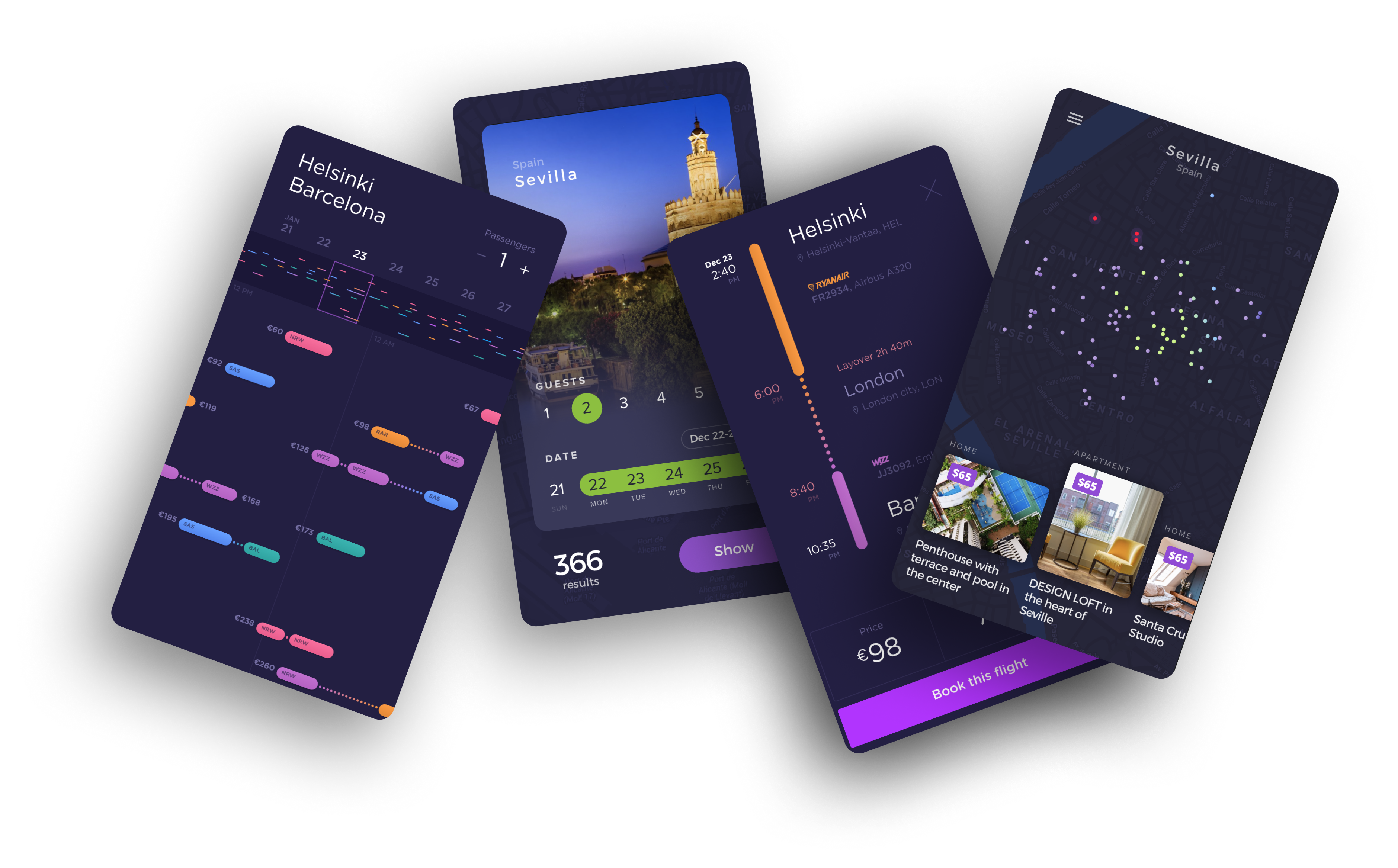 To implement all these features in the app you need to hire a travel application development company.
There are several types of traveling applications present in the market. Some of them provide facilities like ticket booking services, some provide facilities like hotel booking and some provide information about various traveling destinations.
Basically, travel booking software developers develop these apps in order to ensure efficient and hassle-free trips for their users.
How To Develop a Travel Application
While understanding the travel app development work, you should not stress yourself out. Hiring a Mobile App development company or a dedicated team of App developers will be a better choice if you are not in the field of tech.
Step1- Select App Type- As per market research you should first plan the overall working of your App. There are multiple types of travel Apps like booking, accommodation, information, or transportation. Choose the right app type depending upon the services you wish to provide.
Step 2- Competitor Research- You should try to find out as many competitors as possible and list the features which make their application unique and out of the box. 
Step 3- Decide Features- Now You should list down the features and solutions you wish to have in your application other than the universally applied ones. 
Step 4- Developers Team – Now that you are clear about your project, hire an app development company or a team of app developers who can build your app the way you want. The budget should also be considered here. 
Step 5- Develop the App- Now with the developers and team ready, start developing the travel Application you desire to be a part of your venture. 
How does the Travel App Work
Travel Applications provides solutions to travelers in terms of bookings, accommodations, and local guides. With an app that can handle their bookings and accommodation at the same time, recommending places to visit is a treat for any traveler.
And that's how Mobile Applications work, it provides easy solutions through a few clicks to rather major problems like booking a place in a country miles away. 
The application lists hotels, restaurants, and transportations facilities for every place. The success of the application depends upon how useful it is for the people.
If an application can offer a convenient tool to search for tickets and check their cost, rent cars, and so on. It shows its usefulness and work. 
Content like travel guides, reviews, and city tours can also lead to major lead generation and bring more clients to the website.
Travel App Development Revenue Models 
In order to provide the best service to your users, you should choose a specific revenue model which will best be fitted for your application purpose.
Here are some of the revenue models you can follow to ensure the success of your apps. Such as,
1. Meta-search revenue Model
This tourism software application revenue model is used in booking platforms and travel agencies.
Actually, this application provides real-time information regarding prices, reviews, and descriptions of hotels and various places.
Moreover, these applications are capable of comparing the prices of the same hotels on multiple booking sites, so that the users can plan their vacation at the best prices possible.
For example, TripAdvisor and Kayak make most of the revenue by providing information, booking services, and cost-per-click advertisement.
2. Partnership Revenue Model
Parentship revenue is used when the business is started by online travel agencies and social travel platforms.
This model can provide recurring revenue to your business. Because this tour management app provides information and advice on a specific destination from previous travelers.
This process is done through various social media traveling sites. Many big traveling industries like Make My Trip usually partner up with these applications and provide more accurate information to their users. Gogobot and Guido are the two established applications that use this revenue model.

3. P2P (Peer to Peer) Network Model
Peer to Peer revenue model is for those mobile app development companies' applications that develop a sharing economy by connecting the buyer and sellers.
These types of applications are basically used by renal property owners and homestays. Applications like Airbnb and Homestay earn their revenue from both parties i.e., property owners and the guests.
These applications provide users facilities like staying in a home-like environment for a longer time along with cheaper rates.
4. Subscription-based Revenue Model
These are the most used revenue models and most used online travel agencies and social travel websites.
It is business to business finance setup. If you own a hotel or a resort and want to increase your customer base.
You just have to subscribe to this travel agency application software. the users of the application will book your property at the price offered by you.
As a hotel or resort owner, you can take another booking also along with the booking of the applications.
This is also a recurring revenue system and Make My Trip, Goibibo, and Oyo is the famous examples of this kind of application.
5. Advertising Revenue Model
The advertising revenue model will always be one of the top business models among web development companies in the coming years.
These models are used by online traveling agencies, marketplaces, and booking apps. The revenue can be earned in the CPC method, which is also known as cost per click.
Various types of hotels and traveling services feature their catalog ads in the form of web pages and post in these apps.
The app will earn money when you access those pages in order to find the best cost-effective options for your vacation. The applications also get paid by the clients at a cost per thousand impressions.
These revenue models can only be implemented only if you are clear about you aim and object of your business.
And to properly execute these models with full efficiency you will need to hire the best full-stack development company available in the market.
What are the features of Travel applications?
All the travel-related application present in the applications stores is not for the same purpose. Some provide only information about the searched destinations, while some provide the booking facilities, and much more.
But there are some common features that every web tours application has in common. Here are some of those basic features,
1. Sign-up, log in and profile management
This is one of the main and mandatory features for these types of applications. As a user, you can surf through the option and hotels without signing -up with the applications.
But while booking tickets or reserving hotels you must have to sing-up with the applications. Developing a travel app along with this feature helps the owners to analyze their customer base.
Usually, all the applications use a Mobile number/email address and password as a verification process.
But nowadays you will be able to log in to the new account with your various social media accounts such as Facebook, Instagram, Google, or Twitter.
Signing up with your social media handles is easy to access and gives a better user experience.
Whereas, signing up as a parent can make the registration process more complex. If you want to post anything about your property for rental purposes.
First, you have to provide them with your valid Id proof, mobile number, or email address. After that, you have to give them proof of your property's existence.
A group of people will visit your property in order to inspect it and verify the documents you have provided to the application.
Only then your property will be visible to the guests and the guests can book your property.
2. Search facility with filter options
The search facility is also one of the mandatory features for travel agency android apps. The versatility of search results can be one of the important steps to your app's success.
Your app search system should be specific enough to detect the preference, number of people, journey date, and budget of the users.
Moreover, along with the search facility, the implementation of a detailed filler is also necessary. Usually, basic filter options such as date, price.
Location and amenities will do the work. But if you provide a point-specific filter system you will be able to provide better and more promising results to your users.
Again, by implementing a detailed filter option, you can recommend any property which is recently available to your users.

3. Informative List of the searched items
This feature will help your user to gain more information about the places they have like from the search. You should keep detailed information for all the places present in your system.
The information should cover all the aspects of the property such as an address, photos, detailed description, prices, and availability of accommodation.
The better the information provided better will the users get a clear image of the property. Hire react native developers who can help you to enhance the listing techniques.
4. Chatbox
Chatbox is the option where the users can contact any person from the customer service of the applications to clarify any quarry or to resolve any issue for any booking.
A better application provides hour customer support so that they can get the assistance of the app any time they want.
There are many mobile app developers for hire who are able to deliver you an efficient chatbox implemented product at a reasonable cost.
5. Booking facilities
The booking facility is also important in order to make the users use your traveling services throughout their lifetime.
The Booking facility of this kind of application should be seamless and hassle-free. The user should be able to book the available property easily.
Moreover, you should facilitate your user with all kinds of payment options. Including UPIs, Debit and Credit Cards, Internet banking and also paying by cash at the property.
You have more users base by implementing various attractive offers and add-ons while booking the property.
Such as a discount on food and drinks or if you stay for 1 more day user can get 10% more off on the total bill etc.
Developing a travel app with these booking facilities also can ensure success for your application.
6. Review forms the past tourists
The reviews feature will help the users to get true feedback on any destination or hotel service.
Moreover, it will save the new users from fraud services. Is anyone is allowed to write a review for any hotel in the applications? The answers are no.
To maintain the authenticity of the comments, only those users will be allowed to comment on the hotel or resort that has already booked from the application and already experienced their services.
Usually, after you have done with the payment as well as the booking part you will get an option to give feedback or review the services with stars.
The travel platform development services will ensure that the users get the best quality of services when they opt for your application.
7. Push notifications
Usually, there are two types of notifications that this travel agency application software can show through the notification of your phone.
One before the booking of your services which includes promotions, deals, package offers, and price change.
Another one after the booking is done which includes information of present weather, time changes in transport, currency value and much more.
You can always expand your user base by hire iPhone app developers in order to develop an application compatible with the Apple Store.
How to choose the Right Team of Dedicated Developers 
How good your mobile application is will define the success and failure of your travel venture. Hence, in this case, it is important to hire a team of dedicated Application developers specialized in the Travel segment.
Dev Technosys is a mobile app development agency with 10+ years of experience. They have dedicated app developers working and delivering travel-based web and application projects on a regular basis.
The developers you wish to work with should be qualified and must have their previous customers recommending them.
You should also do some research on technology stack and hire them as per your tech demand. There might be a possibility that you come across developers who have developed Your competitor's project. It should be a big Yes from your side if you find developers who already know what you want your end product to be like.
Travel Website vs Travel Application
Diversifying your business with mobile applications rather than website development is a more scalable approach. The Website portal is limited and does not provide a solution to every possible query.
As per the recent data, People spend more time on Travel Mobile applications rather than website portals. Furthermore, Mobile Apps convert more sales and build a regular loyal customer base.
The data by Google Analytics shows that the conversion rate on mobile applications is more, Even the add to cart and time spend is also more.
Now that you know how to make the Travel Application and features to consider while developing the mobile application.
Technology Stack for Travel Application
There are many developed technologies that can help you easily build a customized application for travel. One should choose the tech stack which will lead to smooth running, fast loading, and updates on a regular basis.
The Android Travel application development can be done through Kotlin and Java while the ios travel application can be developed through Swift and Objective-C.
What is the cost of developing a Travel application?
The cost of developing a traveling application fully depends on the complexity of the infrastructure and also the number of features added to it.
In the Eastern European regions like Ukraine, it can cost $50 per hour. And as the whole hiring, a travel mobile app development company can cost you around $103,600 for deploying the application on both the android as well as the iOS store.
Research has shown it takes 2072 development hours to develop an application from scratch. It includes hosting with both backend and front-end services and an admin panel.

So, it is better to spend your development hours more efficiently. The total development cost also varies from country to country.
Outsourcing the development process to another country like India will be best for start-ups. As the rates are much cheaper and you can get better services.
Countries like the USA and Central Europe have more development costs for android app development companies.
The development cost can vary from $207,200 to $310,800 depending on the requirement of the business.

Conclusion
Traveling the hospitality market is always a trending market. If you have a unique idea for this business, you can develop a travel app in order to well execute that idea.
Only you just have to know all your requirements and hire an experienced developer who can develop a feature-packed application at a reasonable cost.