Limitless options are available when it comes to developing content content-sharing platform that entertains. Among all, OnlyFans has been the top choice in the past few years due to the long-standing trend of enabling content producers to post anything. Social network-based makes social media app like OnlyFans extremely convenient for customers.
During COVID-19, OnlyFans started gaining immense popularity when it became the go-to platform for adults and content creators seeking alternative income streams. The best part about such social media platforms development is that content creators can post content of their choice, attracting multiple celebrities to apps like OnlyFans.
As a result, more and more businesses wanted to build an app like OnlyFans. If you are also the one, refer to this blog. It will guide you to everything about 'How to create a website like OnlyFans?' including the features, cost, tech stacks, and more.
What is OnlyFans App?
OnlyFans is an online platform or application developed in 2016. It is a social media platform with a membership model that enables content producers to share their movies and photographs with followers. Despite being used by celebrities like Cardi B and Bella Thorne, the app is most famous for being used by sex workers.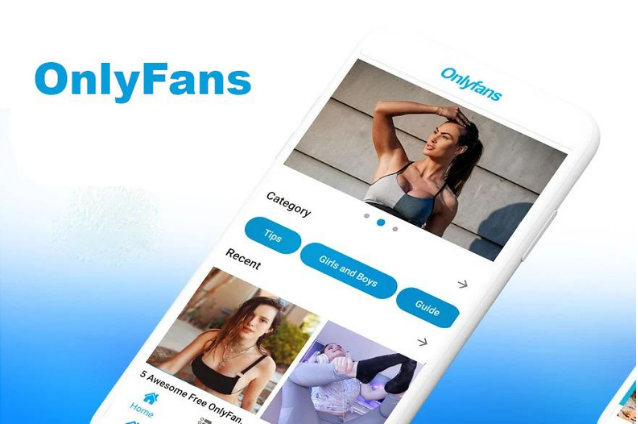 The only difference between OnlyFans and other social media sites like Facebook and YouTube is that all the material is hidden behind a paywall. The OnlyFans platform has grown significantly over the last several years and has a huge and diverse fan base from more than 187 countries. Only 10% of OnlyFans users are female, 87% are males, and the rest 3% haven't revealed their identities.
Due to OnlyFans' popularity, other businesses hire the best mobile application development company to create apps similar to OnlyFans.
How Does OnlyFans App Works?
OnlyFans is a subscription-based platform that allows content creators to monetize their content, typically through adult content. Here's how apps like OnlyFans work –
1. Account Creation:
Content creators sign up for an OnlyFans account by entering personal details, verifying their identity, and linking their bank account.
2. Profile Setup:
Next, creators customize their profiles, set subscription prices, and choose the type of content to share with their subscribers.
3. Subscription Model:
Creators choose the best-suitable subscription model, where subscribers pay a monthly fee to access the creator's content.
4. Content Sharing:
Creators post content, including photos, videos, live streams, and messages.
5. Payment Processing:
OnlyFans handles payment processing and takes a percentage of the earnings. The exact percentage varies but is typically around 20%.
Here's how the OnlyFans app works and makes it easier for content creators and users to access the application in a go.

What Are the Steps to Build An App Like OnlyFans?
Currently, ample content-sharing platforms, such as Instagram, YouTube, Reddit, etc., are available in the market, but OnlyFans stands out. So, here is the step-by-step process to build an app like OnlyFans.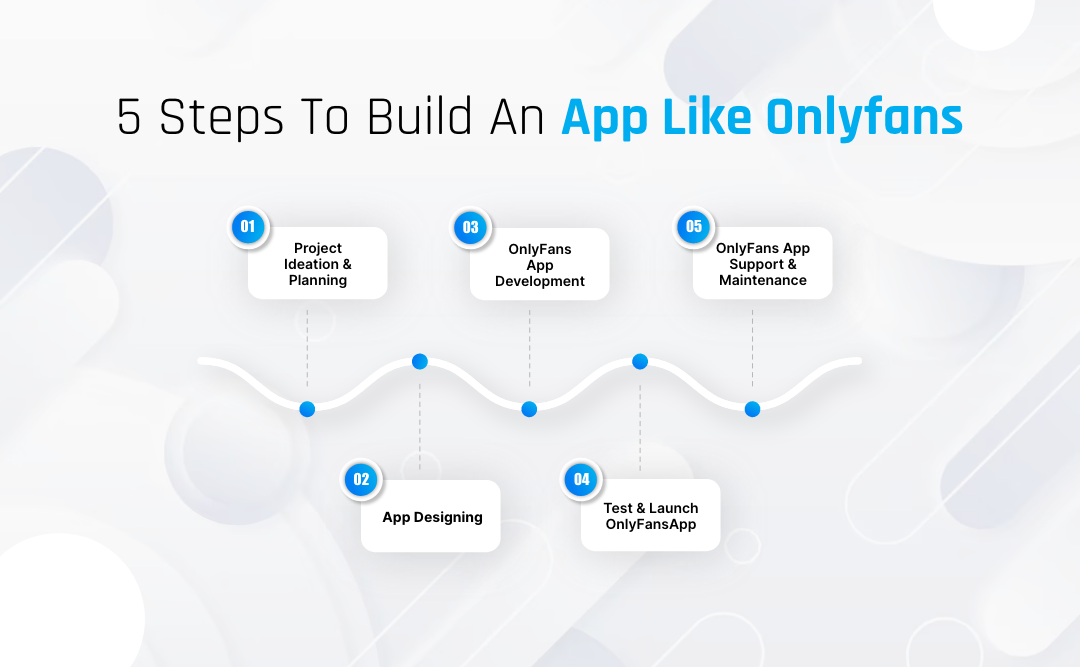 #Step 1 – Project Ideation & Planning
The foremost step to creating the OnlyFans app is project planning and ideation. As the OnlyFans app has already gained immense popularity and success, businesses must develop unique ideas to beat the competitors. So, take enough time to plan for your social media app development project and proceed further.
#Step 2 – App Designing
We all are well-versed that the first impression leaves a strong, lasting impression, whether it is an application design or something else. Developing a simple yet interactive app like OnlyFans is essential and can positively influence users while increasing the likelihood of returning to the application.
Also, focusing on the app design will keep your OnlyFans app development cost on track. From creating wireframes to including UX/UI principles, focus on every step of mobile app designing.
#Step 3 – OnlyFans App Development
There are two different phases of development, i.e., frontend development and backend development, so focus on them. To accomplish your dream of 'How to start a website like OnlyFans?' focus on this step. Create visual elements for enhanced user interaction and the best user experience. You can also hire frontend developers to make sure the website looks appealing.
Besides this, leverage professional backend development solutions to ensure that every development aspect is carefully considered, including environment configuration, database design, profile administration, payment processing, etc.
#Step 4 – Test & Launch OnlyFans App
Once you are done with the process of on-demand app development like OnlyFans, carefully test your business application to resolve all the errors and bugs before the final launch. Eliminating all the errors before launching your social media app will benefit you and save huge cost to develop a mobile app like OnlyFans.
You can launch the OnlyFans app on the desired mobile app development platform when everything is done successfully. Hire dedicated developers if you lack expertise and require professional assistance.
#Step 5 – OnlyFans App Support & Maintenance
Finally, seek mobile app support and maintenance services for your social media platforms like OnlyFans. Timely upgrading your business application will increase its lifetime while helping you keep the app updated as per the ongoing market trends. Undoubtedly, the process demands higher mobile app development costs, but it will be worth it.
These are the five simple steps to build an app like OnlyFans. Now that you are well-versed with the OnlyFans mobile app development process step into it and take your business to the next level. If you don't have the desired resources, connect with the top social media app development company with a team of dedicated developers.
What Are the Key Features to Build An App Like OnlyFans?
Features are the strong asset to make applications successful. It can make or break your OnlyFans app success. So, when you plan for OnlyFans app development process, do not forget to insert the following set of features into your business application. The features for app like OnlyFans are divided into three different panels, including user panel, content creator panel, and the admin panel.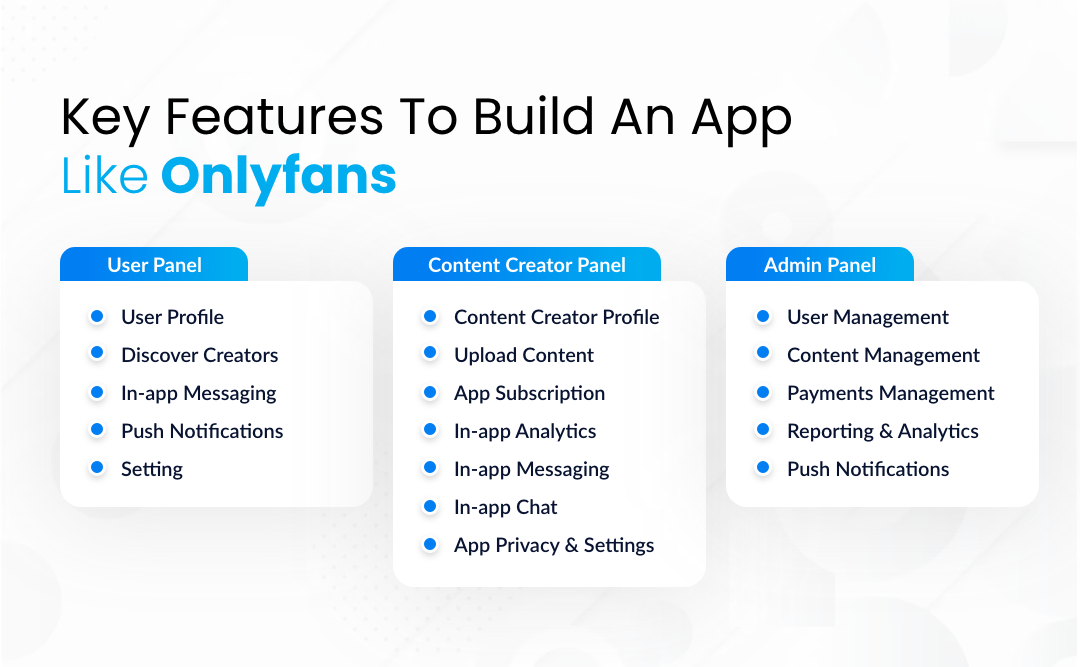 1. User Panel
This feature of the OnlyFans app enables users to view their account information, including bio, profile picture, and subscription price. Within this feature, users can change their password and payment method.
Such features of the OnlyFans app allow new creators to follow. You can search by category, location, or popularity on apps like OnlyFans.
It is where you can send and receive messages from content creators. Users can participate in live chats with creators.
Using this feature of apps like OnlyFans, users can get timely push notifications, including new messages, likes, and comments.
Also, they can manage account settings, including privacy settings and push notifications.

2. Content Creator Panel
It is where creators can manage their profiles, including their bio, profile picture, and subscription price.
It is where creators can upload and manage their content. They can upload photos, videos, and live streams on the OnlyFans app.
Using this feature, content creators can set up and manage their subscription plans within social networking apps like OnlyFans.
With such an OnlyFans app feature, creators can easily access in-app data analytics and track their performance.
It is one of the useful features where creators can send and receive messages from their fans.
While leveraging this unique feature into your app like OnlyFans, content creators can participate in live chats with their fans.
You should include this feature during social media platform development to keep the application's privacy and settings in check.
3. Admin Panel
It is one of the mandatory features of social media apps like OnlyFans. Using the feature, admin can create, edit, and delete users, as well as block and ban users if they are breaking any law or policy.
Such exclusive features include the ability to upload, edit, and delete content. Besides this, one can also moderate comments and reviews.
Within the admin panel of the OnlyFans app, the admin can set up and manage payment methods and track revenue and expenses.
This feature allows the administrator to generate reports on user activity, content performance, and financial metrics.
With the exclusive push notifications feature of the OnlyFans app, the administrator can get timely notifications of ongoing in-app activities at both the user and the content creator panel.
This is it! So, these are the top features to include when you build an app like OnlyFans. Now that you are well-versed with the different panels of such social media app development projects consider them while working on a similar project.
Why OnlyFans App Is Gaining Popularity Today?
Because it enables content producers to monetize their work directly with their fans, OnlyFans is growing in popularity. In contrast, on traditional social media platforms, creators depend on funding from advertisements.
Additionally, OnlyFans has several features that make it more desirable to content producers, including the capacity to live stream and produce exclusive material and the flexibility to set various rates for various levels of access.
Today, individuals have been spending more time at home due to the COVID-19 pandemic, raising the demand for online content. Additionally, it has facilitated the expansion of OnlyFans.
Here are some of the reasons why an app like OnlyFans is gaining popularity:
Direct Monetization –Compared to other platforms, 80% of the cash that creators make is theirs to keep.
Wide Variety of Content –OnlyFans features a wide range of material, including adult, fitness, cuisine, and other genres.
Personalized Experience –Content creators can engage with fans directly and foster a sense of community.
Convenient Payment System –Subscribers and tips can be paid for by fans using a variety of tools, such as credit cards, debit cards, and PayPal.
Overall, OnlyFans is a popular platform for creators and fans alike. It offers a variety of features that make it a great way to monetize content and connect with an audience. So, these are some major reasons that make OnlyFans a popular social networking application of today's time. As a result, more and more businesses want to develop OnlyFans apps to make money.

How Much Does It Cost to Build An App Like OnlyFans?
On average, the cost to build an app like OnlyFans ranges between $8,000 to $25,000 and more, depending on the project requirements. But, this is just a rough social media app development cost estimation as it keeps fluctuating from one type of project to the other. Still, here is data in a tabular format to help you get a clear OnlyFans app development cost estimation.
| | |
| --- | --- |
| Feature | Cost |
| Admin Panel Development | $2,000 – $10,000 |
| Mobile app Development | $25,000 – $45,000 |
| Back-end Development | $5,000 – $10,000 |
| Hosting & Maintenance | $5,000 – $10,000 |
| Marketing & Promotion | $10,000 – $20,000 |
Now that you know which process takes how much OnlyFans app development costs, keep them in mind and get started. You can hire dedicated developers or one of the top app development companies in USA who can help you deliver a successful OnlyFans app within a reasonable mobile app development cost.
Ready to Build An App Like OnlyFans? Let's Connect!
OnlyFans application has witnessed significant growth of $18 billion in the past few years. As more and more people use social media applications like OnlyFans, Instagram, and Facebook, the demand for social media app development has reached the heights of success.
However, apps like Instagram and Reddit have some restrictions when uploading content, so OnlyFans has attracted more content creators and businesses.
Now that you are already well-versed with the 'What is OnlyFans app?' 'How to build an app like OnlyFans?' 'What are the OnlyFans app features?' and 'How much does OnlyFans app development cost?' It is time to begin working on your dream project. Connect with a well-known adult app development company or hire dedicated mobile app developers who can help you accomplish your business dreams. Begin the hunt today!
Frequently Asked Questions
Q1. What is OnlyFans?
OnlyFans is an online platform where creators share exclusive content with their subscribers in exchange for a monthly subscription fee.
Q2. Is OnlyFans Only for Adult Content?
No, while OnlyFans is known for hosting adult content, it is not limited to it. Content creators can share a wide range of content, from art and music to fitness and lifestyle content.
Q3. How Much Does OnlyFans App Development Cost?
The cost to develop OnlyFans app with basic features and functionalities is $25,000. But, if you want to add advanced features and functionalities during OnlyFans app development, it will cost you around $45,000 and more, depending on the requirements.
Q4. What Are the Top OnlyFans App Alternatives?
There are several alternatives to OnlyFans for content creators and consumers. Some popular ones include Patreon, ManyVids, FanCentro, and JustForFans.
Q5. How Does OnlyFans Work?
Content creators create an account on OnlyFans and post photos, videos, livestreams, and other types of content. Subscribers pay a monthly fee to access this content, and creators can set their subscription prices.