Video Calling Apps have been in demand irrespective of the industry from corporate to schools since all are working remotely.
Video chat apps have taken the spotlight as it has made socially distant people socialize from distance without any physical contact. The increase in usage of Video Chat Applications and conferencing applications is from 17% to 44%
The application industry is going through its best phase. The increasing use of smartphones and the easy availability of the internet has revolutionized the app industry.
Initially, we used to use smartphones to just make a call and send a text to family, friends, or colleagues. But with time the industry has evolved remarkably.
The video chat app has smoothened the remote working and is able to build a Qualitative Workflow. Not only the corporate, but it has also reimbursed the people relationship who are staying away from their loved ones.
The development of easy-to-use video call applications can be helpful for those who have stayed away from technology all their life.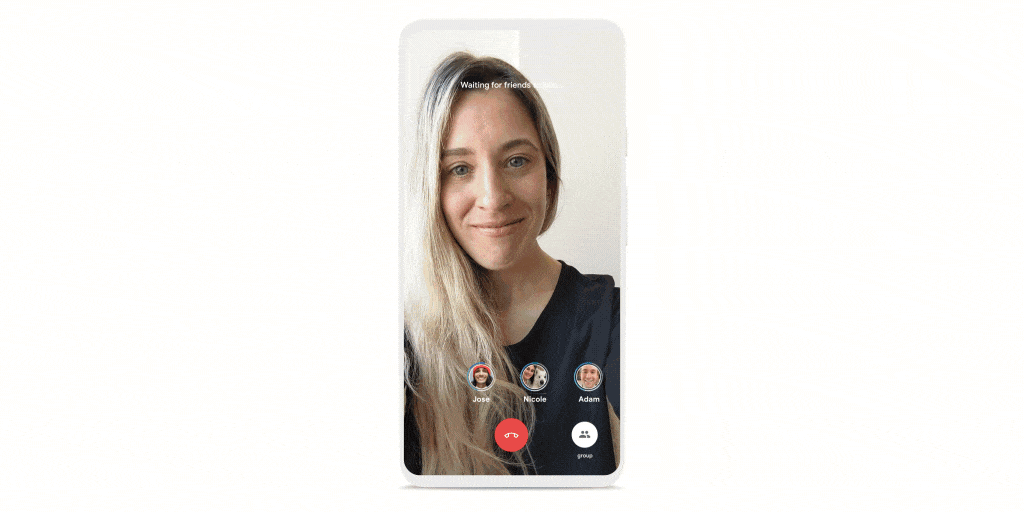 We use applications to save time as well as to kill time.  We are living in a tech-driven, app-dependent world. For instance, just for a few minutes take your eyes away from the screen and look around, you will see that most people have their eyes glued on the screen. Lifestyle is changing and the use of applications is increasing.
Free Video chat apps are a savior in these odd times when we cannot physically visit our acquaintances. Video calling apps have been an integral part of communication in this busy era.
They play a crucial role in running businesses and organizations. All the meetings are possible these days only because of video chat apps. Schools, colleges, and institutes are able to conduct classes with the help of these apps.
It is said that a video chat app fits into every possible purpose. Want to have a virtual party with family and friends? Well, a video chat app is at your service. First thing first, let us start with an introduction, have a look at:
Video Chat App Market Overview
It is right to say, "Develop a Video chat app" and get an increasing amount of audience traffic every day. The pandemic has brought fortune for video calling and chat applications like Zoom, Google meets, Whatsapp, and Viber which were created by far-sighted entrepreneurs who have now turned out to be market leaders.
So before you get to know how to develop a video calling app, it is important to do market research. And then work as per industry standards.
The video conferencing applications market is expected to grow at $16 Billion by 2023 as it has taken a tremendous leap in the current pandemic situation. The zoon, one of the giants in Video conferencing has seen an increase in users from 2.1 million to 21 million since March 2020.
The iOS App Store was launched in 2008 with 500 apps. Today, 4.4  million different apps are available for users to download. Android users have even more to choose from, with 2.9 million apps available on the Google Play Store.
Nearly 90% of mobile internet time is spent on apps. Apps like Skype and Whatsapp have seen a 70% increase in the number of daily users since march 2020. This shows the high demand for video chat apps. You can contact a mobile app development company to get one.
The Statistics Of Video Chat Applications
Statista video chat apps rose to prominence amid the ongoing global coronavirus pandemic and the global downloads of Skype, Houseparty, and Zoom each surged by more than 100 percent in March.
The video conferencing apps were downloaded nearly 27 million times this month, up from just 2.1 million times in January. Microsoft–owned service Skype had 59 million daily active users on its iOS and Android apps in March, compared to just 4.3 million for Zoom. Instant messaging and chatting applications have seen a surge in usage since 2014- 15. Although there are still very limited known apps and hence to create a chat app is an incredible idea.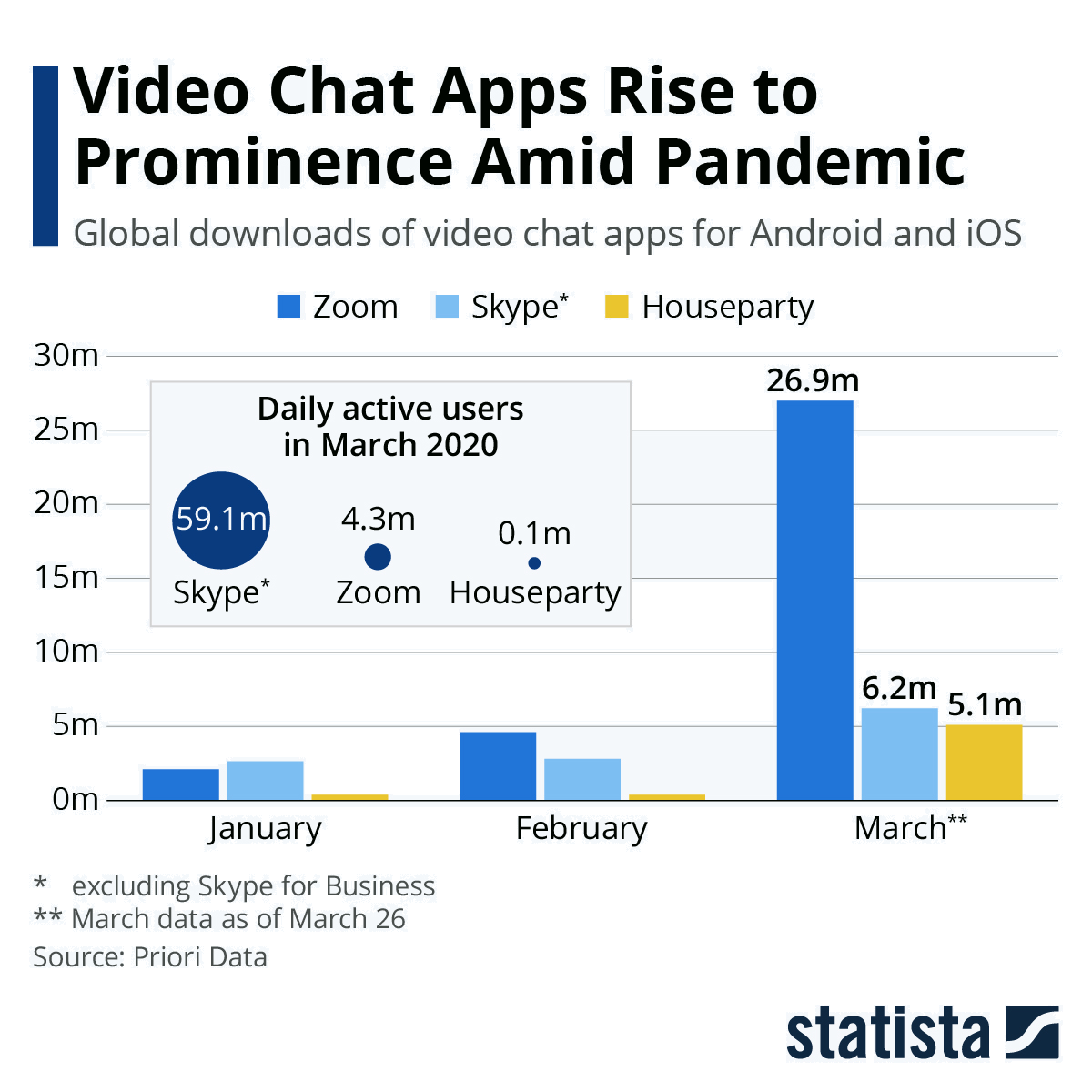 These applications are working as the best alternative to resume work and life in lockdown. A survey by App Annie says that smartphone users spend 50% of their mobile app time in social and communication apps. 
Have you started to wonder how to build a video chat app? Here we will be going into the details of video chat apps including their development, technologies, and many more.
What Is A Video Chat App?
Video chat apps or streaming apps or a way of communication that allows people who are miles away from each other or within a room to communicate with the help of the internet.
One can have a video chat on computers, laptops, or handheld devices like smartphones and tablets. You can hire dedicated developers to build video chat apps.
What Is The Importance Of Video Chat Apps In Today's Era?
Building video chat applications have paramount importance in professional as well as personal lives. It has a wide range of uses. We rely on video chat apps whenever we want to have a meeting, join classes, or contact kith and kin. The importance of video chat apps in today's era is given below:
1. Business Deals
Due to a tight schedule, it is not possible to physically visit a place to finalize each deal. Video chat apps are trustworthy mediums in such cases. Investors, as well as owners, can have a discussion over the app. There is also a recording feature available in a video chat app to save conversations. It encourages one-to-one collaboration as well.
2. Political Meetings
The government can virtually conduct meetings with political parties using an app built by a video streaming app development company. For example, due to the lack of time and the advancement in technology the Prime Minister can contact chief ministers of all states over video chat apps to explain rules and amendments to them.
3. Increases Productivity
Organizations can conduct meetings with employees from time to time and boost their confidence. This will encourage employees to work more. Video conferences make the interaction more interactive and engaging.
4. Increases Brand Reputation
Websites can opt for video chat solutions to solve customer queries. This will help to seed loyalty in customers and further increase brand reputation.
5. Live Video Technical Support
This will help consumers to easily identify problems and fix them with the help of apt personalized video guidance.
6. Family Time
Last but not least this is one of the most important uses of video chat apps that brightens the day for everyone.
Now that you know the importance of Video chat Applications, Dev Technosys is one of the best video streaming app development companies in the USA.
The Types Of Video Chat Apps
Before building a video chat application one should know all types of video Chat apps. These are designed to have a call or video chat from a user's front or back camera to that of others.
To build a successful website you need to decide whether you want an app for enterprise purposes or an app that helps to connect families and friends i.e. professional or personal. Here, we have mentioned three types of apps to help you to decide on one:
1. Video Conferencing Apps
Video conferencing apps are mainly built for enterprise purposes. They facilitate political meetings, company meetings, online learning, and meetings with employees.
A video streaming app development service provider builds apps that can accommodate around 500 participants. All the participants can join a meeting at one go using the link or code.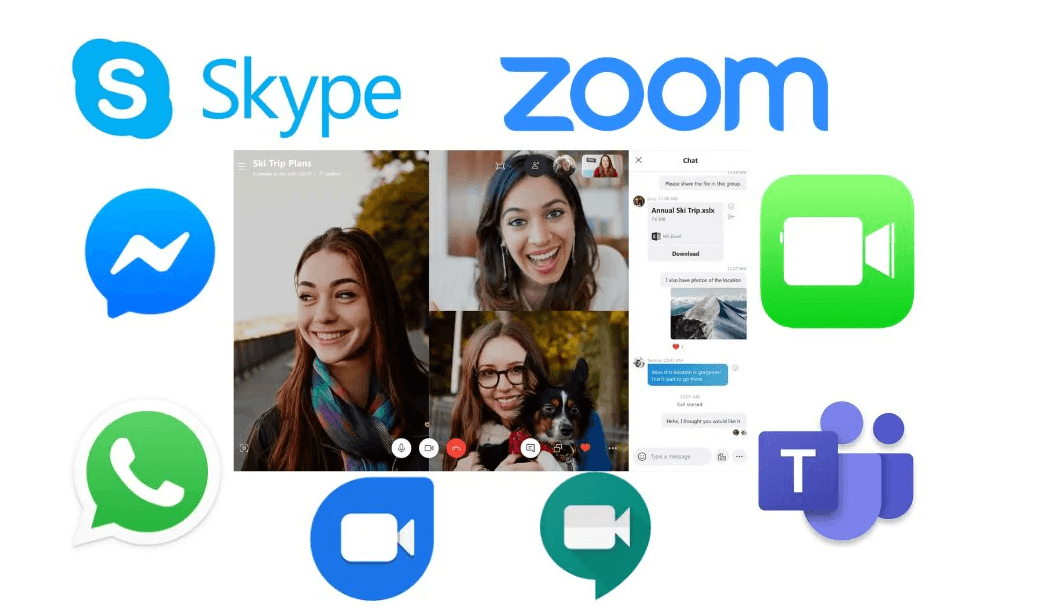 Here, the owner gets to create the code and send the invite link to the rest of the members. To develop a video chat app you need to make sure to have end-to-end encryption and good video and audio quality.
Video conferencing app development cost is around $45,000 to $70,000 in developing countries. Dev Technosys provides Video conferencing app development at an affordable cost.
Instead of disconnecting in a poor connectivity region, the application should be able to automatically adjust its video and audio quality.
Zoom, Google Meet, Webex Meeting, Microsoft Teams, and Skype are some of the prominent video conferencing apps that are used by organizations and eLearning platforms.
2. Entertaining Apps
Some video chat apps are built to just kill boredom and for entertainment purposes. If you are thinking about building such apps, make sure to incorporate some fun games and stickers along with video and audio.
Users can chat and play games simultaneously. As an example, you can check a few apps like Houseparty and Discord. You can take the help of video streaming app developers to get such apps.
3. Video Calling Apps
These applications aim to target chats between family and friends. The limitation of the number of participants in video calling apps varies from 2 to 10.
Many messaging apps also have video calling features. Some highly used examples are Facebook Messenger, Google Duo, IMO Video chat, WhatsApp, Viber, etc. Here, the time is not limited unlike the free version of video conferencing apps.
The Steps To Build A Video Chat App
Now that you have taken a decision to work in the highly lucrative market of video calling applications. Here are the steps you should follow to get a highly efficient video chat and calling Application.
Step 1- Study your end-user
Creating an application without keeping in mind the needs and requirements of the end-user, then it will end up being a waste of effort and resources. If you feel that you are unable to do the research, you can hire dedicated developers to develop the video call application.
The major audience of video chatting and calling apps are below 30 and hence it should be trendy, attractive and match with the language and quotations used by millennials. 
Make points of all the features and creative ideas you have for your android or IOS video calling app.
Now that video calling has become one of the major ways of communication for corporate as well as a personal calling. You have to make sure that it is an end to end encrypted and the calls are secure and reliable. 
Step 2- Determine the key features of your own app
With multiple competitors having huge market shares, it is obvious that regular video calling apps will turn out to be a failure.
Hence, for starters it is important to build a video call application which is unique and trendy. There are multiple video calling applications for both android and IOS, although those which are customized according to user needs, capture the market. 
While building a video chat application, you need to keep in mind the standard functionalities which are must for every video calling app. The essential features for building a reliable video calling application are provided below with in-depth details. 
Although if you are looking forward to getting an absolutely unique website, then you can hire a video streaming app development company like Dev Technosys.
Step 3-  UI/UX Design
The UI/UX design gives the first impression of an application. As we know the market is flooded with applications so you need to make your application highly attractive and engaging.
If you are building a video conferencing app keep your design elegant and intuitive. The design should be according to the target audience. Place the buttons in the right location.

If the application is for all ages like video calling apps then keep the design simple and easy with just a few buttons. You can take the help of video streaming app developers to get the app developed.
Step 4- Backend Development
This is the backbone of the application. And to develop a video calling app you need to Build a strong backend. So that it can firmly hold the application. You can either start from scratch or use already built software.
Further you can look for video chat solutions online or in an application development company. The back-end work involves building an app server, web server, and building the database.
Step5- Video Streaming Protocol
Use a secure protocol for developing the application. You can use WebRTC to provide features like audio/video codecs and peering.
Major companies use WebRTC as it is a highly integrated technology that supports live communication and the exchange of information. It helps to exchange data between both parties. Make sure to not mess with HIPAA and follow its guidelines religiously.
Step 6- Third-Party APIs
You must have seen promotional videos showcasing the development of video calling apps in minutes. This is done by third-party APIs.
It has become a rather easy solution to queries like " how to make a video calling app". But it does not guarantee success of your Video calling application as it is made with predefined features, and does not give you a window to create something extraordinary. Some of the famous APIs are Twilio, OpenTok (now the Vonage Video API), Wowza GoCoder SDK, etc.
Step 7- Testing Stage
Go through multiple testings before launching the application. Quality and security are of paramount importance. Users can share confidential or private information over the talk. Be prompt to fix bugs.
Step 8- Select The Team
You can hire a mobile application development company to develop the video chat application. They can complete the entire development and marketing process without any hassle on your front.
Dev Technosys is a mobile app development company that can make the entire process simple and hassle-free for you.
The Essential Features Of Video Chat Apps
Features are what keeps users hooked to an application. Initially, you can add MVP features to get a basic app. It will help you to figure out the pros and cons of your product. Here are a few features to have in video app development.
Registration –

Registration should not be mandatory as users can join meetings through links. You can insist that users register using easy methods as their social media or Google accounts, else users can just enter names and join a meeting.

Contact List – Allow an easy search feature. Users should be able to quickly contact other people using the search options. Make sure to add filters on the basis of alphabets in video app development. If it is a video calling, mostly it is integrated with users' contact lists.
Push Notifications –

Push notifications to keep users engaged. They remind users about upcoming conferences, new messages, missed calls, and so on. In a busy life, sometimes users forget to have conversations, and the app can remind them about it.

Video And Voice Call –

Video calls, as well as voice calls, are necessary features for video chat apps. Users can use any of these features. The quality of the calls should be high and should be accommodated according to internet connectivity.

Group Calls –

In a group, calls add a few important controls like muting, hands-free, and unmuting to have an easy and smooth conversation.

Text Chat –

You can use Twilio SDK to embed text features in the application or can get in touch with a mobile application development company.

End-To-End Encryption –

This is a must-have feature to ensure security. Here the message can be read-only by the sender and receiver. You can embed protocols like AES-256 and HMAC-SHA256.
The Advanced Features Of Video Chat Apps
Advanced features help you to make your app stand out from the crowd. A mobile application development company has been embedding great features. Have a look at the advanced features of video chat apps:
Screen Sharing –

You can use the WebRTC protocol in all types of video chat apps. This will make video calls and entertainment apps more engaging and fun whereas it is a must-have feature of a video conferencing app.

Custom Emojis And Stickers – Custom stickers would help to make the app more entertaining and engaging.
Virtual Background – It can be an impressive feature in video chat apps. Plus it is a great way to omit the messy background while you are in a meeting.
Custom Masks – You can use advanced technologies like Augmented Reality to allow custom masks. Instagram Video allows this. Users can create their own masks. You can take the help of a mobile app development company to integrate this feature into your video chat app.
Virtual Noise Disable – This is necessary when you are having a serious formal conversation. Background noises can annoy users and ruin the chat. You can use AI like Krisp to suppress background noises in apps.
The Technical Stacks Involved In Video Calling Applications
The technology used in a video chat app depends on the features that you want to embed in the app. You can take the help of video chat app development service providers for better results.

If you are building an app for iOS you should use Swift and for Android use Java or Kotlin. You can use frameworks such as NodeJS and Spark. Developers use databases such as MySQL and Oracle.
What Are The Monetization Strategies For Video Chat Apps?
Advertisements – You can put small advertisements in between two calls or small banners in ongoing calls. But, this could be an annoying interference so read further for better options.
Premium – You can add advanced and personalized features and encourage users to go premium. In video conferencing apps, you can set participants and time limits in the free version. A mobile app development company can help you with this.
Paid Calls – This is a great way to monetize the app when users do not have an internet connection but have phones. This is useful when a call is placed between two countries. In such cases, normal calls will cost heavily, so users will use this option.
Paid Stickers – Stickers make conversations more fun. You can add creative stickers as well as allow users to create their own stickers in the paid version.
Difference between Building the Android and IOS Application
You might have caught up with a confusion between android or IOS application. Here are the differences between the video calling application for android and IOS.
Programming Language- The programming language used in the Android version is Java or Kotlin. The android video chat application development may take extra time as compared to the IOS version. As it involves much more code writing. Although JAVA can make your app available for cross-platform.
Design Distinctiveness- The design and varieties available in IOS are less than android. The Android video chat apps can be made with any design strategy and in multiple shapes.
Audience- The IOS might have a more high-end audience while android might not have such a high-end audience.
Development Timeline- Considering the multiple factors for coding and designing the android video chat app will take more time and effort then IOS application development. Although you can go with the omnichannel approach.
Summing Up
We hope the video chat application development has been made easy with this article. Video conferencing is a high-in-demand tool at a professional level. While Video calling is used to get in touch with friends and family.
You can build both with the above steps or can hire dedicated developers for building the app.