Very often custom software development companies face typical issues and in such cases, standard solutions might not be efficient to do the job. This complication brings customized solutions into the picture.
Custom software development is the process of developing special software solutions to create, deploy, or maintain any specific user set or organization that is intended to perform particular functions.
The importance of custom software solutions is often left ignored by companies but in the coming days, it is going to evolve on a huge scale. A large number of software development companies require this service to integrate or customize their websites or applications along with enhancing their functioning.
Custom software development also helps to scale up a business and cater to specific user requirements in the ever-evolving industry demands. Are you curious about bespoke custom software development and how it can be a game-changer for your business? In this article, you will learn about the functions and the utility of custom software development company solutions.
Understanding Custom Software Development
Custom software development refers to tailor-made solutions that are specially developed to manage unique business requirements. Many businesses prefer investing in out-of-the-box solutions while other platforms choose custom software development as in the long run it is more effective.
In simple words, custom software development indicates the development of custom applications that are particularly crafted to fit the business requirements.
These software solutions are created and designed only for special organizations and are capable of addressing unique user requirements. They are also capable of providing in-depth and exclusive solutions to businesses through which they can easily manage special business-oriented tasks.
These software development services might not do well in addressing unique business challenges. Most often custom software development is facilitated by third parties or in-house teams. The whole process of custom software development is iterative where changes are constantly made to make a solution identified.
What Is The Importance Of Custom Software Development Solutions For Businesses?
The debate about 'build versus buy' is consistent in the software development industry. Many businesses all across the world have witnessed the implication of customized solutions on their growth.
Custom software development allows businesses to fulfill the requirements that are particular to their specific business domains. This helps the businesses to get a competitive advantage for their business solutions and leverage the software solution to define their business USP effectively.
Since custom software development special targets the unique requirements of a business the final outcome is always effective for the business in the long run. In this manner, companies can also save lots of effort and time in their entire business process.
Custom software applications are also very easy to use and require limited developer training to become professional. The application interface of this solution can easily be customized as per the development phases.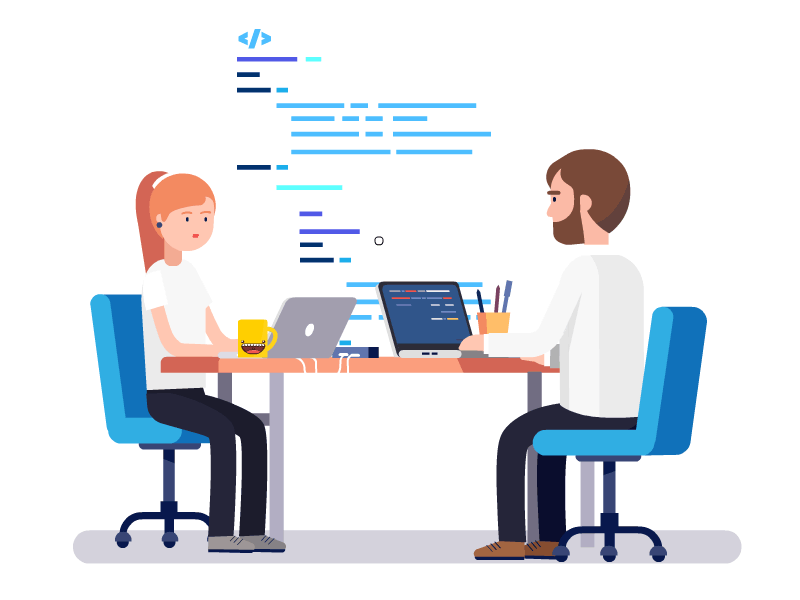 This requires companies to hire dedicated developers to get the job done using minimal time and training. As the name suggests custom software development allows businesses to work and function effectively as per their requirements.
A customized software solution is tailor-made to fit the requirements of an organization- not more, not less. This solution is specially developed for individual requirements or the specific needs of a business.
Since software development is customized for every business domain, it allows businesses to easily digitize their core operations and make the business processes highly productive.
The final custom solutions are entirely based on the inputs that are integrated during the app development phase to ensure that the application output has the essential functions that the organization can make use of.
The Benefits Of Custom Software Development Services
For the businesses still wondering if custom software development solutions are best for their organization, it will be useful to know the benefits that come along with it.
The top software development companies hire custom developers or on-demand developers to create organization-based solutions. Although custom software development also requires heavy investment, its benefits are worth it and they can potentially drive results for your organization.
Investing in a custom software web development company can be fruitful for your platform paying for itself with maximum profits. Let us go through some of the advantages of these services:
1. Flexibility
One of the most fundamental advantages of custom software development services is the flexibility that it provides. It allows business owners to choose the features that they want to include in their solution depending upon the specific requirements.
This is because the business requirements keep changing from time to time and it is normally easy to upgrade custom software solutions as compared to the conventional ones.
The reason for which custom software development solutions are required is the fact that they lead to an increase in efficiency and productivity.
2. Organization Security
Custom software development solutions are way more secure than standard off-the-shelf applications or websites. The conventional solutions become soft targets of hackers but companies hire dedicated developers to create custom software applications due to their excellent security protocols.
They also give the entire control to the admins over the security protocols that are integrated into the solution. This allows the business owners to select affordable technologies or security measures that can better suit their requirements.
3. Maintenance And Support
Custom software development solutions help the users to gain access to the dedicated support team offering routine maintenance and in-depth support whenever required.
These services facilitate top-notch personalized support which translates into the fact that any technical issue or security loophole will get instantly resolved. Also, there is never the fear of random discontinuation of the service support like the one faced with off-the-shelf software services.
4. Cost Effectivity
It might seem that integrating the custom software development company solutions is not essentially a cost-effective choice to make. However, getting started with custom software development offers substantial savings to the business in the long term.
They also increase the productivity and efficiency of the businesses. With its assistance, the business owners can plan out the whole process of software development and start out by creating the important features first. Eventually depending upon the budget they can include advanced features and other components over the course of time.
5. Easy Integration
The majority of software development companies or organizations use multiple software systems across different departments. This function leads to many compatibility issues or integrating frameless with the standard off-shelf software solutions.
In the long term, it also reduces the efficiency and productivity of the company. But with the help of custom software development services, the businesses can easily handle an array of processes across multiple systems and it facilitates easy integration of the services into a single centralized software program.
6. Personalized And Scalable Custom Software
Custom software development offers a personalized field to the organizations and helps them to gain insights about their internal software. It also ensures that the solution seamlessly fits into the organization's workflow and that the businesses can develop appropriate systems that can align well with their organization's model.

Eventually when the business starts to grow its requirements and services also get complicated. This can only be maintained and streamlined with the help of advanced tools. Custom software services ensure that the software remains scalable for business owners
Why Do Businesses Require Custom Software Development Services?
Custom-built software services can create highly streamlined business processes within an organization, and this is especially evident if the business operates across multiple branches or locations.
Entirely customized software solutions help in the hierarchical accumulation of the organization data under a centralized location which makes it easy for the professionals of the organization to gain access to the latest versions of the data even if they are accessing the same from multiple locations.
Custom software development can easily streamline and channel business methodologies and project development processes. Custom software development is a suitable approach for businesses that have specific requirements.
The bottleneck software chain is an indicator that the organization requires custom software development solutions. It is a direct outcome of having an inappropriate or ineffective system and it inhibits active communication within the organization.
Read More:- In-House Or Outsourcing: Which Software Development Practices To Follow?
So, the bottlenecks that are created due to this issue result in the loss of opportunities and reduce customer satisfaction. Custom software development solutions provide a customized approach to the businesses where they can easily target their potential customers.
The business owners who can implement these solutions can easily improve their product chain management and business operations.
Any software/web development company that is driven by custom software solutions easily enables the shift of culture into a highly productive and efficient business approach. If you are still not sure if it is the right solution for your business then you can take additional factors into consideration.
Unique Characteristics- The standard off-the-shelf software solutions cannot meet the demands of businesses that have unique characteristics or needs. Custom software development is the best bet here.
Services That Are Not On The Market– If the market does not have any product or services that can easily address or suit unique business requirements then custom software development can be considered to facilitate the cause.
Particular Long-Term Objectives– The businesses having well-defined long-term objectives or looking for a way out increase their business value can carry out custom software development within their organization.
Competitive Benefits– The overall benefits that can be availed of from maximizing the business value and the efficiency and personalized user access gives a competitive advantage to a business over organizations that have not utilized the solutions to optimize their requirements.
Why Is Custom Software Development Implementation Best For Small Businesses?
There are numerous advantages of custom software development that small businesses can get access to. If the business goal is entirely shifted towards creating a unique business solution that has high security and quality standards then you can consider investing in a progressive and custom-made software solution.
There are many business variants that are managed and organized by custom software development services. This process is recommended for small businesses because they usually do not have the potential to overcome sustainability or scalability issues. Hence, custom development is the best choice for small organizations or startups.
1. Easy To Add Additional Features Whenever Required
The industry shifts that are faced by small businesses are way more complicated than that of large enterprises where ready-to-use business platforms cannot always offer you the required features.
If you do not want to remain limited by the features that are offered by readymade platforms then you can consider investing in custom software development.
2. Automating Manual Operations
Small businesses always function to expand their services, and hence they must realize that if business expansion is the case then the number of operation complexity is more likely to increase.
Plenty of manual operations can become irrelevant to the company's workflow. Custom software development for small businesses can easily tune in according to their specific requirements.
3. Getting Technical Improvements
The complete dynamics of small businesses keep evolving thanks to custom software development because it enables the business owners to get access to highly skilled developers with good technical skills whenever required.
Upon successful integration, it also reduces the expenditure of small businesses. Working with a custom software development team can boost an enterprise's performance as well as productivity to a greater extent
The Bottom Line
With the incorporation of standard off-the-shelf software solutions, businesses are made to rely on conventional software development frameworks. But with the help of custom software development, they are free to optimize the processes of functions that are required by their businesses.
Bespoke custom software development solutions are particularly designed to fulfill the unique requirements of a business. This approach helps business owners to get exactly what they desire for their particular projects.
Custom software development indeed needs a significant investment initially but a well-designed solution will pay for itself in the long run. Many businesses do not implicate the importance of custom software development solutions but it is worth considering to achieve excellent work efficiency and business productivity to sustain for long in the industry.