Do you want to introduce a mobile or web-based software development that will be cost-effective, rapidly enforced, and of excellent quality? Are you curious to either outsource a software product development company or create an internal design team? Is it worth maintaining an in-house team for your next growth project? Or are you going to opt to outsource? Isn't that too costly?
If you are a startup with an ambitious product concept or a company looking to undergo a digital transformation, growth is a vital part of this initiative. As it is time and effort-consuming, you might be weighing the feasibility of in-house production vs. outsourcing.
It is impossible to suggest a single solution since each software project has its own specifications and variables to consider. The problem of in-house vs. outsourcing software creation is one that you alone should answer.
With many parameters, personal interests, pros, and cons in play, the only correct answer is the one that is best for you. And how do you decide that?
Consider this: as per the survey conducted by Harvey Nash and KPMG, 48% of the companies use outsourcing to gain expertise, with cost savings being a lesser concern.
Besides, 32% of them are preparing to increase their outsourcing budget. Still, businesses that are looking to create custom apps face this conundrum: is it easier to build an in-house development team or recruit an out-of-home one?
Why The Dilemma Of In-House Vs Outsourcing?
Software development can only be one of the most profitable market fields. With an increasing number of individuals utilizing smart devices of all kinds regularly, the environment continues to evolve and new demands are emerging, which only new, creative software can satisfy.
Although there is no lack of professionals that are ready to help you to create the next major thing in application development, excellence comes with a price.
Finding an entire squad of the brightest minds in the industry might be a promising prospect, but only as far as you don't recognize the overall financial cost. This is where the outsourcing of software development comes into the picture.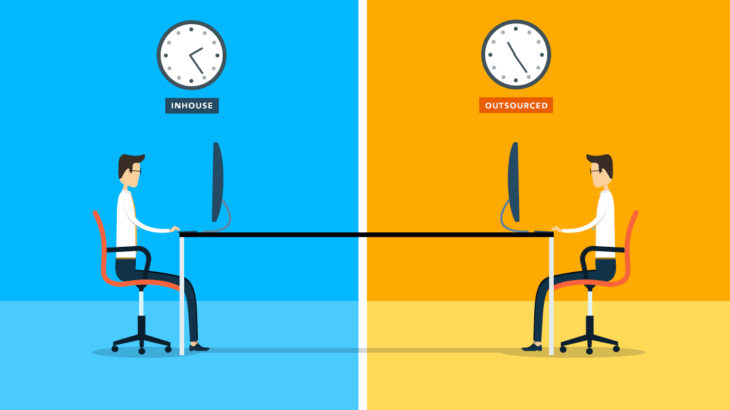 Nowadays, a growing number of organizations depend on external organizations to manage either whole programs or particular tasks for them.
The global outsourcing demand for business processes is expected to hit $220 billion by 2020. Outsourcing is a feasible alternative to in-house production, with its specific set of benefits and drawbacks.
Read this piece to know the most significant advantages and disadvantages of each strategy and to select the alternative that better serves your business needs.
In-House Development 
What is the concept of in-house application development? It is a software development process that is managed by a corporate agency for organizational use.
Often known as insourcing, in-house production basically means designing software using the specialists who you have at the company's disposal. You don't get any external support; all engineers are hired by you, conducting their assigned duties for you.
For example, a business that might have a partnership with the IT sector chooses to create its own downloadable game. In this situation, the mobile app development company can use its own software developers, who are called in-house developers, to build the framework and need a recruiting process to pick the development team that the application requires.
Pros Of An In-House Development
1. On-Site Working
Being able to link with one another helps to work efficiently and avoid any misconceptions. As all the employees are focused together within the same workplace and time zone, it is simple to get alterations done more efficiently.
You have insights into the day-to-day development, you know what your people are working on, and you can respond quickly if there are any roadblocks in the path.
2. Full Control Over Activities
You get to prepare your employees from the scratch, to make sure they know just how to use the resources at their disposal to build software in keeping with the ethos of your business.
As established employees of the firm, in-house programmers are more familiar with the needs and can respond to them as they switch from project to project much quicker than any independent consultant can. This alignment is often referred to as a cultural match.
3. Faster Communication
Because your in-house programmers deal closely with you at the offices of your company, engaging with them one-on-one is much less complicated than in the case of outsourcing a web development company.
You can interact more quickly, make unforeseen changes to the system quicker, and almost eliminate any errors that are caused by miscommunication. That being said, think more carefully before you settle for an open-space office in the hope of enhancing connectivity.
4. Personally Selected Team Members
Since an in-house team is a much greater investment than an independent organization, you are expected to spend more time selecting the right applicant.
According to a survey, it takes about 30 days to recruit a developer and this number is likely to increase. This can prolong the recruiting process a little, while also making it more comprehensive. As a result, the person who you end up introducing to your team is likely to be far more qualified for the role that you are trying to fulfill.
5. Security And Post-Project Support
Your company data and know-how are not distributed to private entities, and you maintain all the information gathered during the project within the organization, which reduces the chances of data theft.
Your in-house team will remain committed to your task after completion and will still be accessible for further improvements, fixing bugs, and maintenance on your demand.
Cons Of An In-House Development
1. High Cost
Building and preparing an internal team to work efficiently takes time. The cost of recruiting in-house developers is considerably higher than that of an offshore web development company.
The problem that is often ignored when we select the right option for our company is the cost of owning a new office room, buying the required hardware, equipment, developer incentives, or handling the idle time during project creation.
2. Employee Turnover
Tech developers strive to change the workplace very frequently. This is because the market for skilled developers is strong and some businesses prefer to provide better benefits.
As a consequence, you could face some workforce challenges and lose momentum. Seeking a new developer is often time-consuming so the project progress can be stalled or slowed down for a while.
3. Difficult To Find Experts
The ever-increasing IT market for a custom software development company is creating an enormous demand for software specialists. It is hard to recruit the right person in certain areas.
In addition to having the required soft skills and technical skills, the developer should come in the expected budget. This is also challenging because of rivalry from several other firms.
When In-House Development Is An Option
Will you have the time, resources, and money to hire them? Will you have the financial assistance that you need to keep them as employees? You should also remember that hiring the top talent takes a considerable amount of time and effort to employ, whether HR is interviewing candidates or you are dealing with it yourself.
In-house production means that you keep all the cords all the time — for good or for worse. If you can fulfill this in-house development team is the way to go for you.
Outsourcing
The nature of outsourcing is perfectly summed up by Henry Ford, who was one of the best industrialists in history. It involves delegating specific tasks, project work, or mechanisms to external parties.
There are many forms of outsourcing, including offshore, nearshore, and a custom software development company. In this section, we will concentrate primarily on the definition of the principle of outsourcing. This method is not new to the area of IT. Outsourcing was seen as a major risk several years ago, whereas now it is a normal practice.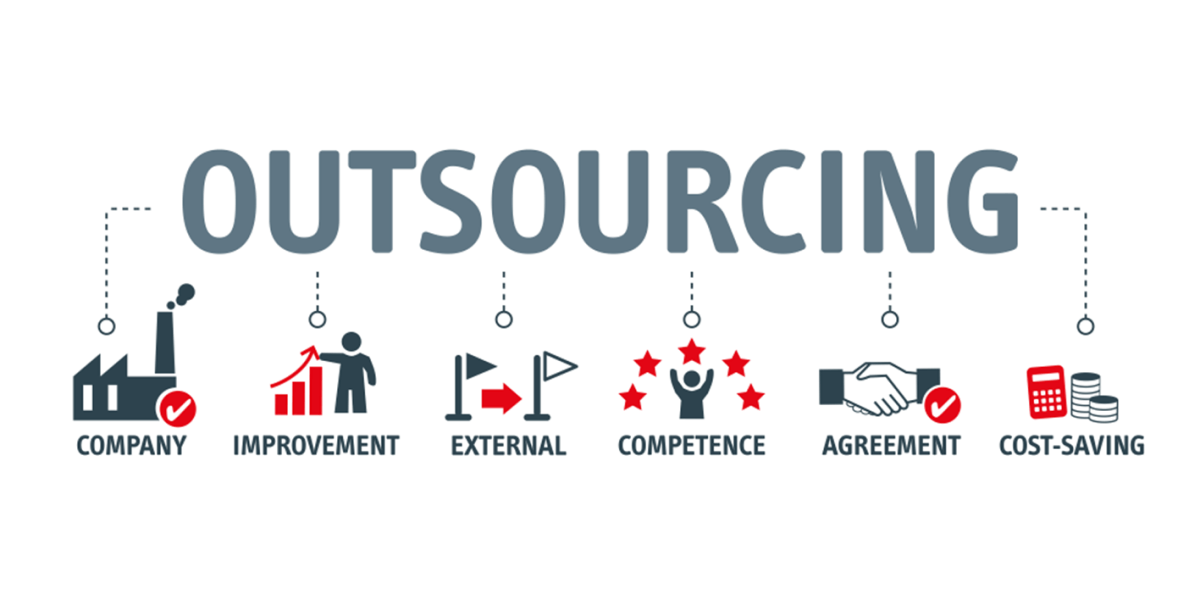 When you outsource software development, you delegate a particular project or function to a non-organizational workforce. Essentially, you hire dedicated developers from another organization or an independent consultant to do a project for you.
It is supposed to save you both time and resources. According to Statista, the turnover of the IT outsourcing industry is projected to be about $96.7 billion in 2021. So nowadays, a lot of businesses are using outsourced software solutions to cut costs and save time.
Pros Of Outsourcing Software Development
1. Cost-Effective Solution
The value of nearshoring is higher than offshore outsourcing but still better. Here are some examples: the US $100-150, Western Europe—80-$100, eastern and central Europe—40-$50, India — about $30.
By combining maintenance costs, staffing costs, and developers' hourly rates, you can reduce the construction costs by up to 60% by outsourcing.
So, outsourcing not only saves your time but also a massive amount of money that you can use to expand your company and on other important issues. It is one of the most significant aspects to remember when comparing in-house production and outsourcing.
2. Short-Term Commitment
If you hire dedicated developers on an hourly basis it will help you to escape any long-term obligations and pay just for the work that is completed.
Whereas recruiting an in-house staff is a long-term commitment comes with a defined monthly income and other employee compensation.
Rather, just contact an offshore service that supplies IT staff to increase services to recruit developers with a unique skill range, and complete the project without investing a large amount of money.
3. Focus On Important Tasks
Leave all of the production routines and problems to the outsourced team. When you have selected the right people for your idea, you are going to have a lot of time on your hand. You can commit it to prepare your budget, work on urgent issues, develop a marketing campaign, etc.
Cons Of Outsourcing A Development Team
1. Unreliable Communication
Most of the contact with your outsourced team would be via email, Slack, or some other means that do not have the same impact as face-to-face contact.
This could theoretically lead to mistakes. In turn, you are more likely to find yourself dealing with people who do not know the same dialect as you, which will just add fuel to the fire.
2. Security Of Data
It is essential that you thoroughly examine who it is that you will be dealing with before you execute any agreements because the chance of your company's secrets leaking is much greater here.
Having a non-disclosure clause is a must for outsourcing, and even that would not be enough to cover you in time if you are not vigilant.
When Outsourcing Would Be An Option
You would prefer a preassembled software product development company that includes everybody you need for the venture. You may not have the patience to oversee the entire process on your own.
You want a team that is confirmed to have previous application development knowledge on major programs. You wouldn't want to risk a last-minute scramble to locate the specialists you require.
Also Read:- Guide to Outsource Software Development in 2020
You will benefit from collaborating with a collaborator and project manager who can direct your project. You only need help at one or more stages of the project, or it will only be a short-term operation.
Wrapping Up
It is pretty clear why outsourcing is such a huge deal these days: it is a cost-saving method that can produce very strong results in a short period. If the winner of the in-house software development services vs. outsourcing fight cannot be identified, then you should consider the third alternative.
The hybrid solution is a mix of on-site and off-site application development. From the original concept to the new product, there are several phases in which in-house experts can have more value. On the contrary, outsourcing is cheaper and faster, so certain jobs should be outsourced.
The alternative depends on the particular scope of the work. If web application creation or maintenance is not the core competence of your company, it could be a massive task for your IT workers to get it right.

In that case, it is not worth choosing to create an in-house product. It would be easier, as an alternative, to outsource it. An app development company that is a professional in its niche would make your product profitable and drive more consumers to it.
Choosing between an in-house project team and an outsourcing partner is not easy, since both these strategies have their own specific advantages.
Even then, by carefully evaluating their disadvantages and weighing short and long-term business requirements, we are sure that you will be able to make the best choice.