OTT stands for over-the-top technology. The name OTT was given in reference to the devices or the technology that goes over and wider than a mere cable box and gives the power to users to access TV content on different devices.
It is well-known that OTT helps in delivering content via an internet connection and not a broadcast provider. The term OTT and video can be interlinked but they are slightly different from each other.
OTT can be termed as a medium or a channel through which video content is delivered at different video qualities to users. OTT app development has evolved a lot recently.
Three terms need to be identified in order to understand the OTT concept
1. Services
There are a lot of services that were initiated only physically earlier but with OTT they can now be availed of digitally. There are many applications in the market that serve a lot of people around the world.
In this digital age, a person doesn't have to step out to avail of products and services, they can just book them online. This is convenient and safe and opens up a world of infinite possibilities for users.
This could not have been possible without OTT app development. Some examples can be stock dealing and taxi booking. Traders had to buy and sell shares and stocks physically in the stock ring, that has changed because of these applications.
Similarly, a person has to go to travel offices or taxi stands to hire a taxi if they want to go somewhere. This can be done using smartphones or websites without having to pay a visit to their offices.
2. OTT Content
These include videos and other on-demand content. Earlier users had to watch whatever content was available on cable TV but not now. They can watch anything they want on their favorite video streaming platform.
Netflix, Prime Videos, Hulu, all of them are great examples of OTT content applications. Though they charge users some amount they provide them access to a huge library of video content.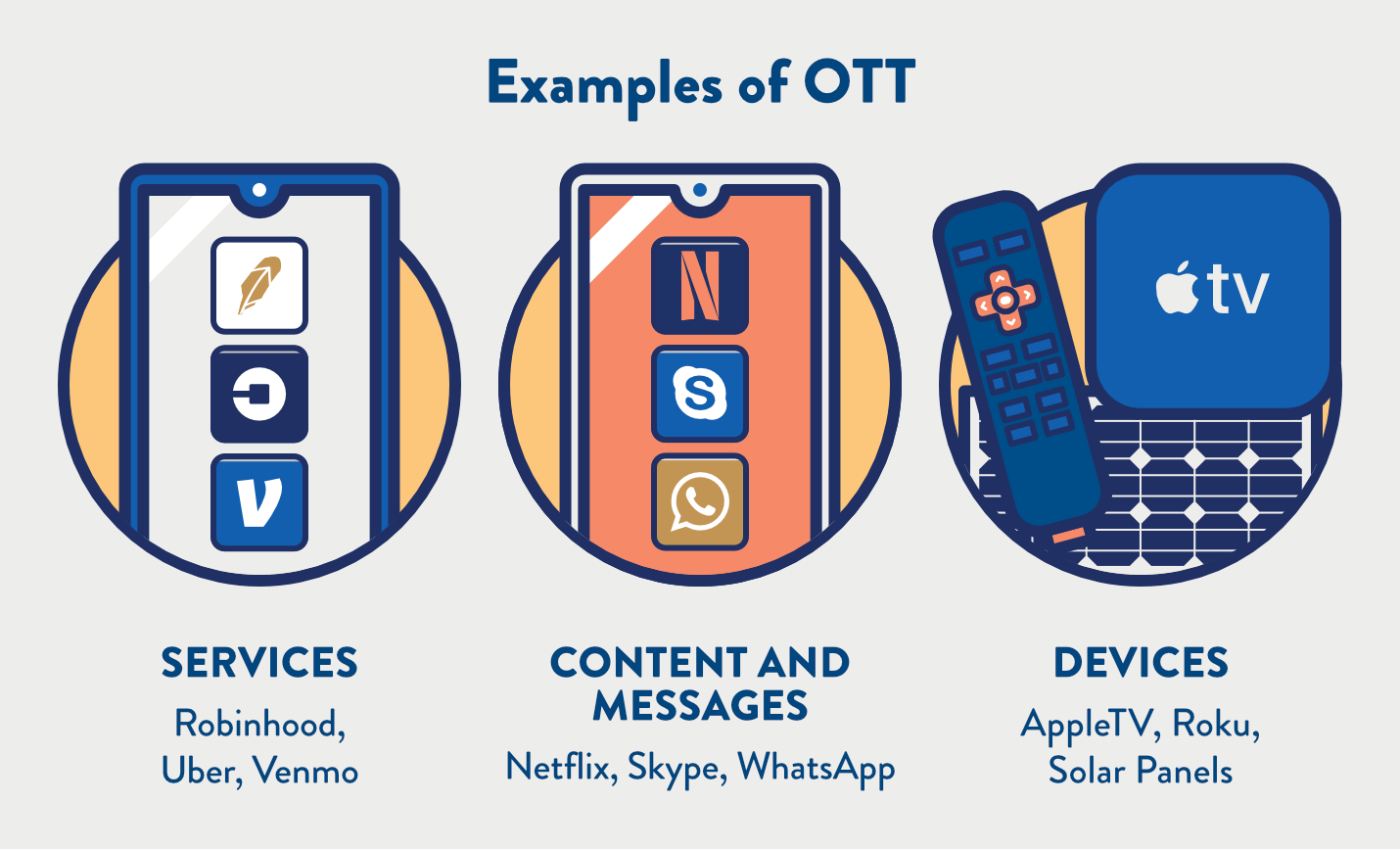 This is something that has changed the way content is consumed and has been a threat to cable TV. Video streaming app development is growing at a great speed and soon they will be the most used applications on smartphones and the web.
There are text applications as well, like iMessage and WhatsApp. They allow users to send messages when they are connected to the internet. Some of them also allow their users to make calls.
3. OTT Devices
There are devices that are using the OTT concept. For example, Roku and Chromecast are some devices that allow users access to content on any VOD platform, cable, and other online streaming websites on their television.
These need to be connected to the internet and they have an interface that provides users with the applications. This has also affected the business of DTH services.
Though, they are quite similar as they both have set-top boxes and are connected to the television. The OTT devices have made lives easy, better, and fun for their users. Companies hire dedicated developers to make OTT devices.
How Does OTT Relate To Apps?
OTT platforms are not unknown to anyone in the year 2020. Amidst the global coronavirus pandemic, when all things were shut and people were locked inside their own homes, OTT video and music application developers made apps that evolved as the only source of entertainment for people.
Nowadays, every individual has an idea about what is an Over-The-Top or OTT platform. But, they do not know the actual depth of these apps, rather, they just recognize the weight and the impact of this fast-growing technology in the industry of online video and streaming.
In this article, a step-by-step guide about OTT platforms is given along with its relation to applications. This will help you to gain a better insight into the video distribution method and a proper roadmap if you want to build your own website of a similar niche.
What Are OTT Applications?
OTT applications, often abbreviated as over-the-top applications, are a specific type of application that helps in delivering video content to streaming devices such as smartphones, tablets, smart TVs, etc. It is a different method of streaming videos that uses the internet unlike the conventional methods of cable TV or satellite.
OTT apps hold a special place in the video industry as unlike cable or satellite, they allow the user to stream videos at an instant pace on any device.
The user does not have to wait for an episode, video, or song to stream, rather, they can just simply select a video and stream it whenever and wherever they want to watch it. All they need for this is a fast internet connection and a smart device for viewing content.
The Impact Of OTT Applications
It can be easily observed how common OTT applications have become today. People of all ages and geographical locations are using these applications for entertainment purposes. OTT apps have become omnipresent mainly due to the following reasons:
1. The Interest Of Content Consumers
This is the main reason behind the creation and the success of any OTT mobile app development company. Content consumers are expecting more applications like these in the coming future.
It gives a feeling of authority and choice to users on what content one wants to play, its playback speed, quality, language, and all the other things just like a video player.
Additionally, the content that is available on over-the-top platforms is highly rated in terms of quality and cinematography and thus holds a lot of importance in the video industry.

They manage to catch the attention of consumers very easily. It is easy to just search and stream the content as per convenience rather than wait the whole day for a particular time to watch it.
All of these factors make OTT apps more than just a luxury. Now owing to busy schedules, people prefer to stream content on smartphones whenever they get time rather than waiting for the telecast of episodes.
2. VOD Business
VOD stands for Video On Demand. It can be explained as any service that provides videos, movies, or shows according to the convenience of users. With VOD, viewers can select and watch whatever and whenever they want.
This business has been integrated with OTT apps which is creating a great impact. Some applications that have the VOD facility integrated into them are Netflix, Disney+, Hulu, and others.
Video On Demand is slightly different from the traditional method of streaming which is often called linear programming. In linear programming, videos are played continuously and the user has no control over it. But in contrast, VOD gives them the opportunity to play or pause wherever required.
There are many video streaming app development companies in the market. It is a booming sector in today's era and is accepted by many businesses including OTT apps.
Nowadays, more and more users are cutting their cables and shifting to OTT because of this feature. VOD is continuing to grow and OTT businesses will also expand and diversify in the coming years.
Right now, the main focus is on OTT giants such as Netflix, Hulu, and Disney but eventually, more and more applications will be developed and compete in this field like all other application sectors.
What Makes OTT Apps So Appealing?
The three key factors that have made these applications popular among content consumers have been listed below:
Accessibility: It has become possible with OTT apps to watch what one wants, whenever they want. This is the biggest thing that they have offered to viewers.
Control: Cable TVs or satellites often charge for programs that a user doesn't even watch. Content consumers are willing to pay more if they get control over what programs they can watch. They only want to customize and pay according to their preferences for watching videos.
Cost: In cable subscriptions, users end up paying too much and that too, unnecessarily. Also, they offer less accessibility and control over what the user is able to watch. Thus OTT applications can save money and enhance the viewing experience at the same time.
Just a few years ago, these apps were not popular. But with the increase in the reach of the internet, even in remote areas, this pattern changed and now OTT platforms are available in every region irrespective of factors related to terrain. Every OTT app is different from the other in terms of design and services.
The Benefits Of OTT Applications
As mentioned earlier in the article, these applications are of great benefit to businesses and also their users. A mobile app development company would any day prefer developing an OTT application instead of others.
These are not too tough to develop and provide great ROI. The businesses also want them and users want them already. This is the reason why there are no downfalls to developing an OTT application. Given below are more benefits of these apps:
1. Targeted Marketing
These applications come under demand-side platforms and provide advertising companies with a better way to match ads with the right users. OTT provides tools for the platforms which was not at all possible in the past.
These platforms were not able to track how users used to engage with the content. This is the reason why they had to run general ads for everyone. With this technology now advertisers can show users only the advertisements that are the most relevant for them.
This increases the impact of the advertisements. A mobile application development company that deals in OTT can understand the problem of advertisers.
2. Better Customer Segmentation
Marketers now have the power to put customers into different segments according to their personas. This can be determined because of the OTT platforms and the tools that it provides.
Let's take an example of a streaming application. Today, it is possible to tell from which area users are watching content, their device type, and the kind of content that they like.
These are the things that tell a lot about them and allows marketers to create better strategies for them. It increases the impact and eventually the sales.
An OTT company makes a lot of strategies by putting their users into different segments and them providing them with content that they like.
3. Efficient
OTT applications provide better services to users at a decent amount of money. They leverage modern technology to provide people with something that makes their life easy, fun, and better.
Earlier, it was too hard and expensive to get the services. An OTT mobile application development company that understands users and their requirements can always deliver them what they want.
VOD Vs. OTT
Many people might get confused between VOD applications and OTT applications. There are similarities between OTT apps and VOD apps but there is a very thin line that makes them different.
VOD applications allow users to watch something only when they have a cable package subscription. On the other hand, this is not the case with OTT applications.
These applications want users to subscribe to them and then they allow users to watch all the content that is present on those applications. OTT apps are better and more flexible.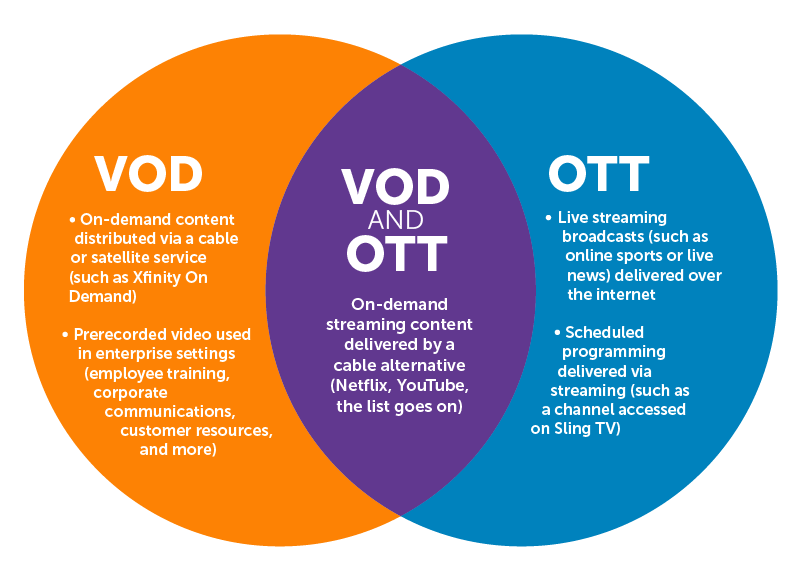 They provide more content to users in comparison to VOD applications. Users need to understand the difference between the two to choose better.
For example, HBO is a VOD platform and Netflix is an OTT platform. Both provide users with a video streaming facility but the content that is provided is different in amount and the subscription and price are different too.
Conclusion
OTT is being used in a lot of things and has become an inseparable part of people's life. There are many applications that have made it big like Netflix and Whatsapp.
These applications make life easy and allow users to live their life the way they want. OTT companies hire dedicated developers because of the increasing demand in the industry.
The coming time will see a lot of better things, apps, and tools. People have accepted this, businesses are accepting this and they are getting better with time. The future of OTT and the applications that are using it looks bright.