Do you want to know the most prominent roles of developers in healthcare industry?
We got you covered. The demand for software developers is increasing immensely, with every industry looking at their profit with massive expansion with the help of digitalization.
However, regarding healthcare industries, you must know that nowadays, research facility professionals only sometimes interpret the data.
The Lab scientist now gathers data results by software in a research lab. The healthcare business employs computers in much more sophisticated ways today. Patients and physicians can coordinate treatment regimens and appointments by logging into web-based information portals.
Healthcare digitization has made the process and hospitality of hospitals and clinics easier.
Additionally, patients embrace mobile and wearable technology to maintain regular dosing patterns and track crucial blood pressure and heart rate data. Due to such growth and mobilization, every hospital and clinic wants to hire developers for their healthcare app project.
Are you the one looking to develop fantastic software for your healthcare business? Then you must be looking to hire developers.
In this blog, we have covered the roles of developers in the healthcare industry, so read thoroughly. However, before hiring a developer, you must remember that reading this blog will help you in the most effective ways.
How Have Healthcare Industries Improved with Software Development?
Now that we're going to talk about the roles of developers in the healthcare industry, it is essential first to understand why and how important it is to hire web developers when it comes to the healthcare industry.
To comprehend your knowledge base, in this section, we have covered some market stats that showcase the growth in the healthcare industry with mobile app development and the rise in web development outsourcing. So take a look at some of these impressive stats.
In 2022, it is anticipated that the HealthCare segment's turnover will be US$59.70 billion.
By 2025, the market is predicted to reach a value of US$83.42 billion, with sales forecast to rise at 11.80% per year (CAGR 2022-2025).
The largest market size, estimated at US$18,630.00m in 2022, is produced in China.
By 2025, there will likely be 1,353.5 million users in the healthcare industry.
In 2022, there will be 13.7% of users, and by 2025, 17.3% are anticipated.
It is anticipated that the annual income per user (ARPU) will be US$57.33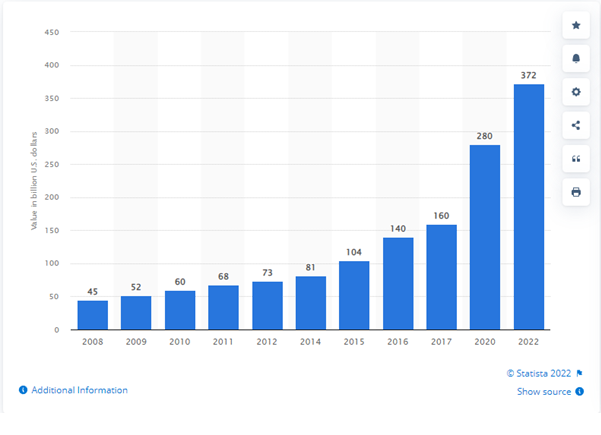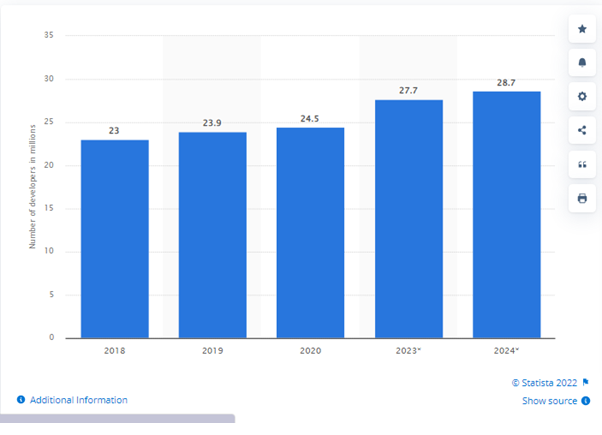 Over 1.63 million individuals worked as software engineers and quality assurance (QA) specialists in the US in 2022. This figure is projected to increase to 2 million by 2032.
Over 675 billion US dollars will be spent on corporate software globally in 2022, an increase of 11% over the previous year.
Worldwide consumer spending on mobile applications totalled 33 billion dollars during the most recent quarter, a decrease of three dollars from the same period in 2021.
Consumer spending on mobile apps increased steadily between 2019 and 2021, reaching a high of 170 billion dollars in 2021.
By 2022, it was predicted that India's healthcare industry might be worth up to 372 billion dollars, up from roughly 280 billion dollars in 2020. Healthcare ranked among the most significant industries in the nation in terms of labour and earnings, and it was expanding quickly.
By 2022, it was predicted that India's healthcare industry might be worth up to 372 billion dollars, up from roughly 280 billion dollars in 2020. Healthcare was one of the most significant industries in the nation in terms of job growth and income, and it was expanding quickly.
By 2024, there will be 28.7 million developers worldwide, a growth of 3.2 million from the figure recorded in 2020.
The results of a developer survey, robotics and small applications technologies are the ones that interest software developers the most globally, with roughly 60% of respondents expressing as much.
What Are Healthcare App Developers?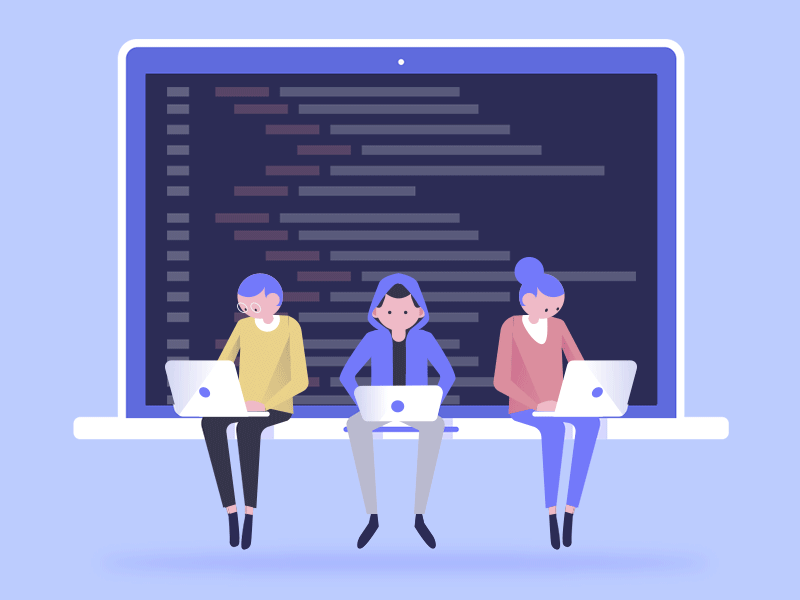 Healthcare app developers are programmers who specialize in creating web applications using various technologies for the healthcare sector.
These software developers can research, program, create, deploy, and manage software that offers benefits to hospitals, doctors, patients, clinics, and other healthcare businesses.
Furthermore, you must know that software developers also contribute to creating software systems that operate devices and networks and maintain the functionality of those platforms.
Roles Of Developers in Healthcare Industry
Now the time has come when you must know about the roles of developers in the healthcare industry. In this section below, we have covered all roles of developers in the healthcare industry.
1. Define Goals
The initial role of developers in the healthcare industry is to define the goals of business projects. Once you have provided the developer with your application requirements, it's time when they'll look into it and make a plan to build a step or web app.
This step will help you and the developer to clearly understand what the software will look like and how it will start. Make sure to hire dedicated developers offering a basic go-through of your software development.
2. Sketch of Project
Another role of developers in the healthcare industry is to sketch a layout of your future software interface. It is vital to know that it is the most crucial role that comes with the possibility of understanding or conceptualising the MVP you want in your app and on what platform your application wants your application to build.
Before going deeper into the development process, the developer's role is to offer a structure to the application according to the platform you have chosen.
It is vital to know that there are two platforms for app development: iOS and android. Now right after defining the business goals here, your developers will discuss with you the platform and structure of software development, which will help the rest of the developer team decide and follow the development mission easily.
3. Research & Analysis
It is the role of developers in the healthcare industry where the developer needs to go through the most trending healthcare solution developed till today.
The development team is responsible for offering the most trending and latest information on the information you're looking to develop.
It will help them offer their clients a unique and appropriate software developer. However, the developer will also offer you the details regarding competitor healthcare solutions businesses and revenue models that will help build the most fantastic app that turned out to be the best web app development.

4. Decide on Features and Functions
Decking on features and functions is another critical role of developers in the healthcare industry. This time your developer will be required to offer you the list of the most prominent features and functions that are used in other similar software developers.
However, it is their responsibility to offer you in-depth knowledge on why and how the features & functions are suitable for your app development.
Some businesses have already developed a list of features and functions they want in their software. However, some want to build their software according to the ongoing market trend in the healthcare industry.
It is the role and responsibility of a hybrid app development company to look into and offer multiple features and functions.
5. Building Amazing UI/UX
Here come other roles of developers in the healthcare industry where they need to build an attractive user interface and user experience to boost user engagement on the website.
Every business wants more users for its software development. However, it is vital to know that only users coming to the website will not use any software.
It requires consistency and engagement, most importantly. The developer's role in the healthcare industry is to build an effective UI/UX that engages users on the website as long as possible.
6. Mobile App Prototype
Mobile app prototype is another incredible role of developers in the healthcare industry that comes right before the development starts.
Here the developer will offer you a prototype of software that will exactly look like after development. A prototype of software will help analyse, rectify, identify and modify what functions and things you want and don't want in your app.
Make sure that you look to hire mobile app developers that offer you the same. Any mobile app development is complete with a prototype, so look ahead to the role when you hire dedicated developers.
7. Development of Frontend and Backend
Building the app starts from here. It is the most prominent roles of developers in the healthcare industry. After every decision-making and prototype, the developer will start building the backend and front of the website according to the prototype and requirement.
In this stage, the developer will first decide on technologies to develop the front and back end. After that decision, they'll start creating the accurate web app development you were looking forward to.
However, it is crucial to know that regular follow-up with developers during web app development is crucial. In this stage, several businesses face issues in management and requirements. If you want effective mobile app development, it is vital to perform this also.
8. Testing & Quality Assurance
It is another roles of developers in the healthcare industry where the developers will submit their software development to their testing team for reassurance of bugs and errors.
It is essential to know that every developer's responsibility is to test the software before launch. Software testing is beneficial in knowing several things, including effective or impression launch.
It is also vital to know that after testing software, the developers must ensure that their quality assurance team is working on every aspect of the application.
Working on quality assurance involves reviewing speed analysis, user interface, user experience, and any bugs and errors appearing on the home page.
It is the most crucial role of developers in the healthcare industry as it can't be skipped due to the safety of individuals connecting through healthcare programs.

9. Assistance in Launch
Here comes the most crucial stage to which every developer looks forward. After testing and quality assurance, another role of developers in the healthcare industry is to launch the application on the platform it has been built.
The launch requires several steps, which need the presence and assistance of developers. So, when you want to hire mobile app developers, make sure the one you're hiring offers launch assistance that will help you in every aspect.
However, it is essential to keep in mind that it is vital to follow the appropriate step for launching the software on different platforms.
Only some people know the proper steps and guidelines for tackling it. Hence developers with years of experience in development have knowledge and skills in the launch of the software. Taking assistance in the launch will offer you effective results.
10. Maintenance & Support
Last but not least. Maintenance and support are the other most essential roles of developers in the healthcare industry.
The Healthcare industry is vast and requires regular updates and bug-free software. Small mistakes can lead to massive damage.
So, when it comes to software development in the healthcare industry, it is vital to ensure that your developers offer you post-application maintenance and support.
Behind every successful ongoing software, there's a team of massive developers that work dedicatedly every day to avoid bugs and errors in software. Hence application maintenance and support will help in the long-run success of software development with a massive user base.
Start Looking Today!
Everything mentioned in this blog showcases the demand and growth of developers in the healthcare industry. So this was all you needed to know to understand the roles of developers in the healthcare industry.
Well, if you have come this far, you must be one of the people looking for mobile app development and released the importance of hiring developers.
You should have known that this factor is vital to know the roles and responsibilities of developers when you look to hire android app developers.
If you're looking forward to hiring the best developers in that case, you must keep in mind everything we have discussed here.
Additionally, you can get in touch with us if you're looking for a great software development company with years of experience and a talented developer pool.
Frequently Asked Questions
What Kind of Software is Used in the Healthcare Industry?
Regarding the best types of software used in healthcare, two types of software are trending nowadays.
● The Electronic Patient Record (EPR)
● Electronic Medical Records (EHR)
These are the top 2 software most often used in Hospitals utilised internally to maintain patient information
How Can A Software Engineer Help in the Healthcare Industry?
Software developers and specialists have used programming languages to create high-quality healthcare applications, including electronic healthcare systems, patient information software solutions, and medical middleware devices.
How Much Does It Cost To Hire A Software Developer For The Healthcare Industry?
If you are looking for web app development, the hourly cost of hiring an iPhone app development company ranges from $25 to $50 per hour. However, it would be best if you remembered that the cost varies depending on other factors involved in development.
What Are The Benefits of Building Software For The Healthcare Industry?
There are some crucial benefits to hiring iOS & android app development services for healthcare businesses. We have compiled a list of critical benefits that you can look at.
● Improved security
● Exceptional diagnostics.
● Automated system with multiple platforms
● Patient care of the highest quality
● Improving healthcare standards.
● Flexibility, adaptability, and functionality
● Process Improvements