Worldwide, sports is the only activity that does not differentiate between humans based on religion, caste, ethnicity, and linguistic background. People not only play also enjoy sports activities. Now, due to the rapid technology change, there are several options available by which you can enjoy the thrill of sports, only sitting at the couch and having a smartphone or tab in your hand. You can also consider it as one of the great sources for earning in the form of fantasy clone script apps like DraftKings.
The most amazing thing about fantasy sports is that its fans are from every age group, like 18-66, and play fantasy games of their choice.
For example, in 2019, there were 45.9 million users who played fantasy sports in the USA. Although fantasy sports came into existence before the pandemic, there is a huge rise in fantasy gaming apps after it. The fantasy sports apps like FamDuel, Draftkings, Yahoo Sports, and others appeared as some of the greatest apps of the decade where people can participate in an online contest by forming their team and winning the prize amount.
On the other hand, the brands find these fantasy sports gaming apps one of the best tools for advertisement and promotions. The funda behind it is simple: while watching or playing games online, the users remain engaged with the screen, so whatever ad you display, the viewers or players will watch it and create great brand awareness. It directly refers to the concept of gamification.
What Do You Mean By Fantasy App Clone Script Apps Like DraftKings?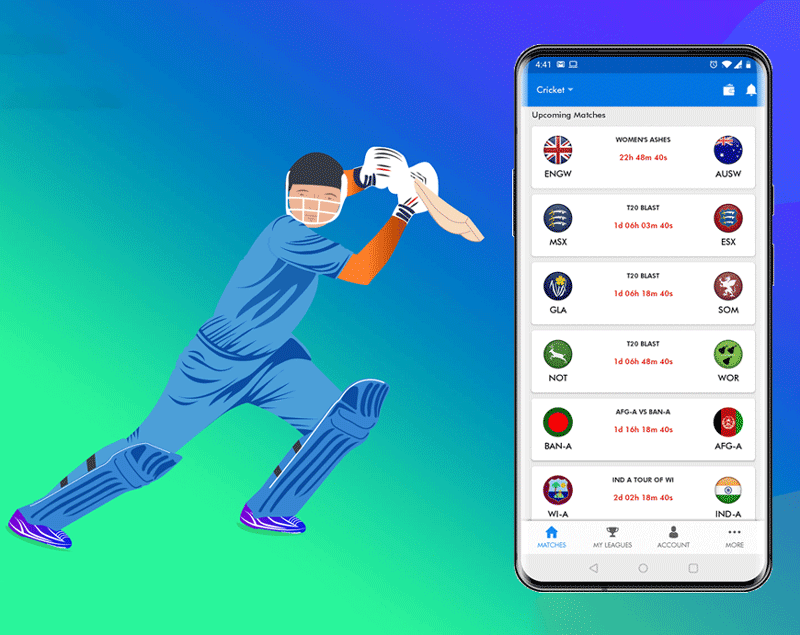 Since the launch of fantasy sports, it has been in trend among sports lovers to enjoy their favorite game, including the team formed with their favorite players. While playing the fantasy sports game, they can win the cash prizes on a matching, tournament, or contest basis. If you are looking for your fantasy app development, then a fantasy sports clone is the best & cost-effective option for you.
The fantasy sports market is expected to grow by $9.34 billion during 2020-2024. Several entrepreneurs worldwide consider it as one of the fantastic opportunities for revenue generation via producing a unique game idea. It can help to reach a global audience without having the barriers of boundaries and language. In addition, a unique fantasy sports app idea can also help in promoting the third-party brand.
There are several other benefits of fantasy clone script development that you can find as follows-
Cost-effective option as you will get some pre-built components.
Fast deployment
Fewer efforts in coding
Customized design
High ROI & many other benefits
The core benefit has the app with a unique design and features similar to the best fantasy sports app.
Types of Fantasy Sports App Model That You Can Consider for Making Apps like Draftkings
For playing fantasy sports, the same analytical and logical skills are required that we need on the ground. Here, a player needs to select the team to have the best result, such as winning real cash prizes. Initially, fantasy sports games were launched only for cricket; later, multiple games were introduced via this concept, such as football, rugby, baseball, hockey, and others. There are several ideas you can implement while fantasy clone script development.
You can have the fantasy sports mobile apps such as –
Daily and weekly contests
Game-based contests
Conceptual based games
Multiple league based games
Monthly leagues
In addition to the game type, it would be best to follow the latest trend to take your fantasy game app to a new level and provide some unique experience to the users.
Before further discussion, check these latest trends that you can consider while developing a fantasy sports application clone.

1. Artificial Intelligence 
Might be you are not aware of it. Still, most mobile app developers are focusing on implementing AI in mobile apps to provide the best feel of personalization to the users. With the help of fantasy sports app developers, you can also implement the same in your app that will help in user experience and customer retention, and engagement.
2. AR-VR
The augmented reality and virtual reality-based applications will soon replace the existing apps, and these apps provide a real-life experience to the users. While using AR-VR apps, users connect themselves with the virtual environment easily and interestingly. So, you can imagine that if they get the experience of AR-VR for playing fantasy sports, they will feel awesome.
3. Blockchain Technology 
It is the finest technology for secure online payment. It eliminates all the chances of online fraud and forgery, document spoofing, and fake transaction. Another advantage is that it helps the receiver and sender faster processing of ongoing payments in a safe environment. If you include it in your fantasy sports application, then users would love it.
Read More: A Gentle Introduction of Blockchain Development Technology
4. Social Media Integration
Everybody is experiencing the power of social media now, so how a fantasy sports app clone script can be untouched from it. A current trend is a much-required tool for brand awareness, marketing & promotions, customer relationship, and ROI. So, it would be best to include it in your fantasy sports app idea.
Apart from the latest trends and types of fantasy sports mobile applications, you should also note that the following are some important sports apps from that you can take reference-
Fantasy rugby mobile apps
Fantasy soccer mobile apps
Fantasy cricket mobile apps
Fantasy sports football apps
Fantasy basketball mobile apps
Baseball Fantasy sport mobile apps
Fantasy sports mobile apps for Golf and many more.
The Mandatory Features That A Fantasy Clone Script Must Have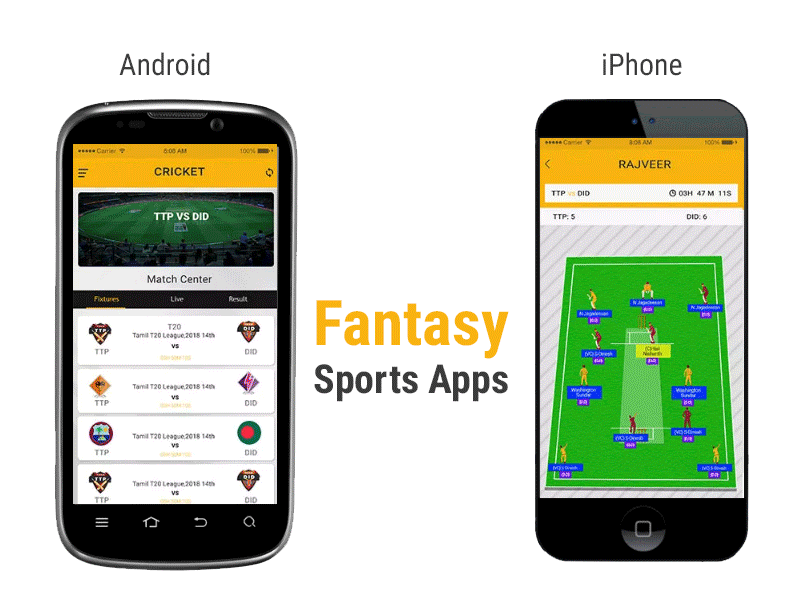 There are two important components of fantasy clone script: the user panel and the admin panel. It contains the features for users and an app admin that you would like to read as follows-
#1. User Panel
Here users will get all useful features that they can use while playing fantasy sports via the app.
On-board your users smoothly on the app like FanDuel. The users can register themselves using their e-mail id / Gmail login or phone number, or social media login.
With the powerful search option, a user can search for a contest to participate in.
Here users can find out which contest they are participating in and have participated in and how many matches they have won or lost.
Here they can see the details of the prize money they have won in the game. They can directly withdraw the amount from the app into their bank account.
They can invite their family members or friends for the gameplay, and in turn, they will get some credit points. It also helps in-app promotion and new users on-boarding.
For participation in the contests or subscriptions, users can pay from their preferred methods like net banking, debit card, and credit card.
Via this feature, users will form their team by selecting their favorite players based on the real game performance.
The users can participate in the contests; they can also create their contest and invite others to join it.
A user can manage his profile easily; they can upload or remove their profile image and edit their details such as e-mail id, phone number, and bio.
#2. Admin Panel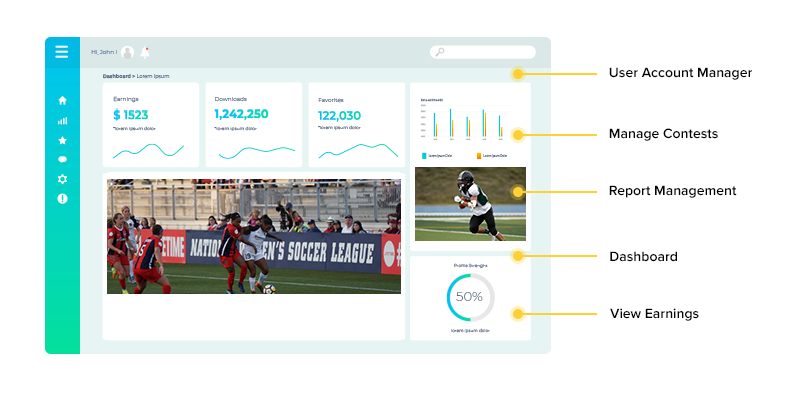 It will work like the control panel for an admin. Via various features, they will be able to control the whole app activity.
One of the finest features of a fantasy clone script is that it allows an admin to control the overall app and users' activity.
The admin can manage the contest with ease. With the help of this feature, they can be sure that every ongoing match must be enlisted on the app so the users can enjoy it.
An admin can track all ongoing payment activities such as prize amount or credits made by users while referring the app to the others or playing the contests.
The contest fee depends upon the match type, players, and team so that an admin can modify it on a real-time and requirement basis.
Admin can track the reward points earned by the overall users. Even they can see that how many users have claimed the points.
The dashboard is the most powerful feature that empowers the admin to manage all the account-related activities. They can add or remove users, teams, players, and contests on a requirement basis.
Although the above are mandatory features, making your fantasy sports clone script unique would be much better to include some advanced features. So, here is the list of advanced features that you need to see once before implementing.
Most of the new-gen apps come with multilingual features, so you can also include them in your sports app with the help of an experienced fantasy clone script development company. This feature can help you to target the audience worldwide.  
Although multiple payment options can be made available on the app, the mobile wallet is such a promising option in terms of ease and secure payment. Users can recharge it with a certain amount and can pay. Their bank account will be safe and secure.
This feature allows the users to chat with the other users to discuss the match or prediction. With the help of this feature, they can also contact the support staff in case of any issue. This feature helps users to do the communicate in apps like FanDuel or Draftkings.
It is one of the most demandable features by the users. If you facilitate the users to watch the live matches, it increases their joy and will also help them play fantasy sports contests on the app.
Complete Guide: How to Get Started Fantasy Sports Business with Mobile App?
You can create the sports quiz feature and, in turn, can announce some prize in the form of some goodies or cashback. It will also attract new users to your app like FanDuel.
This feature will help you to have less bounce rate and keep engaging the users on the app.
How to Develop A Fantasy Sports Clone Script?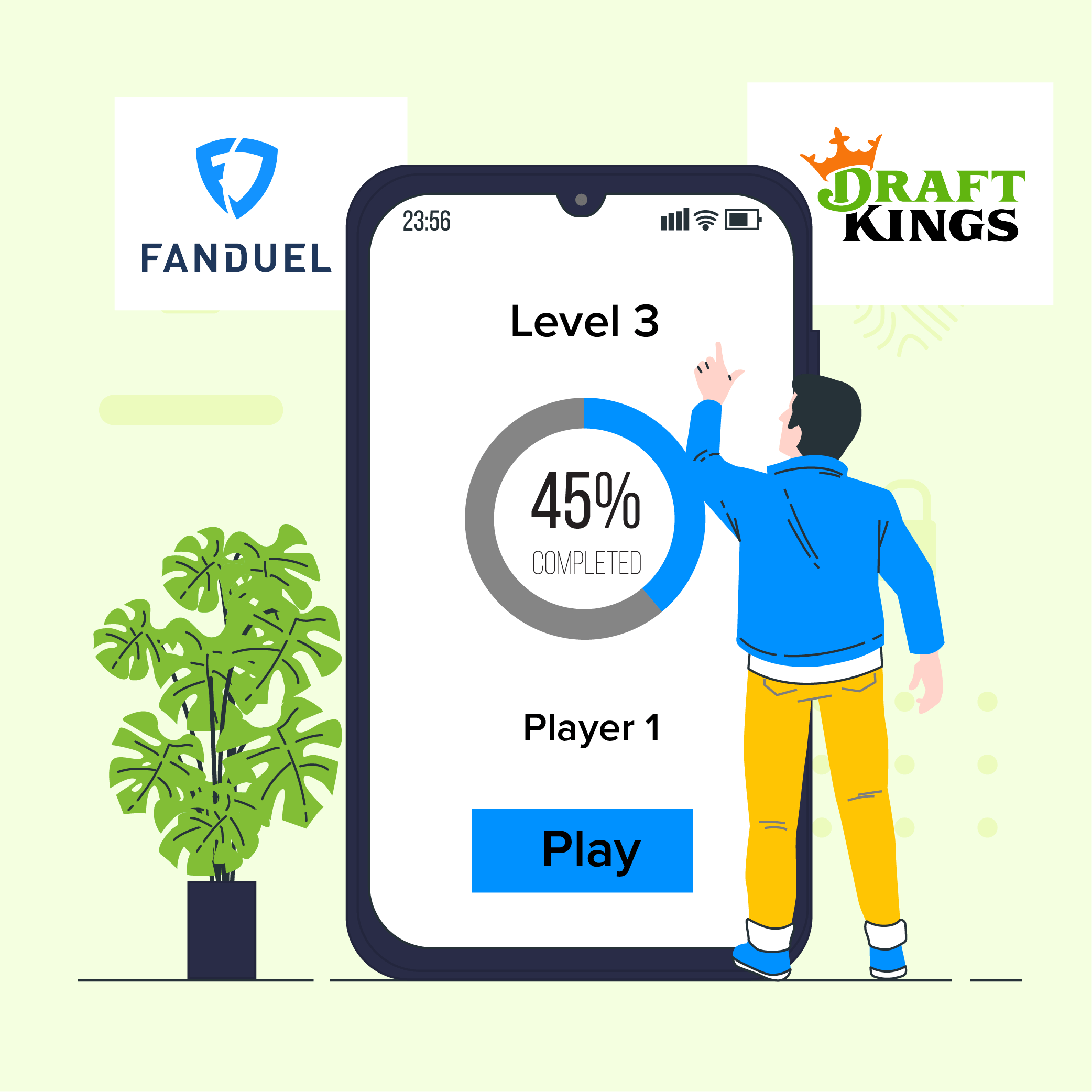 If you are looking to develop a fantasy sports app, then you need to follow some steps. However, some runtime changes can happen, but the following steps can work as a great guideline for you.
First, you have to finalize your idea to offer one sport or multiple sports via your app. Once it is final, then you can proceed to the next step. However, it is an initial step but most important because the future of your fantasy app will depend on it.
Shortlisting The Features
It is okay that you need to include the mandatory features, but it will be better if you shortlist the features based on your research to help you make your app more unique.
It is your choice that you want to launch your app for Android users or iOS users. But you need to decide which one you want to focus on first from the platform point of view. If you see the worldwide statistics, then Android users are more, but if you only want to focus USA market, then it would be best to launch an iPhone fantasy sports app.
Hire Fantasy Sports App Development Company
Once you have done all the above steps, it's time to recruit the app developers or hire the fantasy sports app development company. Here you need to find out the experienced company that has served multiple clients and delivered fine applications based on the international game standards.
Read More: Time and Cost to Develop Fantasy Mobile Apps Like Dream11
Once the application is developed, you put it under rigorous testing to eliminate all the flaws and bugs. It will ensure a fine user experience. Here you also need to test the application on various devices for app optimization.
Once all steps are done, then you can launch your app on the app store. If you have a fantasy sports android app, then launch it on the Google play store, and if you want to launch it for iPhone users, it will be submitted on the Apple app store.
The Tech Stack Require For Fantasy Clone Script apps like DraftKings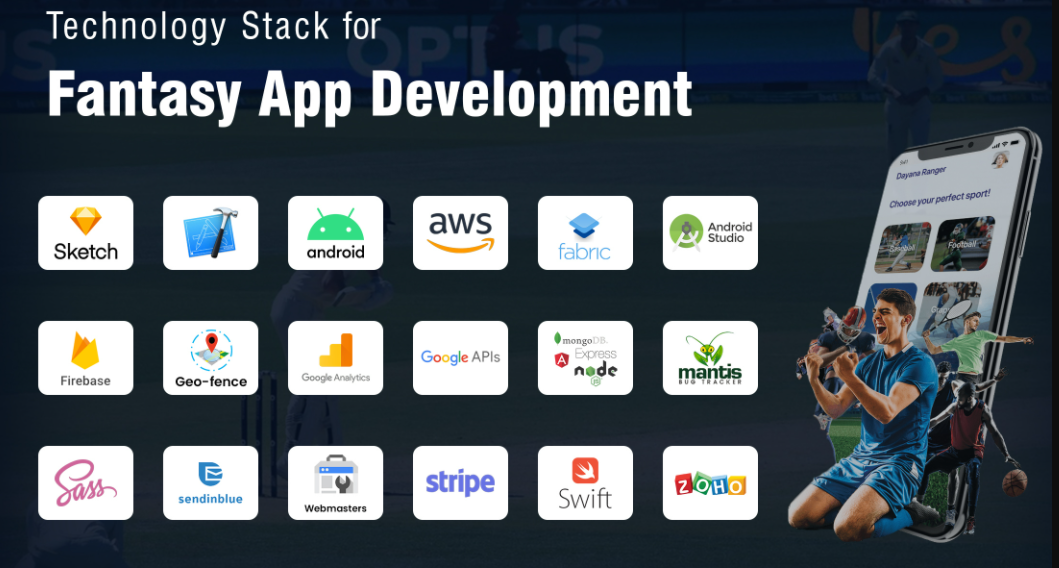 The tech stack is the most important thing that you need for app development. So, it is also applied to the fantasy sports app. The perfect tech stack ensures the best result of app execution. For the same, it would be best to consult some expert fantasy sports clone script developers.    
Following are the details of the tech stack –
For Android Version- Kotlin, Java, Node.js, ROR, Laravel
For iOS Version- Swift, Objective C, C#, fabric iOS
Sports API- Goal Serve, Cricket API, Sportsmonks, RapidAPI.com, EntityMonks
Database- MongoDB, MySQL, HBase, Redis, Cassandra, Postgres
Front End- JQuery, JavaScript, AngularJS, CSS, HTML5, Bootstrap
Back End- Node.js, PHP
Cloud Environment- Google Cloud, AWS, Azure, Salesforce, CloudFoundry
Real-Time Analytics- IBM, BigData, Hadoop, Spark
Push Notifications- Push.IO, Amazon SNS, Urban Airship
The above details represent the initial details of the tech stack required to develop the fantasy sports app. You can acquire some more details while consulting with a mobile app development company.
Cost Analysis to Develop Apps Like Draftkings
The fantasy clone script development cost depends on certain factors, although it can cost you up to approx for the basic version development. US $20,000-US $30,000. The cost may be increased if you include some advanced features in it. In addition, you can hire fantasy sports app developers in two ways on a project basis and hourly basis as per your choice. If you want to hire the developers hourly, it will cost you around $25-$50 / hour.

The Final Words!
The fantasy clone script is such a great thing if you are looking to launch your own fantasy sports app for business purposes. Several fantasy sports applications are in trend, so you can also launch your unique app that can provide the best essence of fantasy sports to the users.
For the clone app, you can refer to several popular apps such as FanDuel, Apps Like DraftKings, or Dream11, but you need to take care of UI/UX, enlisting all the game matches on which your app is based, and others. For the best experience, it is recommended to hire a fantasy clone script development company because they have in-depth knowledge that what it takes to develop fine sports apps like FanDuel.