Do you want to put your first step into the fantasy sports business? Or Are you passionate about fantasy app development? Here we have developed a guide that will let you go through all aspects of the fantasy sports app world. 
Worldwide there is a huge fan base of fantasy sports apps. Approximately 90-95 million users around the world used to play it via their smartphone devices. In 2019, the revenue was 115.68 Billion USD, and the expectation is to reach 320.78 billion USD in 2025. These are new-gen apps that feed the hunger of many sports lovers via their features and functionalities.

The United States of America is one of the biggest markets for fantasy sports business. The market size reached 8.48 billion USD only in 2019, and stats will go high in upcoming years. It will directly lead to several opportunities in fantasy app development. According to the USA and Canada demographics, the male ratio is 81%, and 19% females used to play fantasy sports, 50% of users are from the 18-34 age group. These statistics indicate you can target a large user base; the only thing required is a fantastic app.
Let's dig out more about it!
What is Fantasy Sports App?
Have you heard about Dream 11 or FanDuel? Then some readers might know that what kind of special applications these are these. Still, if not, these names are two examples of fantasy or sports betting apps.
Let's make it simple and understand it as a contest where users compete for the cash prices based on the scoreboard statistics of real players as they have selected them in their team. In the early 1960' it was just a casual game among friends for pride, not for the money. But now, it is a billion-dollar industry and has a large user base in almost all continents.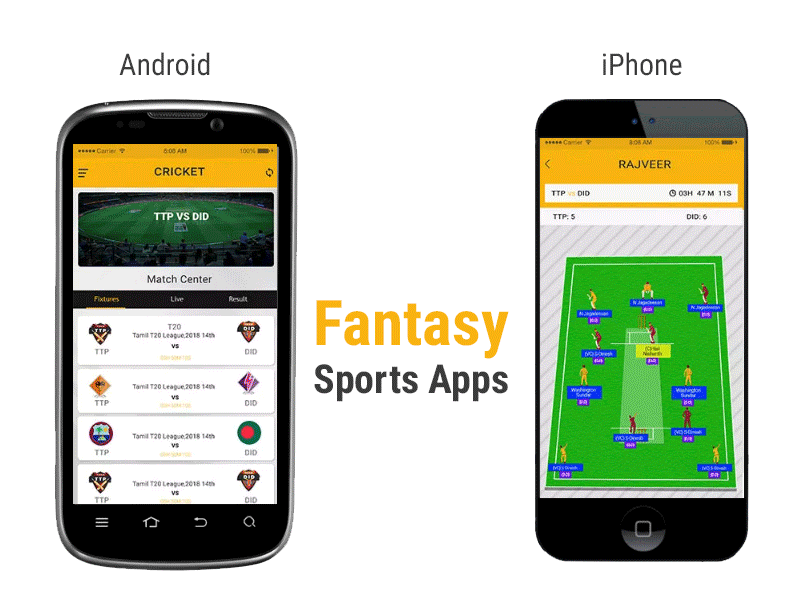 Due to the evolution in technology, mobile applications are introduced called fantasy sports app for the users to enjoy these easily. Although users can also play it via websites, the user experience with mobile apps is much better. That is the reason people use to prefer these instead of a website.
How to Start the Fantasy Sports Business?

Starting a fantasy sports business is such a revenue generation idea; however, you have to work on the roots to get the fruits.
There are some guidelines or actions you need to follow that will help you accomplish your business goals.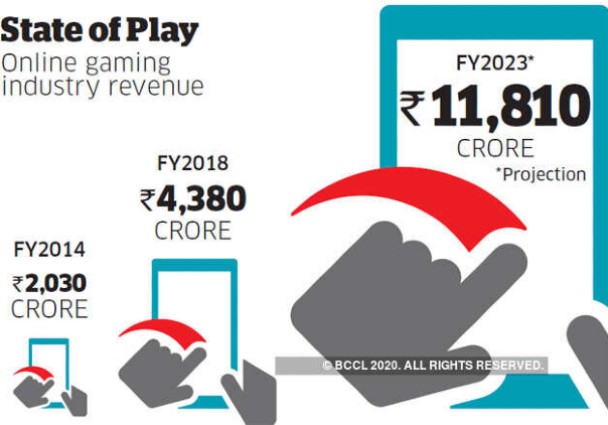 1. Niche
Before starting the business first step you have to perform is choosing the niche as the fantasy sports app covers games such as – cricket, football, baseball, basketball, racing, golf, hockey, etc. It is your choice that you can start with one game or with all. Here you should note that it can increase the cost of your app if you include multiple games.
2. Planning & Goals
Nothing can be accomplished without planning and setting up the goals. So, the same is with fantasy sports apps like Dream11. So, alongside hiring a fantasy app developer, you need to first make the best plan and set up goals that you would want to achieve from after a decided time duration.
3. Market Research
It might be you are only a business owner on this planet who does not want to know about the competition and competitors. If you continue with the same attitude, then your business will be in memories only in the future. Although you are reading this article, you want to know something more that you don't. It is the advice of every successful businessman that before putting the first step into a business, you need to stay aware.
The same thing applied to the fantasy sports app development. Here you need to do extensive market research that includes what kind of fantasy sports are popular in that particular geo-location, who your target audience will be, the recent advancements in your competitor apps, and so forth. According to the market research you can get a good idea about how to start fantasy sports business.
4. Leagues to Be Included
Usually, there are three types of leagues people are interested in- daily leagues, season-long fantasy sports, custom duration fantasy sports. So, you can also decide about it what kind of leagues you want to include. You can also include all these three. It will be helpful to engage the users more.
5. Choose Platform
Worldwide there are two mobile platforms in use- Android and iOS. Specifically, if you want to target the USA audience, you have to focus on the iOS platform as 52.3% of users use the iPhone, and if you want to target a global audience, then Android will be best. Although the choice is yours going with cross-platform app development is a benefit as you can target both platform users.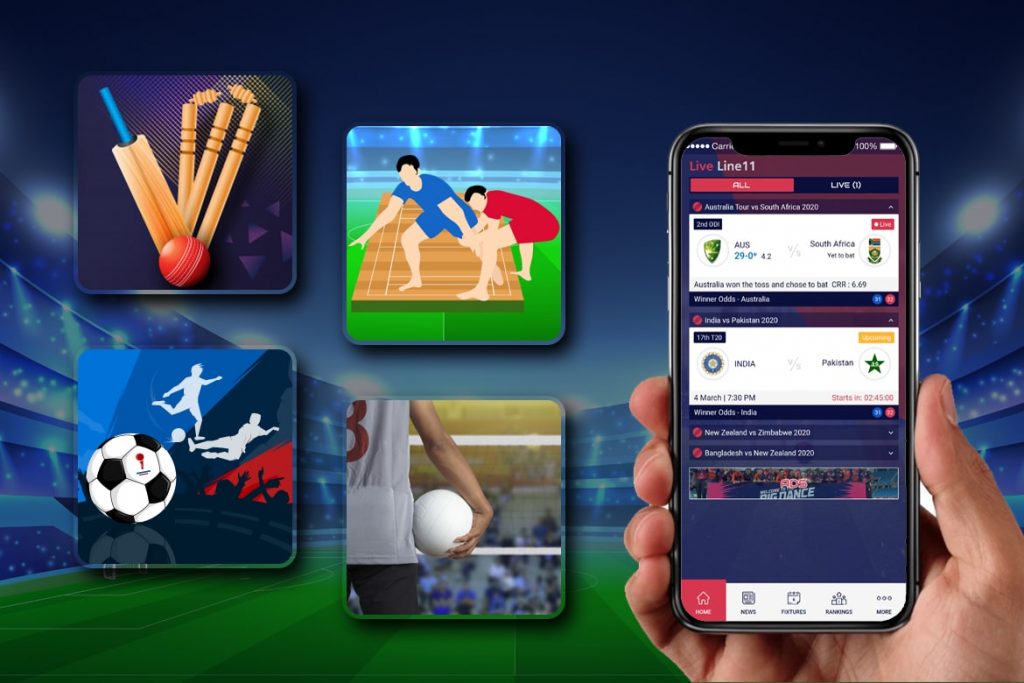 6. Development
To develop a fantasy sports app, extensive experience is required. To have a fine app, you need to hire a mobile app development company with a proven track record in designing & delivering successful fantasy sports mobile applications.
For hiring an app development company, it would be best if you search about it on the following criteria such as:
Experience
Team size
Portfolio of company and developers
Tools & technology
Time duration to complete the project
Cost to develop a fantasy sports app
Once the app is developed, the experts will test your application and help you launch your first version of an app. Try to launch MVP so you can use it for real-time feedback. After the removal of all flaws, you can launch the final version.
7. A Better Reach to Target Audience
No matter how good your fantasy sports app is, if users do not know about it, then efforts are useless. A better reach to the targeted audience always works great, and you have to do it after launching your app. These days, social media is raised as a powerful tool for it, so you can use it along with other tactics to attract fantasy sports lovers towards your app.
8. Marketing
Now banners, flyers, and pamphlets are useless when people are searching for anything on the internet. To find the right audience, you have to use new-age marketing techniques, including internet marketing, social media marketing, content marketing, and YouTube marketing. Most of the successful brands are following these techniques. However, you can't believe that these techniques are beneficial and proven on a real-time basis. As per the latest trends marketing is playing a vital role to start a fantasy sports business.
Things to Keep in Mind for Developing a Fantasy Sports App?
The fantasy sports app is such a great concept, and people like it. It is one of the revolutionary gaming industry solutions that has changed the perspectives of mobile gaming. Not only in terms of gameplay enjoyment but is it also advantageous in terms of revenue generation. So you can consider it as a potential option for earning.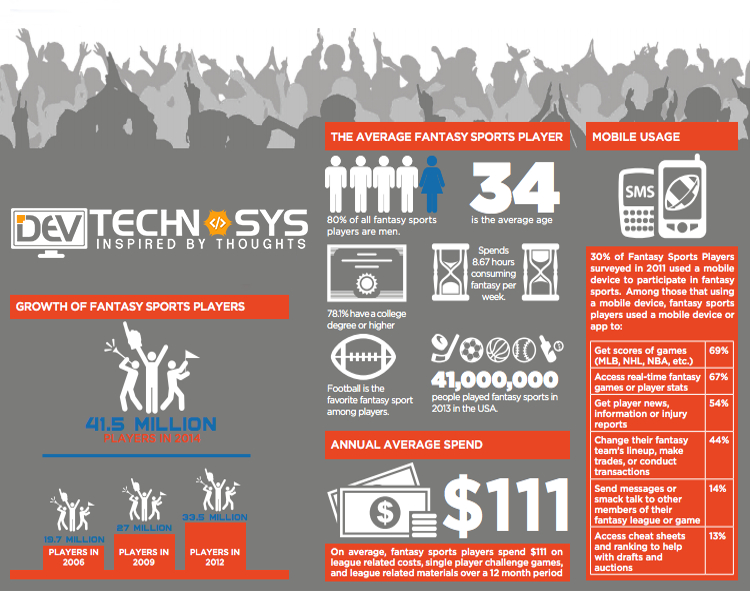 However, developing a sports app is quite complex and requires experience, so here are some outlines that will help you understand how to make a fantasy sports app.
#1.Website and Mobile App
Having a web and mobile platform presence is the finest strategy followed by every successful fantasy sports app. The website will handle the informatory part where users can get full information about the app, and for gameplay, they have to install the app on their mobile. Having a website will also generate trust among users. Apps like Dream11 have utilized the power of mobile and web in combination.
#2. Monetization Strategy
Are you searching for how to earn money from a fantasy sports app or how to make money from a fantasy sports business with the help of mobile app?
Then you need to decide about the monetization model of your app. It is one of the vital elements you need to take care of while developing sports industry solutions in fantasy sports mobile applications.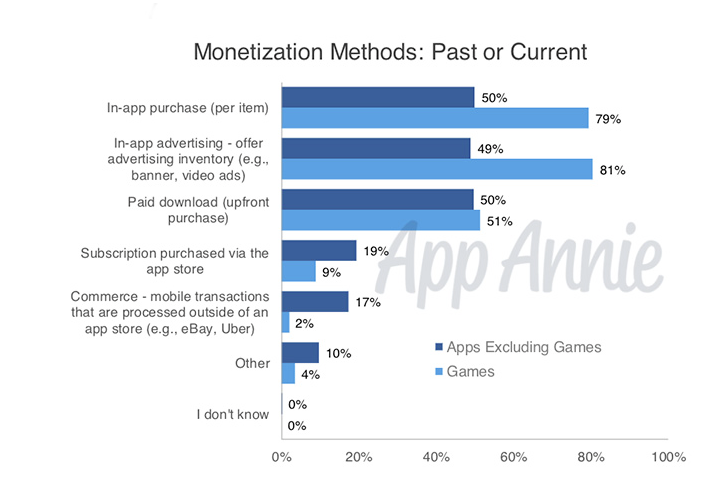 The monetization can be done in the following ways-
In-App Purchase:
Here, you can offer items such as sports t-shirts, hoodies, key chains, etc., to be purchased by the users while playing the games.
In-App Advertising:
Here, you can allow third parties to display their ads in the form of infographics, animations, or video forms by charging them an advertising fee.
Pay Per Game:
Here, users have to pay only for that game they are interested in. Another version can be that users can also pay per league to enjoy the game.
Subscription Based:
For a particular time duration, users have to purchase a subscription plan. You can divide it into quarterly, half-yearly, and yearly subscription plans. So, the users can choose accordingly.
What are the Must-Have Features of a Fantasy Sports App?
The success of every app depends upon the features and functionalities that an app offers. The features can be divided into user panel features, admin panel features, and additional features. The fantasy app developer you have hired must have ample experience in implementing these.
The following represent essential features from the point of user's view and admin.
Fantasy Sports App Features for User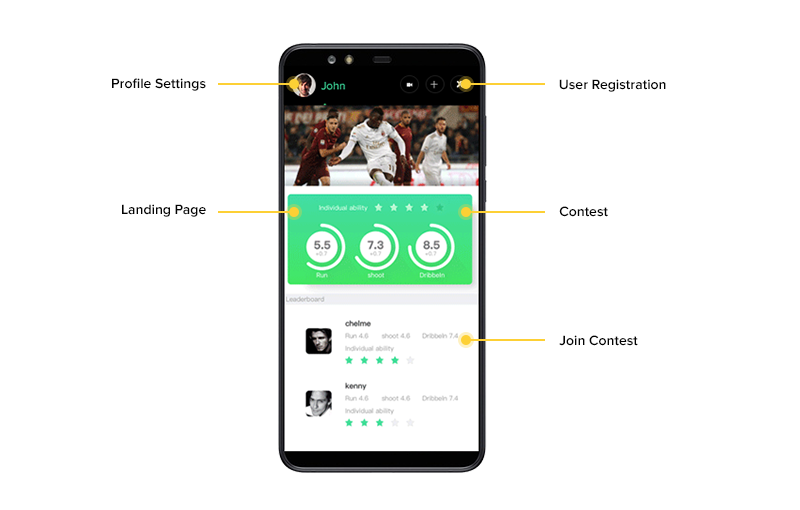 There are various ways of logging in/signups, such as via phone number and email id. It would be best if you include the social media login feature that helps the user on boarding fast.
It is one of the vital features that every app like Dream11 must-have. Here a user must see all the contests, leagues, profile control, and other information such as upcoming events, offers, etc.
With the help of this option, users will have full control over their profiles. They can add, remove or modify their details.
It allows users to choose the players for team formation. Here users will also get the real-time statistics of the players.
Under this tab user is allowed to join the ongoing & upcoming contests.
Showcase the games won & lost and the user's earnings.
Fantasy Sports App Features for Admin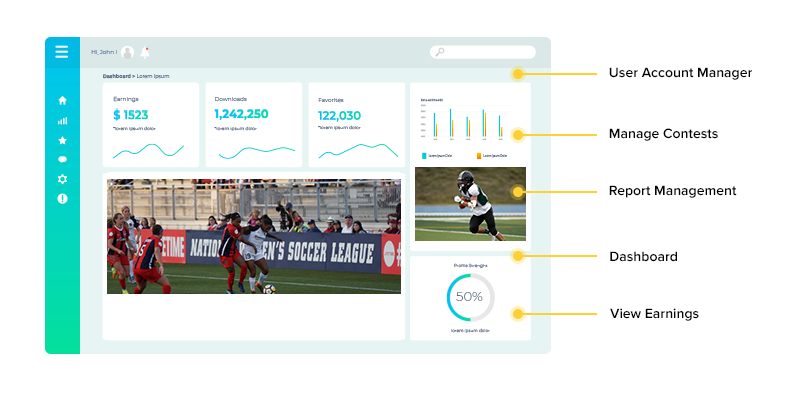 Allows admin to have complete control over the app, including user's activity, contest planning, generated revenue, cash award distributed to the users, and many other options.
The admin can remove and add the user accounts, user restrictions, user profile control, and other tasks related to the account management.
Via this option, the administrator can have the full report about who won and lost the game, how many points an individual user earned.
Under this section, transaction management takes place. It showcases the total revenue generated and cash prize distributed to the users.
Admin can send a push notification, real-time alerts, messages, and emails to inform the users of upcoming events.
Note:  There is tough competition in the market, and several fantasy sports apps are available, so including some additional features will be advantageous.

Additional Features of Fantasy Sports App
In-App Chat
In-App Call
Social Media Sharing
Live score & statistics
Live match streaming
Multiple payment modes
Analytics
Leader board
Coupons
Offer Generation
Example of Some Best Fantasy Sports Apps Available in the Market
There are several fantasy apps available, although there are top-10 fantasy sports apps in the USA that people like to play more.
If you want to experience multiple fantasy sports in one place in the best way, then Yahoo Fantasy Sports App is for you. The games like fantasy basketball, fantasy hockey, fantasy football, best ball, and fantasy baseball can be enjoyed, and joining daily fantasy contests is such an advantage.
#2. DraftKings
The DraftKings is another fantasy sport that has a long fan base in the USA. Compared to other fantasy sports apps, it offers huge cash prizes from $3 to 1 million USD. Daily contests, including weekly contests, make it different from others. Although it does not offer free games but allows beginners to play some free contests.
#3. ESPN Fantasy Sports
ESPN is one of the brands that have a major hold in the fantasy sports app segment. Here you can signup for fantasy football, fantasy basketball, and fantasy hockey. The features such as competition with friends, team management, expert analysis, follow live scores, and others make it unique.
#4. FanDuel
It is a tough competitor to the DraftKings. Similar to the DraftKings, it does not offer free games, but the game fee is affordable. Here you can find major sports. With friends, you can participate in daily and weekly contests. You can consider it one of the best options as a reference to develop a sports app clone.
#5. SuperDraft
If you want to play fantasy sports that you have never experienced before then, SuperDraft is for you. A user can join the major leagues such as NFL, MLB, NBA, PGA, and NHL. Its UI and navigation are super fine that helps the beginner to get familiar with it.
#6. Draft Punk
Although Draft Punk is limited to football, you will find it very interesting. The user can perform the mock draft and track up to 1000 players. It is such an excellent app to study and take reference for developing a fantasy football app.
CBS is one of the tough competitors to all fantasy sports apps that allow players to draft the selected players with mock drafts and snake drafts. The users can track the performance, season projection, latest feeds, weekly match recaps, and many more. It includes the game such as football, basketball, baseball, and hockey.
#8. LineStar App
If you are used to playing fantasy sports daily, then the LineStar app is such a great fantasy sports app to consider. It trains the user about sports analytics and the gained experience to win in the leagues at FanDuel, DraftKings, CBS, and others.
#9. RealFevr
RealFevr is one of the best fantasy sports apps for soccer and supports various leagues and events. This year it also covered the football World Cup. It is a full package for fantasy sports app lovers. Its features are a salary cap model, multiplatform support, and prizes. It is entirely free, and users can participate in multiple events.
#10. Draft Wizard
The fantasy football draft wizard is also a nice app. It provides the ultimate experience of fantasy football. Its features are a mock draft simulator, live mock drafts, expert advice, cheat sheet creator, stats & projection, and more other unique features that you can list to include in your sports betting app.

How Much Does it Cost to Make a Fantasy Sports App?
When you think to start a fantasy sports business with mobile app, There are some factors exist that affect the cost of a fantasy sports app. However, developing a fantasy sports app for a single platform with basic features will cost you around USD 25,000 – USD 35,000, and if you want to go with some advanced functionalities, the cost will be higher than USD 50,000. For having an excellent fantasy sports app, you can hire dedicated developers on a full-time, part-time, and hourly basis. Suppose you want to hire them hourly, then you have to spend $25-$150 based on the requirements.
Apart from it, the factors also have to affect the cost of fantasy sports development which are following-
Advanced Features
App Launch On Multiple Platform
Developers Experience
Team Size
Tech Stack
Location
Some additional requirements
The Final Words!
The Fantasy Sports Apps have a fan base worldwide, and in terms of the app development industry, it is one of the potential segments that will have huge growth in the upcoming years. In 2027 the Fantasy sports business market is projected to reach USD 3,739.8 million, which is a big figure. If you are also planning to launch your fantasy sports app, you are on the right growth path. In your app, you can consider including the games such as football, baseball, basketball, and hockey, as in the USA, there is a huge fan base of these sports. It would be best to consult with on-demand app development experts; they will suggest to you best what it will take for the success of your app.
Now, you have gone through all the blog its up to you that how will you start transforming your fantasy sports business dream in reality.