Opportunities Don't Happen. You Create Them.
    – Chris Grosser
In today's competitive job market, online platforms have become invaluable tools for job seekers and employers. Indeed, stands tall among the prominent names in this realm, offering many opportunities and streamlined recruitment processes. But have you ever wondered about the effort and resources required to create such a powerful job portal app?
In this blog, we dive deep into the intriguing app development world, exploring the cost and basic features of crafting a job portal apps like Indeed. From personalized job searches and candidate profiles to seamless employer interactions, join us on this insightful journey as we unravel the complexities behind building a job portal apps like Indeed that truly empowers career aspirations.
What is a Job Portal Indeed? An Overview
Indeed, is an online job board that links businesses and job seekers. It was founded in 2004 and has since developed into one of the most important job search engines on the planet. Indeed, is a multinational firm with a sizable user base and operations in numerous nations.
Indeed is a job portal that aggregates job listings from various sources. It searches company websites, job boards online, staffing agencies and other career websites to create a comprehensive database of employment opportunities. The compilation process ensures that Indeed users have a wide range of options for employment.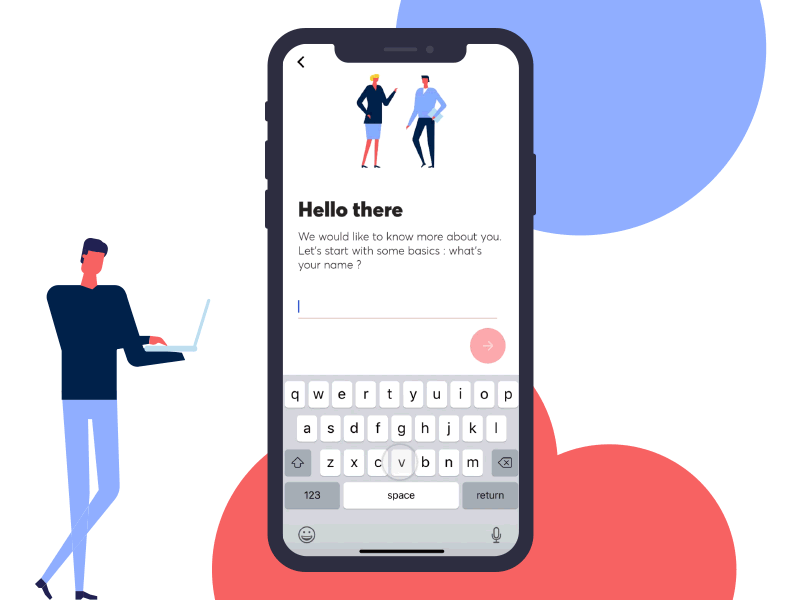 Indeed offers a user-friendly platform for job seekers to search for jobs using keywords, location and industry, salary ranges, or other relevant criteria. Users can narrow down search results by using advanced filters and search options. Job seekers can directly apply for positions through Indeed by creating a profile or submitting resumes.
By utilising additional services provided by Indeed, job seekers can improve their experience. Users can set up job alerts to get updates when new positions matching their criteria become available. Additionally, Indeed provides a tool to assist job seekers in producing polished resumes that highlight their abilities.
Employers may post job openings and reach a big audience on Indeed. Employers may manage job posts, evaluate applications, and get in touch with prospects via the platform's interface. To make their job postings more visible, employers might advertise them.
Some Market Stats To Look At!
In the United States during the first half of 2022, Indeed, the app for job search and professional development, was the most popularly downloaded.
LinkedIn users in the United States downloaded 34 per cent more than 40 percent of Indeed's downloads during 2021.
One of the most widely used online job search engines nowadays is Indeed, which was established in 2004.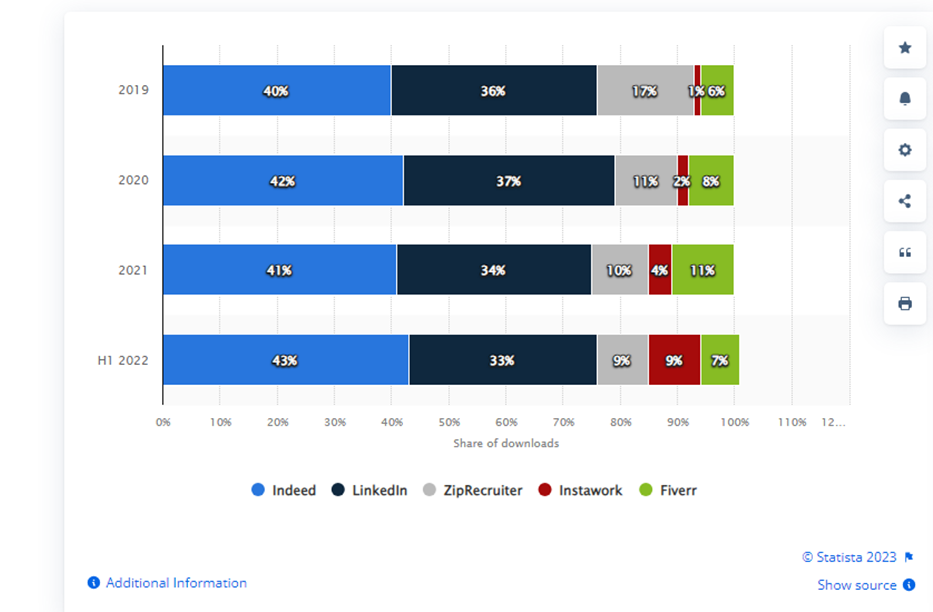 In 2021, Indeed had over 250 million unique visitors per month.
By 2021, Indeed will be available in 60 countries and 28 languages.
Every second, Indeed adds over ten new jobs. This results in millions of job listings.
More than 250,000,000 resumes have been uploaded by job-seekers on Indeed.
We have indeed reported a revenue of $2.1 billion in 2021.
Indeed will have over 9,000 global employees by 2021.
On average, 9,8 new resumes per second are uploaded on Indeed.
Each month Indeed receives over 25 million job complex application submissions.
Over 100 million reviews of companies are available on Indeed, which provides insight into the employer's reputation.
By 2021, Indeed will have over 70 million employer ratings and reviews.
Job seekers spend an average of 3.5 minutes per job listing on Indeed.
Indeed has an app for mobile devices that has been downloaded over 100 million times.
Indeed's "Hiring Lab" was launched in 2021 to provide insights into the labour market and research.
Indeed was partnered with over 50,000 websites and media outlets to distribute job postings in 2021.
com had 665.2 million unique visitors worldwide in May 2022. This is up from the 514.9 million visitors it had in December 2021. Indeed is a social network and online service that focuses on employment.

Essential Features of Job Portal Apps Like Indeed
These essential features will help you unlock the power of apps like Indeed, which streamlines job searches, improves user experience and connects job seekers to their dream jobs.
1. Features for Job Seekers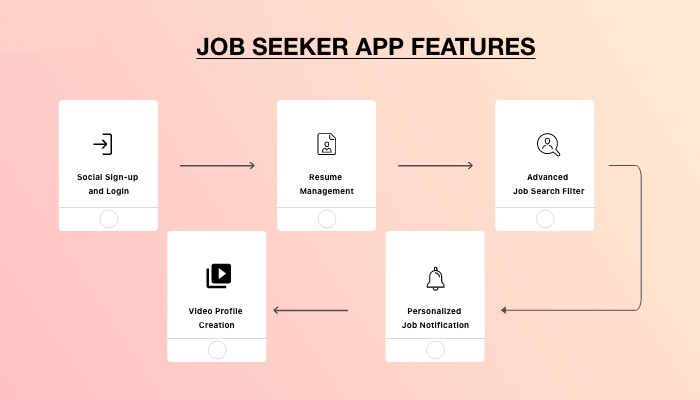 The first window that the user sees is the apps like indeed. Sign in using your social network account or email credentials.
This feature allows job seekers to write their resumes in a variety of formats and then import them from a local source or the internet.
The users can upload their resumes to the internet employment board. Jobs can be filtered by geography, experience, and expertise by users.
Users can also send their resumes to companies that match their requirements and search for other opportunities.
Users can search for jobs easily from such Users can easily update their location, the type of job they're looking for, salary expectations, and more.
Users can set up a customized job alert based on their profile. This helps users to stay up-to-date whenever a new job matching their requirements and experience is posted.
Candidates can apply for a job on the apps like indeed without registering by providing the necessary details and uploading their resume.
This feature will notify users when a potential employer views their profile or downloads a resume.
Bookmark or Save the Job:
This feature allows applicants to save a job and apply later or search for similar jobs with the same keywords.
This feature allows a candidate to be notified of a new job posting on apps like indeed.
2. Features for Employers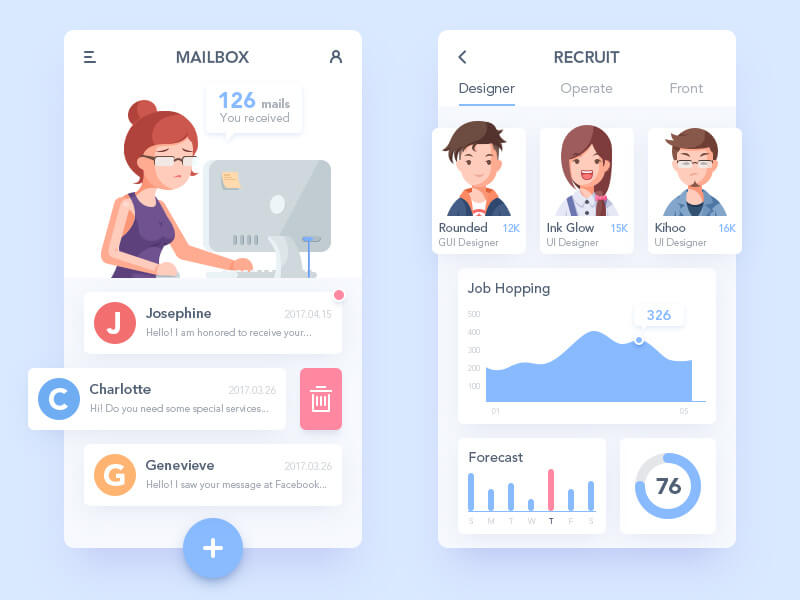 The recruiter may also log in by creating a brand new account or using the credentials of social networks and email accounts.
This section allows recruiters to post jobs quickly by specifying the job title, number of vacancies and requirements such as experience, qualifications, package etc.
The recruiter can edit the details of job postings, such as adding or editing requirements, changing the number of positions, etc.
You Are Invited To a Job Interview:
They can also send out job invites to candidates. They can also ask users to schedule the interview and for the process to proceed.
In addition to displaying the job on the apps like Indeed and sending emails to candidates, recruiters may also send emails directly to them.
The recruiters can select the best candidates for their needs and move them onto the next stage.
Resume Search from The Database:
This feature is important when it comes to apps like indeed.This feature is very important because it is impossible to screen all resumes to determine the suitability of each applicant.
Download the resumes of candidates that best match your requirements.
Payment Options and Plans:
They can also change payment options and plans. They can also add or remove services from the plans.
3. Features for Administrators
All jobs posted on different platforms by recruiters are linked by admin and managed.
Employer And Candidate Profiles:
Admin saves, manages, and verifies all the information related to employer, company, and job seeker to keep fake profiles at bay.  Get in touch with the best job portal website development services if you want to build features like this in your indeed.
Statistics On Job Seekers And Employers:
The app allows for automatic posting and notification of jobs, applications and job searches.
Data Publishing Based on Trends:
The publication and analysis of basic trends, such as the most popular jobs, companies, types of education, average salaries, etc. Both employers and job seekers can benefit from this. This allows for the refinement of recruitment processes and search terms.
Admin manages all the packages listed. The admin monitors the number of packages purchased by users and their frequency.

Advanced Features of a Job Recruitment Mobile App
1. Robust Backend Solution
A robust mobile job recruitment app needs a responsive database that maintains the personal data of each job applicant. The management of this database must be seamless, hence a strong backend system is necessary. Additionally, it will enable perfect front-end operations.
2. Document Scanner
It is essential that candidates can scan their documents with the built-in scanner. The candidates can scan their documents, such as certificates, ID proofs and mark sheets. Add them to your profile.
3. App-chat/Message
Employers and job seekers may communicate easily thanks to this tool. To advance the hiring process, both parties can exchange information and set up interviews.
4. CV Creation
The most crucial component of any job application is the CV. A CV can be added to a job applicant's profile in a variety of ways, including by uploading it directly from the system or importing it from another source.
5. Video Conferencing Interview
Employers can then move the recruitment process forward. Video call interviews can be scheduled with short-listed candidates who cannot attend a face-to face interview. Create a job portal website like indeed with including these features.
6. Booking & Ticketing
Indeed offers users the ability to book any webinar or event on the portal through their apps. It includes both recruiters and job seekers. The app users can generate e-tickets for the event to make it easier.
7. eLearning lessons
Choose from a variety of eLearning courses that are offered on the portal if you're a job seeker looking to advance your career profile. Candidates obtain a digital certification after finishing these courses, which they may readily add to their resumes. Your CV gains value, and it becomes more visible to top recruiters.
8. Document Management Module
This feature is essential because it allows job seekers and employers to create, index, store, or manage digital documents. The portal allows these documents to be securely stored and accessed anytime.
9. CRM Integration
Customer Relationship Management (CRM) is crucial for employment portals. It is simpler to monitor customer preferences and provide them with appropriate employment when a CRM is integrated. A CRM can also assist with analytics, data collection and marketing, newsletter management, and other tasks.
10. CMS Integration
It allows you to edit and manage all the content on your platform. The CMS can manage the blog, job descriptions, candidate resumes, etc. The portal.
11. ERP Integration
The amount of work and expenses related to backend management can be decreased by a recruiting and job-search app with an ERP system. Additionally, it enables better analysis of enormous amounts of data in one location.
12. Real-time Analytics
The admin can use this function to acquire up-to-date information on the overall number of jobs allocated, the number of associated employers, and the number of job postings on job portal apps like Dice.
13. Role-Based Dashboards
To carry out particular activities, various roles—including those of job seekers, employers, consultants, and administrators—need custom dashboards.
14. Cloud Environment
A cloud-based environment is the best option to protect your data. All user data, recruiter information, resumes, etc., are stored on the cloud. Cloud storage allows quick access to data from anywhere and anytime. It allows for a more efficient workflow. Integration of dice into a cloud-based environment makes it more robust and scalable.
15. Payment Integration
Multiple payment gateways are available on a good job portal for the convenience and ease of users. Offer popular payment methods such as net banking, credit and debit cards, mobile wallets or UPI. Make the payment process easy for users.

Cost To Build Job Portal Apps Like Indeed
The cost of developing a job searching mobile apps such as Indeed is affected by several factors. The table below summarizes the vital cost-influencing factors. You will have to pay more for your apps, such as Indeed, if they are complex and have many features.
Some of the most common features are job search, resume uploading, employer and candidate profiles, job alerts, messaging and an application tracking system.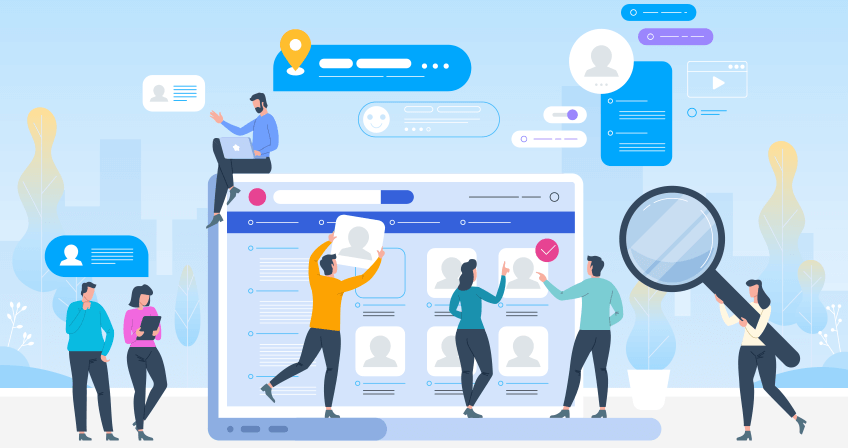 Design and User Interface:
The complexity of the design and the uniqueness (UI) of the job portal web development can affect the cost. Customized and visually pleasing designs can require more resources and effort than pre-built templates.
The cost can be affected by deciding whether the job portal app development should be developed for one platform (e.g. iOS or Android) versus multiple platforms. A development project can also be more expensive if it lacks compatibility with different devices, including smartphones and tablets.
Database and Server Infrastructure:
Costs can be affected by the choice of server and database infrastructure. A performance and scalability requirement must be considered when selecting appropriate technologies.
Integration of Third-Party Service:
If you intend to integrate third-party solutions such as social media login or background verification services, it will increase the job portal development cost.
Admin Panel and Analytics:
The complexity and functionality can affect the cost of building an admin panel to manage job listings, users, and analytics. It is essential to consider the complexity and functionality of the admin panel.
Testing and Quality Assurance:
Quality control and thorough testing must be given adequate time and attention. It will ensure that the apps similar to indeed are working correctly, offers a good user experience and does not have any critical issues.
Development Team And Location:
Costs can vary depending on the team's location, experience, and hourly rates. The cost of hiring a online job portal app development company can vary.
Here is a table that summarizes the cost factors.
| | |
| --- | --- |
| Factors | Impact on Cost |
| Features And Functionality | High |
| Design and User Interface | Medium |
| Platforms And Devices | High |
| Database And Infrastructure | Medium |
| Third-party Service Integration | Medium |
| Admin Panel And Analytics | Medium |
| Testing And Quality Assurance | Medium |
| Development Team And Location | High (varies based on rates) |
Note that the cost to develop a job app like Indeed will vary depending on your specific needs, the complexity of the project, and how you decide to build it. However, it may range from $8,000 to $20,000 to more. It is best to consult a custom software development company to get an accurate estimate based on your specific needs.
Monetization Strategies for Recruitment Portals Apps Like Indeed
Unlocking the secrets of success for web portal development, this blog explores powerful monetization strategies that fuel their growth, connecting job seekers and employers in innovative ways. Let's explore!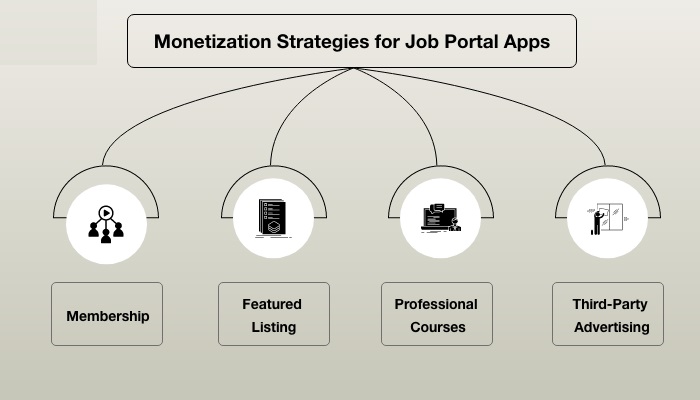 1. Membership Packages
Job portal apps that generate recurring revenue can monetize this way. You can charge a membership fee to your mobile applications users for:
Access to resumes (e.g. Access to a certain number of resumes each month for a set amount
Job listings regularly (e.g. Number of job postings per month (e.g.
Access to resources for employee training, recruitment, etc.
Access a forum where employers with similar interests can exchange tips and tricks for successfully navigating job portal websites like indeed.
2. Third-Party Advertising
Advertisement is an effective and popular method for monetizing job search websites. The best alternative is direct ad sales. A relevant business to your portal will pay you an amount for advertising space up front.
You can also use Google AdSense for your mobile job apps like indeed. Your website only needs to be coded with the code you receive when you create the account. Your revenue is determined by the traffic to your site and the Number who click the ads. Place fewer ads on your website to avoid damaging its aesthetics.
3. Listings Featured
Displaying employer profiles in your blog or in email newsletters you send to job seekers is a third approach to monetize your website. You can charge employers a set amount for this service. Employers can choose from different levels of news and pay for them. You can, for example, offer employers the following options:
Top of the list highlighted for five days
Top of the list highlighted for ten days
Highlighted for 30 days, etc.
4. Book and Ticket Job Events
These webinars can be quite helpful for job seekers as they grow their careers. These sessions are very beneficial for an individual's career development. On the job portal, job searchers can purchase tickets for the webinars. It is a great way to make money with your job recruiting platforms like indeed.
5. Subscribe to E-learning
You can also increase your app's revenue by offering paid courses. You can provide paid courses geared towards job-seekers' professional development and growth. It will help establish your brand as a resource for job seekers—partner with knowledgeable and skilled instructors in their respective industries. You can further offer digital certificates that candidates can display on their profiles.

Wrap-out
In conclusion, building a job portal apps like indeed requires careful consideration of both costs and features. The development expenses primarily depend on factors such as app complexity, design, platform compatibility, and integration with job databases. Additionally, essential features like job search filters, user profiles, resume upload, and employer tools contribute to enhancing the user experience.
By balancing cost-effectiveness and robust functionality, you can create a job portal app that not only meets industry standards but also delivers a seamless platform for job seekers and employers alike. Hire mobile app developer if you want to develop apps like indeed with proficient technology and features.
Frequently Asked Questions
Q1: What Are The Essential Features Of A Job Portal Apps Like Indeed?
Key features include job search filters, resume upload, employer profiles, application tracking, notifications, and personalized job recommendations.
Q2: How Much Does It Cost To Build A Job Portal Apps Like Indeed?
The cost varies depending on factors like platform (iOS/Android), design complexity, features, and development time. It can range from $8,000 to $20,000 or more.
Q3: How Long Does It Take To Develop A Job Portal Apps Like Indeed?
 Development time depends on the app's complexity and features. On average, it can take around 4-6 months to build a robust job portal app.
Q4: Do I Need A Website Along With The App For A Job Portal Apps Like Indeed?
 Having a website is beneficial for broader reach and accessibility. It can provide additional features like employer registration, company profiles, and job posting management.
Q5: Can I Monetize A Job Portal Apps Like Indeed?
Yes, you can monetize through various methods like job posting fees, premium job listings, resume database access for recruiters, advertising, and partnerships with educational institutions.