Mobile Application development is in trend in this technological era. People are intrigued in their smartphones most of the time, all credits go to applications.
Applications have touched each and every industry gracefully. They have made work simpler as well as contribute to the growth of businesses. Applications provide a convenient way to fulfill needs.
People rely on applications for most of their work, either for assistance to complete a task or to set reminders to do it.
We can find applications for almost everything, from entertainment, healthcare, education, and games, to jobs and many more.
Technology has impacted personal as well as professional lives of users. Though most of the changes that have occurred are for the better and are highly preferable.
A job portal app is one such highly preferable technological innovation. The app industry is growing by leaps and bounds in this era. Any application that adds value to users' lives is vigorously used.
What Is A Job Portal App?
A job portal app is a bridge that connects job seekers to job providers. It is high time that we understand the need for a job portal app. This is a technological era, where digital expansion, digital opportunities, digital innovation, and digital growth are at their peak.
A job portal app provides a great opportunity for all job seekers to look for their dream job easily. A great mind, when involved in a business, helps the entire team and in turn the empire to grow.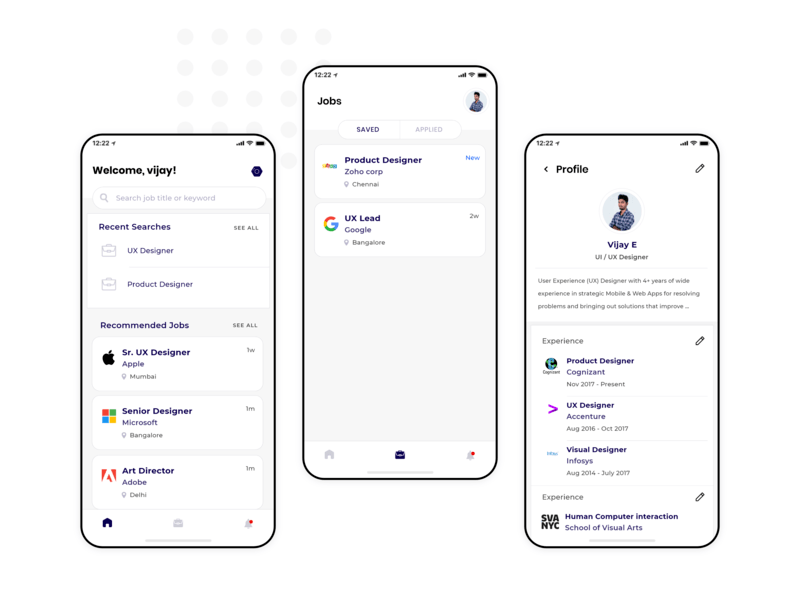 A job portal app helps a job seeker to apply from anywhere, anytime. Students are quick to adapt according to the change in the tech industry. Skilled employees who are looking for jobs are listed.
Are you thinking of going for a customized service? You can look for a custom software development company USA.
What Is The Importance Of A Job Portal App?
A job portal app is beneficial for employers as well as employees. It provides a platform where an employee can search for a job and employers can look for an able employee.
Basically job portal applications act as a medium as well as a catalyst for recruiters as well as applicants.
Lakhs of students complete their degrees and look for jobs. Part-time jobs are in trend as well where college-going students or anyone can work for a limited time.
Easily accessible platforms for a range of jobs are in high demand. Job portal apps are a ray of hope for those lakhs of students and degree-holders who are diligently looking for an apt recruiter according to their skills.
As soon as they are done with their four-year course a majority of students are eager to earn. A job portal app has the ability to make all those hard-earned degrees and skills worthy.
Customized services are popular these days among firms. Customized services solely focus on areas required for growing a business.
If you want customized software you can take the help of a custom software development company in USA.
The Worth Of Dice Application
Dice is one of the largest job portals which has the largest pool of comprehensive and actionable tech professionals available on it. It connects proficient talents with the available job opportunities across the world.
It allows employers to connect with tech nerds. It fetches the best possible job options for job seekers. It shows a path to students for their next career move.
It claims to have 3 million technological professionals on its job portal app with more than 80,000 tech jobs. Dice, headquartered in New York, USA, was founded in 1990.
If you want to develop a job portal like Dice you can reach out to job portal website development services. The Dice portal today has over 500 employees worldwide.
It provides three types of profiles: starter, enhanced, and premium. It is a huge US-based company for the career marketplace.
Why Go For Job Portal Application Development?
Have a look below at the various reasons that could move you to to go for a job portal application development:
Platform for recruiters as well as job seekers to connect
To connect to the desired job
Recruiters and job seekers can find jobs globally
Transparency in jobs and payscale
Save a lot of time and energy of recruiters
Job seekers can save their future
1. Platform for recruiters as well as job seekers to connect
It is high time that you build a job portal application with the increasing reach of digital platforms.
Technology has been known to make the life of the user easier. Job portal applications are one such blessing for lakhs of degree holders consistently looking for jobs.
Job portal applications provide a variety of options at a single place. They bring recruiters as well as applicants from different places worldwide to a single platform.
2. To connect to the desired job
An offline job hunt is a stressful barrier for students. Sometimes due to lack of all the required information in a single place employees cannot land the desired job.
Along with the applications, job portal websites are also in-demand. This website increases the reach of the service.
If you want to develop a dynamic, scalable website that could drive a maximum number of visitors then you can take the help of job portal website development services.
3. Recruiters and job seekers can find jobs globally
Recruiters here can distinctly specify their requirements and get the chance to look for the best employee globally for their company.
A good team plays a key role in expanding a company. Lakhs of job seekers do not have to worry about finding an apt place to apply for jobs.
An application is enough to give them multiple options. They can apply according to their skills and expect the best.
4. Transparency in jobs and payscale
Job portal apps classify jobs according to locations, skills, qualifications, and salary. This makes it better for the employer as well as an employee.
An employee can analyze all the criteria quickly and send their resume to the desired company.
An employer can select students that fulfill their demands. Job portal applications provide a platform where students have the opportunity to land their dream job.
5. Save a lot of time and energy of recruiters
Recruiters do not have to drain their energy looking for a good candidate. Just putting up a post on the portal is enough to drive the best candidates for the position.
An employer, as well as employees, get the opportunity to get to know each other well with the information that is uploaded on the portal.
6. Job seekers can save their future
It provides an opportunity for job seekers to apply for anyone and everyone irrespective of their streams. The search options and the filters available in the portals help job seekers to select the best companies to apply.
Hence with an increasing number of job seekers, the job portal applications have a progressive present and will have an exponential future!
What Are The Essential Features Of A Job Portal App like Dice?
Features increase the value and usability of an application. They make it user-friendly and scalable. The IT industry is quick to launch innovative technologies. Some essential features of a job portal app are mentioned below:
Secure
Jobs Filters availability
Courses filter availability
Different Jobs Sections
Responsive
Profile Editing options
Responsive
Notifications
1. Secure
A job portal app should have top-notch security. The information of recruiters, as well as the personal details of a job seeker, are uploaded on the application. High security makes the app trustworthy.
2. Jobs Filters availability
A job portal app should have the best filtering options. Filters in each section should be provided according to the demand of the employer and the employee. It makes the work easier as by applying filters users can get the most important choices.
It is an important feature to include if you are thinking of building job portal apps. It is said that the right time is the most important factor in deciding the future of a business.
3. Courses filter availability
Multiple courses are available worldwide. A section should be made that sorts the different courses and required skills for applying for a job.
4. Different Jobs Sections
Three sections should be available in the job portal app labeled as full-time jobs, part-time jobs, and internships. This will help the employer as well as the employee in easily getting their desired candidate and job respectively. To know the exact cost of job portal software development services we have to figure out the required features in the application.
5. Responsive
The application should be innovative as well as should provide responses quickly. Queries should be clarified quickly. It makes the application warmly acceptable among users. A FAQ section is recommended.
6. Profile Editing options
The flexibility to modify and update the resume according to the skills learned by a student over a period of time should be made available. Also, there should a complete profile editing option available.
7. Responsive
These days people are well adapted to mobile phones as well as laptops. Job portal apps should be built so as to be accessible on different devices. The portal should be well responsive for mobile, tablet, and desktop view.
8. Notifications
Since a job will pave a way for livelihood to job seekers, the job alerts notification is a must-have for whenever new job vacancies have been published that match users' skills. Push notifications are key factors in making the app better
What Is The Cost To Develop An App Like Dice?
Are you thinking of developing a job portal app? Then the first name you can look up to as an example is Dice. A job portal app requires multiple features so its cost varies accordingly.
Interface, storage, app size, app developer location, and app features are not speculated but a variable factor in the entire cycle of app development.
Though we can take a rough cost assumption of around $50,000 to develop a job portal app like Dice. Here everything works on a price from the appearance to device compatibility and speed.
The quality of an application majorly depends on how much you are willing to drain your pocket. The cost significantly varies according to the features, complexities, and technologies of a job portal application.
Though a usual app cost has a considerable difference between the lower limit and the upper limit. $10,000 to $50,000 is a huge range for developing an application.
The portal has different categories for applications. High-in-trend app portals are Progressive Web Apps, native apps, hybrid apps, and web apps. The type of portal you want also plays a major role in deciding its cost. Job portal software development services play a key role in determining the cost of a job portal app.
Another factor that is considered is the compatibility of the devices as well as a compatible operating system. Some apps are designed for android and others for iOS.
The cost varies according to the operating system you decide to have in the app. To develop an app like Dice which is compatible with most devices a hefty amount is required.
Once the entire process of development is done, it is very important to test the app and take its feedback. Developers should be ready to promptly fix bugs to make the application durable and scalable in the market.
The market is high on competition, so user-centric service should be a prime concern for developers. Some companies include the bug fixing charge or do it for free while others may provide a paid service.
Job portal app development company USA companies have been working for years to develop such applications. A wider and better user-side perspective helps in building an interactive scalable application.
Sticking to less cost will help to save your money but will prevent you from accomplishing your goal when it comes to the development and the usage of an application. Taking a judicious decision is a must in the entire process.
The Takeaway
A job portal app is great for the millions of students who are working hard to build a strong career for themselves. It provides them with the opportunity to use their skills in the growth of their desired company.
On the other hand, it reduces the burden of a recruiter by providing them with the best candidates for vacant seats in their company.
In this article, we have shed light on the various aspects of a job portal app including the cost to develop an app that is similar to Dice.
Dice is a well-established online job portal. Here we have discussed the importance of job portal apps, why go for job portal application development, the essential features of a job portal app, the worth of the Dice portal, and the cost of developing such an application.
If you are thinking of developing a job portal app, you can reach out to a job portal app development company USA. To ensure a robust application, it is essential to embed the best features that are user-friendly.
Time-to-time checks and updations are necessary. Just building an application is not enough. Taking regular feedback and checking for issues and bug fixing tendencies is a must.