Are you also looking to create a mobile application for ticket booking? In that case, you must read the blog till the end because the blog has information related to essential features and the cost to develop ticket booking app.
In this blog, we have covered almost everything you need to understand the features and cost to develop ticket booking app which you must read carefully.
But why not first go through some facts that will help you create a mobile application?
The world is expanding at a rapid pace daily with every aspect of our lives being affected by technology. It won't be a wrong assessment that technology has transformed our lives to quite an extent.
Everything has become more accessible, like booking a card, ordering food online, etc. When booking tickets for travel, movies, or concerts, ticket booking apps save a lot of hassle of going to a particular location to book a ticket.
In their rigorous lifestyle, people don't have time to go out to book a ticket in advance. But with the help of ticket booking apps coming out in the market, the audience can easily book tickets for various purposes.
The demand for event management app development companies is increasing rapidly due to on-demand app development. Suppose you are one of the entrepreneurs who want to invest in tickets such as ticking booking software.
Let's dive into the blog now!
Market Stats of Ticket Booking App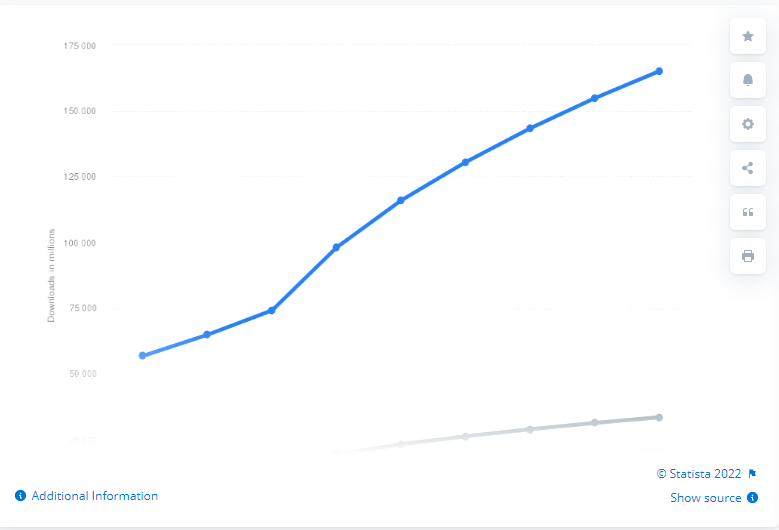 Regarding revenue, booking continued to be the leading online travel agency business in 2021. Over 60% of revenue growth was achieved by the big three last year.
In 2019, just over one billion users of travel apps and 1.5 billion individuals took trips globally.
More than 65 percent used a smartphone or the internet to book.
Global revenue of mobile applications will reach $318 billion.
The mobile application downloads in the year 2019 were more than 200 billion.
The expected revenue from mobile applications is more than 613 billion US dollars by the end of 2025.
What Are The Unique Features of The Ticket Booking App?
The ticket booking application is gaining immense popularity because of its unique features. When you are considering the development of an online ticket booking app, make sure to add these to it.
There are two panels of any web portal development software that have distinct features included. Please read the following panel feature to know more about it.
1. User Panel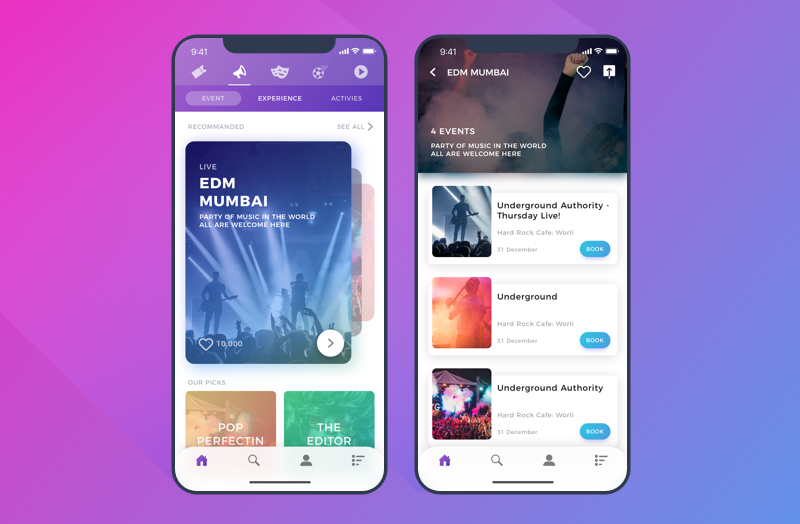 People can download the app and register themselves by providing their basic information. They must provide their name, password, email address, and other necessary details.
The required login information, such as a password and mobile number, can be used by users to access the app. So, it is essential to edit the profile to log in using emails and social media links throughout the process.
Developing an event ticket booking app enables your app to send the eTicket to the appropriate email address and cell phone number. The tool for booking tickets, in a sense, confirms the reservation and automatically sends the ticket.
It is essential to select the location to book online tickets for anything. Before going further, the user must choose the location manually or via GPS.

Review and rating enable users to provide feedback. It is one of the app's most crucial features. The events are graded in the text using stars or remarks.
With the help of this function, app users may select movies or events based on location, timing, and user reviews. Hire cross-platform app development services that can offer you the development of these advanced features. 
Event Calendar with Information
The list of current and forthcoming events and movies in a specific city or region is displayed on the home screen. Based on the filters that users have selected, the app displays the dates and locations of events.
The users receive the vital information of booking confirmation through the ticker with its unique QR code that is readily sent to the app user.
Improved customer support is a vital aspect of online event ticketing software. In the case of this software, you need to create an excellent telephonic and online support system to please the users of your software.
It allows the app users to easily make payments to purchase tickets for travel, concert, movies, or even hire a cab. A mode can be easily integrated for these multiple payments, like Credit and Debit Cards, PayPal, Stripe, etc.
Integration of Cloud Storage
For a particular ticket booking app that holds a large amount of data, it is essential to integrate the cloud-storage technology to store the user data and ensure its privacy and safety.
2. Admin Panel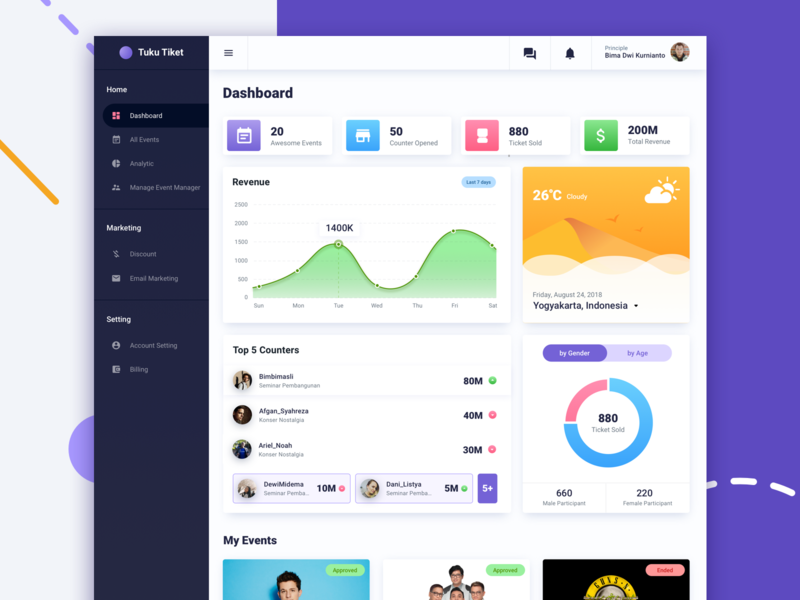 The user management feature allows admins to manage their user activities and allows them to add, update, and remove users.
The admin can modify the details of ongoing and upcoming Events, all language formats, and their location and time. With this feature, the admin can manage many events. It is also essential to know that admins can also delete existing events and add new events.
With the help of this feature, an admin can modify or remove the event specifics and the booking terms and conditions from the ticket booking software. It is a must feature that you must include in IoT app development.
This feature allows administrators to manage the list of booking events. They can add, edit, or delete the tickets that have already been reserved for various events.

It is the feature that allows the administrator to control the earnings. It will enable the admin to view the overall earnings with filters for location, date, user, range, and other factors.
The feature helps the administrator send an alert related to a specific event or program if the user has requested that attention be sent to that event or program.
Sometimes, a single event may occasionally be postponed or have its location altered for various reasons. The admin can easily adjust the venue details with the feature in ease.
What is The Cost to Develop Ticket Booking App?
To develop an app, you need to hire the best web development services specializing in Laravel and IoT app development. It is essential to know the internal cost to develop a mobile app charged by these services. The actual estimation will only come after learning the factors influencing the cost.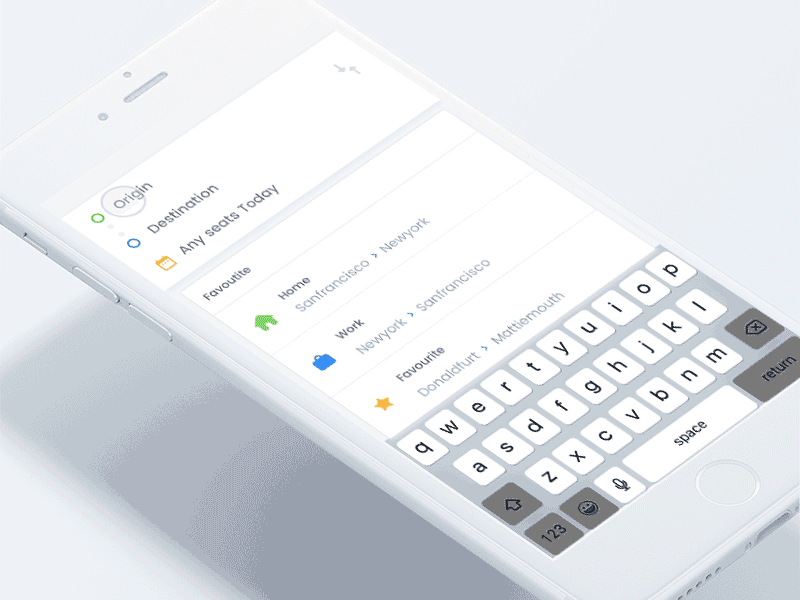 But for basic knowledge, developing a ticket booking app will cost you $12,000 and $25,000. When you hire full stack web development services, it is crucial to know about the team and its internal affairs that raise the cost.
Let us take you into the factors affecting the cost to develop ticket booking app.
What Are The Factors That Influence The Cost to Develop Ticket Booking App?
Below we have mentioned some factors affecting the cost of developing ticket booking applications.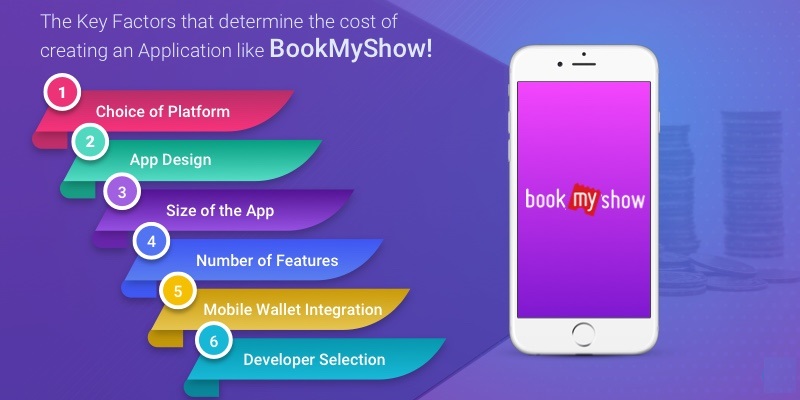 1. App Platform
A platform for app development will impact the cost of custom software development. Choosing the platform from iOS and android app development for your mobile app development isn't easy. Several businesses choose both platforms as their business demands it.
It is vital to know if you are considering android app development. In that case, it will cost you not more than $35000. But when it comes to creating an application for iPhone app development. In that case, you must know iPhone app development starts from $38000. The cost varies on both platforms due to differences in developing hours.
2. Development Team
The entire process of ticket booking app development is quite extensive. Knowing that the mobile app development company you hired will have many members, including project managers, developers, UI/UX designers, graphic designers, back-end app developers, and a QA tester, is essential.
The number of team members required in the complexity of the project and the number of hours needed to complete the project do influence the cost to develop a ticket booking App. If you are hiring full stack web development services, then it will increase your app development cost.

3. Features and Functions
It is essential to know that the features and functions are the critical factors influencing the cost of developing an application. Web development services charge for app development depending on the number of features and complexities of functions. The function includes UI/UX of application which increases the cost of development.
Suppose you want to develop a ticket booking app with complex features and functions. In that case, you must know it will cost you more than usual.
4. App Design
It is essential to know the difficulty factor is a critical component in determining an app's price. Let's go through the cost of simple app development, which is too complex.
Simple on-demand apps cost between start from $10000 based on average hourly pricing of $50.
The average complex app with AI in web development cost starts from $15000 at an $80 per hour labor rate.
A highly complex app will cost at least $200,000, including many hours of development and several other framework additions.
5. App Maintenance Cost
Several businesses don't know about this fact. Still, it is critical to understand that app development comes with a maintenance contract. When hiring a web development company, it is essential to ensure that they provide post-maintenance support for your application.
Maintenance of any mobile app is vital to generate revenue and sustain brand visibility. It is necessary to know that the maintenance cost of a mobile app varies on its complexity, influencing the cost to develop a ticket booking app.
Let's Get It!
Hopefully, the information mentioned above was quite helpful in knowing about the features and cost to develop ticket booking app. This blog covers these points, and the best web development company will help you in your mobile app development. Ticket booking apps can essentially streamline the process of booking tickets for any user. But for the development of such an app, you need to know the features which need to be calculated and the total amount of cost of development which is duly explained above.
Frequently Asked Questions
1. How long does it take to Build a Ticket Booking App?
It is essential to know that ticket booking app development generally takes up to 222 hours. However, a ticket booking app can be built in 67 hours or take more than 300 hours. The ticket booking app's duration depends on the application's complexity and development team. Hire the best Laravel development company to get your app with abilities in a short time.
2. How to Develop a Ticket Booking App?
The development stages of the ticket booking application are mentioned below.
Stage 1: Competitor and Market Research
Stage 2: Choose Platform
Stage 3: Select Features and Functions
Stage 4: Development Process
Stage 5: Testing Application
Stage 6: Launching Your App
3. How to Hire The Best Developer for your Project?
Here are some steps you should follow to hire the best PHP development company or web development company.
Specify your business requirements
Analysis development team experience
Choose a specialist for the project
Select a working model
Identity the cost of development