Telemedicine is the future of healthcare. It's a game-changer that is going to make a real difference in the lives of millions of people.
-Dr. Marc Benioff, CEO of Salesforce
Do you want develop telemedicine app like Teladoc? You're in right place.
This blog has everything you need to know about telemedicine app like Teladoc. So to develop telemedicine app like Teladoc, you must balance creativity and usefulness. This blog is your comprehensive guide to creating a cutting-edge telehealth solution. We will go through the critical processes from understanding the elements defining success to managing regulatory environments and incorporating flawless user experiences.
Learn how to maximize user interaction, use the latest technologies, and ensure security. This blog will provide you with the correct information to help you contribute to the revolution of remote healthcare, regardless of your background in healthcare or technology.
So if you are someone who wants to develop a telehealth app like Practo or Teladoc then prepare yourself for the ever-changing world of telemedicine application development.
Introduction of Telemedicine App Like Teladoc
Telemedicine apps such as Teladoc, which provide convenient and accessible virtual healthcare services, have revolutionized the healthcare industry. Teladoc, launched in 2002, has experienced exponential growth, boasting over 50 million members worldwide. Global telemedicine is expected to reach $392.4 billion in 2031.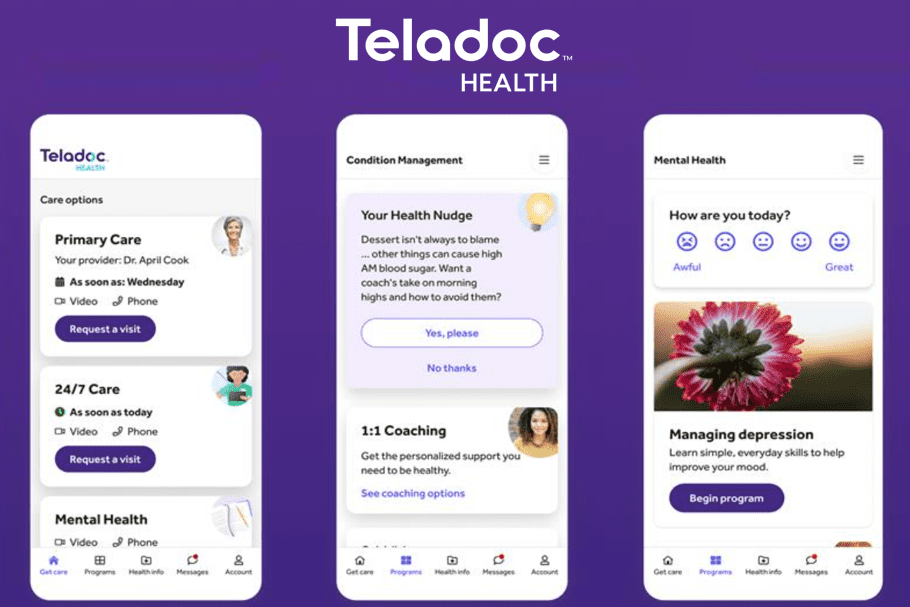 The increasing demand for affordable, convenient and personalized healthcare will drive it. The aging population, the rise of chronic diseases, and technological advancements contribute to this demand. Telemedicine apps provide various services, including consultations with licensed doctors, prescription renewals, and dermatology consultations.
They also offer mental health therapy and chronic disease management. These services provide convenience, privacy, and cost savings to patients while improving access to healthcare for those living in underserved regions.
Current Market Stats To Look At!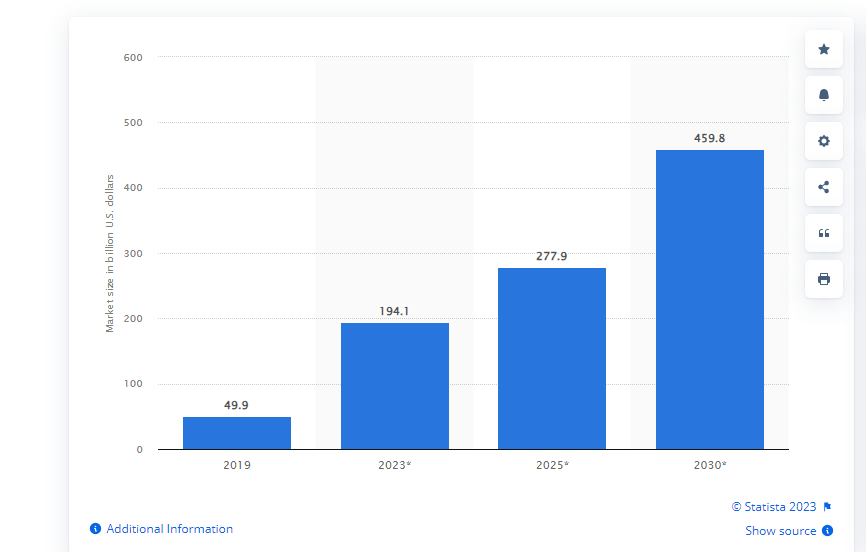 The market for telemedicine is predicted to grow at a compound annual growth rate (CAGR) of 21.8% from 2023 to 2030, reaching $397.3 billion.
With a projected $106.8 billion market size in 2022, the United States represents the largest telemedicine market globally.
With a 35% market share, Teladoc is the biggest telemedicine provider in the world.
The 2019 valuation of the telemedicine market was $49.9 billion, and by 2023, it is anticipated to have grown to $194.1 billion, a four-fold multiple. By 2030, the same market is expected to be valued at $459.8 billion.
Over 2.7 billion telemedicine visits occurred globally in 2020, up from 36.4 million in 2019.
The market for telemedicine has expanded dramatically in the last few years. The global telemedicine market was estimated to be worth $50 billion as of 2019.
The market was expected to grow rapidly in the future, with estimates putting its valuation at close to 460 billion dollars by 2030.

Popular 10 Telemedicine App Like Teladoc
If you want to develop telemedicine app like Teladoc then you must know its incredible alternatives. In this table below we have compiled a list of 10 popular telehealth apps like Teladoc which will help you in indepth research for the first stage.
| | | | | |
| --- | --- | --- | --- | --- |
| App Name | Launch Date | Downloads | Available Platforms | Ratings |
| Teladoc | 2002 | Over 10 million | iOS, Android | Varies |
| Doctor on Demand | 2013 | Over 5 million | iOS, Android | Varies |
| Amwell | 2006 | Over 1 million | iOS, Android | Varies |
| MDLIVE | 2009 | Over 1 million | iOS, Android | Varies |
| PlushCare | 2015 | Over 100,000 | iOS, Android | Varies |
| Lemonaid Health | 2013 | Over 50,000 | iOS, Android | Varies |
| LiveHealth Online | 2010 | Over 100,000 | iOS, Android | Varies |
| MeMD | 2010 | Over 50,000 | iOS, Android | Varies |
| iCliniq | 2012 | Over 10,000 | iOS, Android | Varies |
| Maple | 2015 | Over 50,000 | iOS, Android | Varies |
Must Have Features of Telemedicine App like Teladoc
 Before you know the stages to develop telemedicine app like Teladoc it is important to know about its features. It is crucial to know medicine delivery app development has incredible features for its all 3 panels including user, admin and doctor. So if you want to develop telemedicine app like Teladoc then know about these features in depth from this table below.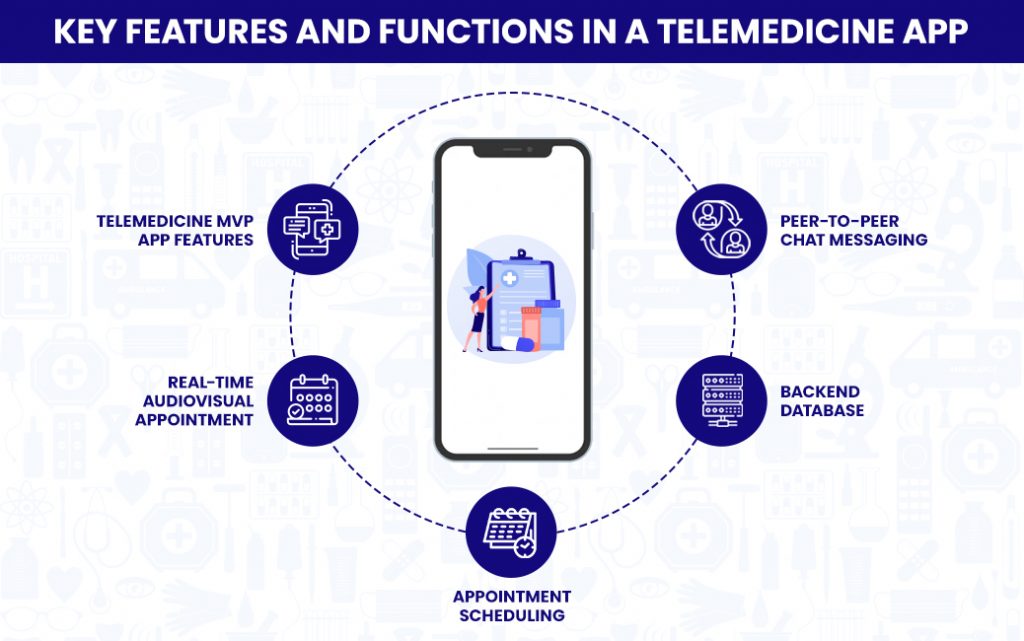 | | | | |
| --- | --- | --- | --- |
| Feature | Admin Panel | Doctor Panel | User Panel |
| User Management | Add/Remove Users | View Patient Profiles | Update Personal Details |
| Appointment | Schedule Appointments | View Appointment List | Request Appointments |
| Teleconsultation | Initiate Video Calls | Conduct Video Consults | Join Video Consults |
| Patient Records | Access Patient History | Update Medical Records | View Personal Records |
| Billing | Manage Billing Details | View Billing History | Pay Bills Online |
| Prescription | View/Edit Prescriptions | Prescribe Medications | Access Prescription |
| Notifications | Send System Alerts | Receive Appointment Reminders | Receive Updates |
| Reports | Generate Reports | Access Patient Reports | View Health Reports |
| Dashboard | Overview and Analytics | Patient Engagement Stats | Personal Health Stats |
| Support | Handle Support Requests | Communicate with Support | Access Help Resources |
| Settings | Configure System Settings | Customize Profile | Personalize Preferences |
How to Develop Telemedicine App like Teladoc?
Now the time has come when you should know how to build a telehealth app like teladoc. The digital revolution has made it imperative to develop telemedicine apps like Teladoc.
In this section we have provides a seven-step comprehensive process to develop telemedicine app like Teladoc. You can successfully enter the telehealth industry by hiring a healthcare app development company and following these steps.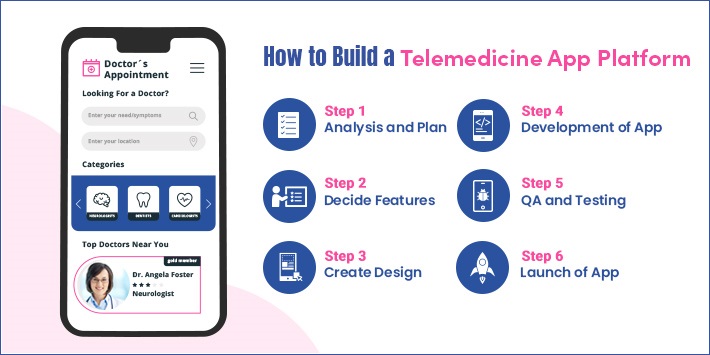 Step 1: Define your Telemedicine App's Objectives and Features
Before hiring developers, clearly define your telemedicine application's features and objectives. Consider the primary services you want, such as virtual consults, prescription management, or appointment scheduling. Your app's target audience and any healthcare specialties it will serve should be identified.
List the essential features such as user registration, secure messages, video consultations, and integration with electronic health records (EHR). A well-defined roadmap will help your team to streamline the development process.
Step 2: Complying with Healthcare Regulations
Telemedicine apps must adhere to strict healthcare regulations to protect patient data and ensure safety. Work with legal professionals to navigate the complicated landscape of healthcare compliance.
To ensure your app meets privacy and security standards, familiarize yourself with regulations such as HIPAA and GDPR. To avoid regulatory obstacles later in the process, mobile app development company should incorporate robust encryption protocols and compliance measures from the start.
Step 3: Form a Skilled Team
It is essential to hire a team of developers with experience and skills. This will ensure the success of your app. It would help if you looked for developers with expertise in healthcare IT, mobile app development, and telehealth. Include backend and frontend designers, UX/UI developers, security experts, and QA testers in your team.
You can hire individual experts or partner with a software development company specializing in healthcare to create a team of well-rounded professionals capable of producing quality products.
Step 4: Create a User-Friendly Interface
The user experience is crucial to the success of any telemedicine application. Work with UX/UI Designers to create a user-friendly and intuitive interface. Consider features such as easy registration, appointment schedulers, and a simple interface for video consultations.
Ensure the design is user-friendly for users of any age and level of technical expertise. Use a responsive design that will adapt to different devices, such as smartphones, tablets, and computers. An attractive and user-centric layout will increase user satisfaction and engagement.
Step 5: Secure Data Storage and Communication
Telemedicine apps must be secure due to the sensitive nature of healthcare data. Working closely with healthcare website development company, implement end-to-end encryption on all communication channels to ensure the confidentiality of patient data.
Choose secure cloud storage and enforce strict access controls to protect electronic records. Update security protocols regularly to keep up with new threats and vulnerabilities. Perform thorough security tests to identify any weaknesses.
Step 6: Integrate Telehealth Technologies
Use cutting-edge technologies for telehealth in your app to emulate Teladoc's success. Integrate audio and video communication in real-time for virtual consultations. Implement features like file sharing, remote monitoring, and prescription management to enhance your telehealth experience.
Investigate the possibilities of integrating AI-driven features, such as symptom analyses and predictive analytics, to offer personalized and efficient healthcare. Stay up-to-date with the latest technological advances in telemedicine so your app is innovative and competitive.
Step 7: Test, Iterate and Improve
It is essential to conduct thorough testing to find and fix any problems before launching your dr on demand app development. Test the app for security, compliance, functionality and usability. Simulated user testing is a good way to test the performance of an app under different scenarios.
To make improvements, gather feedback from healthcare professionals and potential users. Update and improve your app regularly based on feedback from users and new technologies. In the highly competitive and dynamic telehealth sector, continuous improvement is essential to stay ahead.

How Much Does It Cost To Develop Telemedicine App like Teladoc?
Now that you know how to develop telemedicine app like Teladoc it is crucial to know the cost to build an app like capsule. The cost to develop it can be influenced by several factors. The following are some of the key factors that affect the cost to develop a telemedicine app, as well as a table summarizing each factor's estimated range.
1. Platform (iOS, Android, Web):
Costs will rise if you develop for multiple platforms. Android and iOS may require separate development processes. A web version might be required for greater accessibility.
2. Features and Functionalities:
The medicine delivery app development cost will be affected by the complexity and diversity of features such as video consultations and appointment scheduling.
3. User Interface (UI) and User Experience (UX):
An interface that is well-designed, user-friendly, and efficient will take more effort to design and develop. This will impact the cost.
4. Integration with Third Party APIs:
The on demand app development solution costs will increase if you integrate with third-party services such as payment gateways, EHR systems and electronic health records (EHR).
5. Security and Compliance:
Costs will rise if you have to ensure compliance with health regulations and implement robust security measures.
6. Telehealth Technology:
Costs will increase if advanced telehealth technology is used, such as AI-based symptom analyses, real-time monitoring or wearable device integration.
7. Development Team Location:
Cost to develop healthcare app are affected by the geographic location of a development team. Costs are higher for development teams located in areas with high living costs.
8. Testing and Quality Assurance:
The cost to develop a mobile app will increase if you conduct rigorous testing to make sure that the app is reliable, secure, and performs well.
9. After-Launch Maintenance and Support:
The total cost of ownership is affected by ongoing support, maintenance, and updates. It is important to address bugs, ensure compatibility with the latest OS version, and add new features.
| | |
| --- | --- |
| Factor | Estimated Cost Range |
| Platform (iOS, Android, Web) | $2,000 – $4,000 per platform |
| Features and Functionality | $1,000 – $6,000 and more |
| UI/UX Design | $2,000 – $4,000 |
| Third-Party API Integration | $2,000 – $5,000 |
| Security and Compliance | $1,000 – $6,000 |
| Telehealth Technology | $1,000 – $7,000 and more |
| Development Team Location | Varies based on location |
| Testing and Quality Assurance | $1,000 – $4,000 |
| Post-Launch Support and Maintenance | 15-20% of the total development cost annually |
Note that these are only estimates and that actual cost to develop a telehealth app like teladoc can vary from $8,000 to $25,000 and also depending on the project, the team's expertise, the development methodology, etc.
For a complete understanding of the cost of telemedicine application development and maintenance, it is important to include ongoing operating costs such as server and hosting expenses.
Wrapping Up!
To develop a healthcare app like Teladoc is a meticulous and strategic process. You can develop a successful telemedicine application that meets the changing needs of the healthcare sector by defining clear goals, ensuring regulatory conformity, assembling a skilled team, designing an intuitive interface, implementing robust safety measures, integrating the latest telehealth technology, and performing thorough testing. Your app will be positioned for success by hiring experienced developers and keeping up with technological advances.

Frequently Asked Questions
1. How Much Does It Cost To Develop Telemedicine App like Teladoc?
The cost varies but generally ranges from $8,000 to $25,000, depending on features and complexity. Customization, platform choice, and development team rates influence the overall cost.
2. How Long Does It Take To Develop Telemedicine App like Teladoc?
Development time typically takes 4 to 6 months. Factors like features, complexity, and platform choice impact the timeline. Efficient planning and a skilled team contribute to timely delivery.
3. What Are The Benefits To Develop Telemedicine App like Teladoc?
Advantages of Telemedicine Apps are as follows; it enhance healthcare accessibility, reduce wait times, offer remote consultations, and improve overall patient care. They foster convenience, cost-effectiveness, and enable timely medical interventions.
4. Why You Should Choose Dev Technosys To Develop Telemedicine App like Teladoc?
Dev Technosys excels in custom app development with a proven track record. Their experienced team ensures high-quality solutions, timely delivery, and ongoing support, making them a reliable choice.
5. How Can You Monetize an App like Teladoc?
Monetization strategies include subscription models, pay-per-visit fees, partnerships with healthcare providers, and in-app purchases for premium features. Tailor your approach to align with your target audience and business goals.