"Video streaming is the modern campfire where we gather to share our stories and connect with the world."
– Oprah Winfrey.
In today's fast-paced digital age, on-demand entertainment has become an integral part of our lives, and creating a platform that offers seamless streaming experiences is more relevant than ever. As the popularity of video streaming apps continues to soar, there has never been a better time to delve into the world to develop an app like Peacock TV.
The size of the worldwide video streaming market was estimated at USD 89.03 billion in 2022, and between 2023 and 2030, it is projected to expand at a compound annual growth rate (CAGR) of 21.5%.
Do these figures encourage you that Peacock TV is a fantastic app? The data suggests that in the upcoming years, there will likely be an increase in the market for video streaming. You may earn real money by developing your own video streaming app like Peacock TV.
In this comprehensive guide, we will unravel the intricate process to develop an app like Peacock TV. We will also discuss the features, costs, and other aspects that can help in creating a Peacock TV video streaming app.
So, let's begin.
What is a Video Streaming App Like Peacock TV?
A streaming app like Peacock TV lets users stream movies and TV series online. Peacock TV, owned by NBCUniversal, offers a wide range of content, including classics like The Office and The Simpsons and new original programming such as The Lost Symbol. Peacock offers a free level that allows you to access limited content. Upgrade to the paid tier if you want more features and content.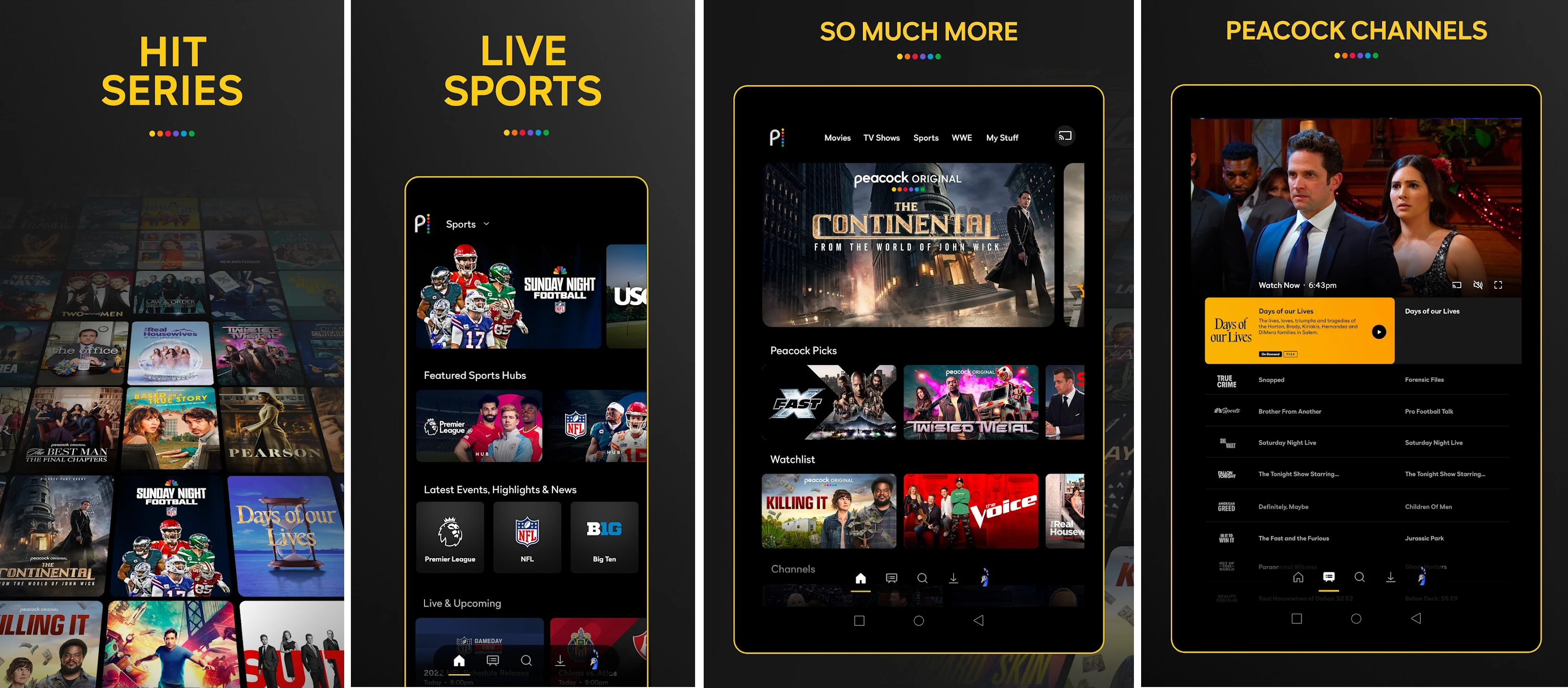 Users may also have access to exclusive content and live-streaming TV channels, which enhances the overall experience. So, if you plan to develop an app like Peacock TV, you must hire dedicated developers proficient in app development.
Peacock TV – Current Market Statistic and Growth
The global video streaming market value was $455.45 Billion in 2022. It is expected to grow to $1,902.68 Billion by 2030.
Peacock's paid subscribers reached 28 million in the third quarter of 2023. This is an increase from the previous quarters.
According to the most recent forecasts, this number will continue to increase to more than 84 million users in 2026.
As of February 2023, Peacock had 75 percent of its subscribers subscribe to the ad-supported plan. This was more than their ad-free plan.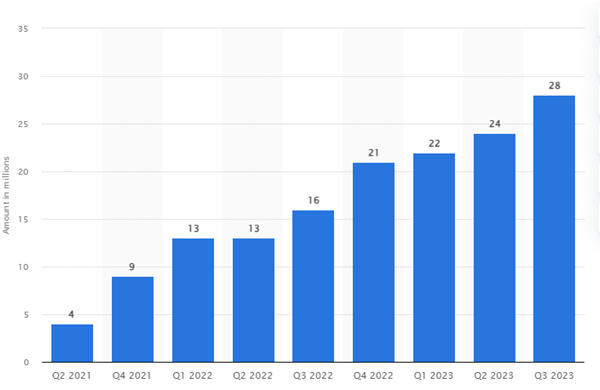 Peacock's revenue for the entire year 2021 was $2.1 billion.
Peacock has gained 9,000,000 subscribers between the fourth and first quarters of 2021 in the months preceding the Tokyo Olympics.
The Tokyo Olympics increased U.S. mobile app downloads by 96% between July 2021 and Tokyo.
In April 2022, the video streaming services will have 28 million active monthly accounts and 13 million paid subscribers. This is a 40% increase from the previous quarter.
Steps to Develop an App Like Peacock TV
Have you ever thought you could develop an app like Peacock TV? Or how to compete in the competition for video streaming apps? This section will discuss the steps of creating your own video streaming application like Peacock TV, which will help you establish your own position in the development process.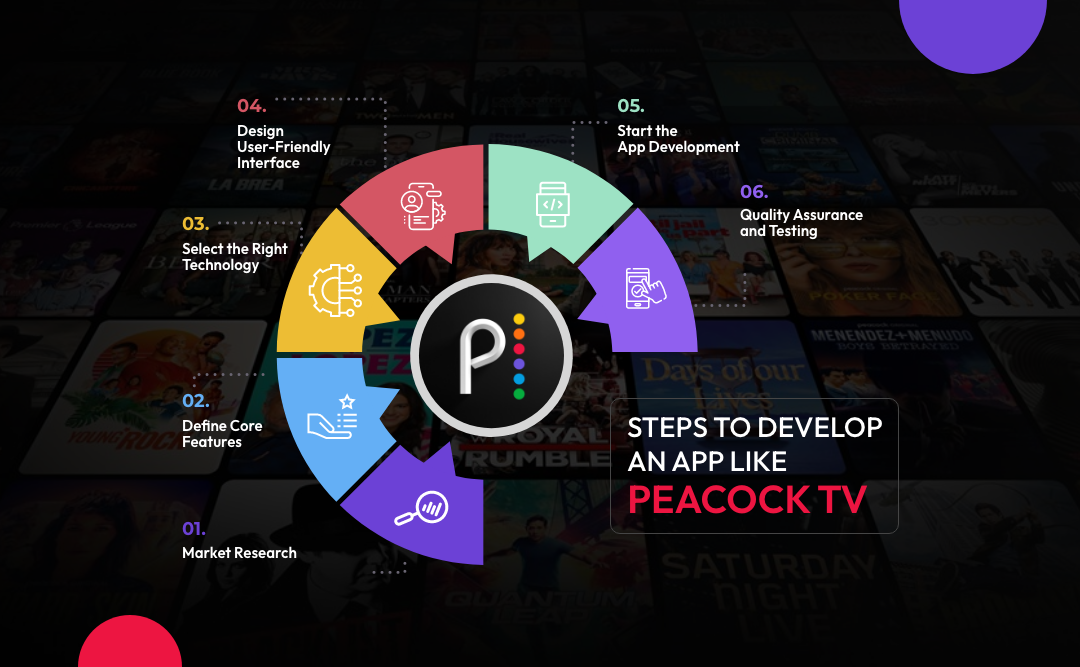 1. Market Research
Conduct thorough research on the streaming industry before you start to develop an app like Peacock TV. Analyze your competitors, such as Peacock TV, and determine the features users like. This research will help you determine your app's unique selling point and make informed decisions during the video streaming app development process.
2. Define Core Features
Outline the key features of your streaming app based on your research. Include critical functionalities such as user profiles, content discovery, and video playback. Consider adding unique features to your app, such as personalized content recommendations, social sharing, or interactive options.
3. Select the Right Technology
The choice of the right technology stack will determine the performance and scalability of your app. Choose whether to build an app like Peacock TV, a native iOS or Android app, or a cross-platform app using React Native and Flutter.
However, you can even get assistance from an Android or iOS app development company for choosing the best technology. To ensure seamless streaming, consider the backend infrastructure, content delivery network (CDN), and cloud services.
4. Design User-Friendly Interface
Invest in time to create a visually appealing and intuitive user interface (UI). Assure easy navigation, a clear layout, and consistency across platforms. Focus on a user-centric strategy, with a focus on a home screen that is engaging, content categorization that is straightforward, and recommending and searching efficiently.
5. Start the App Development 
Start to develop an app like Peacock TV using the right technology stack. You can create a native (iOS or Android) app, cross-platform, or web-based app. Working with top video streaming app development companies will help you realize your vision. Focus on features such as user authentication, content distribution, search functionality, and seamless streaming.
6. Quality Assurance and Testing
To make sure your app functions properly, test it extensively. Test your app across various platforms and networks to identify and address any bugs or performance issues. Prioritize security to protect data and provide a smooth streaming experience. For continued success, regular updates and maintenance are essential.
7. Launching and Marketing
Plan your launch strategy for your app by considering factors such as timing and promotional channels. Use social media, influencers, and other marketing techniques to increase awareness. Promote user engagement with promotional events and exclusive content. After the launch, continuously collect user feedback and refine your app based on these insights.

Key Features to Develop an App Like Peacock TV
Developing an app like Peacock TV requires careful consideration of various key features to ensure a seamless and engaging user experience. Peacock TV is a streaming service that offers a wide range of content, including movies, TV shows, sports, and news. To develop an app like Peacock TV, you need to incorporate, with the assistance of an iOS or Android app development company, the following key features: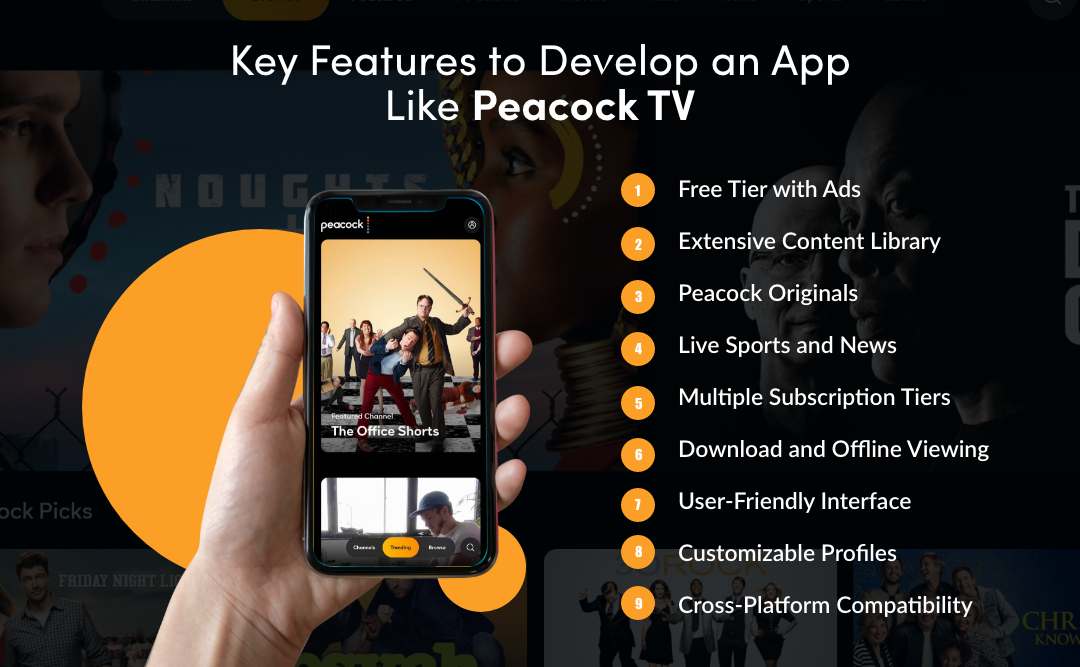 1. Free Tier with Ads
Ads are used to fund the free tier of Peacock TV. Thanks to this, users may now access a vast content collection without paying for a membership. If you're a budget watcher and are okay with the odd advertisement, it's a great choice.
2. Extensive Content Library
Peacock TV is renowned for having a large and varied selection of programming. You should integrate this feature when you create a streaming App like Peacock TV. A wide selection of films, TV shows, sports, news, and Peacock Originals are available to users. Classics and current hits are among the many types of material available on the site.
3. Peacock Originals
Peacock Originals is the exclusive content that Peacock TV creates. This includes original series, documentary films, and movies available only on the platform. These exclusives add value to subscriptions and appeal to viewers looking for fresh, unique programming. Additionally, you can create a video streaming website for better user engagement and a vast audience and incorporate such features into your website.
4. Live Sports and News
Peacock TV offers access to sports news and live events, providing a complete streaming platform for sports fans. Users can keep up to date in real time with the Olympics, Premier League Soccer, and other major sporting events.
5. Multiple Subscription Tiers
Peacock TV has a free subscription option but also offers premium subscriptions for those who prefer ad-free viewing and additional features. Peacock Premium, Peacock Premium Plus, and other premium tiers provide more content and a better viewing experience.
6. Download and Offline Viewing
Peacock TV users can download selected content to view offline. This feature is handy for people who wish to watch their favorite shows and movies offline, such as travelers or those with limited internet connectivity. Integrate this feature when you build a video streaming app like Peacock TV, which will help to make it successful.
7. User-Friendly Interface
It's easy to use and has a straightforward UI. The Customized video streaming apps allow users to quickly locate content, create watchlists, and discover new shows via personalized recommendations. The user-friendly interface enhances the overall experience.
8. Customizable Profiles
Peacock TV allows multiple profiles to be created within one account. This gives each user a unique experience. Users can create profiles, choose preferences, and receive recommendations based on their viewing history.
9. Cross-Platform Compatibility
Smart TVs, tablets, smartphones, and streaming devices are just a few of the gadgets that Peacock TV is compatible with. The cross-platform compatibility allows users to enjoy their favorite content wherever they choose, allowing flexibility and convenience.
Top 5 Video Streaming Apps Like Peacock TV
In the rapidly changing landscape of video streaming, several platforms have emerged as strong competitors to Peacock TV. They offer diverse content libraries and unique features. Some of the best video streaming apps provide a similar streaming experience.
| | | | |
| --- | --- | --- | --- |
| Popular Video Streaming Apps | Available Platforms | Downloads | Ratings |
| Netflix | | 1B+ | 4.3 |
| Hulu | | 50M+ | 4.5 |
| HBO Max | | 10M+ | 4.7 |
| Disney+ | | 100M+ | 4.4 |
1.   Netflix
The most widely used streaming service globally is Netflix. Its collection contains more than 13,000 items, including films and TV series. The Netflix app pioneered online streaming of licensed content. It seemed unimaginable how it would transform streaming entertainment. People were hooked on the service because it was so wonderful.
2. Disney+
Disney+ hosts a wide range of family-friendly content, including Disney classics, Pixar films, Marvel movies, and Star Wars. Disney+ is a platform that appeals to all audiences. Disney+ offers something for everyone with its ever-expanding portfolio and exclusive programs like "The Mandalorian." You must hire mobile app developers if you want to develop an app that works similarly to Disney+.
3. Hulu

Hulu, another popular streaming service with over 2,500 titles, including TV shows and movies, is also a great option. Popular TV series and Hulu Originals like Little Fires Everywhere and The Handmaid's Tale are available for viewing the next day on Hulu.
4. HBO Max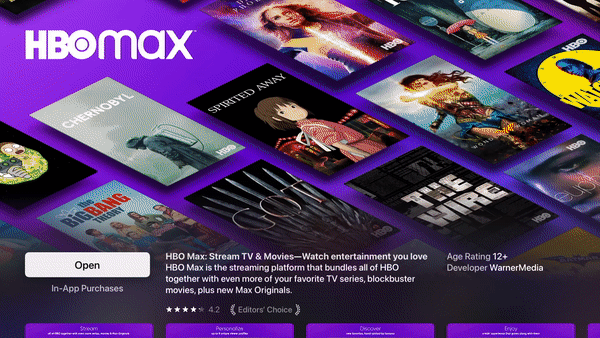 HBO Max is the streaming service of HBO, Warner Bros., and DC Comics. It offers a wide range of films and TV series. Documentaries and specials are also available. Many critically acclaimed HBO Originals can be found here. An app like HBO Max is an excellent choice for HBO fans and anyone who wants to access a variety of TV shows and movies.
5.   Restream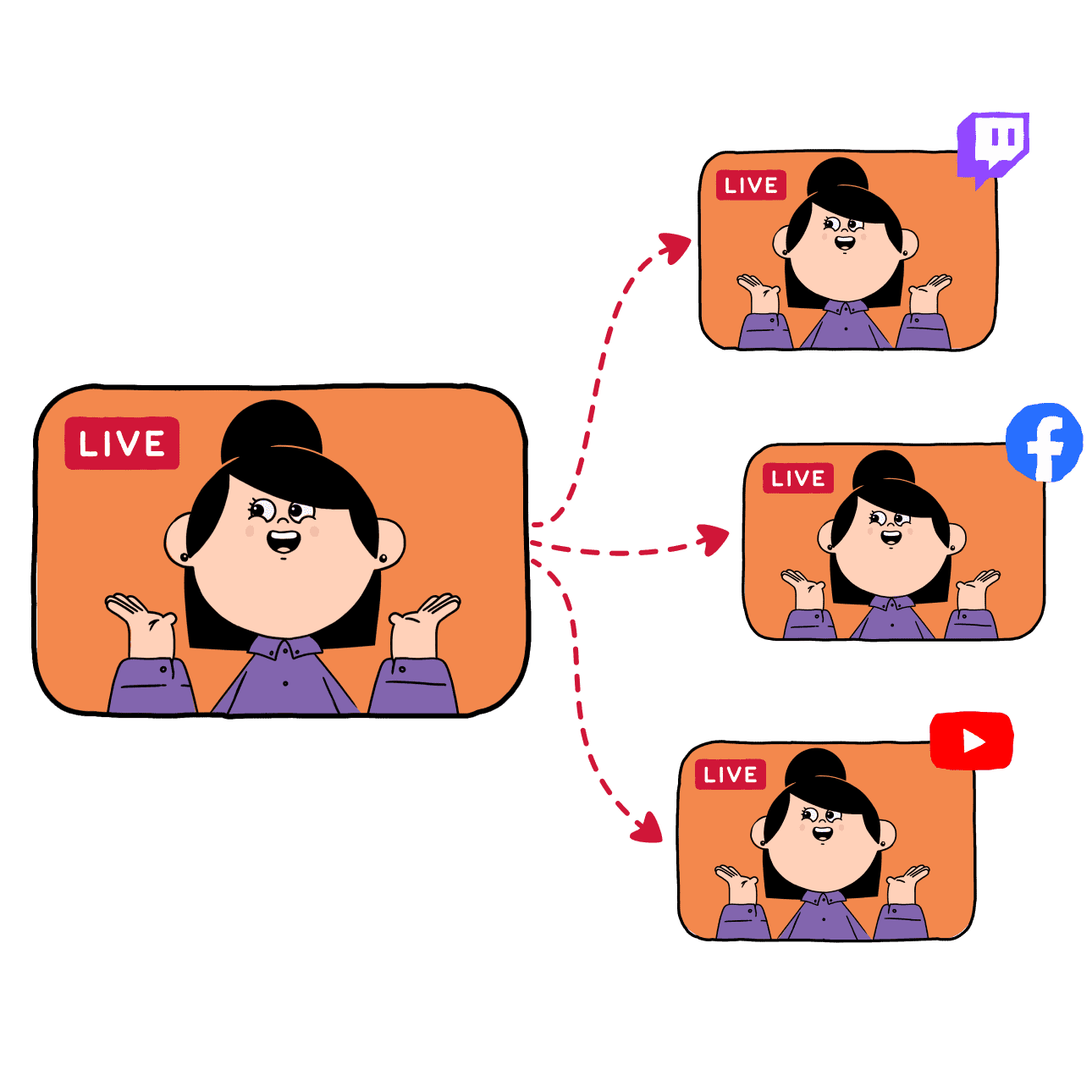 Restream has three different pricing plans that cover all the features applicable to content creators and businesses. It can handle product launches, press conferences, and podcasts. Restream's invite guests feature allows you to add up to 10 guests across 30+ social media platforms. It's one of the best ways to reach out in the content-rich world.
Cost to Develop an App Like Peacock TV
The mobile app development cost can vary significantly. Depending on features and complexity, the cost for developing an app like Peacock TV could range between $10,000 and $25,000. However, to develop an app like Peacock TV, you will need to invest a considerable amount of effort and time.
Create the platform
App Size
Features and Functionalities
Designing the User Interface
Create the backend code.
Testing and Maintenance
Additionally, investing in server infrastructure will require you to also invest in other hosting and maintenance costs. The average cost to build a video streaming app like Peacock TV, with its basic features, can be between $10000 to $15,000.
Remember that when you develop an app like Peacock TV is only for a single platform. If you wish to develop apps for Android and iOS you will need to spend between $16,000-$25,000 or more. The table below shows the cost of Peacock TV app development based on the complexity of the app.
| | | |
| --- | --- | --- |
| App Complexity | Cost Estimation | Time Duration |
| Simple App | $10000-$14000 | 2-3 months |
| Medium App | $15000-$20000 | 4-6 months |
| Complex App | $25000 | 8 months |
Therefore, if you want to find out the exact costs to develop an app like Peacock TV, you need to consult an entertainment app development company that specializes in mobile app development.
Final Thoughts!
Creating video streaming apps like Peacock TV can be beneficial and an excellent tool for connecting with people and sharing their experiences. With just a few simple clicks, developers can create live-streaming apps that give viewers a fun and interactive experience.
Now that you've got a better concept to develop an app like Peacock TV, it's time to start your thrilling adventure. Dev Technosys, a prominent mobile app development company,  can help you create a video streaming app like Peacock TV that will propel your company to new heights.

Frequently Ask Question
1. How Does an App Like Peacock TV Work? 
Peacock TV operates as a streaming service that delivers on-demand video content. Users subscribe to access a library of TV shows, movies, and exclusive content. The app utilizes a server-client model, storing content on servers and streaming to users' devices. It employs adaptive streaming for optimal viewing based on internet speed.
2. How Long Does it Take to Develop an App Like Peacock TV? 
The time to develop an app like Peacock TV depends on various factors such as features, complexity, and team efficiency. Typically, it may take 2-4 months, 5-6 months, or more. Detailed planning, design, development, testing, and refinement contribute to the timeline.
3. What Are the Advanced Features to Develop an App Like Peacock TV?
To develop an app like Peacock TV, consider advanced features like personalized content recommendations, user profiles with watch history, offline downloads, multi-device syncing, live streaming, and social media integration.
4. How to Money From Apps Like Peacock TV? 
To make money from the Peacock TV app for android and iOS, focus on monetization strategies such as subscription models, in-app purchases, and advertising. Offer premium content behind a paywall, provide additional features for a fee, and collaborate with advertisers.
5. How Much Does it Cost to Develop an AI-powered Video Streaming App?
The Peacock TV app development cost with AI-powered technology varies based on factors like features, complexity, and development time. A rough estimate can range from $15,000 to $30,000 or more. Expenses include AI implementation, app design, development, testing, and ongoing maintenance.