Customers are the most vital part of a company. Customers are the reason why companies grow and why they shut down. The relationship between customers and the company is crucial and can affect the company in several ways. In the current digital era, companies must take effective measures to improve the customer base and build trust. CRM is a digital tool that has the main purpose of maintaining relations with customers.
In this article, we will understand what CRM is and how a company can build custom CRM software.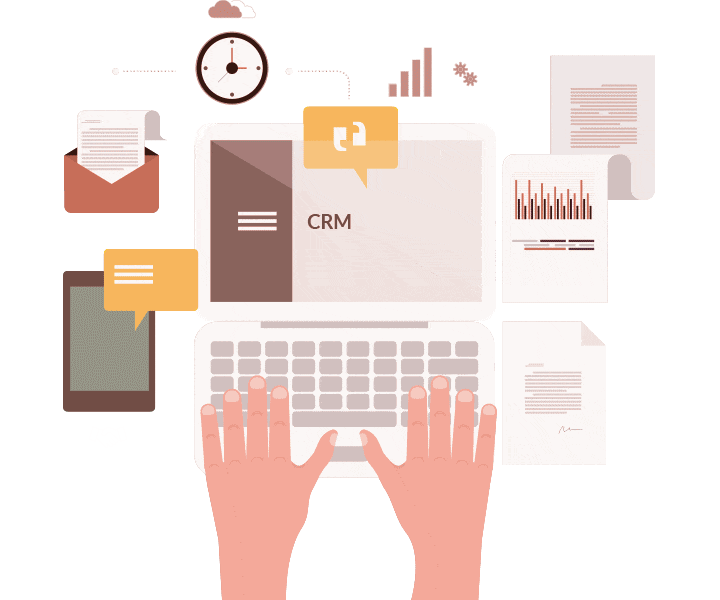 CRM development companies have been helping a lot of companies. It is one of the most effective methods today to manage things like customer relations, the performance of the company, etc. All these things are vital for the company and help improve and develop the company to a large extent.
What is Custom CRM Software?
CRM, also known as Customer Relationship Management is a technology that works to manage the relationship of a company with its customers. The ultimate goal is all about managing the relationships of the business. A custom CRM system allows companies to stay connected to their customers and improve profitability.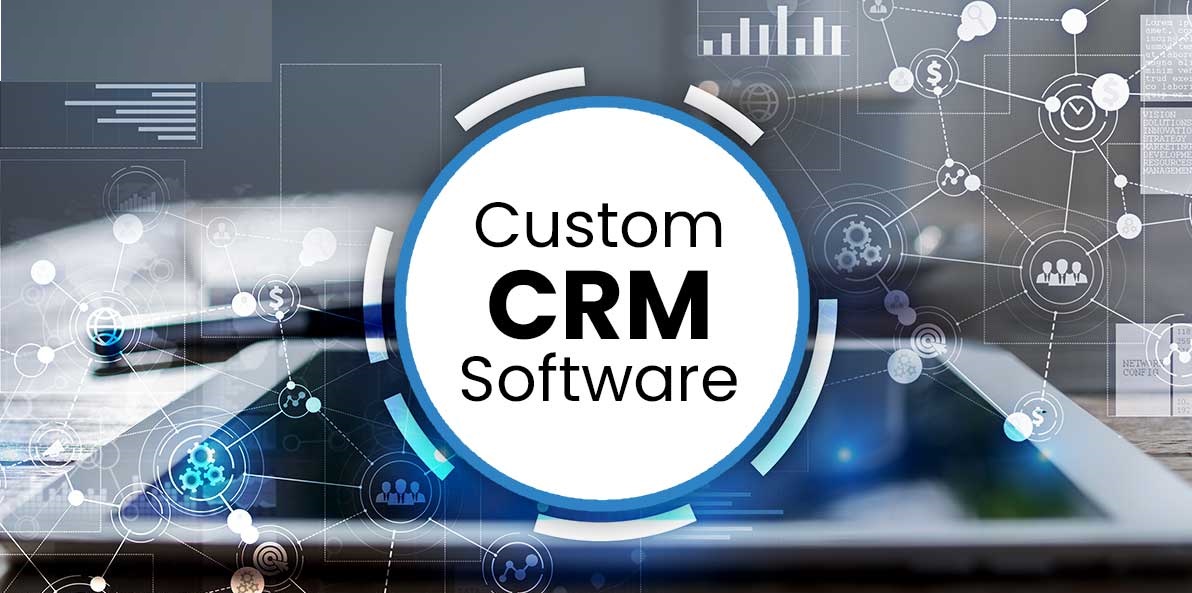 A CRM can be used for several purposes such as business development, sales, customer service, recruiting, and marketing. It can be created in a few easy steps by web development services.
What Does A CRM Do?
A Customer relationship management system helps in getting customers and making strong relations with them. It aids the business to grow at a faster rate. A CRM system starts by collecting some customer data such as websites, email, social media, etc. It also collects other information such as clients' preferences and recent news regarding the company's activity.
CRM tools provide overall information related to the company and customers and aid in better understanding over time. Today, CRM solutions are more advanced and open and offer many great business tools. These tools include surveys, accounting, billings, etc.
In this way, a company can get a clear and complete view of its customers. CRM in the new general is one step ahead as it's been built to automatically do administrative tasks such as lead or service case routing and data entry etc., which saves time and does all the valuable tasks. Moreover, it will help to understand the customers better. CRM can be created by many web development services.

Why is CRM Important?
A CRM can be very beneficial for a business. It helps in getting a clear overview and status of the customers. With that, a company can analyze and take the right action accordingly. Tools like custom chatbot development help the company interact with its customers.
Since both customer loyalty and revenue can affect the company in different ways, Customer Relationship Management is one of the best management strategies that can lead to an increment in the profit of the business.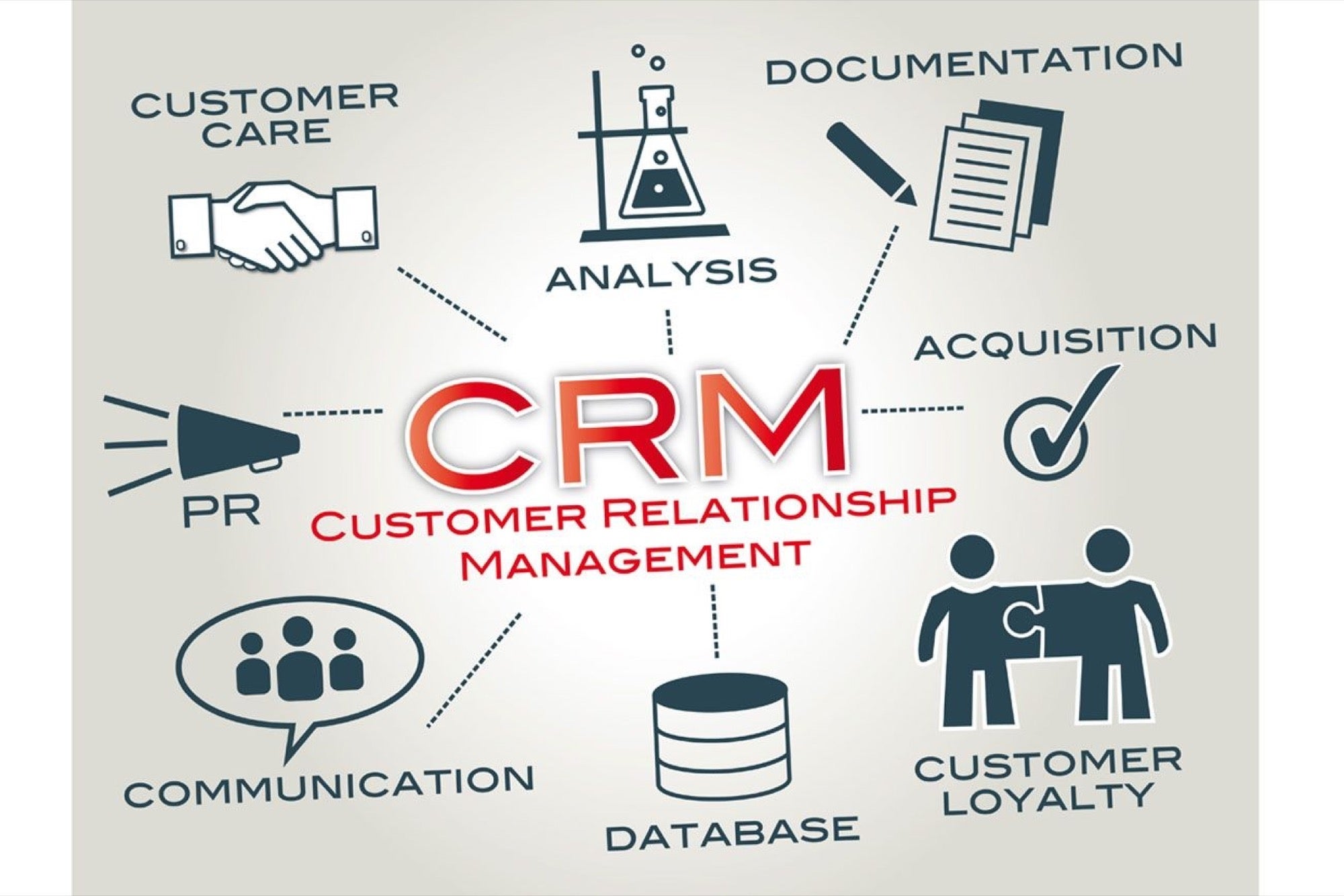 Below mentioned are the five most important reasons why CRM is important:
1. Understanding The Customers
Customer Relationship Management is a technique that focuses on the customers of the business. It helps businesses by acquiring the customer's information and this information can be used to understand the behavior of the customers.
2. Increasing The Customers
CRM not only focuses on satisfying existing customers but also helps in obtaining new customers for the company. CRM aims at increasing the customer base and retaining them for a longer period.
3. Saves Time
CRM technique is online and better than traditional methods. It improves the performance of a business and helps it grow. In CRM, the data is stored in a place and can be accessed anytime which saves the time involved in searching.
4. Helps in Building Image
Every business wants a good reputation in the market as it helps increase customers and build trust between them. This image is created by its customers only. For this reason, it is important to ensure that the customers are happy. CRM helps make the customers of a business happy.
Why Do You Need CRM Development and How to Choose the Best CRM?
5. Increase The Growth
CRM can help in increasing business as it is very effective in increasing the profits of a company. It also creates loyal customers for a business.
Benefits of Custom CRM Software
1. Detailed Analytics
Every company requires a lot of data to know its customers. Sometimes it becomes difficult to manage and understand this data. CRM can aid in this as it breaks the data into metrics in a way that is valuable and easy to understand. These metrics include bounce rates, demographic information, etc., that allow a understand of the market campaign.
2. Managed Communication With Leads
Management of leads can be a complicated process as it requires several steps to communicate. A CRM system can make this process easy. It manages the process automatically and sends alerts to the employees as to when they should reach out. CRM also tracks the interaction with the customers.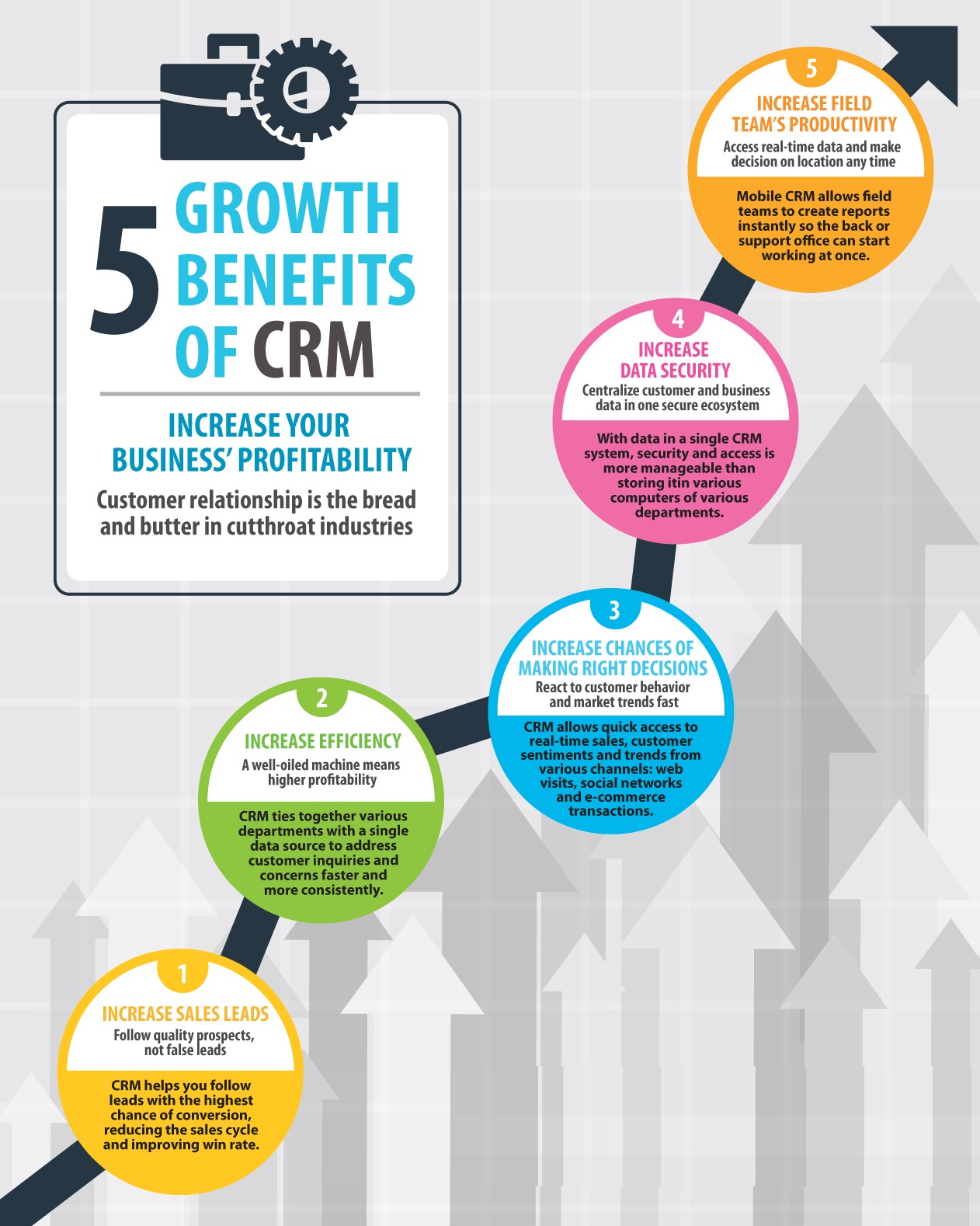 3. Automated Segmentation
A list of a lot of contacts might be complicated to work with. A CRM system can segment the list according to the criteria required by the company and thus make it easier to find the ones that the company wants. This criterion can be age, location, gender, etc.
4. Accurate Sales Report and Forecasting
Sales are the sole purpose of every business. With CRM, a company can easily collect data about the customers and get features to manage the processes. It also helps the company in tracking its goals and checking its progress.
It also allows a review of past performances and compares the progress. This review helps understand the areas where improvement is required and helps in the overall sales of a company. The company can take help from a custom software development company.
5. Higher Productivity
The Customer Relationship Management process is automatic and helps save a lot of time and increases productivity. CRM ensures that the tasks are happening perfectly. It does nearly all the work related to the customers so that the employees don't need to spend time on this.
Why Does CRM Matter To A Business?
A CRM offers a clear image of the customers of the company. It allows an understanding of the customer's preferences and choices. Customer Relationship Management can be used by marketers to understand sales and make better and more accurate forecasting. It gives clear visibility of a lead or opportunity that offers a clear path to take relevant steps further.
CRM can be perceived as a tool to increase sales and marketing and companies can receive a great benefit from using them. A CRM system allows companies to manage inquiry channels without losing track and offer sales and marketing.
Without a CRM system, the company can face many issues. For example, customers might contact the company through emails, and social media for asking queries or following their orders. Without a common platform to contact the company, it may result in a messy situation, and clear communication might not be possible.

Even if a company receives all the data, it might be difficult to extract the exact information from this. Such reports will be difficult to manage and will end up wasting valuable time. It will again create a messy and perplexing situation for the company.
This can affect both the company and the customers as the customers might face trouble in receiving a response from the company. On the other hand, the company might also lose the trust of its customers and might even affect the company's reputation.
Therefore, we can conclude that CRM can be very beneficial when working on customers and the company's improvement. A perfect Customer Relationship Management system can lead to a perfect brand image and an improvement in the business.
What Can CRM Offer To A Business?
1. CRM is a cloud-based system unhallows its user to work from anywhere and anytime. The information is cloud-based and is available to everyone at a time and anyone can access the information according to the requirements. The data can be easily stored digitally and made available anytime.
2. CRM is a fast and easy way. It is easy to implement and does not require any special installations. CRM reduces costs and removes the complicated process of version control and update schedule. Most cloud-based systems like Customer Relationship Management are priced according to the number of users accessing it and the features they access.
3. It makes them very cost-effective as the company need not pay for the features they are not using. It is also extremely flexible for the company and they can add more people as the business grows, according to the requirements.
4. A cloud-based CRM can offer more benefits some of them are:
Automatic software updates
The access to resources and being able to work regardless of the location or device.
Faster deployment
It is cost-effective and scalable
How To Build Custom CRM Software Step-By-Step?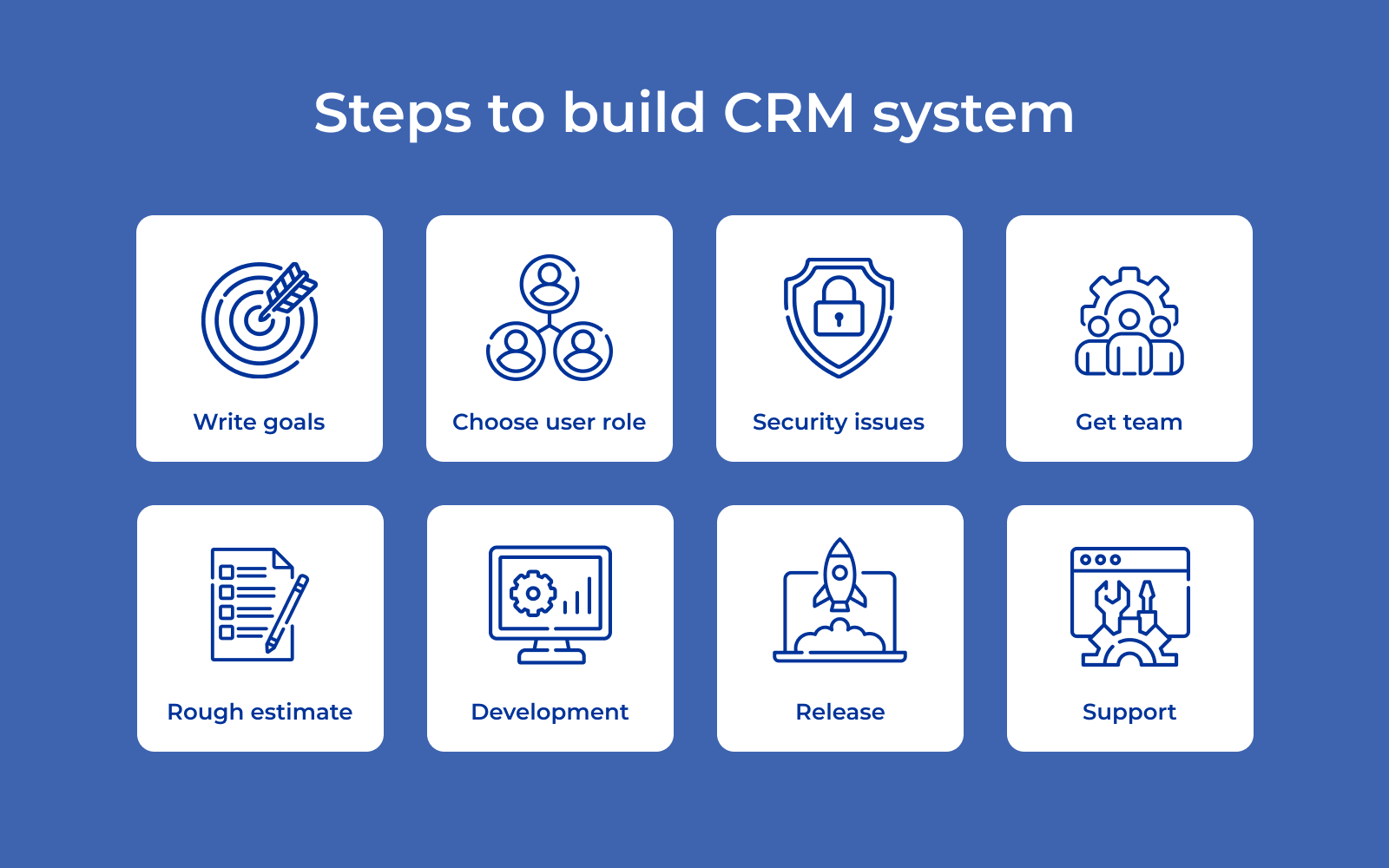 Step 1: Identifying Business Goals to Build Custom CRM Software
The main purpose of CRM is to increase sales and thus increase profits. But, it is necessary to understand how CRM can help the business to grow. When building CRM software, the company has the liberty to build only the required parts. So to build cost-effective custom CRM software, it is necessary to know about the goals that need to be achieved by the company.
To understand more, here are some common goals that companies aim to achieve through CRM software:
Detailed insight into customer behavior.
Accumulating stakeholder data
Managing and analyzing leads depending on their locations
Maximum customer satisfaction
Management of customer base and getting valuable data related to the customer journey
Generating reports on the performance of one or multiple departments
A company can take more guidance from a SAAS development agency to build custom CRM software.
Step 2: Finding The Right Type of Customer Relationship Management Depending on The Goals
Based on the goals created by the company, the next step is to find the right CRM type that suits the business well, either by the company itself or by a website development company. There are three types of CRM software available depending on their purpose.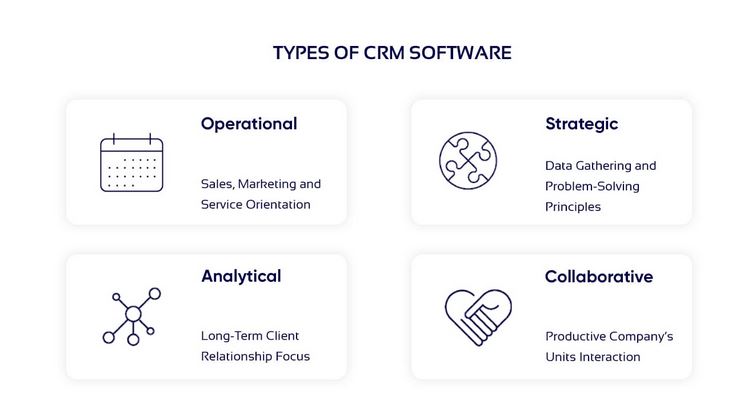 #1. Operational Customer Relationship Management
If the main goal of your company is sales, marketing, and customer support, then Operational Customer Relationship Management can help. It offers dashboards and custom reports that help in monitoring and generating the lead.
It is one of the most common choices of businesses such as financial, real estate, health care, etc. There is a healthcare CMS development company that can help in building the complete system.
#2. Analytical Customer Relationship Management
It is the best CRM type if the main goal is on the customer base. This CRM mainly focuses on the customers and provides valuable reports. It will help in understanding the customers, their location, preferences, what appeals to customers the most, etc. This CRM is very useful for targeting the right audience at the right time.
#3. Strategic Customer Relationship Management
It is also known as collaborative CRM. It helps in understanding the customer journey in the business. The main goal of this CRM is to understand whether the customers are leaving and the reasons behind it and to improve it accordingly. Healthcare CMS development companies can help in building accurate systems and in the management of the system.
Step 3: To Understand The Features To Include in The CRM Software
After knowing the goals and which type of CRM can aid in achieving those goals, now it is necessary to understand the features that a company should use to build custom CRM software that can help achieve the goals.
This is the most important component as the company needs to determine the required features only in this. Companies also take help from their preferable CRM development services for getting guidance on ton features required.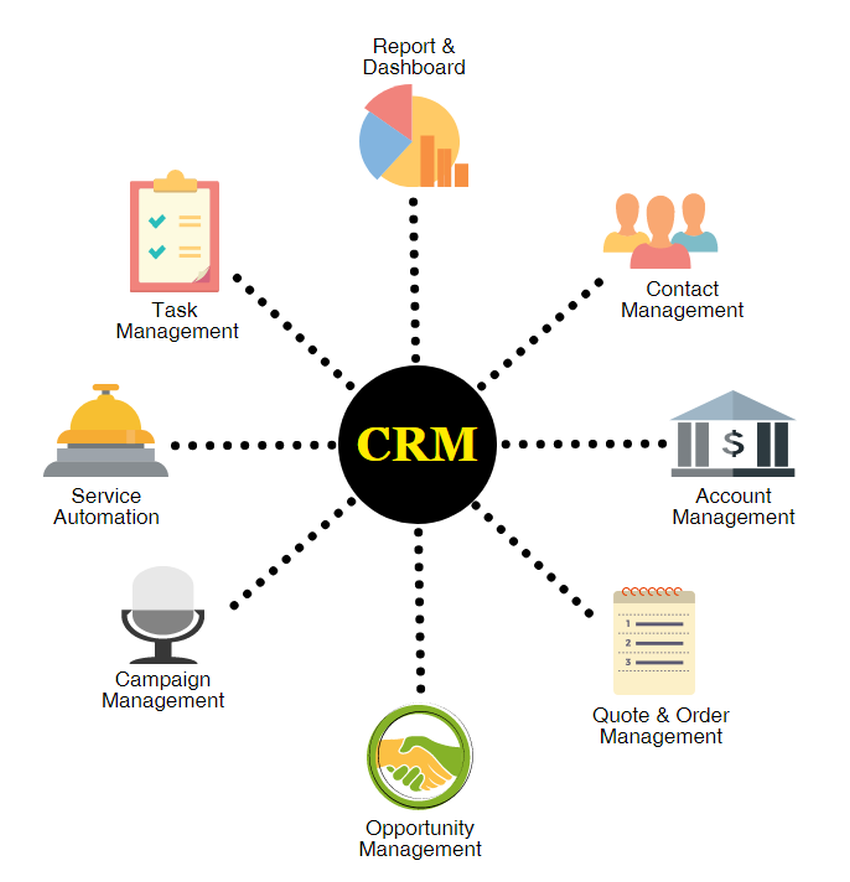 Some common features required in almost all the CRM software of the company:
#1. Contact Management
It is the most important feature of CRM software and is used to store customer data, maintain records, management of detail, etc.
#2. Lead Management
This is the best feature that helps in managing the potential clients in a company. This feature of CRM can organize the leads in one place and can monitor their progress.
#3. Calendar and Reminder
Everything related to customers like lead management requires teamwork. With these features, companies can schedule meetings and can do several business operations.
#4. File Sharing
A quick file-sharing true that can help in collaborative work will save a lot of time. Without this feature, company employees have to download and upload files multiple times.
#5. Dashboard and Reports
Customer Relationship Management software requires dashboards that provide an overview of work in progress. Furthermore, reports will tell about the progress that has been done and what is further required.
Step 4: Specify The Level of Access To Each Function
After understanding which feature should be there in the software, it is also important to specify who has the access to the software and at which level. To maintain orderliness in CRM, the company can enable access permission in the system and seek aid from a website development company. It helps in maintaining who has the access to which sort of data in the system.
Step 5: Creating The Total Budget From The Starting of The Customer Relationship Management System
Now, after deciding everything, it is time to calculate the budget required for the system. It is necessary to estimate the total costs the company will need to build the Customer Relationship Management system and can go for a CRM development company for building the system. The steps that are required to create the system are mentioned below:
Calculating the technical requirements
UI/UX design
Coding to build the system
To test the system
Maintenance and support
Depending on the system design, the cost of building a custom CRM system may vary from $5000 to $50,000. A company can go to SAAS development company for further services related to the system.
Customer Relationship Management is of different types and can be used according to the requirements of the company. CRM offers multiple technical advantages to companies and helps customers get better services from those companies.
Few Final Words
For every business, interaction with the customers is the most important thing. With the development of new technologies, this interaction has become digital through CRM software. A CRM or Customer management system allows businesses to interact with their potential customers.
Customer Relationship Management provides companies with a way to expand their business by making a strong customer base. It can be a very useful tool for new or growing companies. There are many CRM development services that can help companies with their CRM system.
A few easy steps are required to build a custom CRM system that can aid improvement in the company and its performance. Many additional features can be added to the system like custom chatbot development to make it more advanced.