The digital shift has changed the trends for humans for a long time and has offered tremendous perks to all-scale businesses. Technological advancement has unfolded multiple ways for humans to make their lives easier and better.
For instance, when it comes to selling or buying a product or service online, the first thing that strikes everyone's mind is an online marketplace mobile app. It is a great transitional substitute for earning money while offering buyers the best platform to surf online products. Statista states e-commerce sales were around $2.3 trillion in 2017, and the number is expected to increase 4x times in the coming years. The figure reflects the ever-rising demand for online transactions and how buyers adopt it with the flow.
The marketplace development trend offers tremendous business opportunities while helping businesses grow. Yes, you read it right! So, here in this blog, we have highlighted how online marketplace applications promote business growth.
What Is An Online Marketplace Platform?
A marketplace platform is basically an interface connecting buyers and sellers of a certain commodity or service. Numerous marketplace platforms now provide peer-to-peer, e-commerce services that can be given and purchased easily.
Some famous marketplace platforms include marketplace apps like Etsy, a product-based marketplace platform, and Airbnb, a property-based marketplace platform.
An online marketplace mobile app is also known as an electronic marketplace, as the website owner manages all the transactions.

Popular Examples of Online Marketplaces
Some of the most popular marketplaces websites and apps include: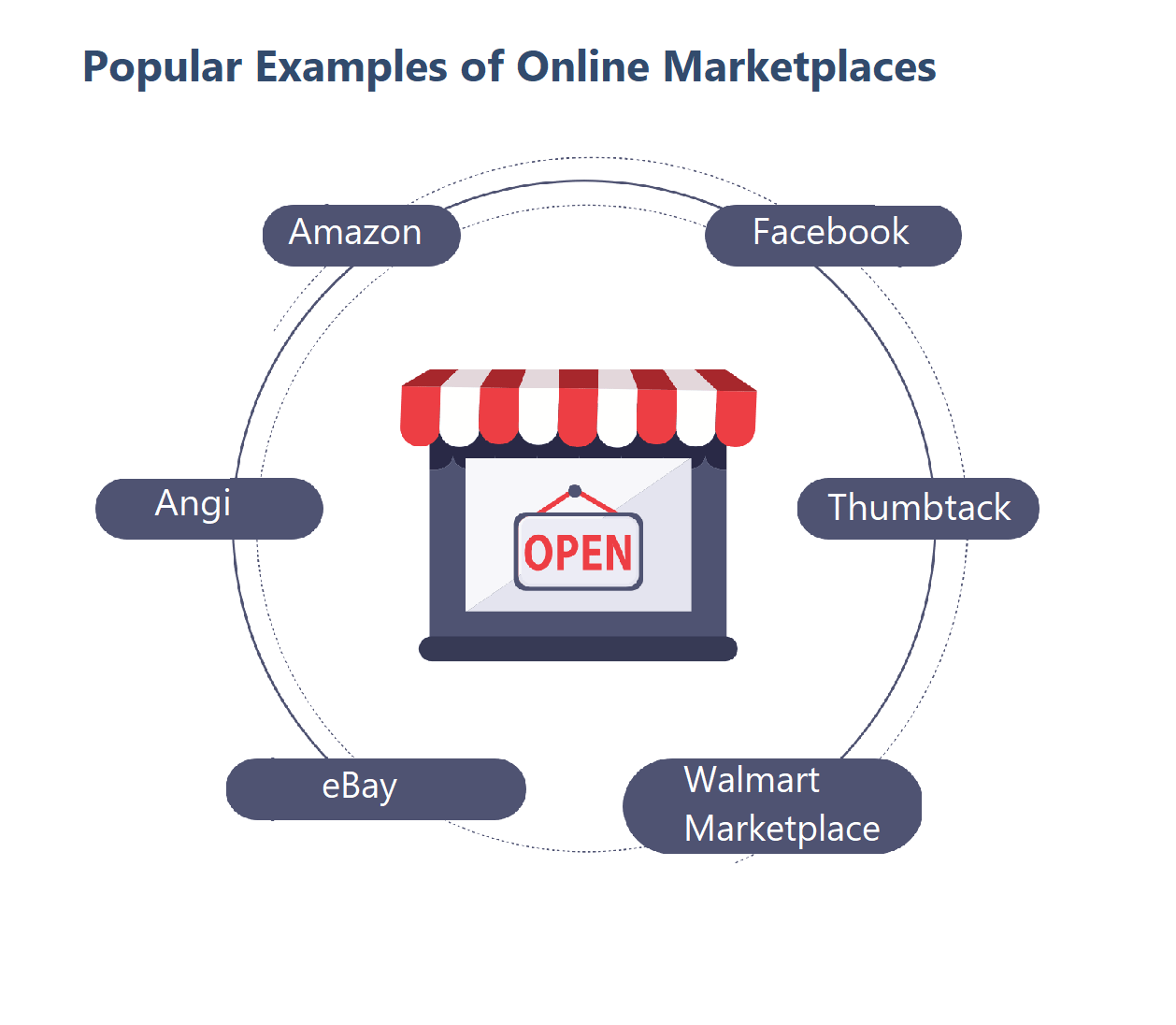 Amazon
Facebook
Angi
Thumbtack
Walmart Marketplace
eBay
What Are the Different Types of Online Marketplace Mobile Apps?
Different businesses have different products and services, so they require a unique business application to accomplish their needs and requirements. Here the three types of online marketplace development processes take place as highlighted below.
1. B2C (Business-to-Customer) Online Marketplace Apps
B2C marketplace mobile apps are based on the business-to-customer model where the business owners can sell their product or service directly to the buyer or customer. Many B2C marketplaces are basically one-stop shops where customers buy multiple goods and services online.
Features of B2C Marketplace Mobile App
Cost-effective
Better business reach
Less staffing
Zero third-party involvement
2. B2B (Business-to-Business) Online Marketplace Apps
Wholesale suppliers use B2B marketplace websites to sell their products and services to buyers in bulk. This custom marketplace development model is operated by a third-party provider that allows businesses to use it on beneficial terms. Using this B2B marketplace business model, business operators sell their products to another operator.
Features of B2B Marketplace Mobile App
Business Security
Secured payments
Buy products in large quantity
Tax prices included
3. C2C (Customer-to-Customer) Online Marketplace Apps
The C2C marketplace app connects individuals with similar needs and income to share products and services. This marketplace model is part of the sharing economy that helps people make the best use of resources available by renting and not buying the products. The P2P or C2C business model features a shorter sales cycle and average relationship length than the B2B and B2C models.
Features of C2C Marketplace Mobile App
Sellers can earn huge profit
Take charges from sellers for product listing
Transparent communication
All products availability
These are the three types of online marketplace mobile apps available in the market that businesses use as per their needs.
Why Should Businesses Invest in Online Marketplace App Development?
Planning to invest in an online marketplace mobile app? Wondering whether it could be beneficial for your business or not? This section will let you know the importance of marketplace development for business growth.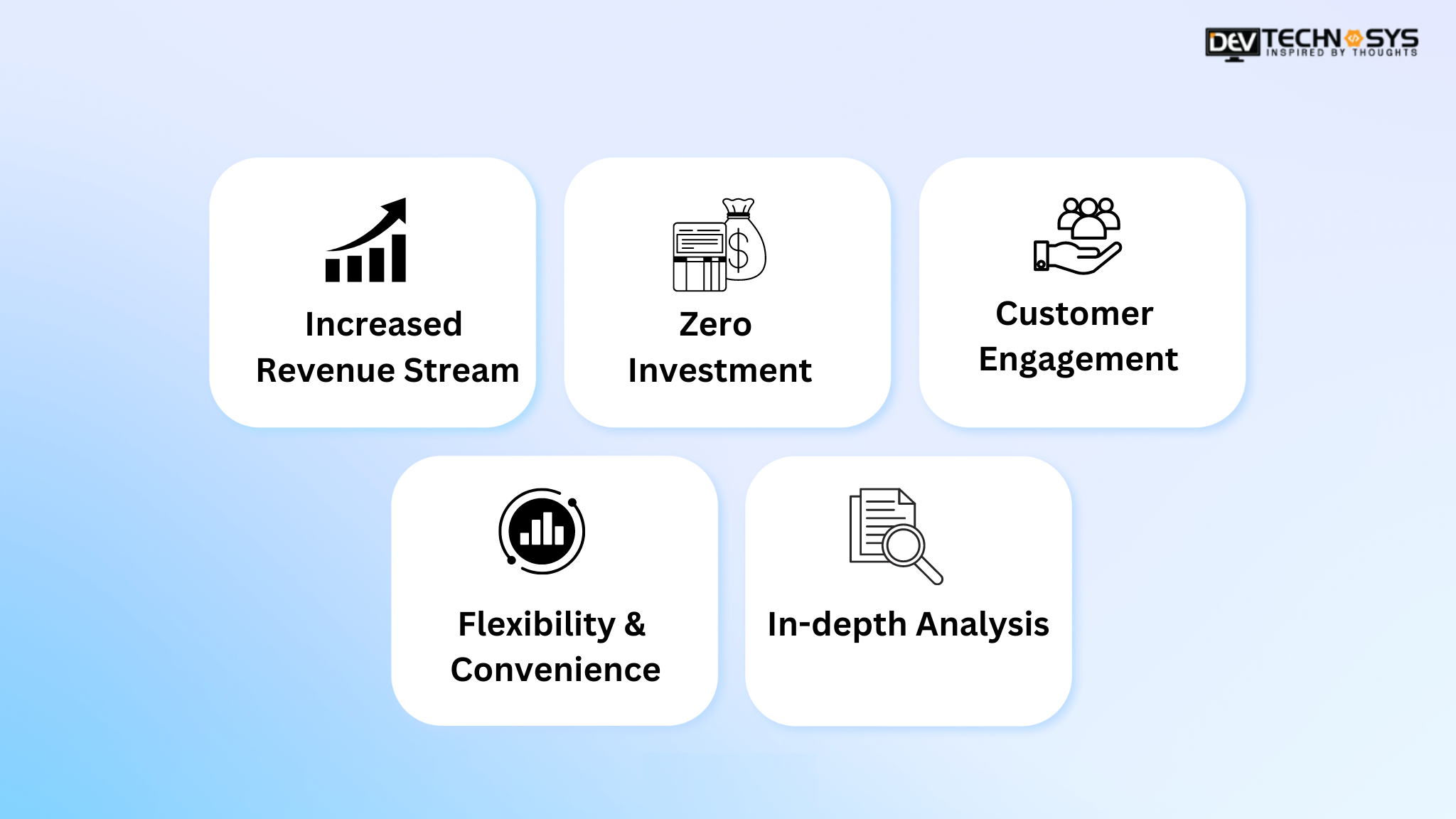 1. Increased Revenue Stream
The marketplace business owners choose a revenue stream that best-fitted their market niche aligning with the business goals and demand. A marketplace's platform's success depends on how its owners derive revenue. Businesses must incorporate unique business models like commissions, listing fees, memberships, advertising, and more.
When you incorporate the best monetization techniques along with marketplace app development, you can expect amazing business revenue within less time.
2. Zero Inventory Investment
Marketplace mobile apps have less financial risk than an e-commerce store as businesses do not have to maintain an inventory of their own. Generally, an online marketplace platform not only sells products online but also connects people with the products and services who are willing to pay and are interested in buying the products.
One of the major benefits of the app development marketplace is such platforms likely have more chances to expand quickly. In case it works, businesses must add more vendors to meet the demand. No matter how much demand for the products and services increases, businesses do not have to worry about offline inventory investment and can manage the products online.
3. Customer Engagement
With offline services, engaging customers and selling products become a really hectic job for all-scale businesses. It is where stepping into a marketing development solution can be the best bet as it brings all the exciting offers together via multiple suppliers or service providers. As a result, more customers will use your marketplace app and experience the perks of getting access to a wide range of products with just a tap.
A well-crafted marketplace mobile app will likely increase customer engagement at lightning speed compared to an offline business. The more customers are aware of your business, the higher profit it will generate. Marketplace like Etsy, Airbnb, and more are already availing of the significant benefits, so you can also think of it.
4. Flexibility & Convenience
Marketplace platforms are similar to online shopping malls for services. The process is similar to opening an office or a storefront in a mall. It is an amazing strategy to become a more independent businessperson & develop a strong brand presence via a well-developed online marketplace mobile app.
One of the biggest benefits of stepping into online marketplace development is that it gives you more flexibility and convenience. Remember that some markets have different rules, so study them before switching your products and services to online marketplace platforms. An investment made once during marketplace mobile app development will benefit you long-term.
5. In-depth Analysis
Keeping track of ongoing business activities isn't possible while running a business offline. Improper activity tracking or inaccurate data analysis impacts business operations greatly. It is the reason why businesses fail to generate the desired profit. To overcome this, the app development marketplace comes in handy as it results in in-depth sales and business metrics analysis.
While using the marketplace platform, marketplace owners can see the trending products or services that users prefer to use. This way, they can make business plans accordingly and earn huge business profits.
These are the five major business benefits of marketplace mobile apps every business owner should be well-versed with. Now that you know the advantages of marketplace development solutions, take a step ahead and develop marketplace apps right away. Still, many businesses are concerned about how online marketplace mobile apps make money. So, here we have highlighted the different ways to make your marketplace application profitable.

How Online Marketplace Mobile Apps Make Money?
We all know that online marketplaces are booming, with a market value of $814 billion worldwide; standing out from the competition requires smart monetization strategies. Here is the list of the revenue-generating monetization tactics businesses can incorporate to get the best business profit ever.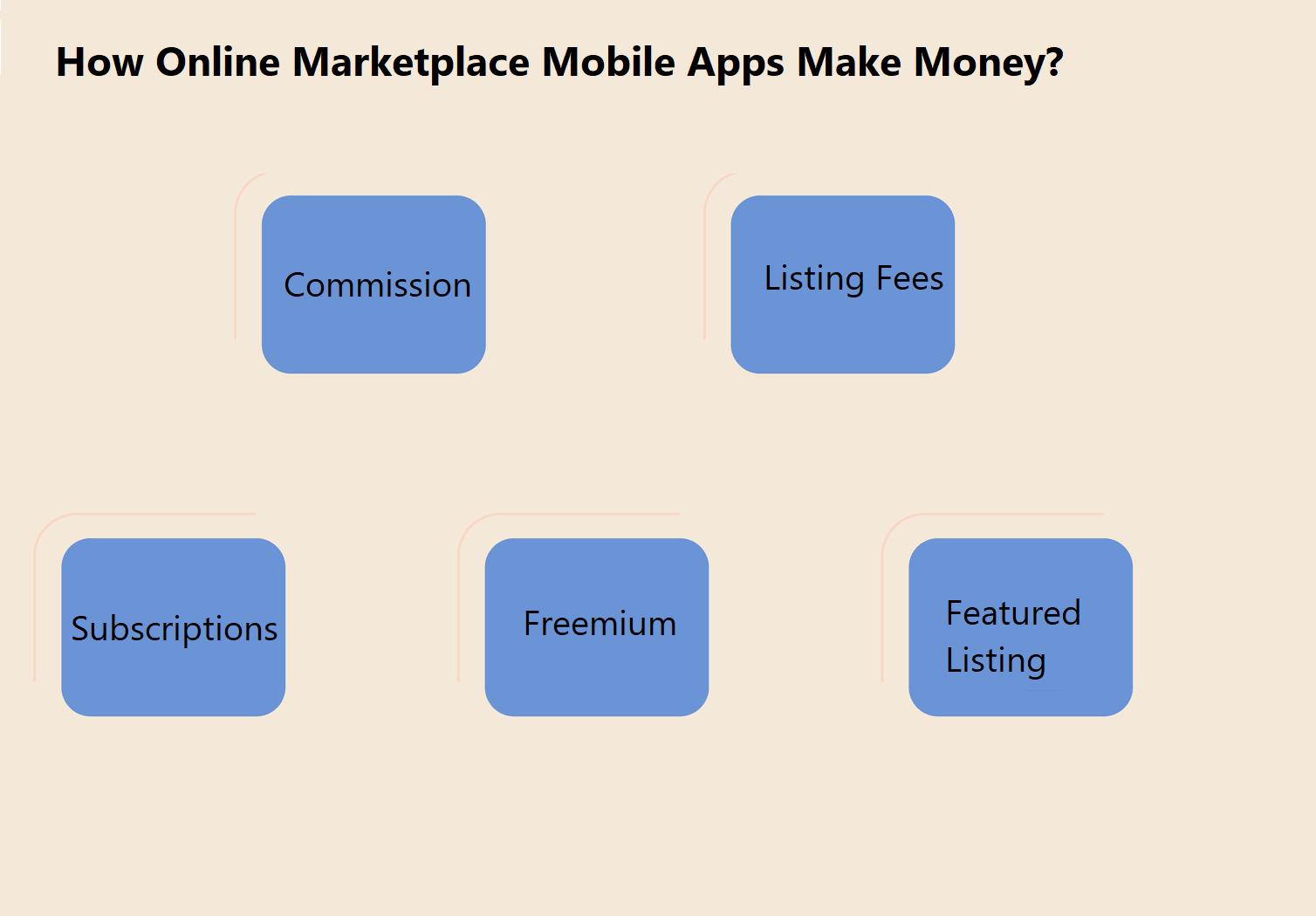 1. Commission
A marketplace platform generates money from each transaction it completes using the commission model. You can charge the buyer, the seller, or both, taking a percentage of each transaction or a flat fee. One of the most common business models is the commission model. Businesses that sell products utilize this model most frequently. One of the major advantages of this marketplace mobile app model is businesses can get an amazing commission for each transaction they make.
Example – 
Well-known marketplaces like Amazon, eBay, and Etsy have incorporated a commission model to make money. Uber uses a monetization strategy called dynamic pricing.
A Complete Guide To Develop Marketplace Apps Like ETSY, Amazon, And Flipkart
2. Listing Fees
Suppliers can use this monetization strategy to charge a fee each time they publish a new listing. They are not required to charge for each listing provided by your vendors. There are free and paid listings in several categories depending on the type of marketplace platform.
As per the mobile and web app development services experts, listing fees can be either a fixed amount or a percentage of the prices of goods or services, similar to the commission fees.
Example – 
Popular marketplace apps like Craigslist come under the non-profit website that takes charges sometimes. So, it has incorporated the listing fees monetization strategy to get the best business profit ever.
3. Subscriptions
While using the subscription model, businesses can use their marketplace platform to take recurring charges or fees to access the platform. Merchants, customers, and both parties must pay for memberships to sell and buy products online.
But understand that the subscription tiers vary depending on the budget type and pricing. Your only goal should be to make the subscriptions attractive to a wide range of vendors and buyers.
Example – 
Dating apps like Bumble, Tinder and other websites have a subscription model and charge membership fees for the premium version.
4. Freemium 
Value-added services and improved seller services use a freemium monetization strategy. According to the freemium business model, after your users become enamored with your basic services, you offer a premium version that proves valuable to the users willing to pay.
It is one of the smartest business tactics that you can use in your marketplace mobile app to attract users to your application. Then they will ultimately pay to continue using your business application.
Example – 
Peerby is one of the popular Dutch startups operating a sharing service. This marketplace website is free but has two paid offerings: insurance and delivery.
5. Featured Listing & In-app Ads
Answer the users' queries of 'How does online marketplace platforms benefit businesses?' helps businesses gain users' trust. It is where featured listing and ads are the best ways for marketplace platform providers to gain visibility. To give more exposure, you can feature the products and vendor profiles on the main page and include the sponsored pages on the next.
Example – 
Newegg, one of the popular online retailers, uses feature listings and ads to expand business exposure.
These are the five ways mobile marketplace applications promote business growth and help businesses earn profit with time. Now that you are well-versed with monetization strategies incorporate them into your business application and take your marketplace mobile apps to the heights.

Summing Up!!!
If you have ever thought of developing a marketplace mobile app, you are likely to be confused about whether such market giants will generate business revenue. Right? After reading this blog, you must have got the assurity of 'How marketplace mobile app can promote business growth?' step into online marketplace development and experience the perks.
You can also get in touch with professionals or hire dedicated developers from a leading organization for better assistance. It will ease your development process and benefit your business in the long term.
Frequently Asked Questions
What Is the Cost of Develop An Online Marketplace?
The cost to develop an online marketplace platform begins from $30,000 to $50,000 and more, depending on the type of platform developed. So, the final cost will depend on the type of platform developed.
How Many Types of Online Marketplaces Are There?
Primarily, there are three different types of online marketplaces are there –
B2B Marketplace App
B2C Marketplace App
C2C Marketplace App
What Are Online Marketplaces?
An online marketplace is a business mobile app or website facilitating shopping from multiple sources. The marketplace operator does not own any inventory and presents other people's inventory to a user while facilitating a transaction.