Over the past few years, e-commerce has been booming at lightning speed. In this digital economy, technological advancements and revolutions have completely changed how people conduct businesses.
Now businesses need not spend more effort on offline marketing and selling & can easily earn profit from the comfort of their home.
The introduction of an online marketplace platform has made things easier and hassle-free for both businesses and customers. Now, buyers can access essentials with just a click and get exclusive offers & discounts while buying products online through online marketplace websites.
This is one of the major reasons why the online service marketplace industry is booming with 2x speed these days.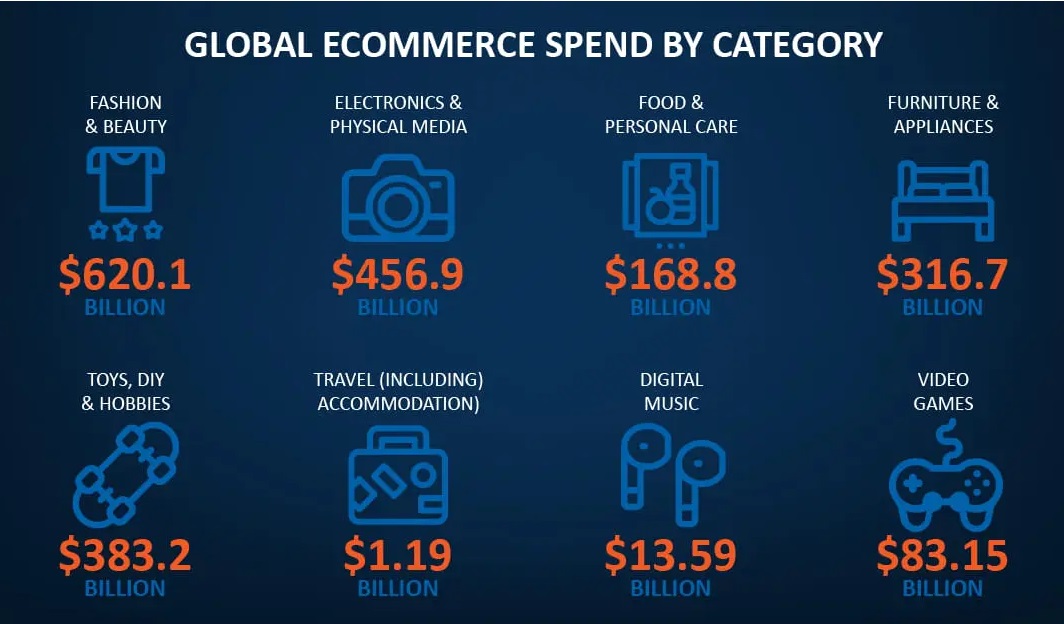 So, if you also run an offline store and planning to mark a strong web presence, it is time to step into marketplace development. Taking this step today will help you remain assured of success tomorrow.
Also, if you are wondering, 'How to develop an online marketplace website?' or 'How much does it cost to build an online marketplace website?' this blog is for you. It sheds light on everything about online marketplace development.
What Is An Online Marketplace?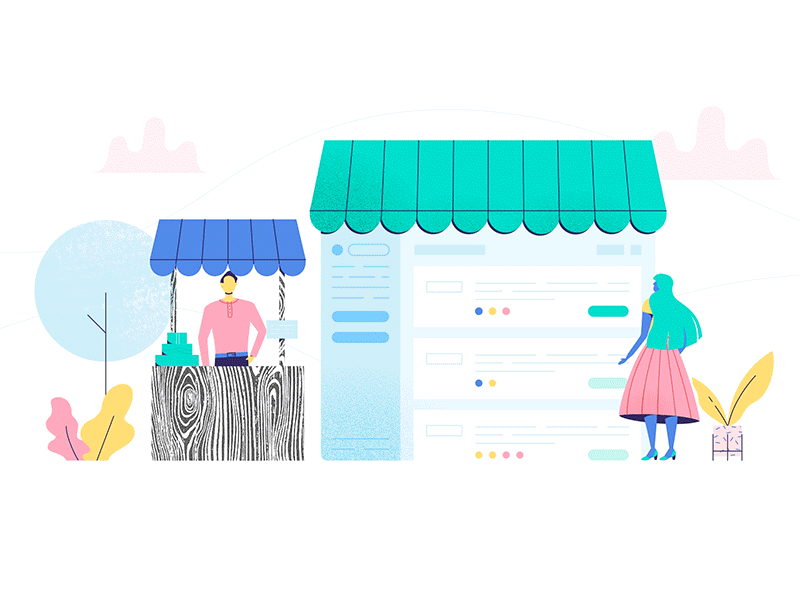 Marketplaces are an online platform that helps connect buyers and sellers within a single platform to help rent, buy, swap, and negotiate. As traditional e-commerce platforms are not developed to tackle the multi-vendor model at once, online marketplace platforms act as a savior. Marketplaces have made it easier for multiple buyers and sellers to connect hassle-free on a single platform.
What Are The Different Types of Marketplace Platforms?
Online marketplaces are categorized based on the target audience, management approach, and focus. So, businesses planning to develop a marketplace website must be well-versed with the different types of marketplace platforms. Now, let's discover the types of marketplaces one by one.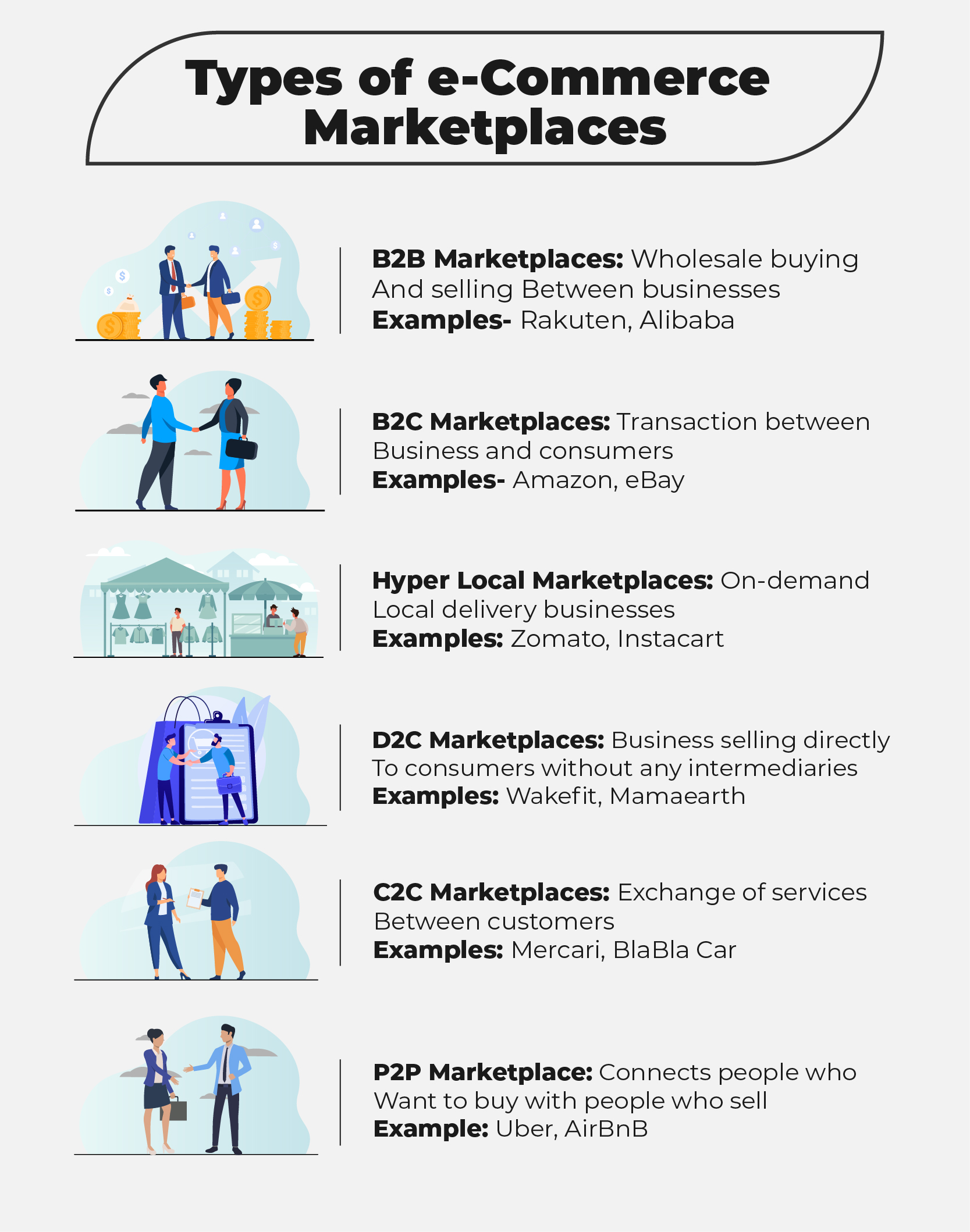 1. B2B (Business-to-Business) Marketplaces
Using a B2B marketplace platform, organizations can facilitate processes, such as sales, to improve the transparency of financial deals. This marketplace model connects the consumers with the vendors like retailers, wholesalers, or manufacturers to purchase products. In addition, this type of marketplace website enables providers to deliver services at lightning speed compared to other E-commerce website development.
2. B2C (Business-to-Customer) Marketplaces
In today's time, B2C marketplace development is one of the most popular models that comprise giants such as eBay & Amazon. It is a marketplace platform where consumers can get various products offered by vendors online. A B2C marketplace website connects vendors with individual customers. However, due to the high competition in this type of marketplace model, it becomes difficult for businesses to stand out.
3. P2P (Peer-to-Peer) Marketplaces
A peer-to-peer marketplace platform enables individuals to share their products and services on a single platform. In addition, this marketplace platform unites people with similar preferences.
So, these are some of the major types of marketplace platforms as per the target audience. Besides this, there are other types of marketplace platforms also available, such as –
Vertical marketplace
Horizontal marketplace
Commoditized marketplace
Non-commoditized marketplace

Step-By-Step Process To Build An Online Marketplace Platform
The following is the simple step process to build an online marketplace website that businesses can follow to craft a successful online marketplace platform for their business.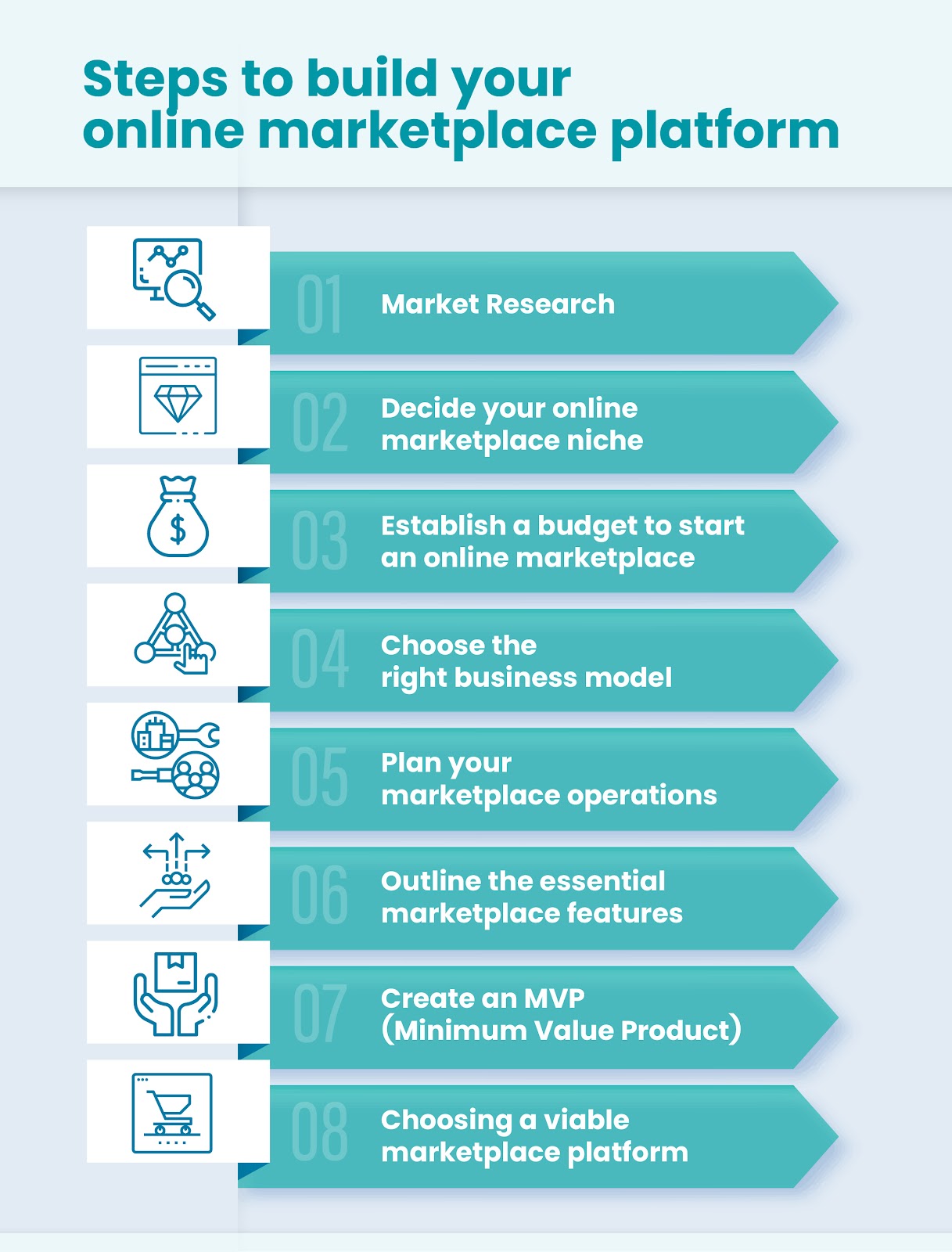 Step 1 – Analyze Your Marketplace Idea & Value
As thousands of online marketplace development services are there, you need to analyze how your website idea is different from the rest. First of all, come up with a unique marketplace idea so that you can outshine the existing competitors in the online service marketplace industry.
Also, if you want to add more value to your marketplace website, it is better to understand both the vendor's and customer's expectations. Then, conduct an in-depth analysis of the online marketplace industry and start developing a marketplace website for your business.
Step 2 – Choose The Right Business Model
Now, the next step is choosing an appropriate business model so that you can ensure the seamless functionality of the online marketplace platform. This can only be possible when you choose the right business model for marketplace development.
There are ample revenue models available, so you can choose from the following options.
Subscription
Commission
Listing fee
Freemium
Step 3 – Implement Your Marketplace Idea
Once you are done with the above two steps, it is time to put your marketplace idea into action. If you are new to the business world and don't know 'How to develop an online marketplace platform?' you must consult the professional custom website development company, professionals.
The experts will help you craft a marketplace website as per your business requirements. As it is an initial phase of marketplace platform development, be careful from the beginning so that you need not face the consequences later.
How To Create Perfect Shopping App For Your E-Commerce Business
Step 4 – Know The Online Marketplace Development Cost
Besides keeping an eye on marketplace platform development, knowing 'How much does it cost to develop an online marketplace website?' is also crucial. Marketplace MVP costs lie around $50,000 and keep on increasing as per the project requirements.
So, getting an exact idea of website development costs can only be possible when you finalize all your project requirements. Every factor contributes to the cost factor, so discuss this with the website development professionals before handing over your project to any web development company.

Step 5 – Design & Launch A Marketplace
After completing the aforementioned steps, it is time to think of the marketplace website design. An appealing website design acts as a strong tool to grab the users' attention at first glance, so do not ever miss this factor.
Instead, think of an attractive UX/UI for your marketplace website that is user-friendly and attention-grabbing. If you don't have an appropriate team, it is better to avail of on-demand app development solutions from professionals.
So, this is a simple 5-step process to create an online marketplace website that will help your business reach the heights of success in no time. Now that you are aware of the online marketplace website development process, it is time to take action.
With these simple steps in hand, one can easily develop a marketplace platform that drives business growth in less time. But, simply knowing the marketplace website development process doesn't make any sense unless you include the right features in your e-commerce website.
Want to know what are those features? Continue reading…
Must-Have Features of Online Marketplace Websites
Popular marketplace websites like Amazon and Etsy are developed while incorporating some amazing features into the website to get a better buying and shopping experience. So, if you too want to develop a popular marketplace website, include the following features as mentioned by the eCommerce website development services experts.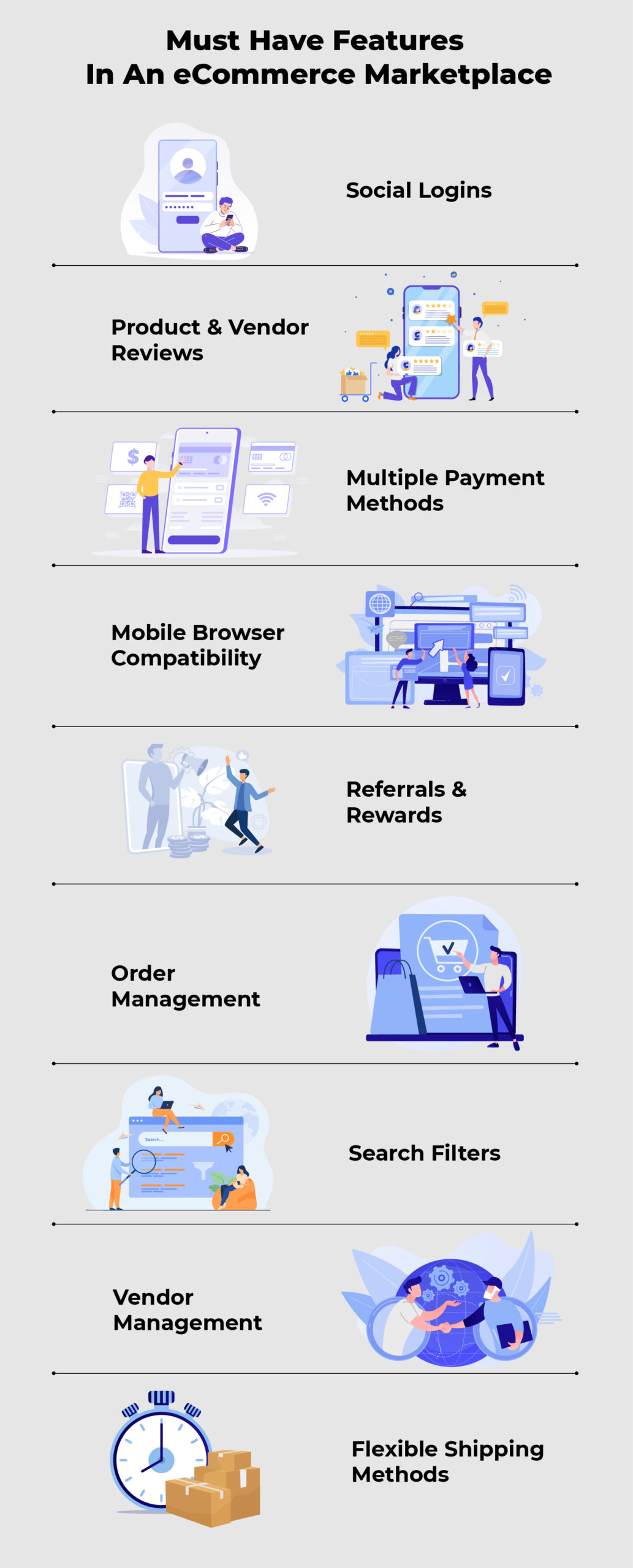 1. User Profile & Registration
Buyers and sellers are the two most important aspects of a marketplace platform development process. So, there will be two types of panels in your marketplace app or website, and each of them will contain –
Buyer's Panel – Include name, email, password, home address, and other personal details in this panel so that users can experience a seamless buying process.
Seller's Panel – Provide company name, address, tax information, phone number, etc., in this panel to help sellers to run their online e-commerce store smoothly.
2. Homepage
Every customer prefers to use a website that is easy to navigate and access. So, keep the home page of your marketplace website simple yet appealing enough to keep the users engaged for long.
Also, keep the home page's function easy to navigate and find. Just make sure that the customers get clear access to product suggestions, product filters, view or purchase history, popular products, and more. Also, you can explain the same when you hire dedicated developers for online marketplace development.
3. Sorted Product Search
As there will be a wide range of products available on the website, customers will get confused while searching for a product. To resolve this problem, an advanced search filter or product filter option will act as a savior. It will make the search product sorted and help your online marketplace platform get much better than ever.
4. Wishlist
The majority of the users have a habit of wishlisting the products while surfing products online. Isn't it? So, there should be a 'Wishlist' feature in your marketplace platform to enable users to save their preferred or favorite products to buy later. As per marketplace app development company professionals, incorporating this feature will increase user engagement and, in turn, raise your website sales and profit.
5. Shopping Cart
Like a Wishlist, a shopping cart also holds crucial importance in marketplace website development. It allows the users to store their products before purchasing them. They can easily view or change the product as per their needs and get an idea of the final product pricing before making a payment.
6. Push Notifications
Every customer loves to get notified about the product or service timely. This is where enabling push notifications serve as a helping hand. This feature will keep the customers notified about their product details, orders, refunds, reports, account changes, etc. It will also help businesses keep track of product information, upcoming orders, and more.
7. Admin Dashboard
This feature is enabled on the admin's panel, where the administrator creates a profile to access all the online marketplace activities going on. It is a type of multifunctional dashboard through which both the customer and service provider can be accessed to keep track of business performance. This is one of the important features of both website and mobile app development that cannot be missed at any cost.
8. Payment & Checkout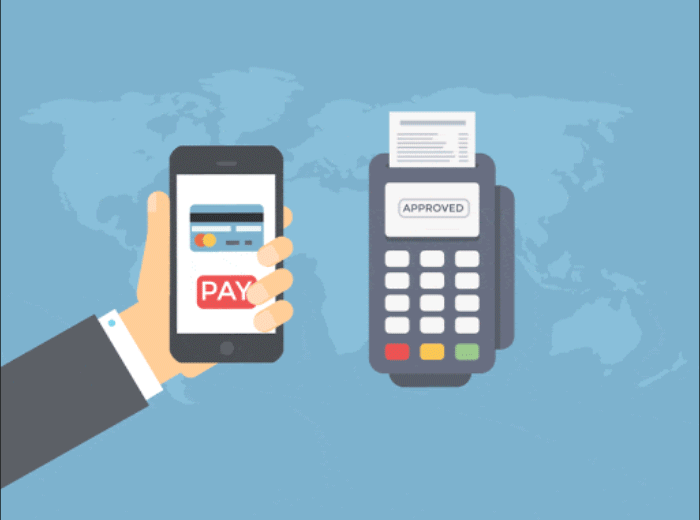 Once the customers finalize all the products, then they have to make a payment. So, to ensure that all the customers experience a hassle-free payment experience, integrate multiple payment gateways, such as – Debit cards, credit cards, UPI, net banking, and more. Also, follow a one or two-step checkout process and not less than that. This further decreases the chances of an e-commerce bounce rate.
9. Order History & Reports
The order history feature is best-suitable for both the customer and service providers' panel as they can keep track of both the previous and upcoming orders. And when it comes to the order reports, this feature is only enabled on the admin panel, where the administrator can access their order status, sales, profit, and more. Overall the performance can be analyzed in real-time will reports generated by the online marketplace website.
10. Reviews & Ratings
As per the Magento eCommerce developers, reviews and ratings are the essential features of any website or application. Customers' valuable feedback and reviews matter a lot in increasing brand presence and trust, among others. So, including this feature will help you know the loopholes in your services and the best things about your business.
So, these are some of the features that an online marketplace website must contain, as this will help to increase the website's worth and value with time. As per web development company professionals, incorporating the right features into a website or an application can bring it from zero to the top position.

Benefits of Developing Online Marketplace Platforms
The benefits of having an online marketplace platform are unlimited, as some are already highlighted above. Still, many business owners keep wondering 'What are the benefits of online marketplace development?' so we have mentioned some of the major benefits.
1. Large Customer Base
Every business owner wants to reach a large number of customers & earn a huge profit. But, while running an offline store, things become quite challenging, and businesses fail to earn the desired profit. To resolve this, the top website development company has introduced online marketplace platforms that have made things easier. Now, businesses can form a large customer base online without much effort.
2. Added Revenue Source
Various revenue models are available for online marketplaces, so businesses can pick the best suitable one depending on their niche and business requirements. Furthermore, businesses get commissions for each sale, which further becomes the most popular revenue means. Overall, every item listed on the marketplace website becomes a revenue source and help businesses earn huge profit.
3. Better Business Management
Undoubtedly, online marketplace platforms make it easier for businesses to access their sales, product tracking, profit, loss, revenue, and more. All this further results in better business management and resolve all the problem of work mismanagement.
Final Thoughts!
How to bring an offline e-commerce store to a well-known marketplace industry? This is one of the most commonly striking questions that businesses get while running offline. This blog has already answered all the questions relevant to online marketplace platform development. Now that you are also aware of everything about 'How to create an online marketplace website?' it is time to start the process.
First, find the top website development company or hire eCommerce marketplace developers to craft a successful website for your store. After that, you are all set to earn great business profit and revenue in the coming few years. Just make sure to avail marketplace development services from a well-known and the best web development company.