Are you thinking about launching a mobile wallet application or passionate about e-Wallet app development? At this blog, you will come across some interesting points that will work as a great help to develop an e-wallet mobile application. 
Now your latest smartphone is more powerful than a computer. So there is no need to shock before reading this article; just look at the apps installed on your device. The functions you can perform with it might take time on the computer, but it will be a game of seconds with the smartphone.
For a simple example, suppose you need to scan a document and send it to your boss. First, you need a scanner device, then you need to make it an attachment and then send it. But with your device, it will take hardly 30-40 seconds to scan and send the document.
Another example is money transactions via e-wallet or mobile wallet app; there is no need to log into your net banking account and perform formalities. Instead, you can pay someone else or transfer the amount to your account with ease within seconds.
Let's check out some interesting facts about E-wallets-
PayPal is the most popular digital wallet in the USA, where 81% of consumers use it. It has 392 million users worldwide.
In 2020, the market size of the mobile wallet was USD 5.10 trillion that is projected to reach USD 9.41 trillion in 2025 as per a survey done by Statista.
23% of US consumers use mobile wallet applications to pay in-store.
In the United States. Proximity mobile payment app users are 92.3 million.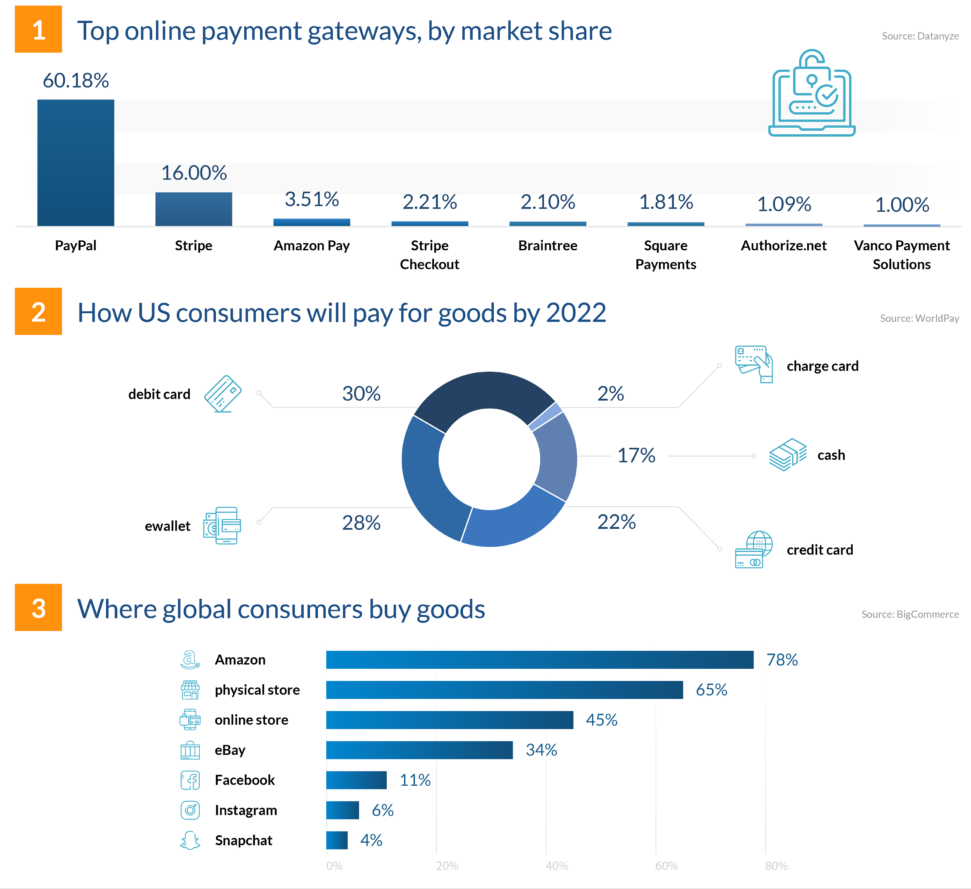 During Covid-19, there is a huge rise in e-wallet mobile apps. For example, in the USA, 75 % of users use digital wallet apps to order food, clothes, and other stuff. That makes these applications the most promising option regarding contactless payment and an easy option for shopping.
What is Mobile Wallet App?
The mobile wallet or digital wallet is a mobile application built for the platforms such as iOS and Android that stores the payment information from debit or credit cards. It allows a user to purchase a smartphone only instead of swapping the cards here and there. Sometimes credit cards or debit cards limit you to do the payments but not the e-wallets. These applications are new generation payment methods that can be used by any user smoothly for the payment.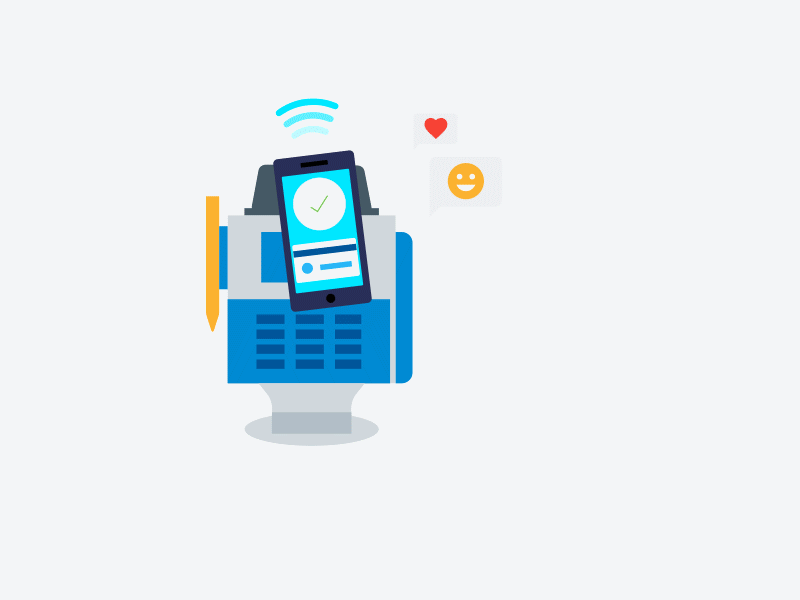 Setting up a mobile wallet is so easy; you only need to enter the details of your card or card, including the image, then by following the other steps, you can easily ready it for use. These apps are not limited to smartphones; you can find mobile wallet app pre-loaded in smartwatches or tablets. One of the prime advantages of the digital wallet is that nobody can steal it like a physical wallet. Although there may be some chances of online fraud that can be prevented by little consciousness.
How to create ewallet app and how much does it cost to build ewallet app
Benefits of E-Wallet Mobile App
Once upon a time, contactless payment was a challenge once upon a time, but now it is happening around us, even if you can find it at your nearest grocery store. The mobile wallets are expected to reach 4.8 billion by 2025, with a 74% rise compared to 2020. The only reason is the benefits that attract the users to use it.
Now, e-wallets are a prime mode of payment used by more than 92% of users worldwide. Shortly, this gap will disappear as new users are onboarding rapidly, and on-demand app development companies are continuously progressing towards launching advanced versions of e-wallet applications.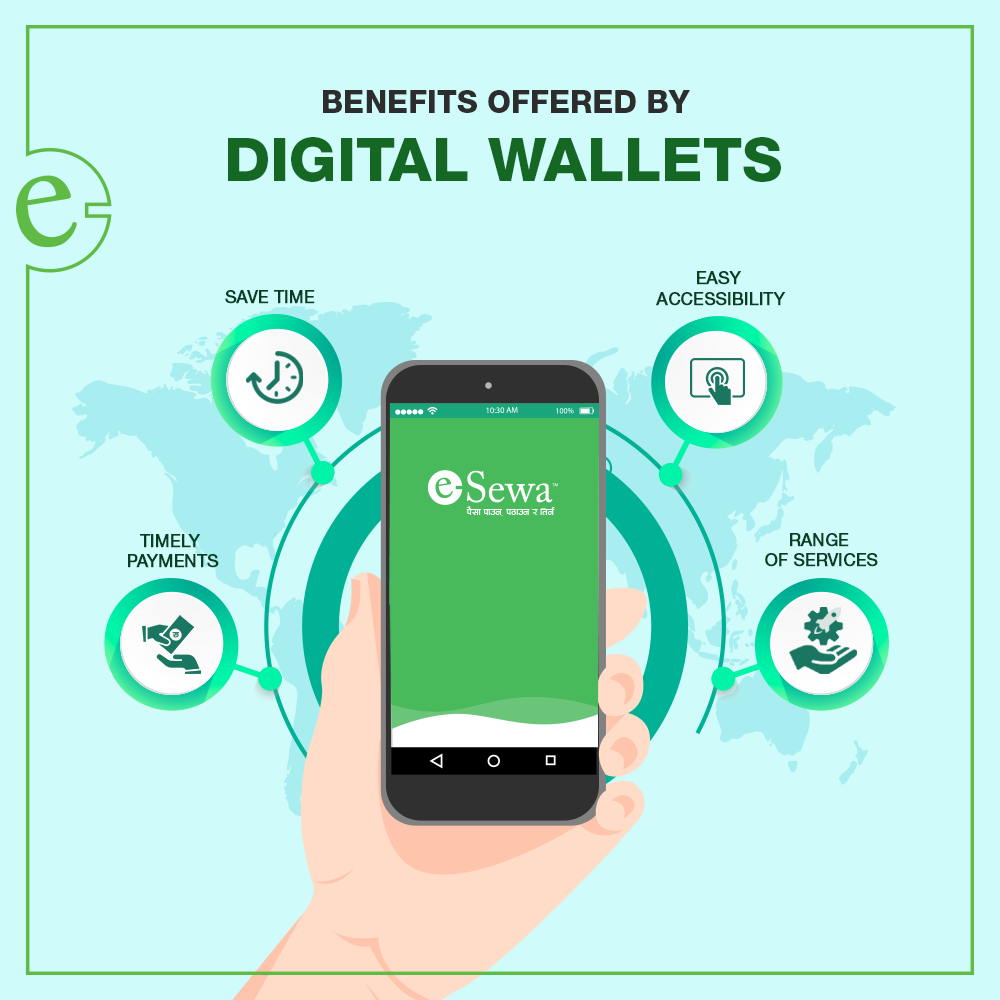 Let's check out some of the key benefits of e-wallet mobile application –
1. Fewer Chances Of Fraud 
After adding card details to the e-wallet app, it is not displayed anywhere as information will be stored in encrypted form. In each transaction, the mobile wallet uses a randomly generated code, which is only used once. In the next transaction, the code will be different can't be the same for the next. The e-wallets are so much safe and secure, so most business-oriented apps have this feature, especially the retail businesses that face huge transactions by multiple customers in a day.
2. Fast Payment
For payment via e-wallet, you need to hold your device only. It is such a fastest method to pay for the purchase at some shop or supermarket. It takes a few seconds, and the payment is done.
3. Contactless Payment
This term came into existence during COVID-19. The reason is that the virus can spread even from the physical currency, so contactless payment is the safest way possible via mobile wallet application. Even with some digital applications, there is no need to touch the device keypad; only you need to show the device at the payment terminal and done.
Cost And Features To Develop E-wallet Mobile App Like Google Pay
4. Light Wallet
While having an e-wallet mobile application installed on the phone, there is no need to carry a heavy wallet filled with all credit and debit cards in the pocket. The e-wallet stores the information of cards and stores loyalty cards and gift cards that you can use any time. Another best thing is time to time, there are offers that you can apply while paying for shopping, recharge, bill payment, and many more.
5. Rewards
The beauty of mobile wallets is that cashback rewards are the same as we receive on the cards.
6. Money Management 
Digital Wallet allows users to manage their money in the most improved way as they can easily integrate it with money management apps. You can set the limit of transactions in mobile wallets that prevents the access expense on useless things. The wallet works only on the recharged amount that you transfer from your bank account. You can find out all the details of transactions and monitor your expense.
Types of Mobile Wallet Apps
Majorly, three types of E-Wallets or mobile wallets exist, which are being used by users worldwide.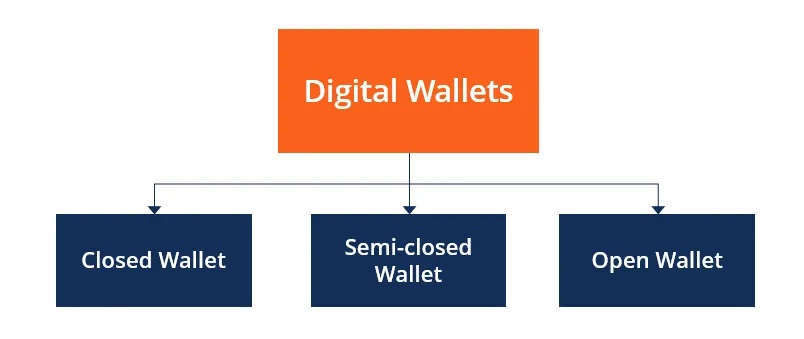 #1. Closed Wallets 
When a private company or a merchant issues a wallet to their customers for direct purchase, these applications are called Closed Wallets. As a user, we can't withdraw or transfer money to the bank account. The amount contained within the wallet. The best example is Amazon Pay.
#2. Semi-Closed Wallets
The semi-closed mobile wallet application is between open wallets and semi-closed wallets that allow users to receive the money in an account but can't withdraw it. A user can use it to pay multiple merchants. Examples are Stripe, Square, etc.
#3. Open Wallets 
The open mobile wallet is directly used by banks, issued by banks, or issued to third parties by the bank. These digital wallet applications allow users to withdraw money from their accounts and facilitate fund transfers. One of the best examples of an open wallet is PayPal. It is one of the most preferred e-wallets used by more than 80% of US consumers.
How Does a Mobile Wallet Work?
The prime specialty of mobile wallets is fast and contactless payment. So, for using it first, you need to open the app, log in via pin or password or fingerprint and proceed with the payment. As the next step, you need to enter the amount, bring your phone to the compatible reader, and complete the process.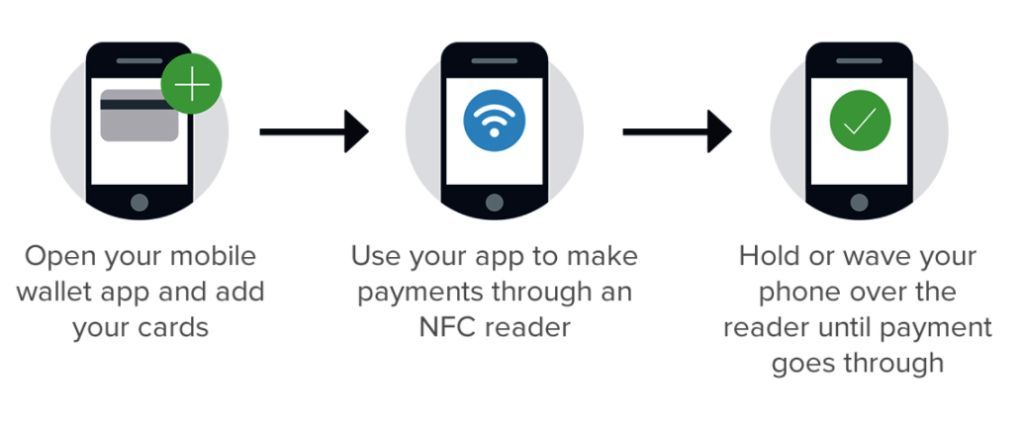 Have you heard about NFC?
If not, it stands for Near Field Communication and is the technology that enables an e-wallet to connect with the payment terminal device. This technology uses the personal identification format of a user to communicate with the merchant's POS. Although all mobiles do not use NFC, digital wallets such as PayPal use the user's phone number for the transaction and the same is applied to Google Pay. For developing mobile wallet applications, e-wallet app development services providers focus on this pattern.
The Key Features to Include in Mobile Wallet Apps
If you are looking for a powerful application, the following are the key features you should consider while developing an excellent e-wallet app.
So, let's kick start exploring one by one-
#1 Seamless Transaction
The main reason behind the popularity of mobile wallet apps is the seamless transaction. So, first, you need to ensure that your developed application must serve the user in that way so they can effortlessly pay against their order or purchase.
#2. Privacy & Security
These applications save the credit card or debit card information but use it most securely and facilitate the users to perform their transactions anytime & anywhere without fear of any online fraud. In addition, a user can easily synchronize or store the data for using the wallet on multiple devices.
Most of the time, these applications remain on the target of hackers or online fraudsters, so privacy and security are much required to provide a safe environment to the users. Here, you need to hire a fintech mobile app development company that knows how to implement the high-grade security features such as fingerprint, OTP, and QR Codes required for proper user authentication.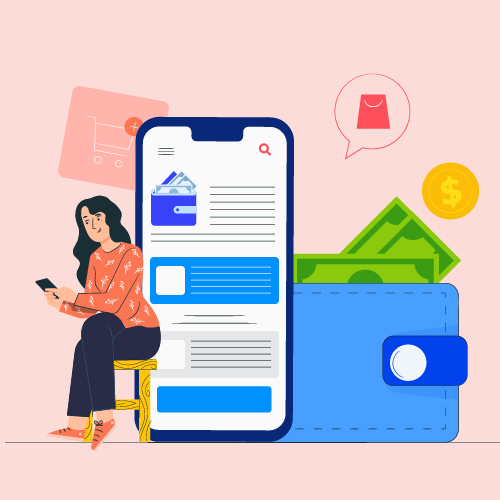 #3. UI/UX
For any mobile application, its UI/UX is most important in terms of the design and the user's engagement perspective. For example, it is okay that a user use a digital wallet for the payment only, but it would be better if it had an excellent UI/UX, so each time, user will find it interesting to use it.
#4. Integration of Cloud Technology 
Have a look around yourself; most of the apps you will find are integrated with Cloud technology. E-wallets leverage this technology in full spectrum. The best thing is that cloud-enabled apps utilize fewer device resources, making wallet applications execution fast, and the users enjoy it. Whenever a user goes to pay near POS, then within a single tap, payment is done.
#5. GPS Tracking
Most of the apps use location data sensed from smartphone devices. Now GPS tracking & navigation is some of the most required in-built features for an e-wallet app. With the help of it, people can pay to each other in the proximity in less time.
#6. Payment Scheduling
The days are gone when you need to remember the date of payment. Most mobile wallet applications are equipped with a calendar feature, so users only need to mark that date and then an automatic alert generates to notify the user about payment. A user can also schedule the payment on a particular date, so the mentioned amount will be deducted from the bank account. Therefore, it would also be best to include it in your e-wallet app.
#7. Wearable Integration
Smart wearable devices are the hotshot trends, and digital industry solutions providers focus on developing apps that can be seamlessly integrated with wearable devices such as a smartwatch. For example, it helps the users to monitor the payment from their watch only within seconds.

#8. Creating Virtual Cards
Although we have physical cards, we can generate virtual credit/debit cards for digital payments due to the evolution of technology. With the help of the e-wallet app, you can generate your card with only a username and password; there is no need to add additional details. Thus, it will add more value to your mobile wallet app.
#9. Expense Monitoring
One of the top features that every e-wallet app must have. It facilitates the user to keep track of their expense and gives insight that where they are spending their money. Now, e-wallets also allow users to pay their installments if the app allows them to have that record. Expense monitoring is one of the best features that you must include in your app. For it, you can take the help of experts from a software development company.
#10. Push Notifications
It is the most common but most powerful feature of an app. With by push notification feature, you can send real-time updates to the users about offers, cashback rewards, deals, and deals on third-party brands.
#11. Ads & Ecommerce 
This feature is related to the monetization of your mobile wallet application. You can earn via showcasing the ads of third-party brands on your mobile apps. As an app owner, you can also tie-up with the brands to sell and promote their products on your e-wallet app e-commerce section with a discount. It will definitely attract the users because they do not need to go to any other app for shopping within your app; they can shop and pay with ease.
Examples of Some Popular Mobile Wallet App
A legendry mobile wallet application that has defined the new ways of digital payment. In the USA, most of the users use it.
Not only in the USA, in most of the parts of the world, but you can also find Google Pay users, and they love this app due to the convenience and smoothness   
It is also one of the most popular apps in the US that provides a simple way to send money into the other user's account. In addition, it works fine with your bank's app or website, so there are fewer chances of any kind of errors.
Almost all iPhone owners use this app as it works on the near field communication concept, so they can pay easily without touching their device's keypad.
This app can be used at any POS (point of sale) that accepts credit cards. However, it works only at POS terminals which is a limitation to it. 

Venmo also belongs to PayPal. So a user can smoothly pay to their friends, family, or relatives with ease.
With this app, you can send and receive money in 40 currencies, which are being used in 200 countries. Therefore, it is one of the finest examples of international e-wallets app.
If you need to add cryptocurrency or stock to the money transfers, none other than Cash App is best.
The Bottom Line!
Due to the evolution in technology, many things have been changed. It also has an effect on businesses and payment. For example, there is no need to pay the amount from your wallet; only you need to carry your device for it. With the help of a mobile wallet application, you can easily pay and monitor your spending with ease. Even e-wallets are more secure than payments from net banking, which made them the most popular among users.
Only in North America the e-wallet market size is projected to reach the US $80 billion by 2026, wherein in Europe, it is expected to reach US $60 billion. This data only represent two parts of the world. You can't imagine how big this market is. So, if you are planning to launch your e-wallet app, there are ample chances of growth, but you need to focus on including unique features with the help of an experienced mobile application development company so users might find them interesting to use.