Wait, are you looking for top real estate apps for selling your property online, or Do you want to launch a real estate app for business?  
What if the answer to both questions is the same and there is no hidden truth that yes, there are some real estate apps exist that you can consider for reference? These mobile applications have millions of users onboarded where they find suitable options for buying or selling their properties. 
Due to the increasing demand for cutting-edge solutions, real-estate mobile app development is on the verge. Most of the big brands are advancing with AI-ML-powered real estate apps. During, Covid-19 the industry stopped, but now it is booming. There is good cash flow in the market, and people are interested in buying and selling the property. 
For more understanding and details, let's look at the statistics. 
● Worldwide real estate companies' revenue was $9.5 billion US dollars, projected to increase to $14.6 billion by 2030 with a CAGR of 4.8.
● In 2020, the annual volume of real estate investment worldwide was $259 billion(EMEA),$404 billion(America), and $62 billion.
● In the USA, real estate revenue is expected to reach USD 369.90 billion by 2022, with an annual growth rate of 3.71%(CAGR 2022-2025).
● In H1 2021, top real estate and housing app installations recorded 23 million.
● Zillow is a top-notch app that holds 44% out of the total percentage of real estate apps used in the market.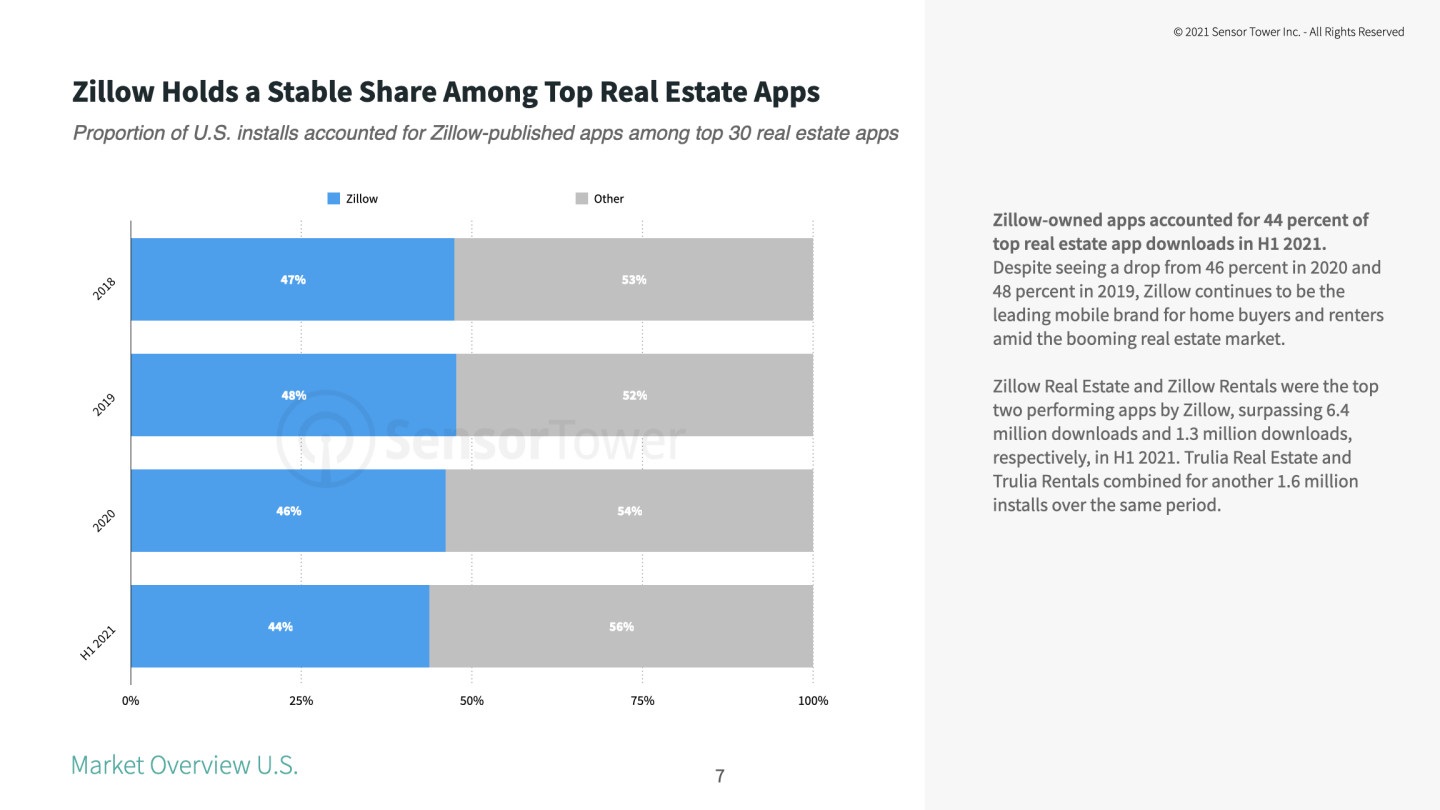 How Real Estate Apps Can Help You? 
If you own a real-estate business or are a realtor, you definitely need to go through an innovative way to boost business growth. The best idea is to go with real estate application development. There is considerable demand for modern apps for the real estate industry and to cater to the housing or property demand of missions of customers. 
It is a fact that the massive demand for real estate buying and selling triggered cut-throat competition in the market. That is the main reason behind the technological evolution in the real estate industry.
Big real-estate houses or business owners look forward to having an extra edge in this competition via mobile app development. Not only are they buying and selling, but the people are also using to take or give their property for rent. The mobile real-estate app is a great tool to connect strongly with customers.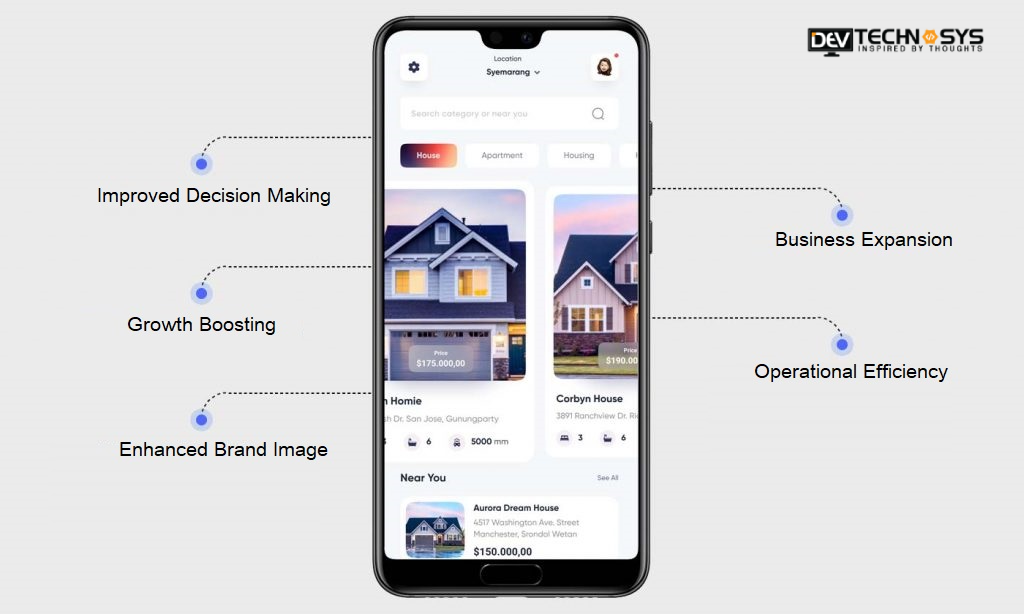 Here are some reasons why you need a real estate app or how it can help you excel in your property business. 
Improved Decision Making
For any business in this world, decision-making is a must. The improved decision-making can take you where you want to reach with your business. Here comes a finely built mobile app that can help you subtly address your customers' queries. With the help of an app, you can decide how to use it to create the best user experience while the customers reach you for buying or selling the property.
Growth Boosting
Every business wants growth or wants to boost growth. A mobile app can help excellently. The best example is supposed you have a team for handling the customers then they can share all the details and collect the requirements for business purposes. On the other hand, customers can easily reach your team for any query.
Enhanced Brand Image
Brand promotion is a crucial activity for a business, so the same is applied to the real estate industry, as millions of customers are associated with it. As there are multiple service providers in the market, making a brand image is a daunting task, but it is easy with the help of a mobile app. You can directly promote your business with the help of the mobile real-estate application.
Business Expansion
Before the technological revolution, finding customers or reaching service providers was tough. The real estate app now works as a vital bridge between customers, realtors, and property business owners. The business can reach customers in a direct way or vice versa.
Operational Efficiency
One of the biggest bottlenecks for businesses is achieving high operational efficiency. Here comes the need for a mobile app for real-estate companies that can help you to overcome the issues while achieving operational efficiency.
Now it's the time to kick start the list of top-10 real estate apps for buyers & sellers.

List of Top-10 Real Estate Apps For Buyers & Sellers in 2023
If you are searching for the best-10 real estate app for buyers & sellers, this article can help you greatly. As a business owner, you can refer to these apps to know what needs to be done to develop a fantastic real estate app and what features you can include. Let's kick start the list of top-10 real estate apps that inspire the community to buy and sell property quickly. 
1. Zillow 
When it comes to searching for a property in the USA for buying, selling, or renting property, then a real estate app like Zillow is a top real estate app. It is the most visited app in the United States of America. Zillow facilitates property owners to screen tenants and receive rent online. The owners can post outside and inside images of the property. The tenants, property owners, or realtors can connect via messages.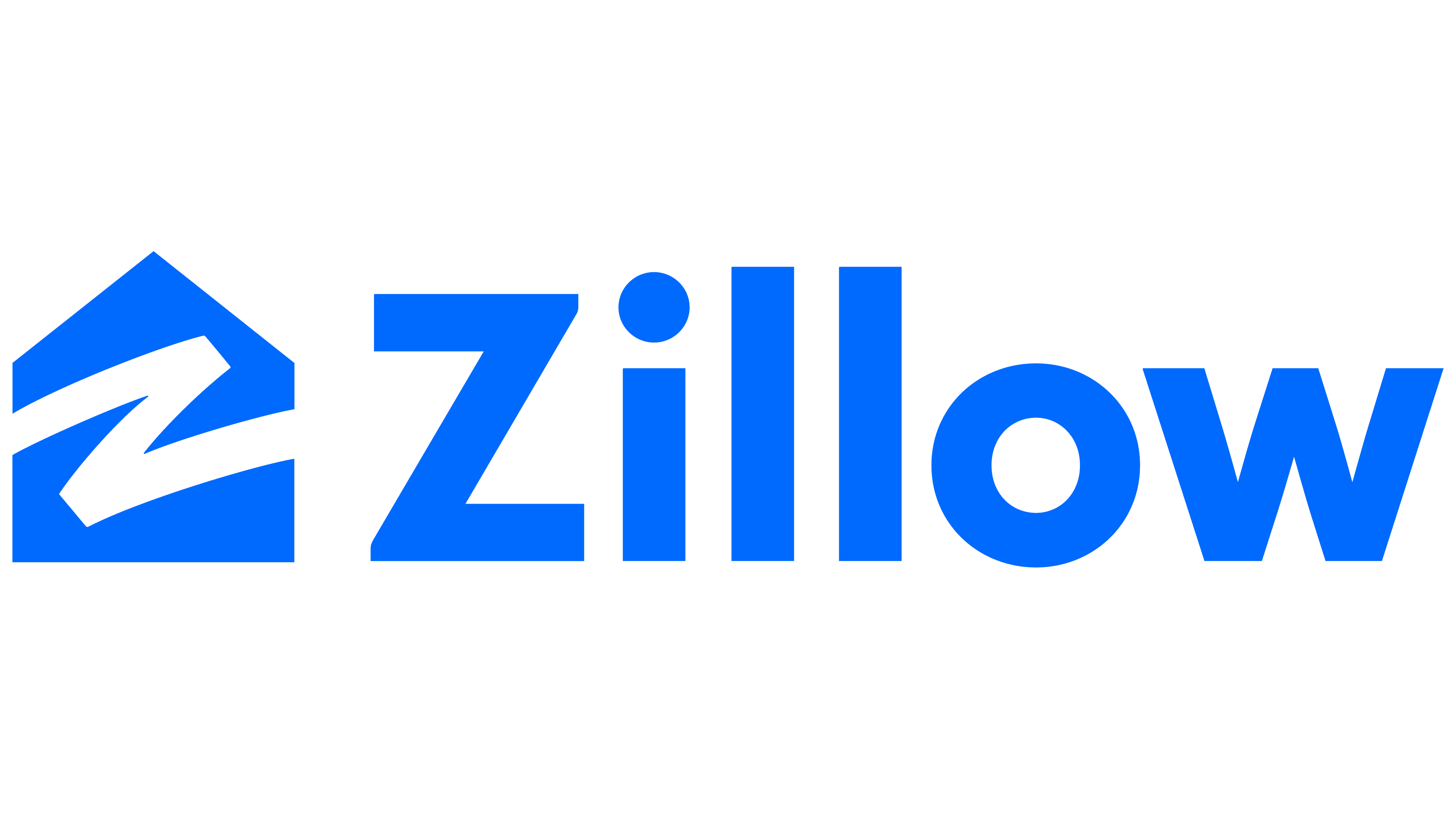 Key Features 

Rating        

Platforms

Download

Document Management

Push Notification

Reporting & Stats 

Third-party Integration

4.8

/

5

Web

Android 

iPhone/iPad

50k+
2. Real Estate by Xome
Xome is known for providing a seamless property searching experience and discovery of family homes, townhomes, apartments, or condos. Its unique feature is virtual property showcasing where you can virtually visit the property before taking it on the rent. Another best feature is that a user can search properties using the geolocation feature.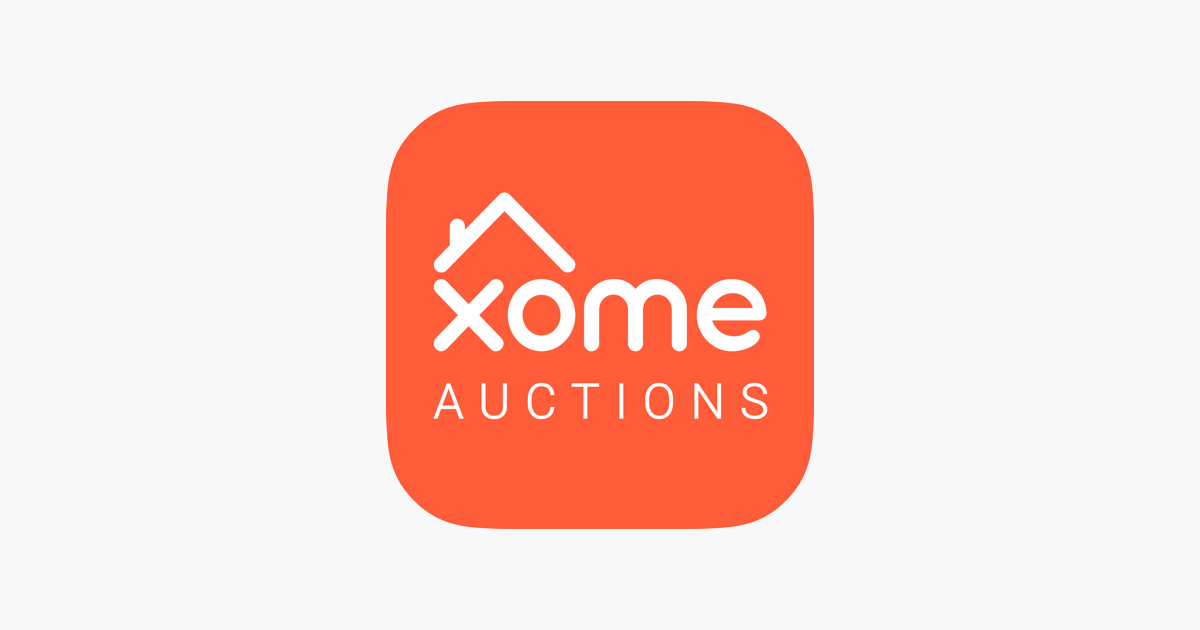 Key Features 

Rating     

Platforms

Downloads

 

100 million properties including MLS listing

Virtual property showcasing

Mortgage calculator

Save your search 

4.8

/

5

Web

Android 

iPhone/iPad

100k+
Read More: What Features An Ideal Real Estate Search Mobile App Have?
3. Deal Check: Analyze Real Estate
It is one of the leading property analysis software that is specially built for real estate investors, agents, wholesalers, realtors, and others. Due to the innovative features, property cost or rental cost calculation is straightforward.
From the business point of view, it is suitable for small, medium scale, large scale businesses, and freelancers. It is based on the concept of BRRRR, which is bought, rehab, rent, refinance, and repeat.   
Key Features 

Rating

Platforms

Download

Multiple options for finding a property on rent 

Import property description

A clear view of information

Calculate rental options 

4.0

/

5

Web

Android 

iPhone/iPad

100k+
4. Bigger Pockets 
The more oversized pockets are a different kind of app that provides a wide range of resources regarding real estate education. Here you can read articles, watch videos, and listen to podcasts. You can find several deals about real estate listings in addition to the study material. On this portal, you can also connect with the agents.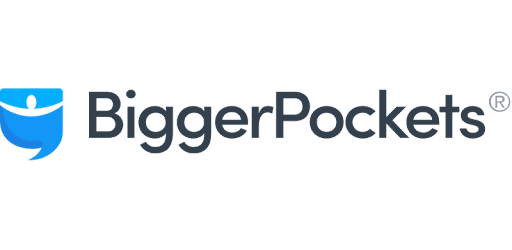 Key Features 

Rating

Platforms

Downloads

Refined study material 

Exclusive property listing deals

Online book store 

Multiple membership plans

4.0

/

5

Web

100k+ users 
5. LoopNet Real Estate 
LoopNet Real Estate is a perfect option for tenants and investors. You can find residential to commercial properties with a click via the app. It facilitates the users' in-depth search, where they can have videos, high-definition images, listing details, and other information.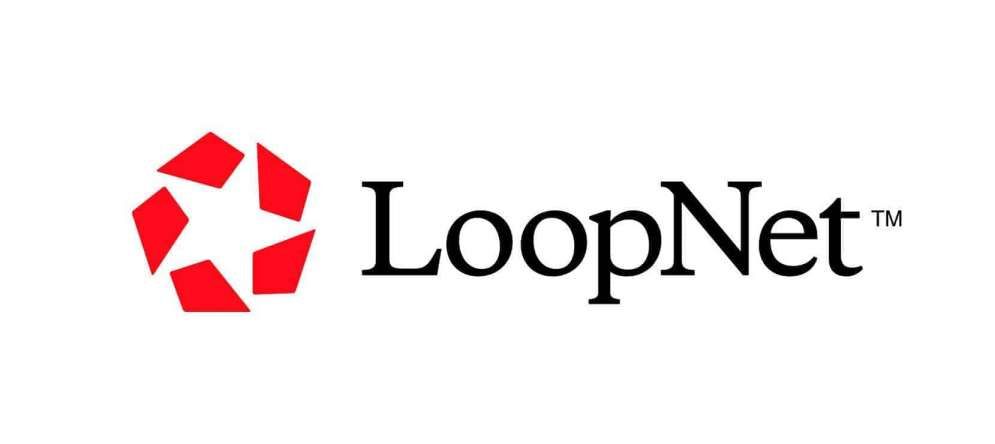 Key Features 

Rating

Platforms

Download

Find multiple deals 

Monitor favorite properties 

Connect instantly

Narrow your search

3.5

/

5

Web

Android 

iPhone/iPad

500k+
6. Dotloop  
It is one of the leading real estate apps and works as a productivity optimization platform. A user can access transactions on any device at any anytime. The Dotloop is a fantastic option for agents, brokers, and clients. Its advantages are e-sign, transaction management, productivity solutions, and many more. 
Key Features 

Rating

Platforms

Downloads

Real estate transactions simplified 

Collaborate, ensign, close

Easy message and contact

Contract preparation  

4.0

/

5

500k+ users 
7. Redfin Houses for Sale & Rent 
Redfin is a single-point destination for homebuyers, sellers, and real estate agents to buy and sell real estate apps and rent apartments. The users can search for MLS listings and find homes for sale.
The property owners can easily share details like the last sale price, number of bedrooms and baths, age and style of home, condition, lot size, views, and waterfront access. One of its specialties is that it updates listings every 15 minutes.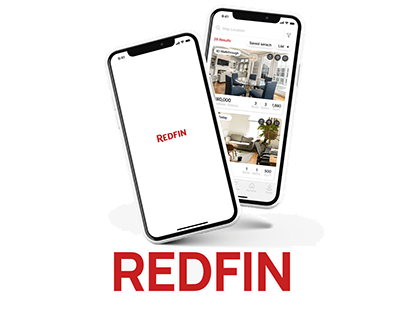 Key Features 

Rating

Platforms

Download

Customize search 

Price filters

Instant listing alert

Easy search

4.7

/

5

Web

Android 

iOS 

5M+ users 
What is The Difference Between Real Estate App Zillow Realtor and Redfin?
8. Houzz Pro
Houzz pro is one of the software specially built for enterprises dealing in the property business. Moreover, it is also available on Android and iOS platforms for end users who can easily use it. Its web portal contains ample options that you can choose for your property.
From finding an interior design professional to general contractors and from furniture professionals to architects, you can find all types of professionals & services. If you are looking to develop an app like Houzz, then it would be best to hire a real estate app developer.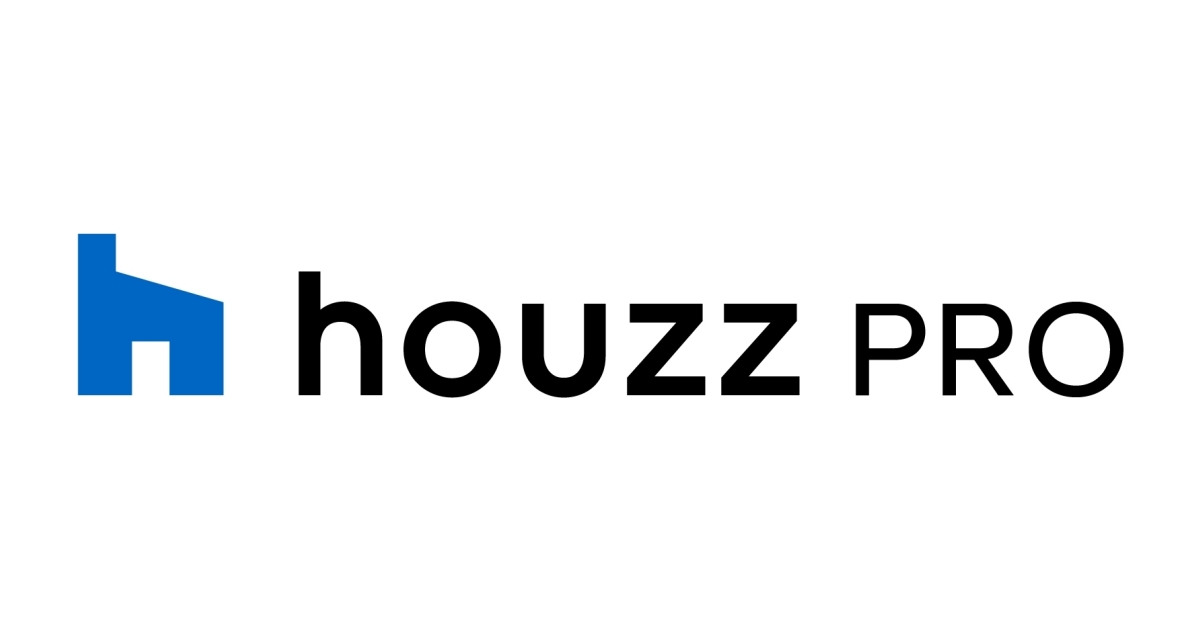 Key Features 

Rating

Platforms

Downloads

 

25M+ high-resolution photos

Save and share home designs 

Visual recognition technology

Find, hire and collaborate 

4.4

/

5

Web

Android 

iOS 

10M+ users 
9. Homesnap 
Homesnap portal and mobile app is a place where you can find your next dream home. Millions of people use the Homesnap app and portal as their real estate agent to find the right property and suitable needs. The end users can find and connect with a qualified agent online. One of the app's best advantages is that you can explore real-time data.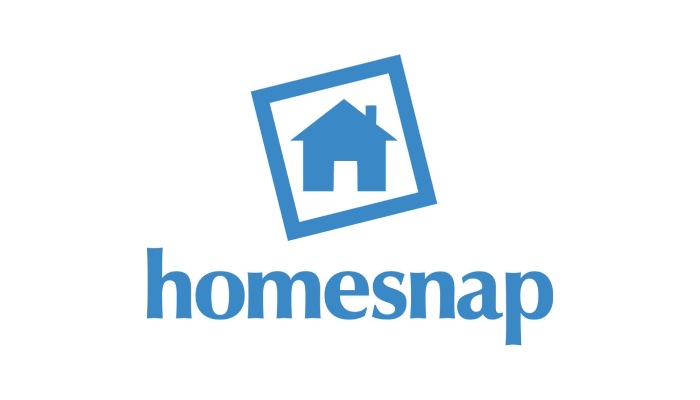 Key Features 

Rating

Platforms

Downloads

Built for all end users. Real-estate agents, buyers & sellers

Real estate on the go

Open house date 

Media center 

4.3

/

5

Web

Android 

iOS 

1M+ users 
10. Trulia
When you need to search for a home and a fine neighborhood, the only platform is Trulia. Its advantages include real-time alerts, saving your favorites, 34 neighborhood map overlays, and customizing your search. The website has three major segments Buy, Rent, and Mortgage.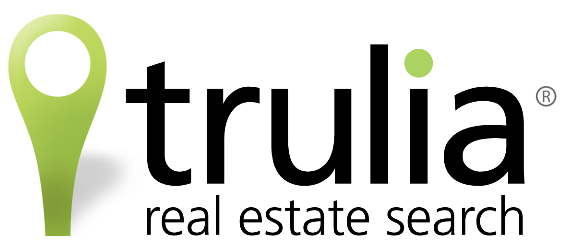 Key Features 

Rating

Platforms

Downloads

Trulia neighborhoods

1M+ listings 

Customization tools

Detailed home listing 

4.3

/

5

Web

Android 

iOS 

10M+ users 
Types of Real Estate Apps For Considerations
Until this section, you have gone through the details about the top-10 real estate apps, but in reality, the apps are not identical; they have their essential nature. So, this particular section of the blog is about the top-10 real estate apps for buyers & sellers dedicated to the types of real estate apps. Let's check what these are.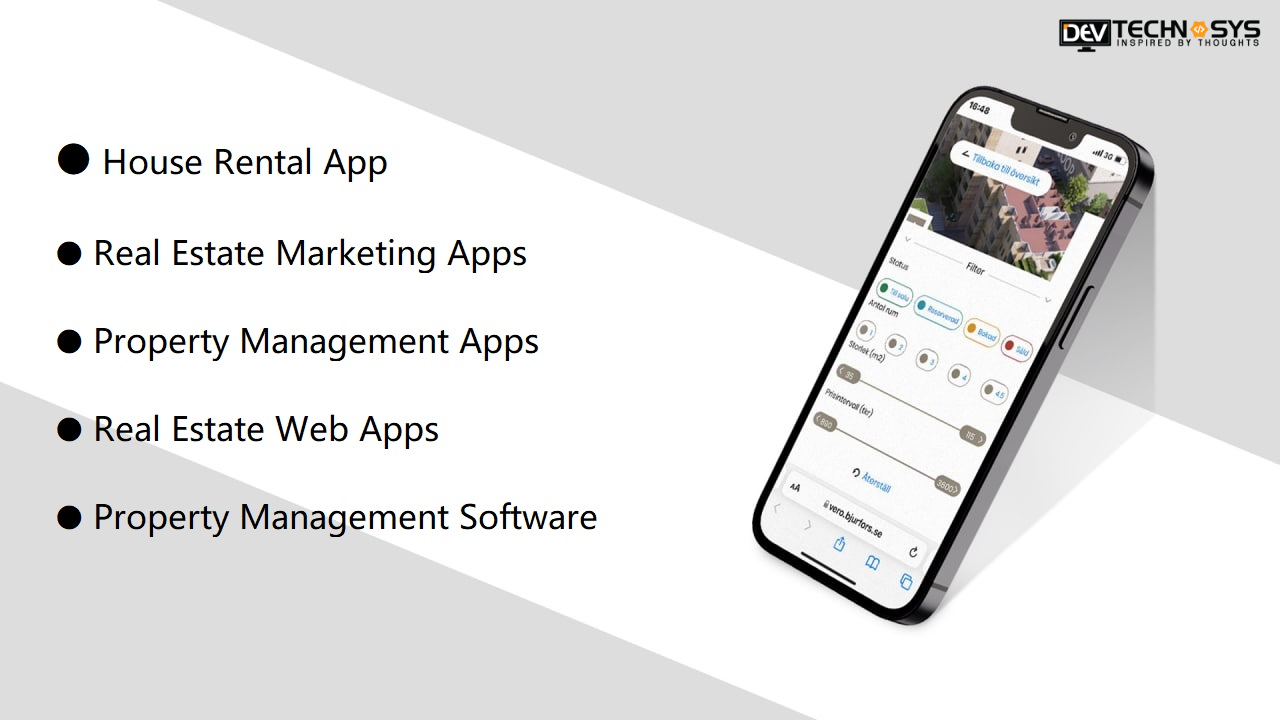 House Rental App
These apps are specially built for house rental purposes. The app works as a connecting bridge between a realtor and customers to find a property as per specific needs. Customers can search for a house based on location and budget and apply multiple search filters. 
Real Estate Marketing Apps
If you have a real estate business and are looking for a marketing option, then it would be best to use the mobile app. A real estate marketing app can help you reach a broad audience base to promote properties for sale or rent. For this type of app, it would be best to hire dedicated developers.
App for Property Management
Due to the evolution of technology, it is effortless to manage properties online where all details and status remain handy on the device you use. You can share the property's details with your customers within a click. 
Software For Property Management
If you need a solution for your in-house team to manage your business, then property management software is a perfect option. This software will help you to manage all the tasks and achieve better operational efficiency. 
Real Estate Web Application    
A real estate web application or web app is the best option if you are looking for a cost-effective option. One of the most significant advantages of progressive web app development is that you do not need to bother about platforms as it only works with the web browser. It runs on simple to advanced devices, which increases the chances of its use. 
Benefits of Real Estate Mobile App
There are several benefits of mobile real-estate apps not only for the users but also for real estate business owners. Here are the benefits that you can have-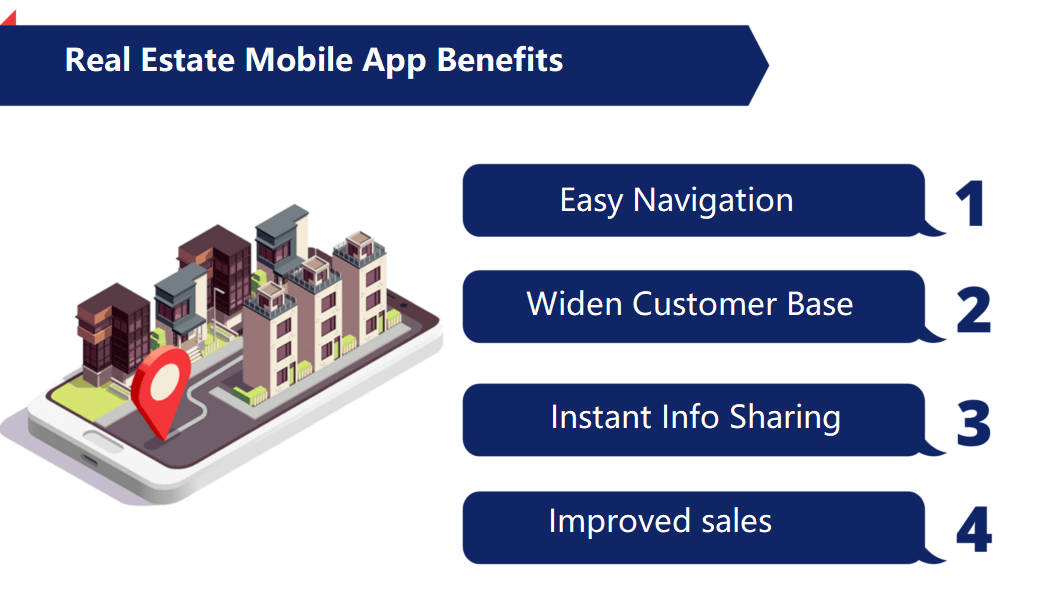 1. Easy Navigation:
The users can easily access the realtor's app and find multiple options to buy, sell or rent the desired property.
2. Widen Customer Base:
Real estate mobile app, platform, or software can help widen the customer base as brand promotion is very easy. 
3. Instant Info Sharing:
Information sharing is effortless with the help of a real estate mobile app. The push notification feature facilitates realtors to send instant updates. 
4. Improved Sales:
One of the biggest advantages of real estate mobile app development is improved sales and a strong customer bond. 

The Final Thoughts!
The real estate sector is rapidly progressing, and the inclusion of technology is set to take it to the next level due to the increasing demand of customers. Real estate mobile app development is the only perfect way to cater to existing customers' demands and onboard new customers.
These apps are helping businesses for growth. If you are also looking to develop a real -estate app, then these top-10 apps for buyers & sellers in 2022 mentioned in this blog can help you. For the best guidance, you can consult with a real estate app development company. 
Frequently Asked Questions
Q1. Will It Be Good To Have A Website And Mobile App For Real-Estate Businesses?
Yes, it is a good idea to have a website and mobile app for real-estate businesses, as it will increase your business perimeter and widen the customer base. You can use a website for brand promotion and an app to create the best experience of real-estate services.
Q2. How Much Time Will It Take To Build An MVP For A Real Estate App?
Developing an MVP for a real estate app takes 3-4 months. The mobile app development time might be decreased or increased based on the requirements and features you want to implement in your app.
Q3. How Much Time Will It Take To Build An MVP For A Real Estate App?
The cost of developing a real-estate app depends on your requirements. Moreover, some other factors also affect the cost of real estates app development, such as features, functionalities, GUI, frontend-backend, a team size of real estate app developers, and more.
The cost of the basic version and advanced version is also different. The basic version of the real-estate app comes at the cost of $8,000-$25,000, and if you wish to go with the advanced version, it may cost you around $50,000+ or more.