Millions of people used to commute every day from one place to another, and a major percentage do the same to earn their daily bread. There are several modes of transportation available, but still, most people prefer taxi app solutions. These apps are easy to use where an individual can request a taxi to reach from one point to another.
The taxi app solutions are beneficial for people and business owners involved in the transportation industry by offering their taxi booking services. When it comes to developing a taxi app for business, most business owners are concerned about the key benefits of an on-demand taxi booking app?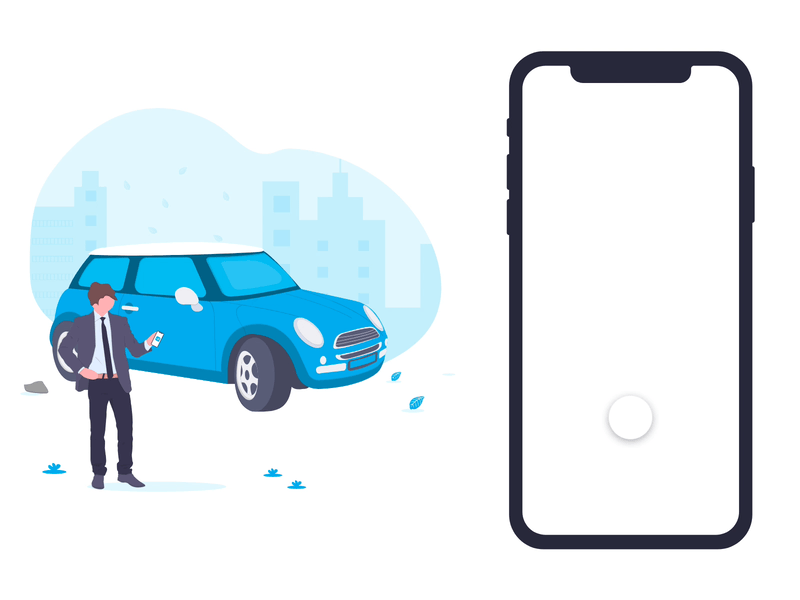 Behind the benefits, there are market statistics and trends that motivate the business owners to have their taxi booking app the business and to serve their customers by offering their services. Instead of processing further, here are some key facts and statistics about taxi booking app development that may excite you.
● The ride-hailing and taxi sharing market is expected to cross $314.20 billion in 2022.
● By 2026, the market volume is projected to reach $386.30 billion, where the number of existing users will increase and may reach up to 1665.3 million.
● ARPU, aka average revenue per user, is expected to be $205.90.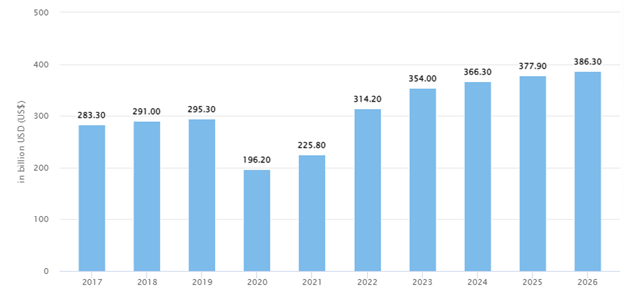 There are some other facts also available at Statista. You will be surprised to know that in the list of top-5 countries where taxi booking and ride-sharing generate more revenue, there are three countries from Asia. Other countries are USA and UK.
The ride-sharing apps have made life easy for many commuters and taxi business owners. It is something much better than the experience of traditional taxi booking.
The apps such as Uber have changed the user experience; before it, there were only manual taxi bookings available, but when Uber launched its taxi services
then, the scenario is transformed into the on-demand taxi booking services from a traditional taxi or car booking.
Additionally, there is car rental mobile app development that is also progressing, but still, people have a strong connection with ride-sharing apps as they do not need to take the stress of car driving; they only need to book a cab.
The picture is fine clear that there are several advantages of using taxi app solutions for ride and business. Still, if you need to know, then proceed to the next section of this blog that is dedicatedly written for showcasing the benefits of taxi app development.

The Benefits of Taxi Booking Apps
The best part is the taxi app solutions have two-sided advantages, i.e., for the customers as well as for business owners. So let's start with the list of advantages for the customers.
1. Benefits to Customers
It is impossible to think about a taxi booking app without considering offering benefits to the end-users. So, here are some key benefits that an end-user has while using a taxi app solution.
●  Seamless Cab Booking
One of the best advantages of ride-sharing is seamless taxi booking for commuting. A user can book a cab with a single tap whenever they need it. That is why these types of apps are also called on-demand taxi booking apps.
●  Offering Convenience
The taxi booking or ride-hailing app offers convenience to the end-users as they can book the taxi as per their requirements. The app not only offers convenience to the users but also the taxi drivers and business owners.
●  Geo-Location Tracking
The app uses a powerful navigation API that allows drivers and passengers to track their real-time location. They can observe their real-time location at any time on the app screen.
●  Availability of Vehicles
While booking the cab, a user can see the visibility of the desired vehicle. Suppose a user needs a sedan for his requirement; they can check whether it is available for the ride in that particular area or not.
●  Safety & Transparency
There is always a threat in booking the taxi manually as there is no surety about the authenticity of the driver. Before the ride, a user can check the driver's profile, including their name and identity.
●  Easy Payment
There is no tension between money change and payments as these apps provide multiple payment options such as payment can be done via debit card, credit card, internet banking, and mobile wallet.
2. Benefits to Drivers
There are three stakeholders end-users, drivers, and business owners for every taxi booking app. So, in this section of the blog, let's check the benefits that a taxi driver has while using the app to serve the customers.
●  Automatic Fare Calculation
There is no need to calculate the fare manually as the app will own calculate the fare. They can also show it to the customers without any doubt. It makes rides easy for drivers and users.
●  Request Management
Drivers can manage customers' requests with ease. The taxi booking app empowers drivers to manage the ongoing requests, such as accepting or rejecting the ride.
●  Earning Tracker
The drivers can track their earnings within the app that showcases them daily, monthly, and yearly. It helps them to manage it finely.
●  Communication
For a fantastic ride experience, it is a must that drivers and commuters must remain in contact before the ride starts and even sometime before starting the ride. So with the help of taxi app solutions, it happens with ease.
In addition to the above features, there are other benefits also such as earning tracker and more.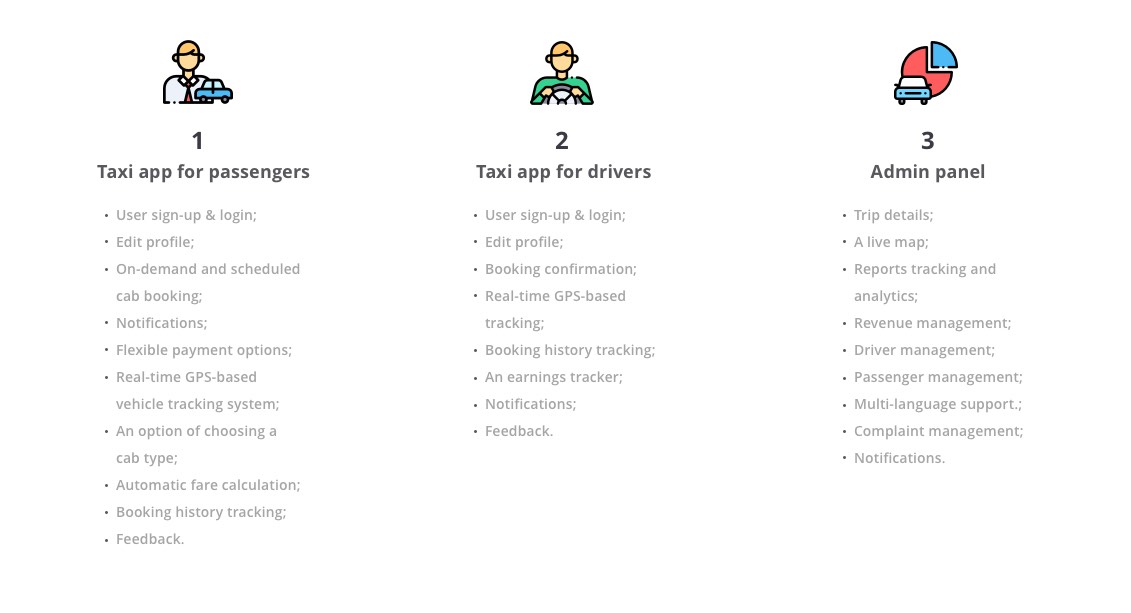 3. Benefits to the Business Owners
The prime objective of this blog is to reveal what does taxi app solutions matter to your business, and as a business owner, you also might want to know such as –
– What are the benefits of taxi mobile app development?
– How much does it cost to build a taxi booking app?
– How do taxi companies make money?
– Why should taxi businesses invest in On-Demand app development?
And more.

The questions mentioned above are authentic, and every business owner must ask or search about these questions before deciding on taxi booking app solutions.
So, let's check out the benefits to a taxi business owner of a taxi app solution.
The questions mentioned above are authentic, and every business owner must ask or search about these questions before deciding on taxi booking app solutions.
So, let's check out the benefits to a taxi business owner of a taxi app solution.
● Improve Brand Image
Although you have been in business for long years and have a good image on the customers' minds, if you have an app that your customers can use with interest for ride-sharing or taxi booking, or car rental, then it will improve your brand image. If you want to take your business to the advanced level, it would be best to develop some unique ideas.
● Better Visibility of Business
Having better visibility is always a must for a business, and taxi booking is the need of everyone. In simpler terms, you can understand that when a person is new to the city, then they often search for the taxi services online. So, if your business has a taxi app solution and has a good repo, then its visibility will be more. Higher visibility will increase your business.
● Data for Analytics
For better business, data analysis is a must and that you can collect with the help of a taxi booking app. It would be best for your business if you record the consumer preference. Based on it, you can make a fine strategy to serve them in the best way. The taxi booking app solutions provide the best and easy way to collect the user's data seamlessly.
● Better Exposure
Instead of talking to an agency, people prefer to book a cab or taxi from the on-demand taxi booking apps like Uber. The uber like taxi booking app development has helped many businesses for better exposure in the market that you can also follow for your business. Via an app built on the same principle Uber taxi app uses can grab the attention of more users towards your business.
● Seamless Communication
It is sometimes very difficult to stay in the loop with the customer and find their destination from where they want to be on board. These are two of the major drawbacks of the traditional taxi business. On the other hand, online taxi booking apps are great solutions to all problems that a business owner, driver, and customer face while booking a cab.
● High-quality Operational Efficiency
Handling the taxi business looks lucrative, but it is more complex than we think. There are several difficulties such as managing the drivers & vehicles, dispatching the taxi to the customers, ensuring the service quality, and many more. Manually, these tasks are hard as no one can manage all the things at a time without any help. So, from the operational efficiency point of view white label taxi booking app is the best. You only need to take care that some experienced taxi app development company must develop it.
● Better Service Quality
An online taxi booking app is the best way to improve the service quality, and if your question is how? Then the answer is –
The on-demand taxi booking apps feature customers to give honest reviews and ratings about the services. For your app, you can use those feedback to improve the services in a real sense.
What Are The Factors You Need to Consider While Developing Taxi App Solution?
A unique taxi app solution can promise lots of things that you have missed in your business. If you want to revive your business, then taxi app development is the smart way to do it. Although, you also need to consider some crucial factors while developing the app, which are the following: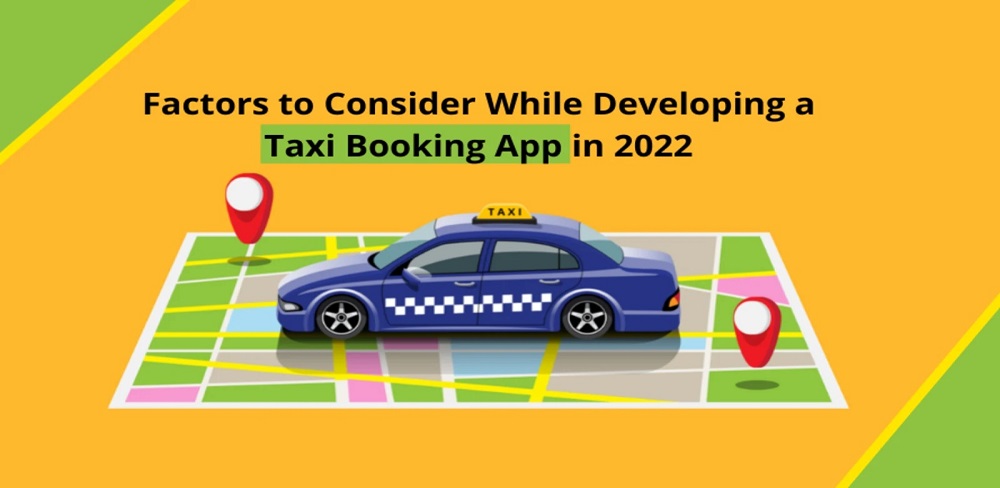 1. Target Audience
Focusing on the target audience is a much-required thing because if they find your app is unsuitable or not up to the expectations, then there is no use of the app. So, first, you need to find out-
● What are the latest market trends in taxi booking?
● What are the taxi app users' preferences?
● What type of business models your competitors are following?
● What types of taxi booking app models do people use most in the market?
Finding the answers to the above questions will help you focus on the app development by keeping the target audience in mind.
2. Simplicity
All types of people are using taxi booking apps or taxi app solutions, so you must stick to the simplicity. It does not matter what kind of tech stack you will use and how its backend will be developed? The app must be simple; an end-user must find all the features easily and navigate from one section to another smoothly.
3. Fast Execution and Lightweight App
It is fine that you want to make your next taxi booking solution with loads of features, but it does not mean that it will take more time to load and execute heavily. The app must be developed in a fashion, so it must execute fast. It would be also best that the app must be lightweight that can be run with minimum hardware resources. It is directly related to the best user experience.
4. Real-time Analytics
From the business point of view, real-time analytics is the best. When you will analyze users' data, then you will find some great statistics and results; based on these, you can create a unique business strategy. So, you need to ensure that the taxi booking app developers you are going to hire must be able to implement the real-time analytics facility in your app.
5. Robust App Testing Before Launch
There are possible chances that some bugs are left even after taking care of security parameters while developing the app. So, you need to ensure that before the app launch, you need to test the app on robust and real-time testing conditions because a minor bug can create a big blunder for the business and app.
What Kind of Tech Stack Should You consider For Taxi App Development?
Fine execution of the app depends on the tech stack you have used for developing the app. It would be best to develop an app that must work on the old as well as on the latest devices similar. Creating a car-sharing app like Uber is a complex task, and you need a robust tech stack for the same. The following are the details that you would love to read about:
●  Geolocation: CoreLocation Framework, Google's Location API, MapKit
●  Push Notification: Google Cloud Messaging, Apple Push Notification
●  SMS Notifications: Twilio, Nexmo, Plivo
●  Payment Gateway: Braintree, Stripe
●  Clouds: AWS, Azure, Google Cloud
●  Analytics: Big Data, Apache, IBM, Hadoop
●  Platform: Android, iOS, Web, Cross-platform
●  Programming Languages: React Native, Flutter, Java, Kotlin, Swift
●  Backend Development: Node.js, Python, Go, MongoDB, MySQL
The above details represent the best tech stack available in the market that you can consider for developing taxi app solutions.

The Final Thoughts
If you are looking for a taxi booking app development, it is the right time to develop and launch it. There is ample scope in the market where taxi apps generate good revenue. The taxi apps are complex, and you need specific expertise, so the best way is to hire dedicated developers who can develop an ultra-modern on-demand taxi booking app for your business. They will help you to have a cutting-edge in the ongoing market competition.
The motive of this blog is to let you know the benefits of taxi mobile app solutions for your business. Consulting an experienced taxi app development company is the best if you need more information.