The eCommerce store is not the latest trend now; it is the new normal that people like most as it gives them freedom of shopping without going into the market physically. Percentage of digital customers raised due to COVID-19. This article represents the reasons that make Magneto a promising platform for leading online eCommerce stores.
Due to the evolution of technology, the Shopper's behavior has been changed. Instead of going to the market and searching for the desired product, it is very easy to find it on the internet at desired cost and variety.
Read More:- Magento Development: The Complete Guide
From a needle to the boat & its parts are available online that you can choose and order. The eCommerce market is segmented into three, i.e., B2B (business to business), B2C (business to customer), and C2C (consumer to consumer). For the same, several eCommerce stores are available, and those are implemented with the help of technology as eCommerce application development.
Before proceeding to the further points, you should note some following interesting facts –
If we go with the data about retail eCommerce sales worldwide from 2014 to 2024, we will find a clean ascending graph. In the year 2014, it was 1336 billion USD sales via eCommerce which is extended to 4280 billion USD by the end of 2020. Till the year 2024, it is expected to reach up to 6388 billion USD.
In 2021, more than 2.14 billion people globally are expected to purchase from and have a presence on various eCommerce platforms.
In 2020, 80% of consumers out of the total shopped online will increase up to 90% by the end of 2021.
It can be clearly stated that the global online market will increase in upcoming years which will generate equal opportunities for the shoppers as well as for eCommerce store owners.
There are several options available to implement a digital store based on technologies in which Magento is most promising to form a leading online eCommerce store. Of course, an eCommerce software developer will be a great help for the same.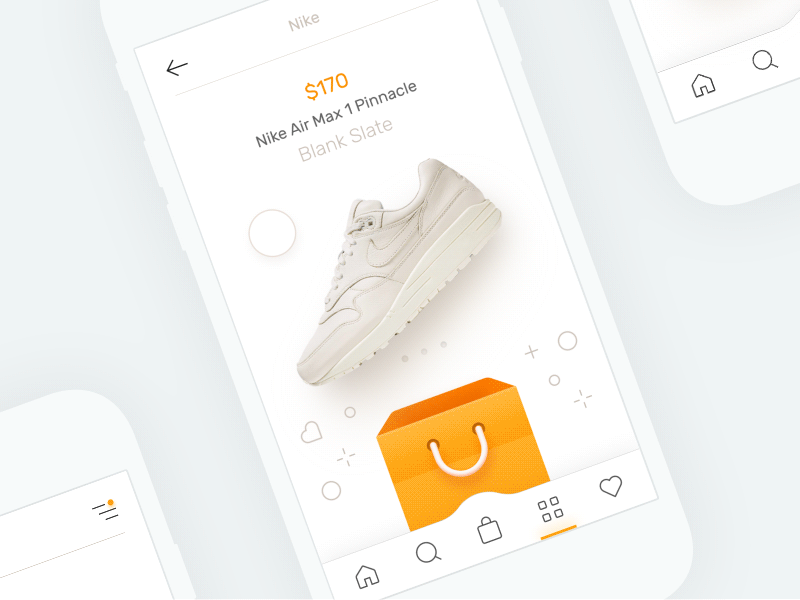 What is Magento?
Magento is an open source-based CMS (content management system) platform for an online eCommerce store website. It facilitates fine eCommerce application development in which Magento developers for hire can add a shopping cart, product pages, customized product listing pages, payment options, and website themes. The PHP programming language supports this platform.
You will be amazed to know that till now, 250,000 Magento websites exist on the internet, and customers are really enjoying it. It is the second most popular eCommerce website building platform around the world that holds a 12% share in the eCommerce market.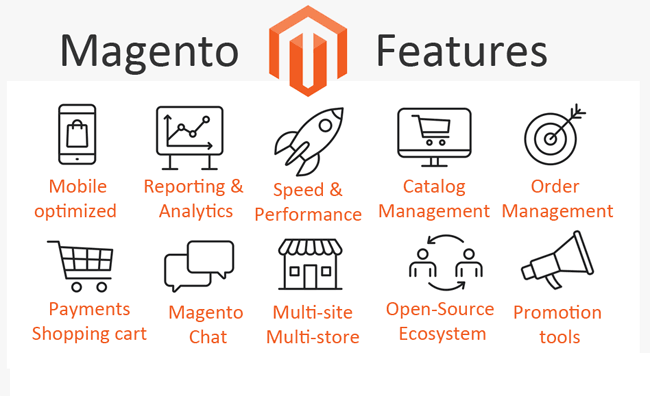 It offers various plugins and themes that empower online shopping app development company and online store owners to provide an enriched experience to the customers. If we say from users' or customers' perspectives, then it is always such a nice experience to shop from the digital stores based on the Magento platform. It also supports adding custom functionality to request the Magento developers while processing e-commerce applications & software development.
Read More:- Most Ideal Advantages Of Magento Ecommerce Development
It is available with eye-catching designs & themes, robustness, and cutting-edge technology is its specialty. among its competitors, Shopify, Weebly eCommerce, WooCommerce, Prestashop & Others, Magenta has more fans as eCommerce store owners and Magento development services providers.
The following are some incredible statistics supporting making this platform the first choice of an eCommerce solution company.
250,000 Magento-based eCommerce stores are in execution worldwide.
Magento stands proudly in the top two Alexa top 1M ratings by having an 18% market share.
It is the most favored eCommerce platform in the USA and then in other countries such as the UK, Netherlands, and India.
It has 2 963 extensions available for use by Magento developers for hire.
Some of the most popular Magento themes are Ultimo (46%), Porto (25%), Shopper (6%), and Fortis (5%).
The top brands that use Magento are – Nike, Ford, Samsung, Lenovo, and Coca-Cola.
Magneto has had an official partnership with Adobe and Acquia since 2016.
Features That Convince Businesses to Choose To Form Leading Online Ecommerce Store
Apart from the facts, other things that made Magento a favorite framework not only for web development company also of a mobile app development company are its features-
Finest Content Management System
It Supports Multi- Website Concept
Facilitate SEO Appropriately
It Supports Multiple Languages
It Supports More Than 20 Payment Gateways, Including Popular Ones As PayPal, Authorize.net, Amazon Payment, Google Checkout, etc.
Highly Secure
Magento-Based Website Loads Faster.
It Contains Near Around 5000 Extensions That Include Open Source (CE), Commerce On-Prem (EE), and Commerce on Cloud (ECE).
672 Extensions Have 5-Star Ratings
It is Mobile-Friendly That Empowers Mobile App Developers for Hire.
Allows Customized Integrations.
Based on the above points, it can be said that Magento is one of the finest, perfect and best eCommerce website & mobile application development platforms.
Reasons to Choose Magento To Form a Leading Online Ecommerce Store
There are several reasons which also answer the questions like –
Why Magento Is the Best eCommerce Platform?
Unique features and the ability to provide a complete solution for crafting an online shopping website make Magneto – a perfect and favored platform. It is supported by eCommerce software developers around the world. Mobile app developers like it, but even the experts from full-stack development company around the world also prefer to use it to form leading online eCommerce stores.
Read More:- Why Is This The Best Time To Convert Offline Stores To Online Via E-commerce Development?
Actually, it helps you smooth out managing an online store, provides the enriched experience of shopping to the customers and helps in excellent brand awareness. Then, in turn, it provides you profit and recognition in the market.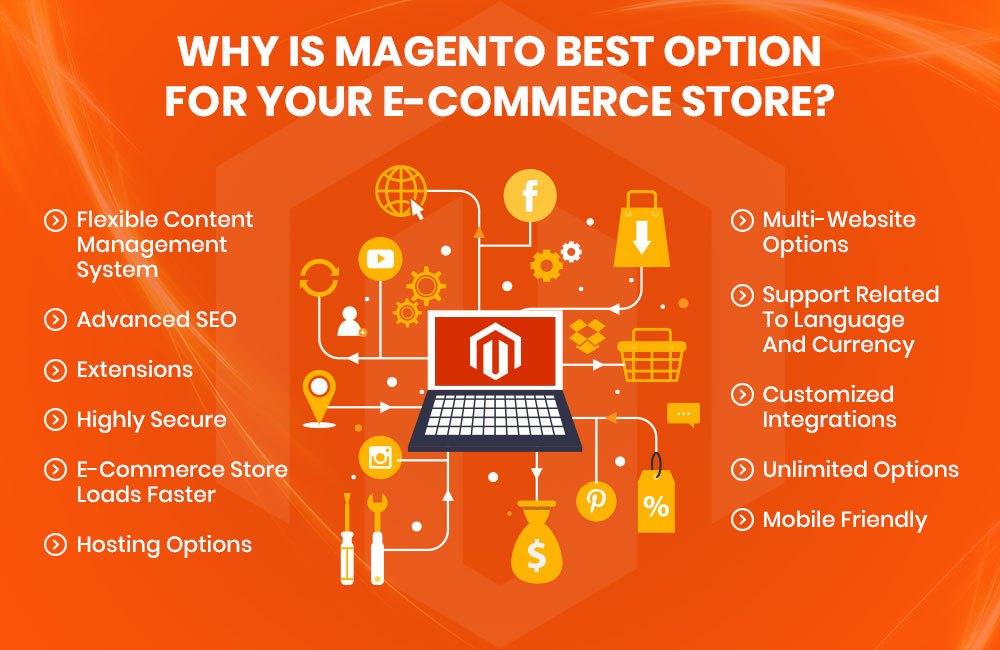 It does not make sense that what is the business's size works fine for all. Initially, basic features can be used, then later, as per the business requirement, with the help of Magento website development, you can have multiple customized features.
Now, let us tap into the reasons that make Magento favorable for building an online store.
1. Affordability
Now, competition is not on the ground; it is on the internet among businesses. So, Magento works a great technology for having an awesome eCommerce store to compete with other brands. The success of any business depends upon what you have spent and what is incoming profit. Initially, finance is one of the major bottlenecks for a new start-up, so with the help of Magento, the cost can be cut down. It is open-source, so there is no need to pay a license fee, and with the help of cloud hosting, there is not much cost to maintain & monitor the website.
Initially, free extensions/plugins can be used for the online eCommerce store, and when the business is in full swing, there is ample scope for customization. Initially, it takes only $2000 for a website, and regarding help, there is strong community support is available. For having an excellent website, you can hire eCommerce developers.
2. Customization
Magento is an open-source platform that allows the eCommerce software developer to have complete control over source code. It also facilitates customization or custom development within the website. It offers multiple APIs, near around 5000 extensions & plugins, and templates that can be easily customized by Magento developers for hire as per the merchant's or business's requirements. It is really a great platform to develop a sustainable eCommerce solution that meets the business goals.
3. Multiple Website Management
Multiple website management is one of the best functionalities provided by Magento. Having a multi-store option within an eCommerce website is such a nice strategic idea for any business. Its dashboard feature makes it possible to manage multiple websites or online shops with one click. Here you can add multiple products to the multi online stores with ease. It is cost and time-saving and also provides smoothness to the eCommerce web development process.
4. Seamless Integration
APIs are also worthy of forming a leading online eCommerce store; that's why Magento always remains on top. It offers several APIs for various third-party applications that cater to the need for on-demand solutions. Magento platform allows to you integrate APIs such as inventory management, CRM, payment applications, and many more. The full-stack development company will be a great choice for all that work because they not only build your website but also help to integrate the APIs.
Read More:- From Start to Profit: How to create an E-commerce Store and Generate Sales
The platform is also supporting the integration of business-to-business (B2B) functionality for managing business partners and affiliates. Compared to the other eCommerce platforms, it provides the best plugins with great features to implement different functionalities with ease.
5. SEO Capabilities
If we are talking about eCommerce without search engine optimization, then we are missing a crucial thing. It does not matter how we are good at doing business, but if any online customer does not know about us, there is no means of an online eCommerce store. The Magento platform is search engine friendly that supports all white hat SEO techniques. As a result, Magento-based websites rank high in comparison to the other platforms.
The Magento development company will help you regarding the responsiveness of website(s). The experts will apply the themes, graphics, and other elements on the screen on behalf of you. The responsiveness of a particular website is one of the significant factors for SEO. The other factors include site speed, site URL, Sitemap etc., that can be implemented on the Magento-based website with ease. Other than web pages, information related to products & its category can also be modified as per SEO rules. For SEO purposes, you can use suits such as Webex Ultimate SEO Suite, Amasty SEO Toolkit, MageWorx Ultimate SEO Suite, etc.
6. Community Support
Huge community support is available for Magento website development. It is supported by dedicated programmers, bloggers, Magento development services, eCommerce experts, online shopping app development companies, students, and learners.
There are 360,000 members that exist by which you can reach for any help regarding eCommerce application development based on the Magento platform. The support is available for websites also for mobile applications. For example, suppose if you want to launch your own online store, you can hire dedicated developers such as iOS developers, or for Android, to hire an Android app development company. In case of any doubt, the community is strong enough to help with that.
7. Progressive Web Application (PWA)
The progressive web application aka PWA uses modern technology and design mechanism that provides an enriched user experience. These websites remain fast, secure, and responsive in terms of speed, where cross-browser compatibility is one of the specialties. Magento supports it very strongly via the PWA studio project. It provides a set of tools to design, develop, deploy, and maintenance of PWA. It is a next-generation technology used by an eCommerce software developer from any corner of the world. It delivers app like fine shopping experience via desktop or mobile devices.
The PWA helps in boosting conversion rates and improves user engagement that in turn provides a high revenue. You can also consider it as one of the tools to reach potential customers. The drag & drop facility empowers the developers in fast development. So, PWA is one of the things that makes Magento – a fantastic platform to form a leading online ecommerce store.

8. Wide Range of Plugins
It holds a leading position in terms of providing extensions and plugins. These are available in the number of thousands free and paid that you can choose as per your requirement. Initially, you can choose free ones, then after your business grows, then by consulting an online shopping app development company, you can use others such as paid extensions/plugins.
9. Performance
Many on-demand solutions providers admitted that in terms of eCommerce application development Magento-based websites perform at par. Its qualities like reduced page load time, query processing, and other operations ensure tremendous performance. It is also preferred by many Magento developers for hire due to providing the best plugins for eCommerce websites or applications. Regarding performance, there is ample scope for customization at any time.
10. Mobile Applications
Magento provides a mobile application building extension with its help apps can be developed, and here you should note that these applications work fine and provides a fantastic user experience. It works like native Android and iOS applications. For implementation, you can hire b2b eCommerce developers. Most eCommerce businesses have their presence on both platforms. So, if you also want to be there, you can avail yourself of the services from an android app development company, or for Apple devices; you can hire an iOS developer. For having great insight into it, you should consult with some best Magento development company.
11. Flexibility
It is an open-source platform for eCommerce web and mobile applications that allow an e-commerce software developer to adjust the source code as per the requirement that including format alterations, customized integrations, and multiple plugins. As a result, multiple websites or online stores can be managed with ease which shows its adaptability.
12. Scalability
It is the top searched feature in business applications. You will be amazed to know that it is in the basic nature of the Magento platform. Initially, any venture can be started as a single entity, but whenever there is a requirement to scale the business, it supports it empathetically. You can expand it as much as you can. Here again, customization works great. With the help of a dedicated eCommerce solution company, you can have the best consultation for eCommerce app development.
13. Testing Capabilities
Testing an eCommerce website or mobile application is a big task. But, in the case of Magento, it has advanced testing capabilities. It comes with PHP unit-based FTF (functional testing framework). It facilitates the QA team to test the whole application, whether it is mobile or an app. The FTF comes with pre-bundled testing cases that cover almost all situations. It can deal with any OS, so there is no need to bother about how your application will perform on Android or on iOS, or both.
Hidden Features of Magento
Apart from regular features, Magento has some hidden features as well that you should know so you can use it accordingly as per your need.

1. Session Extending
It is such a painful thing when we have done the changes and suddenly get the message of session timing out. It happens because of less admin session time. But it remains not an issue when we can extend the session time via navigating to the following –
System > Configuration> Advanced> Admin> Security> Session Lifetime
With the session Lifetime setting you can extend the admin session in seconds.
2. Pricing Customization
With the help of the tier pricing tool, you can set the price for bulk orders you can customize the price compared to the limited order, or set the discount. It is specially used for B2B stores.
3. Product Alerts
You can set the product alerts in case of a changed product's pricing. It will benefit you in terms of having a strong relationship with customers.
4. Product Ratings
You can define your own custom criteria for ratings that allow you to get honest and comprehensive feedback.
5. Customer Groups
It is one of the premium hidden features that allows you to make customer groups. It helps you make strategies like the category of customers such as VIP, bulk buyers, wholesale buyers, retail buyers, etc.

The Final Thoughts
Magento is the most popular framework that empowers web development company to make the best eCommerce solution available in the market. So, it does not matter whether you are a small business owner or a large-scale business owner if you want to start your own online eCommerce store. Due to the features and functionality, you should go with Magento, which is promising and ensured a great shopping experience for the users.