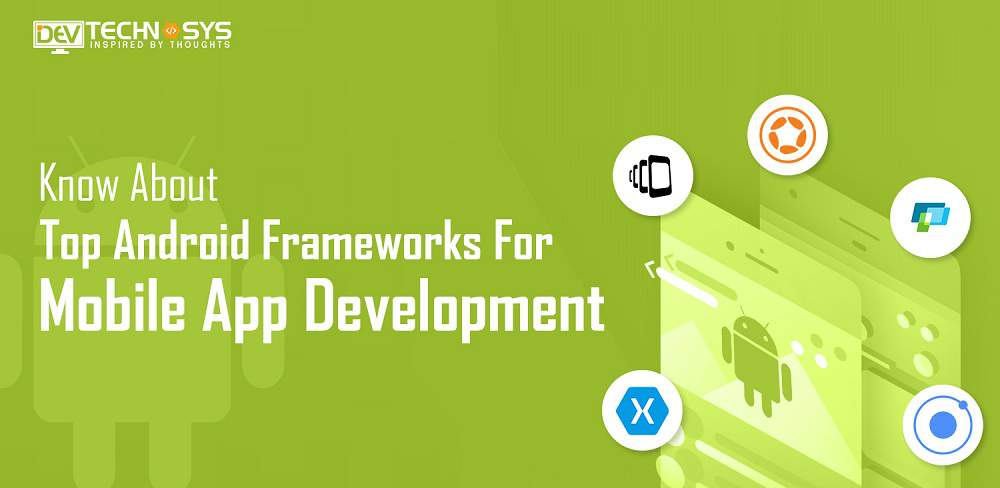 For any normal person, when it comes to the development of an app, the idea is that a team of mobile app developers work for long hours, under stringent budget and limited time frame. The entire task seems very tedious. However, with the increasing innovations in the technology industry, app development has become quite easy especially due to the introduction of frameworks.
For developing an app, you no longer require any certified app developer. You can simply choose a framework on which you wish to develop the app, and you are on your way. But the most prominent question that arises in mind is which framework to choose. Well, when it comes to Android app development, there are a plethora of frameworks that are available for you.
Top Android Frameworks for Mobile App Development
There are millions of Android apps which are available on the Google Play Store, and most of them are currently based on the latest frameworks. So, if you wish to develop your own Android app, then you can certainly choose some of them are as:
1. PhoneGap
This framework allows you to easily reuse any existing web development skills in order to quickly create any hybrid application which is built with CSS, HTML, and JavaScript. You can easily create experiences for various platforms with one particularly single codebase such that you can reach all of your audience irrespective of their device. With this Android app development framework, you can easily design Google Play Store-ready apps without any issue of maintaining native SDKs.
The most prominent feature of this framework is that you can easily develop an app without even using the command line. You can easily see the changes that you have made, instantly. You can get your own app ready without any maintenance of different native SDKs. It has a rich library of plugins. It also has a helpful and extensive developer community.
2. Corona SDK
It is a cross-platform framework which can easily be utilized to build apps as well as games for mobile devices along with desktop systems. This essentially means that you can easily create your own project once and then publish it to various kinds of devices including Android phones and tablets, Apple iPhone and iPad, Amazon Fire and much more.
This Android app development framework actually speeds up the entire development process very fast. Also, you can easily update the code, make different changes and then instantly see different results in the instant-update Simulator.
Read the Blog: Why Use Java for Android App Development
After you have completed the Android app development, you can easily build and even deploy the app and then see all the code update automatically. Due to its inherent competency to perform at different core levels, the applications are compiled automatically at the build time as well as streamlined for stability and performance.
It has numerous plugins that are available for you. It is a Lua-base framework that is designed to be fast as well as lightweight. It can easily call any particular native library as well as API using Corona. You can develop applications for multiple platforms utilizing one code base.

3. Xamarin
Like many other frameworks, you can easily create any native app for platforms such as iOS, Android and Windows. It actually works on the shared C# codebase which makes the entire code compatible with all types of platforms. For the latest OS releases, there exists a window of moving latest apps with the same-day support which assist the developers to save their time.
Hire Android developer who can check the functionalities of your app with this framework that can easily be done in the cloud along with regular tracking of your app. The best Android development company always keep regular track of the app, and that's where this framework is best suited for certain apps.
4. JQuery Mobile
It is an HTML5- based user interface Android app development framework which is designed to create various responsive websites as well as apps that can easily run on all types of smartphones, desktop devices, and tablets. It allows the Android app developers to easily design a particularly single high-branded responsive mobile app which can easily work flawlessly on a different popular smartphone, desktop platforms, and tablets.
This framework is actually built on the jQuery as well as jQuery UI foundation, and it also provides Ajax navigation along with page transitions, different widgets, and touch events. Its inherent lightweight code is actually built with a particular progressive enhancement that is coupled with an easily customizable and themeable design.
5. Ionic
This framework can easily create high-fidelity apps within a short amount of time owing to LiveDeploy feature that allows the developer to deliver various code updates, content changes, A/B test, and space to easily fix the bugs before as well as the after the development of the app.
Also, you can easily drag and drop core Ionic User Interface components, add themes, design files, animations and also tailor edit the core code. With this framework, you can easily create native apps binaries on the cloud using the Ionic package in order to get from code to the Google Play Store without any platform dependencies or any complicated build steps.
Conclusion
Developing an Android app has become a seamless process with the introduction of various Android development frameworks. You can easily hire Android developer who has the knowledge of these frameworks to develop your app. You can also hire the best Android development company who has the experience of developing on these different frameworks. You can easily choose any of the above-mentioned frameworks for Android app development.
Read the Blog: Tips to Develop Your Own Android App