Cloud computing is already being used by 43% of universities and colleges, with much more following. Cloud computing allows organizations to utilize vastly superior resources that they would not otherwise be able to maintain. It also makes it easier for teachers and students to work remotely.
Cloud computing may seem daunting to some educational institutions, but many have historically been reluctant to implement widespread technological changes. They will need to adapt if they are to remain competitive in the education industry and provide their staff and students with the enhanced experience that many now demand.
The market size for cloud computing in education sector was USD 23.81 billion in 2021, and it is anticipated to reach USD 173.62 billion by 2030. The market will expand between 2022 and 2030 at a CAGR of 24.70%. Seeing this fact, various businesses want to incorporate this profitable opportunity. Are you also among them? Then this blog will help you know the benefits and features of cloud computing in the education sector.
So let's begin.
What is Cloud Computing in Education?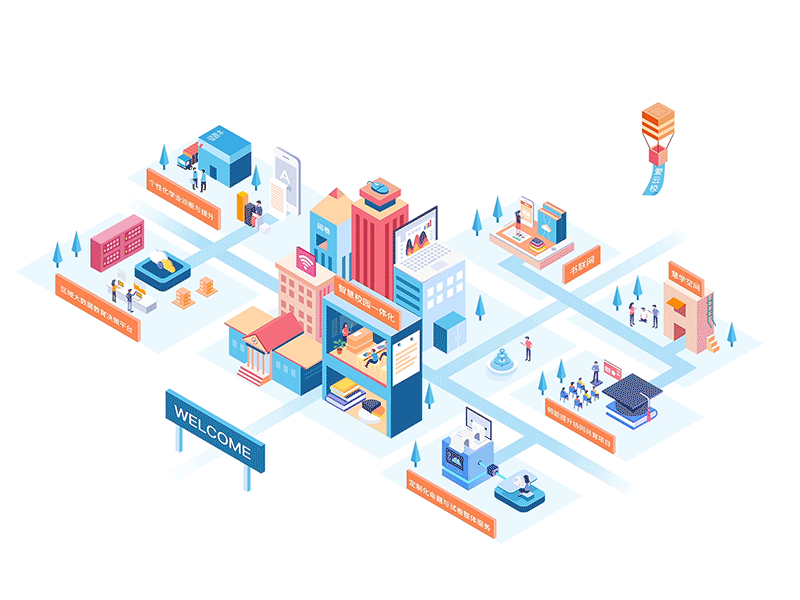 Cloud computing is a branch of technology that has evolved to help businesses meet their IT requirements. The technical service is used by both corporations and individuals. To overcome the limitations of hardware systems and devices, everyone is dependent on data storage facilities. Everybody needs resources that are accessible from anywhere and at any time.
Cloud computing is the solution. It offers clients a convenient and simple way to store their data in a secure infrastructure. Many companies rely now on solid cloud computing solutions. Moreover, Some of the top educational mobile apps for students that are incorporated with cloud computing are Google Classrooms, Kahoot, Instructure, Zoom etc.
Incorporation of the Cloud Computing in Education
Cloud computing in education is deployed through three service models:
1. Software as a Service
With the use of a cloud-based platform, educational institutions may access software and apps. These subscription-based solutions for e-learning are available in various variants that allow users to scale their operations according to their needs, thanks to SaaS application development.
2. Platform as a Service
The cloud platform providers provide programming languages, tools, and services that allow educators to create and customize their own applications or those they have acquired. A PaaS can be used by an educator to create a virtual lab that is  tailored for students. To do this, however, educators will need to have technical knowledge or hire an IT department for application development.
3. Infrastructure as a Service
The provider enables educators to install and run software, such as applications and operating systems. Also, processing, storage, and networks are available.

Key Features of Cloud Computing in Education
Now that you are at a point where you will know the features that are essential for the education app development with cloud computing.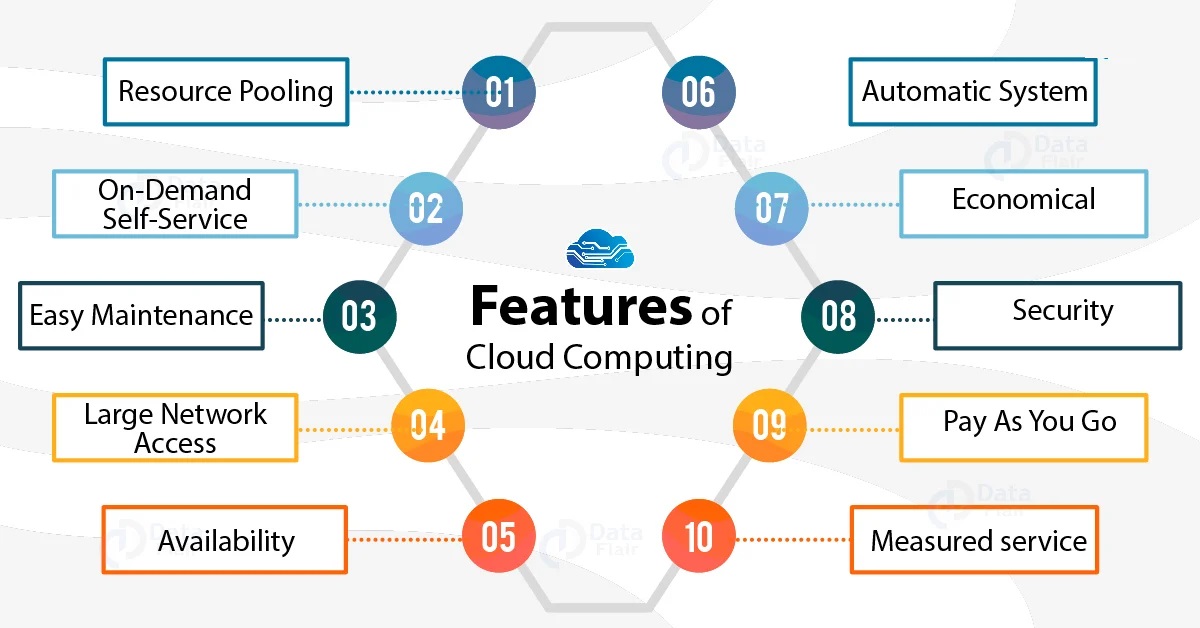 So let's have a look:
1. Self-Service On-Demand     
Cloud computing has this as one of its most important and distinctive characteristics. Clients that use cloud computing may keep an eye on their skills, allotted network storage, and server uptime. Cloud computing in education is a fundamental feature that allows clients to control computing capabilities according to their needs.
2. Resource Pooling
Cloud computing also has this fundamental feature. A cloud service provider that pools resources can provide different services to clients based on their individual needs. Resource Pooling, also known as a multi-client service plan, is useful for data storage, bandwidth services, and data processing. The provider manages data in real time without interfering with client needs.
3. Easy Maintenance
Cloud servers are easy to maintain and have low or almost zero downtime. Cloud servers have low or almost no downtime. Cloud Computing resources are updated frequently to maximize their potential and capabilities.
4. Economical   
It is an economical service, as it reduces IT and data storage costs. Cloud computing is generally free. If there are paid plans available, they are usually only for the purpose of increasing storage capacity. These costs are typically very minimal. Cloud computing has a huge advantage in this area due to which various IT consulting Services providers are investing in creating software that are cloud based.
5. Rapid Elasticity & Scalability
Cloud storage can handle any workload or data load. Cloud services are scalable, elastic and automated. This allows businesses to save on technical staffing and manual labor.
6. Efficient reporting services
Cloud storage has the best feature: even though it's fully automated and managed via bots, there is a quick and efficient reporting service in the event of an error or problem. The back-end team of cloud services is also very quick to respond to user complaints, be it billing or functionality.
7. Automation  
Cloud computing is driven by automation. Cloud services are capable of automatically configuring, installing and rebooting to provide optimal functionality. This reduces the manual effort, and it is extremely user-friendly. The cloud infrastructure deploys commands without human intervention.
8. Security
Cloud computing has many advantages, including its security. Cloud computing clients are rarely at risk of data breaches or piracy. The stored data is not at risk of being damaged by trojans or viruses. Cloud data is protected from harm even if the device becomes infected.
9. Huge Network Access   
Cloud services are ubiquitous. Cloud storage can be accessed by any device that has an internet connection. Cloud service providers also have access to the network, which allows them to easily manage all data stored on the Cloud by parameters such as access time, latency and data output.
10. Resilience
Resilience is the ability of a cloud service to quickly recover from any interruption. The speed of the cloud database and internet, as well as the servers, and the ability to reboot the network system after any damage depends on these factors.
Accessibility is also made easier by resilience, as there are no physical obstacles. Cloud services can be accessed remotely by clients, so geographical proximity is no barrier to cloud usage.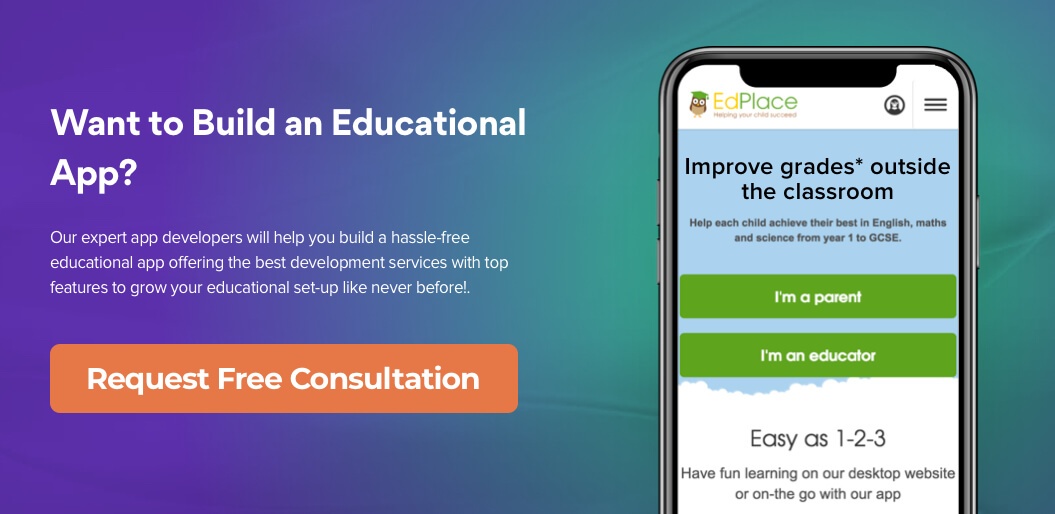 Benefits of Cloud Computing in Education Sector
Now that you know the features of cloud computing, it is time to look out for the benefits of cloud computing in the education sector that are specifically approved by cloud computing app development services providers.
1. Cloud Computing Scalability and Flexibility
In the Education sector, scalability simply means accommodating a growing number of users. They can be students, teachers, or higher management officials. Cloud computing allows users to scale their learning curves through apps like Google Classroom, TeacherKit etc.
These apps are flexible and support scalability. These apps can do everything from managing assignment submissions to monitoring the progress of the students by reviewing their current knowledge of the subjects in their curriculum.
Additionally, cloud computing application development is a critical aspect of building scalable apps for the Education sector. By leveraging the power of the cloud, we can create apps that can handle the growing number of users, data, and traffic while providing a seamless learning experience to students and teachers.
2. Time and Freedom
Teachers face a number of challenges, including the lack of time. Cloud computing solutions enable teachers to spend more time in the classroom. Teachers will spend less time making copies, as students and teachers have access to resources anywhere.
Teachers will no longer be bothered by missing assignments and materials because all this information is in the cloud. Teachers can grade and comment on assignments using their smartphones instead of bringing home a pile of notebooks and papers. Cloud computing makes it easy to retrieve lost or late assignments from absent students.
Teachers can save all lesson plans and homework assignments to the cloud. Teachers can then share their lesson plans and assignments with other teachers and administrators to get feedback.
3. Cloud-Based Collaboration  
To be successful, learners must have the ability to work with others. Cloud computing provides users with instant access to information on multiple platforms, allowing them to develop their collaborative skills. Students can work together on an assignment while getting real-time feedback from their teacher.
Students need meaningful feedback to help them achieve their goals. Cloud computing allows for real-time evaluation and feedback, which benefits both students and educators. Cloud computing eliminates the need for students to work together on group projects. Instead, students can access assignments from anywhere. Collaboration between educators is also improved.
4. Basic Hardware is Required
Cloud-based applications require modest hardware resources. These programs are compatible with a wide range of browsers including desktop and mobile devices. Students can use their mobile phones to learn.
No expensive computer is required to take part in the course. Cloud storage is free. Cloud computing has many benefits for education. Cloud technology is quickly being adopted by large industry suppliers to improve their services.
5. Saved Time
Cloud computing can save both teachers and students time. Everything can be done instantly, including sharing notes, taking tests, working on assignments, grading, etc.
Remote tasks allow users to complete them at the most convenient time, whether it's during the commute, midnight or on holidays. Users don't need to wait until school hours or go to school to finish school-related tasks.
It is a great benefit for both students and teachers, who have to juggle multiple responsibilities. However, with the help of cloud custom software development and apps, many of the school IT tasks have been reduced.

6. Access to Educational Tools   
Cloud-based platforms make it easier for teachers and students to access educational materials. The same learning modules, books, and other materials can be viewed by students on a desktop or tablet. It eliminates the need to purchase physical textbooks, and allows for more convenient study because one device can be used for multiple subjects.
Teachers and educators can also benefit from this feature, as lesson plans and assignments can be uploaded and updated at any time. Teachers can work anywhere, whether they are at school or at home.
Cloud computing allows students to also access updated learning material. It is crucial because newer information is constantly being added to coursework in order to improve accuracy. Cloud-based platforms allow teachers to update lesson materials in real time. Schools can save money by not having to buy expensive textbooks.
Some cloud platforms allow for multiple versions to be saved of the same document. This is a great advantage. This can be useful when an individual accidentally deletes files or parts of documents.
7. Learning For A Diverse Range Of Students
Cloud computing allows students who are unable to attend traditional institutions of learning to continue their education. Working professionals may not have the time to attend morning classes at the school.
Some students live in large cities where there are only a limited number of schools. Online education allows students to select the courses they want at an educational institution located in another province. Cloud computing schools can offer learning resources to a wide range of students, including those overseas.
8. Cost-Savings  
Cloud computing is a cost-effective option for educational institutions due to a few factors. One way users can reduce hardware costs is to use a cloud-based application.
Cloud-based software is compatible with many devices, so teachers and students don't have to buy the most expensive computers. Cloud platforms allow schools to reduce their paper usage, which in turn means fewer photocopiers and printers are needed.
Vendors also offer cloud services in a pay as you go format or on a subscription basis. The educational institution can start with a small amount of data and then add premium features as needed.
9. Easy Accessibility
Cloud computing offers unparalleled accessibility. The cloud allows users to access data, apps and course materials at any time, from anywhere. Students can enroll in classes or participate in group activities.
Cloud technology eliminates location and time boundaries to ensure that content is consistently delivered at all times. It also transmits materials to mobile devices, so students can learn on the move. Online education can be a scholarship for future teachers, which will eliminate travel costs.
10. Scalability
Scalability is the ability of programs to grow to accommodate an increasing number of users. Cloud computing is also applicable to schools, colleges and other institutions. Cloud computing allows them to quickly and efficiently scale up their learning apps and experiences. They can therefore accommodate an increasing number of students.
They can also manage traffic and usage spikes caused by events like training registrations or assignment submissions. They can also quickly scale down their resources during low-activity periods to avoid wasting them.
5 Considerations of Cloud Computing in Education
Cloud computing has many benefits but also some challenges and issues in education. So let's have a look:
1. Dependence on Internet Service Providers
Cloud computing's reliance on Internet access is a sad reality. Online learning can be affected by service outages and poor bandwidth, unlike traditional classrooms. A managed service provider can quickly identify whether the problem is coming from the end-user or the cloud provider. Then, a solution can be implemented that will improve your access and connectivity.
2. Less control
The cloud offers a number of services and platforms for the education sector, such as Blackboard. However, you may not have complete control over the updates, training and other features.
The cloud provider will handle the infrastructure, which is abstracted away from your internal team. You'll lose control of the infrastructure, and you won't be able to customize the system. Cloud service providers handle these.
3. Vendor Commitment
Cloud computing in education is dependent on a single vendor. You can't usually switch service providers.
When you work with an MSP, they can help users find the best vendor for your requirements. It is important to move the educational workload into the cloud when choosing the right provider.
A good provider will listen to you and understand your risks. They will manage them from the beginning, eliminating any potential unforeseen issues.
Once you have signed with a provider you are usually locked into their service contract. Most providers will allow you to break a contract but charge you a fee for doing so. It may not matter if you are happy with your service, but it is worth mentioning.

4. Security
When set up correctly cloud-based technology for education is safe, but it comes with inherent security risks. Cloud systems that are not properly secured may be vulnerable, making data security a greater concern.
This problem becomes more serious when users use resources on multiple devices. If a device that has saved credentials is stolen, an unauthorized person can access the cloud platform.
You'll want to prioritize security in order to avoid these problems. It all starts with the proper setup of your infrastructure in the cloud and training users on cloud security best practices. Additionally, if you also want to secure your educational app with cloud computing solutions, you must take help from mobile app development services providers.
Consideration of MDM management, or multi-factor authentication from a MSP could help to alleviate many security concerns. It would also offer more protection against end-user device vulnerabilities.
5. Up-Front Costs
Cloud computing is a great way to reduce costs in the education sector, but there are some upfront costs. Migrations can be expensive, depending on the number of applications and services that you are moving to the cloud. The time spent training staff in the new system, including security best practices, will also cost money. Administrators will have to prepare for the long-term benefits.
Conclusion
The adoption of cloud computing in education is at an all-time high. It has a long way to go, starting with the proper training of educators and students. Recently, hundreds of cloud-based infrastructures were created with the promise of managing and facilitating the best computing services.
For a seamless experience, however, universities should consider cloud service providers that have adequate experience, quicker migration processes, optimized costs, and centralized governance.
However, if you want to build an education software with cloud computing integration for your business, you must consult with the cloud computing consulting service provider who have expertise in the related field and help reach your business to greater heights.
Frequently Asked Questions
How much does it cost to hire dedicated software developers?
The cost to hire dedicated software developers depends on various factors like app complexity, features and functionalities, location of developers etc. Thus, the cost to hire software developers is between $15-$20 per hour.
How can educational institutions measure the return on investment (ROI) of cloud computing?
Comparing the costs associated with implementing and maintaining systems on-premises versus those of cloud-based solutions, educational institutions can determine the ROI. To evaluate the impact on their bottom line and operations, they can track metrics like cost savings, increased efficiency and student outcomes.
How can cloud computing support online learning and distance education?
Cloud computing supports online learning and distance teaching by providing a flexible and scalable infrastructure for delivering digital contents, enabling communication and collaboration between students and educators, and facilitating creation and sharing educational resources.
What specific examples can you give of cloud computing being used in K-12 schools?
Cloud computing has been used in K-12 for a variety of purposes, including online learning management systems, virtual classrooms and collaborative project-based education. It is also being used to store and analyze data, as well as develop educational games. Teachers use platforms such as Google Classroom and Canvas to manage course materials and assignments.