Today, with the consistent growth of ownership and use of mobile devices mobile learning is growing. It is characterized and interpreted as a combination of individualized learning with any time and anywhere learning facilitated by educational mobile apps.
Technology proved itself a powerful tool to transfigure different aspects of life. In the present scenario, as the technology in mobile applications is getting broader and better, it has exploded with great impact on various sectors.
In recent years, we have seen a lot of versatile changes in the area of education as well as the smartphone industry.
It comprehensively dominated the educational sector and showed consistent progress. The change in approach to learning encapsulates a wider vision for future generations. These apps are driven by a collaborator in education, seeking new knowledge, and constantly acquiring new skills.
Latest educational mobile apps enable students and other group people related to various groups, and friends circles to share all the necessary information required from their respective educational organizations, from letters to other regular events and many more on their iPhone or Android.
Top Educational Mobile Apps For Students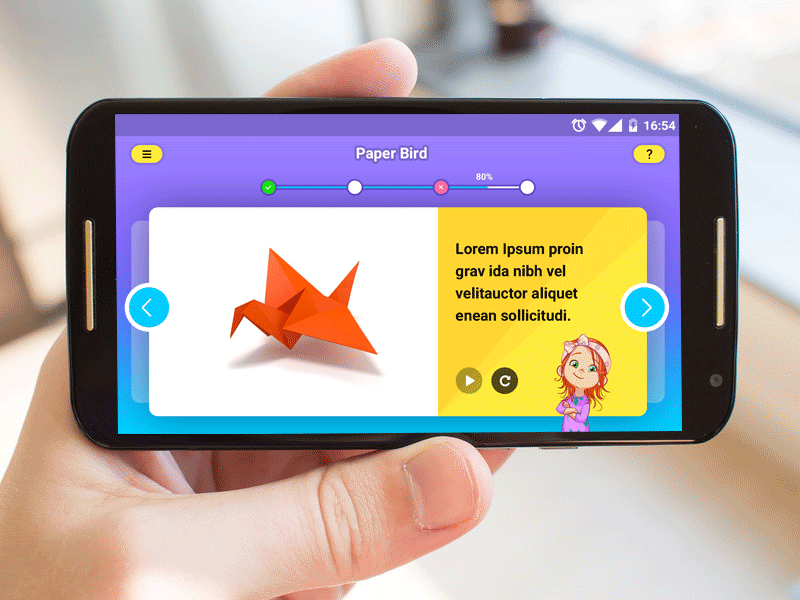 The design of education app development does not execute with a blank slate. They have been dominated by the current state of technologies and design, interactions with every update in technology, and their dedicated experience and an intuitive sense of the learning process and outcome of the whole development.
Evidentially, the emerging trend of optimum utilization of educational mobile applications discovers a necessity to have an extensive look for top apps:

 Evidentially we all experienced a memorable atmosphere in the classrooms. But it all went problematic whenever we thought of doing hefty homework. So, by understanding a genuine problem and in search of a robust solution mobile app development services came up with, The Great Courses.
The Great Courses plays an imperative role for the users and offers a comprehensive solution. It proffers lectures from experienced professors comprising a wide range of subjects including business, literature, history, math, psychology, music, etc.
The app permits you to stream or download the selected courses. Furthermore, while thinking about apps like The Great Courses, it becomes mandatory to have meaningful learning that goes beyond just learning.
Magnificently, all the lectures or topics are professionally created with interactive aids. It would not be tiresome for the user to study through The Great Courses app which also offers a free trial for the user.

 Usually, people find it distressing when they come up with a task to learn a language. Unanimously, it would be more troublesome if one wouldn't have any scheduled course structure.
So, here Memrise offers the solution and enables the user to learn languages through gamification. It makes the user able to grasp numerous words or phrases, spelling, testing definitions, and aural recognition.
The process encapsulates an impressive route to memorize every necessary thing about the selected language. It has been one of the best among other apps which is more comprehended and compatible.
Memrise channelizes different productive patterns to offer a simple way for its users to brush up on their language. Unequivocally, with significant features, It becomes an ideal source to keep learning for all learners from nascent to expert.
The way mobile app and custom website development leads the user ensures that they would be so overwhelmed with the outcome.

Usually, people are not able to remember or use that same information the next week sustainable and conducive learning extracts from prior experiences link to the existing knowledge and it opens up numerous opportunities for educational app development companies.
Edmodo is a feature-laden social learning platform dedicatedly designed and developed to connect and collaborate within a conclusive educational atmosphere.
In a broader sense, it can be well interpreted as a dedicated social media network that empowers teachers, students, and parents or guardians to share relevant information in school.
Edmodo seamlessly collaborates and connects, shares content, and enables access to school homework, notices, and grades. Additionally, teachers can easily use the app as an online board and inbox for their scheduled tasks. They can post quizzes, assignment guidelines, and polls and invite respective students to submit their finished assignments.

Knitted together from linguistics, psychology, computer science, brain imaging, machine learning, animal behavior, neurobiology, etc, It's imperative to consider how would the learning process become efficient and conducive for every generation.
The fundamental reason behind the unprecedented vacuum in teacher-student communication is the lack of an organized channel or medium. Nearpod offers a specific dimension that covers all necessary aspects that must be integrated by eLearning app developers.

It offers a simple easy-to-use tool for teachers to create various daily, weekly or monthly tasks. They can create interactive lesson plans, assessments, presentations, and digital content.
They can comprise slides of topics with text, images, videos, questions, website polls, and assignments. Furthermore, it permits teachers to create their required digital lesson plans which can be shared with the students during their class. So that student becomes able to follow everyone's delivered a lesson on their devices.

One of the most prominent names that revolutionized educational app development is Udacity. It offers users thousands of courses on different topics, that may be free or paid. The users can pay for nano degree services where they would get verified certification, feedback from professionals, and coaching.
Udacity offers different courses that improve skills and discover new opportunities for users. It encapsulates lesson material of data science, artificial intelligence, deep learning, machine learning, iOS, Android, etc. The users can learn and test themselves with various exercises and quizzes.
They can also broadcast their sessions on big screens and manage personal learning experiences. Through Udacity, nanodegrees students can also earn their credentials.
The best aspect for the users, they can easily download various courses and content without having an internet connection.
Read the blog:- How Much Does it Cost to Build an Educational Mobile App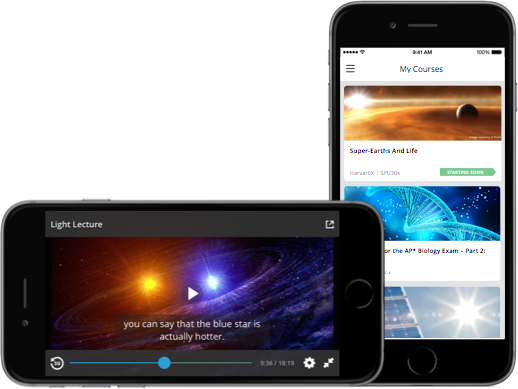 As we know Education has always remained a fully structured process for every individual. So with proposed plans, goals, and customization, it would be very easy for students and teachers to keep their efforts through various educational mobile apps.
Today EdX has simplified the learning process with certification from some distinguished institutions. It offers free online courses on different topics from prime universities and institutions like Harvard, UC Berkeley, MIT, Tsinghua University, etc.
Here, the users receive credit after the completion of their courses which they can put toward their college or university application, for their professional development and to kick-start their desired higher education.
The users can easily go through their learning materials using online lectures, quizzes, and given assignments. It fits the learning into the busy schedules of the people.
They can stream or download the selected videos to watch at their convenience. It also connects learners around the globe with easy-to-use discussion forums.
Read the blog:- Future of Custom Software Development in Education Industry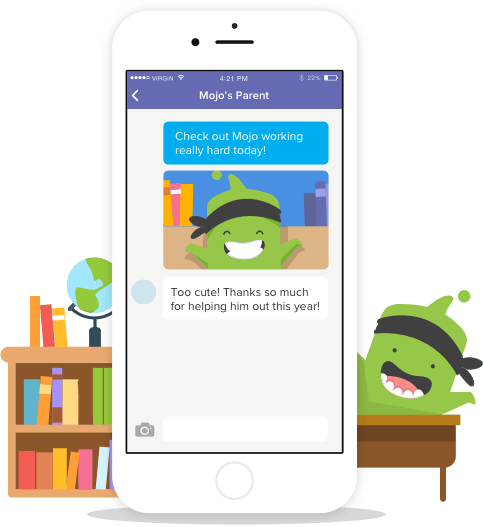 It is a classroom management tool that is comprehensively designed to assist teachers. With the help of the hiring app developer fundamental functioning and objective of ClassDojo augment the teacher's efforts in improving student behavior and in establishing effective communication with parents. The users can use it according to their extent with customized purpose, time, and interest.
The e-Learning mobile app development offers the students positive points for their specific behaviors like being on-task, persistent, working hard, etc., and negative points for their negative behaviors like being off-task, blurting out, or bullying.
It mushrooms better opportunities for further development and therefore educational mobile app developers in today's competitive market are a leading part of the digital revolution.

 Globalization has kicked off heavy commercial and cultural exchanges between different countries. It ignites the need to establish communication among countries.
So, here Duolingo mitigates the problems and explores new opportunities for the users. It's a platform that comprises a language-learning website, mobile applications, and an assessment exam for language proficiency.
The users can translate their real-world texts into various languages -i.e. German, Spanish, Italian, Brazilian, etc. Duolingo follows the fundamental structure of video games to engage its users. It offers a reward system where users get "lingots", an in-game currency.
They can spend it on in-app features like character customizations or bonus levels. Furthermore, public leaderboards discover an opportunity for users to compete against their friends.
The app also gives badges that represent the achievements that they earn after completing specific challenges or objectives. Due to unprecedented competition and demand, custom website development has garnered the potential space for these apps.

 The ideation of app development or custom software development is well interpreted with the proliferation of mobile apps in contemporary market trends.
The adaptability of these apps fortifies the significance of mobile app development services in the respective sectors of the industry.
Here, the Popplet app exemplifies this extraordinarily. It is used to organize ideas and thoughts through diagrams, mind maps, and charts in visual forms for elementary students to high school students.
It encompasses a minimalist approach to their proposed presentations. It is a wondrous way for all students to develop graphic organizers so that they would be able to share and organize the material they learn.
Its easy accessibility and usability permit the users to incorporate text and images so easily.

Today, with the high penetration of devices like smartphones, tablets, and laptops educational ecosystem has also been influenced. The innovative pattern of learning is beginning to enhance the skills or knowledge of the people.
These educational mobile apps significantly enrich people's abilities and they become active learners understanding complex subject matter. We are at a unique and important time in the development of apps.
In the past few decades of research in the Science of Learning have transformed the way we think about learning and teaching.
By melding these parallel threads, educational app developers can develop better educational apps, and parents can evaluate apps' learning potential for their children. Undoubtedly, active learning in a frequently transforming ecosystem through education mobile apps boosts academic or social outcomes for
every learner.
FAQ's
Is Educational Mobile App Development a Successful Business Idea in 2023?
At a CAGR of 15.0% from 2022 to 2028, the market for global education apps is anticipated to grow from USD 37780 million in 2021 to USD 101330 million by 2028. Therefore, creating an educational application in 2023 will be a very profitable business concept. In 2023, developing a mobile learning app will help you scale your business. 
Why Are Educational Apps Useful?
Educational applications are beneficial because they provide a vast body of knowledge in a cosy, approachable, and technologically advanced way. When the study material is tailored to specific student demands, these apps enhance learning abilities and accomplishments.
What is an Educational Mobile App?
An educational app is a mobile software designed to help individuals with remote learning. These applications are made to aid in the learning of new abilities or knowledge. These applications are used for several things, such as practising spelling and punctuation or even assisting children in learning about history or science.
Which is the No 1 Educational App in the World?
There are several available educational applications. It's hard to say, but Google Classroom had 75 million downloads in 2021, making it the most widely used learning and education application globally.