"Makeup is art, beauty is spirit, and Sephora is the ultimate playground for both."
– Pat McGrath
Welcome to the glamorous world of cosmetic shopping apps! In a world where beauty reigns supreme, it's no wonder that the demand for a seamless and captivating shopping experience continues to skyrocket. And when it comes to being the epitome of elegance and convenience, one name stands out: Sephora.
In a digital era where convenience reigns supreme, a cosmetic shopping app like Sephora offers a gateway to a vast selection of makeup, skincare, and haircare treasures, right at our fingertips. But what sets apart the cream of the crop, like Sephora, from the rest?
In this blog post, we'll unlock the secrets to creating your very own cosmetic shopping app that captivates and enthralls users, just like Sephora. We'll delve into the essential features, the technological prowess behind the scenes, and the strategies to ensure your app rises above the competition.
Get ready to embark on a journey that fuses beauty, technology, and business acumen to create a mobile app that makes waves in the cosmetic industry.
Let's dive in and discover the blueprint to make your cosmetic shopping app shine like a dazzling gem in the digital landscape.
What is The Sephora App?
Sephora App, a mobile app developed by Sephora Cosmetics, is available for iOS and Android devices. The cosmetic shopping app like Sephora is designed to improve the shopping experience of beauty lovers.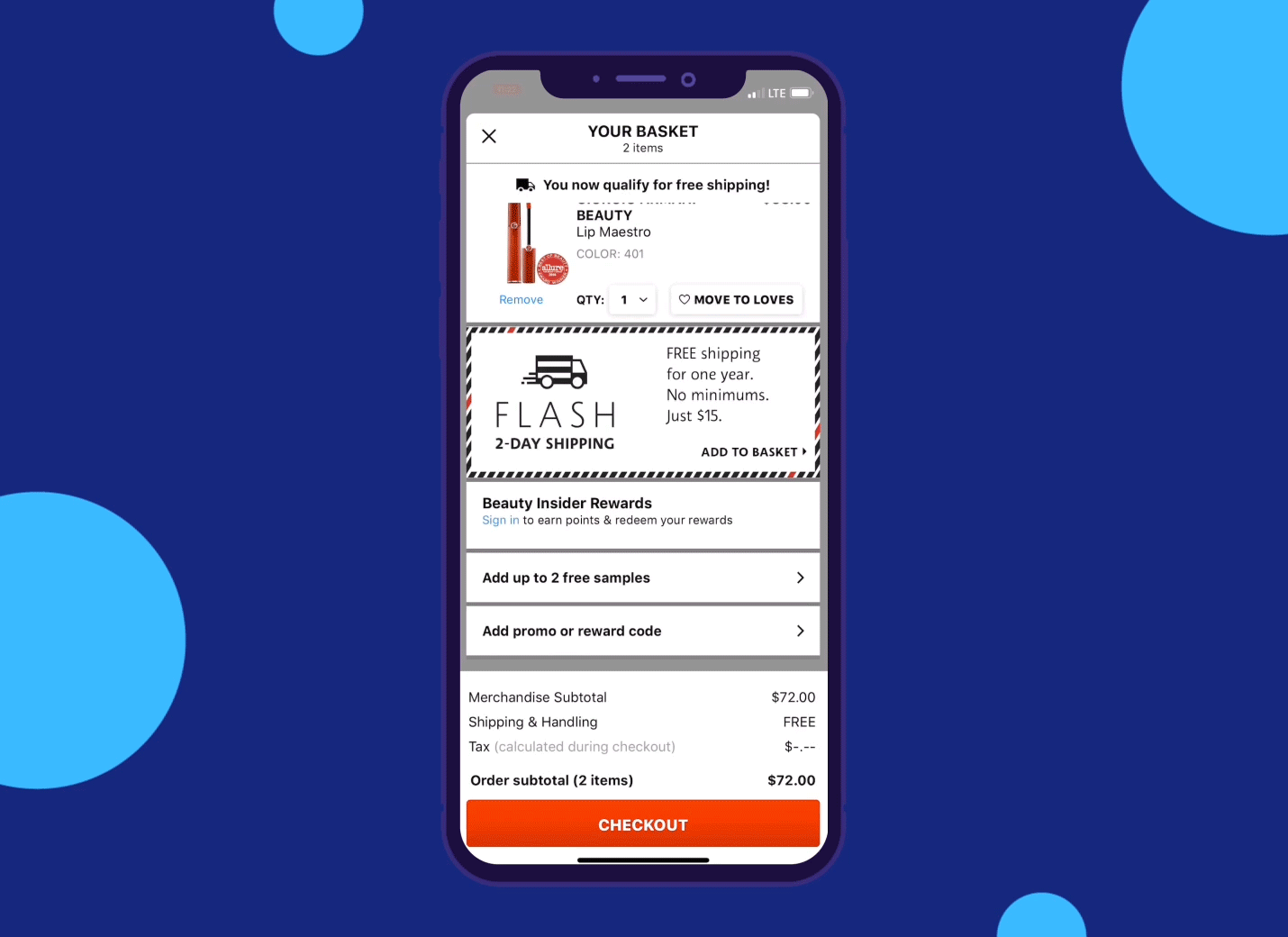 Sephora, a global brand with 2700 stores across 35 countries, generates billions of dollars in revenue. Customers may explore and purchase a selection of cosmetics, skin care, perfumes, and hair care items with the app.
The app offers features such as personalized product recommendations and virtual try-ons. It also provides beauty tutorials and tips, and allows easy access to reviews from customers. The Sephora App is a seamless app that combines a user-friendly design with an intuitive interface. It allows customers to shop and browse for their favorite beauty products anywhere, anytime.
Market Outlook of Cosmetic Shopping App like Sephora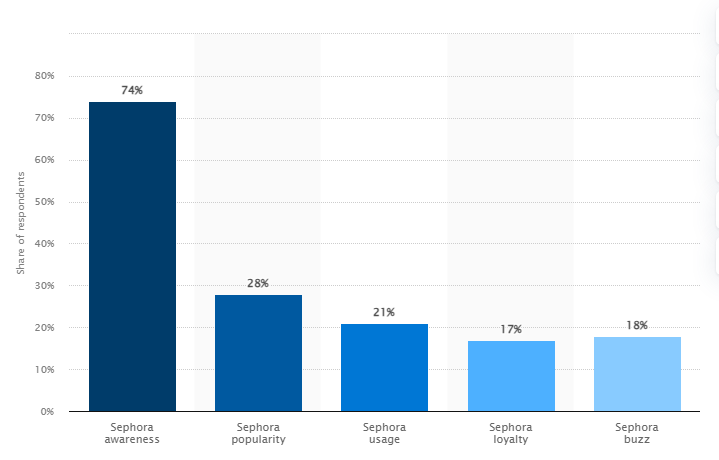 In the United States, Sephora's brand is well-known to 74% of online shoppers who shop for beauty and health products.
com's e-commerce sales increased from 580 millions U.S. Dollars in 2016 to more than three billion U.S. Dollars by 2022. This is a four-fold increase in sales online over a six-year period.
In August 2022, Sephora's beauty-shopping mobile app was downloaded over 525,000 times globally from the Apple App Store and Google Play.
The Beauty & Personal Care Market is expected to generate US$571.10bn by 2023. The market is projected to grow by 3.80% annually (CAGR from 2023-2027).
Personal Care is the largest market segment with a volume of US$253,30bn by 2023.

Why is Sephora the Most Loved Cosmetic Shopping App?
Sephora is the best cosmetic and beauty shopping app. It provides a customized and distinctive shopping experience that is unmatched by its rivals. Here are a few reasons why cosmetic shopping app like Sephora have become so well-liked.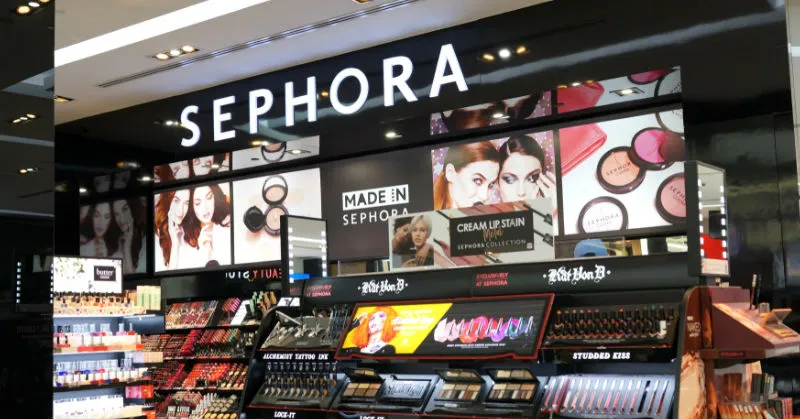 Wide selection of products: Sephora offers a large selection of beauty products, both from high-end brands and those sold at drugstores. Customers can choose from a variety of products, regardless of their budget and needs.
Personalization: Sephora personalizes the shopping experience by using a number of data points. It includes past purchases, browsing histories, and skin tones. Customers are therefore more likely to discover products they love and are suitable for them.
Convenience: Sephora offers convenience to customers, whether in-store or on the web. It is simple to navigate and easy to use. Features include virtual try-ons and same-day delivery.
Excellent customer service: Sephora is known for its excellent customer service. Whatever problems a consumer may have with an order or a product, Sephora can fix them.
Sephora's app is a very popular app. Here are some details that you may not know about it.
The app includes a virtual makeup tool, which allows users to try on the makeup virtually and see how they look.
App offers personalized recommendations based upon past purchases and browsing histories.
Users can create wishlists, track their purchases and even make wishlists.
Sephora Beauty Insider members can enjoy exclusive discounts and offers through the app.
How Does Cosmetic Shopping App like Sephora Work?
A cosmetic shopping app like Sephora provides users with a convenient, personalized platform where they can browse, discover and buy a variety of cosmetic products. The app is a virtual shop that offers a wide range of cosmetics, haircare and skincare products from different brands.
Apps usually include features like search filters, product categories and user reviews that help customers discover specific products, or find new ones, based on preferences. Many cosmetic shopping apps use algorithms to recommend products based upon past purchases, browsing histories, and ratings.
Users can create an account on the app in order to track their orders, save their preferences and receive personalized suggestions. The app integrates payment methods, which allows customers to conduct secure transactions within the platform.
Some cosmetic apps offer virtual try-ons, which use augmented reality to let users virtually test out products such as makeup shades and hairstyles.
Read More: Cost to Make an E-Commerce Website
How Does Sephora Make Money?
Sephora's business model is based on direct sales to customers and retail sales. Sephora makes its money by combining retailing with the sale of brand products, whether online or in stores.
● Retail Sales
Sephora's profit is largely derived from its retail business. Retail sales for the company in the United States alone could reach up to 5,01 billion dollars by 2020. Sephora uses a strategy where it purchases products at wholesale prices directly from brands, saving up to 65% on retail.
It then sells them at the same price as the brand, thereby maintaining costs and earning. Sephora partners with celebrities and smaller brands to bring new products to its customers and attract new ones. Sephora can increase its revenue by becoming the exclusive retailer of these businesses.
● Brand Products for Sale
Sephora Collection is its own brand, in addition to selling other brands and companies' products. Sephora Collection is known for its affordable beauty products. The 12-Hour Contour Pencil Eyeliner is one of its most popular products. The products are priced between $6 and $20, and they provide a steady source of revenue to the brand.

Leading Mobile Apps like Sephora
In this section, we will explore the top shopping apps like Sephora that are ruling the beauty market. So lets have a look:
● Ulta Beauty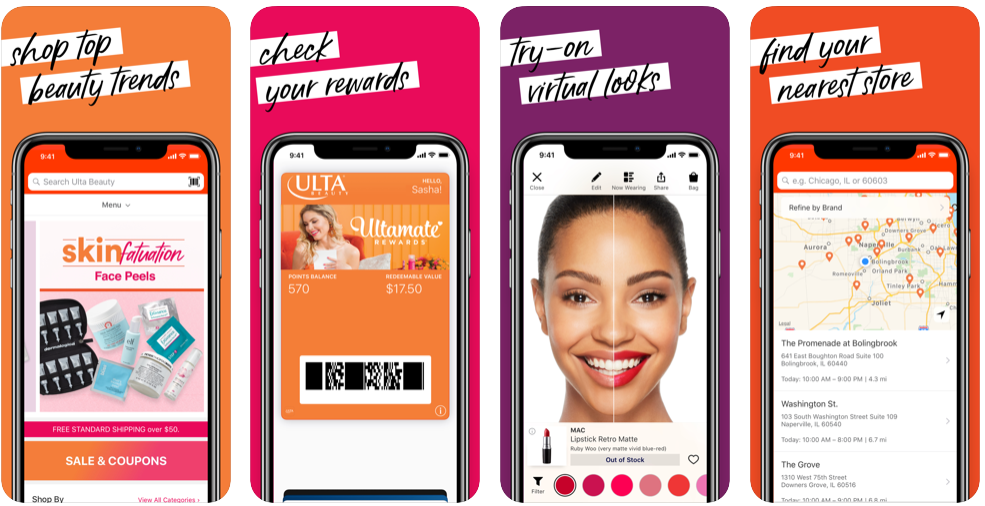 Ulta Beauty, a popular beauty retailer, offers a variety of cosmetics, such as makeup, skincare and haircare. Ulta's Beauty App offers a similar experience to Sephora. It includes features like personalized recommendations, virtual trying-on tools and easy mobile ordering.
● KIKO MILANO
A variety of items from its own brand, including lipsticks, brow pencils, foundations and eyeliners, are available on the KIKO MILANO app. You can read reviews, discover deals, and get a cheap beauty haul with this app. The app also has a news area where new and distinctive KIKO products, collections, and upgrades are documented.
● Nykaa
Nykaa is a popular cosmetic shopping app that offers a wide range of beauty and wellness products. It provides a seamless shopping experience with a vast selection of makeup, skincare, haircare, and personal care items from both Indian and international brands. Nykaa also features product reviews, tutorials, and expert advice to help users make informed purchasing decisions.
● Sugar Cosmetics
Sugar Cosmetics is a makeup brand that also has its own shopping app. The app showcases Sugar's extensive collection of cosmetics, including lipsticks, eyeshadows, foundations, and more. It provides a platform for users to explore and purchase Sugar's trendy and high-quality products. The app offers features like product details, customer reviews, and easy checkout options.
Key Features to Add in a Cosmetic Shopping App Like Sephora
It is important to remember that when it comes to on-demand-services app development, the solutions that get dropped are often feature ladened. The following are some of the most important features that will change your story:
● Sign-in
The app can be used to train users. Sign-in to the cosmetic store app is also possible through social media or Google accounts. Signing up only once allows the user to log in and browse the app at any time.
● Customer Service / Help and Support
The iOS or android app development services providers will integrate a virtual assistant feature that provides support and assistance to customers 24*7 regarding inquiries about products, services and payments.
● Virtual Artist
It's essential to include the virtual artist features in a cosmetic shopping app like Sephora. The main reason for this feature's popularity is because it enables consumers to personalize their purchases. Users may digitally try on lipsticks using this tool to see whether they suit them. This feature will help customers make an informed decision about a product.
● Location-Based Messaging
It is a remarkable feature that allows the app to send messages based on location to customers living nearby. App users will also receive relevant notifications and messages as they near a Sephora store. Location-based messages can include exclusive mobile offers, events in the store and more within the location based mobile app.
● Personalized Alerts
App sends notifications and alerts based on the user's preferences regarding review points, upcoming events, and new product launches. This feature allows users to stay updated, and app owners can gain new customers by increasing user engagement.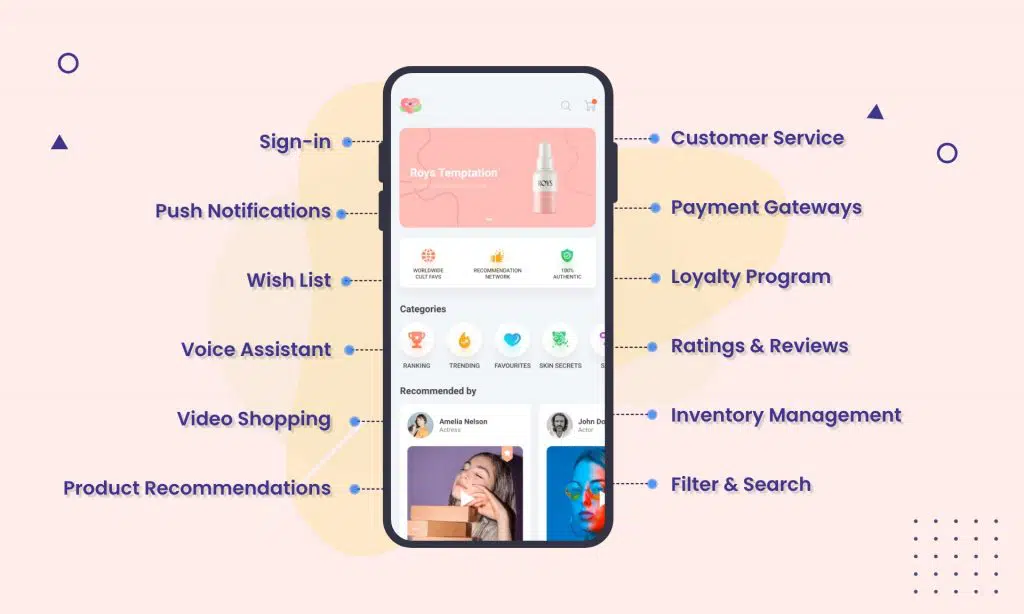 ● Beauty Quiz
Some users may find it difficult to choose the right beauty product. Beauty products apps can help customers with this problem by providing a beauty quiz. A beauty quiz can help customers find the right cosmetics for their skin and make the best choice.
● Wish List
When you build ecommerce apps, you must add a wishlist feature to save users time and help them choose from a large number of products. The wish list feature helps users to separate products that may be out of stock, as they can add the items in their cart when they receive notification that the products on their wish list have become available. 
● Voice Assistant
Voice assistants are a great help to busy buyers. The voice assistant will help them to get the product by simply giving commands.
● Video Shopping
It is one of the newest features that are being highlighted in the e-commerce app development phase of beauty services apps. Customers benefit from a more personalized purchasing experience thanks to this feature, which lets them see how the product appears on them.
● Product Recommendations
This feature offers customers product recommendations based on their browsing preferences. It also gives styling and beauty advice for a more customized shopping experience.
● Payment Gateways
The more online and offline payment methods are integrated into the app for the cosmetics store, the higher the chance of success. Payments gateway integration must be convenient for app users.
● Loyalty Program
This feature is designed to increase the loyalty of customers by providing them with additional benefits such as cash back, rewards points, vouchers for discounts, and codes. This is a fantastic way to keep people using the app for a longer amount of time.
● Ratings and Reviews
If customers provide ratings and reviews, the on-demand app will be more likely to receive customer responses and increase purchases. Customers are more inclined to buy anything after reading ratings and reviews from previous buyers. It is a key feature of beauty store eCommerce apps.
● Chatbot
Chatbot features can enhance the user experience and provide valuable assistance for your app. So if you want to integrate chatbot features in your app, then it is recommended to consult with a chatbot app development services provider.
● Inventory Management
This particular feature helps in tracking a record of the out-of-stock products to improve the efficiency of the app by making the products available to the users.
● Filter & Search
Filters are essential when it comes time to sort and divide products according to a person's preference and choice. To provide a more user-friendly shopping experience, the on-demand eCommerce platform developer ensures that all filters are available with multiple categories.

Tech Stack Used in Cosmetic Shopping App Like Sephora
Sephora is the best shopping app for your E-Commerce business. However to build an app like Sephora, you are required to have a tech stack. So, we have mentioned the crucial tech stack that a development team can use for building an app.
| | |
| --- | --- |
| Component | Technology/Framework |
| Front-end | React Native, Flutter, or native app development (iOS and Android) |
| Back-end | Node.js, Ruby on Rails, or Django |
| Database | MySQL, PostgreSQL, or MongoDB |
| API Development | Express.js, Ruby on Rails, or Django Rest Framework |
| Cloud Storage | Amazon S3, Google Cloud Storage, or Azure Blob Storage |
| Payment Gateway | Stripe, PayPal, or Braintree |
| Search & Filters | Elasticsearch, Algolia, or Solr |
| Push Notifications | Firebase Cloud Messaging (FCM), Apple Push Notification Service (APNs) |
| Analytics | Google Analytics, Mixpanel, or Amplitude |
| Chat & Messaging | Socket.io, Firebase Realtime Database, or Pusher |
| Order Tracking | Integrations with courier services (e.g., APIs of UPS, FedEx) |
Steps to Make a Cosmetic Shopping App Like Sephora
The cosmetic shopping app development process is not a simple one. Given that it necessitates extensive planning in advance and numerous resources, it is a somewhat complicated and challenging undertaking. So as per the AI Development services provider, below are the entire process step-by-step for creating a cosmetic shopping app like Sephora.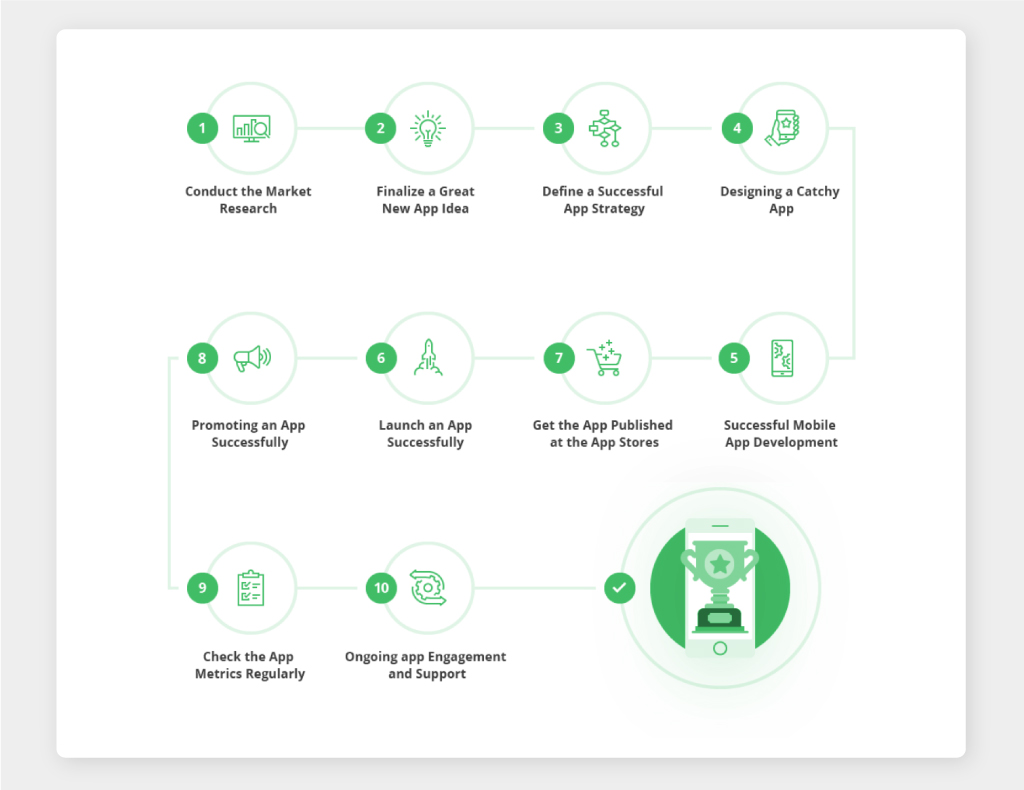 1. Market Research and Analysis
Market research is the first step in building a cosmetics shopping app similar to Sephora. It involves gathering data through user interviews, market research, and examination of consumer trends and target audience behavior. After you have done thorough research on the market, you can better determine what features and app development platform you need for your sephora-clone application.
2. Set your Goals
How you set goals will determine the foundation of your app. Focus on the SMART goal (Specific Measurable Attainable Relevant Time-bound) You can use the following questions to help you set SMART goals:
What are your goals?
When would you like to achieve it?
How will you evaluate the results?
3. Select the Right Platform
Determine which platform is most appropriate for your business model. You can decide whether to launch an iOS app or Android one by having detailed information on the CMS, inventory and database.
However, it goes without saying that you should investigate this kind of platform. Cross-platform development is an option if you want the application to be released on both platforms.
4. Choose the Right Feature Set
You have done the research and know how to beat your competitors. Now it's time to determine what features will satisfy your users. Sephora, for example, should include features such as push notifications, social integration, ratings and customer reviews, alternative payment methods, faster and easier checkout, wish lists, synchronization and more.
Before implementing any advanced features, make sure you've implemented all the basic features by taking assistance from a shopping app development services provider.
5. Create an Appealing UI/UX Design
The experience of the customer in a cosmetic shopping app like Sephora should be superior to that in a store. Design is your only voice. Creating a good UI and UX will keep customers glued to the app.
Design appealing visuals and color schemes. Smoother transitions are also important. You can use these features to make an impression on users. If your beauty products business app has an appealing user interface, your customers will be able to browse the products and make a purchase more easily.
Read More: Progressive Web Apps for Ecommerce
6. Build Your MVP
You will need to create an MVP in order to raise funds for your app. MVP involves building your app's basic structure and testing its functionality with minimal features before releasing an original version. A MVP allows your business to test the concept with real users, and can raise funds for their original app.
7. Conduct User Testing
You should test your app with users before launching it to see if you are ready to launch to a larger audience. Let them interact with the functionality and interface of your app.
Analyze whether your users are able to interact naturally with your product. Additionally, see if it is simple and understandable for those who have never used the system. QA testing is a good way to check for bugs and glitches.
8. Launch and Market Your App
After you have successfully completed the user testing phase, you can move on to the next stage, which is the launch of your app. You must comply with Apple's or Google's guidelines for developers before your app can be launched in the app store.
You should also align your monetization strategies with their needs. You can market your Sephora-like cosmetic app on social media once it has been successfully launched in the app store.
9. Ongoing App Maintenance and Support
The next step involves fixing any issues or defects that users may encounter, frequently checking the app's operation, and ensuring its security. It also requires releasing updates to improve the app's features and user experience in response to user feedback and industry advancements.
So if you want to update and integrate features and functionalities in your app, it would be better to take assistance from an application maintenance and support services provider.

Cost to Build a Cosmetic Shopping App Like Sephora
The mobile app development cost for shopping app varies from app to app because different businesses have different goals, visions and needs.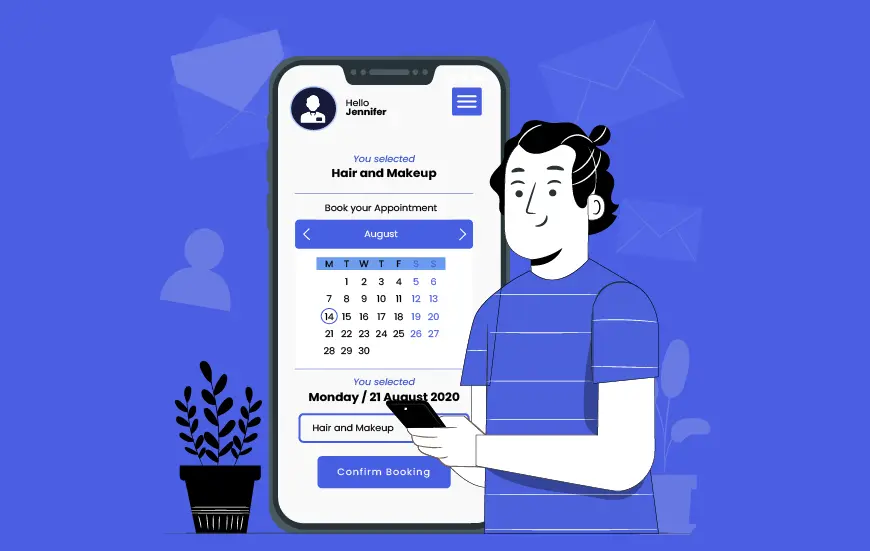 The cost to develop a cosmetic shopping app is dependent on several factors, including
App Features
Customization Level
Developers' hourly rates
Platform for app development
Third-party integration and plugins
The cost of developing a Sephora-like app for cosmetics and skincare can range from $8000 to $25000. You must hire mobile app developers if you're still unsure about the cost. They will be happy to help. Be clear with the developers about what you want in the app.
Conclusion
Sephora's app is a revolution in the cosmetics and beauty industry. The app has been able to capture the market within a short time frame with its customer-focused services. The cosmetics industry is expanding its roots and growing every day.
This is a great time for those who wish to create a cosmetic shopping app like Sephora. The mobile app market is growing rapidly, so developing a beauty app can help your business grow. You can speak to the developers or mobile app development company if you are looking to build an amazing app like sephora for your business.
Frequently Asked Questions
1. How Do You Start the Process of Developing an App for Fashion eCommerce?
In order to start the mobile app development process, bring together your development team after you have built your MVP, and they will create an app similar to sephora. The team should be made up of backend and frontend developers, designers and testers with experience in each job role. The optimum technique for your project will then need to be chosen based on its unique characteristics. You can choose between a waterfall or an agile methodology.
2. How Much Time Does it Take to Build a Cosmetic Shopping App like Sephora?  
The time needed to make an app like Sephora depends on factors like complexity, features and team size. It can take 3-5 months to build and launch an app of this type.
3. How to Build Shopping Apps Like Shopee?
In order to build Shopping Apps Like Shopee, you need to follow the below steps:
Plan features
Choose a suitable tech stack
Design an intuitive user interface.
Develop and test the app.
Integrate payment gateways and APIs.
Launch the app and continuously improve based on user feedback.