Our day-to-day life has been completely altered due to a pandemic situation that we humans didn't expect for our complete lifetime. Social distancing is a must to escape this deadly COVID-19 virus. As a result of social distancing, communication ways have changed a lot with our family, friends, and ambiance.
It is not recommended to go out, have a business meeting, do get-togethers, and so on due to this pandemic situation. To know more about, how much it costs to create a voice chat app like clubhouse, continue the blog.
This is where the emergence of social media platforms has created a great impact on the globe. The demand for installing communication apps has increased rapidly and this bloom has led to witnessing tremendous growth, which sounds awesome.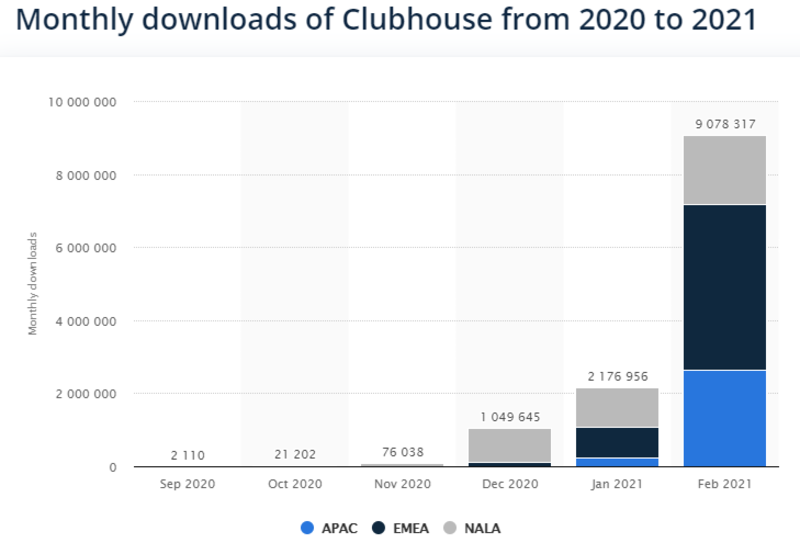 It is a non-denying fact that Facebook, YouTube, Twitter, etc. became the most entertaining social networks among users during the pandemic. That is how users started scrutinizing some new and engaging social media platforms.
This is how Clubhouse grabbed the attention of users that specialize in communication via audio messages. With this striking popularity, Clubhouse has attracted over 10 million users. With this, the top mobile app development company started building similar voice chat apps like clubhouses for a profitable business.
What is A Clubhouse App?
The Clubhouse is an audio-based social media app that officially launched its Ios version in March 2020. With the rapid increase in demand, Clubhouse has stepped into launching its Android version in the United States of America and other major global markets by 2021. The main feature of this voice chat app is hosting audio chats for the users.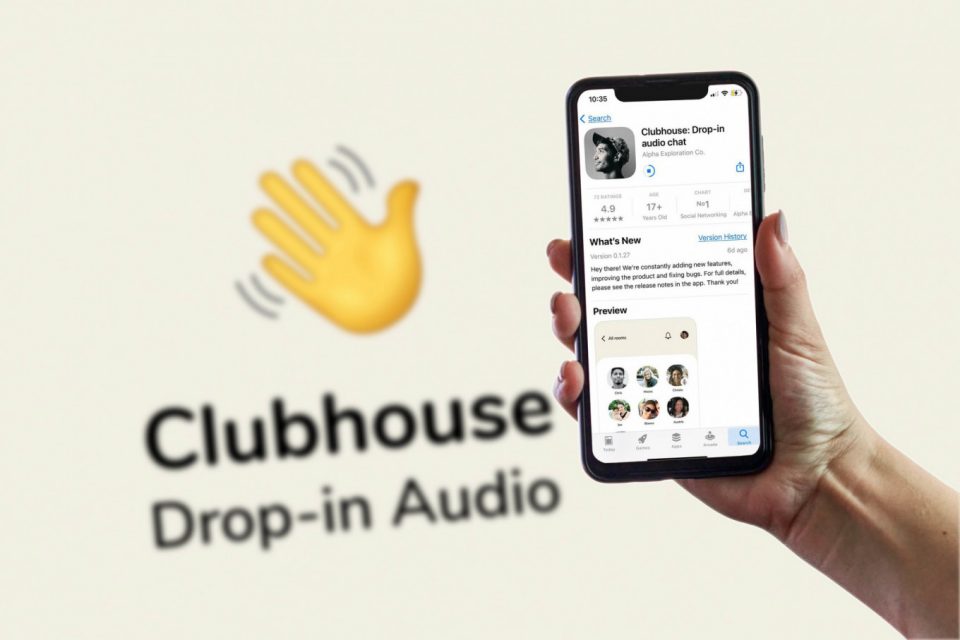 Clubhouse allows you to participate in different conversations under different categories. This app divides users into three categories – the speakers, the listeners who listen to the speakers, and the remaining users who are listening. There will be virtual rooms that facilitate users communicating with experts or communities.
With nearly 5,000 people in a group, users can initiate conversations about any category in the chat room. You cannot install the app by going to the Apple Store or whatever, because this app can be accessible when you are getting any invitations from your friends or someone who is a Clubhouse user. The cost of building a Clubhouse app is based on its features, platforms, and region.
Unique Features To Be Included In An App Like Clubhouse
An app like Clubhouse can be developed by hiring a react native app development company. Within one year of its launch, this app holds the top rating of 4.8 out of 5 in the Apple store as well as 4.4 out of 5 in the Android store.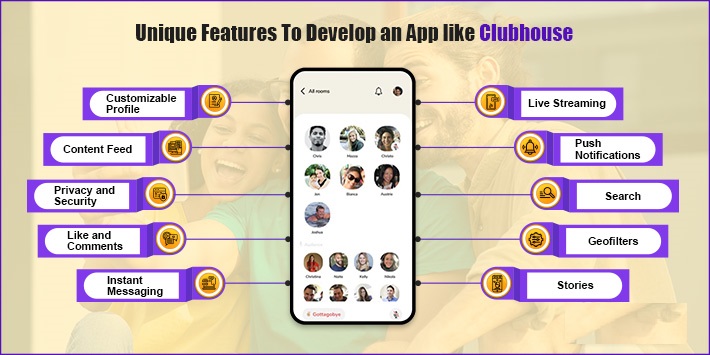 1. Simple Registration
It is an invitation-only app, so the registration process is quite simple. Developing a registration-only app can be built with the help of iPhone app development services.
2. Easy Entry
Once you join Clubhouse you will need to update your name and picture as part of the sign-in process. After choosing which category to enter, pick your choice, go to the room and all is set. When you enter the room of your choice, you will automatically be muted. But, don't worry. You can unmute it whenever you need to share your opinion.
3. News Feed
The news feed allows you to look out for several discussions based on your previous search. The news feed lists out all the different rooms and the people who are in them.
4. Notifications
This push notification informs you about the upcoming schedule for any new events or when new followers enter your chat rooms, and so on. A top mobile app development company always takes care of using notifications in a professional way.
5. Activity Section
By clicking on the Activity tab, you can see details about your past interaction history. Also, you can check updates regarding the users who joined later in the application from your contact lists.

Features Required To Create A Voice Chat App Like Clubhouse
Once you open an app, the need for some features that can be incorporated with a react native app development company is essential to grab the user's attention. What are they?
There must be a search option where you can reach the users as well as the clubs. What is a club? – It is nothing but a group where you can meet your friends with the same interests.
Notifications are mandatory which lead you to inform about the new arrivals of both rooms and the users.
A personal profile that can be made easily by any mobile app development services provider. This profile basically reveals your identity and your friends' identity.
Also, an upcoming event option should be included so that you can be notified of any new events or the events which you have joined.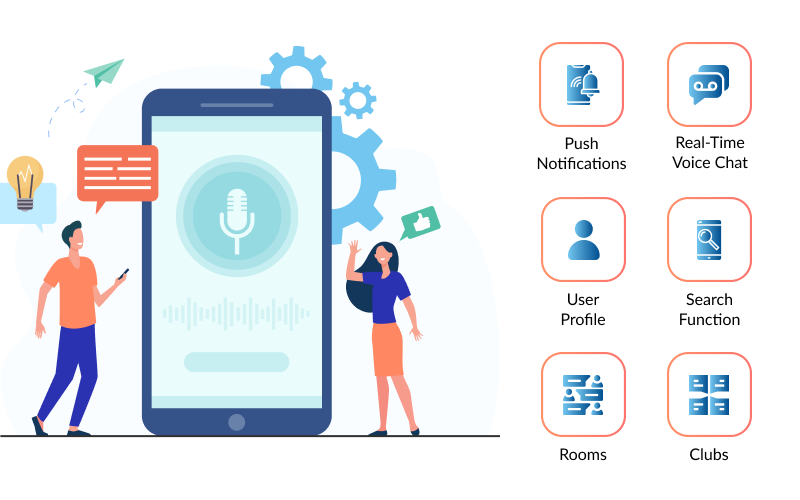 The flexibility to create your room, either private or public, to share your thoughts.
An option for showing a timetable that categorizes the events you wish to join and all the events that will happen.
The facility to check your friends who are available in the contact list.
A notification about the recent event that is going to happen at the moment.
A news feed section where you can see the list of available rooms. Based on your previous search, the news feed can also be displayed.
An option to look for other user profiles.
A search bar that allows you to discover the chat rooms and also the other users.
The above mentioned are some of the necessary features that are needed to create a Voice Chat App like a clubhouse. But, according to the technical perspective, to develop a voice chat app you need
The front-end and back-end support for the mobile app. The front-end includes which platform to develop, either on iOS or Android.
The back-end mainly supports the logic of the app to be developed.
Also, an admin panel helps in moderating the content as well as the users.
Efforts Required To Create A Clubhouse Similar Audio App?
Certain efforts are required to develop a voice chat app.
1. Proper Market Research
To gain users' attention, market research has to be initiated by developers. They should research methodologies used by rival groups to gain user traffic. There must be adequate research that can also be provided by an Angular JS development company for the successful growth of the application.
2. Know Your Target Audience
Knowing your target audience is the crucial point for development. The developers should possess knowledge regarding the problems that may be encountered, the preferences of the users, and also the market research for better results.
The sellers when acquainting with the buyers can gain more knowledge, and the KT (knowledge transfer) when given to the developers will be more helpful for designing the apps according to the customer needs.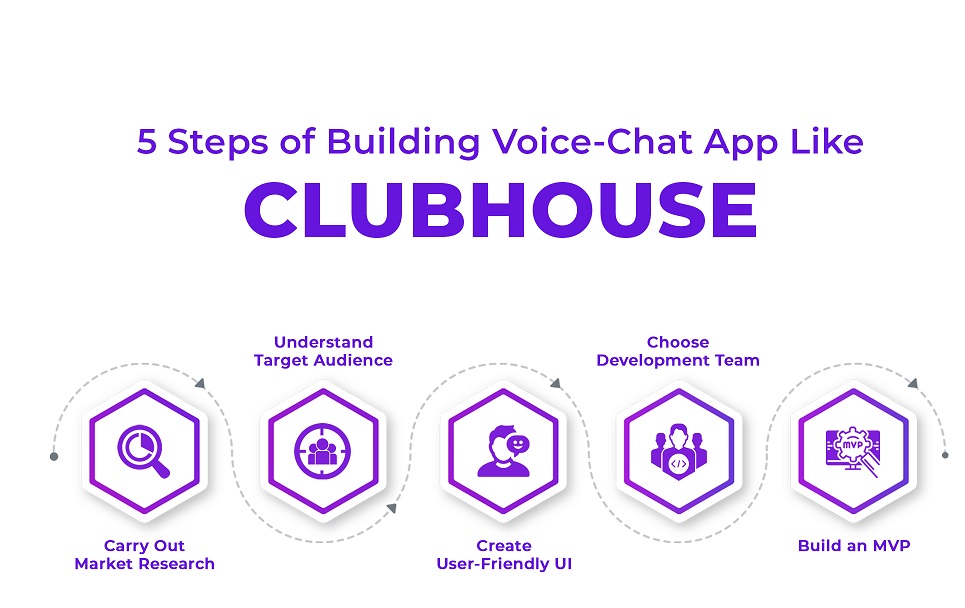 3. Good Design
While developing your app, the designing part plays a vital role in the application's popularity. The design should be unique with attractive and additional features when compared with other apps in the market. The design should grab the attention as well as fulfill the requirements of an audience.
Balancing between the visual quality as well as the smooth functionality is where the challenge starts. It is now the responsibility of developers to get things to work down.
4. Financial Models
There are three financial models available which are freemium – you can download the app at no cost, premium – one-time payment while purchasing the app, and advertising costs. You can opt for any.
5. Formation Of Team & Development Of An MVP
An application development team can be hired to initiate the valuation of the business, the plan, the total cost, and all the technical aspects for the growth of the app. Once it is set, the team moves on to develop an MVP (Minimum Viable Product). This prototype consists of all the key elements that are to be included in developing the product.
Audience feedback is necessary to ensure the success rate which can be done via test runs. Make sure to hire a dedicated developer for your app development to gain more user traffic.
What Are The Steps To Build A Voice Chat App Like Clubhouse?
Developing a Voice Chat App like Clubhouse is not that easy. You have to start working from choosing correct business strategies, an engaging design, appropriate features with accurate functionalities, proper team, till the last testing phase for the app to reach the top of the market.
Let us discuss this in detail below:
1. Business Strategy
If you wish to develop a voice chat app like Clubhouse, it is no wonder you have to first decide what must be your result. The second thing is to decide your target audience. For example, ask yourself questions like are you trying to open private chat rooms, or are you trying to conduct massive podcasts?
With these questions, you will be able to determine who is your target audience, what are all the advantages and disadvantages of developing the app with cross platform app development services. So, a business strategy is a must for the growth of your application.
2. UI/UX Design
When you develop an application with an error, it will be quickly thrown out of the competitive market. Appealing visuals help in retaining your position in the global market. On the other hand, complex and creative designs may lead to bugs as well as crashes which degrades your application in the market.
So, what matters the most is the UI/UX design for your app. It is recommended to hire the best app developers who can balance the design as well as the functionalities for better performance.

3. Choose Your Business Models
You now have a better business strategy and a good design, what is next? – how to make a profit out of your app? At this stage, prediction can be easily done if you understand the requirements of the users. As discussed already, there are some business models that a developer or a cross-platform app development service provider can refer to for Chat App Development.
With this, the users can download your app for free but have restrictions to enjoy only the basic features.
To access the premium features, the users have to pay a one-time fee to avail the premium features. With the help of in-app features, users can opt for various other features and products.
Cost per click allows you to charge a fee when the user clicks on the ads posted by the advertisers. This fee is paid by the advertiser. Cost Per Action – You can collect a fee from the advertiser when users finish some actions like installing the app or registering in the app.
By adding attractive features and functionalities like easy registration, news feed section, notifications, and so on it is easy to develop your app successfully.
4. Team Employment & Testing
To convert your idea into a perfect solution, hire a team of developers or a Angular JS development company who can translate it perfectly. So, before you start to develop your voice chat app make sure to hire skilled developers including business analysts, system administrators, UI/UX designers, front-end developers, back-end developers, and QA engineers.
Also, you have to hire an application tester to check for the application quality. The task of QA engineers is to run your app on different platforms to ensure an excellent user experience.
Cost To Build A Voice Chat App Like Clubhouse
The estimated cost to develop a voice chat app like Clubhouse either on iOS or Android would be around $25,000 and $50,000, respectively. Based on design complexity, functionality, and compatibility, this cost might differ according to different apps.
1. Based On The Platform You Use
If you need your app to run on a single platform, for example, Android, the cost that an Android app development company charges will be lower. But, when you decide to run your app on more than one platform (i.e.) Android and iOS, the implementation cost will be higher.
2. Based On The Design
The UI/UX design of the app must be user-friendly. When you go for the advanced design option, the cost of building a Clubhouse-like app will be a bit more, but it will be worth it.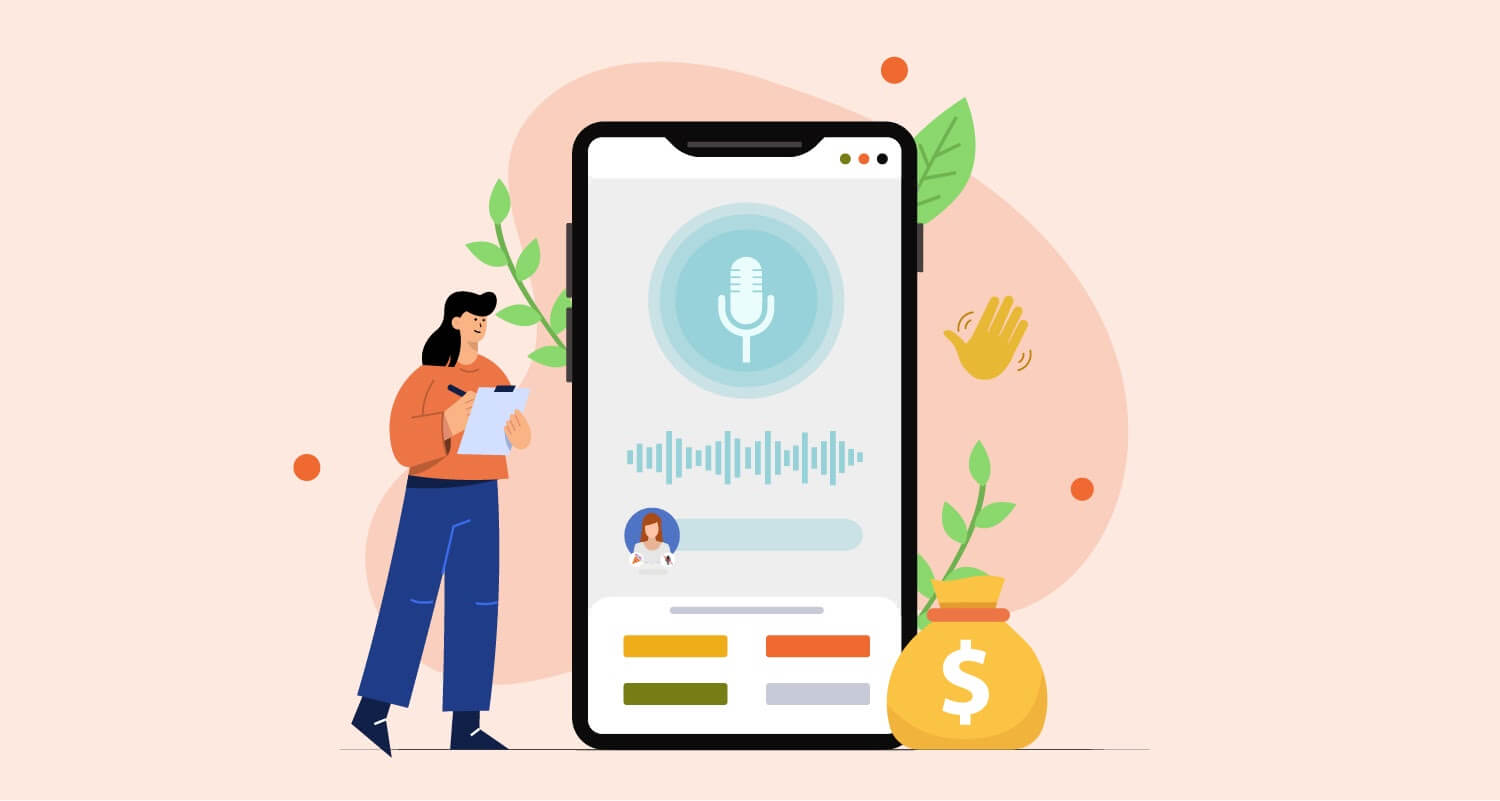 3. Based On The Team Size
The presence of an in-house development team is good but make sure to ensure the team size. If there are no required team members or a lack of skilled members in the team, try to hire either full-time or contract basis employees for better results. The cost will increase depending on your selection.
4. Based On The Location
The cost may vary according to the location of the mobile app development services provider you hire. The cost may vary according to their experience, and the brand value. Start-up companies may charge low, medium-level organizations may charge a little bit more, and finally, branded top companies may charge more.
The voice chat application's development time may change according to the complexity level of the application. According to complexity levels, it differs. It will take nearly 3 to 5 weeks to develop an app with basic complexities.
Nearly 5 to 8 weeks for an app with medium complexities, and more than 9+ weeks for an advanced complexity app. If you wish to connect your users with different service providers or service providers with different users go for on-demand app development.
Conclusion
So, if you are the one who is in need to develop a Clubhouse-like voice chat app, hire skilled talents from the best Android or iPhone app development services company for the platform. Due to this pandemic situation, the usage of voice chat apps has increased rapidly. So, businesses are now mainly targeting this market to look for profit by developing voice chat apps like Clubhouse.