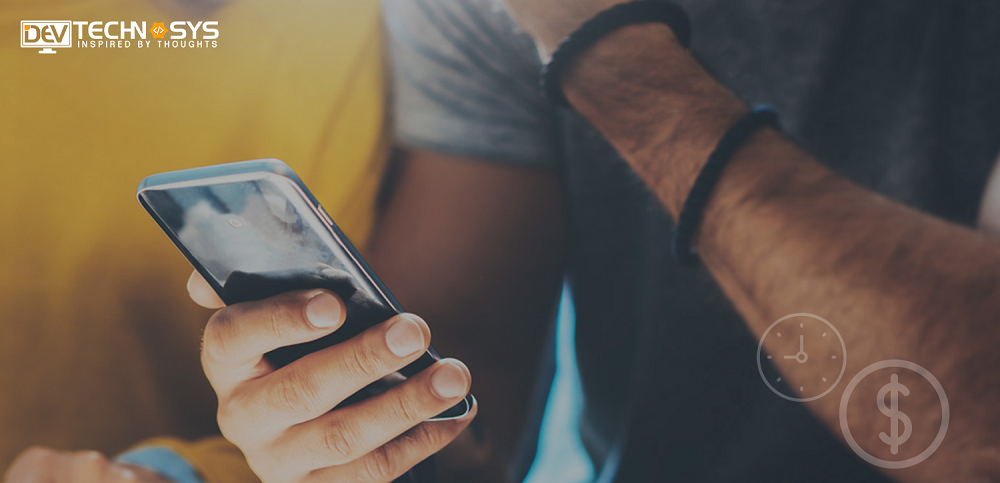 Mobile apps have penetrated deeply into in our lives. We have seen a sudden surge in various mobile apps being utilized in a variety of domains. On-demand services are becoming the latest craze in the market. These services allow users to search, order and book products and services at their own comfort from their homes. Some of them offer exciting opportunities to learn more about different aspects.

Some of these apps of on demand services are education apps, restaurant management apps, real estate apps, and online ticketing apps. Each of them has distinct features and characteristics. Knowing the cost of development of these apps is crucial for any business trying to venture into on-demand services like these. Let's look at the features of these apps along with the time and cost of development.
Related Blog: Know About Industry standard for app development
Source: Statista
Education App Development
When it comes to education app development, you need to decide various features that you wish to inculcate in order to target particular users and institutions. An education app provides comfort for the students to learn various subjects in an innovative and interactive manner. Here is the features of a quality education app.
1. Details of Course
The syllabus, of course, sessions, learning lessons, learning teams, calendar, workshops as well as assignments are required to be included as separate modules in the entire structure of the education app. This might include weekly or semester format or different learning unit that can easily be downloaded by the students. The students should be able to access all of the study materials seamlessly in both online and offline mode.
2. Notifications
It is important to keep the students updated about the course that they are learning through real-time notifications. You need to plan a separate section to manage the notifications in the education app.
Related Blog: How Much Does it Cost to Build an Educational Mobile App
3. Discussion Forum
It allows the students as well as faculties to have effective communication to have common subject discussions through their smartphones, tablets or any handheld device at any time and from anywhere.
4. Messaging
This functionality allows both the students as well as teachers to communicated in an effective and comprehensive manner. It also allows the students to send messages to their teachers easily and it even allows the teachers to easily filter various student messages according to their names and respond to their queries accordingly.
Time and Cost of Development of Education App
Unlike other types of mobile app, the inherent expectation related to the educational app are very high. So, you need to put extra efforts, time and money to outline the features and develop an education app. These above-mentioned features are required to be included in the app. Each feature requires a certain amount of time and money to get them introduced. On an average, it takes 100 to 500 hours of development time. Time and Cost of education app development is based on the choice of platform, developers' cost, testing and quality assurance. Each feature has its own associated cost. On an average, an education app development can cost around $1,000 to $5,000.
Restaurant Management App Development
Oline activities have received a major boom in recent times, and they have become quite popular. Different applications are created to allow the users to book and order services from their homes. The food industry is being revolutionized by restaurant management apps. These apps can easily be accessed by the users to place their food order to any restaurant. Let's look at the features of such an app.
1. Login and Registration
A restaurant management app should allow the user to register online. After registration, the user can log in to view the list of various restaurants that are located in a particular place.
2. Search Option
It should allow the user to search the restaurants' various offerings. It should have a list of all the restaurants serving different cuisines from a user can choose from. This search option allows the user to pick the restaurant on the basis of the food provided by it.
Related Blog: Top Web Design Fundamentals of Restaurant and Food Chain Websites
3. Menu
It should have a menu of all the dishes and cuisines that restaurants are offering. A user can easily choose any particular item to order by browsing through the menu and order from home.
4. Pricing
A restaurant app should have price listing of all the items that are offered by the restaurants. It allows the user to choose from a variety of restaurants to order food that suits their budget.
5. Payment Options
It should have multiple payment options. It should allow users to pay in cash, online payments through credit and debit card and even net banking. It adds convenience to the users.
6. Order Status and Tracking
A restaurant app should allow the user to check the status of their order. It should also allow the user to track the location of their order to know the expected time of delivery.
Time and Cost of Development of Restaurant Management App
Time to develop restaurant management app depends on the time of inculcating all these features. It takes nearly 300 to 500 hours to develop such an app with the above-mentioned features. Cost of development is also duly dependent on the choice of the platform, technology used, features of the app, cost of developers and testing etc. On an average, restaurant management apps can cost around $4,000 to $10,000.
Real Estate App Development
If you are in real-estate business, then you can benefit from a real estate app. It provides a variety of features and functionalities to manage properties and allow the users to search properties according to their budget and preference. Let's look at the features of a real estate app.
1. Property View: 2D and 3D
A real estate app should provide 2D layout and 3D view of the entire property as it instantly appeals the customers. It also allows them to have the entire knowledge of the property that they are interested in.
2. Map
It is a good idea to show the location as well as routes along with inbuilt map facility. It allows the user to know about the surroundings and access to transportation of the property.
3. Broker Details
A real estate app should provide all the details of the broker. It should show the contact information of the broker of the user's desired property.
4. Social Sharing
This feature allows users to share their properties for sale or rent on social media in order to attract more buyers.
Related Blog: How Much Does it Cost to Build a Real Estate Mobile App
5. Image Gallery
It allows the users to view all the associated images of the properties.
6. Geo Location
It allows the user to find the nearby properties. This feature leverages the GPS location of the smartphone of the user and allows location-based house hunting. It also allows the user to see the properties for sale nearby their current location on the map in real-time.
7. Push Notifications
This feature allows you to keep your users engaged. You can send special offers, news, events, and details of properties through your app to the users.
Time and Cost of Development of Real Estate App
The time as well as the cost of real estate mobile app development depends on the size along with the complexity of the app. When it comes to the time of development, it takes 600 hours to complete technical documentation, UI/UX design, frontend and backend development, and testing. The cost of development of a real estate app with the above-mentioned features can range from $10,000 to $35,000 for a single platform.
Online Ticketing Software Development
Everything has become easy with mobile apps that allow the users to book rides, order food and buy tickets for events. These apps have provided convenience to the users to accomplish various online booking tasks from their smartphones. In recent times, online ticketing software development has received a major boom. An online ticketing software needs to have relevant features and functionalities. Let's look at them:
1. Registration
The user should be allowed to register by submitting basic details such as name, email, phone number and password.
2. Login
Once the user has duly registered into the app, he should be allowed to login using his login credentials such as phone number, email and password. He should also be allowed to log in through his social media accounts.
3. Choosing Location
Once the user has arrived at the home screen, he should be asked to share his location from the placed that are listed either manually or automatically through GPS. After the location is selected, the user should be allowed to navigate to the home screen.
4. Home Screen
Once the user is at home screen, he can now view all the ongoing as well as upcoming events, shows which are duly categorized as movies, plays, sports, concerts etc. As the user taps on any of the section, he should be allowed to navigate to the entire detail screen of the, particularly chosen category. The home screen should consist of offers, events, deals, movies, setting, language and notifications along with the location.
5. Booking Shows
The user should be allowed to book a ticket by simply tapping the Book Ticker button featured in the app. The users should be provided with show list, timings as well as allowed to choose show time under a specific cinema, pick the desired seat, number of tickets and then book it.
6. Booking Screen
In this section, the user can view the entire order summary that consists of show name, date and time, ticket price, venue name, seat number as well as view and confirm the email ID and phone number.
Related Blog: How Much Does it Cost of an Event and Ticket Mobile App Development
7. Rating
The users should be allowed to rate the show by choosing a particular show or movie from all of the ongoing shows. It should allow the user in order to rate the shows by giving stars or leaving text comments.
8. Real-time Booking
This feature should allow the user to easily book the ticket at a convenient time as well as receive instant confirmation of his booking.
9. Multiple Payment Options
This feature should allow users to easily make payments within the online ticketing software to purchase tickets for movies, shows, concerts etc. For the multiple payments, various modes can be integrated like Credit and Debit cards, PayPal, Stripe etc.
10. Integrated Calendar
This feature is very useful for users. They can manage their calendar using the customization feature that allows them to keep track of their own schedule as well as remain prepared in advance.
11. Integration of Google Map
It allows the users to know the route between the source and destination. Using this particular feature, the users can easily find where the location of the event exactly is and can even find the most optimized routes. It allows the users to add their own favorite places which save the hassle of starting it again and again.
Time and Cost of Development of Online Ticketing Software
On the basis of the features, technologies involved and choice of platform, the time of development of such software can range from 500 hours to 1500 hours. The cost of the online ticketing software is dependent on basic as well as advanced features, chosen platform such as Android, iOS, along with APIs, hosting languages, the complexity of the app. An online ticketing software with reasonable features can easily cost around $10,000 to $30,000 for a single platform. If you need to develop for both the platforms, it can cost you around $45,000.
Conclusion
On-demand services have revolutionized various industries. They have provided the power to the users to buy services from their doorstep. They can receive the products and services right at their doorstep. These on-demand services allow users to easily order anything from booking a cab, ordering food, buying a property and even booking tickets for movies and concerts. The above-mentioned features are the must-have of on-demand apps. The time and cost of development of these apps are duly mentioned above. Considering this, you can easily develop an on-demand service app that you wish for your business.