Are you involved with the education sector or own an education & training institute and looking for education app development? If yes, then this blog will help you go through the features that you can include in your next education app, and also, you will also get an idea about the cost of developing an education app. Although providing education and learning to others is noble work.
On the other hand, revenue generation is also required which you can do by launching an innovative education and training app. The better way is to hire mobile app developers who have in-depth experience in developing educational apps.
The education sector is rapidly progressing with emerging trends such as Artificial Intelligence, Machine Learning, and natural processing. Most of the apps now offer innovative features to the users to create the best user experience.
Online education came into existence with slow growth before the Pandemic but gained its momentum during the global lockdown when the whole world went on a halt. Due to the fear of infection, people kept themselves at home, and all activities stopped for a long duration. Then some segments went online immediately, such as healthcare consultation, food ordering, grocery shopping, and education as well.
It was the time when multiple solutions were introduced to this world in which online educational apps and language learning apps are examples of it. Let's proceed to the next section that reveals some key statistics.
Key Statistics Related To Educational App Development
First of all, here I would like to mention that compared to the other apps, educational apps are more available on Apple and Android platforms.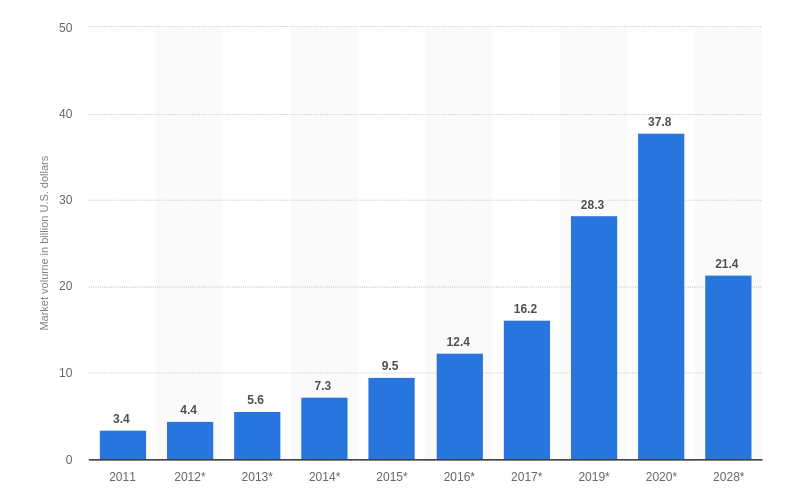 Here are some key statistics that you would love to read about education software-
One of the market research firms, Technavio, published after a survey and research that the education apps market will reach $46.9 with a CAGR of 26% by 2024.
In 2021, the education market revenue was recorded as $10.85 billion, and as per Statista, it will grow to $11.6 billion by 2026.
The global e-learning market will be worth USD 398 billion by 2026.
In 2021, The US e-learning market was recorded as $90 billion.
In the educational app development market, the future will be of AR/VR technology to create the best experience of learning.
Why Is It A Great Idea To Have An Educational App?
Getting an education online is one of the latest trends that has changed the world. After Covid, these apps got a high rise. Now before downloading the app, people search for the best educational apps for 3 years olds, educational apps for adults, language learning apps, best educational apps, or free educational apps to learn the desired things.
So, if you are related to the tech business, you can leverage this trend by launching your next educational app. You can include gamification, microlearning, and exciting features to make your app fantastic in your specific app.
The user must find it interesting, and the app must meet their expectations. If users engage with it in a fine way, then there will be a high chance of onboarding more customers.
What Are The Types of Educational Apps You Can Consider For Development?
Once your next decision has come to the turn for developing an educational app, you must decide which type of educational app you actually want. The educational apps are not actually segregated in terms of their functionality, but in fact, they are categorized as per the terms of their role and objective.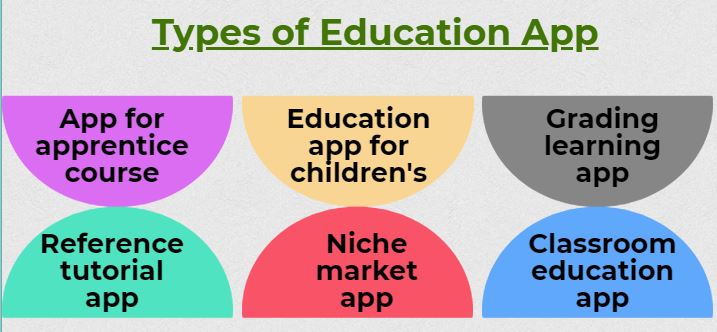 Here are some types of learning apps:
1. Subject Learning App
A subject-learning app is most of the time-oriented to just one context or subject. Few professional courses are also run over this type of app. This app sometimes contains several courses, but in fact, the path stays the same.
2. Multi-Purpose Learning App
Developing an educational app, which are multi-purpose states that the app contains a number of courses? Coursera used to be a subject-specific app, but with time, it has gained huge support from the educational community and evolved as a powerful tool for learning and development. Developing such an app sounds quite interesting, but investing in such an app demands large support and a powerful server to handle the requests.
3. Supportive Apps
Today, education is not just limited to the classroom. The project's files are a big part of the study. A large project demands support. Alongside, there are a few educational apps that help parents in keeping track of their children's studies. In addition, parents easily help their children in the completion of homework.

4. Educational Gaming App
A huge amount of investments is being routed towards educational app development. The study must be interactive and relevant to the real world. Training the student within the gamified environment helps the student in grasping things easier, and the education also becomes easier.
5. Management Learning App
As the name suggests, these apps are oriented to assist in the management work of the institutions. The Admin department of the school generally uses these applications.
6. Preschool App
You can hire an android developer for the preschool app, as these apps are doing significantly well in the market. The preschool market has seen immense growth, and every parent is putting enough time and investment into making their child grow smarter. The pattern of education has widely changed over time, and so is its market.
You can go with any of the above-mentioned ideas. One point you should note is that the cost of developing an education app depends on the type of app.
The Features You Should Consider For Educational App Development
The features decide the fate of the app whether users will like it or not. Here I am going to mention features that you must have in your app to engage the users best and to provide something interesting. It can be divided into two parts: the student panel and the teacher's panel.
So, let's check out these features-
1. Student Panel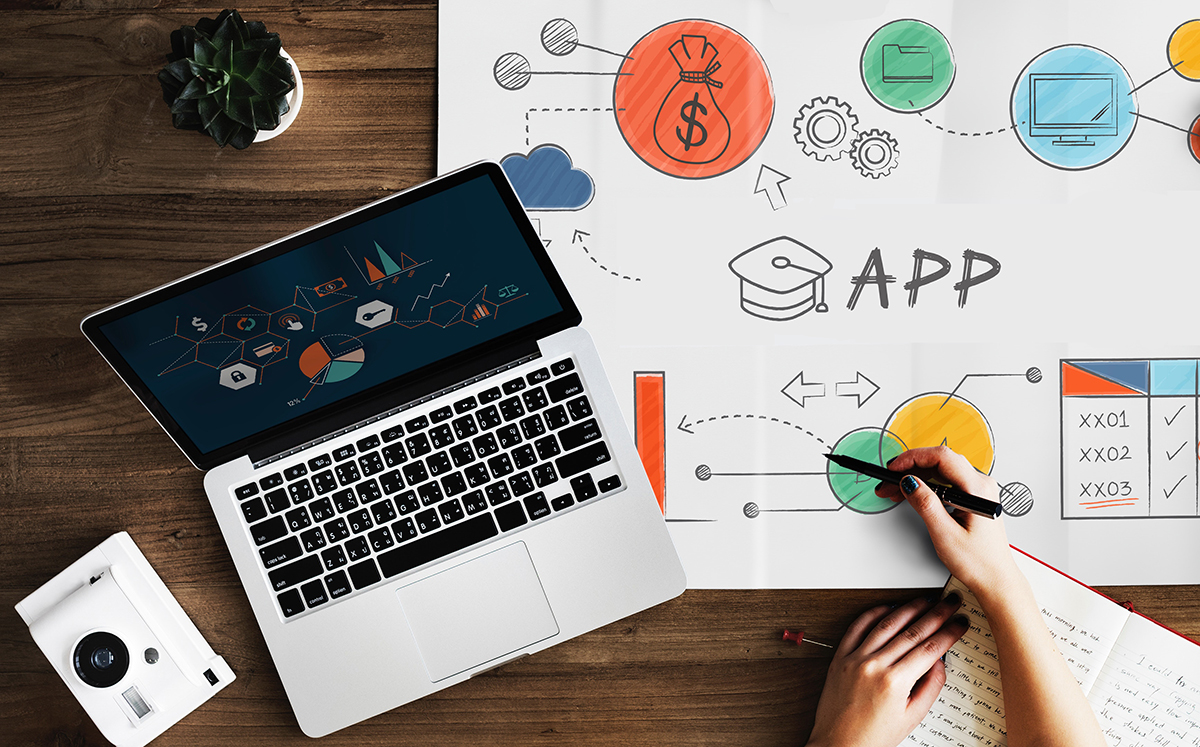 It allows students to register themselves on the app with their email id, phone number, or social media id; once they register, they can log in to the app with their password.
The profile section allows users to showcase their details such as name, contact number, email id, preferred courses, and more.
It would be best to implement the powerful search option so the users or students can search about their desired course.
It allows students to choose their desired courses from the pre-defined list. It will also display the course price with course details.
The users can set their privacy to refrain from other malicious users, if any.
This section will hold multiple payment options so the users can pay accordingly as per their preferred method.
With the help of push notifications, users will stay updated about their course schedule and other study-related activities such as assignment submissions or quizzes.
2. Teacher's Panel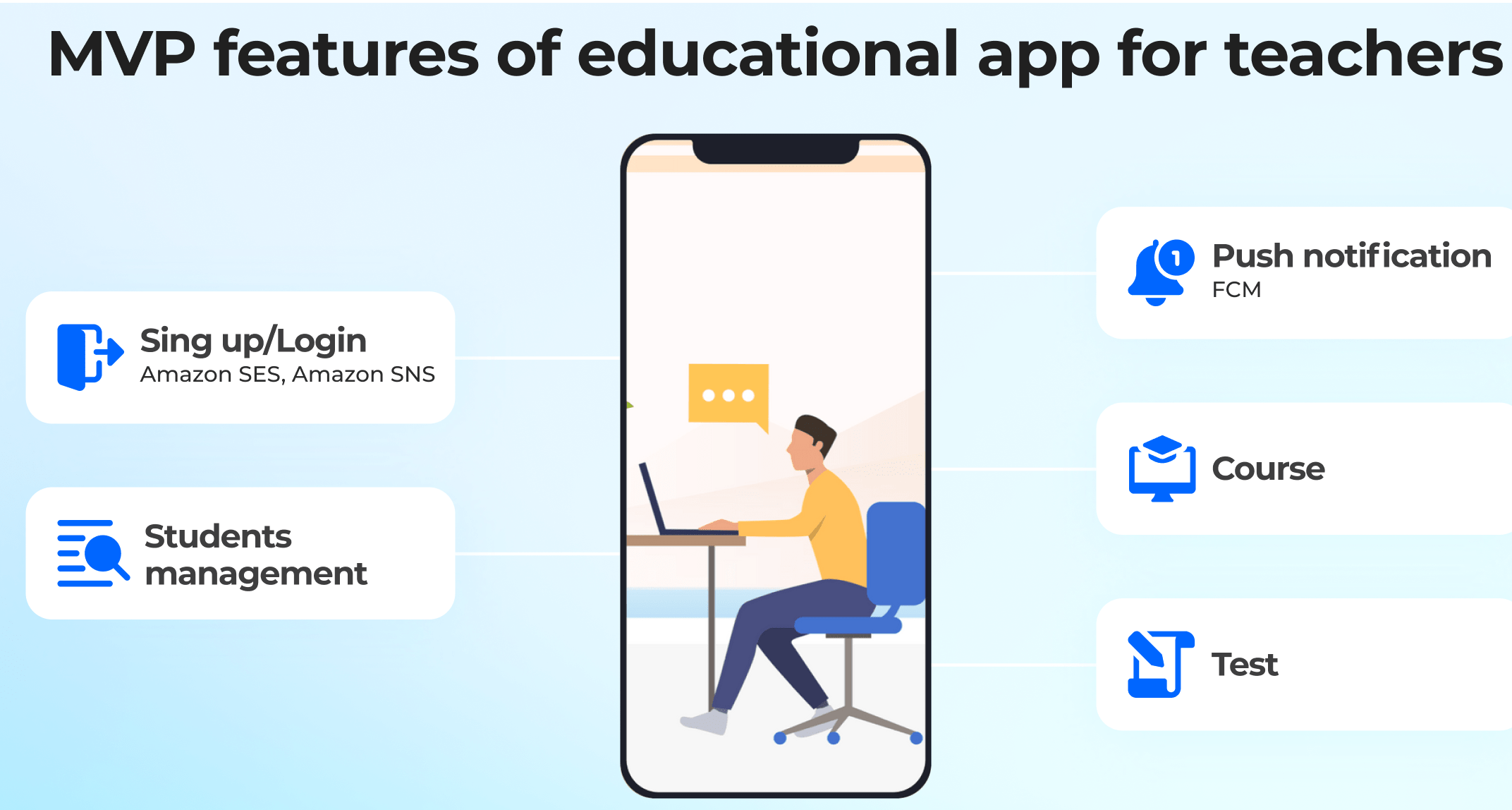 This feature facilitates the teachers to register on the platform with their respective Gmail id, phone number, or social id.
Teachers can easily manage the students via this feature. It includes managing the attendance and class schedule.
It allows teachers to upload the assignment, and they can track the status of whether particular students submit it or not and how many assignments they have given to their students.
Teachers can send the update to their students via push notifications. It can be a message about the updated time of classes or information about the live quiz, or anything else.

Note: There is a major contribution of the features in the cost of developing an education app. It works like with basic versions; the cost remains nominal, but if you want to have some advanced features or want to integrate the APIs, then your educational app's cost will be more.
Some Key Points About Educational App Development
Although we are discussing the cost of developing an education app, here are some key points that you would definitely love to read. These points will give you an idea of why it is beneficial to develop an educational app.
1. Developing An Educational App: The Right Solution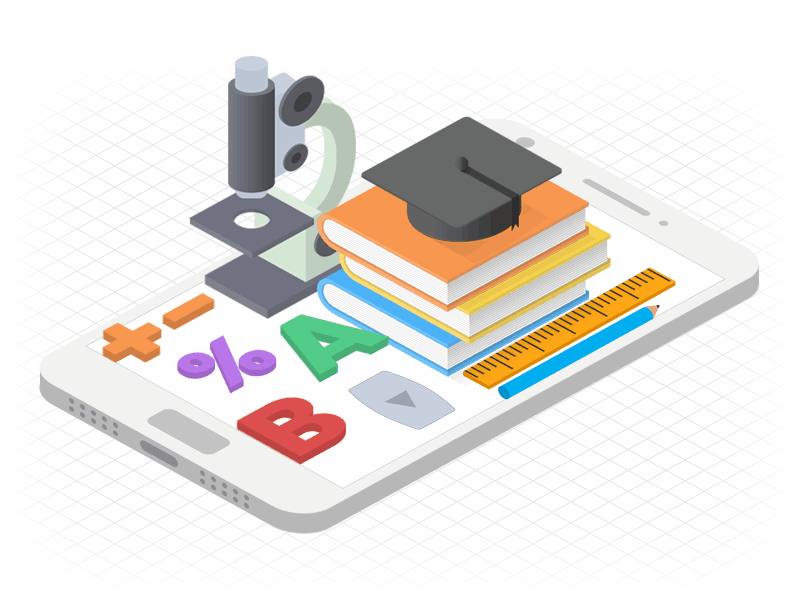 For many years, education has been taking place in classrooms and universities. The technological evolution has transformed the way training used to take place. Technology and its evolution reformed the way students were taught to perceive the subject through the interactive process.
2. How e-learning Bridging The Gap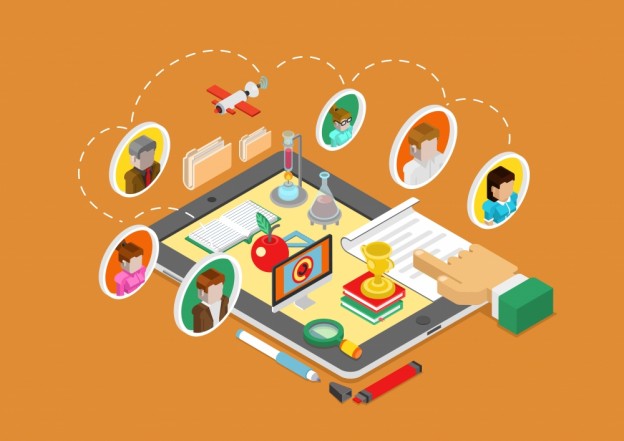 Affordable and Accessible
The world is full of great teachers who possess so much dexterity in their subjects that must be spread around the world. The students with very limited resources do not get the benefits of precious classes. Technology brings valuable education to remote areas and deprived children. Alongside, the professionals are also using the sound knowledge of experts and researchers to incorporate into their business models and processes.
The classroom session is not bound to be interactive. Sometimes it goes in a uni-way direction with a few real-world examples. Therefore, sometimes study is considered boring for such subjects. E-learning app brings an amazing level of interaction with the children.
The easy-to-use application allows two-way communication between the student and the app. This way, the educational content goes in high demand. It has made a number of companies rush to hire android app developers.
An app takes away the limitation of boundaries. 24/7 communication is possible with outreach to fellow students and teachers. Anytime, anywhere is also what mobile apps have transformed studies into.
What Educational App Brings For Students?
Mobile app Development Company brings students a range of features and easiness through an innovative and intuitive educational app. An app, which is interactive and engaging enough, attains huge attention and is significantly integrated into mainstream education. The use of the tablet in children's education is the most practical example of this.
1. Convenient To Operate
The purpose of an educational app is to be intuitive and interactive. These apps are made interactive and quite simple to operate. Most of the time, being an educational apps, they are made available for free or at a lower cost.
2. Complex To Simple
Developing an educational app is meant to be bringing complex concepts into a simpler formation. The hard mathematical terms are decoded into the simpler realistic format, which orients towards finding the real-life applicability of the concepts. The stats say that 63 percent of students prefer to study with mobile apps.
3. Teacher Assistance
The education app development company is not just constricted to the students. There is a lot for teachers that can be offered as a part of the app and increase its popularity.
4. The study is fun
The gamification of the study is a new concept, which is in high prevalence nowadays. The number of learning apps is making education fun for the students, and now they can learn hard concepts too easily. Geography has gone easier, while history has become the story now. Mathematics is taught with real-world examples, whereas science has become more practical.

Cost of Developing An Education App
The education industry is one of the major industries of this world. Before the pandemic, the growth of the online education industry was slow, and only a few users were associated with that, but after it, the industry got a boom. To date, there are 5.8 million or more students learning online via mobile apps or websites.
The educational platform development is trending now that connects teachers, students, and parents on a single point. By using these platforms, teachers are imparting education, and on the other hand, parents can track the status of the study in their ward.

The global education market size in 2020 was USD 77.66 billion, which is projected to touch the figure of USD 169.72 billion by 2028. In addition, other sources such as HolonIQ reported that education will be of USD 10 Trillion industry in 2030. Whatever the statistics say, the point is there is something much bigger about the online education industry than what we are seeing now.
The companies looking for a mobile app Development Company must determine the scope of the app before the design and development work starts. The cost of developing an education app with basic features would cost around $10,000 to $40,000. It may cost you more in case of including advanced functionality and extra-ordinary features.
There are many leading companies in the market. However, the key to finding the best app development company is to look at the portfolio of the company and the success of the previous similar applications.
Before we proceed to read the factors that affect the cost of developing an education app, here, I would also like to mention the hiring models such as hire education app developers on the basis of –
1. Hire Developers Full-time
It allows an individual to hire the mobile app developers dedicatedly, where a developer or a team of developers will work dedicatedly for you.
2. Hire Developers Part-Time
According to this model, you can hire developers on a part-time basis. They will work for you dedicatedly 3-4 hours out of their total working hours.
3. Hire Developers on An Hourly Basis
It works like you can hire mobile app developers on an hourly basis to develop an app. The payment will be according to the total working hours. The cost to hire education app developers on an hourly basis may cost you around $20-$50, and the rest of the things depend on the requirements of the project.
Now let's proceed to the next section that will let you know about the factors that affect the cost of developing an education app.
Influencing Factors To The Cost of Developing Education App
The average cost of developing an educational app is $30 K. You can have a basic education app at this mentioned cost. With advanced features, it will be more. There are some factors that influence the education app development such as-
1. Cost of Resources
The cost of resources is an important factor that influences the cost of developing an education app. If you have an in-house team of mobile app developers, it is fine, but if you need more human resources, it may cost you more.
2. Business Model Type
The business model is also one of the factors that you need to consider while estimating your next educational app. The business model you can follow such as Freemium business model, on-demand business model, eLearning Marketplace, and customized e-learning app. These apps will cost you differently.
3. Platform & Tech Stack
There are two major platforms most popular worldwide, i.e., Android and iOS. Some users are common to these, but the overall percentage is divided into two parts. So, whatever option you choose, you have to spend the cost accordingly.
4. UI/UX Components
Making an educational app interesting, requires fantastic UI/UX components. A certain cost is associated with these components. What kind of components you implement in the app will be reflected in the overall cost.

5. Third-Party Integration
The third-party integration facilitates the developers to provide additional functionality to the app, such as push-notification, SMS API, Payment API, and others. Its integration requires additional cost.
6. Cloud Integration
Cloud-empowered apps are trending due to offering lightweight execution and a variety of features that you would also love to have in your app. But the point is you need to spend the cost for cloud services to integrate into your app.
7. Gamification & Animation
Gamification & animation is the best thing to implement to engage the customers in the best way. It requires in-depth expertise that an experienced mobile app developer for hire has and also some specific tools.
8. App Hosting & Security
Educational apps are being used by millions of users, and most of them are students. So, it is necessary to implement high-security protocols for the security of the end-users which requires a portion of the cost.
9. Support & Maintenance
Support & maintenance are also the factors that affect the cost of developing an education app.
The Final Words
At first, it seems that education app development is too complex and requires an essential requirement from a team of experienced educators. Nevertheless, in fact, once you are on the track of development, things are not so complex.
This blog can help you to estimate the cost of developing an education app and also the features that you can consider including in your next education app. It is advised that for having a fantastic online education app, it is best to hire dedicated mobile app developers.