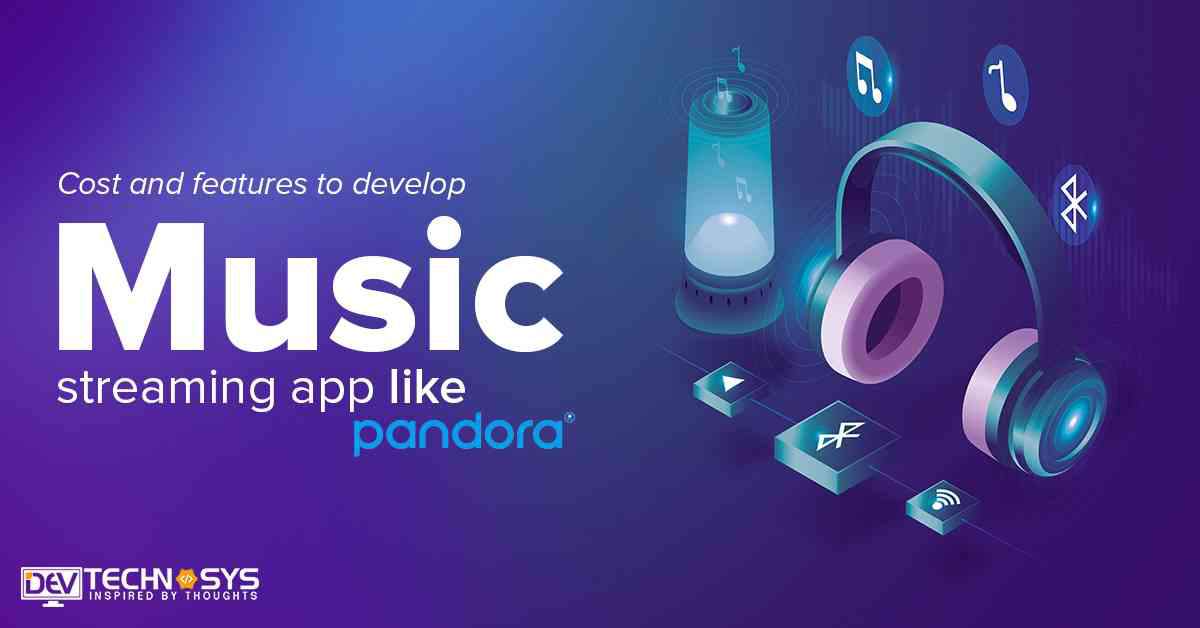 If you are a company and looking to dip your toes into music streaming app development, then you need to consider the cost involved in venturing to do so. Even though music apps like Pandora and Spotify are garnering widespread consumption in the market today, it is necessary to evaluate the cost of developing such an application. First, lets go over some of the basics.
What is a Music Streaming App
Music streaming app is essentially like internet radio. You can search for a song of your favorite artists and the app will play the song you were looking for, followed by songs that fall in a similar genre. A music streaming app identifies your music taste and plays songs according to it. It eliminates and adds songs depending on your feedback, for example, in the form of thumbs up or thumbs down, to curate a playlist that suits your personal taste.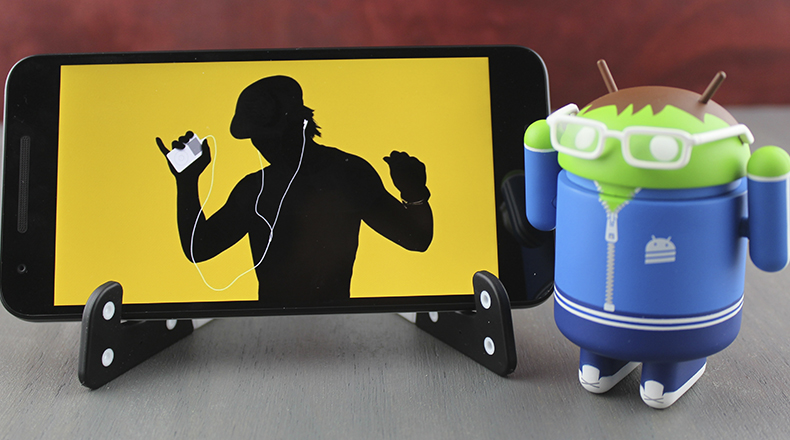 The Cost to Develop an App like Pandora
Music portal development is an emerging market and many people are curious about how much it costs to develop an app like Pandora which depends on the features that you want to incorporate into the application. However, let us consider a basic cost schematic to start with. If we assume that a music app developer would charge the user at a rate of $25, then the cost of developing an app like Pandora would be as follows:
Read the blog: Cost and Features to Develop a Fitness Trainer Finder App
A minimally viable product application with basic features would cost $15,000
Music streaming app for IOS would cost $30,000 or more
Music streaming app for android would cost $45,000 or more
Music streaming app for multiple platforms with the full range of features would cost $55,000 or more.
The frontend of the music portal development would require over 140 hours of work to be put in while the backend development would take a minimum of 40 hours. The UX or UI design is likely to take another 50 hours at least to be developed. It is very important to hire a developer who is experienced and knows the nitty-gritty of the job.
This is important because if the developer fails to understand your brief, and you need them to keep revising the model by making changes, it is likely to take double the time to develop. Developing the app is perhaps the costliest part of the process, so even if a good app developer comes at a slightly steeper rate, you can be sure that they will get it done in half the time and cost you less money in the long run.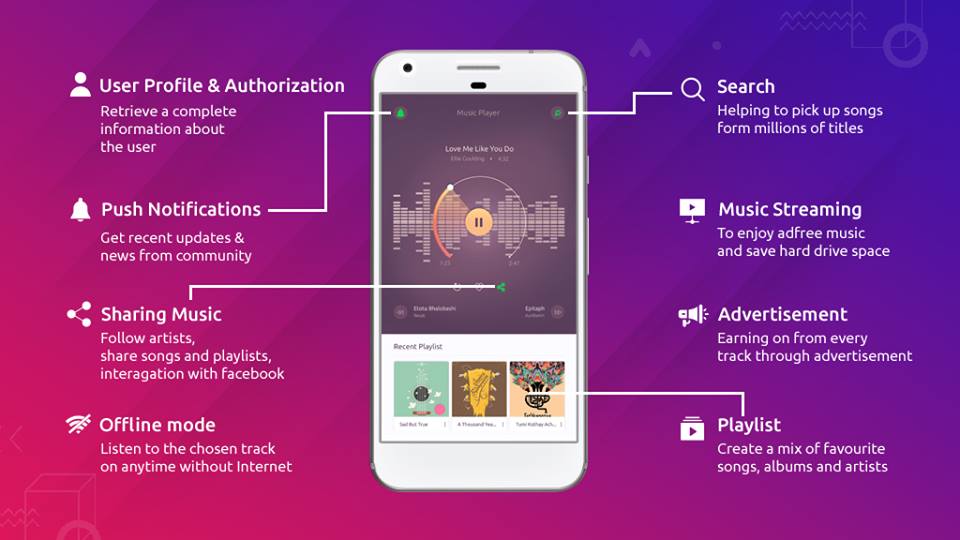 What Features Can You Build Into Your Music Streaming App
The music streaming app development part of the process is the most interesting because this is when you get to decide what features you want your app to have. The features that you build into your app at this stage can be its defining point and mark it as a success or a failed venture.
It is indispensable that your android app development company conducts market research to figure out the demand for specific features. There also needs to be a distinction between paid and free features. The free features need to be enticing enough to get the customer to use your app. The paid features obviously need to be equally enticing to get the customer to actually make the purchase and stick to using your app.
Read the blog:- How mobile apps are Revolutionizing Music Industry?
Below is a list of free features that you could include in your app to differentiate it from the other apps in the market:
The quality music itself
Playing music already installed on the phone
A chatroom or social feature
Playing and organizing your own MP3s
Below is a list of features that you can offer as a part of your paid package:
Taking your music overseas
Playing music from the radio
Disabling advertisements
Playing music without internet
Original/ exclusive content
Better sound quality
Connecting to a sound system
How to Generate Revenue
This is the big money question that most app developers are concerned with, and rightly so. To an amateur, it may be extremely confusing as to how one makes money through an application that can be downloaded for free. Here is the break-down of how your android app development company can make money from music streaming application.
1. Paid subscription
This is one of the two tried and tested methods of generating revenue from music streaming application. The beauty of music streaming apps is that once users download them for free, they get addicted to the luxury of being able to play music anywhere and anytime.
Read the Blog: Cost and Features to Develop Doctor on Demand App like Lybrate
These applications provide you customized music suggestions based on your individual taste which makes users rely on these applications for good music. However, as they keep using the apps they discover certain inconveniences, such as not being able to play music without the internet or being annoyed by too many advertisements.
This is where a paid feature comes in and does away with these problems. Internal application advertisements are necessary for the users to know what features are being offered in the paid version.
2. Advertisements
The great thing about a revenue generation model that relies on paid subscriptions and advertisements is how they go hand in hand. One of the main features that a paid version or premium version of an app offers is that customers no longer have to deal with in-app advertisements. So, users help the developers make money, either by clicking on ads or by switching to the paid version. Either way, you will be bringing in the bucks. Brand deals that fit in with the unique selling point of your application are what helps you generate money and gives users the free music experience they desire.
Conclusion
To summarise, while the cost of developing a music streaming app depends on the features, the minimum cost starts at $15,0000 and can go up to $55,000. There are various features that can be divided into paid and unpaid versions depending on your revenue generation model. Ultimately all it takes is the will to go for it, now that you now know what are the costs and features of developing a music streaming app like Pandora, as well as how to make money from it. All that is left for you to is commission the project.