Calling all love seekers and tech enthusiasts! Are you ready to dive into the enchanting world of digital romance? Join us on a whimsical journey as we unravel the secrets behind building a matrimonial app like Shaadi.com that rivals the legendary Shaadi.com!
In this blog post, we'll unlock the captivating features that make matrimonial app like Shaadi.com an unparalleled platform for finding your soulmate and uncover the hidden costs of crafting such a love-infused masterpiece. From personalized match recommendations to chat functionalities that make hearts flutter, we'll leave no stone unturned in our quest to decode the magic behind matrimonial app development.
So grab your virtual bouquet and embark on this exciting adventure together! Whether you're a tech-savvy cupid or simply curious about the intricacies of app creation, we promise an engaging and informative ride that will leave you craving more. Let the matchmaking madness begin!
What is Shaadi.com?
Shaadi.com is an online matrimonial website that facilitates matchmaking and marriage-related services. Here's an overview of Shaadi.com, including its history and launch details:
Name: Shaadi.com
Website: www.shaadi.com
1. Overview:
Shaadi.com is one of the world's largest and most popular online matrimonial platforms. It was started to offer people looking for marriage partners a practical and effective platform. The website caters to individuals from various religions, communities, and countries, enabling them to search and connect with potential matches based on their preferences and compatibility.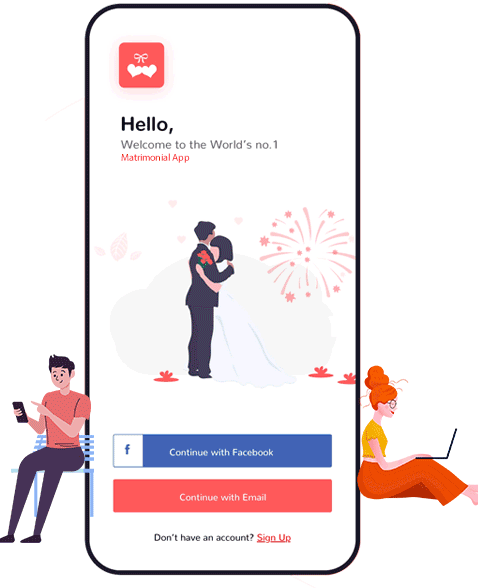 2. History:
Shaadi.com was founded in 1996 by Anupam Mittal. Initially, it started as an initiative to help the Indian diaspora find suitable matches for marriage. Over the years, Shaadi.com expanded its services and user base to cater to a global audience, becoming a prominent player in the online matchmaking industry. The platform has continuously evolved and introduced innovative features to enhance the matchmaking experience for its users.
3. Launch:
| | |
| --- | --- |
| Year | Milestone |
| 1996 | Shaadi.com was founded by Anupam Mittal. |
| 1997 | The website launched its services. |
| 1999 | Shaadi.com introduced paid memberships. |
| 2001 | The platform expanded its services globally. |
| 2002 | Shaadi.com crossed one million member mark. |
| 2008 | The website launched a mobile app. |
| 2011 | Shaadi.com celebrated its 15th anniversary. |
| 2016 | The platform introduced personalized matchmaking services. |
| 2020 | Shaadi.com launched video calling features. |
| Present | Shaadi.com continues to be a leading online matrimonial platform. |
 
Top 8 Apps Like Shaadi.com
Here is a table featuring top matrimonial app like Shaadi.com, along with their ratings, downloads, descriptions, and available platforms:
| | | | | |
| --- | --- | --- | --- | --- |
| App Name | Rating | Downloads (Approx.) | Description | Available Platforms |
| BharatMatrimony | 4.3/5 | 10 million+ | matrimony apps, helping people find their perfect life partners. It offers a wide range of features and a vast user base. | iOS, Android, Web |
| Jeevansathi | 4.2/5 | 5 million+ | Jeevansathi is an Indian matrimonial app with a large database of verified profiles. It provides personalized matchmaking and secure communication features. | iOS, Android, Web |
| Lovevivah | 4.1/5 | 1 million+ | Lovevivah is a matrimony app for Indians, offering matchmaking services for various communities. It focuses on privacy and provides a user-friendly experience. | iOS, Android, Web |
| Matrimony.com | 3.9/5 | 5 million+ | Matrimony.com is an app offering matrimony services for Indians. It provides a trusted platform to find suitable life partners and has a wide range of search filters. | iOS, Android, Web |
| TrulyMadly | 3.8/5 | 5 million+ | TrulyMadly is an Indian dating and matchmaking app that focuses on verified profiles and compatibility factors. It offers features like trust scores and compatibility quizzes for better matches. | iOS, Android, Web |
| Matri-Global | 3.7/5 | 500,000+ | Matri-Global is a global matrimonial app connecting Indians worldwide. It offers advanced search filters, privacy settings, and personalized | iOS, Android, Web |
Features of matrimonial app like Shaadi.com That Affect The Cost of Development
Embarking on the journey of creating a matrimonial app like Shaadi.com unveils many features that dance together to shape the development cost. In this section, we have covered everything which you must read.
User Panel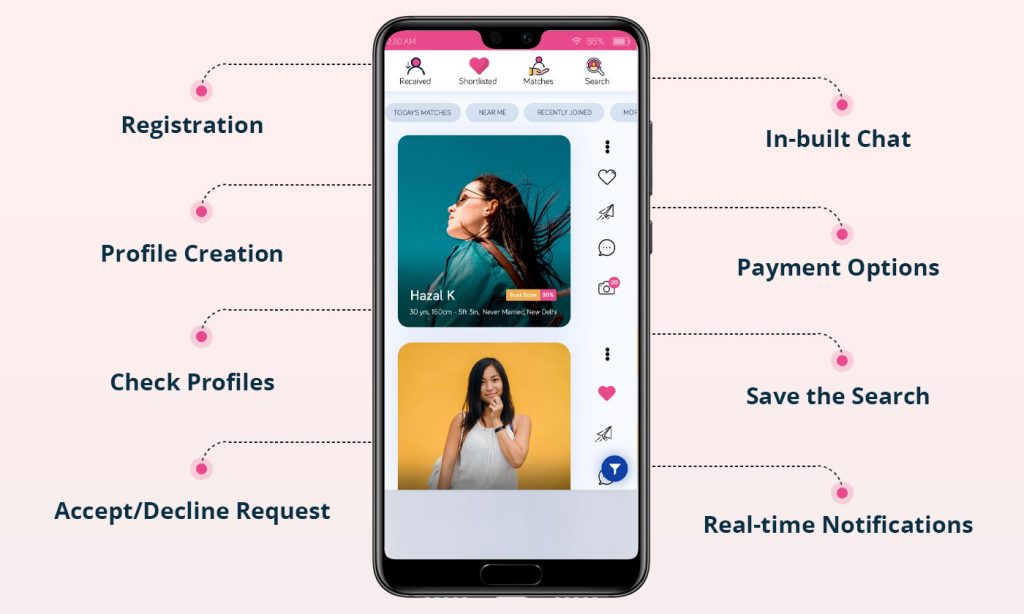 The user registration allows individuals to create an account and set up their profile. The complexity of the registration process, such as including social media integration or additional verification steps, can affect the development cost.
Users should be able to create a detailed profile with personal information, preferences, and other relevant details. The cost may increase if you plan to incorporate advanced profile creation features like multimedia uploads, questionnaires, or personality tests.
This feature enables users to search for matches based on age, location, religion, education, and more. The complexity of the search algorithm, filters, and matching options can impact the development cost.
Matrimonial apps require communication features to facilitate interaction between users. It can include messaging, chat rooms, voice or video calls, and virtual gifts. Implementing secure and real-time communication functionality can influence the cost.
matrimonial app like Shaadi.com often deal with sensitive user information, so ensuring strong security measures is crucial. Features like privacy settings, user verification, and data encryption may add to the development cost.
Providing users with timely notifications about matches, messages, profile views, and other activities is important. The complexity and frequency of notifications can affect the development cost.
Many matrimonial apps offer premium memberships with additional benefits and enhanced features. It may require additional development efforts if you plan to incorporate tiered subscription plans or monetization options.
Feedback and Rating System:
Allowing users to provide feedback, rate profiles, and share their experiences can enhance the platform's credibility. Implementing such a system may increase the development cost.
Social Media Integration:
Integrating social media platforms can enable users to import information, share profiles, or authenticate their accounts. The complexity of integrating with multiple social media platforms can influence the development cost.
User Analytics and Reporting:
Including analytics tools to track user behavior, engagement, and matrimonial app like Shaadi.com performance can provide valuable insights. Implementing such features may require additional development resources.
Admin Panel
This feature should provide functionalities to manage user accounts, including viewing, editing, or deleting user profiles, handling user reports and complaints, and enforcing community guidelines. The complexity of user management features can affect the development cost.
It allow administrators to manage the content on the matrimonial app like Shaadi.com, such as approving or moderating user-generated content like profile information, photos, and messages. Implementing content moderation tools and workflows can influence the best matrimony mobile app development cost.
If the app offers premium memberships or subscription plans, the admin panel should include features to manage user subscriptions, payments, upgrades, and renewals. Developing and integrating secure payment gateways and managing membership tiers can impact the cost of developing a mobile app.
The function may include features to configure and fine-tune the matchmaking algorithm used by the matrimonial app like Shaadi.com. It can involve adjusting search filters, match preferences, and compatibility scoring mechanisms. The complexity of the matchmaking algorithm and customization options can affect the development cost.
The feature provides insights into user activity, engagement, success rates, and other relevant metrics. Developing comprehensive reporting and analytics tools can add to the development cost.
The admin panel may include features to manage customer support, such as handling user queries, responding to complaints, and providing assistance. Integrating support ticketing systems, live chat functionality, or chatbot integration can influence the mobile app development cost.
To safeguard user information and stop unauthorised access, the feature ought to have strong security measures. It may involve implementing user authentication, role-based access control, data encryption, and security auditing features. Enhancing security measures can impact the development cost.
It provides tools for managing system updates, backups, and maintenance tasks. It may include features like system logs, error tracking, and performance monitoring. Developing such tools can influence the development cost.
Marketing and Promotions:
It may include features to manage promotional activities, such as sending newsletters, managing ad campaigns, and tracking marketing analytics. Implementing marketing tools and integrations can impact the mobile app development cost.
It may require integrations with third-party services like payment gateways, analytics platforms, email providers, or SMS gateways. The complexity and number of integrations can affect the development cost.

How To Develop a Matrimonial App Like Shaadi.com?
Developing a matrimonial app like Shaadi.com requires careful planning, a solid development team and an understanding of the key features and functionalities users expect from such a platform. Here is a guide to walk you through the process if you're thinking of hiring a mobile app development business to make an app like shaadi.com for you:
1. Define Your Goals And Requirements:
Outline your goals, target market, and the features you want your matrimonial app, like Shaadi.com, to have in detail. Identify the essential features, including chat, user profiles, search filters, and payment integration. Analyse your needs to see if you require extra features like video calls, matching systems, or social media integration.
2. Choose A Reliable Mobile App Development Company:
Look for an matrimonial app development company with experience in mobile app development, especially in the dating or matrimonial industry. Check their portfolio, client reviews, and expertise in developing similar apps. Consider their technical skills, timely delivery, and post-development support.
3. User Experience (UX) And Interface (UI) Design:
Hire mobile app developers who can produce a user-friendly layout that fits your brand and target market. Focus on creating an intuitive and visually appealing interface that makes it easy for users to navigate matrimonial app like Shaadi.com and find relevant information.
4. App Architecture And Development:
Work closely with the Android app development services to define the app's architecture, database structure, and technology stack. Whether to build a native matrimonial app like Shaadi.com (iOS and Android) or opt for cross-platform development frameworks like React Native or Flutter, ensure that the chosen technology allows for scalability and future updates.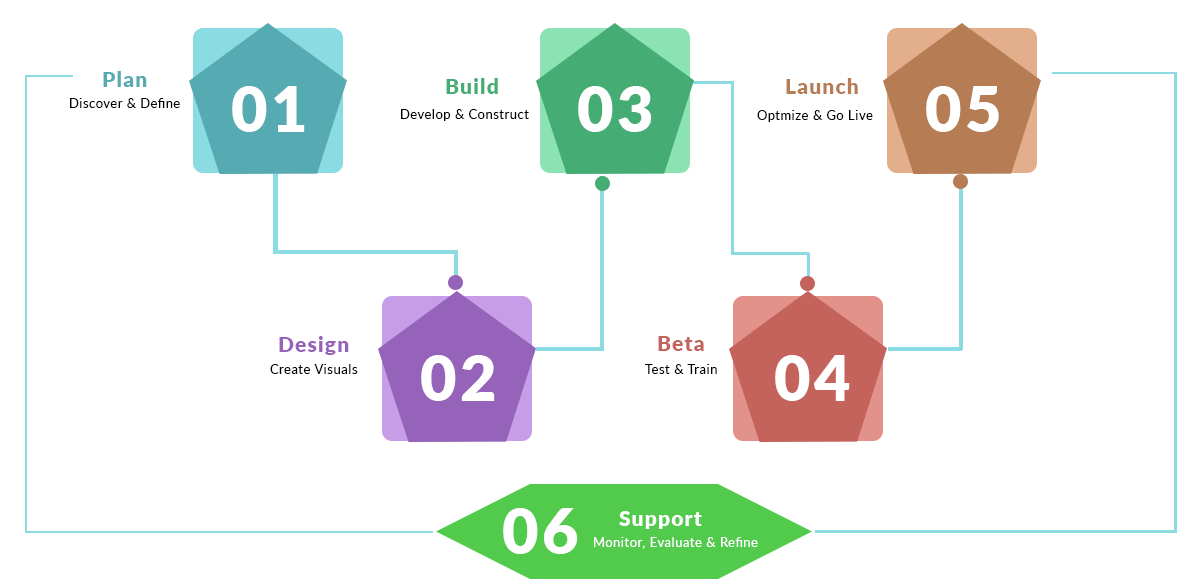 5. User Registration And Profiles:
Implement a smooth user registration process, allowing users to sign up via email, phone numbers, or social media accounts. Enable users to create detailed profiles with information like personal details, preferences, and photos. Implement a verification process to ensure the authenticity of profiles.
6. Search And Matching Algorithms:
Include sophisticated search filters that enable visitors to focus their search on factors like age, location, religion, caste, education, and others. Develop matching algorithms that suggest potential matches based on user preferences, compatibility scores, and other relevant factors.
7. Communication Features:
Include messaging functionality that enables users to communicate securely within the matrimonial app like Shaadi.com. Implement real-time messaging, notifications, and privacy settings to facilitate seamless user interaction. Consider adding features like voice and video calls to enhance the user experience.
8. Privacy And Security:
Prioritize user privacy and data security by implementing robust security measures. Use encryption techniques to protect sensitive user information and enable users to control their privacy settings. Respect data protection laws like the CCPA or the GDPR, depending on your intended audience.
9. Monetization Options:
Consider using different monetization strategies, such as in-app purchases, premium subscriptions, or advertising. Offer additional features or privileges to users who opt for premium memberships. Implement secure payment gateways for seamless transactions.
10. Testing And Deployment:
Thoroughly test the matrimonial app like Shaadi.com for functionality, performance, and usability across different devices and platforms. Identify and fix any bugs or issues before launching the app. Deploy the app to the respective app stores (Google Play Store and Apple App Store) and ensure compliance with their guidelines.
11. Post-Development Support And Updates:
Discuss ongoing maintenance and support with the mobile app maintenance and support company. Ensure they provide timely updates, bug fixes, and technical assistance as required. Consider long-term partnership options to keep your app updated with evolving technologies and user expectations.
However, the mobile app development process of apps like Shaadi.com involves defining your requirements, choosing a reliable IT company, focusing on UX/UI design, implementing essential features, ensuring privacy and security, and planning for monetization and ongoing support.
With careful planning and collaboration with the right website development company, you can successfully create a matrimonial app like Shaadi.com.

Cost To Develop A matrimonial app like Shaadi.com
Developing a matrimonial app like Shaadi.com involves various factors and costs that can vary depending on several aspects such as the complexity of features, platform (iOS, Android, web), design requirements, iOS app development services location, and other considerations. Here's a rough breakdown of the cost to build an app like shaadi.com like Shaadi.com:
| | | |
| --- | --- | --- |
| Factors | Description | Impact on Cost |
| Platform (iOS, Android, Web) | Developing the app for multiple platforms increases the development and testing efforts. | Higher cost for multiple platforms |
| Design and User Interface (UI/UX) | A visually appealing and user-friendly design requires more time and expertise in development. | Higher cost for complex design |
| Features and Functionality | The number and complexity of features, such as profile creation, search filters, chat, and more. | More features increase development cost |
| Integration with Third-Party Services | Integrating with services like payment gateways, social media logins, or location services. | Increased cost for integration |
| Backend Development | Developing and maintaining the server-side infrastructure and APIs. | Higher cost for backend development |
| Security and Privacy | Implementing robust security measures and ensuring user data privacy. | Increased cost for security measures |
| Testing and Quality Assurance | Rigorous testing to identify and fix bugs and ensure app stability and quality. | Additional cost for testing |
| Maintenance and Updates | Ongoing maintenance, bug fixes, and updates to keep the app up-to-date and functional. | Continuous cost for maintenance |
Here's a rough breakdown of the cost to develop a matrimonial app like Shaadi.com:
| | |
| --- | --- |
| Development Phase | Cost Range |
| Conceptualization and Planning | $2,000 – $3,000 |
| UI/UX Design | $2,000 – $5,000 |
| Front-end Development | $2,000 – $5,000 |
| Back-end Development | $3,000 – $6000 |
| API Integration | $2,000 – $5,000 |
| Testing and Quality Assurance | $4,000 – $5,000 |
| Deployment and Launch | $1,000 – $3,000 |
| Maintenance and Updates | Ongoing costs/monthly basis |
Please note that these figures are rough estimates and can vary significantly based on the complexity and specific requirements of your matrimonial app like Shaadi.com. It's advisable to consult with CRM development company to get accurate cost to develop a matrimony mobile app.
Tying the Knot!
And there you have it, folks! We've explored the exciting features and cost of building a matrimony mobile app. From personalized matching algorithms to secure chat options, this app promises to bring love and happiness to your fingertips.
While the development journey may require some investment, the potential rewards are immeasurable. So, whether you're a tech enthusiast or an aspiring matchmaker, dive into the world of love, connections, and unforgettable stories. Happy app developing, and may Cupid's arrow strike true in the digital realm!
Frequently Asked Questions
Q1. What Are The Essential Features Required For A matrimonial app like Shaadi.com?
Key features include user profiles, advanced search filters, secure messaging, matchmaking algorithms, privacy settings, payment integration, and an admin panel for managing the app.
Q2. How Much Does It Cost To Develop A matrimonial app like Shaadi.com?
The cost can vary depending on complexity, platform (iOS/Android), design, and additional features. A rough estimate would range from $8,000 to $15,000 or more.
Q3. How Long Does It Take To Develop A matrimonial app like Shaadi.com?
The development timeline can vary based on the app's complexity, features, and team efficiency. Generally, it can take around 4 to 8 months or more to develop a robust matrimonial app.
Q4. Is It Necessary To Have A Dedicated Server For A Matrimonial App?
A dedicated server is recommended to ensure smooth app performance, securely handle user data and manage high traffic. It provides better scalability and reliability for the app.
Q5. Can I Monetize A matrimonial app like Shaadi.com?
You can monetize the app through various methods, such as premium subscriptions, in-app advertisements, featured listings, boost profiles, and partnerships with wedding service providers.