In 2020, the outbreak of covid19, have a great impact on every sector of our society. People were requested to maintain social distancing and stay at their homes. So that we can stop the spread of Coronavirus. Impact of Covid-19 in mobile app development is maximum on the sectors like Healthcare, Education, Grocery business, Transport and much more.
But as the proverb says 'Necessity is the mother of Invention', we humans begin to have to find the alternative way for every sector. And this alternative way is the digital world. Now we have applications for everything we need in the market.
Insights of Mobile App Development Industry:
Various web development company are still trying their best to make this digital world more and more effective to the users. Nowadays users can order every day-to-day essential, with the help of their smartphone. And the order will be delivered to them at their doorsteps. If you have an established business or you have a unique idea to start a business. Then executing that idea with the help of a web development firm, can ensure your success in this competitive market.
Science, every little business is going online, the application market took the biggest hit at the beginning of 2020. And the user count is still increasing at an exponential rate. Every entrepreneur and the business owner started a new way of capitalism according to the behavior change of their customers. And use this new trend for the benefits of their business and to service their customers with equal efficiency.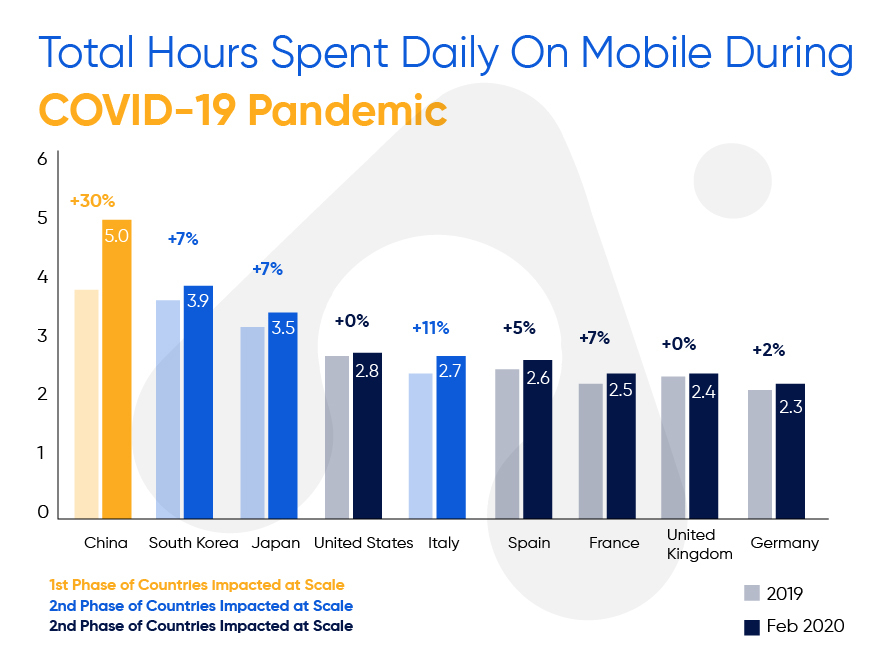 The competition in the digital market is getting tougher and tougher every day. As almost all the start-ups, as well as the established business, are trying to grab this opportunity, make it their strength and attract as many users as possible. Plus, these applications also worked as a saviour for users by fulfilling on-demand delivery services during lockdowns.
The new wave of digitalization that occurred due to the impact of covid-19, has saved us from falling apart. Various development companies keep on their development works, with the same amount of communication efficiency. Some of the communication apps like Zoom, Google Meet, and Microsoft Teams are responsible for maintaining effective communication among the various technical and functionals team of the same organization.
Nowadays the users are also trying to adjust in this new digitalization trend. The need for smartphones and mobile applications has grown exponentially. Sectors like messaging, healthcare, payments, gaming, dating etc. all things are done through our smartphones.
To know more about the impact of Covid-19 on various website and mobile app development industries please continue the blog.
What Category of Mobile Applications are Mostly Used in the Covid-19 Period?
The impact of Covid-19 is devastating in most of the business. As soon as the Coronavirus outbreak, the government of every country implemented various prohibitions of every mode of transportations.  This includes every airline, bus agency, train and even hotel.  Like this many businesses are forced to shut down. Many people got sacked from their jobs. Especially who were associated with fashion, manufacturing, tourism and construction?
But the other hand the app development companies got less affected. Not only the development companies also the freelance developers got the opportunity to expand their business due to a sudden hike in user base. As the employees are comfortable at their respective homes, they are able to provide results with better efficiency.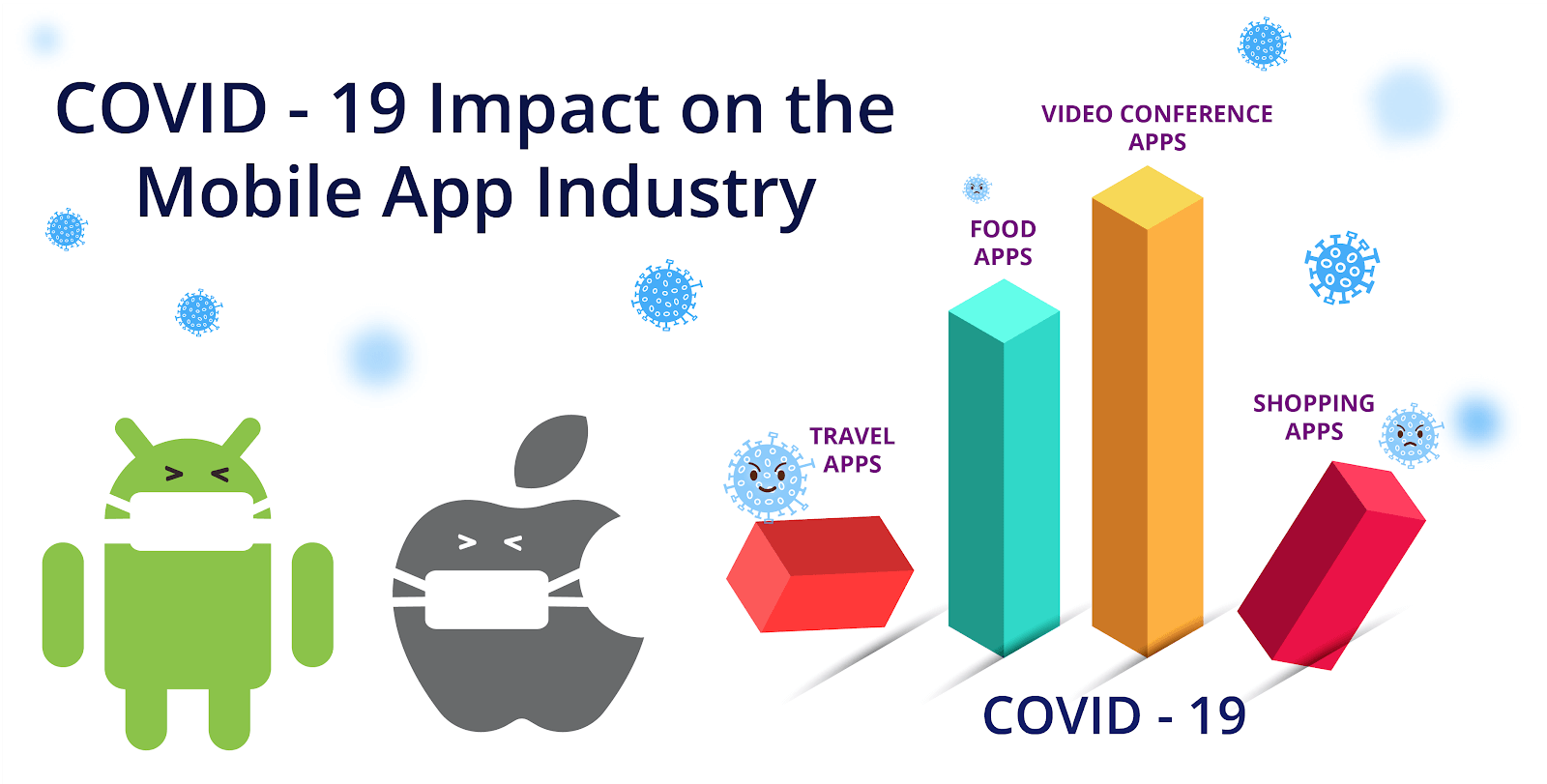 In some regions, it has been seen that the requirement of on-demand applications has increased at a larger rate. According to Sensor Tower the outbreak of the coronavirus has increased the requirement of app download data by 55%. This includes app from every different sector of the app development market.
Such as food, delivery, fashion entertainment and much more. So, if you have a unique idea for your business, then executing that idea by hiring website development services can ensure your success. As they are capable of developing dynamic, feature-packed and responsive apps according to the requirements of your business. Here are some detailed information, on the present scenarios of different app sectors in the market,
1. Ecommerce Website and Applications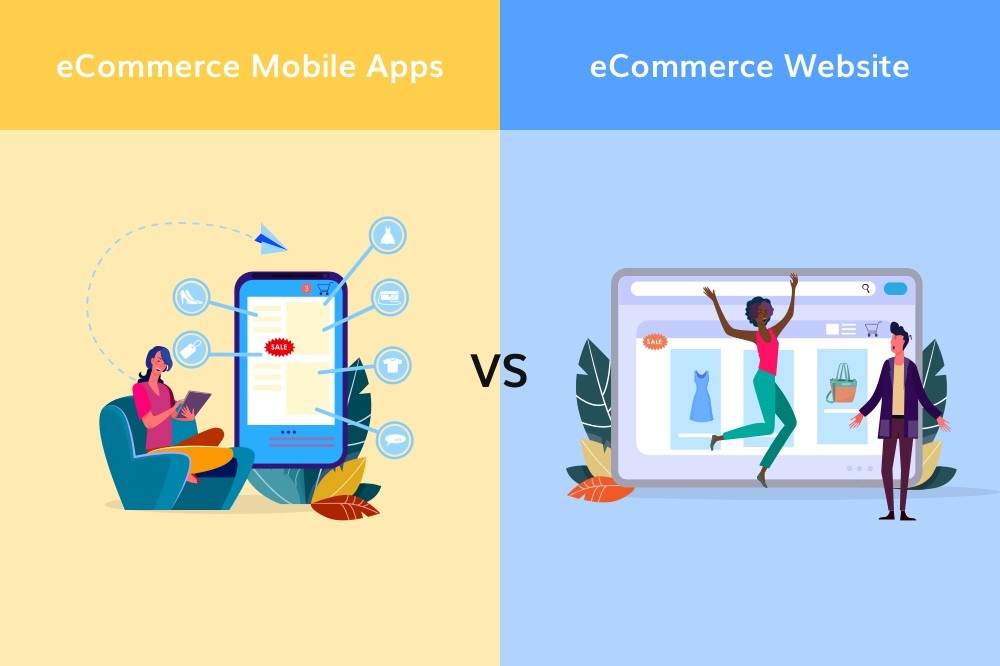 Ecommerce applications and websites are a kind of evergreen business. As they have a constant user base. Then also, these applications got a huge hike in terms of users immediately after the virus outbreaks. Now along with usual eCommerce products. These applications are also providing grocery items to their users.
The demand of grocery products was so high, some governments release new grocery shopping applications. So that they can fulfil the needs of their people. Basically, the website development services developed apps which are released, started to collaborate with the local grocery stores. And act like a middle man who is responsible to connect the user with grocery stores.
These eCommerce applications are considered to be lifesaving applications that are both cost-effective and efficient at the same time. Because the users don't have to get out of the house, visit the grocery stores, find every product on their list and wait in long queues for payments.  They can just open their smartphone, add the items and place the order by sitting in one place. And the order will be delivered to them at their doorsteps. As a user, you will be able to fulfil your daily grocery needs as save time, money and effort at the same time.
2. Educational Applications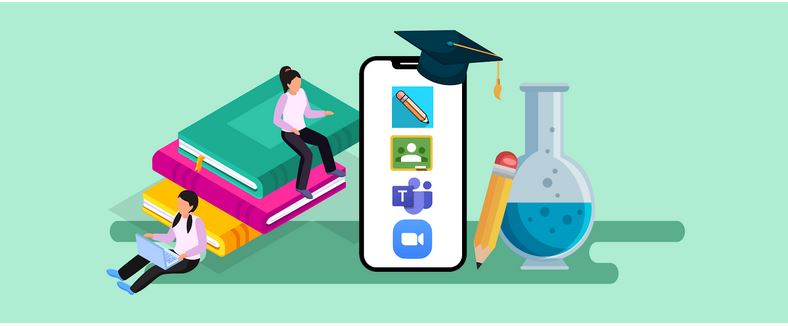 The impact of Covid-19 on the educational industries are also very devastating. All the schools, colleges and other educational institutes remained closed after the virus outbreak. So, in order to continue the educational process schools and colleges start to using various e-learning solutions apps. Some of the educational institutes develop their own e-learning application by hiring the best mobile app development company available in the market.
Now teachers are conducting education sessions for their students through the institute recommended applications. That is the reason e-learning app giants like Byju's and Vedantu got a 200% higher user base. In the beginning students along with the teachers are facing problems as they were not used to these trends. But with time these applications have proved to be more effective than the offline classes.
How to Develop Mobile Apps for Schools, Universities & Colleges
Here are some of the reasons for the success of the educational applications, after Covid-19 outbreak,
The convenience of scheduling educational sessions for the teachers. And for the students to join those sessions.
Multi-device supports make the applications accessible to almost every device even on smart TVs. So, the students can join the education sessions from the device they are comfortable with.
Some of the famous educational application provides recording facility of the educational sessions or classes. So that the students can download the class and go through it, in case they forgot anything.
The teachers can use various types of visual learning techniques, in order to make the students understand any topic more clearly.
And the most important is, the teachers will be able to give extra attention to each and every student. Basically, the learning pace of every student is not the same. But with e-learning apps, teachers can communicate with every student personally. This is not possible in kind of offline classes.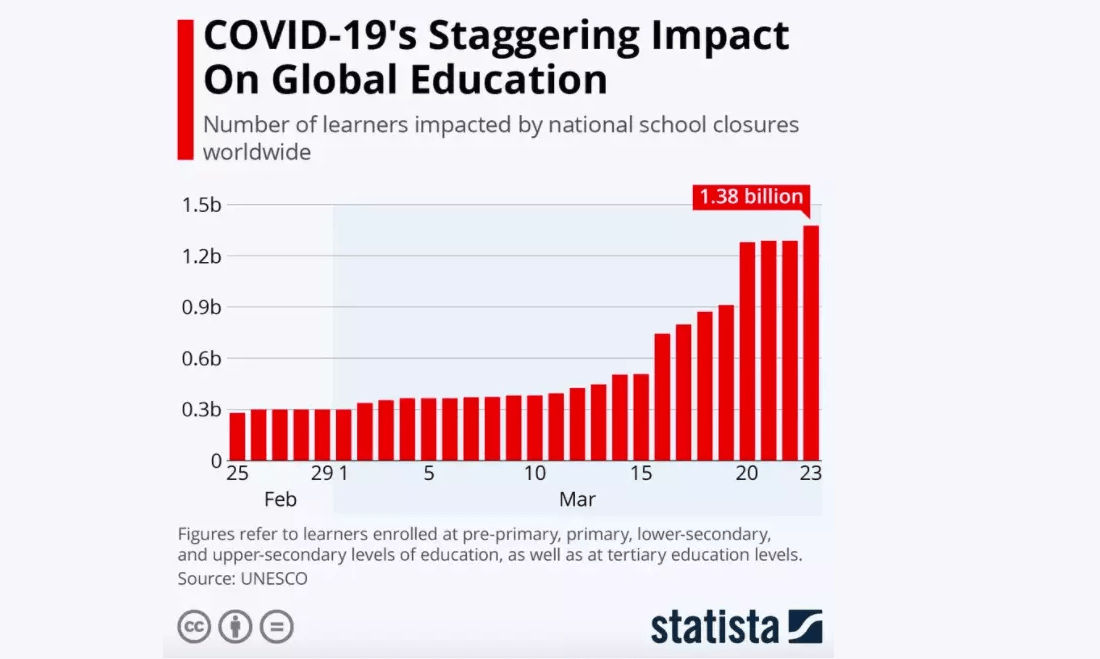 All of these will be possible if you hire a web app development company for your educational institute. A recent review states that there are around 7 billion users who are now associated with anyone educational application.
3. Video Streaming Applications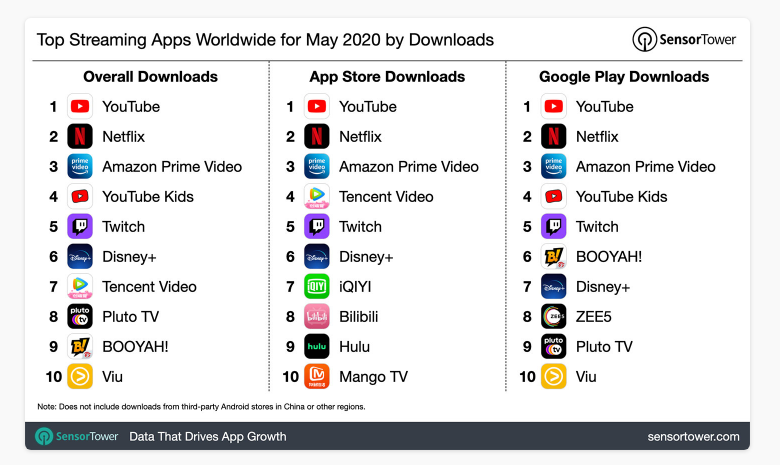 Video streaming and gaming are two of the most demanded application during this lockdown period. After staying in the house for more than one month, these types of apps and websites make your condition little bit better.  Many people used to watch TVs, but with the new video streaming app like Hulu, you will get the facilities of watching TV through your phone. Moreover, you will be able to record your favourite live matches and Tv shows.
There are other successful video streaming applications present in the market. Such as Netflix, Amazon Prime and YouTube, these apps are well-known for their video content present in it. Along with user interface, video quality, subtitle facility, download and much more.
Hire the best video streaming app development company available in the market. That can help you to build a high performing, video streaming app at a reasonable cost. According to Sensor Tower, there are more than 29 million downloads are made of the YouTube app at the beginning of the lockdown. That means the rate of increment rises to 40 per cent of the usual rate.
Then Netflix is the next most downloaded app and then it was Amazon Prime. So, if you have a unique idea for starting an online streaming business. You just have to gather videos with better content and hire the best web application development company in the market.
Always try to implement all the basic video streaming app features along with your own unique one. As the unique feature is the only thing that can make your app different from your competitors. Plus, try to provide good quality videos without compromising the performance of the applications.
In order to maintain that, choosing an open-source, cross-platform framework can be the best option for you. As it can provide you facilities like multi-platform and device support along without compromising performance.
4. Health Care Applications
Healthcare apps are the most downloaded apps among all the applications present in the market. Nowadays getting a doctor's appointment or consulting a doctor is very difficult. But with the help of these healthcare applications consulting a doctor is never been easier.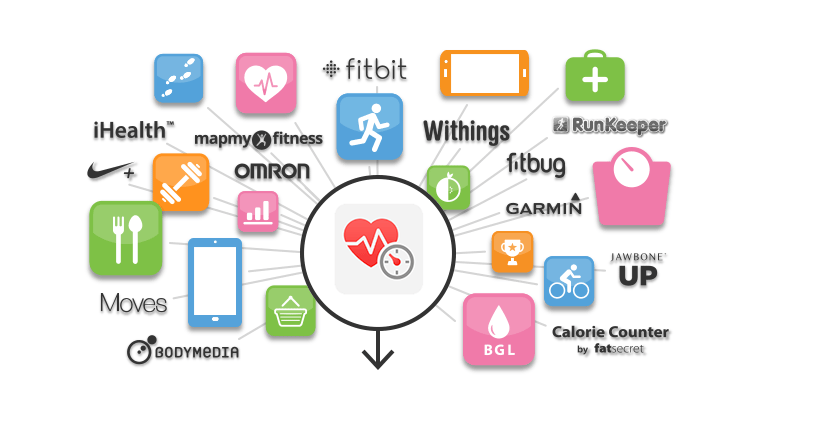 Not only consulting facility these applications also provide medicine delivery to their users. That means you don't have to even have to go to a pharmacy store. You can just place an order that the consulting doctor prescribed you and get the medicine at your doorsteps. That is why your applications should be capable enough to perform video conversations and medicine delivery in a hassle-free manner.
To ensure that you have to hire the best healthcare application development company in the market. Due to the rate of user base increment, it was predicted that the total worth of the health care applications can reach up to $220 billion by 2025.
5. News Apps
During the time of lockdown, the news is one of the convenient mediums to know about different protocols. That is why the news apps all get a huge hike in their user base. Between the news channels and new applications, the latter one provides much more facility to the users. You will be able to access news applications from your phone, tables, laptops even on smart TVs, which provide better convenience.
Plus, if there is breaking news the application will always notify you with the heading.   This will help your users to maintain interest on your news application. A better mobile app development company will always provide you with some advanced features. Such as recording any live feed of the news and share them with your friends and family.
6. Social Media Applications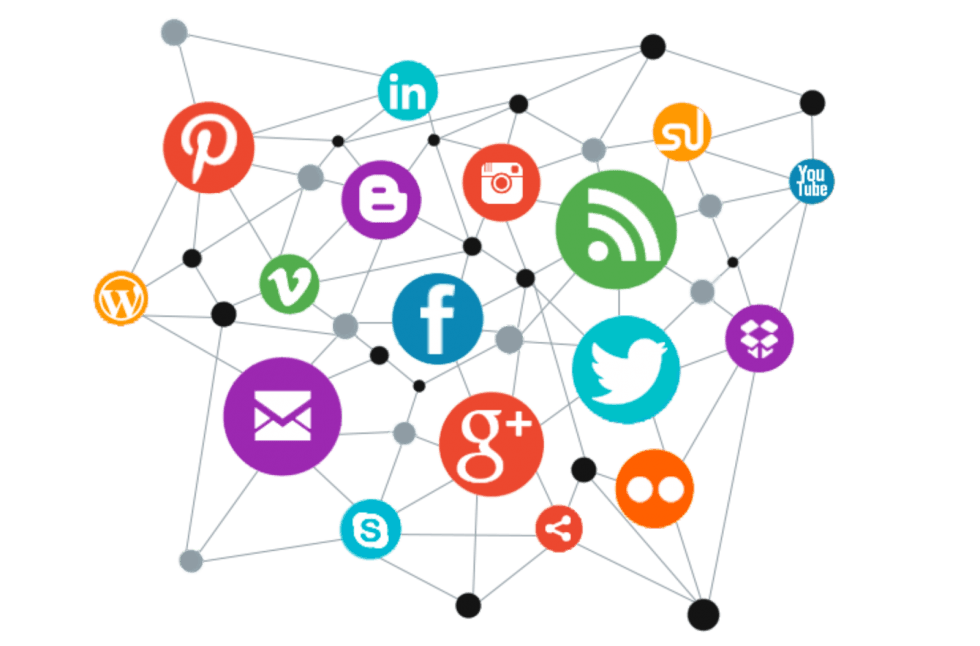 Many people in our society spent a considerable amount of time of their day in social-media applications before the coronavirus outbreak. In the recent pandemic situation, most people spent time on social media applications like WhatsApp, Twitter, Instagram and Facebook. As all the people are lockup in their house for 24 hours, they choose these applications to communicate with friends and family. Almost all the website development company created social media apps have integrated chat and video calling features.
What is Social Media App Development and How Much Does it Cost to Develop a Social Media App
These apps also allow the user to share funny videos, memes, memories, quotes with their friends and family. That is why the elders as well as the children stay active on social media applications. As a user, you can also raise awareness on various social or political issues and share it with millions and millions of people through your smartphone.
7. Transportation Applications
As social distancing, is the only way to save yourself as well as people from the spread of Coronavirus. The user base of various transport services is going down. People and the drivers associated with these types of services are facing huge difficulty to run their families.
That is why popular cap services like Uber, already omitted the share cab options from their application. They also implemented various safety protocols on their cabs, to protect both the driver and the user at the same time. Plus, they are conducting various marketing campaigns so that the people can understand the implementation and feel safe while they need to travel in emergency situations.
Also, to maintain better precaution, the drivers are instructed to measure their temperature before beginning any ride and upload it on the application.
8. Food Delivery Applications
Food is considered to be one of the most essential things in our day-to-day life. But due to the implementation of lockdown to maintain social distancing, all the restaurants closed their dining services. In this scenario, people are only left with two options either take away or delivery. Still for some people choosing the takeaway option can be hectic if the restaurant is located far from home. That is why about 80% of people opt for food delivery services. Plus, the food apps usually offer various discounts and promo codes while ordering food from restaurants. Along with huge varieties of payment gateways.
How Much Does It Cost to Build a Food-Delivery App like Uber Eats or Grubhub?
As a result, the outbreak of the coronavirus provides a positive impact on food delivery apps. The NDP group state that during the first wave of Covid-19 cases, there was a 25 percent hike in the food delivery app user base. And the user base curve is still increasing at an exponential rate to date.
Multiple food delivery app development companies exist that effectively develop on-demand apps for the food industry based on unique ideas. To increase the safety precautions, every delivery person is instructed to update their body temperature before handling the customer's food.
9. Gamming Applications
Gamming applications cover a huge part of the app development market. The game development industries need a number of talents along with a group of skilled developers. So, that they can create an excellent gaming app for their users. As all the people or doing work from home, these applications come in handy to survive the boredom. That is why more and more downloads are seen in this lockdown period.
As you have seen in the above-mentioned app sectors, having a unique idea and hiring a better app development company is necessary in order to succeed in this competitive market.

What are the Post-Covid-19 Scenarios in the App Development World?
Before the outbreak of the Coronavirus, there were many organizations that were dependent on in-person labour forces. The condition of that business was fatal enough for this ongoing social exclusion. That is why the owner and entrepreneurs create a new business line for their better growth in the user base. Now every organization have shifted their work on a remote operation basis. That is why many sectors including travel and tourism, are hiring top mobile app development companies.
So that they can integrate their goals and requirement into their application and created an effective revenue model. Here is some detailed information, on various post-covid-19 scenarios in the app development business,
#1. Information Sharing
It is the responsibility of every government to provide correct and vital information to their people during any national crisis. For that reason, after the outbreak of Covid-19, almost every government started to provide information through various applications.
These applications include government-created apps, social media apps and various other government portals. In the beginning, around 55 percent of the countries stated to provide actual stats on the public pages. And after further investigation, more than 35 per cent of the countries joined the public forum.
More information is shared throughout the world more will people understand the severity of the situation. All the information is shared through various applications and internal portals.
And that's how the Covid-19 pandemic brought the need for digital forums in our day-to-day life. After 8th April onwards every government are now searching for a better mobile application development company for designing various government apps and portals with maximum efficiency.
#2. Better Engagement of People
After the outbreak of the Coronavirus, most people are now thinking about wellbeing of their society. That is why many civil organizations, entrepreneurs and the ordinary public started to imply many effective socio-economic policies. These policies were implemented with the help of the government so that our society can remain stable in this crisis.
Conducting various hackathon events can be the only solution to find out the best policy to fight this Covid-19 situation. Everyone in society should be allowed to take a part in it. The outcome of this event is now present before your eyes.
Now we have apps for every possible scenario. Such as apps for oxygen supplies near your location, hospital bed availability, medical equipment availability and much more. Moreover, many app development companies already succeeded to create a thermal CCTV camera. Which is capable of detecting body temperature while recording. Yes, the impact of Covid-19 is devastating but at the same time, it made us prepare for the upcoming social obstacles.

Faster Implementation of the Innovative Technologies in the Market
Due to recent scenarios, the government, as well as the public sectors, are under a lot of stress. So, they are very must desperate to launch efficient digital technologies to stop the spread of the virus.
So, if you are thinking to launch any unique app for the well being of your society. Then building that app web development company in the USA can be the best option for you. Now the implementation of any effective application is very faster. So if your app is efficient enough to help your users, then the success of your business is confirmed.
Conclusion:
The impact of Covid-19 is devastating for most of the sectors of our society. But it makes a positive impact on the app development market. As every organization is investing in various development companies to get a user attractive online presence of their business. So, if you have a unique idea for a business, hiring the best mobile app development company can ensure your success easily.