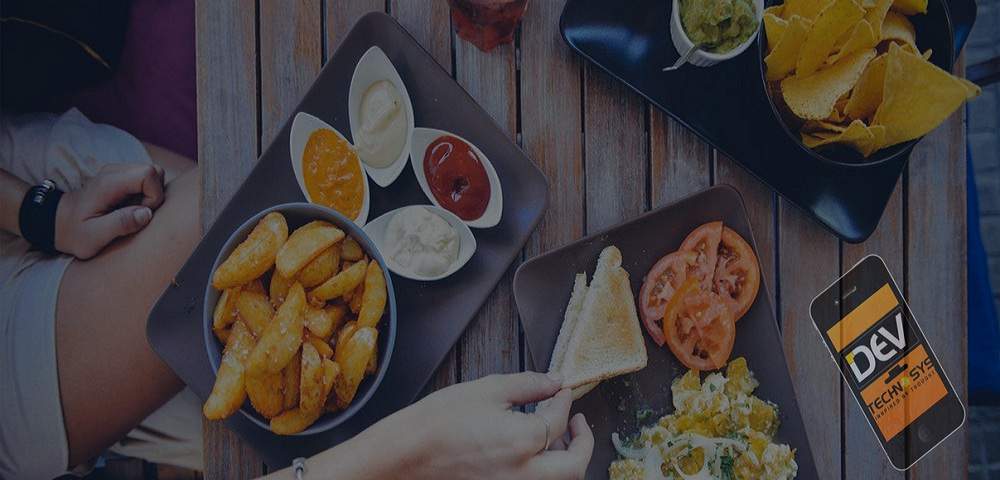 With 83% adults using electronic devices for searching location and restaurants, Mobile app development is one of the most dominating transformers in the market. Having an interactive mobile app is a compelling requirement for any business. With the entry of restaurant mobile app development, the way many businesses operate has drastically changed. Foodies prefer to choose mobile apps for reserving the table for dinner and ordering the meal, over the conventional ways. Mobile-based food ordering app development has created things far easier and given the higher growth rates.
The market share of restaurant mobile apps has grown significantly which in turn raised the demand for the restaurant mobile app development. Now the tech-savvy restaurant owners are solidifying their grip on the market while promoting their brand online. A food ordering app development is a prudent option not only to increase the ease of access for customers but also for expanding the area of business.
Restaurant owners who are adopting the food ordering app development are having an advantage over their competitors who do not. Besides the extensive potential, the food ordering app development provide to business; it also helps as the effective restaurant management solution. The cost of restaurant mobile app development strictly depends on the features and solutions it provides to the business. The cost of the mobile app is directly proportional to the feature it includes.
In this article, we will identify some essential feature of restaurant app in current market space and we will also discuss the rough cost estimation of restaurant mobile app development.
One of the crucial decision while building a restaurant management solutions is to decide whether you want to adopt the restaurant management solutions which have been previously developed or a new one built from scratch. Both have their own benefits where one is suitable for the small capital and limited market whereas latter is an appropriate option for the restaurants with their loyal customers and strong reputation.
A quick comparison: Building your own versus adopting the pre-existing one
If your business is at the initial stage and you have not enough capital for developing a full-fledged dedicated app, then you should not worry about the investment in building your own app. There are a lot of elegant restaurant management solutions already available on the market, that can help you manage the orders easily, and customers to reserving the table for dinner.
Designing and developing the dedicated app takes time and resources along with the marketing of the app for widespread adoption by the loyal consumers. A dedicated mobile app is a bonus tool, once the business grasps its enough ground. Choosing a restaurant mobile app development is a great way to boost success, but how much it costs depends on the feature you want to include.
Before estimating the cost of development we must list out some essential features of a restaurant mobile app and their significant positive impact on the business.
Restaurant management solutions make use of mobile technology in such way that help restaurant owners to manage the business more effectively. Data gathered from the apps provide an abundance of valuable information, which lets restaurant owners plan the promotional products and special meals during peak hours and off-peak hours. A comprehensive and interactive restaurant mobile app development will have following features included as standard:
| | | |
| --- | --- | --- |
| Component | Benefits for consumers | Benefits for owners |
| Menu(accompanied by price and catchy pictures) | Shows what restaurant offers and engage customers with your restaurant conveniently. | Increases the exposure and let you set the general expectation of clients. |
| Online ordering capabilities (Place orders online for eating in, home-delivery, or pick-up) | Makes orders quick and easy. Re-ordering becomes faster. | Provides the details of customer preferences, order turnaround frequency, the common meal, rush hours and efficient interaction between client and restaurant |
| Payment gateway integration (online banking, Paypal and other ) | Allow paying for the orders instantly | Saves the time of the staff and boosts the productivity. |
| Online table reservation facility | Can reserve the booking without calling in. | Easy to distribute staff, assess workload, stock up the grocery, and great insight into the rush and off-peak times. |
| Built-in maps and GPS | Can find your restaurant easily | Increases the customer footfall |
| Push notifications | Alert customers when there is the special offer or event | Increase customer loyalty and help in creating event successful |
| Loyalty programs | Frequent visitors are awarded benefits such as complementary dishes and special deals etc. | Earn customer loyalty and increases mouth publicity. |
| Rating and review | Keep track of their loved meals. | Help you modify and update by eliminating weak spots |
Cost of a Restaurant Mobile App Development
The cost of the restaurant mobile app development fluctuates with many components such as complexity of the functionality, design, and features. The time needed for food ordering app development depends on the number of mobile app developers included in the process. A simple restaurant mobile app development with limited features take less time while the huge restaurant management solutions with complex feature take more time.
1. Cost of simple restaurant mobile app development
Here is what a basic app typically contains:
Menu
Geolocation
Push notifications
Comment and reviews ability
Shareable customer choices over social media
The simple food ordering app development with above options requires a small team which includes 2 developers, 1 designer, and 1 quality assurance engineer. The small restaurant mobile app development costs somewhere between $2000 and $7000.
2. Cost of developing the restaurant management solutions
An advance dedicated app includes:
All feature mentioned in simple restaurant app
Customized design and eye-catching design with retina-ready pictures
Pre-order meal facility
Online table reservation facility
Price-list, Opening hours, minimum order, order status tracking and payment choices
Social media integration attracting more traffic
Easy card payment functionality
View trends and target marketing programs
beacons etc.
Developing the complex restaurant management solutions require the larger team of developers, designers, quality assurance engineer and project manager along with a long enough time. It ranges as high as $20000 to $100000.
Above costs are the rough estimation of the restaurant mobile app development and subject to vary according to the country and hourly charges of development & design.
Also Read: Top Web Design Fundamentals of Restaurant and Food Chain Websites