There are a lot of people who have been looking for Food App Ideas lately. This is directly related to the recent boom in the food-business industry. We can say that credit for this success goes to Covid-19. After all, it was only due to Covid and Lockdown that we started ordering food online, among many other things.
While food business-related applications were still there before Covid-Era. It wasn't until lockdown forced us to stay inside our houses that we started using this application to its full potential. Consequently, there was a boom in the industry.
It was also projected by the end of the year 2022, this industry will generate annual revenue of approx 1 Billion USD, and the industry itself is worth more than 80 Billion. Plus, there is more than 38% growth in the food business industry. This is enough to tell you about the huge market potential. In addition, it also shows that the market is strong and also has sturdy-paced growth.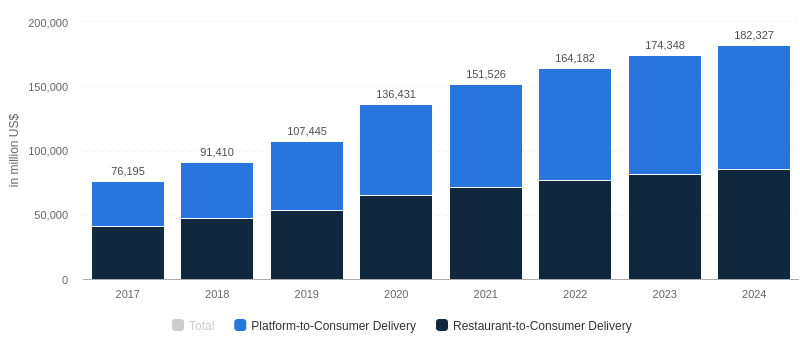 As of today, many people are looking to start their restaurant business. While a mobile app development company, who can develop an app for you, there is something you will need before that. And that is an "Idea."
If you have the right idea for your food app, you can make a good impact in the market and attract a lot of customers. Needless to say, it will also allow you to create a great revenue stream and a long-lasting impression. However, devising an idea is not that easy. It is why we shall be discussing the same in this blog. But before that, let's see what some benefits a food app offers you are.
How Food App Ideas Can Benefit You
We already saw the huge market potential in the restaurant-business app. It directly translates to a lot of business opportunities. Furthermore, introducing an application with a good enough idea can be highly beneficial for the business or start-up, not to mention the great sales growth. Nevertheless, let's look at some of the major advantages.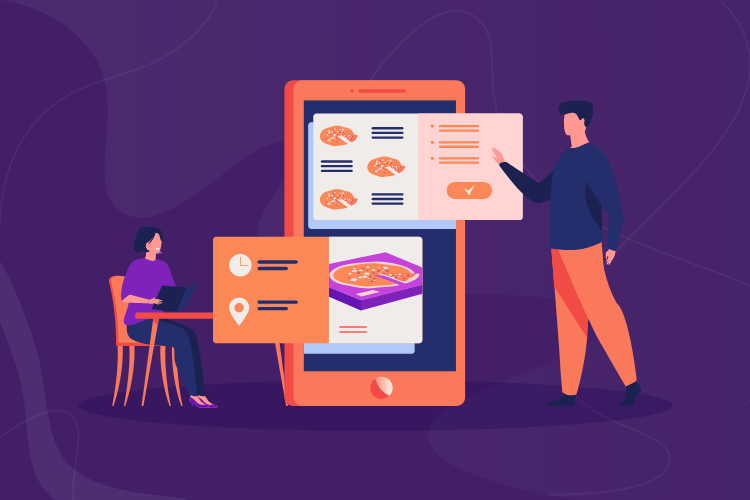 It is noted that restaurants that offer online ordering have seen a 300% growth in a customer in the past 5 years.
95% of businesses agree that integrating their services with technology has increased their productivity and efficiency.
Online Food ordering has helped in greater revenue generation.
Technology has helped restaurants, and food-business reach out to more customers.
These facts and figures are enough to tell you how many benefits there are in this industry. But before you rush to hire a mobile app developer, let's discuss some big food app ideas.

Top Online Food App Ideas That Food Tech and Restaurant Business
Your restaurant-business application will only be as good as the idea it is based on. Thus, you need to build your app around a unique and strong idea. But then again, coming up with an idea is not that simple. Moreover, it is better to have a clear map of what you want before going to an android app development company.
It is a reason why we have compiled a list of 10 different ideas for you to base the app around. With this said, let's get right into it:
1. Grocery Delivery App
We all have childhood memories of grocery shopping with parents, and that too frequently. But, if it tells us anything, it is the fact that anyone given person spends a lot of time buying groceries. In fact, as per the report from Statista, people spend around 60 hours shopping for groceries in a year.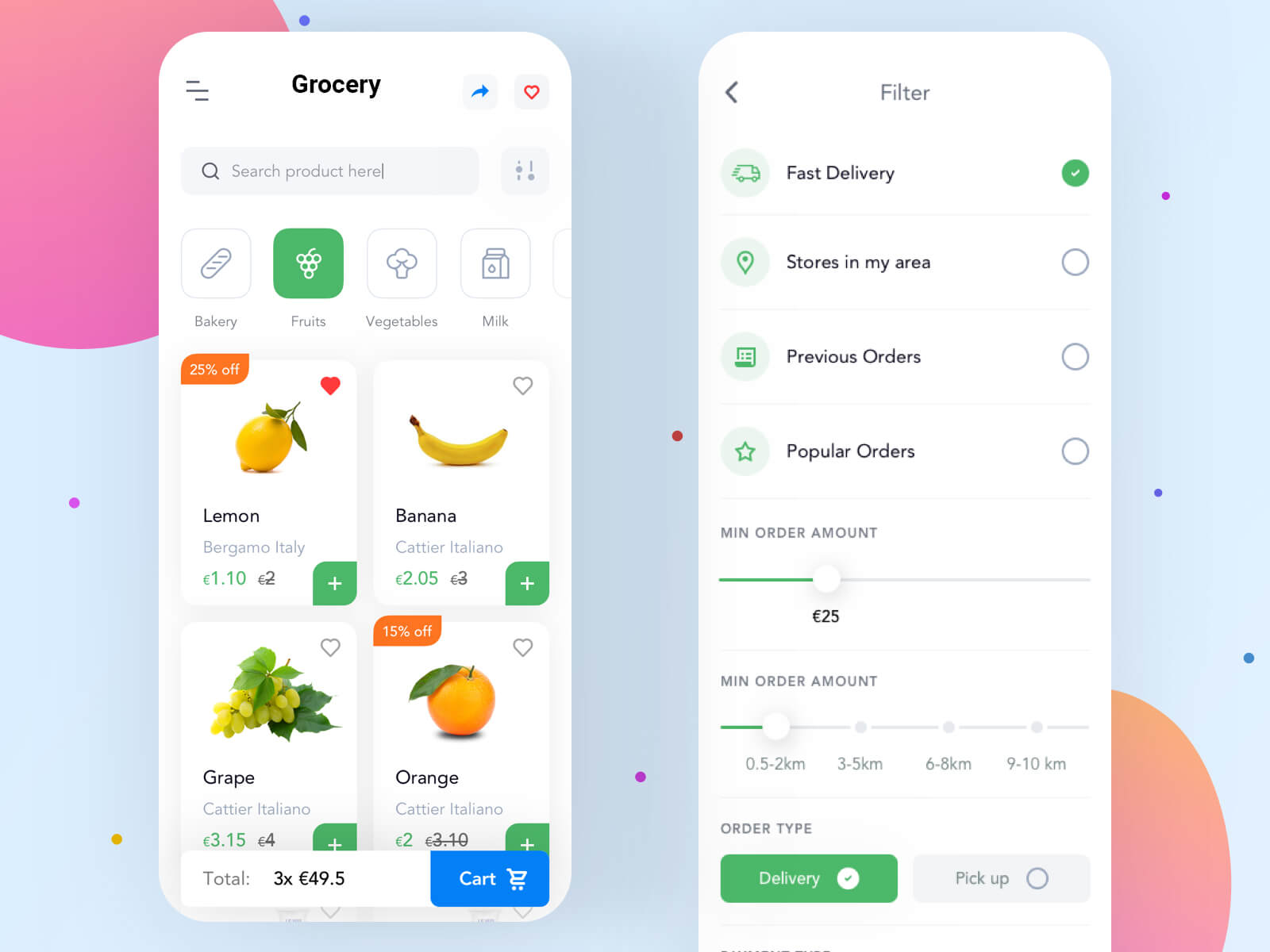 But what if they didn't have to leave their home to get groceries? Well, that's exactly what this idea is about. Grocery delivery app is the need of today. Covid is still around, and people prefer getting their things delivered to their door. Now that you have the idea, all that is left to do is find a good grocery delivery app development company.
2. Food Delivery App
Everyone knew that this app idea would appear on this list sooner or later and why not. After all, this is one of the megatrends of our time. People love ordering food, and they do it all the time.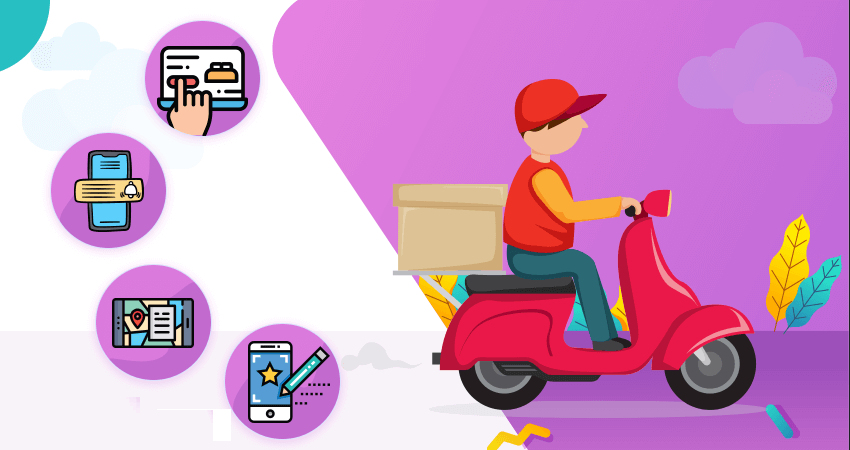 Just look at the figures:
People spend over 11 billion just ordering pizza in any given year.
6 million people use food delivery apps.
60% of restaurateurs report that offering delivery has led to increased revenue.
On average, people have two delivery apps on their phones and use them three times per month.
The Food Delivery app is an amazing idea that can create a great income stream for you. If you don't believe us, look at the likes of Uber-Eats. In addition, food delivery app development is also quite easy and economical. Therefore, many great development companies are offering on-demand food app solutions.
3. Food Coupons and Discount App
It is one of the unique ideas on the list. The logic behind this is simple. People love ordering food online, and any person would like to do it for cheaper. It is why they can highly benefit from the coupons and extra discounts on their meal.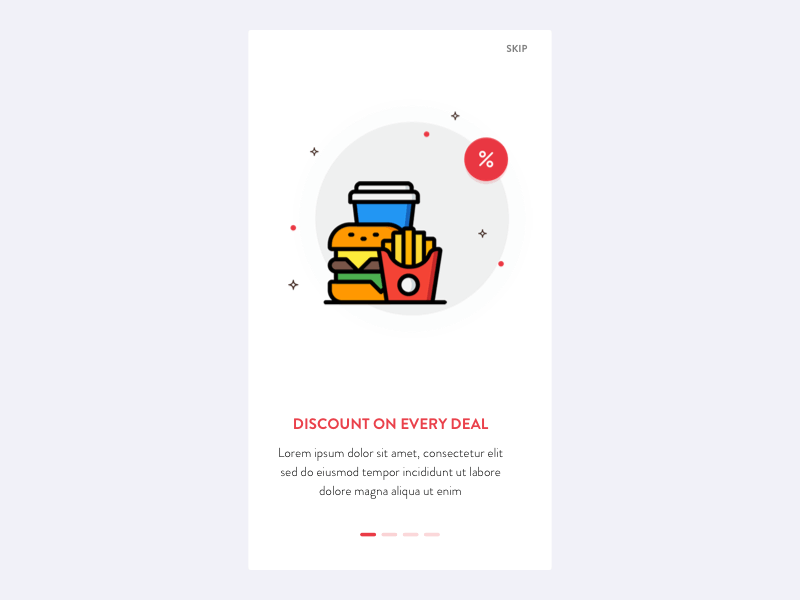 In addition to being unique, this idea is also one of the simplest to develop into an app. Because there is no live tracking, no chat feature, no complex systems, you get its gist. It also means that developing this app won't cost you a fortune.
4. Recipe App
One might think that when everyone is ordering online, what is the use of a recipe app. However, this is not at all true. As per the forecast, the recipe app industry is said to reach a multi-million dollar point by 2024. So, it is no secret that this industry has skyrocketing growth.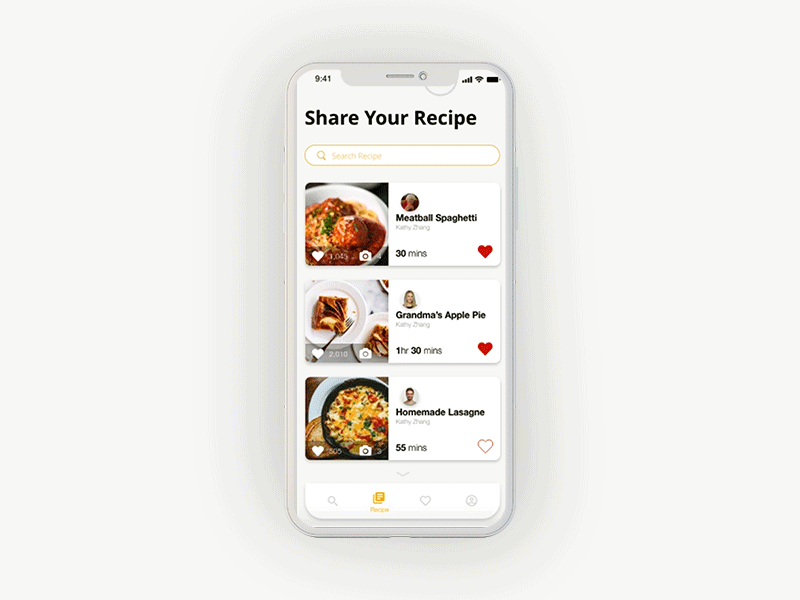 Adding to the convenience is the fact that you can get recipe app from some of the best on-demand development companies. This should be enough to convince anyone to go look for an android app Development Company to develop their recipe app.
5. Food and Nutrition App (Fitness-Based)
Similar to the food-business industry, the fitness industry is also growing remarkably. And one thing that everyone knows is how conscious fitness enthusiast is about their diet and food intake.
This tells us that if you can create a food app that specifically deals with nutrition as per the needs of fitness enthusiasts, you can get the best of both worlds. This is one of the most beneficial of all the food app ideas on this list.
This app can help them track their nutrition and calorie intake and provide in the site. In addition, it can also suggest them a better diet plan based on their goal and habits. Plus, you can increase your visitors by telling them that your restaurant's food has all the proteins and vitamins they need to grow their muscles or lose weight.

6. Review & Rating App
Review and rating app can be highly beneficial for customers and food enthusiasts. While it will allow people to leave their impression of an eatery or particular item, it will also allow people to search for highly-rated foods. Allowing them to avoid things they might waste their money on and only taste the best of the best.
Furthermore, it will also help you maintain your restaurant's good reputation and let people know how highly rated your food is.
7. Custom Food Ordering App
This app is quite different from the ones we have discussed in this list. For this is an application used not by the customer but by the waiters. Waiters can use this app to take orders and keep track of bills. In addition, it can also help in reducing order misplacement and other errors.
Furthermore, it is a great way to reduce the paperwork, as everyone is taking orders on this app. All in all, this is a great way to reduce error from the restaurant side and improve efficiency. While it is a simple app, it has high demand in Restaurant mobile app development. 
8. Restaurant Table Reservation App
Nothing is more painful for a restaurant staff than when customers leave because they couldn't find a seat. And sadly, this happens quite a lot, especially during rush hours. So, how can this be avoided? Simple, all you need is a restaurant table reservation app.
This application will allow the restaurant to attend to all the visitors properly and avoid situations where too many people come simultaneously. On the flip side, it will also allow customers to check whether your place has free space or not. And then they can make their plans accordingly. A win-win situation for both sides.
9. E-Menu App
Most of the restaurants have a physical menu card. However, we live in an age of technology, and we should take full advantage of it. Through an E-menu mobile app, you can eradicate the need for a physical menu card and move the menu to their phones.
In addition to being convenient, it also allows them to look at the food items better. Because, unlike physical card, an E-menu isn't restricted by space. Plus, it allows you to update the menu whenever and however you want on the restaurant side. A particular dish isn't available for the night? Just remove it from the menu.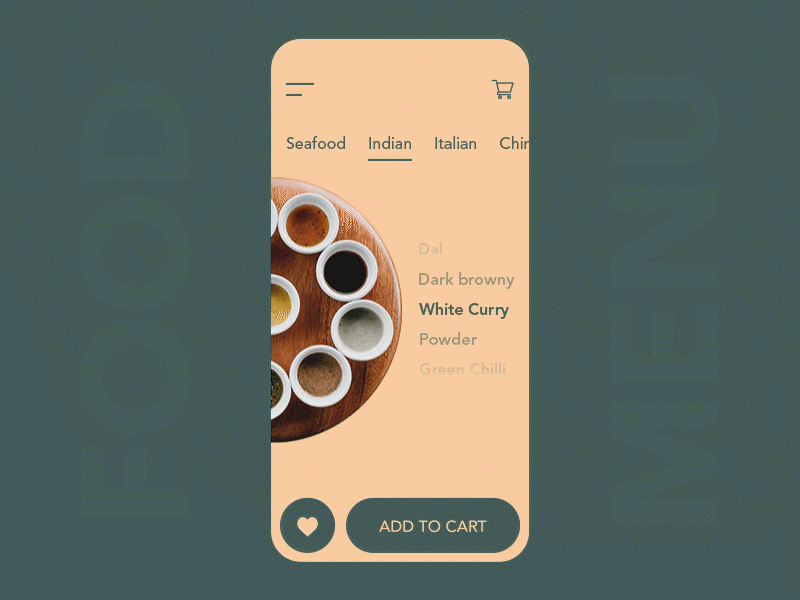 Apart from this, it also helps in a faster ordering process. It will reduce the need for waiters, and customers can order directly from their phones. For both customers and restaurants, it is time-saving and cost-effective.
10. Baby Food App
Lastly, the baby food app. When the food you feed baby, it goes without saying that it should be carefully selected. Because babies are babies, and they are highly venerable. Through a baby food app, parents can order food that is healthy for their baby. Apart from order, this app can also double app as a suggestion app, where parents can see what to and what not to feed their young ones.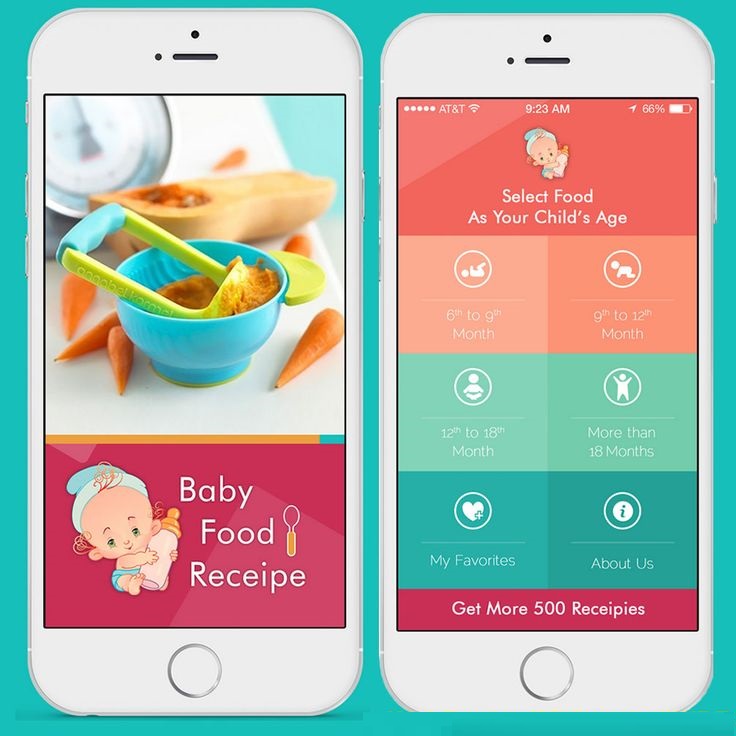 This app offers great opportunities as the competition is quite low, and the potential for growth is high. So, do consider this idea before going to an iPhone app development company.
Conclusion
So, these were the top 10 best food app ideas, which you can use to build an app. As we already saw, this industry has great potential, and it also offers skyrocketing growth. So, you can work on these ideas to create a great app. But in addition to a good idea, you also need a great on-demand app development company.
It is suggested that you find a good developer who can help you bring your idea into reality and create an app with amazing UI/UX. Consulting a good app development company greatly helps you in your business endeavor.

Frequently Asked Questions Regarding Python App Development
1. Why Your Restaurant Needs a Mobile App?
Your restaurants need a mobile application as they can greatly benefit from it. There are many different benefits. Most importantly, through an app, you can reach out to more customers.
As of today, a large number of people prefer ordering online, and providing delivery options can generate great revenue for the business. As such the list of benefits of a mobile app is endless, as we discussed in starting of the blog.
2. How Much Does It Cost To Make a Restaurant App?
The cost of developing an app related to the food-business industry highly depends on several different factors including the features, UI/UX, and platform, among other things. You can directly contact the app development company to get an estimate or a quote.
3. Which Type of Restaurant app is in demand?
There are many different types of on-demand restaurant apps in the market. But users usually prefer apps like food delivery applications, recipe applications, table reservation applications, and food coupons & discounts.