"Welcome to the world of tech education and entrepreneurship!"
Today, we'll be delving into the innovative Codecademy go business model, one of the world's most popular and successful online coding platforms.
Codecademy Go has revolutionized how we learn to code, offering accessible and interactive lessons that have helped millions of users improve their skills and pursue careers in tech.
But what makes Codecademy Go unique is its business model, which combines the best elements of subscription-based and freemium models to create a sustainable and scalable platform.
In this blog, we'll be taking a closer look at the Codecademy Go business model, exploring how it works, why it's successful, and what we can learn from it.
So, whether you're a seasoned entrepreneur or a curious learner, get ready to discover the secrets behind one of the most innovative tech startups of our time!
What is Codeacademy Go?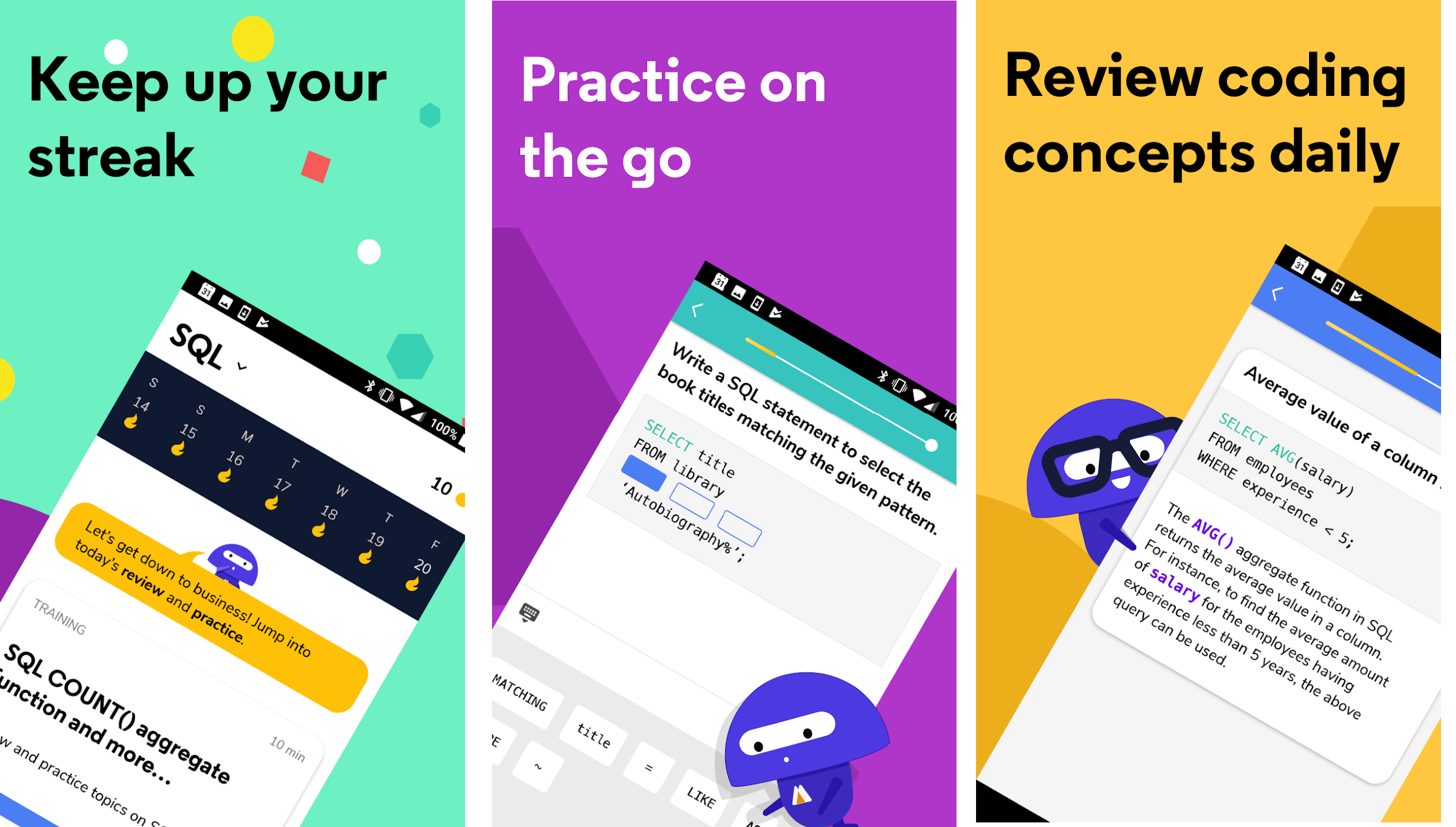 Codecademy Go is a mobile app that complements the Codecademy online learning platform. It allows users to study coding and programming principles while they are on the road and is accessible for both iOS and Android smartphones.
The software provides training in several programming languages, including Ruby, HTML/CSS, JavaScript, Python, and Java.
Each course is separated into manageable portions that will complete quickly, making it simple for users to pick up new knowledge whenever they have some free time.
With personalized progress tracking to keep users motivated, Codecademy Go offers interactive coding challenges and quizzes to help reinforce what users have learned.
With Codecademy, you can sync your progress between the app and the website to continue learning from any device. It is vital to know that it is one of the best apps for a college student in the market that needs to be downloaded.
Codecademy Key Stats & Facts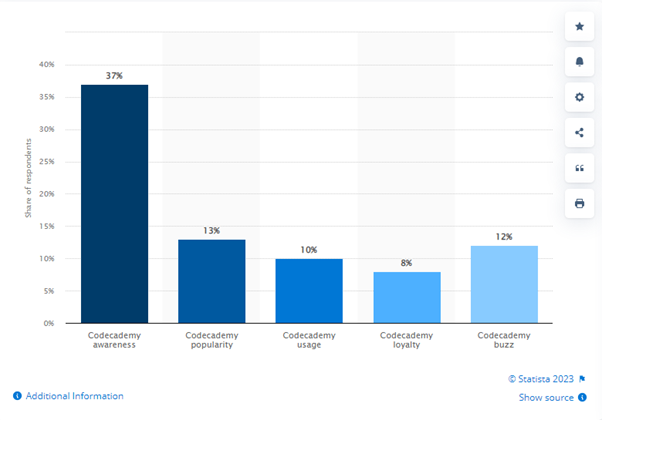 Codecademy's brand recognition is 37% among American users of online education services. Aided brand identification was used to conduct the poll, displaying respondents' business written name and emblem.
A total of 13% of American consumers of online learning services say they enjoy Codecademy. In reality, 35% of the 37% of American respondents familiar with Codecademy favor the company.
Codecademy is utilized by 10% of Americans who utilize online learning services. So, 27% of the 37% who are familiar with the brand utilize it.
Around 8% of American users of online education services indicate they plan to utilize Codecademy again. It indicates that 80% of their users are brand loyal based on the brand's 10% usage share.
A recent media story, social media post, or advertisement featured Codecademy to more than 12% of US online education consumers in August 2022.
32% of the 37% are familiar with the brand, indicating some buzz surrounding Codecademy in the United States at the time of the study.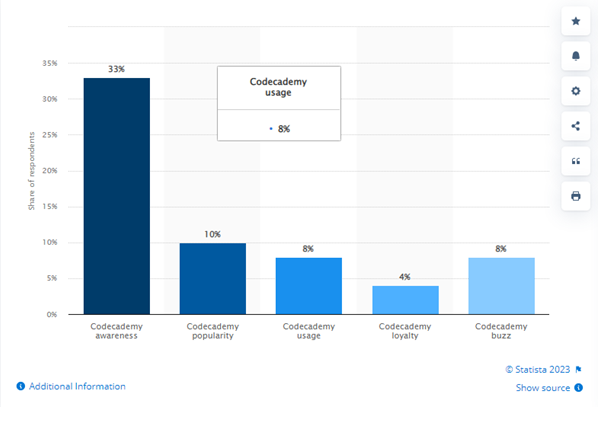 In the UK, 33% of online education service users know Codecademy's existence.
10% of UK users of online learning services say they enjoy Codecademy overall. In reality, 30% of the 33% of UK respondents who are familiar with Codecademy favor the company.
In all, 8% of UK users of online learning services utilize Codecademy. Hence, 24% of the 33% familiar with the brand utilize it.
4% of UK users of online learning platforms say they plan to use Codecademy again. Compared to the brand's 8% usage share, 50% of consumers are brand loyalists.
Around 8% of UK consumers of online education services in August 2022 had come across Codecademy in recent media coverage, social media posts, or advertisements.
24% of the 33% who are familiar with the brand are aware of Codecademy, indicating little talk about the mobile application development company in the UK.
Know the Codecademy Go Business Model
Codecademy Go Business Model primarily offers online courses and earns revenue through various methods. Here are some of the critical components of the Codecademy go, business model:
1. Course Fees:
The first Codecademy Go Business Model is course fees. The cost of some courses and programs at Codeacademy can run anywhere from a few hundred to a few thousand dollars. These courses result in certifications or degrees for successful students.
While some courses may demand money for certification or access to additional content, many for free, earning a certification or credential might cost a few dollars to several hundred dollars per course.
Therefore, Codecademy Go business model also provides subscription-based models, which grant access to various courses and tools in exchange for a regular cost.
2. Data Analytics:
Another Codecademy Go Business Model is data analytics, which entails gathering and analyzing substantial volumes of data platform users produces to learn more about their preferences and behavior.
It entails monitoring how students engage with the course materials, spotting trends in their learning activities, and evaluating how they do on tests.
By modifying the platform's design, the course material, and the teaching techniques, these insights can be utilized to enhance the learning experience for users. However, knowing about the Cost & Features of Develop Tutor App Development is essential after learning the Codecademy go business model.
3. Partnerships with Educational Institutions:
It is the second Codecademy go business model in partnership with an educational institution. It is the most incredible Codecademy go business model.
It would help to learn before building an eLearning platform like Codecademy go. This model has agreements with numerous colleges and educational institutions to provide courses and programs on the platform. A portion of the money made by these courses goes to Codecademy go.
Users of the app will have access to top-notch education and training thanks to these collaborations, which enable the app to offer courses and programs created by renowned universities and other educational institutions. Many educational apps partner with educational institutions to guarantee users can access essential information.
4. Subscription Model:
It is another Codecademy go business model which perfectly blends into the resources of the education app. For a regular price, customers of the Codecademy go business model subscription have access to a large selection of educational materials.
In addition, users can communicate with other students and teachers and access courses, lectures, and other materials online.
It is crucial to understand that it gives users a flexible and economical alternative to conventional educational programs, allowing them to learn at their own pace and on their own time.
Hence if you want to build an eLearning platform like Codecademy go, then now is the time to visit mobile app developers with your idea.
5. Corporate Training Programs:
In this third Codecademy Go Business Model, companies and organizations can customize training programs that fit their needs.
Codeacademy Go's corporate training programs are created to give staff members the information and abilities they need to do their jobs more efficiently.
These programs provide online training courses and modules on leadership, project management, communication, and technological proficiency. Corporate training programs can be tailored to a company's and its workers' unique needs and are accessible from any location with an internet connection.
The foundation of the Codecademy Go Business Model is to provide students with high-quality, inexpensive, and accessible education while finding multiple ways to make money.
To custom elearning app development, you must learn about its cost, features, and benefits. Then, contact the best custom elearning app development company that can offer the services you're looking for.
Most Popular App Like Codecademy Go
Now that time has come when you must dive into the section of some incredibly designed apps like Codecademy go. To know more about this education application, you can visit our blog on the best education apps.
App Like Codecademy Go
Headquarter  
Founder(S)
Foundation Year
Available Platform
Pluralsight Skills.
Farmington, Utah.
Aaron Skonnard, Keith Brown, Fritz Onion, and Bill Williams
2004
Android | iOS
LinkedIn Learning.
Carpinteria, California, United States
            Lynda Weinman

Bruce Heavin

            1995
Android | iOS
Coursera.
California, United States
Andrew Ng

Daphne Koller

2012
Android | iOS
Khan Academy.
Mountain View, California, United States
Salman Khan
2008
Android | iOS
DataCamp.
285 Fulton St, New York.
Jonathan Cornelissen, Martijn Theuwissen, Dieter De Mesmaeker
2013
Android | iOS
Programming Hub.
Mumbai, Maharashtra
Tito Aby Idicula | Nigel Crasto
2009
Android | iOS
edX.
141 Portland St Fl 9, Cambridge, Massachusetts, 02139, United States
Harvard University, Massachusetts Institute of Technology
2012

Android | iOS
What is the Cost of Developing An Education App?
When it comes to the cost of developing an education app it is important to know that it may depend on several factors such as the complexity of the app, the number of features, the technology used, the development team's hourly rates, and the time required to build the app.
Cost to build an app like Coursera  is a significant investment, but it can be a worthwhile investment for businesses or individuals looking to provide educational resources and services to a wide audience.
Here's a table that breaks down the estimated cost of building an app like Coursera based on different factors:
| | |
| --- | --- |
| Factor | Estimated Cost Range |
| Complexity of App | $4,000 to $10,000 or more |
| Number of Features | $6000 to $14000 or more |
| Technology Used | $2000 TO $9000 or more |
| Development Team Rates | $8000 to $16000 or more |
| Development Time | $2000 TO $8000 or more |
Based on industry estimates, the cost to build an app like Coursera can range from $20,000 to $50,000 or more. This cost includes the development of the app's backend, front-end development, design, and testing. In addition, the app's features will also impact the final cost.
It is vital to know that education development offers many features such as course management, user profiles, search functionality, discussion forums, and more. The more features the app has, the more costly it will be to develop.
In a Nutshell! 
Hopefully, you liked this blog, and now you know the incredibly designed Codecademy go business model. Now that you've got all to help you create a magical education application, you must know that developing such applications is challenging.
The mobile application must be attractive enough to engage users to compete against several education apps like Codecademy go.
So if you're interested in demand app development, it is crucial to hire the best eLearning app development company. Or you can get in touch with us with your project requirement by getting in touch with our experts. Hurry up!
Frequently Asked Questions
What Tech Stack Utilized to Develop An Education App?
The tech stack for developing an education app typically includes programming languages such as Java, Swift, or Kotlin for mobile app development, web technologies like HTML, CSS, and JavaScript for frontend development, and backend technologies like Node.js, MongoDB, and AWS for server-side development and hosting.
How To Hire Dedicated Developers to Build Platform Like Codecademy Go?
You need more than just knowing about the Codecademy go business model for your business growth; it requires getting in touch with the best-dedicated developers. Follow these steps to hire dedicated developers.
Define Your Project Requirements
Determine Your Budget
Search For Educational App Development Services
Conduct Interviews,
Check Portfolios And References
Check Education App Maintenance Services Suport
Assess Communication Skills.
Welcome On Board
How to Build an app like Codecademy Go?
To build an app like Codecademy, Go must know the steps. So here's the step-by-step guide to help you create a platform like Codecademy go.
Define Business Goals
Perform Market & Competitor Research
Choose Tech Stack & Features
Hire an ELearning App Development Company
Develop the Education App
Test and Launch the App