Yelp is a search engine that helps you to find sites of attraction in unknown regions in seconds and its API is sometimes used in building any sort of react native app. It makes no difference even if you're looking for the most stylish cafe in town or the closest petrol station. When it is started, Yelp will instantly detect your location and provide you with a comprehensive list of local establishments of various types: cafés, eateries, hair salons, marketplaces, motels, shopping centers, and so on. Check this blog to know more about how to make an app like yelp.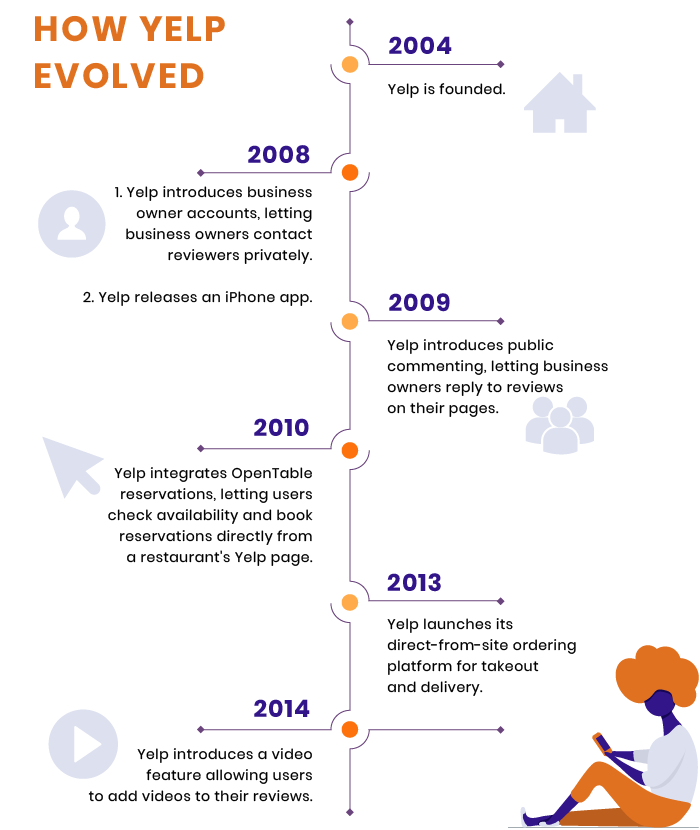 However, this is more than just a more functional mapping service. Yelp provides objective advertising for numerous establishments because its customers may provide reviews on visited sites. As a result, it is not surprising that the Yelp app for Android has amassed over 10 million downloads in just a few years.
Key Features To Develop An App Like Yelp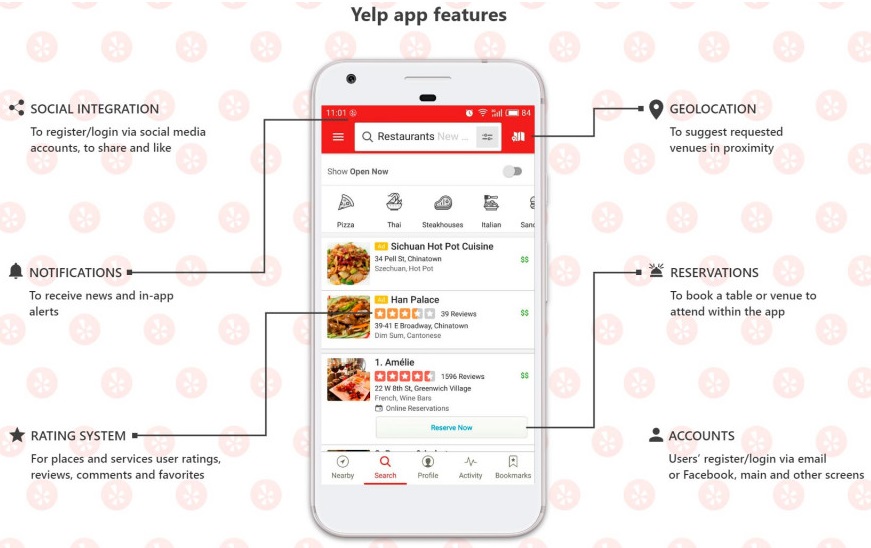 1. Highly Customized User Profiles
Nowadays, the majority of applications are centered on the user. This service format quietly boosts user confidence and enables fine-tuning application settings for specific demands and features. If you extrapolate this feature to the building of a Yelp-type app, it should include features like saving user credentials (for example, a unique username with a photo) and the opportunity to establish a personal list of preferred institutions.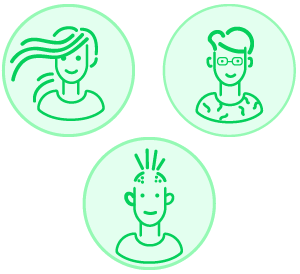 Furthermore, you will need to develop custom mobile app development services for the institutions' owners. In such a profile, one should be able to define information about their partnership that is relevant to visitors, upload marketing materials, and directly examine customer comments, requests, and ratings.
2. Geo Targeting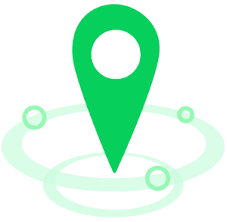 Because your future application will need to determine the user's current geographic position, you must link it to one of the specific geo-targeting APIs. In practice, these APIs employ the GPS receivers of smartphones and other mobile devices for these purposes, which enable determining the current position with a precision of several meters. In terms of particular technologies, developers most commonly utilize the Google Maps API as well as Map box.
3. Vocal Commands
In addition to the standard map, a progressive web app development company would recommend incorporating the now-popular function – navigation with voice commands – into your Yelp clone. As a result, Google engineers have recently added another option to their API set – the Google Maps Directions API, which allows you to control user routes by selecting any voice from a list.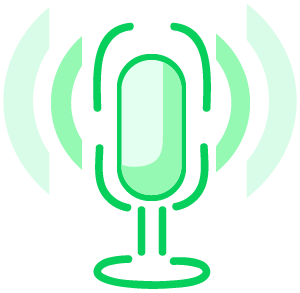 In truth, this is not only a technological breakthrough that is sure to pique the interest of all novelty enthusiasts, but also a highly practical feature that will increase the possibilities of your program for those with bad eyesight or those operating a car, bike, or other transportation.
Cost and Features to Develop a Classified App Like Craigslist
4. Regulation For Social Media Networks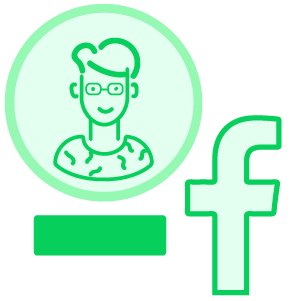 Registering through social networks is a very easy and helpful option that allows users to register and begin looking for essential companies in seconds. In general, any feature that lowers the number of steps necessary to carry out the desired activity is beneficial.
5. Overview Of The Institution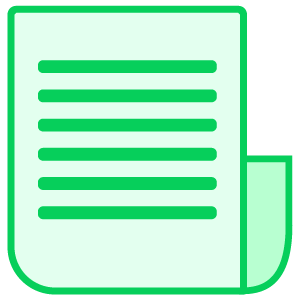 Users may discover more about the institution's background, layout (if it's a café, the food, number of tables, and interior decorating), cost, and so on. Real visitor ratings and comments of the location can also be presented here.
6. Administrative Committee
This component should allow you to control and moderate material for your future service. The admin panel is required for the on-demand app development solution since it allows them to alter specific components of the system without having to contact the developers.
7. Capabilities For Phone Calls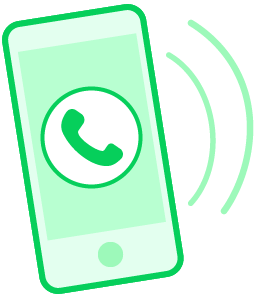 This feature allows you to reserve a table in a restaurant or a room in a hostel while on the road or while driving.
8. System of Customer Feedback & Review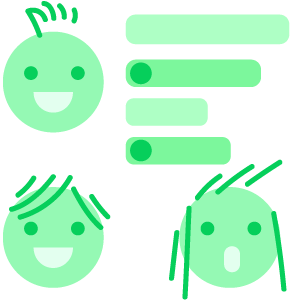 This section allows registered users of the program to publish and score their own evaluations regarding visited locations. It is critical to give several choices for sorting reviews. As a result, you will be able to design the most user-friendly mobile service.
9. Geo-Targeted Push Alerts
You will need to activate geo-targeted push notifications in order to present consumers with pertinent data on time. Users can, for example, be told about current deals at local places or noted about those who paid to be marketed in this fashion with their assistance.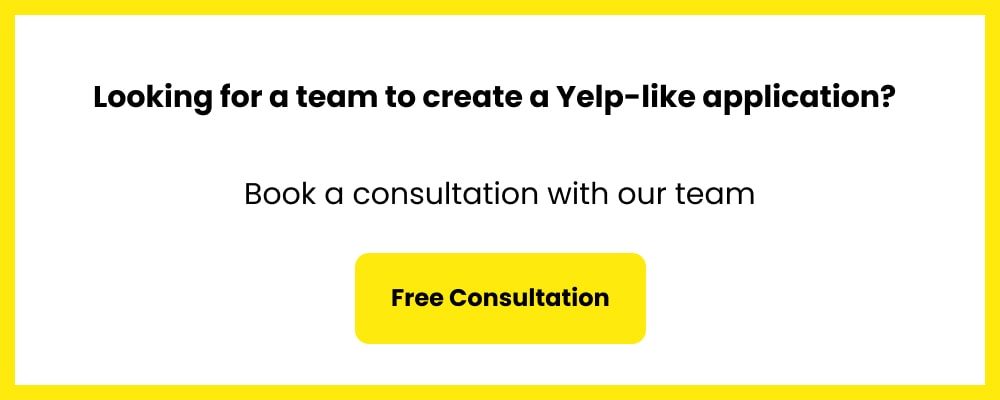 10. Gateways For Payments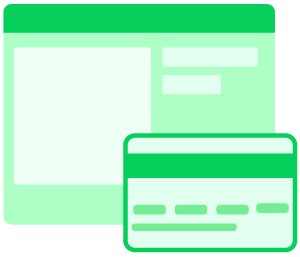 As previously stated, proprietors of business accounts should be allowed to purchase advertising space in the application. These are in-app transactions, for which financial gateways must be linked.
11. Abilities For Marketing & Commercialization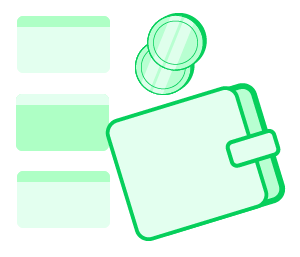 The simplest approach to monetize your future application is to construct advertising blocks. Less evident, but no less efficient, features include the ability to make purchases in the specified institutions (for example, you can develop the option of reserving and paying for hotel rooms); cash rewards systems; search results enhancement (company profile owners can pay to prioritize the placement of their organizations in search engine results); and so on.
Build a Buy Sell Classified Mobile App like Olx & Craigslist
How Much Does It Cost To Create a Yelp-Like App?
If you are seeking a mobile app development service, you should consider the backend, programming mobile platform capabilities, UI/UX, and testing. There are several more factors that influence the cost of developing a mobile app similar to Yelp. It will differ depending on the functionality. There are four more things that must be present in order to create a mobile app similar to Yelp.
User identification/authentication
Geotargeting
Highlights
Notifications through push

When it comes to the entire cost of Yelp application development, you must determine the functionality, platform, and other above-mentioned elements based on your budget. In general, you must construct your mobile device with all of the above-mentioned features and designs in order to gain market acceptability and client attention.
Because more coding and testing are required when developing a mobile app for the Android platform, the cost will be greater than for the custom iPhone application development. Similarly, increasing the number of functions and designs in a mobile application increases the development cost.
There is no precise assessment on the market. We can assist you with a round-figure estimated cost to create applications like Yelp since we have worked with different clients on various criteria.
The number of man-hours spent building a software solution directly affects the cost of the app development. To begin, designers will require 150-200 man-hours to build a user interface design for every platform. The front end will take around 500 hours to complete.
The server component of the program is most likely the most difficult to design. Typically, 500-800 man-hours are required. Finally, training and performance measurement, which take an average of 70-100 hours per system.
If the number of hours required to build the simplest possible Yelp-like app for the two most popular mobile platforms (Android and iOS) is multiplied by the average hourly developer rate in custom software development USA companies (which many consider being the gold standard for offshore outsourcing software development) – $15, the lower limit of the future product budget is around $9000.
Keep in mind that these are the starting prices for new product development. Furthermore, following the release, you will require technical assistance and maintenance (which will require 10-12 hours per month), as well as server lease charges.

How Do You Pick The Best Mobile App Development Company?
It would take around 1500 hours to construct a user's module with extra features such as login, identification, the primary screen, social networking, and so on. It would also have an activity panel, a feed display, a searching screen, bookmarks, events, a user profile, and categories, among other things.
The most significant feature, such as place booking, would also be included, as they play a key part in an app like Yelp. It would take around 500 hours to create a model of communication. Chat, API services, location-based services, and push notification functionality are all included.
You may employ a top PWA  development company to produce an app for your company. They employ developers that use cutting-edge technology to assist you in developing the ideal mobile app for your company.
How Does One Go About Creating A Profitable Application Like Yelp?
1. Find Your Specialty
You'll have to compete with major companies if you select a popular target market. While Yelp covers a wide range of companies and services, you can try focusing on a certain specialty. Let's take a look at some other prominent review platforms that cater to diverse demographics and see how they vary and what they share.
Trip Advisor caters to tourists by allowing them to browse suggestions and provide reviews about locations they've visited. That is why Trip Advisor only contains travel-related categories, such as hotels, activities, restaurants, and flights. All of these categories, as well as educational and financial services, may be found on Yelp.
The Ultimate Guide To Making Money From A Classified Website
2. Pay Attention To The User Experience
When developing your app and deciding on features, a successful Android app development company keeps users and their requirements in mind at all times. Because applications like Yelp are primarily used to locate companies and services, your app must include a user-friendly search function.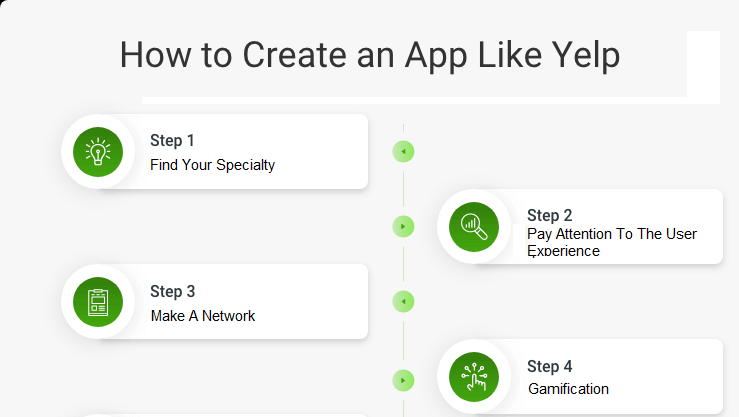 Here are some things to keep in mind when building a search tool to help your consumers locate what they need quickly:
Make the search box stand out. Users do not want to waste time searching for a search bar.
With clear copy, users may be guided. The UX copy is an important component of interfaces. This is the text portion of your app, such as instructions and navigation buttons, that guides users through your platform and creates a favorable experience for them. As seen below, provide consumers examples of what they may put in the search bar or ask them directly.
Make search ideas. As a user fills in the search field, search recommendations show in a drop-down list. They deliver instant results and assist consumers in locating what they want as quickly as possible.
Keep track of recent searches. Users save time when they wish to locate something again by having a history of recent searches.
Take voice search for example. Because users do not have to write questions, voice search makes it even easier to utilize a mobile app on the move.
Filers should be included. Filtering is used to reduce down results so that only relevant results are displayed. Allow your app's users to filter search results based on location, price, and other criteria.
3. Make A Network
Yelp makes its consumers feel like they're part of a big family. This assists the firm in increasing brand recognition and trust. Allow your app users to rate one other's reviews, add each other to their friend lists, and exchange messages. When folks understand who they're working for, they're more inclined to provide material. In terms of communities, Yelp has gone even farther, hosting local Yelp events to bring people together in person.
4. Gamification
Gamification is a powerful technique for engaging and encouraging people in CMS web development. It encourages people to post reviews while also entertaining them. Aspects of gamification include:
Awards
Scoreboards
Point
Adventures
Prizes
Giving users badges to acknowledge their successes is one method to gamify an app. Badges can be awarded based on the number of reviews left or locations visited.
How Would You Monetize A Yelp-like App?
1. Advertising
Businesses can purchase advertising from Yelp. Yelp advertisements appear higher in search results and on competing business sites. Remember that adverts should be related to search queries in order to avoid annoying people.
2. Fees For Transactions
Commission on transactions such as ordering meals is another viable revenue stream for an app like Yelp. Yelp has already entered the transactional market. Nonetheless, advertising remains the company's primary source of revenue (over 90 percent).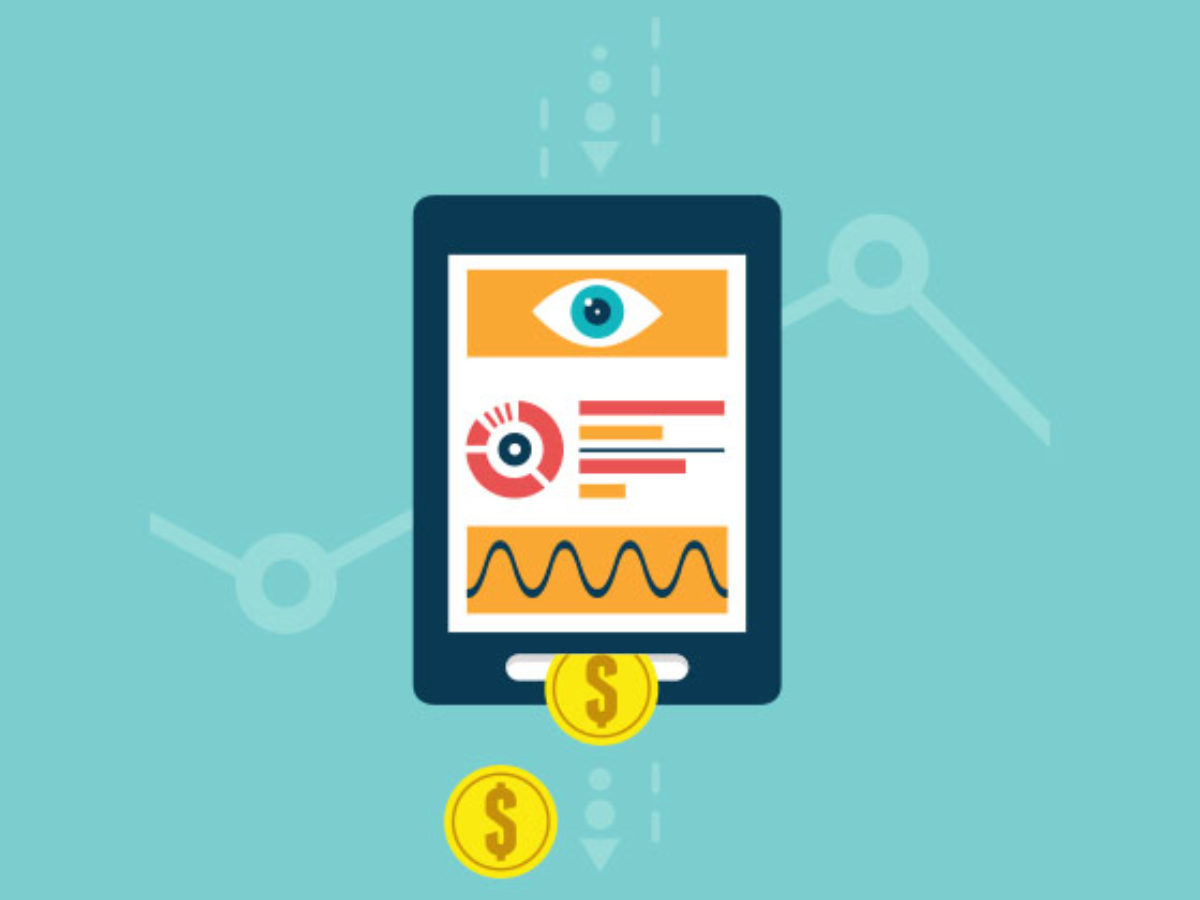 3. Features of Superior Quality
This business strategy of classified app development is known as freemium. Users may download and use the app for free, however, some services need payment. The problem here is to provide enough functionality to maintain customers who aren't willing to pay while also delivering premium services that some users will pay for.
4. Deals & Promotions
Yelp provides Yelp Discounts, which allow companies to make special deals in order to attract more people. Yelp is compensated for sales of deals. Another advantage of this method is that special promotions might attract new users.
Conclusion
If you are inclined to keep with the creation process, it is time to begin looking for a team of developers, likely a Laravel development company that can bring the concept to life in the shortest amount of time at a reasonable price. In reality, it is critical that you discover not just skilled, experienced developers, but also those that can provide you with the most cost-effective and competing options.