Who doesn't love to get exciting offers & discounts while shopping? Don't you? Everyone does, and this craze has urged the invention of daily deals and discount Coupon App Development. Daily deals app not only help people save huge amounts on products but also gives them access to a plethora of available options. The best part is online discount coupon app help users get great deals on everything from ordering food to getting a spa.
On the other hand, this has also raised the opportunity for business owners to take their business to the next level and entice users with exclusive offers and discounts. According to experts, the demand for daily deals applications is expected to reach $940 billion by 2023. Businesses should know a lot more before stepping into the daily deals and discount mobile app development process. So, let's start revealing everything about deals and discount mobile apps.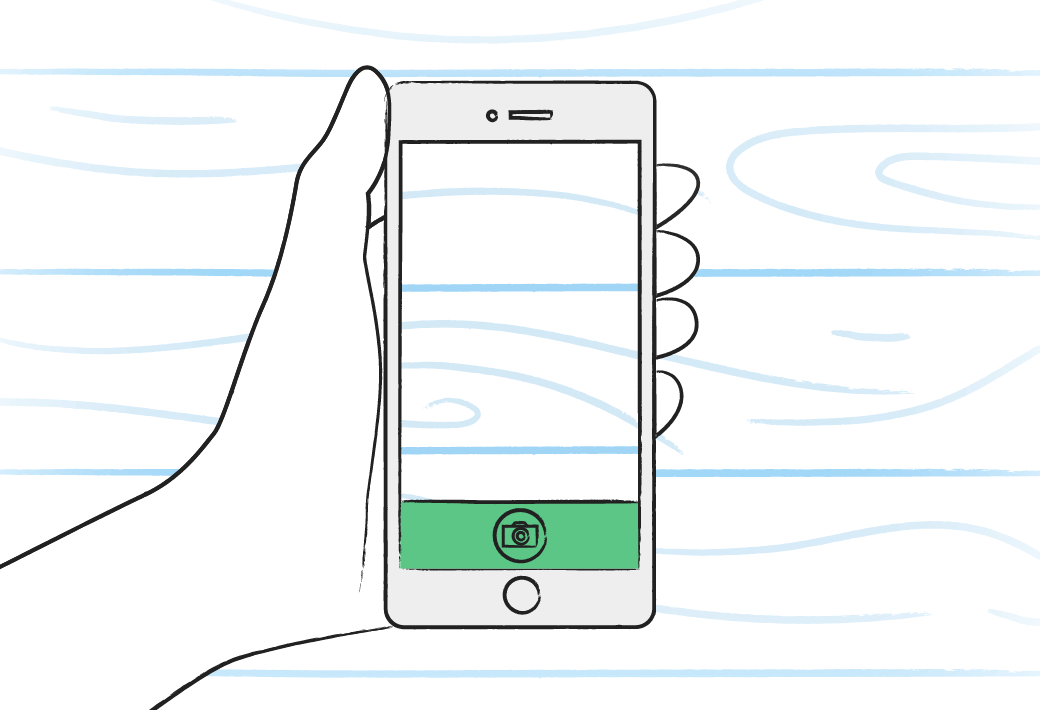 What Is Daily Deals Coupon App?
Every business owner wants to extend their user base, and one of the best ways is to offer those exciting deals and discounts on every service they avail. Whether you run a restaurant, tours & travel agency, or a grocery shop, daily deals app can take your business to the next level. It will help your business gain users' attention with exclusive offers they have been looking for.
While developing daily deals mobile apps, businesses can offer great deals and create a huge user base. But on the other hand, coupon app proves to be helpful for users to get products at discounts. So, if you are a seller looking forward to increasing your brand presence and generating more profit, stepping into daily deals app development will be a great move.

Current Market Stats of Daily Deals & Discount Coupon App Development
Daily deals coupon apps have grown exponentially over the past few years and have become one of the most used business applications in the US and other regions. Here are the latest statistics on daily deals & discount coupon app development and a beginner's guide to developing an e-commerce app, showcasing the trend for daily deals apps in today's time.
As per reports, 55%of of users search for e-coupons while shopping.
More than 58%of US internet users redeemed a coupon code at least once in 2020, which is expected to reach 2x more by the end of 2022.
com is one of the most visited coupon websites in the US, with 67 million monthly visits on average in April 2022.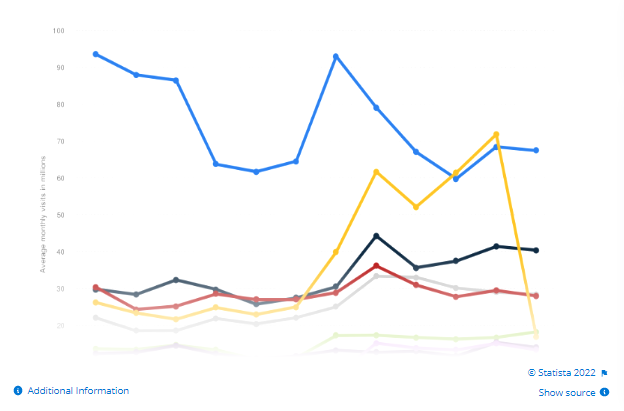 Across 31 million e-coupons were used worldwide in 2019, which was almost double the number in 2014, i.e., 16 million.
The daily deals and coupon app industry grew at an average rate of 13% from 2015 to 2020 and generated annual revenue of $6 billion.
62% of smartphone owners will likely use digital coupons in the future.
Crucial Features of Daily Deals & Discount Coupon App
Want to develop a successful discount & coupon app for your business? Insert the following set of features while working on the coupon app development process. 
Users Panel
This panel of deals and discount mobile apps is accessed by the users where they can get a better shopping experience with exclusive offers.
a) Sign-up & Registration
It is the foremost feature that users will access as soon as they decide to use your coupon app. Here you can allow users to sign-up for the deals mobile apps by entering their email, phone number, or social media website. Then, enable the users to register for daily discount coupon apps using interactive UI offered by the organization. This is one of the most important features of a progressive web app for ecommerce.
b) Invite Friends
It is another mandatory feature of the daily deals and discounts coupon app that helps users invite their friends and take advantage of multiple deals and discounts. Due to this feature, users can experience the benefit of multiple shopping alternatives. The invitations can be sent through social media applications.
c) Daily Deals
This section will highlight daily deals on multiple items, food, clothing, and other products. Here, users can surf the daily ongoing deals and avail of the offers accordingly. So, incorporating this feature into the deals & coupon mobile app development process will increase your app's visibility and, in turn, offer long-term profit.
d) Coupon Codes
Using coupon codes, users can freely redeem tickets whenever they choose and at any time of the day. As you create the best coupon and discount apps, incorporating different coupon code features is necessary.
e) Favorites
This amazing feature of deals and discount coupon apps allows users to bookmark their favorite deals. Later on, they can take benefit of the deals, but before their validity expires. Moreover, for a better user experience, you can send timely push notifications to the users about the deal's expiry date.
Merchant Panel
This panel is used by merchants willing to use deals mobile apps for business purposes and gain huge profits. A seamless merchant panel has been a reason for these applications to be listed as trending mobile apps.
a) Manage & Add Deals
Here, store owners and merchants can add attractive discounts to a certain sector. The merchants are responsible for managing deals or adding offers and coupon codes.
b) Track Deals Status
Tracking becomes hectic as the storekeepers are responsible for discounts, promotions, and the merchandise's status. To resolve this, the tracking deals option comes in handy. It enables the merchants to access the number of discounts redeemed and determine whether contract extensions are required in terms of time and goods.
c) Redeem Coupon
Here, the merchants can manage coupons redeemed by the users. So, do not forget to insert this crucial feature while working on online discount app development. It will keep work transparent and sort out the billing process.
d) Manage Multiple Orders
Managing multiple orders, deals, and discounts becomes hectic while running an offline store. That's why incorporating this feature is essential when you build a daily deal app. It also prevents order placement confusion in the future and keeps everything well-managed.
e) Notifications & Emailing
This feature keeps the users updated via push notifications and emails from dealers and retailers about forthcoming deals. It's an amazing feature to increase your app's visibility while keeping the users engaged with deals and discount coupon apps.
Admin Panel
Finally, the last panel is accessed by the administration/admin of the deals and discount coupon app. 
a) Manage Deals & Coupons
In this section, the admin will manage and control all the deals & coupons running on the coupon & discount apps. The admin also gets access to the arrival and expiration date of the coupons so that they can manage things accordingly. Besides this, the administrator can store and analyze all the coupon-related information via an application. Other than daily deal and coupon apps, here are some of the online marketplace ideas for you to succeed in your industry.
b) Monitoring Store Owners' Data
Only the admin is responsible for monitoring and handling multiple transactions and the associated products. This feature allows the admin to control the information about store owners associated with the deals and discount coupon app. The data could be anything. For instance, address, phone number, products, etc.
c) Manage Merchants
Like product management, keeping an eye on all the merchants is also a must for all business owners. In that case, this amazing feature of the best apps for couponing will come in handy. It will help the admin to keep track of all the merchants while tracking their activities, products, offers, deals, discounts, and more.
d) Share Deals
This interactive feature of deals and the discount mobile app enables businesses or e-commerce platforms such as apps like amazon to share discounts on social media platforms or apps like WhatsApp, further expanding the app's significance and visibility. Sharing deals could be a revenue-generating feature of your coupon app to help businesses grow.
So, here comes the role of admin, where he or she has to keep track of the shared deals on multiple social media platforms.
e) Review Comments
Only the admin can view the ratings and comments made by the users. Later on, the improvisations are done based on the reviews given. Reviewing comments timely is also a must for the admin to maintain the brand image and generate profit from the application.
So, these are the three different panels and the associated features of deals and discount coupon apps. Now that you are well-versed with the must-have features of on-demand daily deals app development begins the development process right away.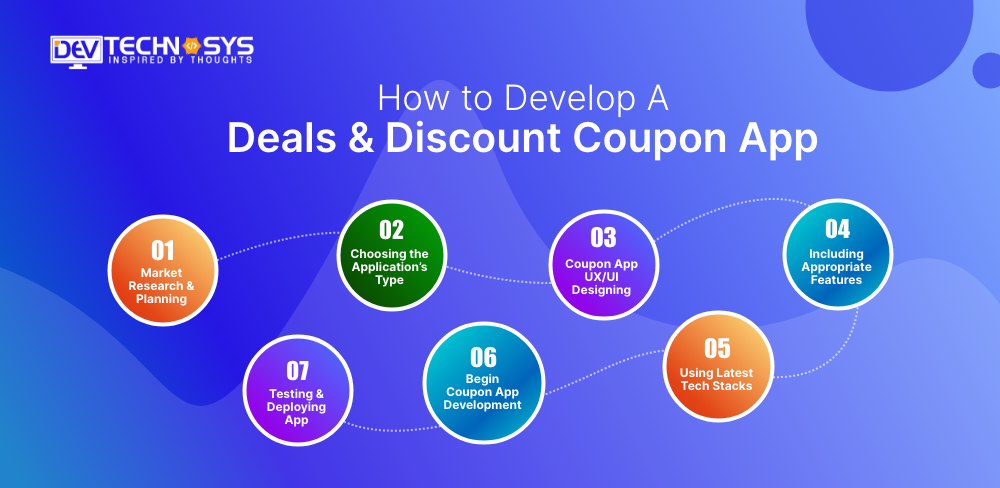 How to Develop A Deals & Discount Coupon App? 7-Step Process!
Want to build a daily deal app? Don't know the development process? We can help! Here is the step-by-step process to create the best app for coupons and discounts. 
Step 1 – Market Research & Planning
As the demand for the best app for coupons and discounts increases every passing day, the number of applications is also increasing. Hence, businesses need to conduct enough market research before developing a daily deals app. Knowing about your competitors will help you know their application features, functionalities, and loopholes.
After that, you can make a plan to proceed with the daily deals mobile app development process. Always remember, when you work with a plan, the chances of achieving success increase 2x more times.
Step 2 – Choosing the Application's Type
Next, choose the type of coupon app you want to create as per your business needs and demands. For instance, you run a food and restaurant business and want to create a daily deals app for the same. In that case, you have to decide the restaurant delivery mobile app development types, i.e., Android, iOS, web, etc. It is crucial as the entire development process is based on this decision.
Step 3 – Coupon App UX/UI Designing
An application's design is a strong asset to grab millions of users' attention at first glance. So besides focusing on the development process of coupon and discount apps, think of appealing UX/UI design software for your daily deals app. Try to keep the design simple yet effective to attract users. If you can't think of something out-of-the-box, it is advisable to hire dedicated developers and designers.
Step 4 – Including Appropriate Features
Once you choose a design for your daily deals mobile app, think of unique features to incorporate into your business app. You can also take reference to all the features mentioned in the blog above, as each of them will contribute to the success of your deals and discount coupon app. If you can extend your budget a little bit, go for the advanced features and functionalities.
Step 5 – Using Latest Tech Stacks
The technology stack is another mandatory asset to developing a successful discount coupon app. Yes, you read it right! So, ensure to include the latest technology while planning for online discount app development. Want to know the type of tech stack used during daily deals app development? Here is the data in tabular format.
| | |
| --- | --- |
| Functions | Tech Stack |
| Push Notifications | Bandwidth, Twilio |
| SMS, Phone, &Voice Verification | Nexmo |
| Powerful Programming | GWT |
| Cloud Environment | AWS |
| Data Management | Datastax |
| Payments | Braintree, PayPal |
| Operating System | Debian |
| Emailing | Mandrill |
| Database | Cassandra Database, HBase, MongoDB Database, Postgress, Mail Chimp Integration |
| Real-time Analytics | BigData, Hadoop, IBM, Spark, Apache Flink, Cisco |
Step 6 – Begin Coupon App Development
Finally, when you have all the essential data or information in hand, you can begin the coupon app development process. It is where the actual process begins. If you have your team, well and good. If not, hire deals and discount app developers who can craft an amazing application for your business. It will also let you know the daily deals on app development costs.
Step 7 – Testing & Deploying App
When you complete all the six steps mentioned above, test your business application carefully. Create an error-free daily deals app to offer a fantastic user experience. Test every application element to ensure that none of the bugs is left. It will keep the users happy with the application and help you get better revenue within less time.
This is it! So, these are the seven-step process to develop daily deals and discount coupon apps that you can follow to achieve success. Now that both the features and development steps are revealed, now is the right time to begin the process.
Also Read- A Complete Guide To Develop Marketplace Apps Like ETSY, Amazon, And Flipkart

Cost for Daily Deals & Discounts Coupon App Development
The process of dealing with coupon apps varies depending on the type of application developed. On average, the cost for daily deals and discount apps varies from $20,000 to $30,000, depending on the online discount coupon app. Not only this but other major factors affect the discount mobile app development cost, such as –
App Features
UX/UI Design
Tech Stack
Application Type
Developer's Location
Development Platform
So, when you build daily deals mobile app, consider these crucial factors. It will help you craft a perfect business application within your budget.
Final Thoughts!
Consumers always feel excited to purchase with exclusive discounts and offers on the product they want. So, the invention of the best apps for couponing or daily deals coupon app has made the job a little simpler for businesses and convenient for consumers. Due to this, the popularity of such applications is growing tremendously, and as a result, more businesses are planning to develop daily deals apps.
So, if you are also planning for daily discount app development, hire a leading organization that can create a perfect business app for you. Dev Technosys is a leading mobile app development company with a team of dedicated developers, designers, and testers. We can build daily deal mobile apps for any business domain. Share your requirements now!
Frequently Asked Questions
Q 1. What Are The Best Daily Deals And Discount Apps In 2022?
Ans. – Daily deals and discount coupon apps are gaining immense popularity and making money. Due to the high demand, unlimited deals and discount coupon applications are available. But, the best discount apps are –
Groupon
PatPat
Zulily
LivingSocial
Newegg
Q 2. Which Features to Include While Developing Daily Deals & Discount App?
Ans. – There are many features you can insert while creating daily deals and discount apps or coupon app development. But, businesses can't insert every feature within a limited budget. So, in that case, you can refer to the following features.
Registration
Invite Friends
Manage Order
Track Status
Daily Deals
Coupon Code
Manage Merchants
Q 3. How to Develop A Daily Deals Coupon App?
Ans. – To develop a feature-rich and successful daily deals coupon app, you can follow the steps given below.
Step 1: Market Research
Step 2: App Architecture
Step 3: UX/UI Design
Step 4: Coupon App Development
Step 5: Quality Assurance and Testing
Step 6: App Launching
Step 7: Support & Maintenance