Money Makes The World Go Round, And Now, With The Touch Of A Button, It Can Travel Across Borders In An Instant.
 – Warren Buffett
Are you ready to propel your business into the digital age and dominate the financial landscape? Look no further! In this transformative blog post, we unveil the secrets to developing a powerful money transfer app or website that will skyrocket your business's success.
Imagine the convenience of enabling your customers to send and receive money securely with just a few taps or clicks. From seamless transactions to enhanced security features, we guide you through every step of the development process.
Discover the optimal technologies and frameworks, uncover essential design principles, and unlock monetization strategies that will catapult your business ahead of the competition.
Join us on this thrilling journey as we navigate the realms of innovation and entrepreneurship, empowering you to make a money transfer app. Don't miss the chance to revolutionize your business—let's embark on this incredible adventure together!
What is a Money Transfer App?  
A money transfer app is a digital application that enables individuals or businesses to send, receive, and manage financial transactions electronically. Through their laptops or mobile devices, consumers can move money between accounts. These apps have revolutionized the traditional methods of sending money, making the process faster, more convenient, and more accessible.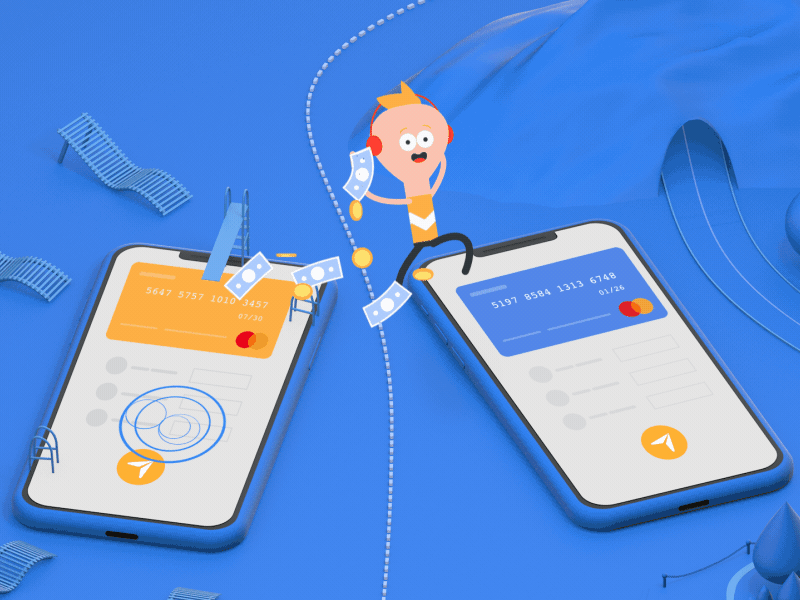 Online payment transfer app development typically connects to users' bank accounts or digital wallets, allowing them to securely transfer funds to other individuals or even make payments for goods and services. They provide instant transfers, recipient verification, and transaction history tracking features and often support various currencies.
These best digital money transfer apps offer a convenient alternative to traditional cash, checks, or wire transfers, eliminating the need for physical visits to banks or money transfer agencies. With the widespread adoption of smartphones and the internet, money transfer apps have gained popularity, especially for international remittances, peer-to-peer payments, and online purchases.
Read More : Top 5 NFC Payment Apps 
Market Stats To Look At!
The global mobile money transfer market was approximately $1.3 trillion in 2020.
The market is expected to grow at a CAGR of around 23% from 2021 to 2028.
In 2020, the total number of mobile money accounts exceeded 1.2 billion globally.
According to user feedback in the United States, as of July 2017, PayPal was considered the most secure money transfer or payment app.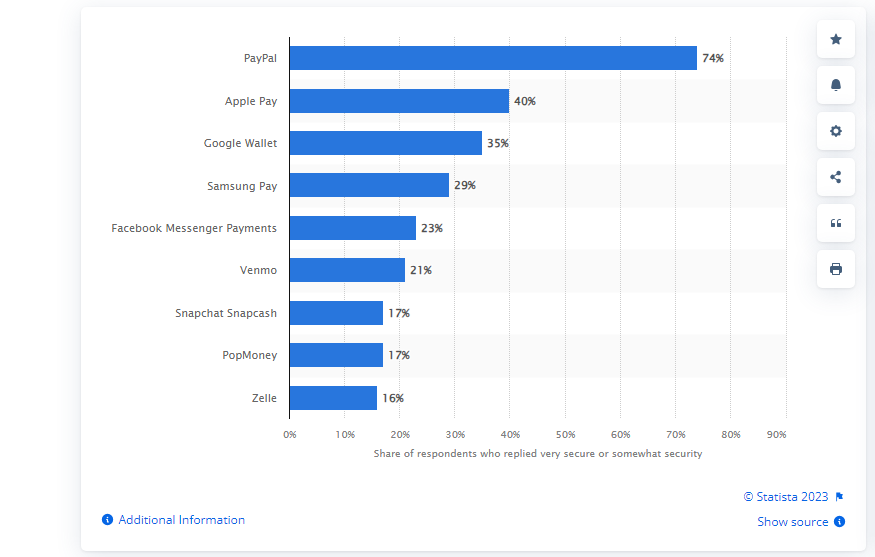 The statistics reveal that 74 percent of users regarded PayPal as a secure platform. In contrast, only 17 percent of users expressed the same confidence level in Snapchat Snapcash.
The Asia-Pacific region dominates the mobile money transfer market, accounting for the largest market share.
PayPal, one of the leading money transfer apps, reported over 400 million active user accounts worldwide.
In 2020, Venmo handled more than $159 billion in payments.
Zelle reported an increase in transaction volume of 58% in 2020, with over 1.2 billion transactions.
Cash App's parent company, Square, reported over 36 million monthly active users for the cloud money transfer in Q2 2021.
Google Pay has grown significantly, with over 150 million monthly active users in 40 countries.
Western Union, a prominent money transfer service, reported digital transactions accounting for approximately 14% of its consumer-to-consumer business in 2020.
TransferWise, now known as Wise, processes around $6 billion in monthly cross-border transfers.
Revolut has over 15 million registered users and has processed over 1 billion transactions as of 2021.

Top Money Transfer App
If you want to  make a money transfer app then it is crucial to learn more about the several platforms available on the internet today.
| | | | | | |
| --- | --- | --- | --- | --- | --- |
| Money Transfer App | Description | Rating | Downloads | Platforms | Launch Date |
| | A widely recognized and versatile money transfer app. | 4.6 | 500M+ | iOS, Android, Web | December 1998 |
| | A social payment app that allows easy peer-to-peer transactions. | 4.8 | 70M+ | iOS, Android, Web | January 2009 |
| | A fast and secure money transfer service for US bank customers. | 4.5 | 100M+ | iOS, Android | June 2017 |
| | An app that enables users to send money and invest in stocks and Bitcoin. | 4.7 | 50M+ | iOS, Android | March 2013 |
| | A digital wallet and payment service by Google. | 4.5 | 500M+ | iOS, Android | August 2018 |
| Western Union | A longstanding money transfer service with a digital app. | 4.2 | 10M+ | iOS, Android, Web | January 2003 |
| TransferWise | A popular app for international money transfers at low fees. | 4.6 | 10M+ | iOS, Android, Web | January 2011 |
| Revolut | A multi-currency account and money transfer app with various features. | 4.4 | 20M+ | iOS, Android, Web | July |
Types of Money Transfer Apps
Various types of money transfer website development are available in the market, each with its features, target audience, and functionalities. Here are some common types of money transfer app:
1. Traditional Bank Apps
Many conventional banks have created mobile applications that let customers transfer funds between their accounts or to accounts at other financial institutions. These apps frequently come with extra capabilities, such as paying bills, managing accounts, and checking balances.
2. Peer-to-Peer (P2P) Payment Apps
P2P payment apps enable inter-person money transfers. They enable users to pay money immediately from their mobile devices to friends, relatives, or acquaintances. Popular P2P payment apps include Zelle, Cash App, Venmo, and PayPal. Hence if you want to make a money transfer app or payment Apps Like Venmo then you can use these examples as rivals.
3. Remittance Apps
Remittance apps focus on facilitating international money transfers, often targeting migrant workers who need to send money to their home countries. These apps typically offer competitive exchange rates and lower fees than traditional methods. Examples include WorldRemit, TransferWise (now Wise), and Remitly.
4. Mobile Wallets
Users of mobile wallet apps can save money digitally and use their devices to send or receive payments. These money transfer app development frequently offer extra functionality like integrating reward programs, online purchasing, and in-store payments. Apple Pay, Google Pay, Samsung Pay, and Alipay are a few examples.
5. Cryptocurrency Wallets and Exchanges
Cryptocurrency apps enable users to store, trade, and transfer digital currencies such as Bitcoin, Ethereum, and Litecoin. These apps typically offer wallet functionality to securely store cryptocurrencies and facilitate peer-to-peer transfers. Examples include App like Coinbase, Binance, and Exodus.
6. Non-Bank Financial Institution Apps
Some non-bank financial institutions, such as payment processors or e-commerce platforms, offer money transfer apps. These money transfer apps for business often provide seamless integration with their respective platforms, allowing users to transfer funds for purchases or business transactions. Examples include Square Cash, Amazon Pay, and Stripe.
7. Mobile Banking Apps
Mobile banking apps offered by online-only banks or digital banking platforms provide comprehensive banking services, including money transfers, account management, bill payments, and more. Examples of fund transfer apps include Chime, Ally Bank, and Revolut.
It's important to note that some apps may fall into multiple categories, as they may offer a combination of features. Before you dive into the process to make a money transfer app it is important for us to provide a general overview of the different types of mobile E-Wallet application.

Features of Money Transfer App
If you want to make a money transfer app then it is crucial to learn about its excellent features. Discover a cutting-edge money transfer app designed to simplify your financial transactions. Seamlessly send money, manage accounts, and experience secure, lightning-fast transfers at your fingertips.
1. User Panel
The online payment transfer app development allows users to create an account by providing their personal information, such as name, email address, and phone number. Some apps may also require identity verification for security purposes.
Users can view and manage their accounts, including transaction history, account balance, and linked bank accounts or cards. To make a money transfer app like venmo it is crucial to add these functions in your application.
This feature enables users to send money to other individuals or businesses. Users can enter the recipient's details, such as their name, mobile number, or email address, and specify the amount to be transferred.
Users can receive funds from other app users or external sources. The app may generate a unique QR code or provide a virtual payment address to facilitate easy receipt of money.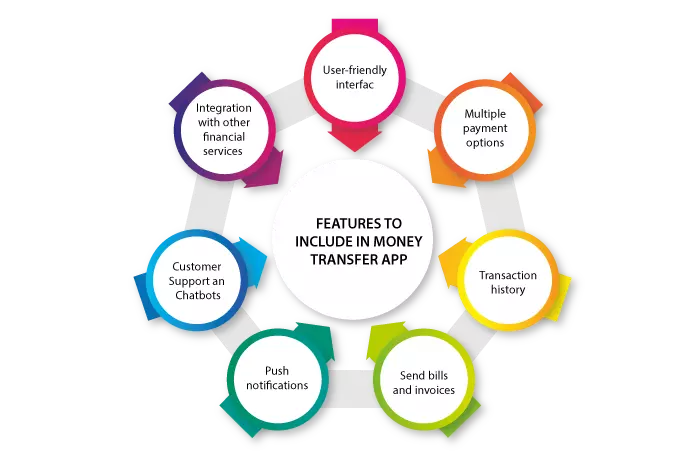 The app maintains a record of all transactions made by the user, including sent, received, and pending transfers. Users can access and review their transaction history for reference. If you want to build an payment app like paypal then it is critical to consider these functions.
Users receive real-time notifications about transaction status updates, such as successful, pending, or failed transfers. Notifications may be sent through push notifications, emails, or SMS.
If the app supports international transfers, it may offer currency conversion functionality. Users can view current exchange rates and convert funds from one currency to another within the app.
Fintech Mobile app development often allows users to sync their contacts or address books. It makes selecting recipients from their contact list easier, eliminating the need to manually enter recipient details.
Money transfer apps prioritize security. They may incorporate features like two-factor authentication (2FA), biometric authentication (fingerprint or facial recognition), or passcodes to protect user accounts and transactions.
The user panel may provide access to customer support options, such as live chat, email, or a helpline. Users can seek assistance for any issues, queries, or disputes related to their transactions.
Some money transfer apps incentivize users to refer others by offering rewards or bonuses for successful referrals. The user panel may have a referral section where users can track their referral history and earnings.
Settings and Preferences:
Users can customize their app settings and preferences, including language selection, notification preferences, default currency, and security settings. By adding preference and setting functions you can simply make a money transfer app to enhance user experience.
2. Admin Panel
This feature can manage user accounts using the admin panel, including adding new accounts, activating or deactivating existing ones, and seeing user information and transaction history.
The admin panel provides real-time monitoring of transactions processed through the app. The administrator can track and review transaction details, including sender and recipient information, transaction amounts, dates, and statuses.
Security and Fraud Management:
Admins can implement and monitor security measures to prevent fraudulent activities. It may include setting transaction limits, monitoring suspicious transactions, and taking appropriate actions to mitigate risks. It is crucial to add these extraordinary functions when you make a money transfer app.
It may offer comprehensive analytics and reporting features, allowing administrators to generate reports on transaction volumes, revenue, user activity, and other financial metrics. These insights can help identify trends, assess performance, and make informed business decisions.
Fee and Commission Management:
Admins can configure and manage transaction fees, exchange rates, and commissions through the admin panel. They can set different fee structures based on transaction types, user tiers, or specific conditions.
Compliance and Regulatory Controls:
Several compliance standards and laws govern apps that transmit money. It can enforce and keep an eye on compliance procedures, including Know Your Customer (KYC) verification, Anti-Money Laundering (AML) checks, and other legal requirements.
Customer Support and Helpdesk:
The admin panel may include features to manage customer support inquiries and provide assistance. Admins can view and respond to user queries, troubleshoot issues, and provide timely support to ensure a positive user experience.
Notifications and Communication:
Admins can send notifications and alerts to users through the app. The admin panel allows administrators to manage and customize these notifications, such as transaction confirmations, promotional messages, or important updates.
The admin panel provides configuration options to manage app settings, such as language preferences, app appearance, transaction limits, and other operational parameters.
User Feedback and Reviews:
Administrators can read and evaluate user comments, ratings, and reviews to learn more about user happiness and spot potential improvement areas. The trending eWallet apps may include tools for responding to user comments and resolving any issues or concerns.
How To Make A Money Transfer App Or Website For Your Business?
If you are wondering how to create a money transfer website then you must know you have reached your destination. To make a money transfer app or website for your business involves several steps that require the assistance of developers. Here is a detailed guide on how to proceed with the help of developers in this section.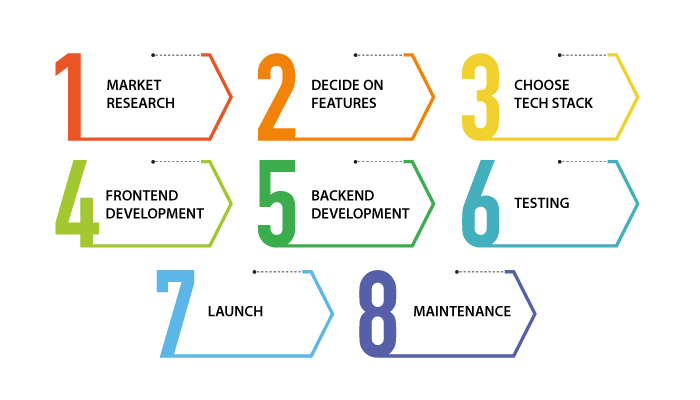 1. Define Your Requirements
Start by defining your desired features and functionalities in your money transfer app or website. Consider factors such as user registration, security measures, transaction history, integration with payment gateways, and any additional features specific to your business.
2. Research And Find Developers
Look for experienced developers or development teams specializing in building financial or payment-related apps or websites. If you want to know how to start a money transfer business then following these steps is crucial.
You can search online, ask for recommendations from peers, or use freelancing platforms to find suitable developers. Consider their expertise, portfolio, client reviews, and overall reputation.
3. Discuss Your Project With Developers
Once you have shortlisted potential developers, have detailed discussions to communicate your requirements. Provide them with clear documentation or wireframes if available. During these discussions, consider factors such as development cost, timeline, technology stack, and other relevant details.
4. Choose The Development Platform
Determine whether you want to make a money transfer app or a web-based solution. If you choose a mobile app, you can choose between iOS (Apple) and Android (Google) platforms. For web development, consider the technologies and frameworks that suit your requirements.
5. Design The User Interface (UI) And User Experience (UX)
Work closely with the programmers to create an interface that is simple to use and intuitive. Consider the visual design, general user experience, and app or website flow. Ensure the design offers a seamless money transfer experience and is consistent with your brand identity.
6. Develop the Backend Infrastructure
This step involves developing the server-side infrastructure and database and implementing the necessary security measures. Developers will work on payment gateway integration, setting up encryption protocols, and ensuring compliance with relevant financial regulations.
7. Build the Frontend
Developers will start building the frontend components of the app or website based on the agreed design. It involves coding the user interface, implementing features, and ensuring responsiveness across different devices.
8. Test And Debug
To ensure the app or website operates appropriately and securely, thorough testing is necessary. Comprehensive testing should be carried out by developers, including functional, usability, security, and performance tests. Find any bugs or problems during the testing phase, and repair them.
9. Launch And Deploy
Once you are satisfied with the testing results, it's time to launch your money transfer app or website. Publish the app on relevant app stores (such as Apple App Store and Google Play Store) or make the website live on a reliable hosting platform.
10. Monitor And Maintain
After the launch it is important to monitor the performance and user feedback closely. Collect analytics data to understand user behavior and make improvements accordingly.
Regularly update the app or website to fix any issues, introduce new features, and stay up-to-date with security protocols. For regular maintenance purpose it is crucial to get in touch with the best E-Wallet app maintenance services provider.
Remember to ensure to create eWallet app you must carefully consider security measures and compliance with financial regulations. Work closely with developers who understand these aspects and can help you build a secure and reliable solution for your business.

How Much Does It Cost To Make A Money Transfer App Or Website For Your Business?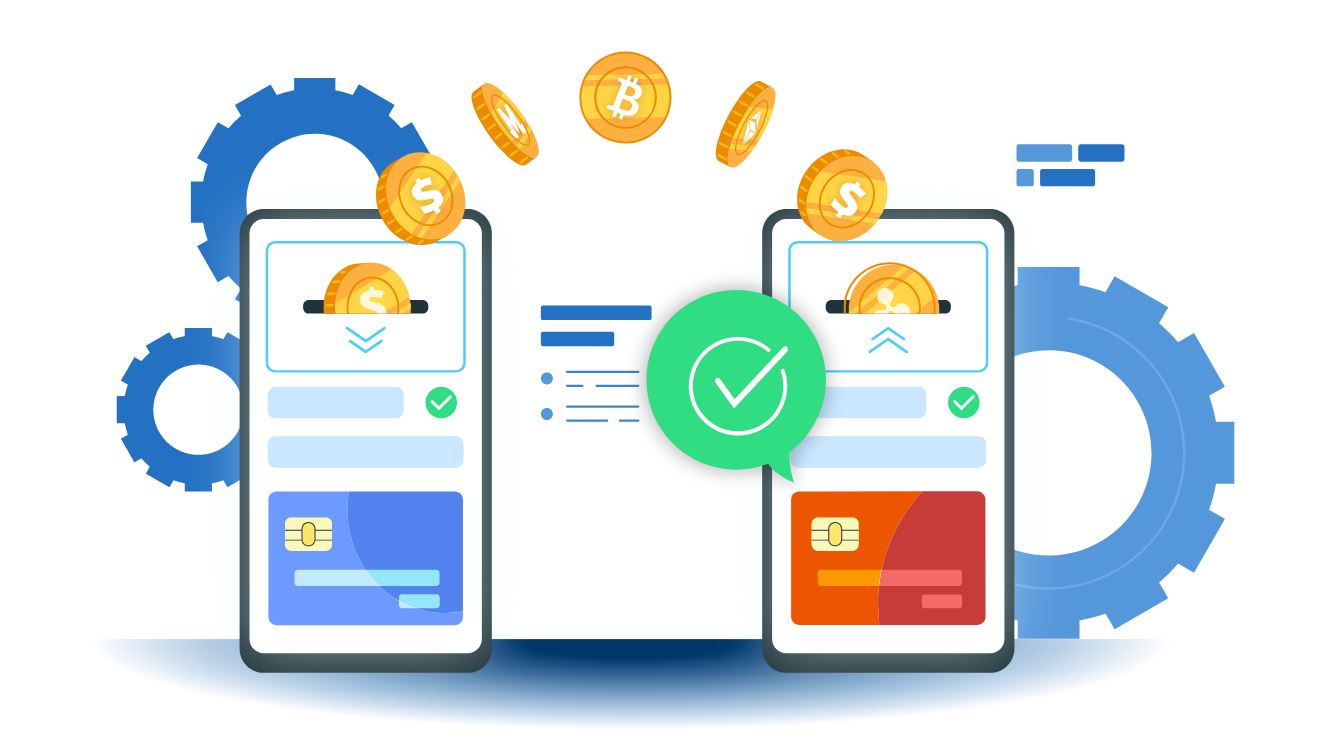 The cost to build ewallet app or website for your business can vary significantly based on various factors, including the complexity of the features, the development platform, the design requirements, and the development team's location and expertise. Below is a table outlining the estimated cost ranges make a money transfer app or website:
| | |
| --- | --- |
| Factor | Cost Range |
| Simple App/Website (Basic Features) | $10,000 – $20,000 |
| Medium-Complexity App/Website (Advanced Features) | $20,000 – $30,000 |
| Complex App/Website (Extensive Features) | $25,000+ |
| Native App Development (iOS or Android) | $15,000 – $25000+ per platform |
| Cross-Platform App Development (iOS and Android) | $20,000 – $25,000+ per platform |
| Web App Development | $8,000 – $18,000+ |
| Design and User Interface (UI/UX) | $4,000 – $6,000+ |
| Backend Development and API Integration | $1000 – $5,000+ |
| Testing and Quality Assurance | $2,000 – $5,000+ |
| Maintenance and Updates | 10% – 20% of the development cost |
By knowing how to create a money transfer app you should know more about the cost of development. It's important to note that these are rough estimates and can vary depending on the specific requirements of your project, the development team you choose, and any additional services you may require. However the cost to build money transfer app is somewhere around $8,000 to $23,000.
Additionally, ongoing eWallet app development costs such as server hosting, security measures, and marketing should be considered. It is recommended to consult with an ewallet app development company to get a more accurate estimate based on your specific needs.
Money Transfer App-isode: The Final Caper!
And there you have it, fellow innovators and entrepreneurs! We've reached the exhilarating end of making a money transfer app. Armed with knowledge and inspiration, you're now equipped to embark on your digital financial adventure.
From UX design to security measures, we've covered it all. Now, go forth, unleash your creativity, and make your mark in the world of money transfer apps! Happy building! Hire a dedicated team of developers if you want to make a money transfer app with scalable functions.
Frequently Asked Questions
Q1. How To Make A Money Transfer App Or Website For My Business?
To begin, conduct market research to understand user needs and preferences. Then, outline the app's features and functionalities. Hire a skilled development team or utilize platforms like WordPress or Shopify. Finally, test the app thoroughly before launch.
Q2. What Security Measures Should I Consider When Creating A Money Transfer App Or Website?
Implement robust encryption protocols, secure user authentication, and secure data storage. Follow industry standards and regulations, such as PCI DSS compliance. Regularly update your app or website to address any potential security vulnerabilities.
Q3. What Payment Options Should I Include In My Money Transfer App Or Website?
Offer popular payment methods like credit/debit cards, bank transfers, and digital wallets. Integrate with trusted payment gateways to ensure smooth transactions. Consider incorporating emerging technologies like blockchain for added security and Transparency. However it is important to consider that it will increase the cost of peer to peer payment apps as well as.
Q4. How Can I Make A Money Transfer App or Website User-Friendly?
Design a clean and intuitive user interface (UI) with easy navigation. Simplify the registration and verification process, minimizing friction for users. Provide instructions and error messages to guide users through the app or website.
Q5. How Can I Promote My Money Transfer App or Website To Attract Users?
Leverage digital marketing strategies like search engine optimization (SEO), social media marketing, and paid advertising. Collaborate with influencers or industry partners to expand your reach. Offer incentives like referral programs or exclusive promotions to encourage user adoption.