Do you want to build an app like HootSuite? As we all know, with the expanding demand for social media marketing management, this tool has become an excellent choice among many.
This blog will take you through the process to build an app like HootSuite – the popular social media management tool. If you are one of the people in app development, dive into this blog with us to learn more.
We'll explore the features that make Hootsuite successful, from scheduling to analytics. We will explore the technical aspects behind front-end, back-end, and data management development. We'll focus on essential technologies such as cloud hosting, database administration, and security implementations to ensure your app's functionality and user data's safety.
We will not leave any stone unturned in our design, deployment, and development stages breakdown. We'll offer invaluable tips and insights to build an app like HootSuite functionality. Let's get started!
What is the HootSuite App?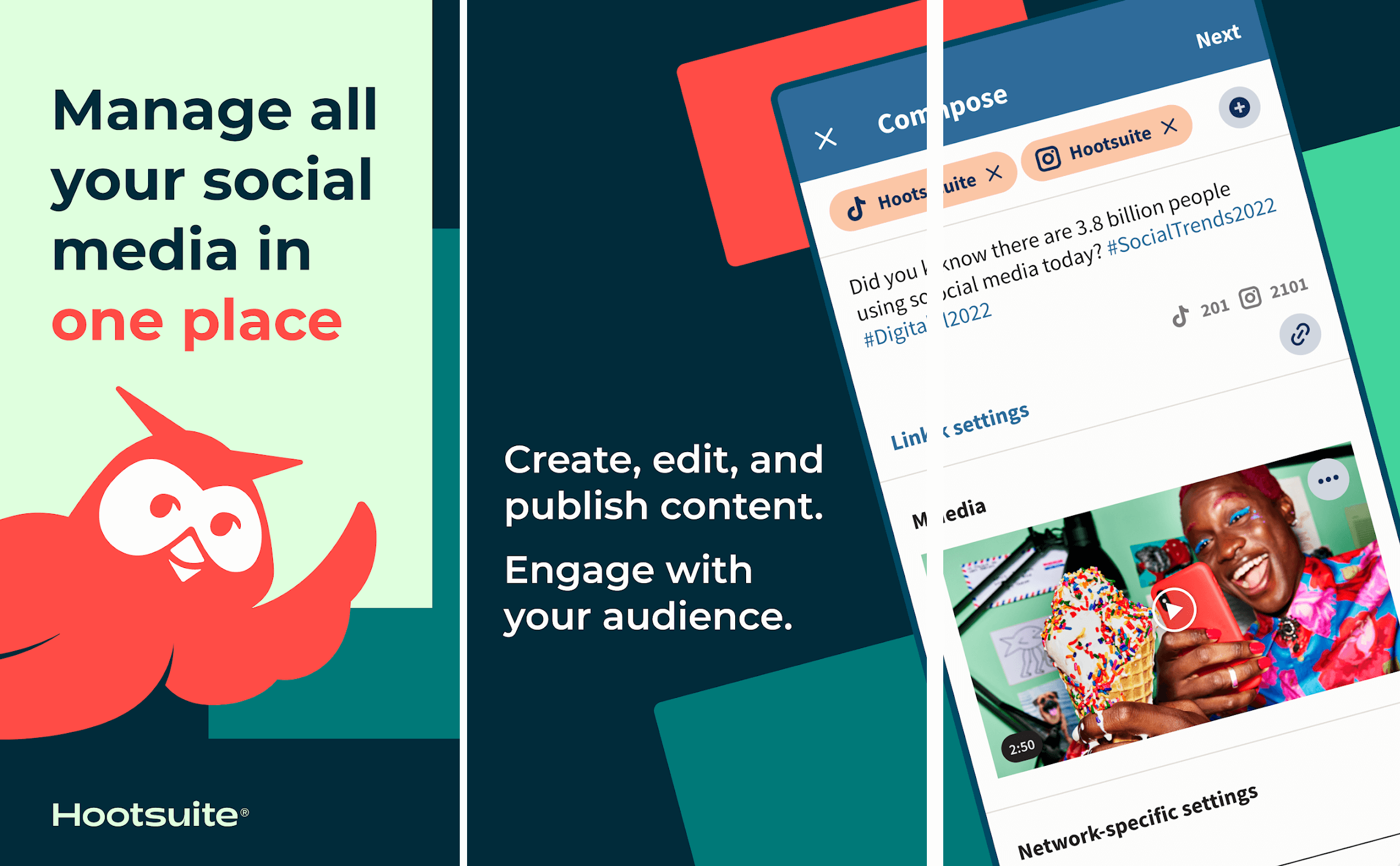 Hootsuite, a social media management tool that enables individuals and companies to manage their social presence on multiple platforms, is an app for managing social media.
It offers a central dashboard that facilitates content scheduling, publishing, and monitoring across platforms such as Facebook, Twitter, and Instagram. HootSuite app development provides tools to analyze engagement metrics, track mentions, and gauge audience sentiment.
Hootsuite's user-friendly interface, along with its collaborative features, allows teams to work together seamlessly on creating and publishing content. It offers custom analytics reports that help with strategic decision-making. Hootsuite is a powerful tool for managing social media, whether you are a business owner, marketer, or influencer.
Market Stats To Look At!
Hootsuite boasts a global user base exceeding 18 million.
It holds a prominent position, being adopted by over 80% of Fortune 1000 companies.
The platform facilitates seamless integration with more than 35 social networks. Its accessibility extends to over 16 languages.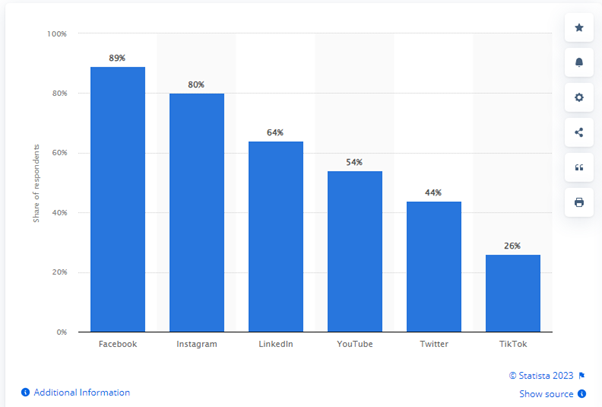 In January 2023, Facebook stood as the prevailing choice for marketers globally regarding social media platforms.
A worldwide survey revealed that 89 percent of social media marketers who participated employed this platform to endorse their businesses, with an additional 80 percent adopting Instagram for the same purpose.
Hootsuite offers a comprehensive toolkit that enables scheduling, analytics, team collaboration, and content curation.
The App Directory hosts 250+ integrations. Notably, the company secured substantial funding, surpassing $300 million.
It is headquartered in Vancouver, Canada, and was founded in 2008 by its founder Ryan Holmes.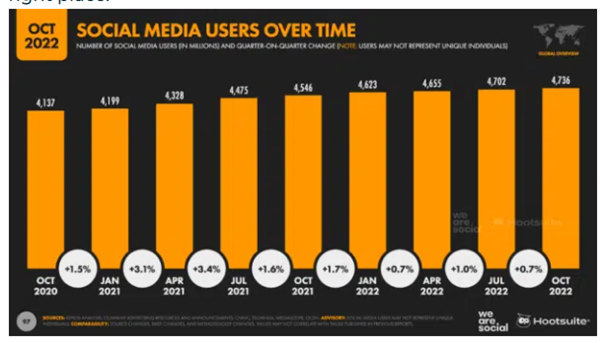 Social media usage spans over 4.74 billion individuals globally.
The year 2022 witnessed a 4.2% rise in the count of social media users.
Expenditure on social media advertising reached upwards of $173 billion in 2022, with projections for 2023 forecasting an increase to surpass $268 billion. Anticipated figures for 2024 indicate that social video advertising is poised to achieve $79.28 billion.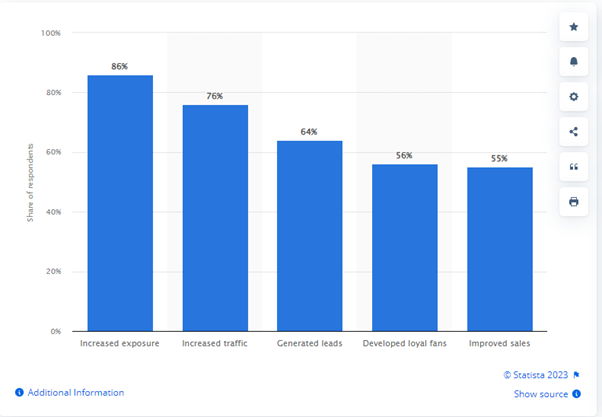 The main benefit of adopting social media for marketing among experts worldwide is increased exposure.
This is hardly surprising given the enormous appeal of billions of active users as a possible advertising audience.
Further benefits marketers perceive in using social networks in their campaigns include increased traffic, lead creation, and fan loyalty. The three social media networks that international marketers utilize the most are Facebook, Instagram, and LinkedIn.
Popular App Like HootSuite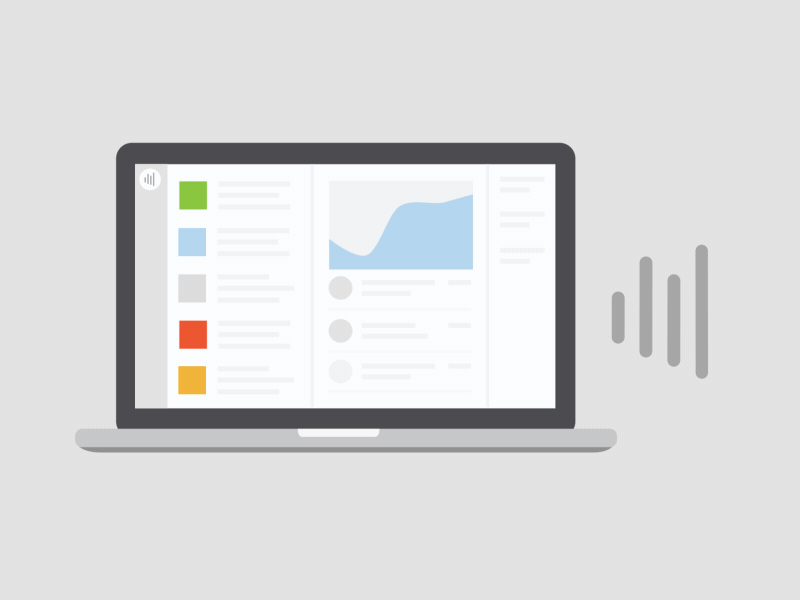 If you want to build an app like HootSuite, it is crucial to learn some of its competitors going in trend for users. In this section, we created a table that mentions everything you should know about popular apps like HootSuite.
| | | |
| --- | --- | --- |
| App Name | Description | Launch Date |
| Buffer | Buffer is a social media management platform that allows the scheduling and publishing of posts across various social media networks. It provides analytics to track post performance and engagement. | October 2010 |
| Sprout Social | Sprout Social offers social media scheduling, monitoring, and reporting tools. It enables collaboration among team members and provides insights to enhance social media strategies. | July 2010 |
| SocialBee | SocialBee focuses on content recycling, allowing users to categorize and reshare evergreen content. It offers scheduling, analytics, and audience-targeting features. | 2016 |
| Later | Later specializes in Instagram marketing with a visual content calendar. It offers scheduling, user-generated content management, and hashtag suggestions. | 2014 |
| CoSchedule | CoSchedule offers a comprehensive marketing calendar with social media scheduling, blog post planning, and team collaboration features. | April 2013 |
| Sendible | Sendible is a platform for managing social media presence, including scheduling, monitoring, and analytics. It emphasizes client management for agencies. | 2009 |
| SocialPilot | SocialPilot provides social media scheduling, analytics, and team collaboration features. It targets businesses, agencies, and individual marketers. | 2014 |
| Falcon.io | Falcon.io offers social media management, listening, and engagement tools. It aims to help businesses deliver personalized customer experiences. | 2010 |
How to Build an App Like HootSuite?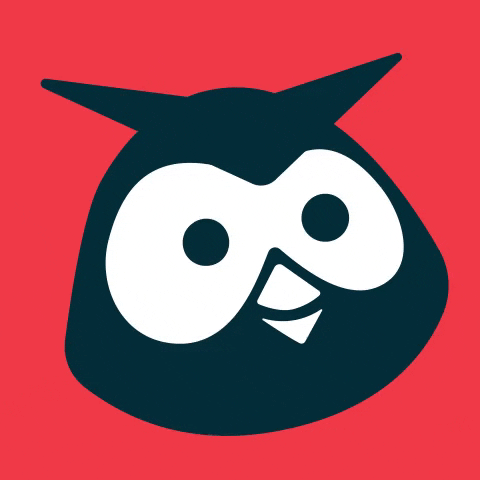 Now, the time has come when you must look into the steps to build an app like HootSuite. Creating a sophisticated program with many different phases and factors is what it takes to build an app like HootSuite.Here is a high-level breakdown of the procedures needed to create a similar app:
Step 1: Idea and Market Research
Begin by defining the core purpose of your app and its unique selling points to build an app like HootSuite. Research your target audience's needs, problems, and preferences. Analyze the strengths and weaknesses of your competitors, including Hootsuite. This research will help you decide what features and functions to include in your app.
Step 2: Define Features and Functionalities
Outline the main features that your app will have based on your research. It could include social media scheduling, analytics, teamwork, etc. Choose the most essential elements for your users and distinguish your app from the competition.
Step 3: Design the User Interface and Experience
Create an interface that is visually appealing and user-friendly. Wireframes are a great way to define the layout of your app and its navigation. Create mockups to see the final appearance. Focus on intuitive interactions with users, consistent branding, and responsive design for a seamless experience across all devices.
Step 4: Choose Technology Stack
Choose the technologies that you will use to create your app. You might use HTML, CSS, and JavaScript on the front end but a combination of programming languages and frameworks for the backend (e.g. Django Ruby on Rails Spring). You should also choose a reliable hosting and database solution.
Step 5: Development
Start the actual process to build an app like HootSuite. Divide the project into smaller modules or tasks. Start by developing the core functionality, like user registration, integration of social media accounts, and scheduling. Add other features gradually while testing each component thoroughly to ensure stability.
Step 6: Testing and Quality Assurance
Test your app thoroughly to find and fix bugs before completing the process of to build an app like HootSuite. Test your app thoroughly by performing unit, user acceptance, and integration testing. Implement security measures to protect the privacy and data of users. To deliver a reliable application, it is vital to maintain a continuous quality assurance process.
Step 7: Launching and Marketing
Set up servers and databases to prepare for the launch of the social media management app development. Create marketing material, such as a compelling website, social media profiles, and promotional content. Create a strong presence online to create buzz before the launch. Consider a limited-time free trial or promotional pricing to attract the first users.
To summarize, build an app like HootSuite requires careful planning, design, and development. Follow these seven steps to build a social media management app like HootSuite that will cater to the needs of your audience while also standing out in a competitive market. Success requires constant improvement and adaptation based on user feedback and industry trends.
Key Features HootSuite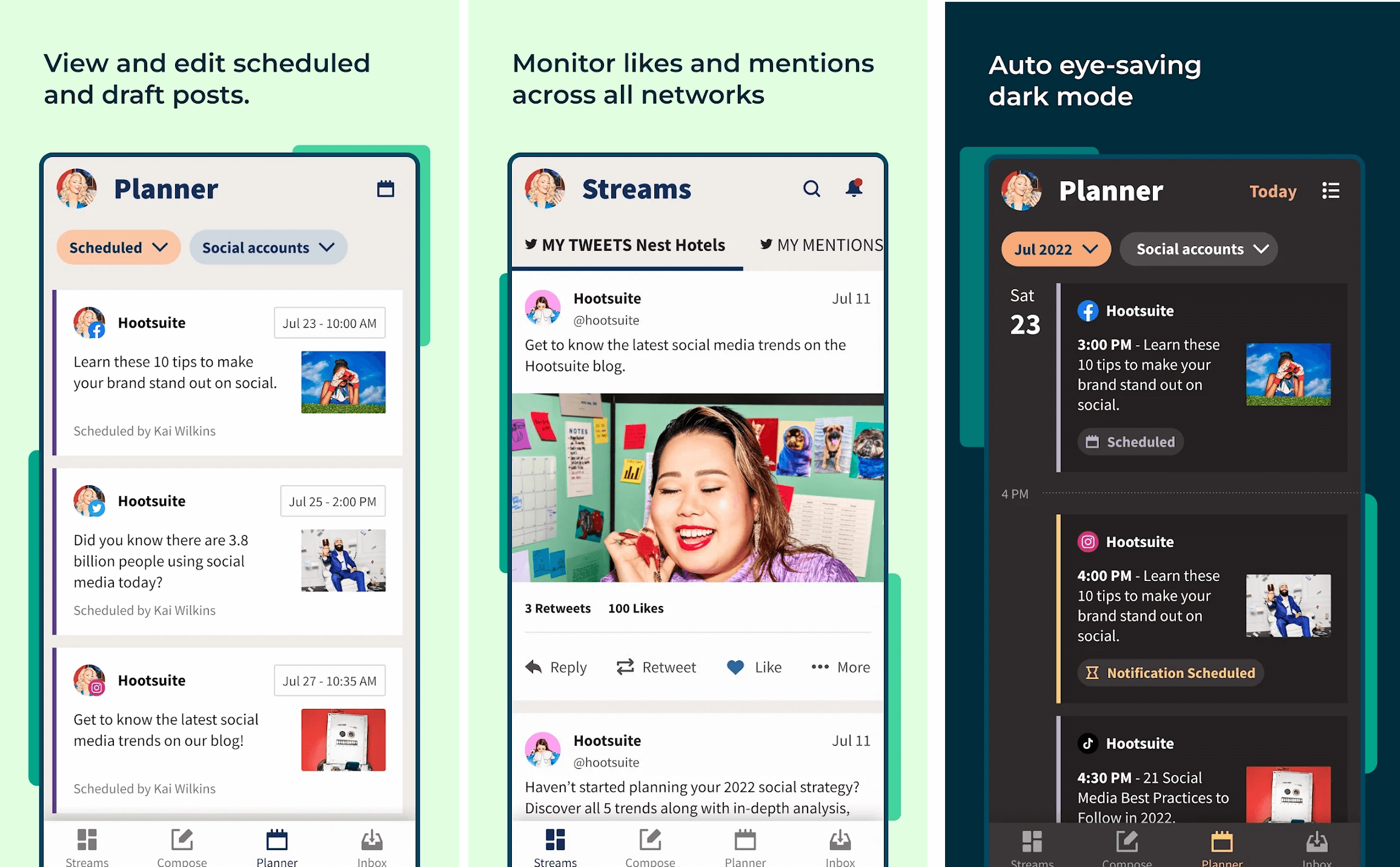 Knowing its functionality is essential if you want to build an app like HootSuite. Hootsuite offers a variety of tools to help businesses and individuals manage their social media presence. So, to build an app like HootSuite, you must learn its core features, including:
1. Schedule Social Media Posts:
Hootsuite lets users schedule posts on multiple social media platforms, including Facebook, Twitter, and Instagram. This feature allows users to design and publish content for optimal viewing times.
2. Calendar of Content:
The platform provides users with a visual calendar of content that allows them to plan their social media postings and ensures a regular posting schedule.
3. Multi-Social Networks:
Hootsuite integrates with multiple social media networks, allowing users to monitor and manage their accounts through a single dashboard.
4. Team Collaboration:
Hootsuite allows teams to collaborate in social media management. Users can assign team members roles, tasks and permissions, facilitating seamless teamwork.
5. Social Media Monitoring
Users can create streams to monitor mentions and comments related to their industry or brand. It's a great way to stay informed of what people are saying about your brand or industry on social media.
6. Analysis and Reporting
Hootsuite offers insights into the performance of posts, engagement metrics, and follower growth. These analytics allow users to assess the effectiveness of their social media strategy.
7. Automated Posting
Hootsuite allows you to queue up your posts and publish them automatically, saving you time.
8. URL Shortening & Tracking:
The platform provides a URL shortening service, which shortens links and tracks clicks and engagement.
9. Social Media Listening:
Hootsuite's listening tools allow users to track conversations, keywords, and trends relevant to their industry. This is useful for understanding customer sentiments and keeping up to date with industry news.
10. Mobile App:
Hootsuite has a mobile application that allows users to manage social media accounts while on the move.
11. Integration with Third-Party Apps
Hootsuite can be integrated with various third-party apps, allowing users to connect the tools they use most for improved functionality and workflow.
12. Content Curation
Hootsuite content discovery tools allow users to discover, curate, and share relevant content on the Web.
13. Advertising Campaign Management
Hootsuite provides features for managing and tracking social media advertising campaigns across platforms like Facebook and Instagram.
14. Security and Compliance
Social media management app development solutions offer security features such as two-factor authentication and compliance tools that help businesses comply with industry regulations.
15. Education and Training
Hootsuite provides educational resources and training material to help users understand social media best practices.
How Much Does It Cost To Build An App Like HootSuite?
The cost to build an app like HootSuite depends on various factors. These factors include the complexity of the features, design, the time it takes to develop, choice of platform (iOS or Android), and location of the on-demand app development company. The cost to build an app like HootSuite with interesting features will require prominent cost considerations mentioned below.
1. Development Team:
The cost to build an app like HootSuite is affected by the size and experience of the instant messaging app development company. Roles such as project managers, designers, and frontend/backend developers are included.
2. Features and complexity:
The complexity of the app development process increases as you add more features. The cost to build an app like HootSuite can be increased dramatically by advanced features such as real-time analytics and AI-driven insights.
3. Design:
It is essential that a social media app has a visually appealing and user-friendly design. The investment influences the cost to build an app like HootSuite with a high-quality format.
4. Platforms:
The cost and time to build an app like HootSuite for multiple platforms will increase. Each platform has unique requirements and challenges.

5. Integration with APIs
Integration with third-party APIs of social media platforms and other services will complicate the development process which leads to increasing the social media app development cost.
6. Testing and Quality Assurance:
It is essential to test your app thoroughly on different devices and scenarios. QA testing may require extra resources.
7. Infrastructure and Hosting
The backend infrastructure primarily determines the cost of running the app. This includes servers and hosting services.
8. Maintenance and updates:
Additional costs for ongoing maintenance, bug fixes and updates, and adding new features will be incurred.
9. Location of the Development Team:
The location of the social media app development company that develops the software can affect the rates charged. Developers who live in areas with higher costs of living may charge more.
10. Marketing and Launch
It is crucial to know that launch and marketing are other factors that may result in increasing the cost to build an app like the Instagram due to excessive promotions and advertising.
Here is a simple cost breakdown to build an app like HootSuite in the table. Note that these are only rough estimates and can change depending on various factors.
| | |
| --- | --- |
| Cost Component | Estimated Cost Range |
| Development | $4,000 – $8,000+ |
| Design | $3,000 – $5,000+ |
| Testing and QA | $2,000 – $3,000+ |
| API Integrations | $1,000 – $2,000+ |
| Backend Infrastructure | $1,000 – $2000+ |
| Maintenance & Updates | $2,000 – $4,000+ per year |
| Marketing & Launch | $2,000 – $3 ,000+ |
These are only approximate estimates and may vary greatly depending on factors such as app complexity, features and platforms, location of the custom social media management app development company, and more.
The cost of developing an app such as Hootsuite can vary from $8,000 to $25,000, depending on the complexity and size. Hire mobile app developers for accurate estimates. A significant investment in time and resources is required to build an app of this nature. To ensure a successful app development process, conducting thorough market research and defining a clear scope for features is vital.
Why Should Businesses Use Social Media Management Apps?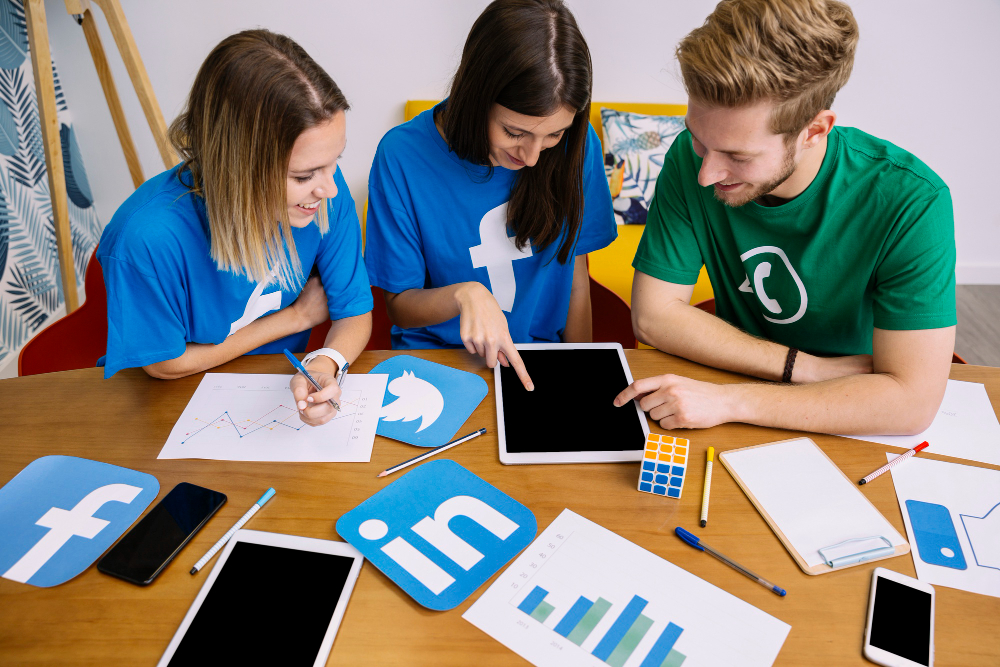 There are several compelling reasons why businesses should use social media management applications. Social media is a vital tool in today's digital world for customer engagement, brand building, and marketing. Social media management applications offer a variety of features to streamline and enhance social media efforts for businesses. These apps are helpful for several reasons.
1. Centralized Management
Businesses can manage multiple social media platforms using a single dashboard. Centralization simplifies posting content, tracking interactions, and tracking analytics.
2. Time Efficiency:
These apps have scheduling features that allow businesses to plan and schedule their posts in advance. It will enable businesses to plan and prepare posts in advance, saving time.
3. Engagement of the Audience:
Social media management tools allow you to respond quickly and efficiently to messages, comments, and mentions. Engagement with your audience increases customer satisfaction and brand loyalty.
4. Analysis and Insights
Many management apps provide detailed analytics, which includes insights on post-performance, audience demographics, and engagement rates. This data allows businesses to refine their strategies and create content that resonates well with their target audiences.
5. Collaboration and Content Planning:
Content calendars are often included in these apps, which facilitate team collaboration. Content can be planned, reviewed, and approved before being posted. It ensures consistency in the messaging and branding of your app like Instagram.
6. Cross-Platform Consistency:
Maintaining a consistent voice and visual identity for your brand across all social media platforms is essential. Social media management tools help to ensure branding consistency, no matter the platform.
7. Monitoring and Reputation management:
Apps can notify businesses when their products or services are mentioned on social media. It is possible to respond quickly to both positive feedback and negative feedback. It helps to manage the reputation of a brand effectively.
8. Competitive Analysis
Many social media management applications include features that let businesses monitor the social media activity of their competitors. This information can identify market trends, gaps, and opportunities.
9. Cost-Effective Solutions:
Businesses of all sizes can access many social media management applications that offer various pricing options. It is crucial to know that these apps are efficient and can save time and money.
10. Data-Driven Strategy:
These apps provide data and insights that allow businesses to refine their social media strategies based on the best practices for their target audience. The result is more effective campaigns with a higher ROI.
11. Advertising Campaign Management
Some social media management platforms integrate with advertising platforms, allowing businesses to manage social media ads alongside organic content.
12. Automation:
These apps offer automation features that can help schedule and post content to social media at the best times. They also track hashtags and mentions. And they can even answer common questions automatically.
Social media management apps are a powerful tool that helps businesses navigate the complexity of social media marketing. They can also help them improve their efficiency and reach their marketing goals.
In a Nutshell!
To conclude, creating an app such as HootSuite is a complex process requiring meticulous planning, robust social media integration, a user-friendly interface, and efficient scheduling tools. For optimal performance, prioritize scalability and security.
The key to success is constant innovation and adapting to changing social media trends. Engage users, provide value, and offer seamless cross-platform functionalities.
Aim for simplicity while still delivering powerful features. Your app can carve a path in the highly competitive social media management space by following these principles and adopting continuous improvement. However, if you are someone who wants to develop an app like TikTok, or any other social media application then it is crucial to hire a dedicated developers team.
Frequently Asked Question
Q1. What is HootSuite?
HootSuite, a social media platform, allows businesses to manage and schedule their social media content on multiple platforms using a single dashboard.
Q2. Why Build an App like HootSuite?
By building a similar application, businesses can offer centralized tools for social media management and scheduling, analytics, and engagement, improving user experience and streamlining their social media efforts.
Q3. How Do I Start Building the App?
Start by defining features, selecting the tech stack, and designing the interface. Core functionalities such as tracking analytics, scheduling posts, and integrating social media APIs should be developed.
Q4. What Are the Challenges that May Arise?
The challenges include API restrictions and data security. Platform updates and competition are also significant. To overcome these challenges, you must develop robustly, adapt to changes, and address user privacy concerns.
 Q5. How Can I Make My App Stand Out From the Crowd?
To differentiate your app from the competition, focus on user-friendly designs, seamless integration with various platforms, advanced analytics, and real-time engagement features.