Are you looking to hire developers for startups? – It is one of the important questions for developing an app or website for a newly launched business.
Hiring dedicated developers is a complex task as several factors are associated with it.
This blog is dedicated to tips that can help you save your precious time searching for dedicated developers for your next project.
By going through this blog, you will get to know some great tips that you can use while hiring dedicated developers.
There are several types of businesses like large-scale enterprises, mid-level, and startups. A freshly launched business called a startup that comes with some new concepts to solve people's issues.
The point is technology serves great businesses. Most businesses are catering to the demands of their customers via modern mobile apps.
If you are looking to hire a dedicated project development team, you first need to know the advantages like what you will have after hiring the developers. So, let's check out the upcoming section.

The Advantages to Hire Developers for Startups
The point is that hiring a dedicated team of developers works fantastic for established brands and works fine for newly launched businesses.
Startups need robust solutions to meet their business goals which a mobile app or a website, or both can help.
You can experience some advantages after hiring a dedicated team for app development or web development.
Access to Skilled Workforce
Usually, a business starts with a limited amount of money at its birth stage, so it is too tough to hire mobile app developers in-house.
The better way is to outsource the work to experienced developers where you will have access to their skills and no need to worry about setting up a separate office space, arranging systems, and things like that.
Hiring dedicated developers is such a smart move to save development costs. It is a cost-saving idea as you need to spend only on hiring costs instead of spending money on other things such as tech stack or development tools.
You have the flexibility to hire developers from a mobile app development company. There are three types of hiring models i.e., full-time hiring, part-time hiring, and hourly. You can choose these hiring models accordingly.
Independence from Infrastructure
When you hire developers for startups, they remain available with all the essential tools & technology to turn any app idea into reality.
Moreover, there is no need to spend on QA as you will get the final product after checking all quality control criteria. It is like you will have the readymade infrastructure.
The project will be developed using a collaborative approach where your business team and a team of dedicated developers you have hired will work as one team.
In this pattern, your team will assist the developers in developing applications compatible with your business's core principles.
While hiring dedicated developers, you have ample chances to make your own team of chosen experts. Without any hassle, you can make your team of different experts; you can form a team including two junior-level developers, one senior developer, one project manager, and one QA expert. You can also form a team based on your project size.
This section has read about the advantages of hiring a dedicated team for project development. Now let's discuss the challenges a startup faces while growing its team or hiring experts for their specific project development needs.
 Key Challenges to Hire Mobile App Developers for A Startup
It is a dream of every startup to excel in their business. The best way is to digitalize the business with the help of a mobile application or website, or both.
But, the bottleneck issue is how to do it as there are several mediums available and lots of confusion in the market as every technology or expert claims that they are the best.
So, in this section of this blog, we will read about the challenges that a startup confronts while hiring developers.
One of the key challenges for a startup is to hunt for talent for web or mobile app development. Most of the big brands recruit talented developers immediately by offering them a great amount of work.
Although it does not mean that other dedicated developers working for small and mid-sized companies are not talented, sometimes it is too tough to find the right person for the work.
The issues are like – high prices, non-availability and things like that. So the best idea is to hire dedicated developers from a well-reputed offshore development company.
The budget or financial availability is one of the bottleneck issues for a startup as a new business starts with limited funds because no one can afford a big portion of the cost at the earlier stage.
It is okay to hire experts at any cost for large-scale enterprises, but a startup can't. That is the reason behind the huge demand for cost-effective solutions. In the absence of appropriate funds, startups face difficulty in hiring developers.
It is not so easy for a startup to survive as there are several competitors in the market. The point is that competitors can't let experienced developers go to other companies.
Due to it, sometimes the availability of developers becomes one of the issues for startups to find experienced developers.
Suppose a startup needs affordable solutions by some experienced developers as they can't take risks with novices where competitors have already recruited the experts. That is a tough scenario in it-self
Lack of Decision Making Ability
Lack of decision always leads to confusion and difficulties. As a startup owner, if you are confused or do not have a clear set of decisions, it may lead you to trouble while hiring developers for your project. If decisions are clear & perfect, you can search and hire developers accordingly.
So, now you know the advantages and challenges while hiring dedicated developers for your next application that you want to use to serve your customers in a better way. The next section of this blog will take you through the tips that you can use for hiring developers.
Top-10 Tips to Hire Developers for Startups
In one of the reports published by Statista.com, most of the new jobs are created by startups. The report revealed that in the USA, 3,114,111 new jobs would be offered by startups in 2020.
However, this year was very tough for the whole world due to Covid-19 conditions. Jobs have been created, but others also lost their jobs. It represents the two faces of a coin.
Now, businesses are getting boom; however, the whole world is also worried about the ongoing war between Russia and Ukraine.
But conditions are good to launch a startup with modern solutions. So, let's check out the top 10 tips for hiring dedicated developers.
1. Be Clear With The App Idea
Before hiring the developers, you need to be clear with your app idea. So at the table of discussion with experts, you can discuss the app idea without any doubt.
For example, does the idea formation include what app you want to develop? What will be the niche? What features will it have and like that?
2. Specify Your Needs
The survival of any startup depends on its uniqueness. So, if you have a unique business idea, then congratulations on the first step to success.
But, if not, there is still time to specify your business needs before hiring dedicated developers. So, here you need to specify your business idea.
Suppose you want to develop an enterprise mobility solution, then you must be clear with your business needs and what you want to get implemented into your project.
Did you check this?:  How Much Does It Cost To Hire Hybrid App Developers In 2022?
3. Choose the Right Platform
One of the biggest hurdles is finding the right developers for app development. The best way is to choose the right platform; you can find the desired developers for your work.
These platforms are websites that connect development professionals and businesses at a single point. Some of the top platforms are –
Upwork
GitHub
Clutch
Stack Overflow
Top App Firms
And more.
These platforms are known for showcasing honest reviews about mobile app development companies, web development companies, and app developers. You can also refer to Google reviews before hire developers for startups.
4. Depth of Knowledge
While hiring developers, you need to check their knowledge about the technology and tools for your project development.
For the same, you can inquire about their previous and ongoing projects, what kind of tech stack they are using, and their development approach.
5. Communication Methods
For developing a project, effective communication is required between developers and a startup. A communication gap can create blunders. So, the developers you will hire must have proper channels to communicate with their clients so things can be discussed effectively.
6. Interviewing The Experts 
Instead of interviewing about their basic information, you need to interview them about their specific skills, project development tactics, and their experience.
You or your team can prepare a set of questions that can lead you to find the right developer for startup app development.
Factors That Affects The Cost to Hire Dedicated Developers for Startups
If you are looking for mobile app development or web development, you also need to focus on the factors that affect the cost of hiring developers for startups. So, here are some of these-
Project complexity is one of the major factors that influence the cost of hiring developers. If the project is more complex, you need a team of experienced developers which requires some cost.  
The project size is another factor that affects the cost. A large project can't be developed by hiring only one of two developers.
Usually, a small team includes two developers, one QA professional, and one project manager, but it will directly increase the team size's cost.
Whatever tech stack you choose, it will cost you accordingly. For example, suppose you need to develop an IoT app, then its tech stack is costlier than any type of app development such as android app development.  
Industry expertise is one reason that affects the cost of software development and hiring experts. You can hire three types of experts for your work: junior-level developers, intermediate-level experts, and highly-experienced developers.
They have different hiring costs. Although hiring experienced developers is always beneficial as they have diverse project development experience.
The hiring model works like you can hire the developers full-time, part-time, and hourly. So you can understand it as full-time hiring of developers may cost you around $20,000- $50,000 for a single platform-based project with basic features, and suppose if you want to hire developers for startups on an hourly basis, then it may cost you around $25- $150 per hour based on the project.
For developing a fully functional project, third-party integration works tremendously. However, a certain cost is also associated with it.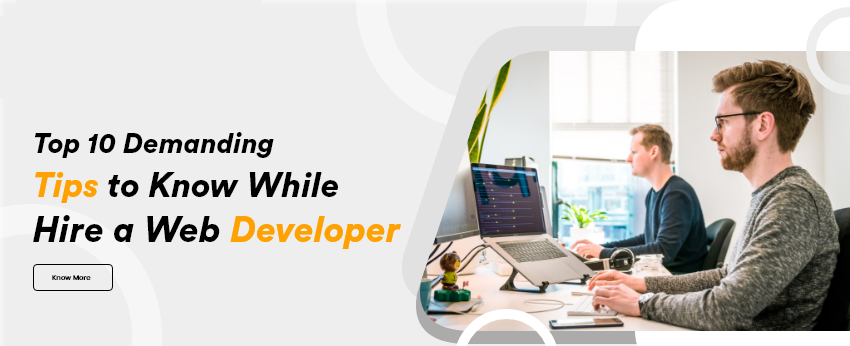 The Final Thoughts
The tips mentioned in this article can help you find the right developers for your project. As per Statista, the global market size of outsourced services is recorded at 92.5 billion USD.
On the other hand, worldwide spending on enterprise software is $605 billion, which is huge.
The reason to mention these data is only to show the worldwide progress in software development. As a startup, you can also contribute to it and boost your economy; the only thing you need is the right product development via experienced professionals.