"It's not about having lots of money; it's knowing how to manage it."
In our day-to-day lives, finance has played a crucial role. It is impossible to run a business or live an everyday life without planning for the future. Also, there is no room for error when it comes to money.  
Thankfully, the internet has enabled us to access a money budgeting and money management app like Mint that assists us with managing our money and supports us in making informed decisions regarding our finances. However, the process of managing finances has never been easy. Today, things appear to have completely flipped.  
With plenty of money budgeting applications, money management apps, and finance management apps, handling your finances becomes quite simple. In addition, many options are available to businesses, making it difficult to decide which one to choose. After all, financial data management is crucial and shouldn't be taken lightly.  
However, various large enterprises seek profitable opportunities in this sector. Are you one of those who want to build a money-budgeting app like Mint and make a critical move approaching a constantly expanding marketplace? Then you should go through this blog to learn about the money budgeting of Mint eWallet Software Development procedures, features, and cost.  
So let's start the blog. 
What Is Mint App?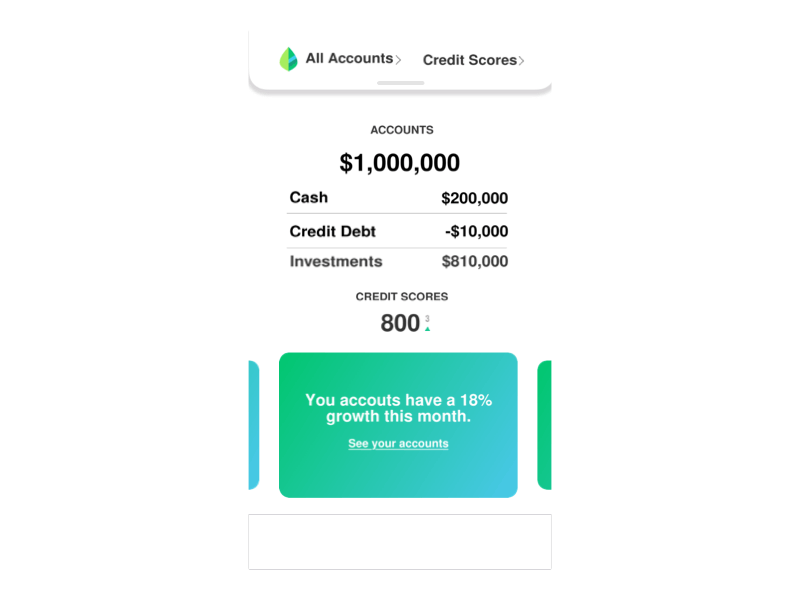 Mint is a personal finance management app that assists users to track their spending, budget, and financial goals. It connects to users' bank accounts, credit cards, and other financial accounts. Also, it automatically categorizes transactions, helping users to see where their money is going and identify areas where they can save. 
Mint also offers tools to help users create a budget and track their progress toward financial goals, as well as alerts to help them stay on track. However, some features of a fintech mobile app like Mint may vary depending on the country where it is used. 
Market Stats of Money Budgeting Apps like Mint 
Here are the current market stats of money budgeting apps that are essential to know when developing an app like mint. So let's have a look at them.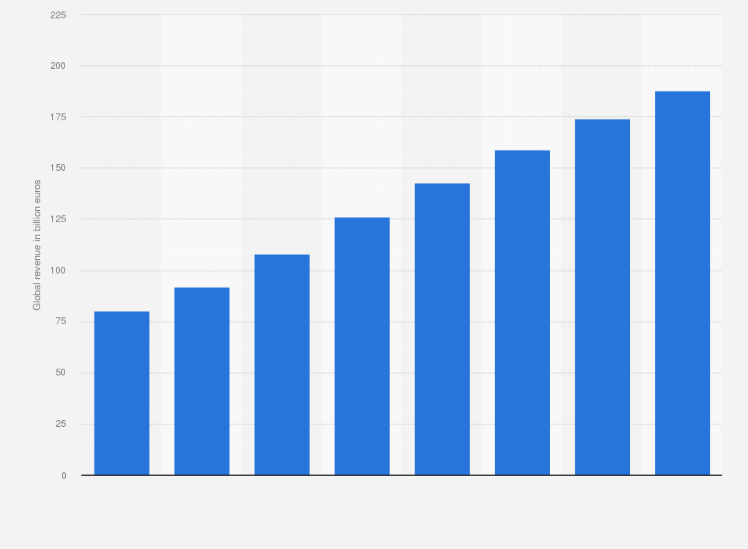 The market for budget apps was valued at USD 199.70 million in 2021 and is anticipated to grow to USD 288.60 million by 2028 at a CAGR of 5.40 percent.

With a US$9,683.00bn total transaction value in 2023, digital payments will dominate the market.

In 2018, about 61 percent of Americans used

mobile banking solutions,

which will increase to 65.3 percent by 2022.

In the digital payments sector, the total transaction value is anticipated to reach US$9,683.00 billion in 2023.

By 2027, 5,480.33 million users will be anticipated in the digital payments market.
List of Top 5 Money Budgeting App like Mint 
Here we have compiled a list of the top 5 money budgeting apps like Mint that you must check. 

Features of a Money Budgeting App like Mint 
Mint is a personal finance app that helps users manage their financial lives. There are many features that a personal finance app might include, but some common ones are: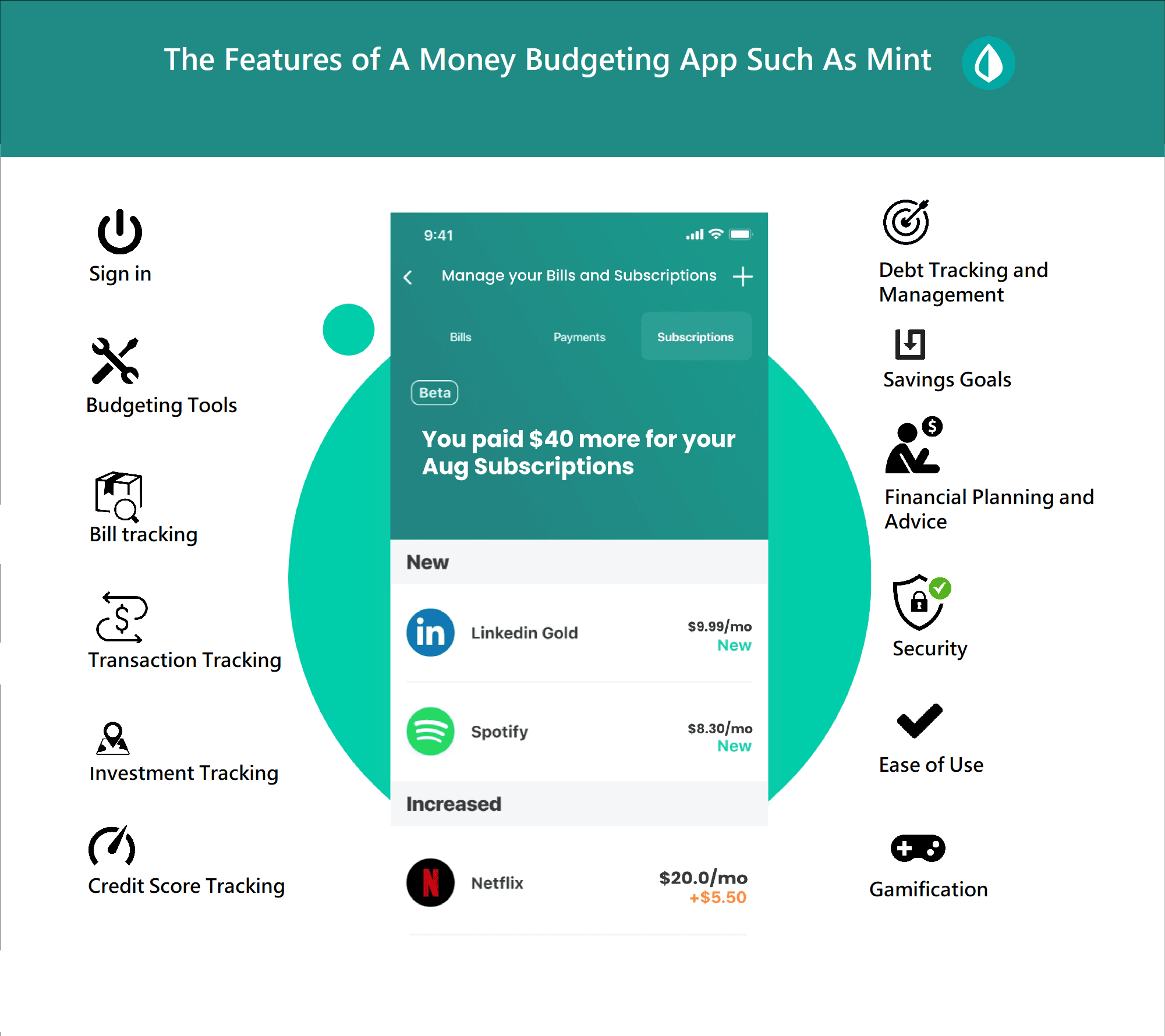 ● Sign in 
Sign-in allows users to register their accounts with different social media platforms. They allow you to put all the mandatory information like contact details, email id, etc. within the application. 
● Budgeting Tools
These allow users to track their income and expenses, set budgets for different spending categories, and see how their spending compares to their budget over time. To integrate this feature into your app, you must take assistance from finance App Developers. 
● Bill tracking and Payment Reminders
Users can input their bills and due dates, and the app will send reminders when a bill is coming due. Some apps also allow users to pay bills directly through the app. 
● Transaction Tracking
Users can input their financial transactions manually or by linking their bank and credit card accounts to the app. The app will then categorize the transactions and allow the user to see where their money is going.
● Investment Tracking
If the user has investments, the app can track the performance of their portfolio and provide information about individual holdings. 
● Credit Score Tracking
Using this feature, users can track their credit score and receive alerts when there are changes to their score. If you want to add a feature to your app like Mint, hiring the best eWallet App Development Services is important. 
● Debt Tracking and Management
Users can input their debts, including student loans, mortgages, and credit card balances, and the app can help them create a plan to pay off their debts.
● Savings Goals
Users can set savings goals, such as saving for a down payment on a house or building an emergency fund, and the app can help them track their progress and suggest ways to save more.
● Financial Planning and Advice
Some apps provide financial planning tools, such as retirement calculators, and offer personalized advice based on the user's financial situation. However, to integrate this feature in your application, hire mobile app developers. 
● Security
Personal finance apps should prioritize security to protect users' financial information. This might include measures such as encryption, secure login, and two-factor authentication. 
● Ease of Use
A good personal finance app should be intuitive and easy to navigate, with a clean and user-friendly interface.

How to Build a Money Budgeting App like Mint?
Now that you are familiar with features of a money budgeting app like Mint that are a must to include, it is time to create a top-notch app even better. So, let's have a look at them.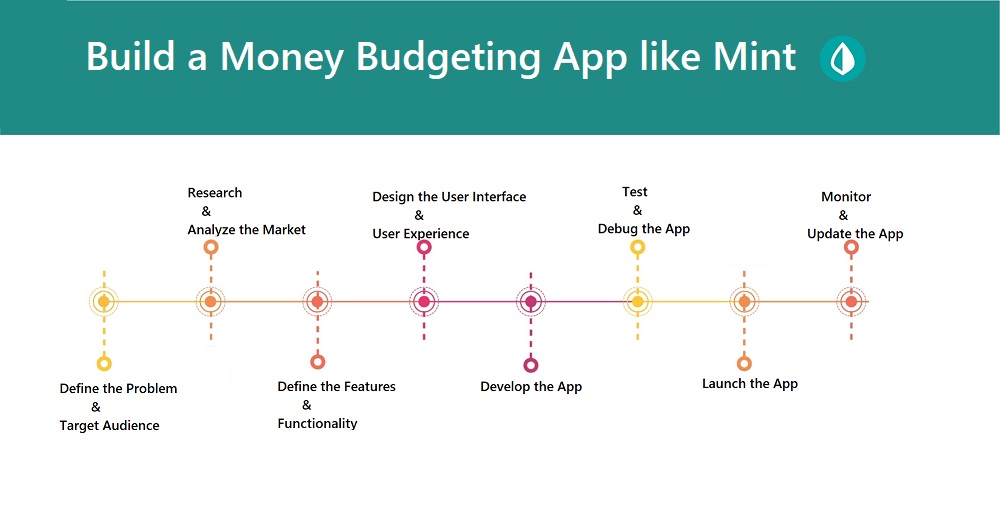 1. Define the Problem and Target Audience
The first step in developing a money budgeting app like Mint is to clearly define the problem that the app will solve and the target audience it will serve. For example, the app may be designed to help people track their expenses and stay within a budget, or it may be geared towards people who need to save for a specific financial goal, such as buying a house or paying off debt. However, hiring experts from a fintech app development company would be best. 
2. Research and Analyze the Market 
Once you know the problem and target audience, it's important to research and analyzes the market to ensure app demand and identify competitors. It can involve reviewing industry reports, surveying potential users, and analyzing the features and pricing of competing apps. Thus, researching will help you to know about the competitors and their strategies. 
3. Define the Features and Functionality
Based on the problem being solved and the target audience, the next step is to define the features and functionality of the application. It includes tracking expenses, creating budgets, setting financial goals, and generating reports and insights. Additionally, it's important to strike a balance between providing useful features and keeping the app simple and easy to use. Besides, you must look for a banking application development company with outstanding skills and vision to add these features to your app that will benefit your business.  
4. Design the User Interface and User Experience
Once the app's features and functionality have been defined, the next step is to design the user interface (UI) and user experience (UX). It includes creating wireframes and mockups to visualize how the app will look and work, as well as defining the navigation and flow of the app. The visual appearance of the application helps in attracting users. 
However, you can hire designers from an experienced mobile app development company who can help design your application. Consider how you'll convey information to your clients and develop an appealing, simple-to-navigate UX flow. 
5. Develop the App
Now that you have designed your application, the next step is to start developing the app. It is the essential step of development. Additionally, it typically involves building the front end (the part of the app that users interact with) using a programming language like Java or Swift and the back end (the part of the app that handles data and logic) using a language like Python or Ruby. It is vital to hire the best mobile banking app developers to perform all the necessary technical development tasks. 
6. Test and Debug the App
Now that you have built an application, it's important to test and debug it to ensure it is functioning correctly and free of errors. It can involve manual testing as well as automated testing using tools like Selenium. It is essential to know that before you launch the application on the platforms, reviewing with testers and quality analysts will help you in knowing its usability, security, compatibility, and performance. 
7. Launch the App
Once the app is fully developed and tested, it's time to launch it to the public. It typically involves submitting the app-to-app stores like Google Play and the App Store and promoting it through marketing and advertising efforts.  Besides, if you want to develop a Peer-to-Peer payment app, taking assistance from dedicated developers will be the best option.  
8. Monitor and Update the App
The process does not stop here; it's important to continuously monitor the application for any issues or bugs and make updates and improvements as needed. However, it can involve releasing new app versions, adding new features, and responding to user feedback. 

Technologies Used in a Money Budgeting App like Mint 
To develop an app like Mint, you require the essential tech stack to develop an effective and high-quality application. So here is the list of the tech stack you will need:
1. Tech Stack For an iOS-Based App
Toolkit-Apple Xcode
Programming Language-Swift
SDK- iOS SDK
2. Tech Stack For an Android-Based App
Programming Language-Kotlin
SDK-Android SDK
Toolkit-Android Studio and Android Developer Tools
3. Tech Stack For a Hybrid App
Programming Language-JavaScript, HTML, CSS, Dart, C#
4. Frameworks
Ionic, React Native, Flutter, Xamarin, Apache Cordova
Cost to Build a Money Budgeting App like Mint
Cost is the most crucial thing that comes to mind when you decide to build a money-budgeting app like Mint. However, the banking app development cost depends on numerous factors. Below are the essential factors that influence the cost of a money-budgeting app:  
Business model 

App complexity and type 

Team expertise 

Features and functionalities  

Location of the development team 

Hiring model 

App design 

Technology stack 

Maintenance and support 
Based on the abovementioned factors, the cost estimation of a mobile wallet development app like Mint with simple features will be around $25000-$40000. But, if you want advanced features to be integrated into your application, the development cost will increase to $50000 and more.

Final Thoughts 
A Money budgeting app like Mint is in huge demand these days. These apps facilitate an all-in-one solution for your finance handling concern. Additionally, it helps users to make smart budgets. Thanks to amazing features and functionalities utilized in money budgeting applications, users get notifications about necessary payments and unforeseen expenditures. However, the success of a money budgeting app like Mint will depend on its ability to effectively help users manage their finances and achieve their financial goals.  
Now that we have provided you with all the necessary information regarding an app like Mint, it is your turn to implement your ideas into action. Thus, get in touch with a leading mobile app development company or hire fintech app developers who will provide you with an outstanding money-budgeting app. 
Frequently Asked Questions 
What Are The Benefits of Using A Money Budgeting App Like Mint?
Using a money budgeting app like Mint can provide several benefits. It can help you track your spending, create a budget, and stick to it. A budgeting app can also help you identify areas where you may be able to cut back on your spending, such as by canceling subscription services or eating out less frequently. In addition, a budgeting app can allow you to set financial goals and track your progress toward achieving them. 
How to Monetize Your Money Budgeting App like Mint?
There are several ways to monetize a money-budgeting app like Mint: 
Offer a basic version for free and charge for premium features

Charge a subscription fee for access to the app

Sell in-app purchases or add-ons

Offer sponsored content or partnerships

Use the app to promote your products or services

Use the app to collect user data and sell it to third parties

Display ads within the app.
Hence to know more, ensure to get in touch with Our Dedicated Developers now!