Food is always the first priority for every living being in this world. Humans have developed different habits regarding food, and millions of users globally are using technology to have it on their plates. It can be via food delivery apps or cooking apps, or food recipe apps. Now, cooking food recipe app development is trending, and people really love it to feed their hunger by trying different recipes for themselves or loved ones. 
The concept of these food recipe apps like- Learn While You Cook!   
The cooking and food recipe app works like a platform where you can access thousands of recipes from different locations and from other users. The best part is you can also upload your recipe with images and all the details. 
Apps like Yummly or Cookpad also help food lovers who do not know how to cook, and these apps deliver the ingredients to the people. It comes with an integrated shopping option. The food recipe mobile app is closely related to the idea of food delivery app development.
For developing a cooking food recipe app, it will be beneficial for you to know the process of food delivery app development.  
What Is A Cooking Food Recipe App?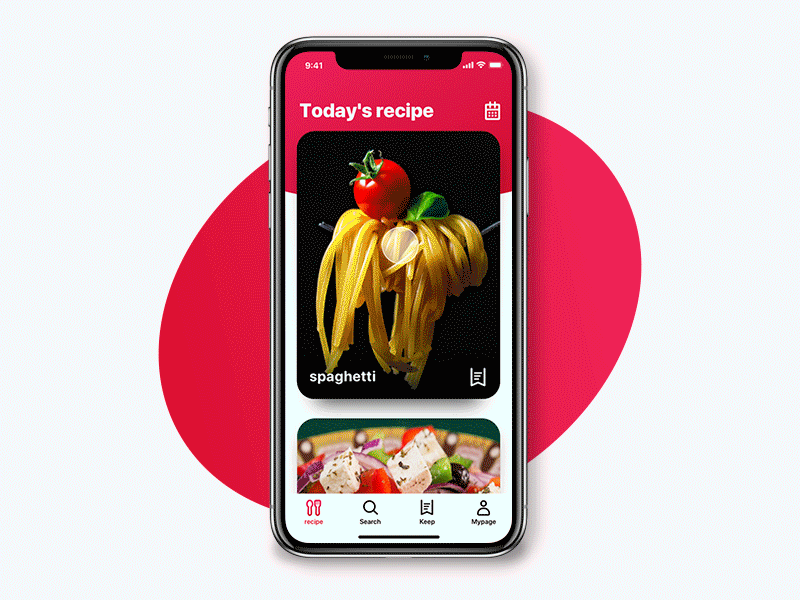 The food recipe app or cooking food recipe apps are a type of mobile app development that showcase food preparation recipes with all the details, such as what are the ingredients required to cook and make a particular food dish. While reading the recipe using the app, you can also see clear images of how your favorite dish prepared by you will look.    
There is other interesting information related to these apps. Most modern apps come with animation and videos containing detailed instructions that you can follow while working in the kitchen with all the raw materials for the desired dish. The cooking food recipe apps create the best experience than a food blog.   
What You Need To Think About While Developing A Cooking Food Recipe App?
It is okay that you have decided to develop a cooking food recipe app like Yummly or Cookpad. But have you ever thought about how to start? The best way is to focus on various aspects of it, such as- 
Is it beneficial to invest in a food recipe mobile app?  

What kind of similar apps are available in the market?

What features can you include in your app? 

How to develop a food recipe app?

How much does it cost to develop a cooking food recipe app? 

It is essential to find out the answers to all these questions to develop a cooking app. For better understanding, you can also refer to the apps such as – 
Yummly 

Cookpad

BigOven

Green Kitchen Stories

Deliciously Ella's 

Food Planner

Paprika Recipe Manager

Tasty

Food Network

Apply My Recipes

Sufrati

And others.
Why You Should Invest In Cooking Food Recipe App Development?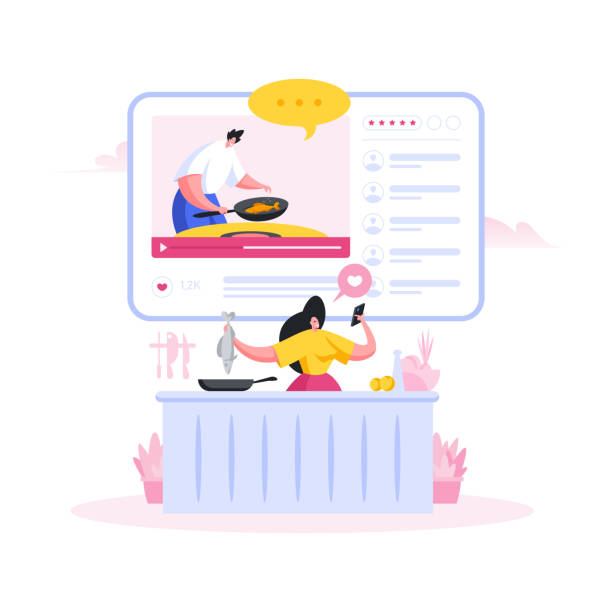 Cooking food recipe app development is one of the most popular types of mobile app development. It is because there are a lot of people who are interested in cooking, and they like to experiment with different recipes.
It is a real thing that almost all smartphone owners use their phones in the kitchen, especially food enthusiasts who like to create and try different types of food dishes. If you can produce some unique experiences via your cooking food recipe app, then the time will be yours. 
From the user's point of view, if you think about it, then they always need an app that can help them, like a friend who is an experienced chef while cooking the food. While developing the app based on this idea, you must keep this in mind. 
During COVID-19 Lockdown, most people tried different recipes in their home kitchens. It became advantageous for millions of people who learned how to cook food. 
From an investment point of view, developing a food recipe app is beneficial as people are interested in it. Most people used to search for recipes online or using mobile phones. That is the reason behind the evolution of the cooking food recipe app development.  
What Are The Ideas You Can Follow For Cooking Food Recipe App Development
An idea is the most significant factor behind the success of any app, so the same is applied to the cooking food recipe app development. So, here we have listed the app ideas that you can develop with the help of a mobile app development company.
Cooking food recipe apps are a great way to market your food business. If you have a restaurant, cafe, or any other type of food business and want to grow it, then investing in cooking food recipe app development is the best way for you to do so.
So, let's start with the list of ideas that you can follow to develop a cooking food recipe app in 2022.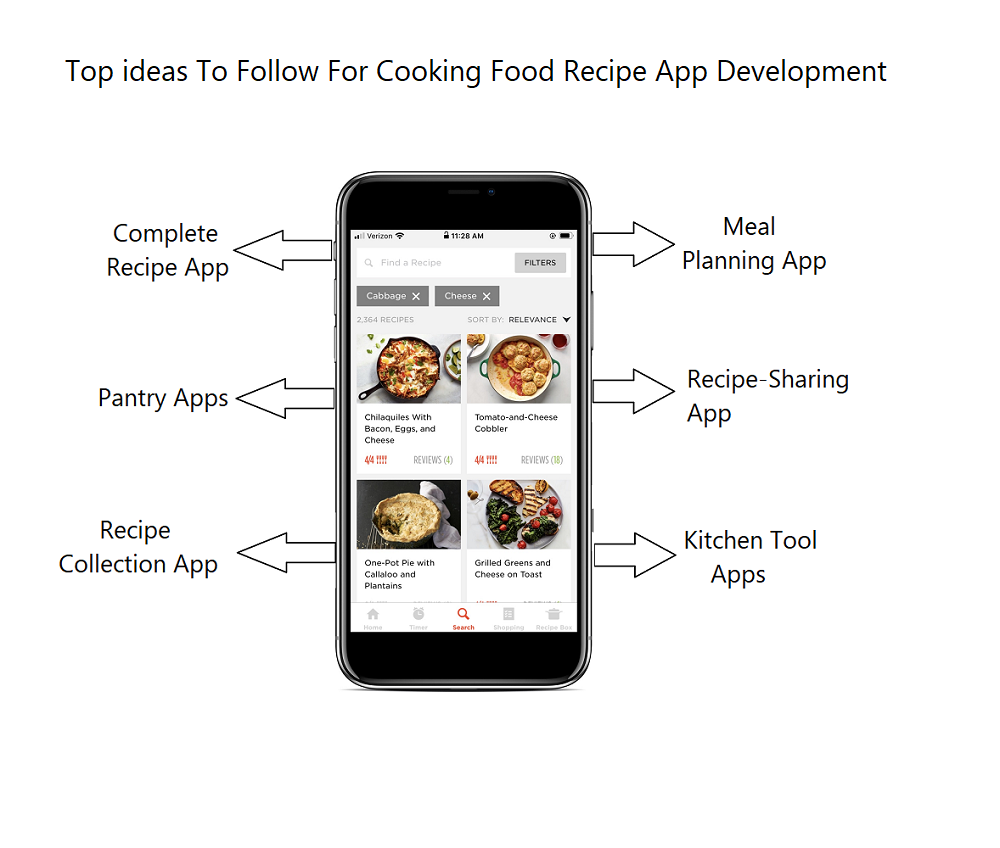 1. Complete Recipe App
As its name implies, complete recipe apps contain detailed recipes of all cuisines that users can easily try at home. Users can set favorite recipes they usually follow to prepare the cuisine at home. These apps also help experienced users to upload their customized recipes on the app so other users can use them for themselves. Some apps come with animation and videos containing detailed instructions that you can follow while working in the kitchen with all the raw materials for the desired dish. 
2. Pantry Apps
Pantry Apps are a new way of grocery shopping. They enable people to shop for groceries online and deliver them to their homes or pick them up at the store. The most popular Pantry Apps are Instacart, Shipt, and Amazon Prime Now. They all offer different features for their services, but they all use an app that allows users to order groceries and have them delivered promptly. 
Instacart is the most popular of the three because it offers same-day delivery from many stores, such as Costco and Whole Foods Market.
Instacart is a fantastic app to follow for developing a pantry app, although you also need to enquire about the cost of developing an app like Instacart. It will give you an idea of how much budget you need to develop it. 
3. Recipe Collection App
Developing a recipe collection app is such a fantastic idea if you are a chef and want to share your recipe with the world and cooking enthusiasts. You can add short videos and quick recipes to create interest among users. It will help you to reach a large audience base interested in cooking. Additionally, you can generate good revenue with the help of this idea in the form of cooking food recipe development. 
4. Meal Planning App
Meal planning apps are for health enthusiasts. Users use these apps to plan their meals as per their health requirements. The best meal-planning app is the one that helps you create meals for the entire week in just a few minutes. 
There are a lot of apps out there with different features and prices. Meal planning apps can be used by people with busy schedules or those who like to cook healthy food. With these apps, it is much easier to plan your meals for the week so that you know what to buy at the grocery store.
5. Recipe-Sharing App
Recipe-sharing apps work like social media platforms for users who want to share their recipes with the public or other users. In simpler terms, it is an app that facilitates users to exchange their recipes in groups or with their close friends available on the app. 
6. Kitchen Tool Apps
Kitchen Tool Apps are an excellent way to make cooking a breeze. They provide you with all the details of the tools that you need to cook with ease, and they also make it easier for you to find recipes and ingredients.
Apps like Kitchen Stories, Epicurious, and Allrecipes are examples of apps that help you find recipes and ingredients. There are also apps that help you plan your meal and calculate how much time it will take to cook the dish.

Features You Need To Consider For Cooking Food Recipe App 
While planning about cooking food recipe app development, you also need to think about the features as these are related to the best user experience. These features will help you to make your app stand out from the crowd. 
For deeper insight, you need to understand that the app remains divided into two segments one is a user panel, and another is an admin panel. Now, let's begin with the list of features segment-wise. 
1. User Panel
The user panel stands for the cooking food recipe app's segment dedicated to users. Here they can find all the features that they can use while interacting with the app.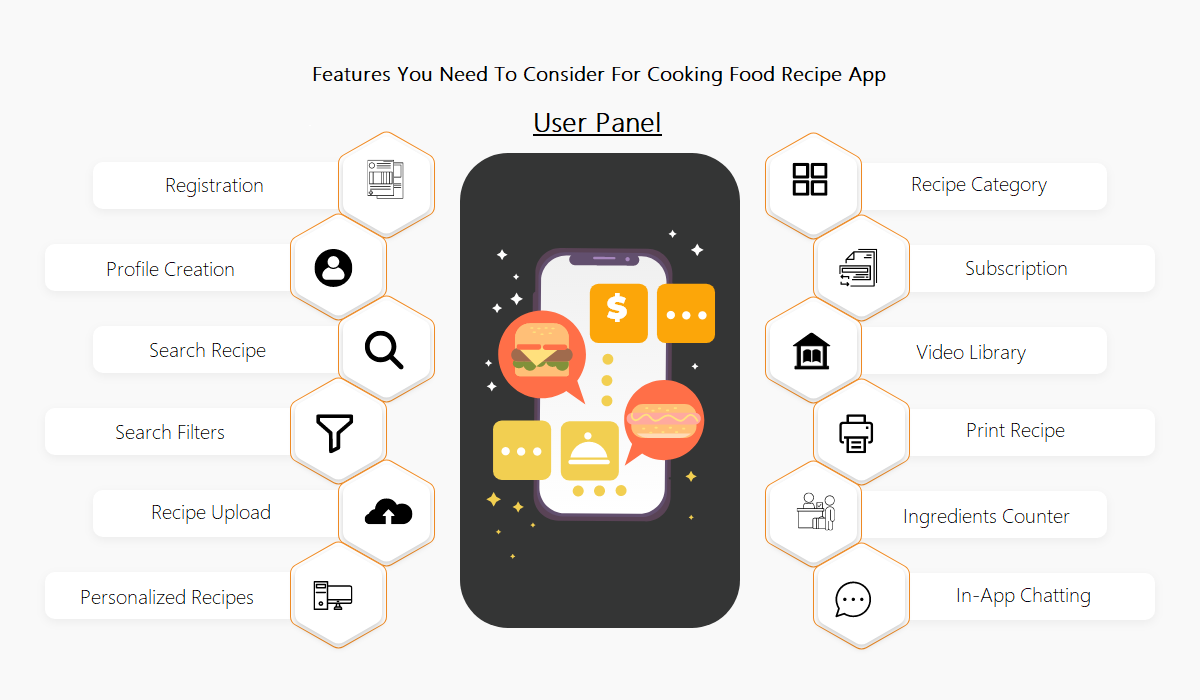 ● Registration: For user authentication, registration is necessary. The cooking food recipe users can register on the app with the help of their e-mail id and phone number.
●Profile Creation: The next important feature profiles creation which allows users to create their profile on the app showcasing their image, name, and other details. Here users can decide their privacy settings on what to display or not.
● Search Recipe: It is the key feature of cooking food recipe apps. By using this feature, users can search for their favorite recipe or the cuisine they want to cook for themselves or their loved ones.
● Search Filters: The users can search for the recipe by applying the filters such as recipe name, category, ingredients, and recipe from the countries.
● Recipe Upload: If users want to share their recipe with the public or their friends, then they can easily upload the recipe on the app.
● Personalized Recipes: Users can create a personalized list of recipes for their use. Suppose they used to cook cuisines with low spices; then they can have a list of all recipes based on it.
● Recipe Category: It contains categories of all types of recipes that you can refer to and cook at your home, such as vegan, eggetarian, non-veg, sweets, and more.
● Subscription: At the subscription option, users can find all the subscriptions available on the app. They can choose their desired subscription plan as per their choice.
● Video Library: It is very easy to learn cooking with the help of videos. So, implementing a video library with the help of dedicated app developers for hire is best to engage the users with the app.
● Print Recipe: For ease, users can take printouts of the recipe so they can paste them in front of the kitchen counter. They will find it very easy to read the instructions instead of holding the phone while cooking their favorite food.
● Ingredients Counter: The users can have an exact count while planning to prepare the food based on the number of guests.
● In-App Chatting: This feature allows users to chat with other users or their friends while cooking, where they can discuss or share their recipes with each other.
● Articles: It will give immense pleasure to the cooking enthusiast to read articles based on cooking written by experienced chefs.
●  In-App Purchase: Users can purchase ingredients directly on the app related to their favorite recipe.
● Rating, Reviews, And Comments: Users can rate and review the recipes, and they can also add their comments, such as their experiences while preparing the food based on their recipe.
Create Your Own Food Ordering App- Features, Benefits, App Development Company
2. Admin Panel
For better management of the app, an admin panel is necessary. It works as a complete command center for the app admin, where they can monitor all the tasks, including user activities.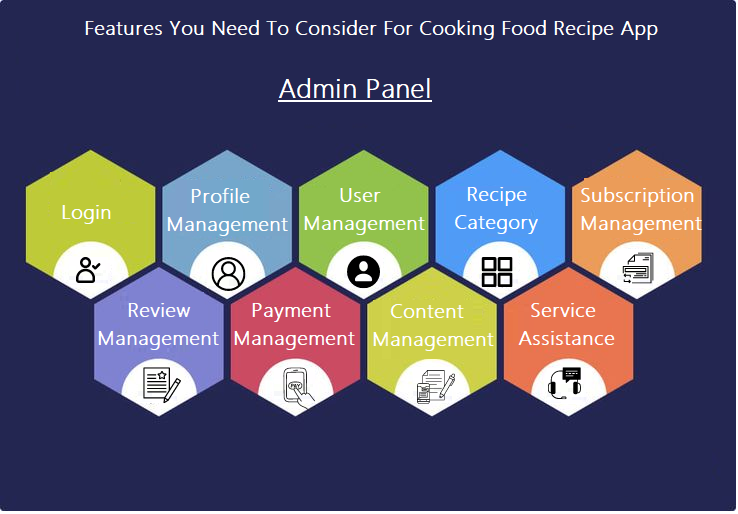 ● Login: Using credentials app admin can log into the panel and perform desired tasks.
● Profile Management: Same as the user's profile, an admin can also create and manage their profile on the app.
● User Management: With a single click, an app admin can manage the users, such the addition of profiles, user removal, or restricting the users.
● Manage Recipe Category: Based on the users' interest in cooking food recipe app admin can add more recipe categories.
●Subscription Management: Admins can manage the subscriptions on the app. Suppose they want to reduce the subscription price; then it can happen with a click.
● Review Management: Cooking food recipe app owners can manage the reviews posted by the users. They can view each review and see the details of who has posted it on the app.
● Payment Management: Admin can look at all the details of the payment that users have paid for subscriptions or in-app purchases for ingredients.
● Content Management: For engaging the users in the best way, content management is a must. Admin can filter and upload the content based on the user's interest.
What Kind of Team You Need To Develop a Cooking Food Recipe App? 
To create an app like Yummly, you need experienced professionals who have developed several apps based on similar concepts. So here you need team members like: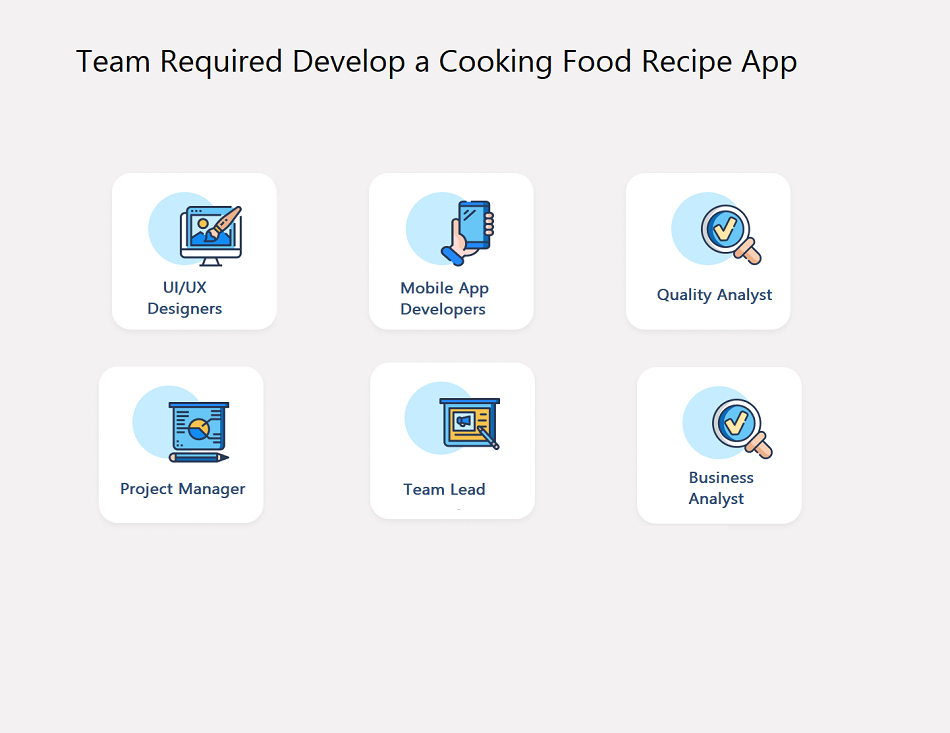 1. Business Analyst 
For collecting & analyzing the business requirements and understanding the business nature business analyst is a must. You can leverage their skills to understand the current market trends. 
Hiring Cost: The hiring cost of a business analyst range between $15-$20. 
2. Project Manager
For a successful cooking food recipe app development, fine project coordination and management are a must. For the same, the project manager plays a crucial role. They coordinate with all team members, including the team leader, to ensure the project development as per the client's needs.    
Hiring Cost: The hiring Cost of a project manager ranges between $25-50. 
3. Team Lead
The team lead is to coordinate with their team members and stays in the loop with them all time. He or she is a bridge between the project manager and other team members. In any event of guidance for a cooking food recipe mobile app development, he or she is the first person to be contacted. 
Hiring Cost: The hiring Cost of a team lead ranges between $20-$30.   
4. UI/UX Designers 
Millions of users use cooking food recipe apps to prepare and serve their favorite cuisine to their families and loved ones. Only those apps are successful and have a clear and attractive user interface. So, your app also requires it. An experienced UI/UX designer can help you to implement it. 
Hiring Cost: The hiring Cost of UI/UX designers ranges between $10-$15.   
5. Mobile App Developers
Hire mobile app developers to ensure frontend and backend development to construct the app's full version that a user can use after download. They will be responsible for implementing the components, integration of third-party APIs, payment integration, database integration, and more. 
Hiring Cost: The hiring Cost of mobile app developers ranges between $20-$25.   
6. Quality Analyst 
You would want to taste your dish before serving it to others to find and add the missing ingredients. The same concept is applied to the cooking food recipe app. Before launching it onto the platforms such as Google Play Store or Apple App Store, a quality analyst will test the app on all parameters to ensure its quality. 
Hiring cost: the hiring cost of a quality analyst for cooking food recipe app development is $10-$15.   

Cost To Develop Cooking Food Recipe App Like Yummly
Similar to the other apps, there are factors that decide the cost of developing an app like Yummly or any cooking food recipe app. The average cost to develop an app like Cookpad or Yummly is $15,000-$30,000. If you include advanced features, then it may cost you around $40,000 or more.
For more details, here are the advanced features that increase the cost such as:
Push notification

Live video streaming

Payment integration

Ecommerce features

Video and voice calling

Social login 

Auto-lock screen

Video Library 

Meal planning and analysis
There may be more features. The truth is to implement these features, you need to integrate third-party APIs, and that requires a portion of the overall cost. 
The cost-influencing factors in developing a mobile app like Yummly are:
Number of mobile app developers  

Features(basic or advanced)

App Designing 

App building platform 

Mobile app development 

App hosting and security 

Business model
How To Monetize A Cooking Food Recipe App Development?
It is true that nobody wants to build an app for personal reasons. So, while planning to cook food recipe apps for business, you need to think about its monetization. Here are the options that depict how you can monetize your food recipe app for business and earning.
1. Subscription  
The subscription-based model is one of the superb options to earn via the cooking food recipe app. You can offer different subscription offers to your users. They need to renew it after the time period. 
2. In-app Advertisements
You can generate good revenue via in-app advertising business models. Here you will earn via commission. It works like third-party advertisers will display their ads on the app. When a user clicks on the advertisement, you will have a commission on it, or you can set the package to display the ads. 
3. Sponsorship
If your app is successful, then you can also reach for sponsorship. You can earn monthly sponsorship or can share the revenue with your sponsor. 

The Final Thoughts
Cooking food recipe apps are trending, and people are showing interest in these apps. After Covid-19, people are taking an interest in preparing food by themselves not only for the requirement but also for the hobby. You can leverage this trend to generate good revenue by taking the help of the cooking food recipe app development. In the initial phase, what you can do is develop a prototype with the help of an experienced app development company providing mobile app prototyping services. Or if there is any limitation of budget, then you can also go for the MVP version. 
I have created this blog with the intention of helping readers, so if they are interested; then they can refer to it for developing a food recipe app.