In this blog, you will go through a complete guide about messaging app development trends in 2021. If you observe closely, you will find people engaged in messaging, chatting, or video calling. It is a new way of communication that people are finding more interesting.
If you have any unique idea and want to implement it, here are some interesting facts about it, and later you will have a great revelation about developing a unique app.
Let's check out the facts first that what is trending in 2021 about the communication app market; what are the data? & Many more.
In 2020, 2.77 billion smartphone users accessed the top messaging or communications apps, and it is projected to grow to 3 billion users worldwide.
In April 2021, as per data, there were 2000 million users active only on WhatsApp. The rest of the numbers belong to other platforms such as Facebook Messenger (1300 million), Weixi / WeChat (1225 million).
36% of users use at least two messaging apps.
The above represents the key statistics; still, other facts and information are available on the internet and represent the big picture.
Is It a Great Idea to Go with Messaging App Development?
Yes, it is really a great idea to go with the messaging app development in 2021 as there are many opportunities. Initially, it is enough to consider that it is much beneficial to launch an app as any mobile app development company has launched already on the platforms.
Here is a simple idea to check that, open the play store or app store on whatever platform you use, then search for this app you will find multiple results.
People around the world, including us, mostly like internet-enabled instant messaging applications. It facilitates the use to have a chat for professional and personal purposes.
Since there is a great influence of smartphone and internet-enabled devices, these communications apps have an advantage over operator-based text messaging. These apps are also the most promising tools for promotion & advertisement, for example, WeChat, WhatsApp.
In terms of revenue generation point of view, you should also look following facts –
There are 20 billion messages transferred each month and 41 million messages every minute.
By the end of 2021, mobile users will reach 7.1 billion.
5 billion emojis are being exchanged every day.
Till 2020, average revenue was expected to exceed $15 of the messaging app.
There is a considerable need for on-demand solutions for messaging apps where it is an excellent idea for earning. The crucial point is to be noted that an app idea must be unique and match the expectations of the user for which they search.
Specifically, if we talk about WhatsApp, it spent zero cash on marketing but one of the top apps worldwide. It shows that a unique idea can change the whole perspective.
Mobile Platforms & Chat Apps
Worldwide, there are two major mobile platforms, Android and iOS, where 2.5 billion users use Android and 728 million iPhones. There are many apps available on both platform's app repositories. It is enough to prove that why on-demand app development is required.
There is another option that is also in trend in 2021, which is cross-platform app development. It allows developers to implement code reusability to build an app that works for both platform users.
For investment purposes, it is fantastic to launch the app for these platforms' users; for example, WhatsApp is available on Google Play Store and Apple App Store, making it a top communication app. If we search deeply, then we will find that some chat apps are available on both.
Challenges Associated with Messaging App Development
Although developing a chat app leverages the advantages of custom application development, some challenges are also associated with it. As users are rising, so mobile apps are also increasing.
Every day 3739 apps are added to the play store. The number may be more than this, and in the future, there will be a significant rise. The statistics will be changed in 2022.
Let's go through the challenges to know exactly the challenges and what a chat app wants
1. Security
It is one of the biggest challenges for any new generation application because several threats exist. Hackers only access the internet and applications to malfunction them and for data-stealing to use as per their malicious intentions.
If a user has any doubt, they will not think even a second to uninstall an app and post negative feedback on the internet platform.
Before you execute any plan about messaging app development, then think twice and ensure its security. For consultation regarding security, it would be best to consult with an experienced PWA development company.
It can be a great idea because they have in-depth knowledge that which mechanism will suit your app to make it more secure as per the latest trends. So, the user can find it secure and can use it with a positive mindset.
2. Scalability
The users are rising day by day, and already billions of users exist on the mobile platforms, so scalability is also one of the biggest challenges for any smartphone application.
There are 2.77 billion smartphone users who use at least one messaging app, and there will be more users onboard even after you finish reading this article.
For any new app, it must have scalability, so if the number of users increases, there will be no issues. Although the network connectivity, user administration, and global distribution are challenges to it. You need to also take care of it while messaging app development.
3. Integration
It is a challenge and also one of the biggest features of any chat app. Several apps don't mind user is accessing it via which platform. With API and SDK'sSDK's solution, the apps are working fine, and you already know the power of cross-platform app development, so there are fewer issues regarding integration. Your app will be new in the stack, so you have to ensure the integration finely. You have to equip it with flexibility.
Still, if you want to launch it on any specific platform such as iOS, you can hire iPhone app developers; that would be a beneficial idea.
4. Frequent Updates
The internet platform is unpredictable where the data and technology change overnight. Every morning we have new updates, so it will be the biggest mistake if we ignore the update mechanism and its features.
Already there are multiple competitors in the market, so it is your prime responsibility to ensure that your app must have crucial updates. It would be advantageous in terms of user engagement and great customer experience.
If you confirm the same thing with any expert working at PWA development company, he will tell you the same thing. If you don't believe then go and ask. Later we can discuss it.
5. Cloud Synchronization
The increasing number of users is beneficial, but it causes server overload. So, for overcoming this challenge, Cloud synchronization is a great thing. It does not matter that in what ratio users will increase; there will be no synchronization of media, messages, and images.
Suppose if any user lost the device, then there will be no issue of data retrieval. Within a minute, the user can have all the lost data. Although it is a challenge to implement it, you can take the help of experts of any Android app development company. With them, you can have comprehensive guidance.
The Top Features Your Messaging Must Have
Several apps offer some common features but have at least one unique feature that differs from another. One thing that makes all applications common is that they allow the user to contact each other via messaging. For example, WhatsApp allows users to send 16MB recorded video files and other files up to 100 MB; it is very low compared to Telegram, allowing users to send 2GB files. Although in terms of communication, WhatsApp is better. So, both have their own specialty that makes their separate fan base.

The first-ever thing you need to take care of is an idea & purpose like you have to decide your app's objective, such as you want to develop it for professional communication or personal communication that people use casually. It will help you to escalate the steps one by one for messaging app development. If you want to go for on-demand app development, you need to focus on the features and technology stack you will use for development.
So, let's kick start the list of features that a messaging app must have as recommended by a mobile app development company.
1. Sign-In
It is the most basic functionality that every chat app has. For example, once you have set up your WhatsApp or Telegram account, you can easily use no login required. Actually, for any personal communication app, there is no need for a login.  The user authorization takes place via the phone number, e-mail, or social media account. Most of the app verify the account via sending the OTP to the provided phone number. The signup feature is very similar to other social Media Application development.
2. Profile Customization and Setting
If personalization is missing, then the user will not take an interest in it. It is one of the most potential features that create interest in users. They will find it quite interesting to customize their profile as per their choice; it includes profile images, customized status messages, sharing status with others, etc. In addition to this, if your app has a blocklist feature, then it will be advantageous as WhatsApp allowed to their users.
3. Individual & Group Messaging
This feature works as a cherry on the cake. It allows the user to send messages to individuals or if they need to share with others having a common interest. You should also include it in your app to send messages, images, videos, and other multimedia files personally or in a group. If you are developing a business messaging app, it must have group messaging features as one of the best on-demand solutions.
4. File Exchange
In our routine life, we need to share the files with each other, for example, movie tickets with friends on the weekend or travel tickets while planning a dream trip with friends or an excel sheet to the boss. It is one of the hardcore requirements of any messaging app that you must include in your app.
5. Contact Import
It will be such a nice thing that if your messaging app has the facility to automatically import available contacts on the device, it must also facilitate the users sending invitations to their friends, family members, colleagues, and the persons they meet frequently. It will be such an excellent user engagement activity.
6. Messaging
It is the soul of any messaging or chats app. This feature must be simple and allow users to express their feelings or share ideas to others uninterruptedly. There are two ways to implement it.
Client-Server- Client Model: In this model, messages go through the server and store there. For encryption and security, specific protocols such as HTTPS and SSL are used. While using this model, your app must be able to handle encryption and encryption.
Client-To-Client Model: Instead of keeping information on the server, the messages are passed through the wireless mesh network. Although this method requires a certain level of professionalism and experience so for the same, you can discuss it with any PWA development company.
7. GPS Tools
In place of explaining the address(s), people like to directly share the address. It is such a powerful feature, and if you are also thinking in this direction, it will be great for your app to use in-built GPS tools.
8. Push Notifications
This feature immediately notifies about the incoming message on the device. To implement this, feature the experts who deal in custom application development utilize the benefits of Google Cloud, Apple Push Notifications, and so forth.
There is tough competition in the market as various apps on the Play Store and Apple App Store. So, if you want to reach an advantageous position, you should consider these advanced features to be included in your app.
9. Audio-Video Call
It is currently time need that messaging app must have audio-video call features. The app, such as WhatsApp, is now providing a group calling feature that is being used by many people, and users are enjoying it a lot. It facilitates the users to stay in contact with their friends and loved ones. Although the poor network bandwidth and low signals are challenges to it. So, here you also need to take care of it.
10. Public Channels
It is one of the most exciting features you can found in apps such as Telegram. That allows users to make a public group where others can join and share their thoughts. It can also be used for brand or product promotion. Adding it to your messaging app will be advantageous.
11. Self Destructing Messages
This feature allows the app users to post the messages for a short time, then after status or messages are automatically deleted from the profile. Initially, it was introduced by Snap Chat App, and now many apps have introduced it.
12. Chatbots
As one of the promising features, you can also integrate the Chatbots in-app, so business-oriented users can use it to address their customer's queries. It is the latest marketing tool that is in trend now.
13. In-App games
Although there is less possibility that users will play a game in a messaging app but if it offers great entertainment, then, in turn, it will also increase the popularity of your app.
14. Message Scheduling
If you include this feature, then your app will represent something new to the audience. Still, this facility is available in the mail, such as Gmail. The user must be allowed to schedule the messages that can reach the other user at a particular time.
15. Live Streaming and Stories
With the live streaming feature in a messaging app, it is no less than a social platform. The messaging live streaming apps can help fans and celebrities connect with each other. One can share their daily schedule or lifestyle with this feature. Scrolling around stories have become quite a part of our life and is now a source of entertainment. 
16. Natural Language processing
Natural language processing converts the language of a text into an understandable format for the individual user. It can change the text font, translate it, or convert audio files into text. For this feature you just have to add an API, many tech giants have shared multiple resourceful APIs like speech-to-text for google cloud, speech framework from Apple, etc. 
17. Photo Editing 
With a camera in every single hand these days, photos are one of the most popular types of file exchange. A messaging application can provide features like blurring or highlighting a picture or add some filters for the users to engage with. Our Dedicated app Developer understands the user perspective and can help you by developing an Application that is not only well-suited with all the features but is also out-of-the-box and unique.   
18. Business/Brand Accounts
The business or brand accounts connect their customers and notify them regarding their orders. Further, the messaging apps are also at times used to promote discounts and in providing customer service. Through providing paid business accounts the application can also earn revenue by providing additional features like insights, broadcast management, catalog building, etc. 
19. Mobile Payments
Many messaging Platforms like Wassup have enabled the system of paying through the application. Online payment is not any trend but a new reality of how people manage and regulate their money and finance. From electricity bills to EMIs all are paid online. Hence, providing a function to make the payments as well will take your application to some other level. 
Technology Stack for Building Messaging App
For developing any mobile app, a technology stack is required. If you have a clear goal and decide what functionality your chat will provide, it will help you choose suitable technology and tools. The platforms are Windows, Android, and iOS, where you can launch your app separately. But if you want to target all these in one launch, none other than cross-platform development will be best for you.
So, let's list out the tech stack as per platforms-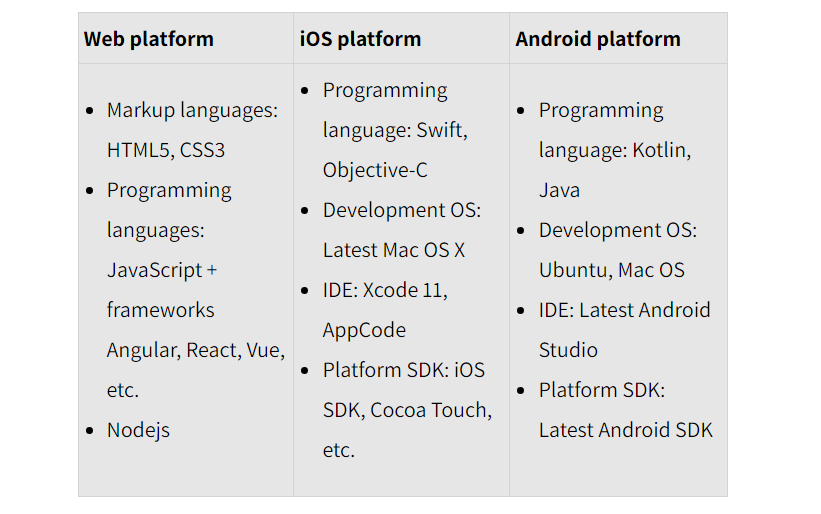 All technologies listed in the above figure are used by developers for messaging app developers as per platform requirements. Developing these apps is the latest trend and also cost-effective because it supports code reusability to a greater extent. Most of the full-stack Application development companies support this idea.
For developing cross-platform applications, the required tech stacks are-
Flutter – Itis one of the cross-platform app development Google-powered tools, and the programming language is Dart. Its built-in widgets offer smooth performance.
React Native – It is a JavaScript-based framework for mobile apps. It allows developers to utilize the advantages of UI building blocks same used in iOS and Android programming.
Xamarin – It is a C# language supported tool. If you need direct access to the native APIs of both operating systems such as iOS, Android then Xamarin is best.
How Your Messaging App Will Earn?
The app's objective also works here because you can't decide the monetizing strategy without it. If you are developing it for business communication, things will be different from making it available for common users.
Suppose an Android app development company wants to launch a messaging app. First, they will target the customers as per the features of applications, and it will facilitate to whom. You can also go with the same idea.

It is fine that messaging apps crucially available free for all, but it doesn't mean that they can't earn. Here are some methods that can make you earn via messaging apps-
Paid Plan – Suppose your messaging app is targeting the business user. In that case, you can earn it via providing the paid version that will provide the full functionality and empowers the enterprise to overcome the communication challenges. Although you can start with providing a trial version.
Advertisement – Mobile applications became a promising way for internet or online marketing. So, there is no need to doubt that how messaging app will earn. It can be a great tool for advertising if anyone does it with strategy. For example, various businesses promote their products via public channels in Telegram App.
Subscription Renewal – If you are also providing the premium version, then you can also earn by subscription renewal plan.
Earning via Download – If there are a certain number of downloads of any app, the play store pays the app owner.
Here are some FAQs that users search on the internet
1. What Is Android Messaging App?
The Android messaging apps are the applications build with the help of Android Programming using programming languages such as Java, Kotlin. These remain available on the Google Play Store, where users can download them as per their choice.
2. How To Make an Instant Messaging App?
For making an instant messaging app, first, you must know messaging app development that includes programming skills and in-depth knowledge about the technology stack. Although there are other options available, such as hire iPhone app developers or launching it via Google Platform, then availing services from an Android app development company is an excellent idea.
3. How Much Does It Cost to Build a Messaging App?
The average cost to build a messaging app is $10,000-$25,000, although the things depend upon the specific requirements and features you want to include.
The Final Thoughts
In final words, the messaging app is such a great idea and also promises revenue generation opportunities. If you are new to this segment, you should first study world-famous apps such as WhatsApp, Telegram, WeChat, Viber, and Facebook Messenger. Here tech stack and platform will play an important role that you will select. There are two ways to launch your app: you choose any of the platforms from Android, iOS, and Windows, or you choose cross-platform messaging app development. The choice is yours, So I want to hear that what you will select? You can type your comment below.