It might be very hard to imagine how companies like Amazon, Flipkart, Myntra, or Zomato manage their delivery services. Isn't it difficult for them to manage the details of all the deliveries, vehicles, and drivers? Well, the answer is that it is quite easier for them to manage everything because they always go for fleet management app development.
What Is Fleet Management Application And What Is It Used For?
Fleet management software solutions are used to manage the group of vehicles that are used for commercial purposes like transportation of goods and deliveries over a large geographical area.
It includes the financial expenses of vehicles, their maintenance, delivery locations, the type of products that have to be delivered, and the location where the products have to be delivered.
It also covers the parameters like how bulky the products are and what kind of vehicle they require according to the volume. Fleet management applications not only help the drivers to deliver their product but also helps the companies to track their vehicles and work under all the rules and regulations given by the government.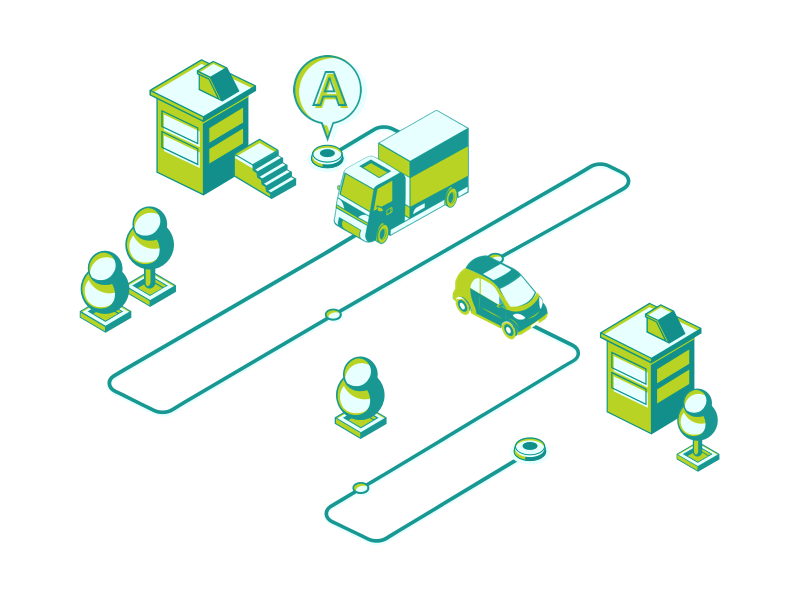 Even if you have a local business that requires delivery services then how will you keep the record of all the deliveries, vehicles, drivers, and payments? All of this can be easily done with the help of fleet management.
These applications include tracking, routing, navigation, delivery details, driver allotment details, delivery schedule, and a long list of vehicles. Managing all of this by only using human resources would not have been possible.
Contacting all the drivers by the use of the phone will not work smoothly if you have to manage large delivery services. Fleet management applications will provide you with automated customized services as per the requirement and user demand of your business.
Even if you have a small delivery requirement or you own small delivery business with a limited number of vehicles, then also you will need a fleet management system at some point to manage everything efficiently.
Working Of Fleet Management
Fleet management app development is the process of combining GPS and big data analysis. Big data analysis is not an easy task but with the right tech stack, it can be done without facing any challenges.
Fleet management ensures the security of the company's data, vehicles, and employees. This will include the documentation details of all the drivers and will keep a record so that there is not any kind of violation of rules and regulations forced by the government. This is important for the driver's safety as well.
This application also manages all the details of arrival or dispatch of all the goods that have to be delivered. This will record all the locations where a particular package has to be delivered and will locate it with the use of GPS.
Even if the driver is new in the area then also they will be able to find the location easily with the efficient use of the fleet management app.
Features Of Fleet Management Application
It is no secret that logistic software development solutions provide a lot of benefits via the fleet app and software development.
To provide all those benefits, they have to add a number of features. Here is the list of features that must be added to a fleet management application or software.
1. Tracking Of Vehicle
If you don't go for vehicle tracking app development then you can not manage a long list of drivers and vehicles smoothly. A fleet management application will keep live track of the vehicle.
This will help you to know the location of the vehicle as well as you will come to know immediately if a driver is in an accident or any kind of unwanted situation. This will also help you to give live status to the customer where the products have to be delivered.
2. Maintenance
If you have a large number of vehicles then it is not possible that you will keep a memory record for the maintenance of each one. Fleet management software solutions will allow you to get notification each and every time whenever a vehicle needs any kind of maintenance.

This is not possible to keep a check on so many vehicles even if you keep written records of each and every one. There will always be a risk of some kind of delay and that is dangerous for the driver and the products that you are delivering will be ruined as well.
3. Replacement
After the maintenance of the vehicle, if it is still creating some problems then logistic software development solutions have added such features that will notify you to replace the vehicle from time to time.
Also, If a driver is working continuously without any rest then the application will notify you about that as well. This is the best way to manage the long list of your vehicles and drivers by keeping a check on all of their requirements. This will reduce the risk of any kind of unwanted situation.
4. Delivery, Scheduling, And Dispatching
Along with the tracking of the vehicle and keeping the record of drivers, a vehicle tracking app development company will help you to keep the record of delivery, scheduling, and dispatching as well.
It will have all the records of when and where the delivery has to be made and what products and vehicles have to be dispatched. This system might not work smoothly if humans will keep a written record of all the details.
Read More:- Features and Cost to Develop An Innovative, Dynamic Fleet Management Application
Even if it is done in the most efficient way, then also there is always a chance of error. It is well said that precaution is better than cure so, rather than handling issues you must go for the fleet management system.
5. Route Navigation
Route navigation and locating the place where the package has to be delivered is one of the biggest problems for the drivers who are delivering to some new geographical locations.
Software development company solved this issue by adding features like GPS and route navigation. Now the location is already pre located in the app or software before the journey starts and the drivers have to just follow the navigation instructions.
This helps the drivers to find the shortest routes where the traffic is less and this helps to make the delivery service faster and efficient.
6. Safety And Government Regulations
Your safety is in your own hands but what if you don't remember to keep all of your documents in so much chaos. Well, the ondemand app development company has found a solution for that as well.
They keep the records of all the documents of drivers, vehicles, and companies so that if there is any kind of checking, no documents are missing.
This application will also remind the driver from time to time to drive safely, follow all the road safety rules, and obey the rules and regulations given by the government. This will ensure the safe and sound journey and delivery of the products.
How To Improve The Efficiency Of A Fleet Management Application
A lot of development companies hire dedicated developers in order to improve the efficiency of their fleet management application. It is no secret that fleet management applications process and analyzes heaps of data every day.
So it is very important to keep it up-to-date and maintained. Here is a list of some of the points that you can use to improve the efficiency of the fleet management application.
1. Improve Customer Engagement
Customer engagement can be improved in many ways. A Mobile app development company can add features where customers can track their consignments, this will make the application more convenient for them and they will get more interested in your services.
Another thing that you can do is improve your customer care management system. This will help your customers to resolve their issues and they will come back to your application because of your great services.
2. Flexible And Affordable Price Range
If you don't keep a flexible and affordable price range then there is no point for the companies to hire dedicated developers and develop such extravagant applications.
Without an affordable price range, not everyone will be able to afford the prices and it might also frustrate the users. In order to make the users come back to your company multiple times and become your loyal customer, you must offer them a flexible and affordable price range.

Also, your application has to be installed on the mobile phone of the user. There is no need for external hardware and this is the reason why working with fleet management systems is reasonable.
3. Quality And Performance Analysis
One major feature that a software development company can add is to integrate an AI for quality and performance analysis. Another thing that you can do is check the delivery status from time to time by checking the location of the vehicle.
This will help you to make your delivery faster and efficient as there will not be any delay in the delivery and there will not be any damage to the consignment you are delivering. This will ensure the good quality and performance of your fleet management software and application.
4. Adding Features To Work From Anywhere
One thing that COVID-19 has taught us is to work from home. It is very important for a company not to stop their work even in circumstances like lockdown.
So an ondemand app development company must add features like working from anywhere because it will make working more convenient for your employees.
Even if they are on a leave and there is some urgent consignment then also your employees can work from anywhere with the use of a fleet management system application. This will make your services more efficient as there will not be any hurdles in delivering the consignments.
5. Improve Security
One major issue that fleet management systems faced a lot is related to security. It is very difficult for them to keep all of their data secured. So you must improve the security of your fleet management system application so that the data of your users and your company is fully secured.
Read More:- Features and Cost to Develop An Innovative, Dynamic Fleet Management Application
Also, this application will have all the documents of drivers, vehicles, and your company and some confidential information about your company as well. Hence, keeping the data secure should be your first priority in order to secure your data and improve user experience.
6. Add Best Available Vehicles To The List
As you will be sending your vehicle to different geographical areas and to cover thousands of kilometers. So you will need to maintain and replace your vehicles regularly.
If you are replacing them then you must add the best available vehicles to the list. This will ensure the smooth delivery of the consignment without any hurdles.
Also, adding the best available vehicles to the list will attract more and more customers and those customers will come back again on your application. This will eventually increase customer engagement on your application and your user experience will also improve.
7. Provide High-Quality Services Along With Some Membership Packages And Discounts
Along with providing all of the above-mentioned benefits to your users, you must also provide high-quality services. Your delivery of consignments should be on time and
without any damage to the products. Also, users must be able to track their consignment and contact the driver from time to time in order to ensure that their consignment will reach on time.
Along with providing a flexible price range, some membership packages, and some VIP features can be provided to loyal customers. There should also be some discounts that the new users can avail of and come back again and again for your impressive services.
Conclusion
Getting a fleet management system developed, updated, and improved by a mobile app development company from time to time is very important.
You need to understand that your users require an up to the date application which will make their consignment delivery more efficient, quick, and safe.