The banking industry is rapidly progressing, and new ways have been introduced in the form of digital banking to the market where users can leverage it for their needs. There are multiple apps in the market available over the internet. One of the trending concepts these days is – Neobank. The main advantage of Neobank is that customers do not need to invest time in communicating with the bank employees for any banking activity. They can manage the task within a Neobanking app.
From the business point of view, launching a Neobanking app is beneficial, but still, there is the question of how to develop a Neobank in 2023. A guide to develop a Neobank is provided in this blog to answer the above question. From the development point of view, it is one of the segments of banking app development and trending.
So, let's start with the basic information!
What is Neobank?
The Neobanks are digital banks and work digitally instead of working like conventional banks. Fintech companies handle these banks, and they do not have any branches. However, these banks are not licensed but have a long user base.
Neobanks offers services from mobile apps that every user can install and use. To better understand how to develop a Neobank app, it would be best to know what Neobank is.
The interesting point is that they charge fewer fees than conventional banks as overhead costs are less. Flexibility and easy usability make Neobanks popular among users.
More surprising info about neo banks is their type. There are three types of neo banks exist-
Independent Neobanks: These startups have developed from scratch and launched for business.
Big Tech Neobanks: big neo banks are owned by big financial brands; the best examples are Chime(13.1 million), Current(4.0 million), and Aspiration(3.0 million).
Traditional Neobank: neo banking services launched by traditional banks to achieve competencies are called traditional neo-banks.
The showcased basic information in this blog will help you decide about Neobank app development. You might also be interested in finding the benefits to develop a Neobank so let's proceed to the upcoming section of this blog depicting the advantages of Neobanking.
What Are The Benefits of Neobanking?
There are multiple benefits of Neobanking, not only for customers and businesses. Instead of going to the physical location, users can perform banking operations with a single click. One of the biggest advantages to the customers is the high-interest rate on savings accounts, and to the businesses, there are more customers.
You may need clarification with net banking. But Neo banking is different from ordinary banking apps. For account opening, there is no need to go anywhere else; you can directly open your account on the app. There is no opening fee, low maintenance cost, minimum balance required, hidden fee, or any kind of fee.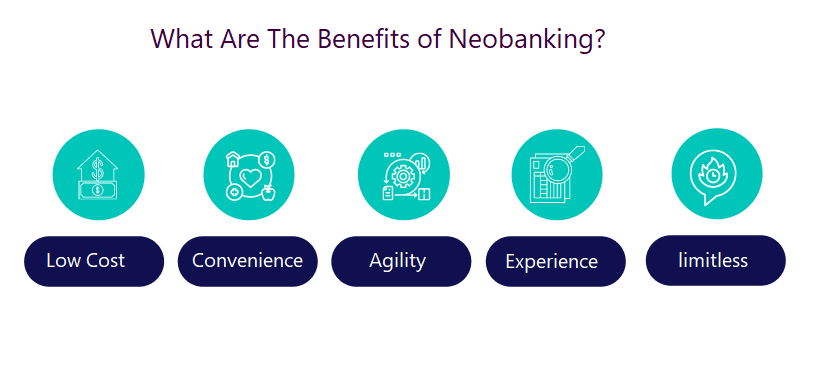 So, here is the list of benefits of Neobanking.
Low Cost: The low operational cost makes Neobanking favorable rather than traditional banking. Users get more interest in saving accounts.
Convenience: The Neobanks do not have Brick & Mortar Branches but have a digital or virtual presence and operate the same as the other banks do. Users have access to banking via a mobile app, so they can use it at any time.
Agility: The Neobanks can move faster to the new technologies compared to the traditional banks. The agility gives an extra edge to it.
Streamlined Experience: The services remain streamlined, and users have a seamless banking experience. Additionally, user onboarding is fast.
The limitless: The Neobanks are limitless means they are not bound to the regulations as local banks follow.

Some Key Neobank Stats That You Need To Watch For 2023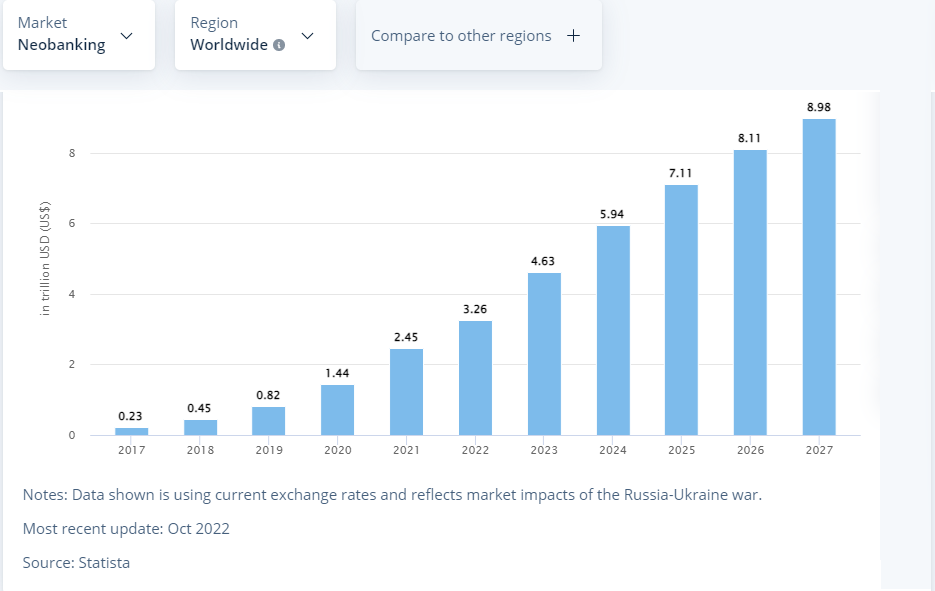 Here are some exciting key stats that you need to watch for 2023.
The transaction value in 2022 is $3.25 trillion, and it is expected to reach $8.97 trillion by 2027 with a CAGR of 22.49% (2022-2027).
In 2022, the average transaction value(per user) is $17.28K.
By 2027, the number of users will be 376.89 million.
The user penetration is expected to hit 4.8% by 2027.
Neobanks' global market size in 2021 was $47 billion and is expected to be $2.05 trillion by 2030.
The largest Neobank is Nubank, headquartered in Sao Paulo, Brazil.
By 2025, the number of Neobank users will be 39.1 million.
The stats mentioned in this guide to developing a Neobank are both motivational and valuable for developing or making a strategy to launch a fintech app based on Neobank's concept.
How To Develop A Neobank From Scratch?
People search over the internet like:
How to start Neobank?
How to develop a Neobank App?
How to set up a Neobank in 2023?
How to make own neobank app?
How do I start a Neobank in 90 days?
Some key steps can help you transform your Neobank idea into a mobile app. So, here are these that you can follow to set up a Neobank from scratch.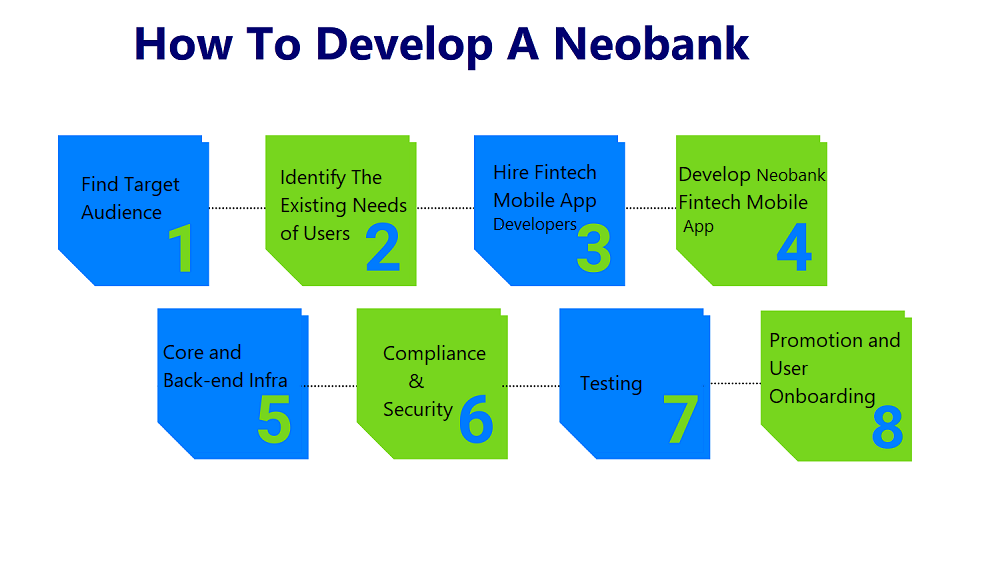 Step1. Find Target Audience
Do you have any idea who your target audience is? If you still need to, then the first step you must follow is finding your target audience. Neobank is different from traditional banks, so its users and customers are different. Here you need to specify what your Neobank will offer and what users are searching about. It would help if you had an in-depth understanding of your target audience.
Step2. Identify The Existing Needs of Users
After identifying the target audience, the next step is to identify the existing needs of users and what features they need to improve their Neo banking experience. The motive must be to resolve the existing issues with the Neobank app and build customer trust.
Step3. Hire Fintech Mobile App Developers
Once you have done step 1 and step 2 now, it's time to develop the app, but how? The best idea is to hire fintech app developers having experience in developing banking & financial apps, including knowledge of neo-banking. You need to follow this step to create the best user experience.
Step4. Develop Neobank Fintech Mobile App
Step 4 belongs to the development stage, where fintech mobile app developers will develop the UI/UX, backend, and frontend of the fintech chase mobile app. Here they will implement the features also to make the Neobank app complete.
It would be best if you asked a question while developing the app:
What features do I need to include in my Neo bank app?
So here are things like quick signup, user verification, profile creation, investment, transaction history, money deposit, and more. To understand the basic functionality, you can take reference to mobile payment apps like Cash App.
Step5. Core and Back-end Infra
To develop a Neobank app, a robust backend is required, and it must be powerful enough to carry out all the activities. There are three main components of it, i.e., API for connecting payment gateways to the neo banking app, Card Processing app for transactions related to the debit or credit cards, and Back office tools for managing back office tasks. The right fintech app development company can assist you in implementing it best.
Step6. Compliance & Security
For a banking services provider, whether Neobank or conventional, maintaining customers' data safe and secure is the prime concern. So, here you need to establish a strong infrastructure that can provide security to the Neobank app and activities.
Step7. Testing
Once implementing the security infra, put your application under the test to find out the loopholes in execution and security. Testing the application based on real-time use will ensure that there will be no issues in the future.
Step8. Promotion and User Onboarding
The final step is promoting the app so that people will know about your app. A perfect promotion can help you onboard more customers on your Neobanking app. Ensure that user onboarding must be smooth.

Features To Include In Neobanking App
Features will be the soul of your Neobanking app, so choose accordingly. Including basic features, you can also implement some basic features like: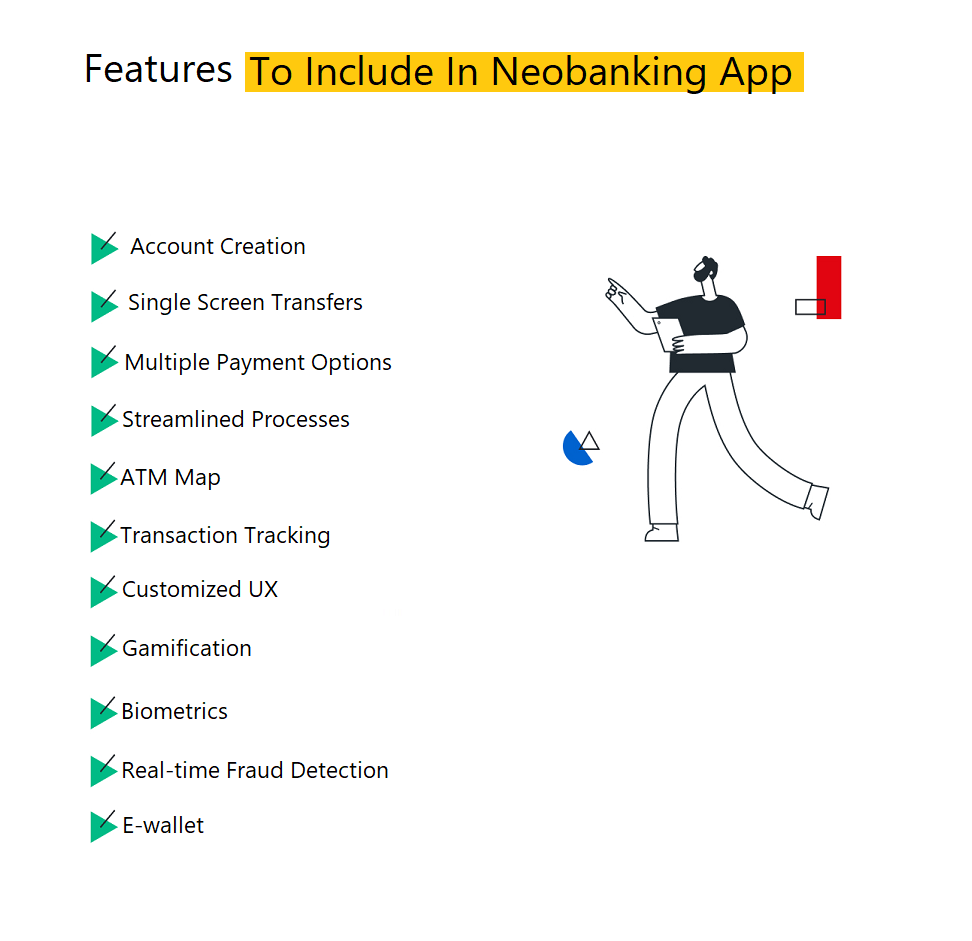 ● Account Creation
One of the most important features of Neobank is account creation. Manage the account creation feature, like users must put their first and last name, Social security number (SSN), Email, and password.
● Single Screen Transfers
The success of any banking app depends on how it facilitates the users for money transfers. So, it would be fantastic to implement a single-screen transfer facility. It ensures improved user experience.
● Multiple Payment Options
Third-party API integration is the simplest way to implement multiple payment options. You can include channels like P2P, A2A, ACH, and more.
● Streamlined Processes
Do you think Neobanks are trending? The only reason is these are more seamless in the process compared to traditional banking apps. The best example is account opening with no fee or synchronization of global networks ATMs.
● ATM Map
It will be such a fantastic feature to add to the Neobanking app. The users can view all the ATMs in their proximity, so whenever they need, they can reach the ATM. Additionally, you should know that these features are almost same as app like PayZapp which you can consider adding in it.
● Transaction Tracking
At a single window, users must be able to track all the transactions, including history. They can add the recipient's name, bank account, transaction account, currency, and more.
● Customized UX
It is okay that you will implement the app, but the user experience is more than anything. While using the app, users interact with it, so with your app, they must have a fantastic experience.
● Gamification
Gamification is a technique that employs processes in an interesting way. Here gamification means users can personalize their accounts. It is beneficial for your Neobanking app to improve customer engagement and loyalty.
● Biometrics
Most of the new-gen apps have biometrics verification and validation features that reduce cyber threats. Most of the Neobanking users are youth, and they prefer easy methods for login or signup in which fingerprints or face recognition technology is on the top. It will be beneficial to include it in your account.
● Real-time Fraud Detection
The fraud detection mechanism is essential for all types of banking apps. Although Neobank app development is a new concept, it is crucial for it also. It will help in identifying genuine users and detect any fraudulent activity.
● E-wallet
The fintech apps and e-wallets have a strong connection. E-wallets facilitate users' seamless payment. From a safety point of view, it is a fantastic option to implement in your Neobank app. Here you can combine e-wallet app development and Neo banking to leverage business.

Why Should You Invest In a Neobank For Business?
A Neobank is an online bank. It is different from a traditional bank because it doesn't have a physical branch. A Neobank offers banking services and products over the internet and has no physical locations.
The benefits of using a neo bank for business are numerous. For one, it doesn't require any capital to start up, and there are no branches to maintain either. Another benefit is that they offer digital products like mobile apps, online account management platforms, and online loans.
The advantages of the Neobank app are:
Smoother UI
Automation
faster response times
Lower processing cost
High Security
Better user experience
And more.
Due to its tech-driven nature, customers find it easy to use Neobank apps for personal banking use.
Cost To Build A Neobank Mobile App
How much does it cost to set up a Neobank? It is an important question when you are interested in launching a Neobank app for business. The cost to develop a Neobank app depends on the features, UX/UI, backend & frontend development, testing, and third-party payment gateway integration.
Usually, the cost is proportional to the version of the app, such as essential Neobank app development can cost you $8,000-$20,000, but if you need an advanced Neobanking app for business, it may cost you $15K-$30k.This is because of the many factors in building a Neobank mobile app. The more complex your app is and the more features you want it to have, the more expensive it will be.
The Final Thoughts
The introduction of Neobanks has been a hot trend in the banking industry for the past few years. They are considered an alternative to traditional banks, with their focus on digitalization, customer experience, and convenience. The development process of a Neobank is complex and needs to be handled with care.
The first step to develop a neobank is to analyze the market situation and conduct research about the potential customers' requirements. After that, you need to identify your competitors who have already started operating in this market segment and create your own unique selling point. Once you develop and launch the Neobanking app, then focus on its promotion. It will help you to connect with your desired audience.