Are you looking to start an E-scooter Rental Business?
Along with the advancement of time, technologies are also becoming more advanced day by day. Nowadays use of the electric vehicles has increased exponentially. As it provides a more convenient, pocket-friendly mode of transportation to the customers. And also save our environment at the same time. So, in this situation opening an     E-scooter rental business with the most cost-effective electric vehicle i.e., e-scooter can be a game-changer.
An e-scooter is a two-wheeled vehicle powered by an electric motor. It also has a battery unit which can be recharged in order to ride more distance. This vehicle doesn't need any kind of fuel, that is why you don't have to worry about fuel consumption. If you want to Start an E-scooter Rental Business, here you can hire mobile app developers to spread your app around the world.
Suppose, you relocated to a different city for your new job. And you are staying at a place 30 minutes away from your office. Yes, for daily commutes you can avail public bus, trains, cabs, and auto.
In this blog, you will see, how to create an e-scooter rental start-up and also how much does it cost?  Please continue the blog. Because with the help of this information you can start an E-scooter Rental Business everywhere in the world.
What is The E-scooter Rental Business?
An e-scooter rental business is an organization that provides e-scooter to customers for rent. You will be able to provide an easy, fun, and affordable mode of transportation, on a short-term basis.  The customers will be allowed to rent the e-scooter hour, half-day, or full-day basis.
Also, you can increase the growth of your rental business by giving 24-hour services to your customers. As in most of the tech cities, many people work at night, they can also use your services and return to home safely. As the e-scooter doesn't need fuel you can keep your hourly rates as low as possible.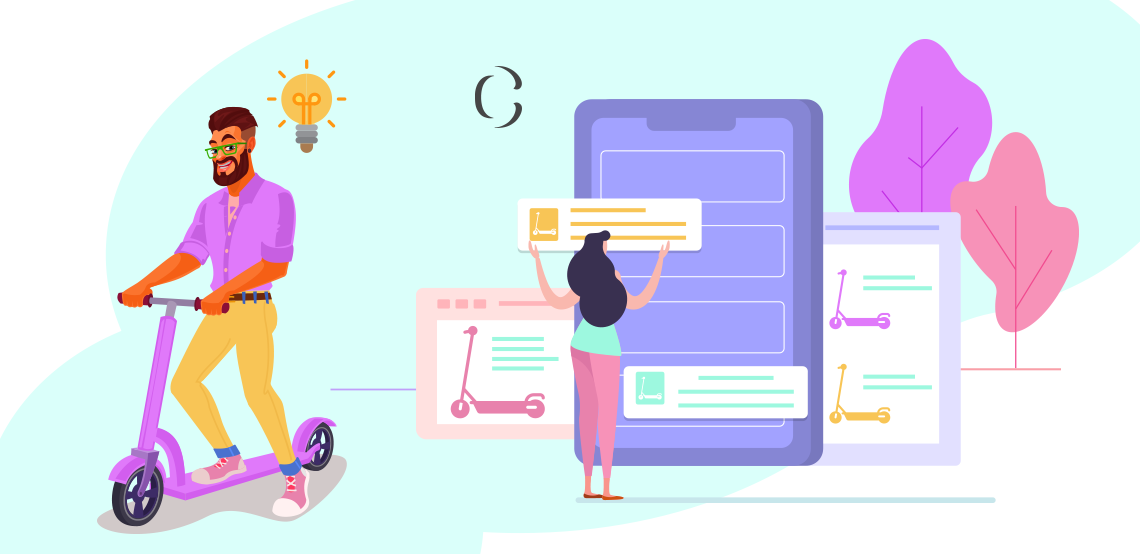 Your main target market can be tourists, office travelers, and young riders. The tourist can choose your e-scooter rental business service so that they can travel to various locations easily. The office person will be more appropriate because they will choose your rental service almost every day.
And younger riders are usually more passionate about riding new types of vehicles. You can get all your customers easily if you have an attractive and efficient e-scooter rental application for your business. You can expect a better number of customers if you can develop a dynamic, feature-packed application for your users.
For you have to hire the best e scooter app development company, that can create applications according to the requirements of your business.
There are many organizations that are investing in E-Scooter rental business. So, your services as well as your applications should be unique enough to gain a better edge over your competitors.
What Are The Benefits of Start An E-scooter Rental Business?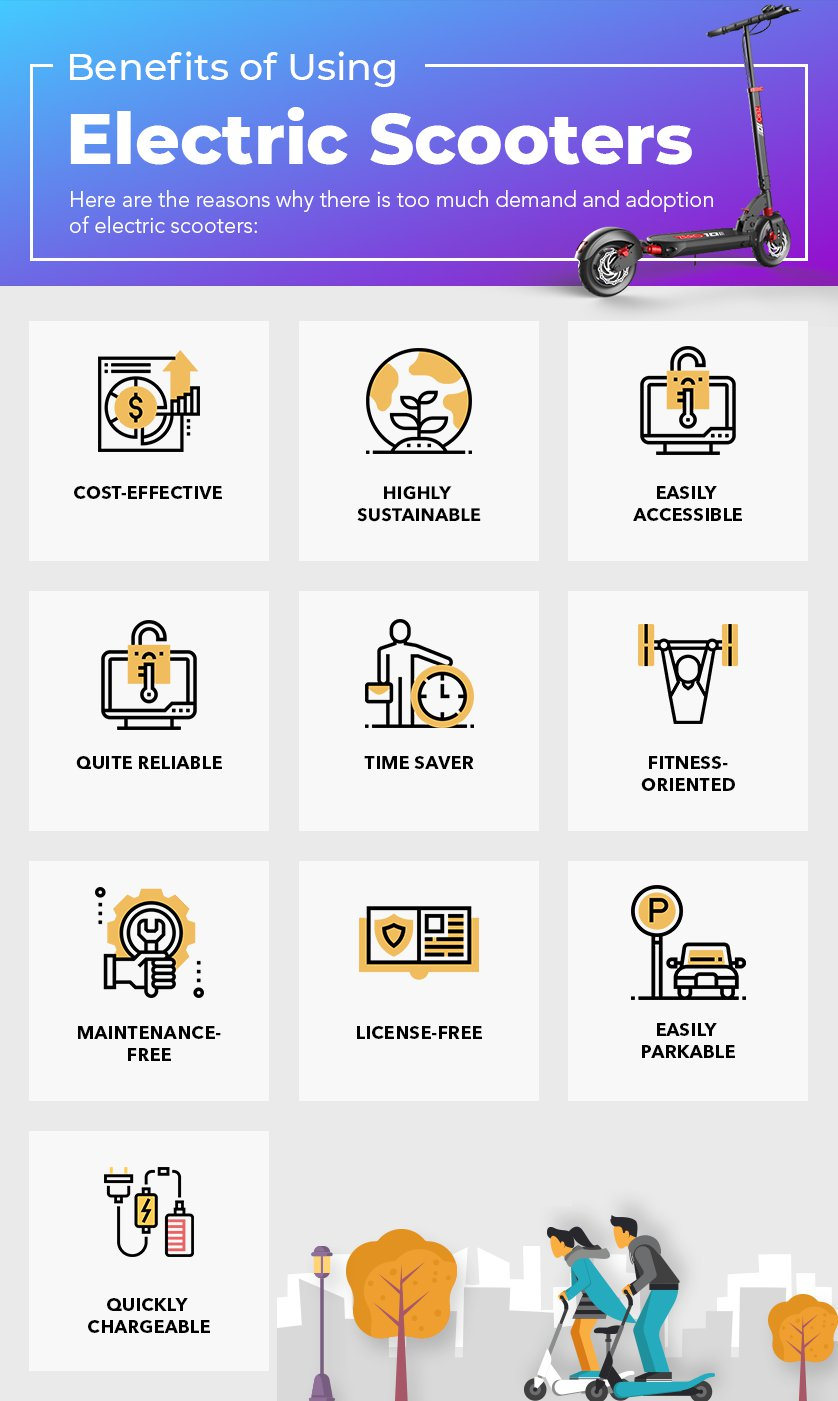 There are many benefits of starting an e-scooter rental business in today's market. As you will be able to earn a substantial amount of profit by providing standard quality services to your customers. Here are some of the benefits of owning an e-scooter rental business,
The application developed by android app developers helps the business to reach a larger user base. So, there is a better chance for your business to gain more profit if you provide better service to your users.
The e-scooter runs with the help of an electric motor, which is powered by lithium batteries present in it. As a result, they reduce the carbon footprint on the roads and the save environment. According to the statistics, the use of electric vehicles shows a considerable improvement in cities like Denver and Portland.
As a customer, you will be able to travel a standard distance at very lower rates. This is because the vehicle runs on electric-powered lithium batteries instead of normal fuels.
The app integrated with these kinds of services contains a number of features implemented by hire iPhone app developers. These features help customers to track their scooters, shows nearest charging stations, battery levels, along various safety alerts.

How To Build An E-scooter Rental Business?
Creating a better e-scooter rental business involves a number of steps. But first, you should know your requirements and the services that you are going to provide to your customers. Here are 9 step methods to establish a new e-scooter rental business in the market,
1. Through Research on The Market Values and The Rules and Regulations of e-scooters For Every Location
Firstly, you have to conduct thorough research on the various rules and regulations implemented on the e-scooters. Usually, every state has its own set of laws for every type of electric vehicle that is running on the road. Moreover, when compared to bicycles and motorcycles, the e-scooter has maintained some tricky laws on road.
For example, riding electric scooters is restricted on public pavements in the United Kingdom. In states like New York riding an e-scooter can cost you a fine of about $500. Also, you have to strictly maintain a 25km per hour speed, while driving an e-scooter on their bicycle lanes.
If you hire an on-demand driver app development service, you will be able to manage all these laws for your fleet easily. So, before even looking for investors for your rental business. You should conduct extensive and detailed research on the laws of your local transportation authority.
2. Plan What Are The Services Which You Are Going To Provide To Your Customers
Secondly, planning is one of the most important aspects of every start-up. If you don't have a good plan for your business then you will not be able to gain success in the market.
An effective and efficient way to invest in various aspects of your rental business is the best way to go with. As an owner, you have to decide on a better location, develop an app for the rental business, and maintain it effectively.

One of the best perks of creating an ironclad plan for your business. Is that you can go through it again and again if you face any confusion while executing it. This will help you to clear your doubts and maintain an efficient business-building process.
3. Keep Higher Initial Investments
You should maintain an open mind for higher initial investment. Suppose you want to start your e-scooter rental business with 20 scooters. Nowadays the cost of an e-scooter varies from $300 to $1000. But you will be able to acquire a moderate-level scooter within $500. You can also go for the second-hand e-scooters, but it can also increase your maintenance cost.
Not only the scooter, but you also have to think of the rent of your business location according to the market fees. Also, the accessories that you have to provide to your customers along with the scooter. Such as helmets, riding safety kits, Fast Aid boxes, etc. Moreover, you should have enough initial money for the employee salaries, maintenance of the vehicles as well as the application of your business.
If you invest a substantial amount of money and leave no boundaries for the quality of your product. You will be able to provide a better quality of services to your customers for a much longer period of time. If you hire a e scooter app development company , you will be able to maintain and provide an update to your app effective, as you gain scalability.
4. Find The Best Location or Spot For Your Business
Finding a location is one of the important aspects of the growth of every business. Before opening your e-scooter rental services you should run a thorough survey of people of that locality. And always try to balance the traffic to cost ratio.  Higher the demand of the service higher will be the rates of renting the scooters.
Basically, you can expect business in two types of places. One is the tourist locations, as the tourist always goes for a cheaper mode of transport in order to visit different scenic spots. Another one is in busy metropolitan cities, where the people always prefer a personal and cheap mode of transport to travel to their workplace over any public transport.
This rental e-scooter will also help everyone to maintain social distancing, as it is not possible in public transport. That is why, it is proven that it is more effective, life-saving, and pocket friendly at the same time.
A better rental application created by an established e scooter mobile app development company can help to analyze traffic in your application. so that you can charge your customers according to the demand of your service.
5. Collaborate With A Better E-scooter Production Company
Teaming up with a better e-scooter production company can give your business a better edge in the market. The primary component in your business is the scooter, and you have to maintain it for a longer period of time. An established e-scooter production company will always provide your better quality electric scooters.
There are many sites that can provide you with information about various e-scooter production companies such as Alibaba.  On this site, you can find companies from various countries, especially from China.
Do not rush into any rash decision, verify all the aspects of the company before collaborations. You can always check transactions records from their previous customers along with their feedback and experience with them. Always test samples before giving any kind of order, as it can be beneficial in the future.

Another thing is that you should check all the certifications are applied on every vehicle or not. Otherwise, it can create a problem once your import the vehicles from different countries. Do not do business with those companies who are not ready to take responsibility for their product after-sales.
To be the insecure side of the business you can always collaborate with local supplies. For example, if you are starting a business in France, it will be best for you to choose various suppliers from Europe. This is because, if you face any technical problem in any of the vehicles you can replace it in less time. Plus, you can also import various spare parts of the scooters when needed.
6. Design The Router Where The Customer May Take Your e-scooter
With the help of the scooter sharing app development company that you have hired for developing your app. You will be able to design a route for your customer.
These routes should include all the famous landmarks, viewpoints, parks, and places of interest for the tourists. The route should also include various nearby restaurants and restrooms so that the customer gets a better experience for choosing your services.
In order to increase the efficiency of your services, you can install charging stations near famous locations and restaurants. So that the customers can recharge their rented vehicle while they are having their meals or sightseeing.
7. Use Proper Marketing and Advertising Methods For Your New Rental Business
After setting up all the services that you are going to provide to your customer, now is the time to expand your userbase.
For this, you are going to need an excellent marketing strategy along with attractive advertising methods. These are the only components that can make your rental services popular in the market. Here are some of the techniques with which you will be able to grab more customers in the market,
The best thing you can do is to create an attractive poster of your business and place it in front of your location. You keep all the scooters in front of the road for display. Also, you can hire a salesperson who will provide the benefits of choosing your service to the people who are interested.
In order to attract tourist customers, you can always tie with the local hotels, retail shops, and tourist venues. As they will be able to recommend your services to them.
The best way to reach people who plan to visit your location is through Google, Instagram, Facebook ads. Hiring an IT company can help you to create better SEO-friendly content on your business website.
You can also create various fliers and brochures and spread them throughout the locality. Especially in restaurants, shopping malls, bookstores, and hotels, so that the tourist can know about your services easily.
Attend all the local exhibition that takes place around the city. For this, you will be able to interact with larger crowds and tell them the benefits of choosing your business. Some of the interested audiences will reach out for your service in order to experience it.
8. Always Provide Better Care on The Maintenance
Once you start the renting services, it is mandatory to conduct maintenance every day. Basically, the main tools of your business are the e-scooter and the application integrated with it.
So, problems like wheel blocking, battery damage, starting problem charging problems are pretty common in this business. If you have employees who have a basic understanding of automotive parts, they can handle this issue easily.
Just like that, your application will also need maintenance and fixing. Usually, after you launch your rental application on the app stores, people may face various bugs and glitches while using the applications. This can decrease the reputation of your business.
To avoid that you have to hire the best mobile application development company available in the market. After developing your software, they will also take care of all these glitches and bugs during the post-launch period. They will also provide updates for your application on the basis of your increasing user base.
9. Monitor and Maintain The Rental System Along With Supportable Charging 
When you will execute all the aspects of your e-scooter rental successfully according to the plan. Now comes the most crucial part i.e., maximization of your profits.
Among numerous rental businesses, many few businesses are there in the market that kept their services the same as the beginning of the business. In order to maximize your profit, you have to increase the standard of your service at a reasonable cost. Only then more and more customers will come to prefer your services.
For this, you just have to monitor the condition of every e-scooter after every trip. That means you just have to keep track of how much customers are traveling on your scooter once they hire it. All of these can be done easily managed through your mobile application.
Also, you need to have a better-charging infrastructure, so that the customers can travel long distances without thinking about the charge of the e-scooter.
Usually, the mileage of this kind of vehicle depends on the weight of the riders. So, if you keep the charging point within every 5 to 10 km radius, the customers can ride their e-scooter without any hassle.
Hiring a better mobile app development company can help to create an application. that is capable of providing all the necessary information to your customers. Such as places to visit, the nearest charging stations, the health of the vehicle, and much more. And not only the customers as an owner of the business you can manage the whole fleet with this applications.
What Are The Cost Requirements For Starting An e-scooter Rental Business?
The cost required for starting an e-scooter rental business is depended very much on the geographical form and the necessity of a scooter in that particular location.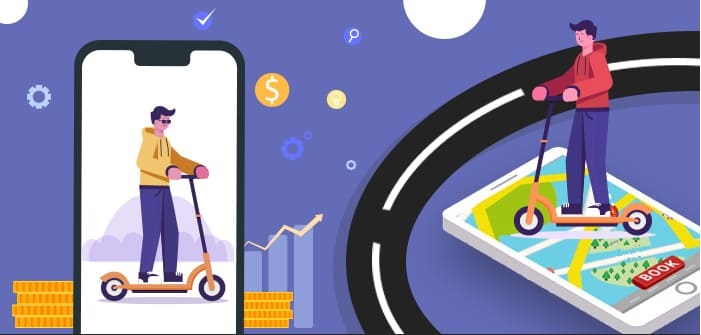 You are going to need a considerable amount of investment along with hiring uber app development services. So that you can provide excellent quality services to your customers. Here are some of the cost estimation factors,
The first, thing you have to go select a better and more convenient location for your business to flourish. Some of the preferred locations are tourist spots, office localities, etc. Plus, if the geographical formation of your location is hilly in nature. You are going to need a scooter that covers more distance in a single charge. These scooters are not good for traveling long distances so places like metropolitan cities, large college campuses, and tourist sports are some of the best options for you.
Then you have to invest in e-scooters. Usually, you will find an e-scooter in the $300 to $1000 price range. But you can get a fair quality scooter with a good range of $500. Now if you start your business with 20 e-scooters you will need about $20,000, excluding the insurance.
Then you have to hire an electric scooter app development service that will develop a customize the e-scooter rental app according to the requirement of your business. For that, you might need about $30,000 depending on the features and functions implemented in the application.
There are more investment factors that you have to consider. Such as city permit fees, maintenance and repair cost after every ride, electricity cost consumptions, even vehicle acquisition costs.
If you include all these factors, you will be able to start a full-functioning e-scooter rental business for $80,000 depending on the location.
You can rent the e-scooter to your customers in 3 ways, such as hourly, half-day and full day. The rates and charges should be fixed for all the customers. So, if a customer rents an e-scooter for the whole day have to pay less than the customer who rented it hourly.

It has been predicted that the e-scooter rental business will rise exponentially in the upcoming years. In 2030 the market value can reach $200 billion in the USA, $150 billion in Europe, and more than $ 50 billion in China.
So do not rush into any decision, conduct thorough research on the present market conditions. And choose the best web development company available in the market. As they can deliver you a dynamic, feature-packed product at a reasonable cost.
Conclusion
The e-scooter rental business is one of the effective uprising businesses in the market. Plus, it is also environmentally friendly, as the vehicle does not run on any kind of fuel.
To get success in the market you just have to provide better service and a feature-packed app to your customers. The application should be capable enough, to provide every information to your customers.
This can be solved by hiring a better group of developers. Plus, you should have enough manpower to run through maintenance on every scooter regularly.