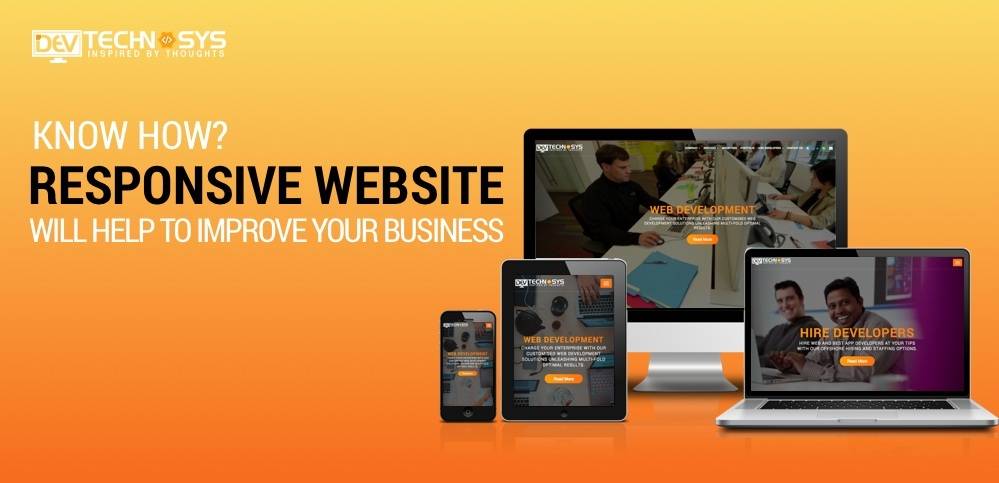 A website is a bedrock of any successful business. It allows the business to reach out to its target audience to generate more sales. It increases its market visibility and improves brand image. It establishes the brand identity of the business and makes it stand out of its competitors.
However, website development has undergone a massive transformation. Responsive websites are currently gaining high importance in the digital marketing world. They are becoming the latest trend among custom web design services. So, what is a responsive website and how can it improve your business.
What is Responsive Design?
It is a web design as well as development technique which is aimed at the creation of a system that easily adapts to the user's screen. In other words, it actually optimizes the browsing experience of the user by means of creating a flexible as well as a responsive web page for the user's device which it uses to access it. Hire web designer who has the knowledge of developing a responsive website for your business.
At present, smartphones and tablets have entirely transformed the way in which the websites are being accessed and viewed. If we go by the latest estimation, we are expecting to have billions of smartphones in the market.
It means a lot of people are using the internet in order to search for products as well as services through different kinds of mobile devices such as smartphones and tablets. About one-third of the website traffic comes from mobile devices that suggest that responsive design will become an essential part of the Google's search engine algorithm.
The inherent importance of responsive design can't be undermined at any particular stage, and it is important for the businesses to invest heavily in it such that they will be able to maximize and improve their digital marketing strategy is a much better way. Hire graphic designer who can improve the visibility of a business on the online sphere by developing aesthetically beautiful designs to be embedded in the responsive design of the website.
How Responsive Website Can Help to Grow a Business
1. Improved Search Engine Ranking
Responsive design certainly helps in improving the Google Ranking of the business's website. One of the prime objectives of the Google is to make sure that the user experience of all of its users is excellent. A responsive website which works seamlessly across multiple devices makes sure that the users are provided with the best experience irrespective of their own devices.
Hence, it a particular website which focuses majorly on good content as well as superior user experience on the different type of devices, it will always be ranked higher on the search engine results of the Google. Hence, responsive design improves the visibility of the website of the business on a search engine. Custom web design services have to take the importance of responsive design in search engine ranking into account when developing a website for their clients.
Read the Blog: Know About the Evolution in Web Designing World
2. Higher Conversions
A responsive website makes sure that the business website achieves higher conversions. The inherent importance of great user experience is that it actually makes sure greater conversions and results. Also, Google Analytics has also proved that a website with responsive design ensures that the users remain on the website for the longer duration of time which leads to much lower bounce rate and that increases conversion rates.
It is the ideal goal of any particular digital marketing strategy. So, responsive design is among the best ways to achieve this. Hire web designer who can create a highly interactive website with a responsive design that leads to more conversion.
3. Cost-effectiveness
Responsive design is quite cost-effective. A business having a responsive website makes it easier for it as it can easily maintain as well as manage content only for one particular website. It becomes both less time consuming and more cost-effective.
A single administration interface actually means that the website can easily be optimized by the use of layouts as well as workflow tools such that you can easily manage all of your correct content in a, particularly enhanced manner across different types of devices.
4. Provides Improved Offline Browsing Experience
A responsive website improves the entire offline browsing experience of the customers. Responsive design is the best way to easily connect the business with its audience with the assistance of great quality content across various devices.
Also, responsive design helps in improving the offline browsing capacity of the HTML5 that means that the business website can easily be accessed even when the user is offline. Content, email and newsletter which are contained in the hybrid HTML5 format can easily be consumed in a higher degree since they don't require an internet connection.
Read the Blog: UI, UX: A Designer's Guide to The Tech Industry
Conclusion
It is important to understand that the competition among the brands and businesses will always increase in the market in the future with the advent of the latest advanced technologies. It is quite important for a business to stay ahead of all of its competitors at every time.
As the demand for creative and unique content is increasing, there are various factors that arise such as maintenance and development cost, enhanced visibility on the different search engines as well as higher conversion rates. Custom web design services have to take these factors into account when developing websites for their clients.
When these particular factors are properly addressed ten, only a business can ensure to have better profits as well as maximize its potential. A responsive website can certainly help a business to stay ahead of its competitors and also establish a much stronger market share too