Are you looking to build celebrity booking app that can easily book celebrities for any event? Look no further than the celebrity booking app. This innovative app lets users easily find and invite their favorite celebrity to any event.
Using a streamlined process, users can quickly select the type of event they want to host and the celebrity they want to invite. With just a few clicks, you can fill your event with stars that will surely make it memorable.
The app to book celebrities for events is also great for organizing celebrity appearances at events like red-carpet galas or corporate conferences. Get ready to take your events to the next level with this fantastic booking app.
However, the celebrity booking app market is growing steadily, driven by the increasing demand for unique experiences and the popularity of social media. As technology advances and more people embrace the convenience of mobile apps, the market is expected to grow in the coming years.
As a result, various businesses are looking forward to grabbing this profitable opportunity. Are you one of those who want to build celebrity booking app?
Then you have reached the correct place. In this mobile app development guide for celebrity booking, we will discuss development stages, features, and costs. So let's begin.
What is a Celebrity Booking App?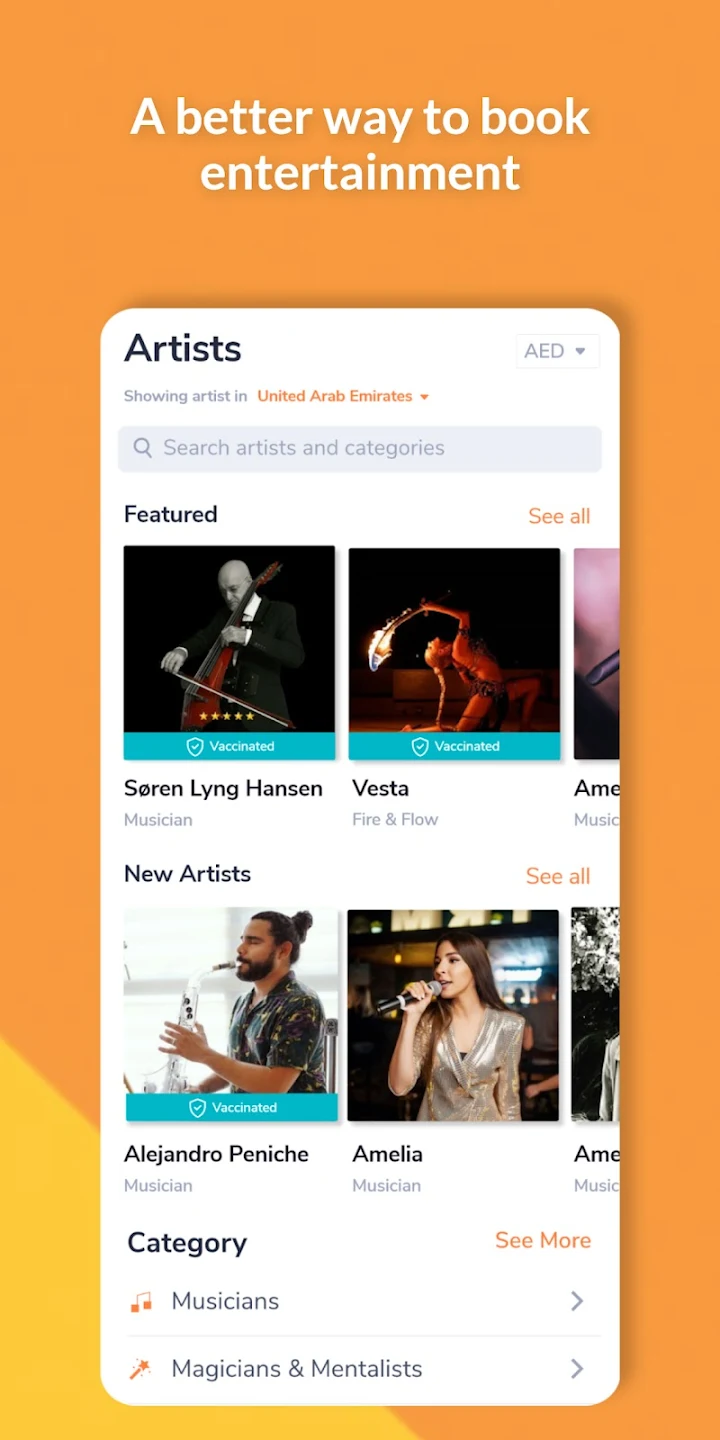 A Celebrity booking app is a mobile app that connects event planners or individuals with celebrities for appearances, performances, endorsements, and other types of events. The app typically allows users to search for and book celebrities from various fields, including music, sports, entertainment, business, and politics, among others.
These apps often provide detailed information about the celebrities available for booking, such as their fees, schedules, and requirements. Users can also communicate directly with the celebrities' agents or representatives through the app to negotiate terms and finalize bookings.
Celebrity booking apps are increasingly popular among event planners, brands, and individuals who want to add a touch of glamor to their events or campaigns. They offer a convenient and efficient way to access many celebrities and simplify the booking process, saving users time and effort.
Some Well-known Facts About Celebrity Booking App
here are the current market stats that you must consider to build celebrity booking app for your business. so let's have a look.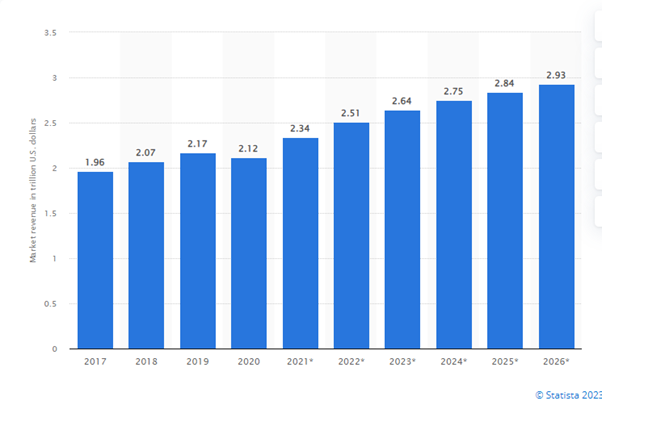 The worth of the entertainment and media market exceeded 2.34 trillion U.S. dollars in 2021, a gain of 10.4% from 2020, the year the world began to recover from the impacts of the epidemic. Although growth is anticipated to decline in the ensuing years, 2.93 trillion dollars are anticipated to have been generated by the end of 2026.
According to research, the global entertainment market is predicted to be worth US$2.6 trillion by 2023.
Why Should Businesses Invest in a Celebrity Booking App?
Investing in a celebrity booking app can be a lucrative and profitable venture for several reasons. First and foremost, celebrity culture has become a global phenomenon, with people of all ages and backgrounds fascinated by famous individuals' lives and careers.
As a result, there is a high demand for access to celebrities, whether it be for personal appearances, endorsements, or other events. By investing in a celebrity booking app, you can tap into this demand and provide a platform for individuals, businesses, and organizations to connect easily with celebrities and arrange bookings.
Additionally, investing in a celebrity booking app can also be a strategic move in terms of the potential for expansion and growth. As the app to book celebrities gains popularity and more celebrities and clients join the platform, it can become a dominant player in the industry and generate substantial revenue through commissions, fees, and other sources.
With the proper marketing and branding strategies, a celebrity booking app can also attract high-profile investors and partners like an on demand app development company, further fueling its growth and success.
Features to Consider for Celebrity Booking App
Now that you know the features of a celebrity booking app, it is time to check out some essential features that you must consider for celebrity booking app development.
The app must have a convenient sign-in process for users to register easily. They can register with their email ID, contact details, or social media account.
The app should have an intuitive, easy-to-use interface that allows users to browse and search for celebrities quickly.
This feature should provide detailed information about each celebrity, including their bio, social media profiles, past work, and current availability.
The app must have a secure payment gateway that accepts multiple payment options, including credit cards, PayPal, or other popular online payment methods.

This feature allows users to leave ratings and reviews for each celebrity, which can help other users make informed decisions when booking celebrities. If you want to integrate this feature into your app, hiring celebrity booking app developers would be better.
The app must have an in-app chat/call feature that allows users to communicate directly with celebrities or their representatives to discuss booking details, requirements, and any special requests.
This app for booking celebrities must include a calendar that shows each celebrity's availability, making it easy for users to check their schedules and plan their bookings accordingly.
The app should have a notification system that sends users updates about their booking requests, booking confirmations, and any other important information.
This app must have a straightforward booking process that allows users to request a booking, receive a quote, and finalize the booking details, including payment and contract signing. Users can easily book a celebrity app with this feature.
The app should keep a record of users' booking history, including details of past bookings and payments, making it easy for them to track their activities on the app.
The app should provide 24/7 customer support via chat, email, or phone, allowing users to get help and support when they need it.
How to Build Celebrity Booking App?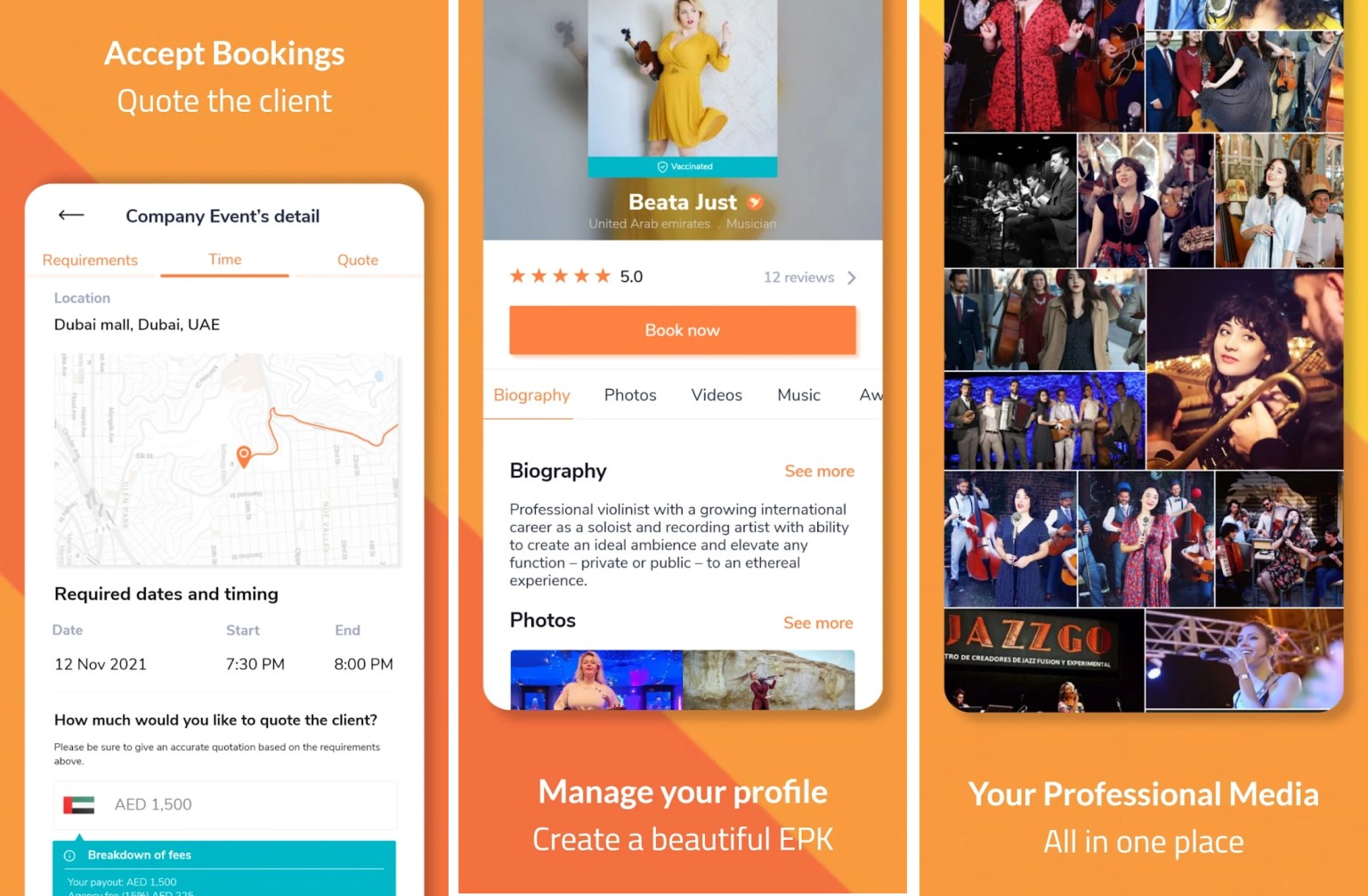 Now that you know the essential features to build celebrity booking app, it is time for the mobile app development process for a celebrity booking app.
1. Define the Business Needs
The first step of building a celebrity booking app is to define the business needs. It is vital to identify the needs of your business prior to commencing work on how to build celebrity book app. This step allows you to know what features and functionalities you should add.
Additionally, you must also determine whether your app will fulfill the needs of the target audience and your budget for the development. By analyzing the app requirements, you may strategies and design the attributes.
2. Market Research
Once you analyze the business needs, we will jump to the market research step. Here you need to conduct market research on what your competitors are doing and who will be your target audience in order to build celebrity booking app.
Also, what crucial features will you integrate into the app to make it unique and different from your competitors, and what problem will your app solve? However, a SWOT analysis will help you know your strengths, weaknesses, opportunities and threats.
3. Choose the Platform
Now that you have conducted market research keeping in mind the target audience, it is time to choose the platform on which you will build celebrity booking app. For instance, different programming languages like Futter and React Native.
However, it is crucial you should determine for which platform you want to build your app, like iOS or Android. Thus, analyzing multiple options and choosing the perfect platform that accomplishes your requirements is crucial.
4. Create UI/UX Design
Once you have chosen the platform to build on demand app for celebrity booking, let's create the user interface. The app's visual appearance is an essential part because it attracts customers. In addition to this, you should assure the design team to build a UI/UX design that reflects the final product.
However, you must also ensure to include the prototypes and wireframes for the app testing. Moreover, it is crucial that the app should be based on user research and reviews that attain the assumptions and requirements of the target audience.
5. Build Celebrity Booking App
Now that you have created the alluring user interface let's build celebrity booking app. It includes the development of the backend and front end of the app.
For that, you need to hire a celebrity booking app development company to work on the backend and frontend parts and develop the app according to your instructions. The celebrity booking app development will take around 4-5 months. However, hiring a qualified development team who are well-versed in your selected technologies is vital.
6. Testing of the App
When building a celebrity booking app, it is vital to thoroughly test your app with the help of QA testers before the final launch. It assists in finding bugs and errors and checking the app's functionalities and performance. With the proper testing procedure, you can easily elude the issues that come with the app.
7. Final Launch
Lastly, after the testing of the app, your celebrity booking app is ready for the final release. This step entails the final launch of the app to the desired app store, and the development team will launch it on the play store and app store so that customers can download and utilize it.
8. Post-Deployment Services
Post-deployment is the most crucial step, as it is used for maintenance and updates in the app. You must ensure that the custom android app development and iOS service providers facilitate effective after-release services like updating features, error correction, etc.
What is the Cost to Build Celebrity Booking App?
Now the time has come to disclose the mobile app development cost of a celebrity booking app. It is vital to know that there is no fixed cost of creating a celebrity booking app, i.e., the costs keep fluctuating, but it depends on the technology. However, there are various factors that influence the development cost of celebrity booking apps.
Let's have a closer look at them:
App complexity
Features and functionalities
UI/UX Design
Number of platforms
Technology stack
Developers location
App maintenance and update
App size and type
Based on the above factors, the cost estimation of a simple app with basic features will be anywhere around $25000-$40000. However, if you integrate advanced features and want a complex app, then the cost will be $50000, and it can go beyond. So you should take assistance from a reputed mobile app development company that can help you build celebrity booking app.
Conclusion
The demand for celebrity booking app development is constantly growing, and in the coming years, you will see immense growth. However, developing a celebrity booking app can be a lucrative business venture with a growing demand for celebrity event appearances.
However, careful consideration should be given to the app's features, target audience, and marketing strategy to ensure success in a highly competitive market. Thus, hiring a mobile application development company to build celebrity booking app that is robust for your business will be the better option. With their enterprise solutions, your business will reach greater heights.
Frequently Asked Question
How to Build Celebrity Look-Alike App?
To build the Best Celebrity Look Alike Apps, you need to follow the below steps:
Market research
Define features and functionalities
Create an alluring user interface
Build celebrity look alike app
Test the app
Final release
How Much Time Does it Take to Build a Celebrity Booking App?
The timeframe for the celebrity booking app development depends on factors like app complexity, location, UI/UX design, etc. The basic app takes 3-4 months, whereas the complex app with more functionalities takes 6-7 months.