Are you looking for social media app development? yes! Do you know the cost to develop social media app? This insight will help you to find your answer.
Social Media App Cost- No matter how many people say that it is new and unique ideas that will work in the app industry, there are still a lot who would agree on developing a social media application.
They will do that without thinking twice, and the reason? It is because users are crazy about these apps.  No matter how many of these are already successful in the market, people will still accept a new one with some different things.
Surely, they won't accept an application that is a clone of Facebook or Instagram but, they will accept something in the same genre with some difference in the basic idea. There you have your plot, now all that needs to be done is, have a good building that has enough space and great features.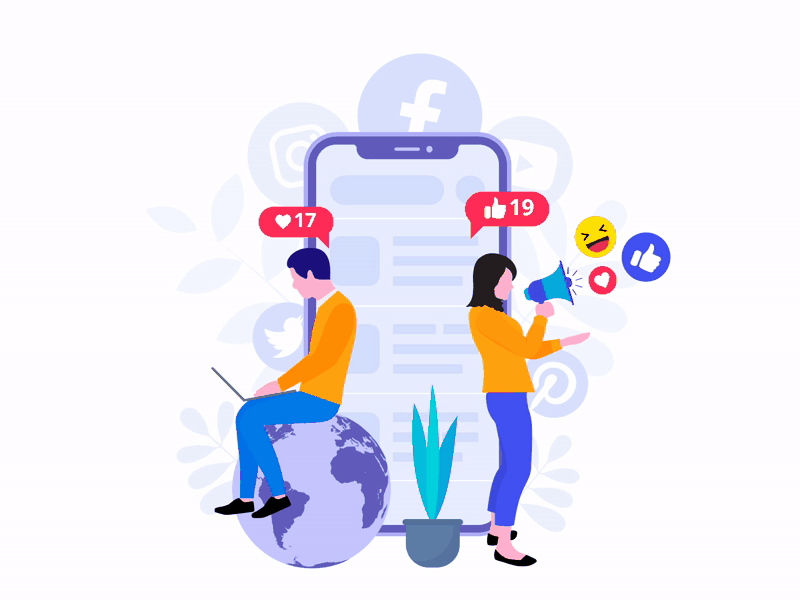 This is the genre that demands the developers and the mobile application development company to be creative. They need to make a platform that allows people to share and that too in a way that some other platform doesn't.
Here, in this article, the readers will get to know how much it cost to develop social media app. Though it might seem easy from the outside, there are a lot of thighs that go into developing these applications.
This is why it is important to understand how the social media app development process takes place. What are the features that are important, how much other activities impact the costing and the quality of the application:
Let's first analyze different applications that are already there in the market
1. Instagram
Instagram is the most popular image-sharing and social media platform. This is the place where most of the youth spend their time nowadays. This is the biggest social media application nowadays.
They have provided a lot of features for their users while keeping their main idea intact. Instagram is s still the biggest image-sharing social media platform.
Instagram app development can be taken as an example, this is one application that understands the needs of users perfectly. They have always made it better by assessing the situations and making changes accordingly.
2. Facebook
Facebook app development was done on some of the basic social media principles. It allows people to connect. It allows people to share their thoughts and photos and comment and like them.
They can message through the inbuilt messenger a lot more things. Now, these things have changed a lot and this platform has become better than ever.
Though there is a decrease in popularity because of Snapchat and Instagram. Facebook is one of the biggest social media platforms the world has seen and there can be no denying that it still has some of the best features. It has not failed, the decrease in popularity is because people have found some other applications more attractive and that is common.
3. Snapchat
Snapchat is a bit different than both the social media platforms that we discussed above. It also allows people to share their pictures but the interface is very different.
Snapchat is very personal and people send snaps to only the people they want. They can also add them to stories if they want everyone to see it but mainly, people send snaps and they are one to one.
Those snaps disappear after the user plays it twice or opens and leaves the chat. This makes it private and secure as well. The snaps once opened cannot be retrieved anyway.
These are called disappearing snaps and they are the reason why this platform has become really popular. The Snapchat app development company understood the youth and made a platform that was tailored for them.
4. Linkedin
Linkedin is a social media platform that is made especially for professionals. Linkedin app development was done while keeping the requirements of job seekers, and professional people in mind.
Facebook and Instagram are too casual and they don't offer anything that can provide a professional environment to their users. Linkedin has a lot of features from job searches to articles written by the people who are there to courses that the users can take. All these things make it the best social media platform for office-going people. Linkedin has retained the top position in its niche.
Features of perfect Social Media Application
Just like to make a dish perfect, you need perfect ingredients that you put in that. Here, in social media app development too, you need to find the perfect balance of features.
Features and user interface are two of the most important things after a basic wireframe is designed for it. This is what makes the application what it is and how it will turn out.
There should be scope for scalability in the application. Let's first look at all the features that are important when we are developing a social media app:
1. Sign up/Login
These are the features where it all starts. For the developers as well as the users, this is a gateway inside the application. This feature needs to be easy, either it should allow the user to enter a few things like Facebook asks and then add other things when they set up their profile.
Another way can be allowing them to sign up with their Google account. This way, all their information can be fetched from their Google account and they won't have to put in too much effort just to create their profile.
Still, it is important to provide them with a profile setup and update feature that will be discussed in the second point. Sign up and login feature also makes sure that the users have everything synced whenever they log in from some other device. This feature has no alternative and makes the platform personalized. Social media app developers are trying to make this even easier.
2. User Profile (Setup and update)
After the user creates their profile, they should be allowed to set it up. They should be allowed to add their details and upload a profile picture and add their personal details.
The application should also provide them with privacy features that allow them to decide who all can see their information. Personal information can't be shared with everyone and that is why this is something that all social media app development companies should pay attention to.
The information they add will change over time, hence, they should also get a feature to update their information. This is something that will make adding and updating information flexible for them.
3. Integrated Messenger
Now, the users will have their profiles ready. One feature that becomes the soul of social media apps is the messenger. Be it Facebook messenger or the messenger that is integrated into Instagram, both of them play a huge role in their success.
These messengers are not normal ones. Here the users can share photos/videos with special effects that are provided by the app. They can also change the themes of the chat space and customize it according to their likes.
Another thing that Facebook does is, it allows chatbots in the messenger space. This makes it really efficient for businesses to reach out to their customers.
Customers can also get all the information they want in no time at any time of the day. There can also be video calls and some other features that go along with these. Be it Facebook or Instagram app development, all the companies need to have a good messenger feature. Instant messaging and chatting applications have seen a surge in usage since 2014- 15. Although there are still very limited known apps and hence to create a chat app is an incredible idea. 
4. Posting Features (Text and Media)
The social media app development company wants to make an application that is accepted. There should be a feature that lets them post text and media (videos and photos).
This feature is important, this is what makes a social media application what it is. People want to share what they see and what they feel. This is something that is the main reason why most people use social media applications.
In this world, there are many people who work as social media influencers and their only job is to post status/pictures and videos. They do it to keep their fans entertained and engaged with them. If there is no such feature then the application will be just a messenger.
5. Feed To See Posts By Others
When a person posts something it will appear on their feed as well as on the feed of people who are their friends. This is what makes a social media platform social.
Yes, there are many people and then there should be ways in which a person sees posts on their feed. It is mostly by the time when a post is uploaded but there are many social media applications that have provided the users with a filter in which they choose how they want their feed to be.
This is something that adds up to the personalization part of the platform. While companies want mobile developers for hire, they want them to be creative so they can improve their existing features and provide them with new better features.
6. Search Feature
If someone wants to add you as a friend on social media, they will have to search for your profile. This is something that speeds up the process of finding someone over social media.
This also helps in finding the pages of various brands and influencers. There are people who want to find their long-lost content, and search is the only feature that can help them in this. This feature allows the users to search for anything that is present on the platform by entering some keywords or names.
7. Comments And Likes
Most people on social media post for likes and comments. It is something that gives them instant validation. These features allow a person to like or comment on a post according to what they felt.
Facebook has improvised their like feature to reaction feature. This means that the users can now react according to the emoji emotion that they felt.
It looks cool and is different from all other platforms. Though there is a similar feature that is used on Linkedin the reactions that are used are different.
8. Groups/Communities
There can also be a feature that allows users to form communities and groups. Many like-minded people use social media applications and social media app developers understand their needs.
They have provided them with great features in the group community section of these applications. They are one of the most important features that are used by Facebook. The impact of this, when a good group is created, the users stay connected to the application.
9. Story/Livestream
Nowadays a lot of people have started putting out a lot of stories and they also go live. This is something that they do either to connect to their friends or fans over that social media platform. A live stream and a story addition feature should be considered by the on-demand app development company.
10. Deployment And Marketing
Deployment and marketing costs are not directly the application development cost but they can be added to the project cost. The reason is that without proper marketing and deployment events, the application will not get the hype.
Without hype, no application that is made on such a big idea will not get proper traffic. Companies need to hire marketers as much as they hire dedicated developers.
Social Media App Cost
Talking about the world, it may cost anywhere between $10,000 to $15000 to develop an application. There are many other things that are included in the cost and they are UX/UI, QA, Backend, and the native platform charges.
These things are all important and, no matter if the costs look big initially if it is done right. The investment will be fruitful and will provide more than what is asked from it.
There are many companies that have shown that it is only a good idea and perfect understanding of the end-users to make an application successful. The ones that are mentioned in the article are the best in the world, you can make one more too. Hope this blog helped you to know the cost to develop social media apps and all related things.