Looking to create your own food ordering app?  Food is the basic necessity of human life and it is one of the many reasons why the restaurant industry is flourishing apparently. When it comes to having the best satiation, people these days are constantly looking for various options and varieties.
Hence good food is and will always have the highest demand irrespective of diversity. Whether you are planning to start your food-ordering business or you own a restaurant, you can certainly integrate the best food-ordering app development solutions into your business.
It will help you to achieve immense success and you can always provide the comfort of online food ordering to customers anytime, anywhere.
A number of restaurants and food delivery businesses are coming up with unique solutions every day to enhance customer satisfaction and earn profits. Having a food ordering app is a great way to increase your business scale and it will also help you to sustain in the industry.
Some of its remarkable benefits are inclusive of increasing business scalability, enhancing customer experience, instant service, and support, etc. However, if you are new to the concept then probably you might not have a good idea for a food ordering app. In this article, we will walk you through some of the core topics related to developing a food ordering application.
Why Do You Need An Online Food Ordering Application Or Solution?
Online food ordering applications or websites are booming at present as no one wants to avoid the facility of receiving desired food online right from the comfort of their home or workplace. In fact, considering the present wave, it has also emerged as one of the most efficient and lucrative industries, especially if you already own a restaurant that is not offering home delivery services.
Here is how integrating mobile application development services in your food business will help you to leverage its benefits of it. The restaurant owners who already have an offline system can start their online food ordering application on website services through which they can directly accept orders from online customers and deliver fresh and delicious food to them at their doorstep.
This will not only increase the reach of your business but you can also create a huge brand. In the wake of these particular circumstances, there are many potential people who are looking to adopt a trendy and highly profitable business.
Hence if you belong to the same community you can start your online food delivery services by developing an application or website. For starters, you can develop a solution that can connect the local restaurants in particular areas of your city.
And you can also offer home delivery services to the customers on behalf of these restaurants. You can get a reference from online food delivery giants like Uber Eats, Zomato, Swiggy, FoodPanda, etc.
How Does Food Delivery App Development Will Benefit Your Business?
At present business owners are extremely willing to enhance their reach to their potential customers. Similarly, the customers are impatient and looking for solutions that can allow them to access almost every facility with a single click.
For any business owner, it only means that they can drive maximum sales for their platform by offering maximum convenience to their users. If you want to keep up with the food ordering industry trends by fulfilling the requirements of your customers, an online food app solution is a great way to get it done.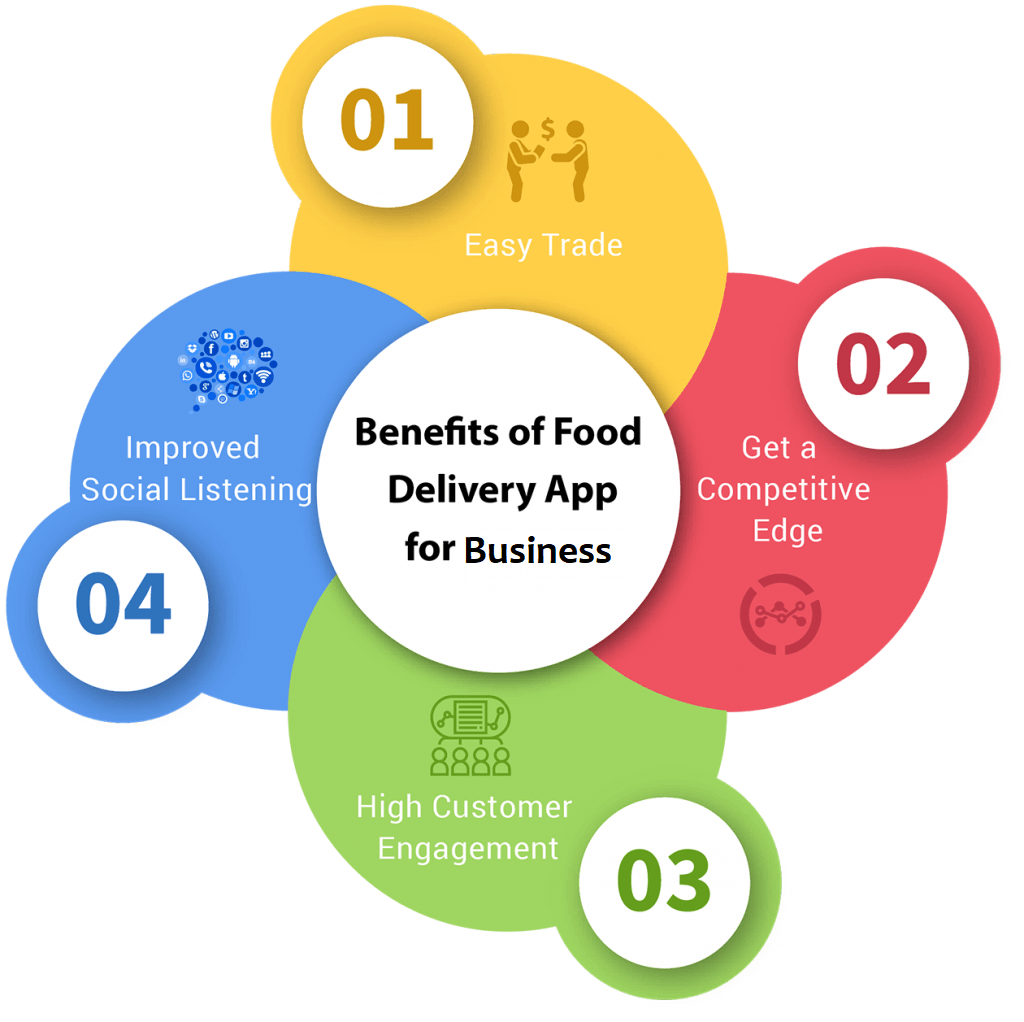 Moreover, having a food delivery application will help you to boost your sales and enhance your customer experience. If you aren't inclined towards investing effort or time in hiring a mobile application development company you can consider hiring a restaurant mobile app development company or builders.
This is just an alternative approach, and in this article, we will discuss how to develop an online food ordering application. But before proceeding with the same a question might be certainly ringing bells in your mind. What are the benefits of having a restaurant app development or a food ordering application for your business?
The top benefits of having the solution are mentioned below-
1. With an online food ordering application, you can get access to a high potential and vast customer base
2. You can easily target millennials or young customers through your application
3. Having one solution will help you to reach out to the maximum audiences across multiple geographical areas
4. You can increase the online as well as the offline presence of your restaurant or brand
5. It is an entirely hassle-free food delivery solution where you can easily manage, track and review orders
6. You can run discounts or loyalty programs for your services as it will help you to attract maximum customers

Essential Features That You Would Require In An Online Food Ordering Application
Any IoT application development platform undertakes the features at first to make any on-demand food ordering application. Basically, these features are categorized into four broad aspects which are-
Customer panel
Restaurant panel
Admin panel
Delivery boy/person panel
In the below-mentioned segment, we will explore the features that you can integrate into each and every panel of your online food ordering application.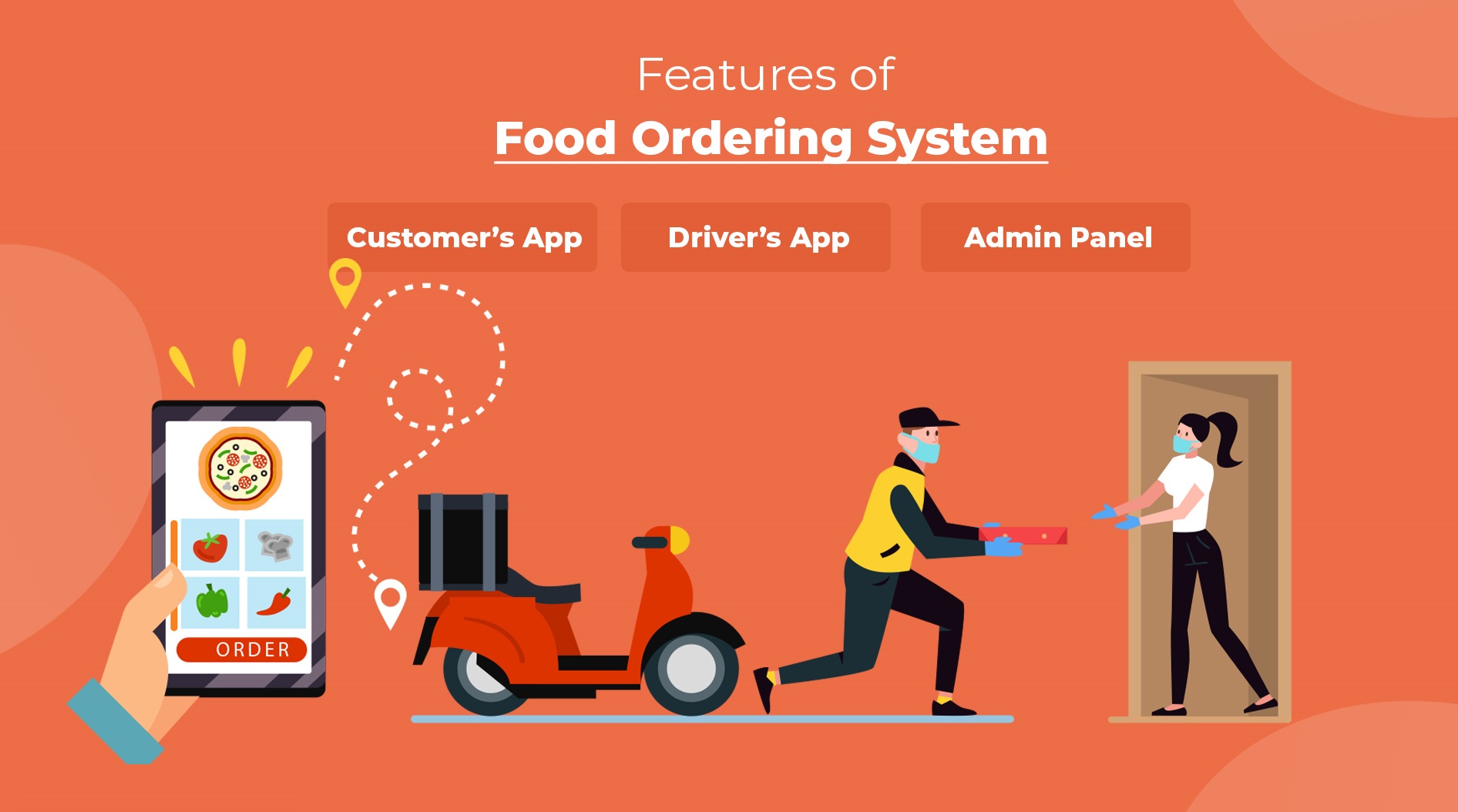 1. Customer Panel Features
The vital factor of any on-demand food ordering application is its users. Hence it must be your top priority to make them feel comfortable and easy at your application interface such as right from searching for a meal, initiating payment and ordering food, to receiving the delivery.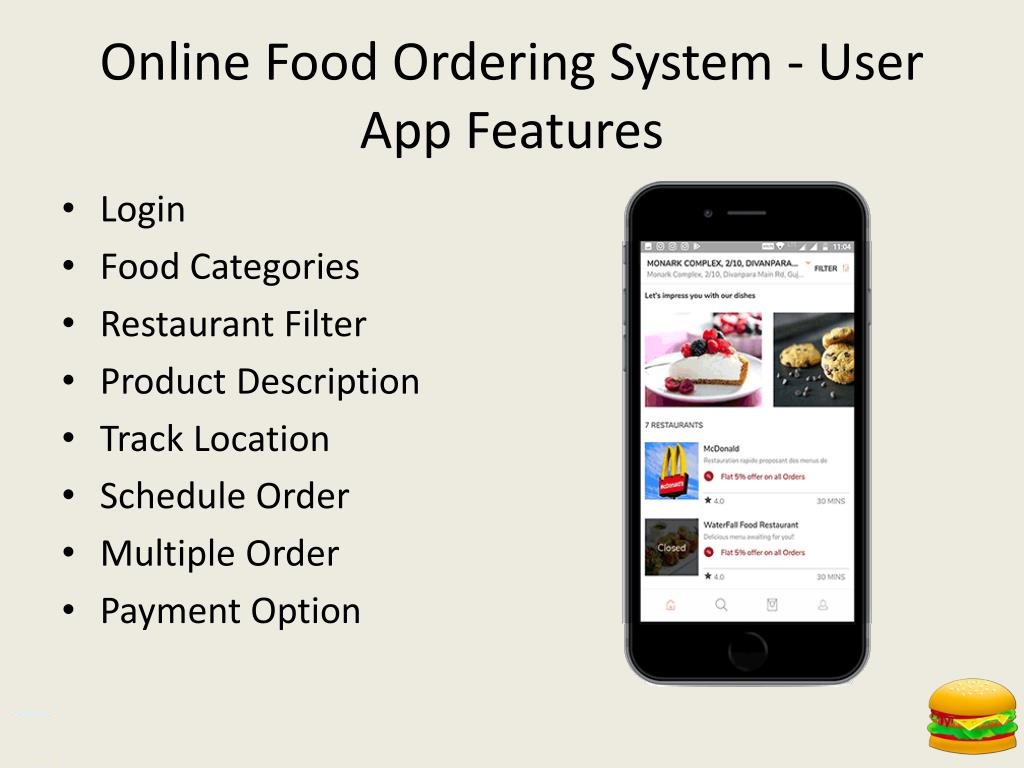 The major features are-
Through this feature, you can allow users to sign in to your application using their mobile number or email address. It will help them to quickly register on your platform.
When the users have successfully registered themselves on your platform you can enable the location (auto-detection) feature. You can also ask them to enter the nearest locations, landmarks, or popular buildings to ease the delivery boys' task.
The homepage of any food delivery application driven by augmented reality solutions has the nearby restaurants list. You can also provide many filters to the users through which they can sort the restaurants by their reviews or locations.
This feature will allow customers to search for their favorite meal or food from their favorite restaurants easily. You can offer many customizable options and filters here.
Customers can go through the restaurant menu and select the meal accordingly. This feature will allow them to initiate the order by placing and confirming the same. It will also allow them to check their order along with its price in the cart to increase or decrease the meals if they require.
Through this feature, users can initiate the payment online as per their convenience.
This feature allows users to track the status of their ordered food or delivery boy. It will also help them to know the time that is required to deliver the order.
The best food ordering app development companies or platforms always provide this feature where customers can rate the food or the delivery of the restaurant.
2. Restaurant Panel Features
The restaurant panel features refer to the components that are required from the restaurant owner's end. They are as follows: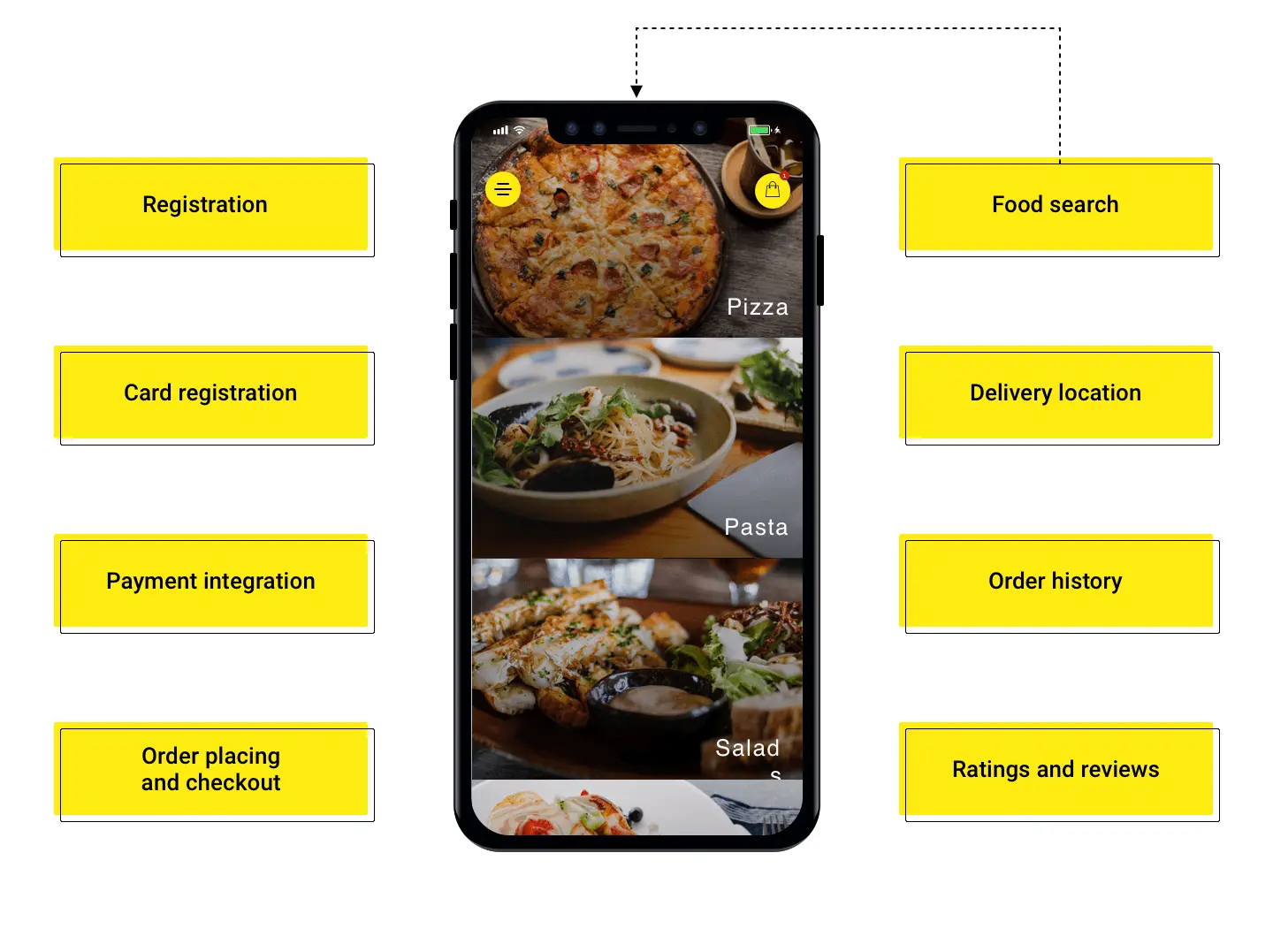 You can add or delete the food menu of your restaurant as per the availability of the food. In menu management, you can also highlight the new items, food combination packages, and special deals of the day to customers.
The dashboard feature will help you to view multiple orders along with their status such as pending, accepted, canceled, or upcoming orders.
This feature will allow you to view the information on multiple orders. Through this, you can ensure the exact order like the quantity and the specifications mentioned along with the order.
Through this feature, you can easily cancel the order along with mentioning the reason to customers.
The restaurant profile feature will allow you to create or update the profile of your food business along with its relevant information.
This feature will allow you to quickly respond to customer queries and resolve them at the earliest.

3. Admin Panel Features
The admin panel features are critical for any food application. The top ones are-
This feature will allow admins to manage multiple users of the same application along with monitoring their activities and orders.
Food And Payment Management
The admins can easily view the current, upcoming, or cancel orders from specific restaurants or customers' ends. They can also keep a check on the payments or transactions done by the users.
The admins of the food delivery app development solution can send push notifications to customers about seasonal offers or updates.
4. Delivery Boy Features
These are some of the most important panels that you have to consider in your online food ordering application. You have to especially integrate the information of the delivery boy of your restaurant. The top features that are required for this panel are-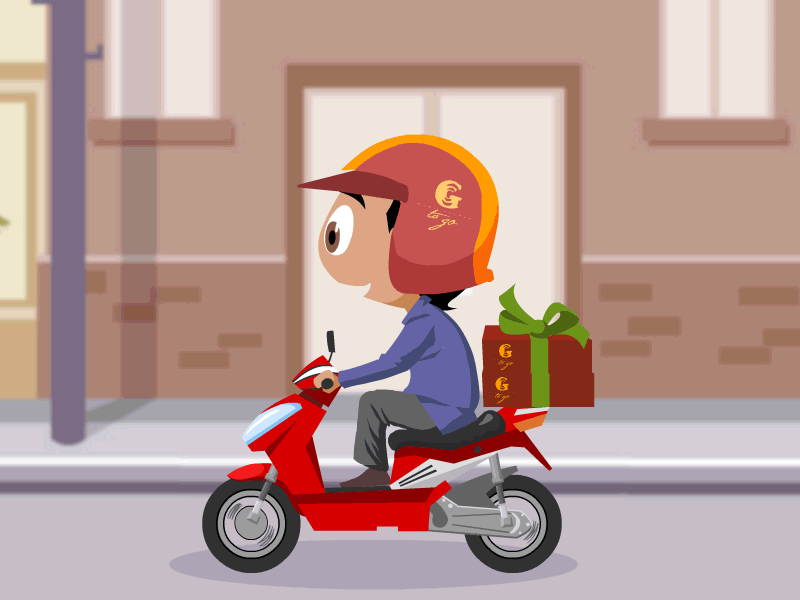 This feature will allow a delivery boy to easily sign in to the application through their email id or phone number.
This feature indicates if the person can take the order or not. The delivery boy can easily accept or reject the food order that is initiated from the customer's end.
In this interface customers can contact the delivery person to resolve their queries related to the order. This interface may have call or messaging features.
A delivery boy can reach the location of a customer or a restaurant easily to collect or deliver the order as initiated.
This dashboard has the complete details of the order along with the current, canceled, or upcoming orders.
How Much Does It Cost To Develop An Online Food Delivery Application?
While hiring mobile application development services providers for developing an online food ordering application, budget and cost are the major factors that decide if you should proceed with the same company or not.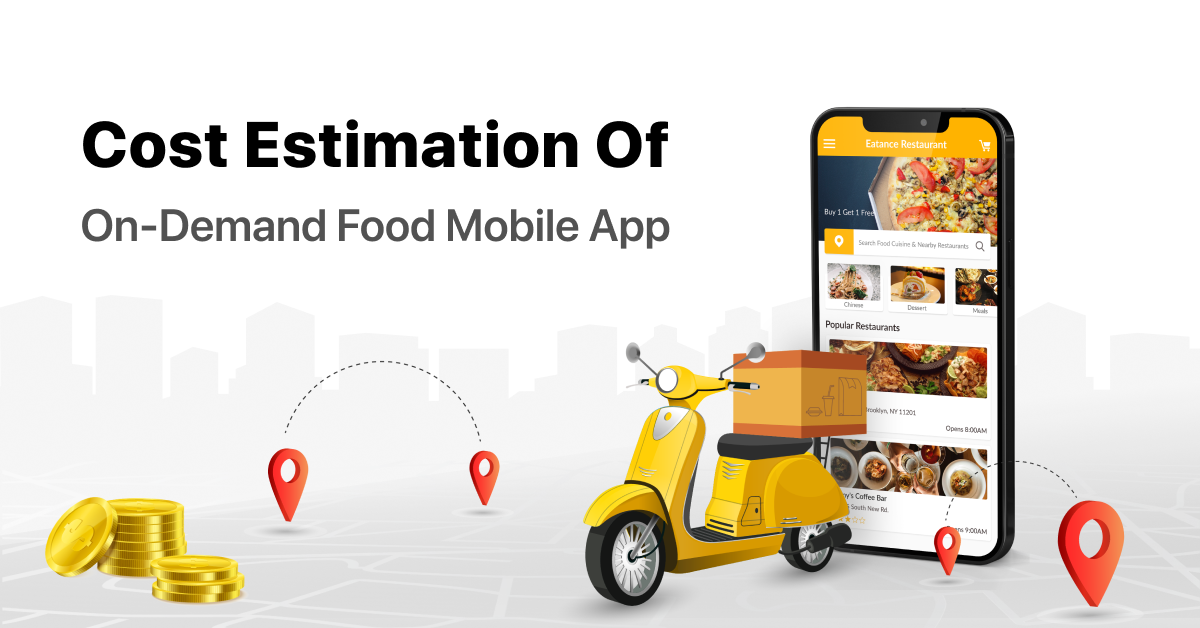 However, the cost to develop the project may differ from company to company or specification to specification and there are certain factors that you can consider prior to initiating development. You can also create a checklist of the below-mentioned factors as they will give you a hint of the overall development cost.
Features and advanced functions that you are willing to integrate into the application
Platform compatibility i.e. Android or iOS (Android costs less than iOS)
Backend development for third-party integrations as their preferred is limited in terms of costs but they require huge recurring expenses in the long term. On the contrary, the server backend is much preferred because it is affordable in the long term.
Native application development vs. cross-platform app development augmented reality solutions. Cross-platform app development cost is relatively lesser
Upgrading and maintenance cost of the application
In-house team or outsourcing the solution
All of these factors have a direct influence on the cost of developing and on-demand online food ordering applications.

Costing As Per Hours & Location
To give you an approximate cost, a simple food delivery application will cost you around $8,000 to $22,000. And a sophisticated food delivery application will cost you beyond $25,000.
US-based food delivery app developers charge the amount of $30 to $50 per hour
Eastern Europe developers charge the amount of $15 to $ 25 per hour
Asian developers charge the amount of $30 to $100 per hour. (This is the approximate costs)
If you are hiring a reasonable mobile app development company then they will help you to get the solution that is the best fit for your budget and expectations. The cost breakdown is as follows-
Technical documentation requires more than 40 hours and will cost you around $1200
User interface and user experience require more than 50 hours and will cost you more than $1500
Frontend and backend app development requires more than 350 hours and will cost you around $10,000
MVP testing of the application requires more than a hundred hours and will cost you $3000
Polishing of the application and error handling requires more than 30 hours and it will cost $2000
Another factor that is worth considering is that conducting an Android development for an online food ordering application is affordable as compared to the iOS app development. This is because IoT application development requires rigorous testing that involves plenty of money.
How To Make An Online Food Delivery Application?
Now that we have the cost, features, and most importantly the objective to develop an online food delivery application, let us go through its process:
1. Validate Your Idea
Initially, you have to conduct extensive research about the market and your customers. This will help you to reach out to potential customers through your solution with minimum effort. You can now validate your food delivery application or website idea.
2. Fix A Model
Once you have validated the idea of your application you can go through the food delivery application models to get a better understanding of the required solution. You can go through the features and the specifications of every model and choose the one that suits you the most.
3. Requirements
Once you have chosen the application model, make sure to integrate the requirements of the aggregator model at first. This will help you to eliminate errors and you can create your own food ordering app within no time.

4. Finalize The Features
You have to remember that the more features you are incorporating into your application, the more will be the cost of your project. On the other hand, more features in the application will enhance its visibility and you can deliver maximum convenience to your users. Analyze this factor carefully and select only the most essential features.
5. Tech Stack
To build a powerful application foundation it is extremely important to integrate emerging technologies and advanced solutions. Pay attention to the technology stack of your app. Implementing the end-to-end technology stack will help you to create an up-to-date application with limited or zero errors.
6. Choose The Right Partner
The right app development partner or company will help you to create an outstanding solution without any hassle. Always make sure to partner with tried and tested companies as it will help you to save time as well as valuable resources.
7. Conduct Testing
As the application is ready, you can conduct efficient testing of the solution to authenticate its performance and functionality.
The Bottom Line:
The food app development market is highly saturated with the presence of numerous on-demand applications. However, do not let the fierce competition discourage your capability, and certainly do not drop the idea of creating a feature-rich online food delivery application. If you have immense faith in your area then you can get the perfect technique and strategy to create a high-performing application.
This will help you to get an application that will become the users' favorite in no time. Many app development companies are providing stellar on-demand app development services that will not only help you to capture the market but can also offer advanced features to customers.