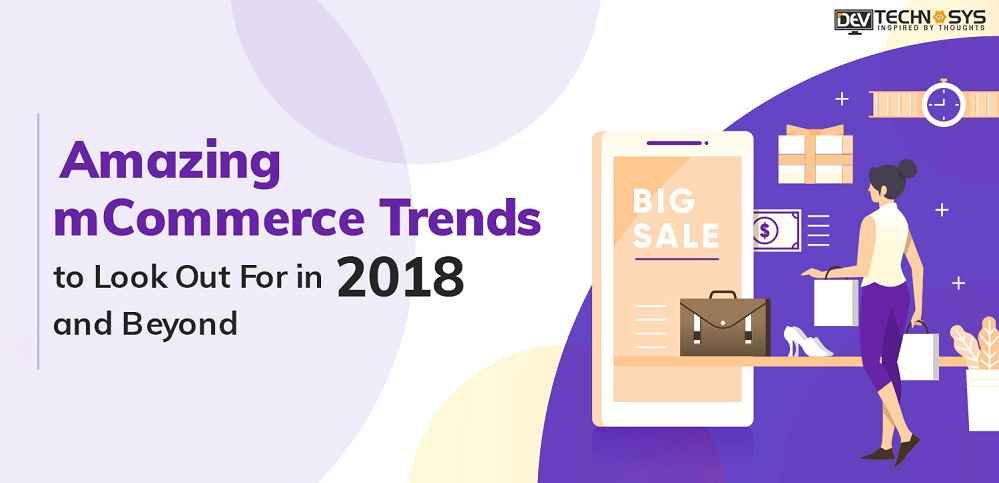 Most of the online shoppers are turning from their computers to mobile phones to buy products and services, carry out product searches, locating store or even doing price comparison. The rise of m-commerce is due to the fact that most of the mobile users are accustomed to shopping online and they generally expect speedy and personalized solutions.
With the advent of progressive apps, this phenomenon is gaining more momentum. The businesses need to focus more on mobile interactions and have to keep a keen eye on various m-commerce trends if they wish to keep their competitive edge. They can hire any mobile app development company who can adapt according to these trends and provide better m-commerce solutions.
Amazing mCommerce Trends That Can Grow in 2018
1. Product Marketing through Social Media and Automation
Marketing automation has offered great growth opportunities to online store in terms of customer satisfaction and revenue generation. Whether it is customer reviews, email campaigns, discount codes, re-engagement etc. these various tools are covering the vital aspects of marketing that allows the businesses to focus more on their goals.
With recent m-commerce solutions development, the emphasis on the marketing automation will certainly increase for the purpose of reducing business complexities as well as improving shopping experiences. Social media platforms are currently considered as major marketing platforms by most of the businesses which will be exploited more as they offer easy access through their own apps as well as huge audience of active users.
2. Online and Offline Personalized Marketing
One of the most effective methods to capture the interest of the customer is through personalization. A large number of online store are investing heavily in analytical tools in order to track the online behaviour of the customers and analysing their purchase pattern.
The entire data gathered from different websites which include social media is currently used for customized and personalized solutions as well as suggestions. Technologies like push notifications along with geolocation marketing are significantly contributing to grab the attention of the customers in real time and at the correct location.
Some businesses have installed interactive screens for their customers to easily browse through their inventory all by themselves for different available variants as well as price comparison, instead of asking for any assistance. An ecommerce development company has to focus more on introducing features to provide personalized marketing.
Read the Blog: Know About Industry Standard for App Development
3. Single Click Payments
The customers want shopping experience with minimal effort to make transactions and payment. Industry giants like Amazon introduced One-Click payment which provided exclusive single payment methods to the customers. A lot of e-commerce retailers are now consistently including single-click payment options for their own customers. Companies like Apple and Google are already streamlining this process.
The availability of single click payments accelerate the orders processing and also boost impulsive buying among the customers especially through mobile. Market players that are willing to adopt this particular trend will be the leaders of the m-commerce industry. In case of Magento platform used for m-commerce store development, hire Magento developer who can include single-click payments in the m-commerce store.
4. Realization of Augmented Reality
Augmented Reality is going to dominate the m-commerce industry. More online store owners are expected to integrate this technology into their stores to enhance the user experience. AR provide most immersive and interactive experience to the customers. It also allows them to get the in-depth information pertaining to the products. It also builds confidence among the customers to make their purchasing decisions. A mobile app development company has to work on this technology to inculcate it into the m-commerce apps.
5. Growing prominence of Artificial Intelligence
Artificial intelligence can certainly impact the entire m-commerce industry in significant manner. The ability of this technology to analyse as well as forecast from the huge amount of data which is generated by the different customer touch points is the leading reason for application of this technology in m-commerce industry.
It will help the retailers to save their money and time and also enable them to easily understand the major tipping points within their own business and also optimize the conversion rates. AI integration can also be used to offer improved personalized shopping experiences as well as customer interactions along with fraud protection and also enable image searches. Businesses have to hire Magento developer to introduce AI into their own m-commerce store.
Read the Blog: Tips to choose Magento Developer for your Ecommerce Website
Conclusion
The m-commerce industry is undergoing a massive transformation. These above-mentioned trends will impact the entire industry at a higher degree. The businesses have to be flexible with their entire approach to follow these trends and inculcate them. They have to work on marketing automation so that they can focus more on other processes.
Implementation of technologies like AR will improve the customer experience. AI will assist them to make better decisions to improve business processes and gain insights about customers. Personalized experience will allow the business to boost their revenues. All these trends will continue to dominate in m-commerce industry in 2018, and an ecommerce development company has to follow it closely.